I've been lurking around these forums for some time now. Lots of good information here. Lots of helpful people. I haven't posted prior to this, because I've mainly just been reading, learning, and trying out a couple lights (avoiding repetition of questions that have been answered elsewhere). Anyway, I recently purchased a ""Sky Ray 9xT6" from CNQG":http://www.cnqualitygoods.com/goods.php?id=1716 for 94.78$ shipped, and I've since run into a few problems. I should note that I have previously ordered a Sky Ray King (the first gold version in NW) and Roche F12 (NW) from CNQG. Aside from conductivity issues due to anodizing on the Roche, I have no complaints with those orders. That being said, this recent purchase of the 9xT6 (SR9) has left a bitter taste in my mouth.
My light shipped on 01/10/13 and was delivered on 01/24/13. 2 weeks… not too bad. Well, when it arrived, it appeared to be sufficiently bubble wrapped, so that was nice. But then… I opened up the package and the first thing I noticed was that the flashlight is branded as a "Hwaswys Ultrafire 9T6" on one side, and "High Power LED Brightness up to 9500 LM" on the other.
I know a lot of these Chinese companies are the same company so I wasn't immediately worried, but I was definitely apprehensive. I noticed FMCamaroZ28's review where his was labeled as a "Xenon", however his did have "Sky Ray" printed on it. Anyway, at the same time of my SR9 purchase from CNQG, I also purchased some INR King Kong 26650's from Intl Outdoor. I charged up the 26650's and they came off the charger at 4.2 volts. Popped 3 of them into the light and fired it up. It was bright for sure, but didn't really amaze me. I almost felt like my SR King was brighter. I thought that this might be attributable to the fact that they sent me an Ultrafire and not a genuine Sky Ray, so I sent them an email. This was their reply:
****
"Dear Gen1three
Sorry for no notice. Because our Dispatch Dept do not inform me about this.
Actually it is the completely same flashlight except the logo.
Hoping you can kindly understand.
2013-01-25
Best regards
Merry
CS"
*****
I had suspected that the lights are all the same, and when I saw FMCamaroZ28's review, I noticed that they appeared to have the same driver.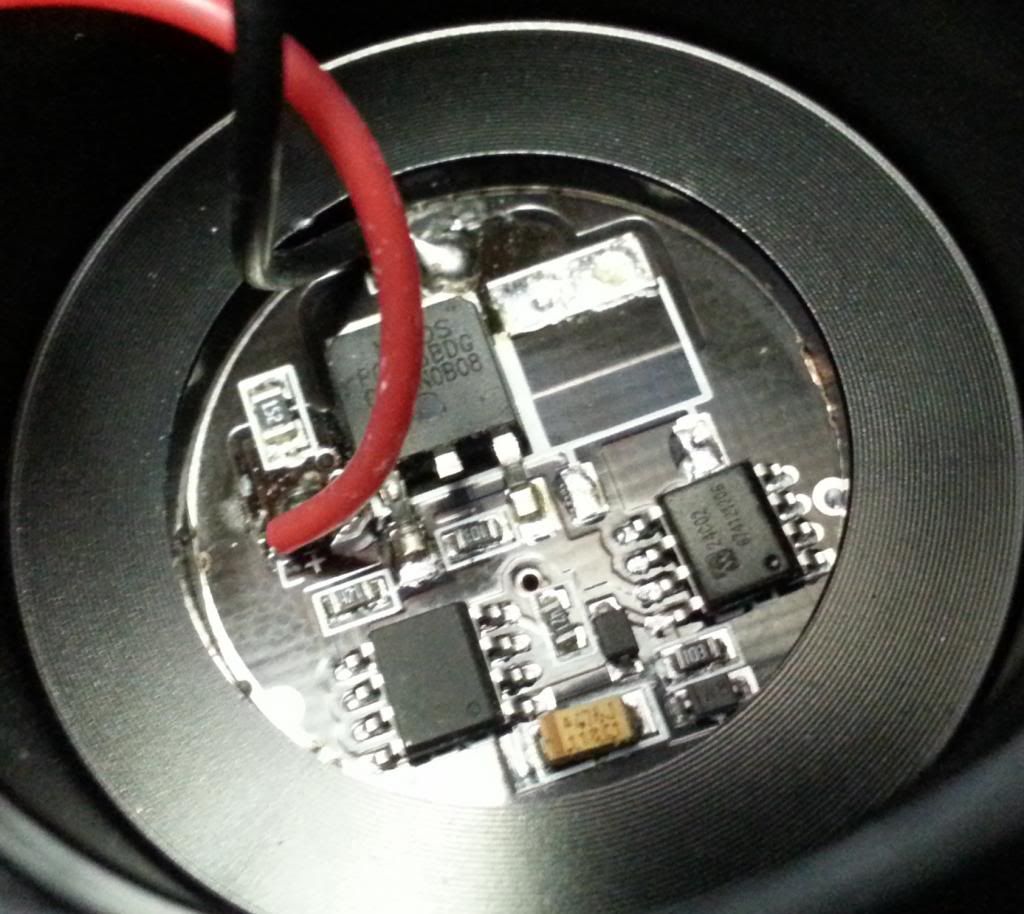 Somehow I convinced myself that the apparently low output was due to the cool white tint and tricks on my eyes. A few days later, I caught a direct glimpse at the light and noticed that only 3 of the LEDs were lighting up. This was very difficult to tell at first because looking at the light is obviously still very blinding. If I covered the head with a piece of paper or piece of cloth, it was very apparent. I took a picture of it that really shows the problem: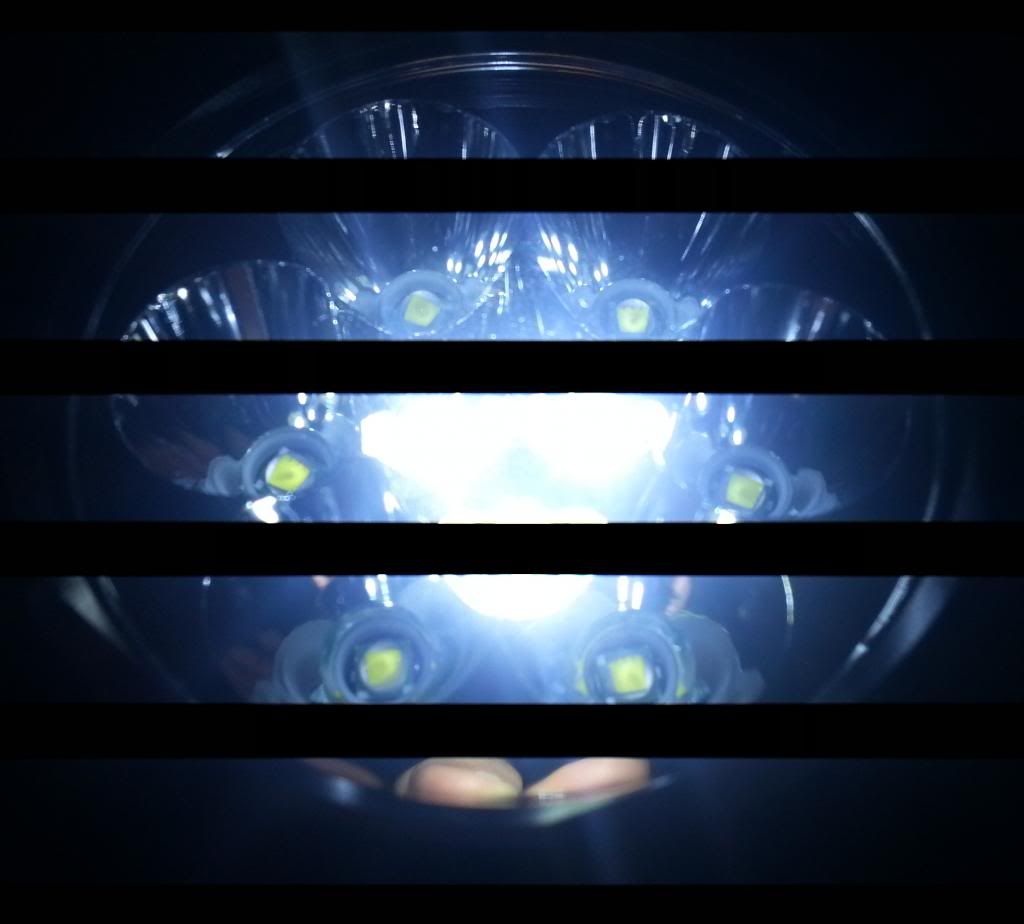 Those center 3 LEDs are lit up while the outer LEDs are all completely off. I was obviously very disappointed in this, so I emailed CNQG yet again and included the above picture. I told them how I tested my 26650's and some 18650's with the included sleeves. Same problem. Unfortunately, this was the entire reply:
"Ok, please send it back by registered post for repairing."
Really? Just send it on back? Just like that? Aside from the fact that I have no idea which exact address I would ship it to or any shipping details, I'm not going to spend nearly the cost of the light, just to ship it to China. I don't have subsidized shipping charges. Besides, I paid for a working light. And shipping. Nearly 100$ (a substantial amount of money in both of our countries). I shouldn't have to pay for their mistake. Well, after doing some research online, I basically found out that I'm pretty much screwed. I have seen some threads about successful resolution with RIC intervening, but to be honest, it still sounds like a headache. So I decided to take a look at the problem myself.
I was initially apprehensive about opening up the light because I didn't want to somehow ruin my chances to return it. Once I learned that returning it wasn't really a practical option, I unscrewed the reflector from the piece with the LED's "mounted" on it. and I immediately found out what was wrong. 3 of the loops of wire were completely cut off. They were very cleanly cut off but it looked like it could have been done by something somehow pinching them under the reflector. Not only that, but one of the LED's wasn't even mounted. It has some sort of compound dried up slathered around it. Unfortunately I forgot to take a picture before soldering some replacement wires in. I was just eager to fix the seemingly simple problem and have a working beast of a light. So I soldered some replacement wires, but then only 7 out of the 9 were working. Here are the 7 working LED's and the shoddy solder job. I took this first pic with only 2 batteries in, on low mode. Ridiculously low output. When it had 3 batteries in, it was too bright to take a picture: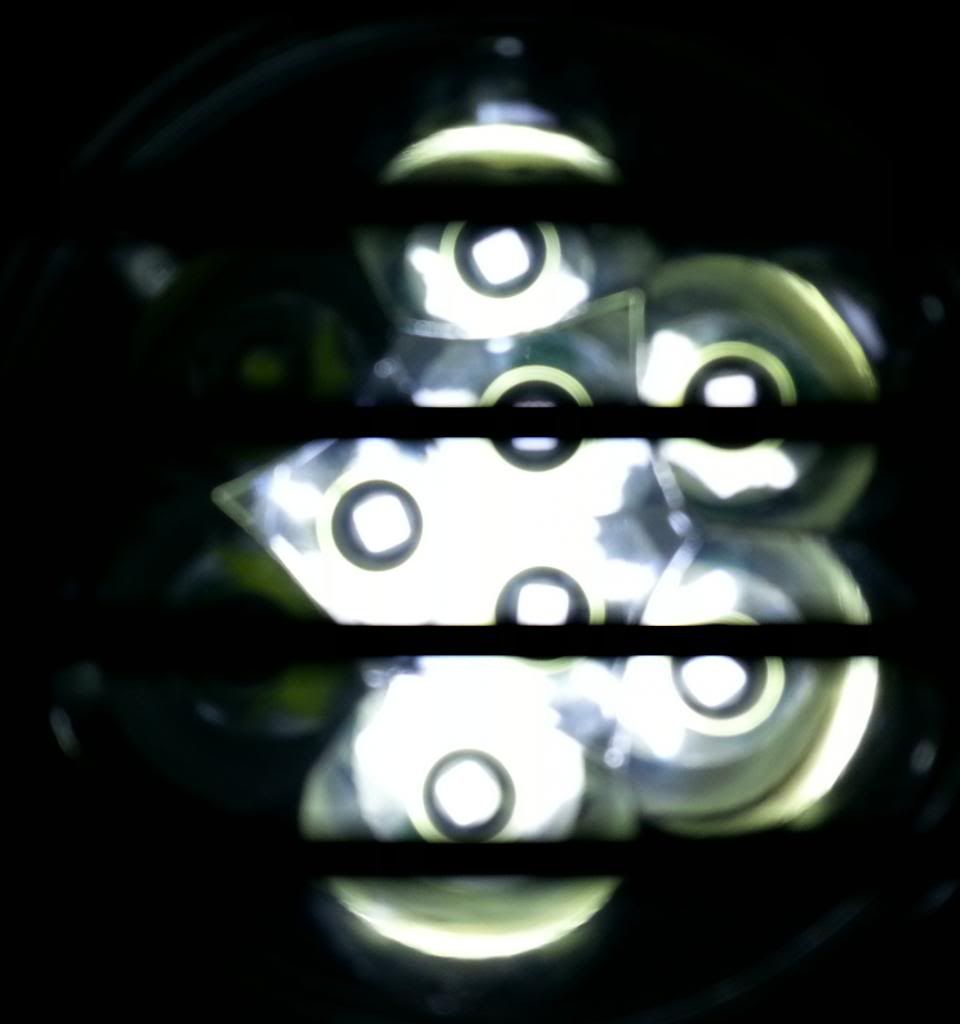 The 2 LED's with the green dots next to them are the non-functional ones. The pink dots are the (+) positive sides of the LED's. I just labeled them in case they were difficult to tell apart. This was my second time soldering something and the quality shows. I thought I messed up the wiring somehow and replaced the white wires (which are 2 of the 3 replaced wires) as they were connected to the non-functional LED's. Still had the same problem. And I guess this brings me to the crux of my problem and the reason for my post (aside from also allowing me to vent and give a heads up):
1. Does the wiring look like it would explain why the 2 marked LED's aren't working?
2. What type of compound do you guys suggest for sticking the LED's back onto the head? (Both LED's are mounted. The one that isn't works fine and is pressed into placed when the reflector is screwed in)
3. If those 2 LEDs are fried, does anyone have a suggestion for a source for replacement LED's?
While this was an obviously embittering experience (almost 100$), I should reiterate that my first 2 orders from CNQG were without complaint. My Sky Ray King doesn't have any emblem on it, but it's bright as hell and a nice neutral white. Anyway, I'm not into modding and all that, but I just want to fix my light and see it working correctly for the first time. Any advice is appreciated. Thanks!