Boost/Buck 3-18V Triple XM-L Circuit Board
Driver is from Intl-outdoor.com, but it looks like it has been removed from his shop.
Official specifications
Optimized for 3-4*XM-L LED in series, Low voltage protection and Thermostat protection
For 3-4 LEDs:
When using 1-2 Li-ion cells in series the driver will act as boost
When using 3-4 Li-ion cells in series the driver will act as buck
Suitable for 1 or 3 or 4 LEDs
Operating voltage: 3-18V
Output current for 3-4*LEDs is 2.6A-3A and for 1*LED is 5A
Constant current
Modes: High-Medium-Low (100%-30%-5%)
PWM frequency: 1000Hz
PCB diameter: 24mm
Contact board diameter: 26mm
Height: 17mm
Leads: 20AWG
Gold plated contacts
Tinned leads
Thermal management, overheating protection 55-60C, the driver will automatically adjust the output current
Low voltage protection 1 cell: at 3V the light will step down to low mode and start flashing 2 times each 5 seconds
Low voltage protection 2 cells: at 5.5V the light will step down to low mode and start flashing 2 times each 5 seconds
Cut-off after 3 minutes of low voltage warning
Thermal pad included (5mm thick)
Measurements
Tested with 3*XM-L2
Diameter 24 & 26mm
Max. height: 19 m
The driver has high, medium and low.
Pwm is at 1kHz
Low pwm is about 3.7%
Medium pwm is about 30%
Does turn off after about 3 minutes with low voltage warning.
The driver has memory, the actual mode is stored when the light is off for a short time.
Uses a 25kHz regulation frequency when turning down output due to heat.
A fast off/on will select next mode.
The driver can be used with 2, 3 or 4 LiIon batteries in series.
Driver can both do buck and boost.
The low voltage warning only works with 2 batteries, not with 3 or 4 batteries.
High
This driver does not use a constant current to drive the led, but varies the current, depending on the battery voltage.
At 5.5 volt it reduces the led current and shows a battery warning.
The driver changes seamless between buck and boost.
Because the current is varies, the led voltage will also vary.
Doing a sweep from low to high voltage, shows that the low battery warning will be turned off when the battery voltage raises.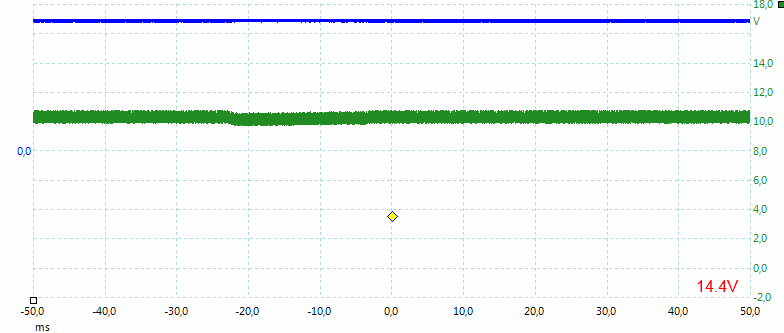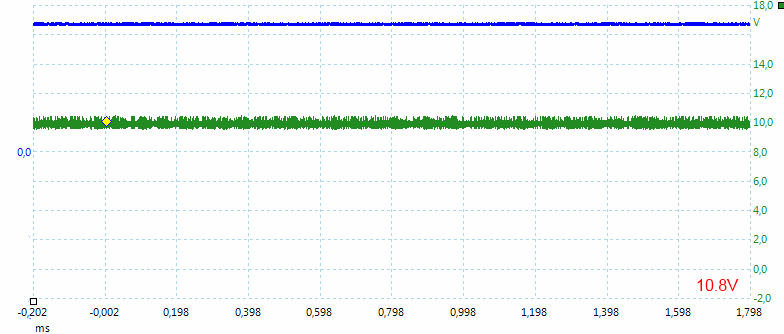 At high the led is fed with a fairly constant current.
If the driver gets hot, the current is reduced, the regulation is done at 25kHz, i.e. no visible flashing.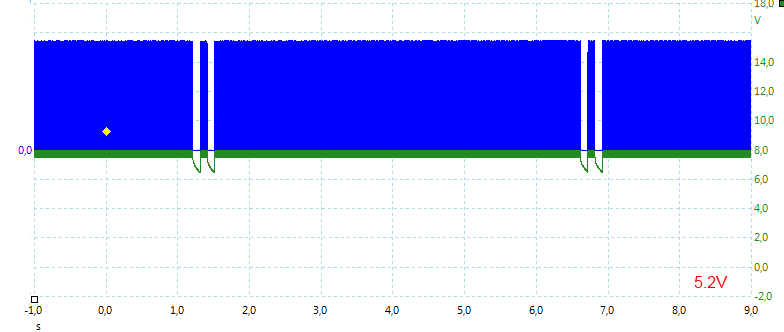 The low battery warning is two flashes with about 6 seconds between.
Medium
Because the light uses pwm, I am cheating a bit to calculate power: I have locked the led voltage to a constant value.
The driver is pulsing the current at a fast rate and it is no surprice that it looks like high.
Notice the fixed led voltage, this is a cheat, not a measurement. The correct voltage would be closer to the curev from high.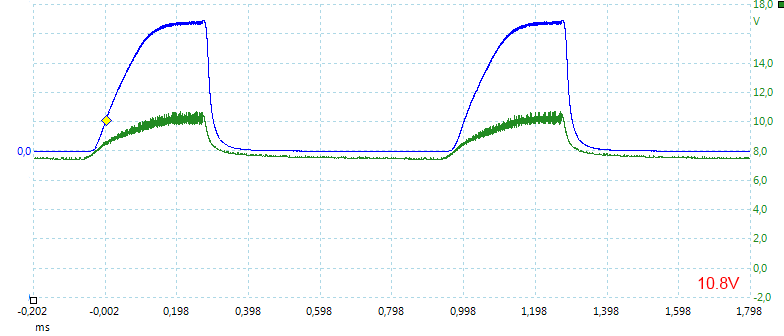 The pwm can easily be seen on the curves, but are to fast to see with the eyes.
Low
The low level is low and the battery warning uses a higher level.
Again I have used a fixed led voltage.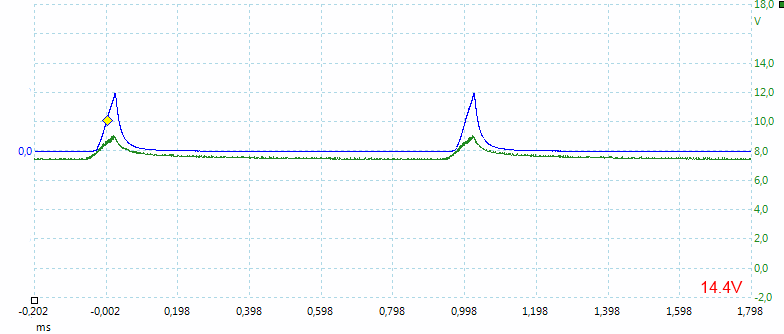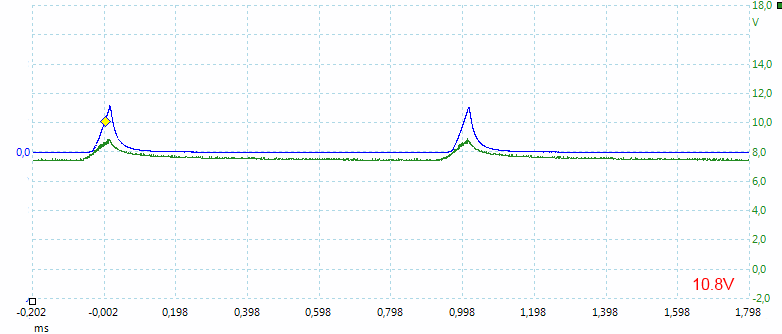 The driver is using a very short duty cycle for low mode.
Conclusion
The buck/boost function works very well on this driver, but I am not impressed with the low voltage warning. This means it is best to use protected batteries when using 3 or 4 batteries in series.
Notes
How do I test a led driver
List of all tested drivers