FandyFire 2100 1-mode
Reviewer's Overall Rating: 
★★★+
Summary:
| | |
| --- | --- |
| Battery: |  1X18650, 2X16340 |
| Switch: |  Tailcap, reverse clicky |
| Modes: |  1 |
| LED Type: |  Cree XP-G R5 |
| Lens: |  Coated glass |
| Tailstands: |  Yes |
| Price Payed: |  $17,10 |
| From: | DealExtreme |
|   |   |
Pros:
Hard Driven
Bright
GITD tail boot
Beam pattern, good throw/flood balance

Tailstands
Can use 2x16340
The name, man... the name.
Cons:
Build quality (with reservation, propably lot of variation)
2x protected 16340 will not allow full tightening
Came unlubed 
Knurling is quite shallow and dull
Ok. Ready to be FandyFired? Is your Fandy ready for some Firing? Prepare to see some Fire in your Fandy! This thing is just too hilarious. I can't stop smiling for this shiny tube. Not with descriptions like this floating around. I'm so childish *shakes head and laughs*. But let's try to get to business shall we. The item itself is no joke, it's one fine cheap shining thingy. There's also a 5-mode version available at the same price, but I got the single mode as I intend to mod this and I this driver is rated up to 8,4 volts, where as the 5-mode is just for 4,2. And I also wanted a high-voltage driver to be used in other project, I have plenty of max 4,2 drivers already. 
Features / Value: 
★★★
Well, again, what can I say (my second review and second 1-mode light...). It's a single mode flashlight. Pretty basic stuff. In addition to one mode of lighting it features GITD tail boot which I like. Some don't. Came with a strap, which is nice. There's also a silvery crenellated bezel which is propably aluminium. I'm about to bash it later, but let's just say I like the look of it. It gives the otherwise black light some contrast and is not stupidly aggressive, although it might eat couple of lumens.
Design / Build Quality: 
★★★
The first thing I noticed when taking the light from it's box was that the bezel was loose. "That's ok", I thought, at least it's not glued or anything. I twisted if off and found out the bugger is actually not a bezel, as it has no use but to look cool. It has nothing to do with retaining the lens as that comes off from the inside of the light, not outside and is kept in place by the reflector. The light can be left without the "bezel", but then it looks kind of stupid. Like something was missing. Because there would be. Anyway.
While turning the bezel back to place I realized that it would not tighten. It would stay in it's place as in not fall off, but it rattles and turns by itself but it does not tighten at all. The threads were terrible, it literally just turned over the threads. Result? Some Finnish cursewords and well, now I do have a light with a glued bezel... Ok, enough chit chat, let's see some pics.
Here's a Fandy from behind (still laughing, can't help it)
Size comparison. From left L2P with (stupid) forward clicky, my STHF L2i, FandyonFire 2100, Shiningbeam S-mini and TrustFire Tr-803. It's a couple of millimeters longer than S-mini. Without that bezel thingy, or even Foybezeled they would be exactly the same size.
It tailstands. TR-803 does not. Here pictured when on for some heat testing. It does get hot (wait 'till you hear the amp readings) in 15 minutes, but not too hot to handle. It's not XML after all.
Some random parts. The reflector is quite nice. Not OP but not smooth eiter. I suppose you have some fandy fancy name to call it but I'll just say it's frosted. Gives very nice beam. Mostly floody with some throw, but no rings or dark spots whatsoever. Head came apart nicely, no glue there so it's good to go for modding.
Oh yeah, besides the bezel, there was a scratch in the head, outside the lens. Pic is bad but it can be seen on 11 o'clock on the head.
The tail parts. No spring there at all.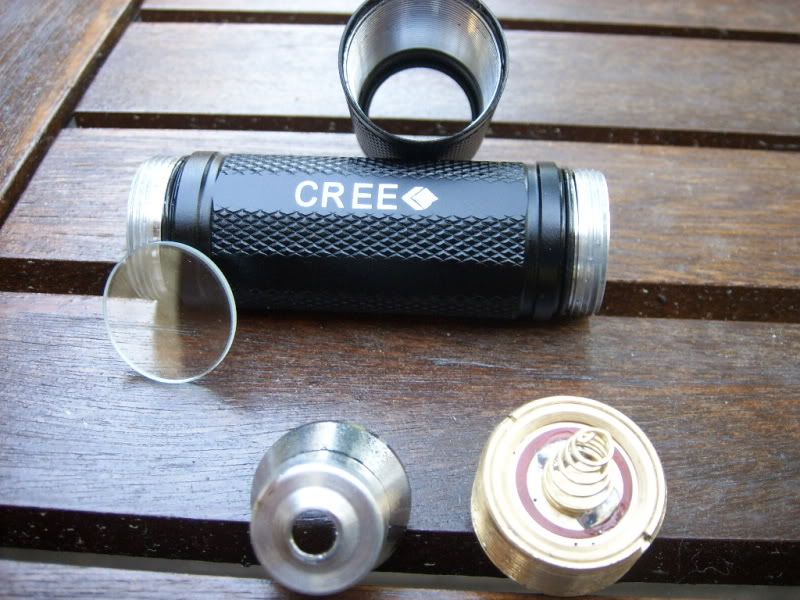 Trustfire flame going to Fandy. It's a pretty loose fit, but that's the case with these cells in every light. They are skinny. Cytac 2600 mah is near perfect fit.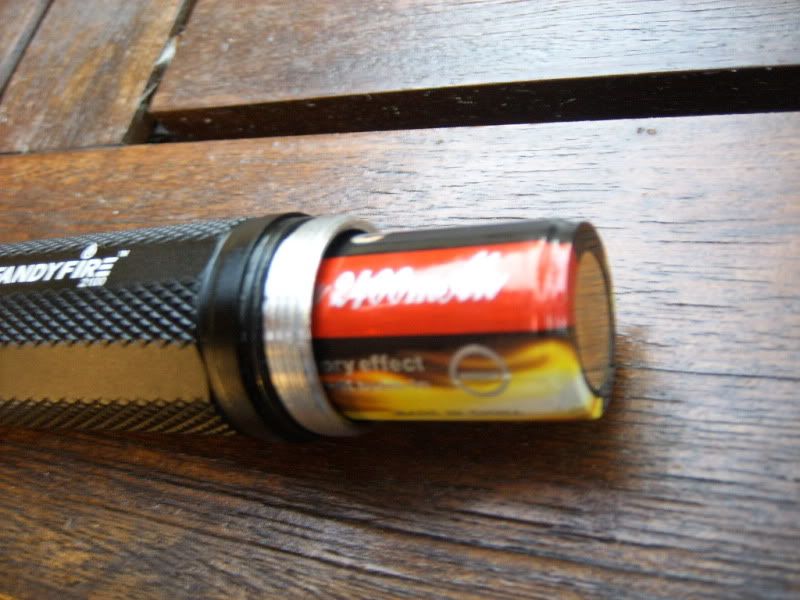 Ok. Let's talk about amps for a while, as there were some unexpected results. DX claims that this light has digitally regulated 1,5mah driver. That's just a load of BS. And for once, not necessarily in a bad way, as I measured some serious amperage. 
1 X 18650 @ 4,2V = 1,85A. Okay... they are relly driving that XPG...
2 X 16340 @ 8,15V = 0,90A.  Seems to be in line with what it's supposed to be regarding the previous result. But then...
2 X CR123 primary @ 6,4V = 1,7A! What the heck? There's over 10 watts (minus losses) going to that poor XPG.
What else... Hmmm... Well the knurling is bad. Just like L2P, when I want it to be like L2i. And it does not go on with 2 X protected 16340 if all the parts are fully tightened. It lights up when turned loose for just a fraction, couple of millimeters. 2XCR123 is ok fully tightened, no problem. Came unlubed. The threads were screaming for mercy (literally) when opening and closing for first times. Some CLP took care of that. No double O-rings, just one in every place there needs to be. Survived 10min dunk in the sink, so it's adequate.
Battery Life:
Haven't done any IRL testing, so can't really give a rating for this. But having only one hard-driven mode means it drains pretty fast. Depends how well regulated it is, one can expect somewhat over an hour of great brightness and decline from there. Starts to blink slowly when voltage drops to 3,4volts. I'm not liking that. I tend to let the cell protection take care of undervoltage.
Light Output: 
★★★
★
This is the brightest XPG I have seen. It's brighter than standard S-mini. Quark Turbo R5 outthrows it, but Fandy outfloods the Quark big time. I have luxmeter coming in from MF so in couple of weeks (or months) I can do some serious output testing. I'd like to do some outside beamshots but the problem is there is not going to be dark outside before August. So all I have is these couple wall shots. And as I only have stupid automatic camera the exposure is not up to me so these are no good to judge the actual output, but maybe you get some idea seeing the output relative to other lights.
First, left is self-made P60 dropin XPG R4 driven at 1,4amps, right one is the FandygotFired. Fandy wins in all aspects. Hotspot size, spill size, hotspot brightness. Spill brightness is actually about the same.
Then an unfair fight. There's still the FandygotonFire and UF 3-mode XML T6 dropin on high. You can take a guess which is which. XML still rules the world, there's no arguing.
Summary: 
★★★+
There's some quality issues, but in my case minor ones and there's bound to be big variation among units, so it's possible that the next one is fine. All the major thread seems to be ok. Not best I've seen even in budget class, but not bad either. XPG is really driven hard in this light and with it's great all-around beam pattern it will cover most flashlighting needs. Except when low mode is needed. It's versatile in what it eats and puts out lot of light. What's not to like. I actually almost gave up on the idea of modding this light. I like it how it is. I will propably still mod it, but later. I'm not liking the TR-803 I got the same time as standard so that will get to the feared modding workbench first. We'll see what to do with this one later.
I would give this light 4 stars, but the bezel incident plus blinking when cell is near empty drops the score by a little. I give it 3 plus.
—
καὶ τὸ φῶς ἐν τῇ σκοτίᾳ φαίνει καὶ ἡ σκοτία αὐτὸ οὐ κατέλαβεν