UPDATE 6/1/2014: Just noticed today that the MX-900, X60, A9, and A10 are now being sold by Banggood.com for an amazing low price of a little over $21 shipped with coupon code "BLF". Killer deal for such solid built flashlights in my opinion. I like that they also made the extension tubes available as well. Hopefully they will carry the CT9T and ET26 as well. 
Also, just so you know I am also working with the manufacturer to produce the Warsun BLFX, which is being hand crafted for us BLF'ers with a more powerful driver, better looks, and way better modes. It is being based off of the MX-900.
----------------------------------

ORIGINAL REVIEW: So I ordered some samples directly from the manufacturer, and they finally arrived. Upon opening the box, there were 6 white boxes of varying sizes. Inside the boxes contained 6 very nice flashlights.
They are the Warsun MX-900 Find 6, Warsun CT9T, Warsun X60, Warsun A9, Warsun A10, and Warsun ET26.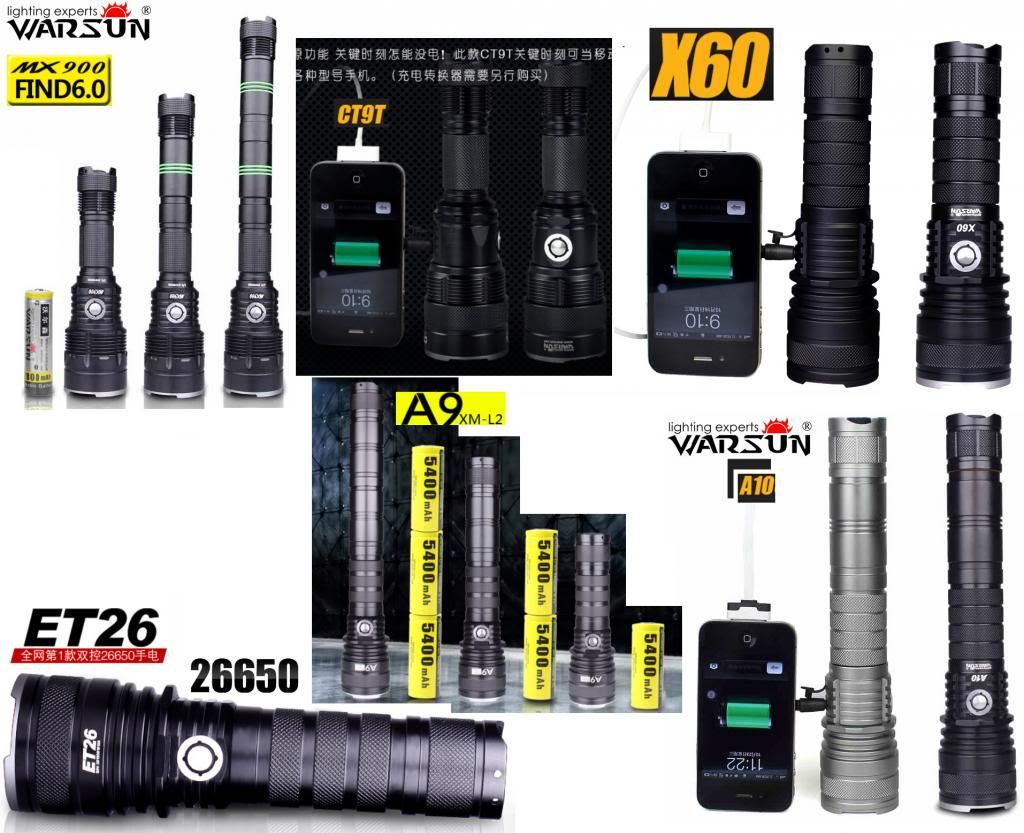 You can find very detailed info and pictures a lot better than the one's I took here: T-mall Warsun website translated to english or if you know Chinese click here Tmall Warsun website. I believe you can only get these flashlights in China for now.
MX-900 and CT9T take 18650 batteries. The X60, A9, A10, and ET26 take both 26650 and 18650 batteries. The manufacturer did not include any accessories with the flashlights, not even 18650 adapter.
This mini review will mainly be about the MX-900 as I really like it the most, maybe because of the square knurling, but honestly they are almost all the same in quality and build, as well as features.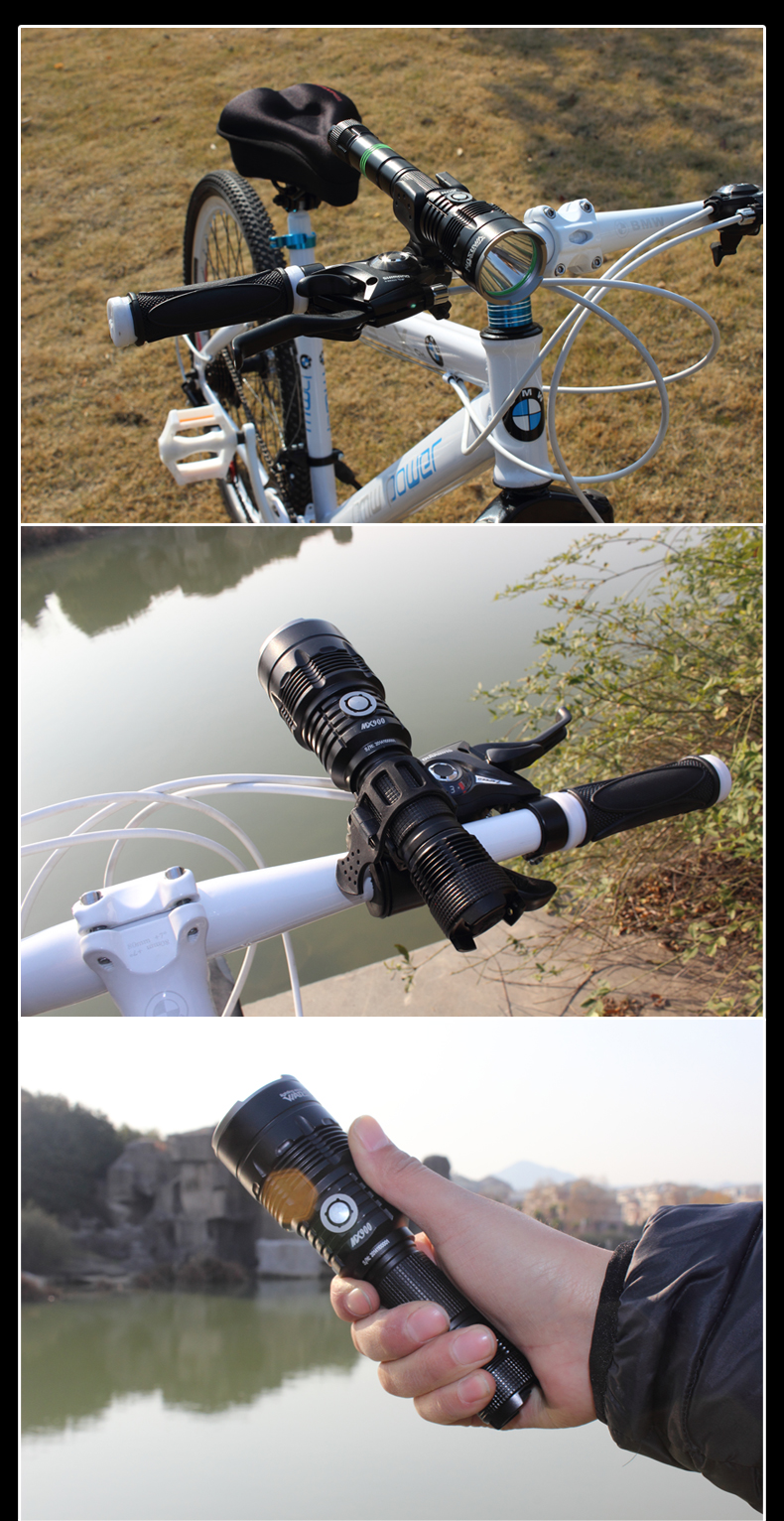 Phone Charge Capability: Seems the CT9T, X60, and the A10 all have the ability to recharge USB devices with an adapter that comes with the flashlights. Unfortunately, the manufacturer chose to no include those accessories when sending me the samples. I have no idea why he did not send these accessories as they seem to make up an important feature in these 3 models.
Batteries & Recharge: The MX-900 and CT9T accept button top and flat top 18650's of all sizes. I could not test the other 4 models as I do not own any 26650 batteries, and have no adapter, but I see no reason why they can't take all 18650/26650 batteries as well, as they are built all the same.
Of the 6 models, three have built-in recharge capability. The CT9T, X60, and A10. I have found that my Nitecore 500mah charger fits in the charging port of these lights perfectly. I have not attempted to charge any batteries in the CT9T as of yet, so I can not comment on this.
Build Quality: The build quality is very high quality. It is HAIII anodized aluminum. I can see or feel no difference in build quality between my Solarforce L2m and these Warsun flashlights. They all have an aluminum SMO reflector. Fit and finish is amazing. Threads screw together nicely. All joint's contain "double O-rings" and everything is very well lubed. Here is my build quality rating scale, 100% being "Highest Quality Possible" and working its way down for reference:
100% Build Quality: Nitecore TM-26
98% Build Quality: Warsun (all models), Solarforce L2m
92% Build Quality: SkyRay King
Waterproof: Submerged in a 5 gallon bucket of water for 5 minutes, I did not see any leaks.
Modes : The flashlight has 5 modes: High, medium, low, Strobe, and SOS. The REAR power button can turn the flashlight on and off, as well as cycle through the modes with short presses. The side switch changes the modes in the order listed above. You can also turn off the flashlight with the side switch by pressing and holding for 3 seconds. There does seem to be the slightest 0.1 second delay when transitioning from SOS back to High, but its barely even noticeable and did not bother me any.
Low battery Indicator: When the batteries reach about 3.25V the power button starts blinking red to let you know batteries are low. Very nice feature.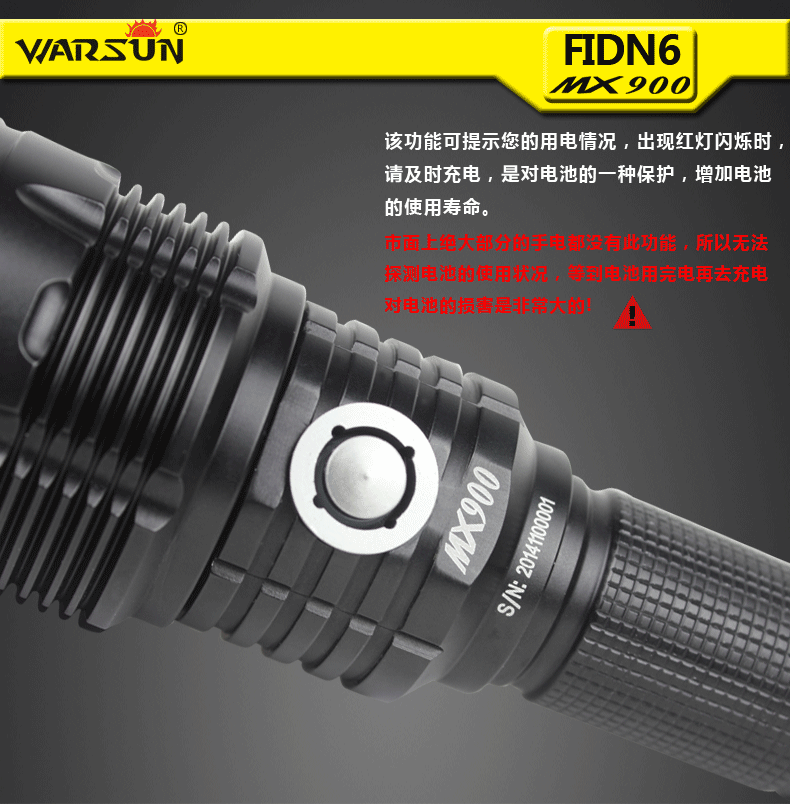 Quick take on Throw/Flood: On testing the MX-900, I was shock, no, amazed how far the beam throws. I pointed it about 200 yards, and it reached there no problem. It also seemed like it could throw further, but I had nothing further to point it at. The flood is also pretty good, but this flashlight is definitely a thrower first and foremost.
Over-driver/Under-driven: The flashlight seems under-driven. As it is in stock form, the flashlight would be perfect for 99% of the population, and not one person would complain. To me though, it seemed like it could definitely be driven alot harder. I would guesstimate the light in stock form to be about 850-1000 lumens. It has a good amount of flood, but an intense amount of throw, even in it's under-driven state.
Beam: While looking at the beam of both the MX-900 and CT9T on a wall and ceiling, it seems they are as perfect as a beam can get. Not one artifact. The beams were identical in both, as they should, since all these flashlights share the same reflector.
Dismantling: Taking flashlight apart is very easy. To get to the driver, one must unsolder the LED first, then the driver comes right out, after removing the copper spring disc. I found that the LED had an Artic Silver (non-adhesive) type of compound.
Conclusion: It is a very, very good quality light that feels amazing to hold in my hand. I really like this flashlight alot. Unfortunately, I don't see many sellers, if any carrying this brand, but they should. I went off the pictures of the T-mall link before I ordered these, hoping it would be good quality, and they are actually a lot better than I expected.
-----------------------
Well enough rambling, on to the pics. Mind you, I took these indoors with my digital camera. Not the best pics, but I don't think the worse either. Bare in mind this is my first mini-review
FRONT SHOTS starting from left: CT9T, X60, ET26, MX-900, A10, A9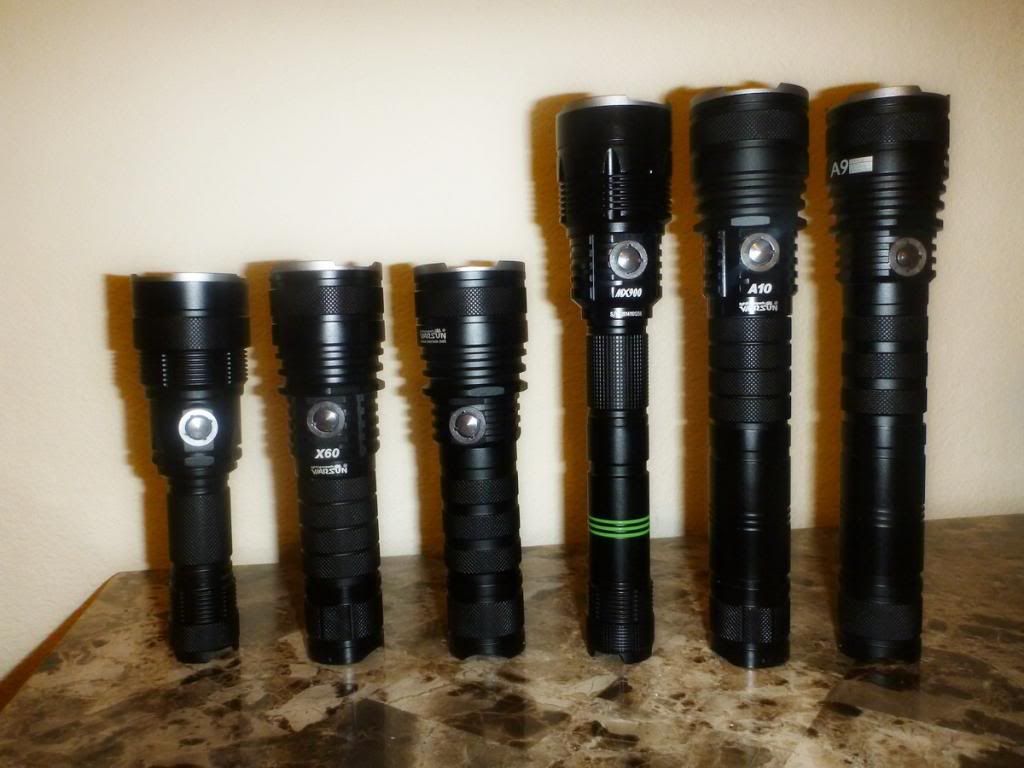 REAR SHOTS starting from left: CT9T, X60, ET26, MX-900, A10, A9
All reflectors and bezels are the same size, even they appear not to be in this pic.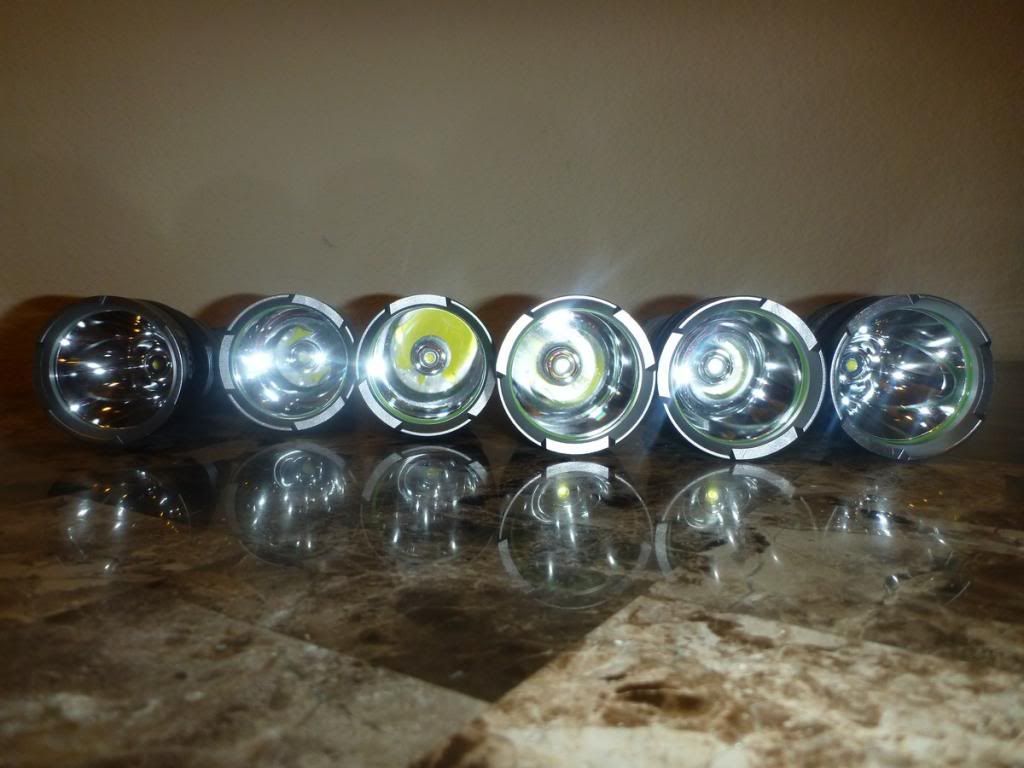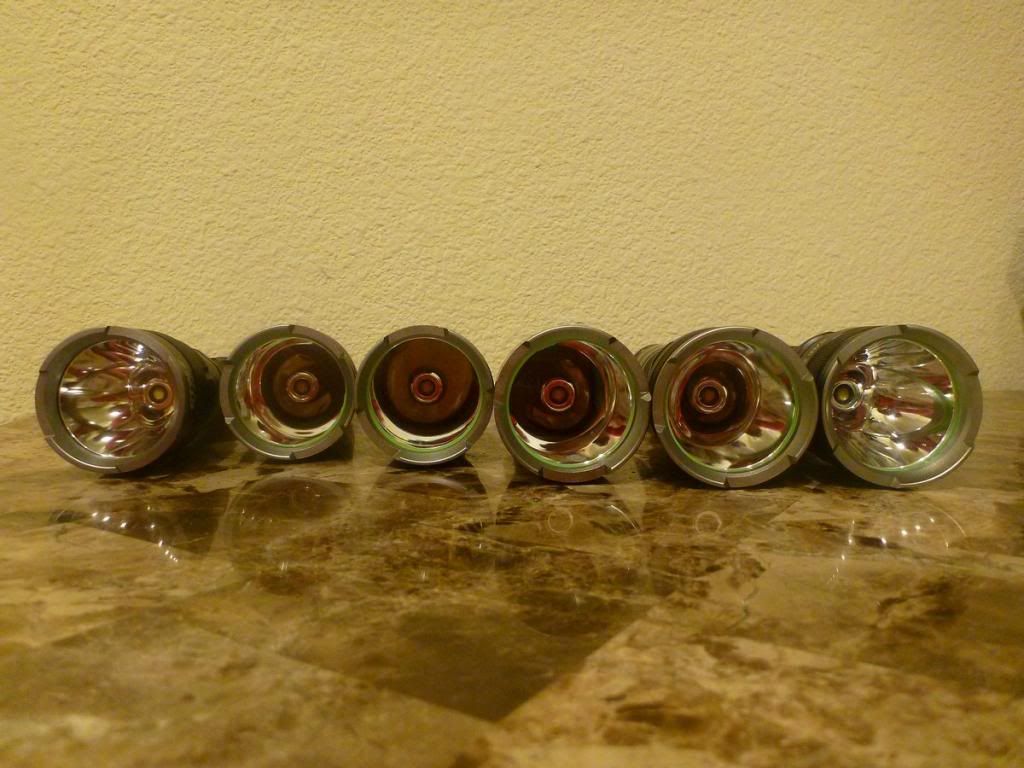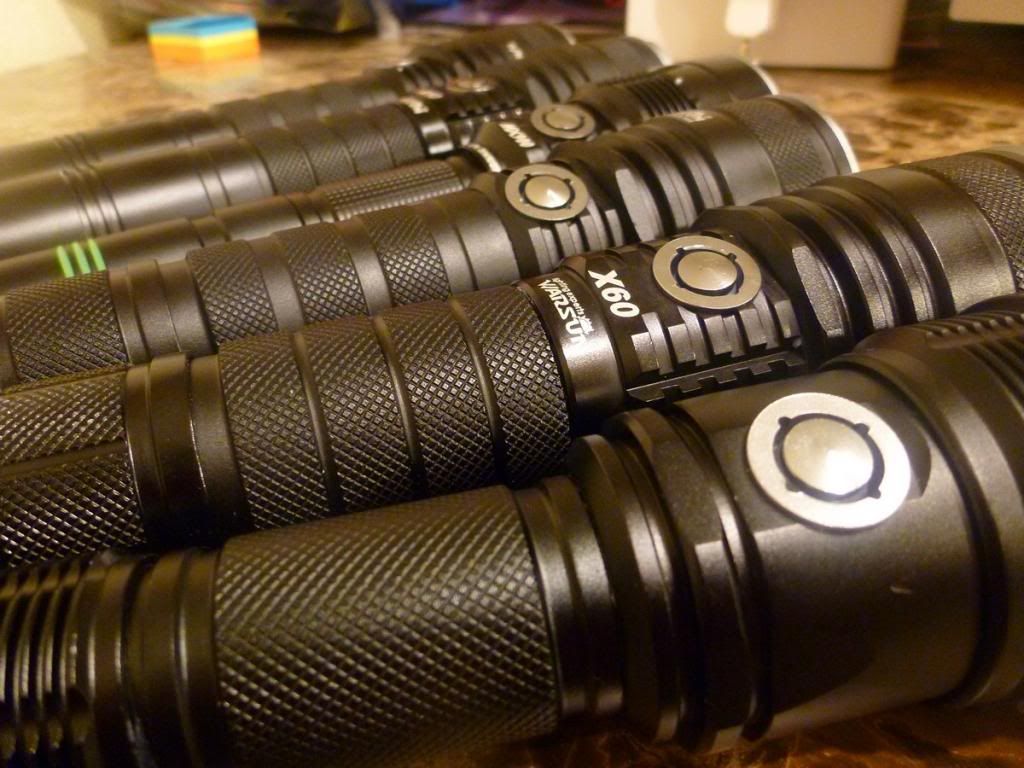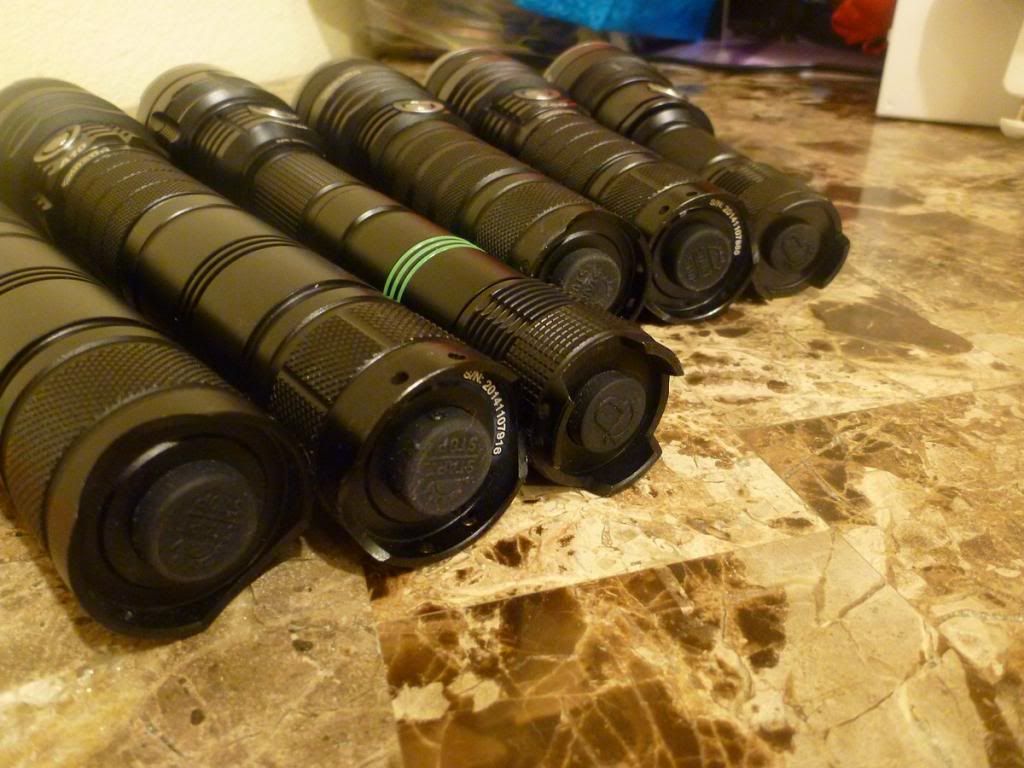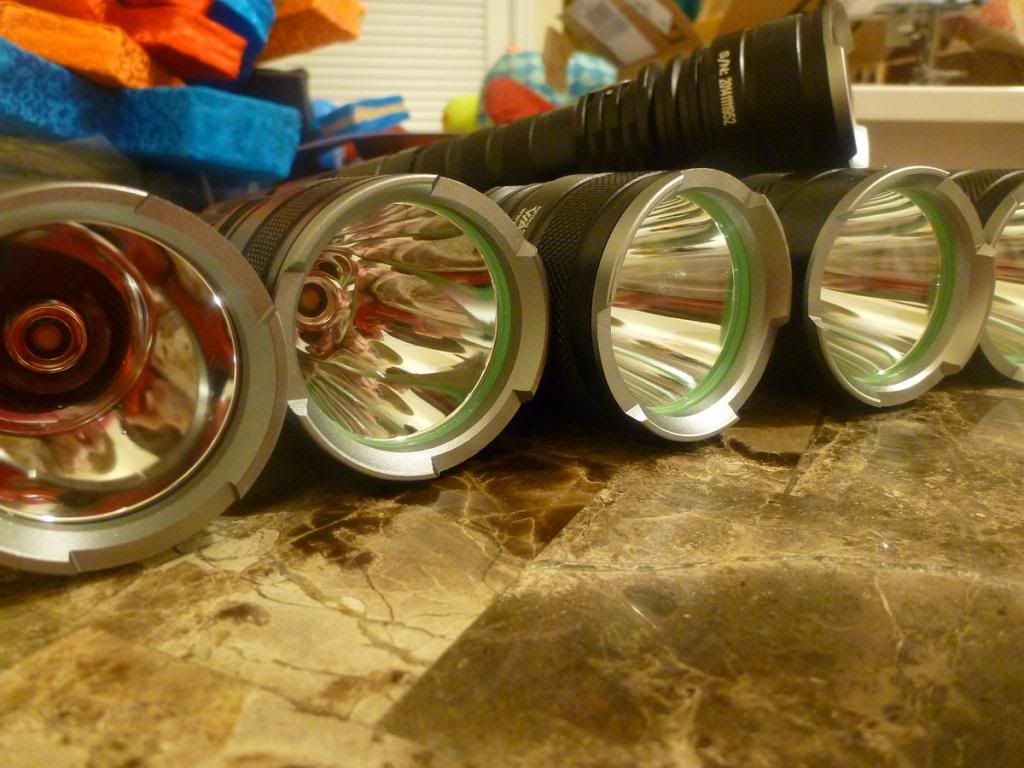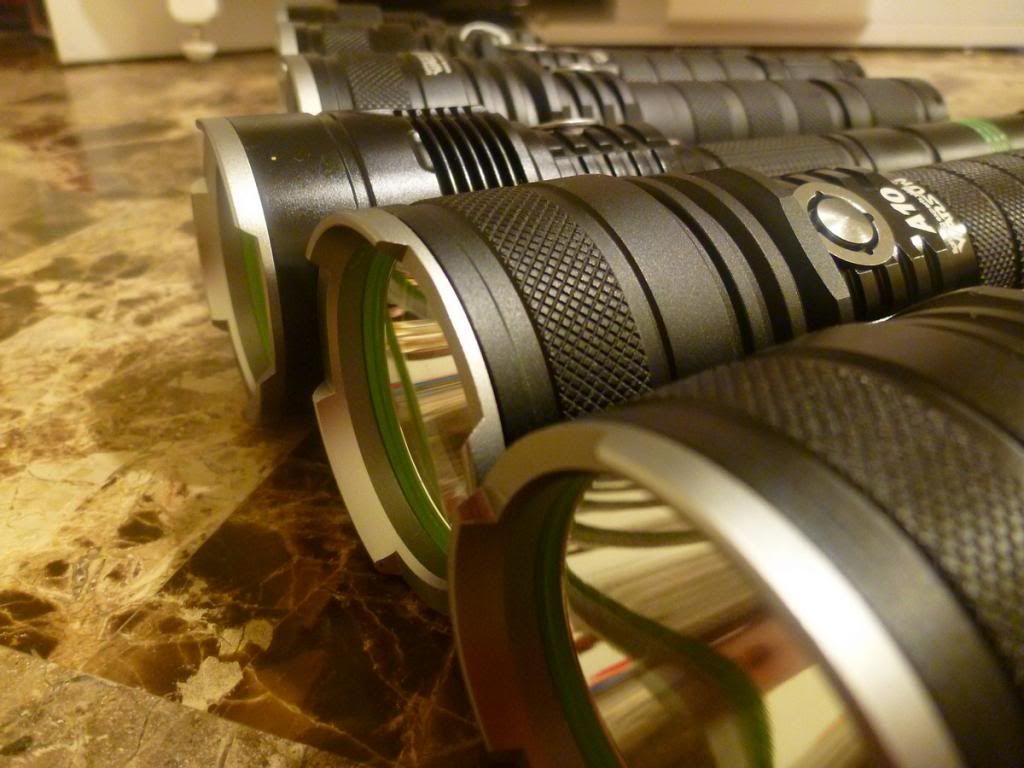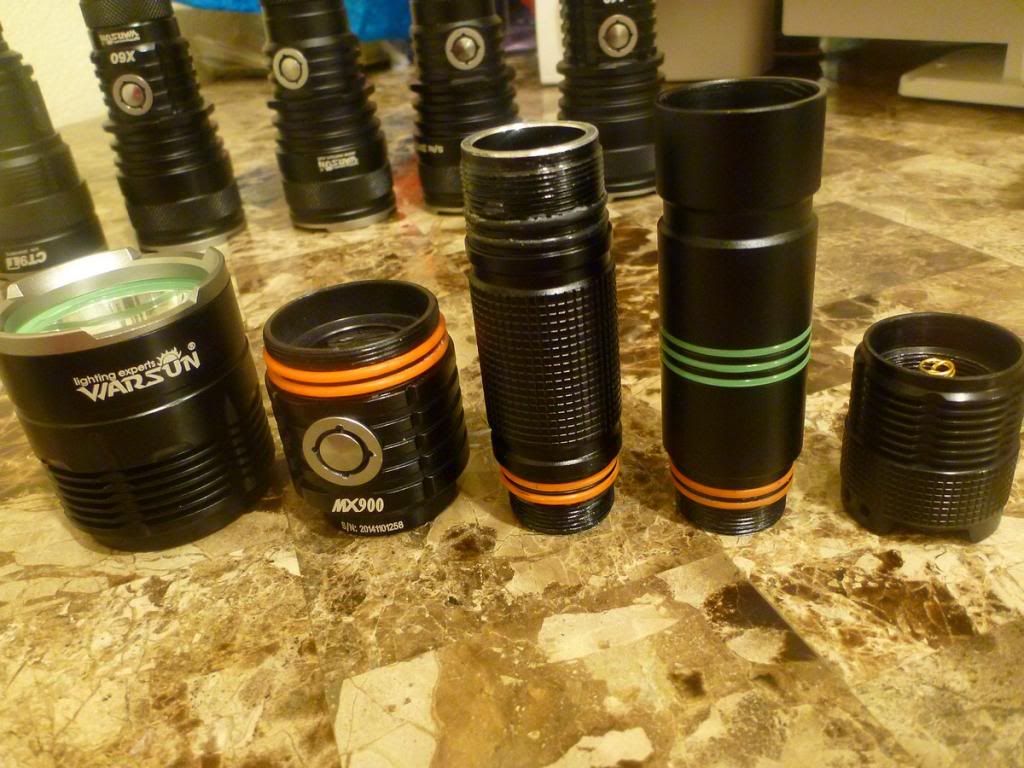 MX-900 Headcap Spring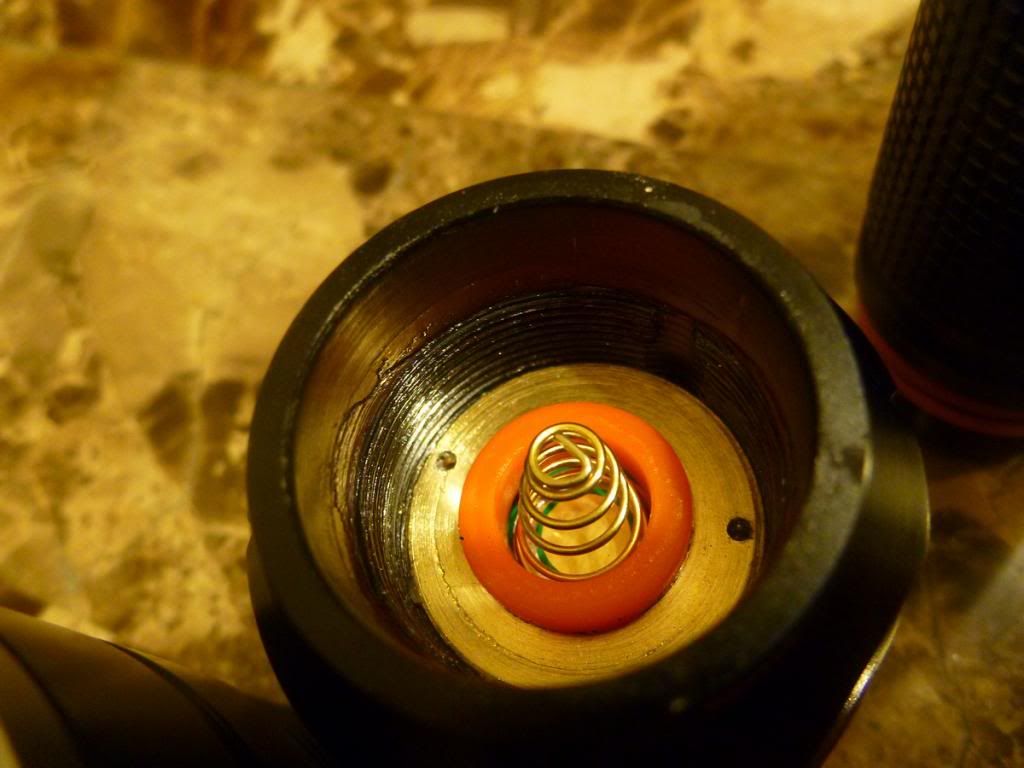 Tail-cap Spring
Threads are anodized and came well lubed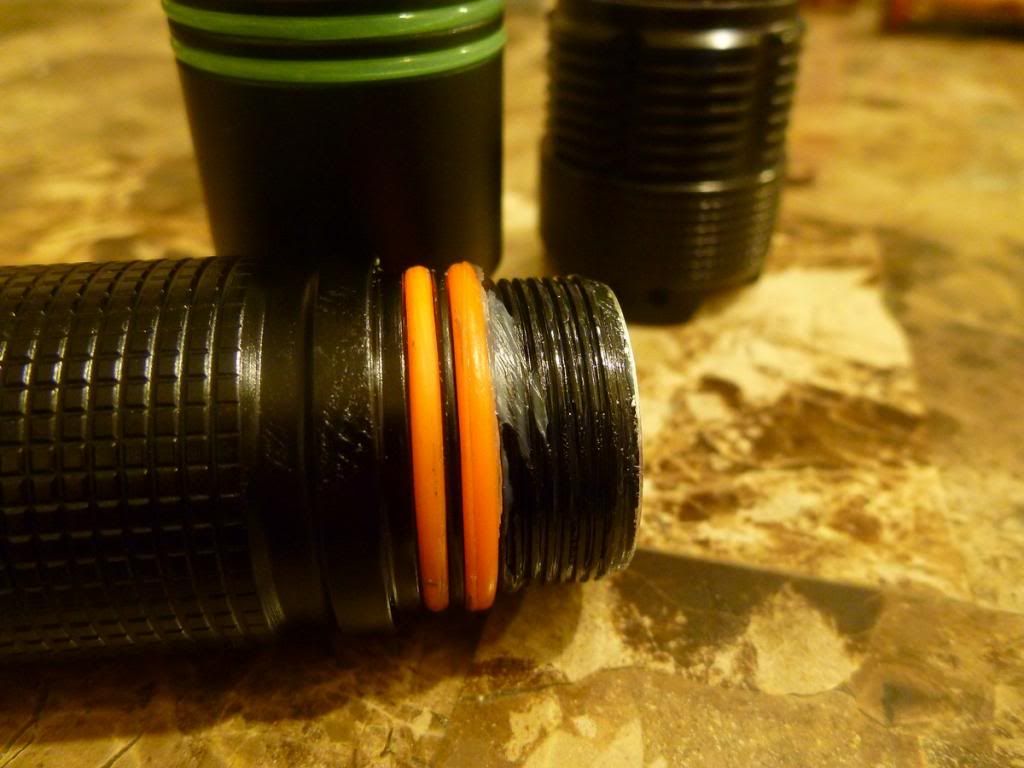 Did I tell you they came well lubed?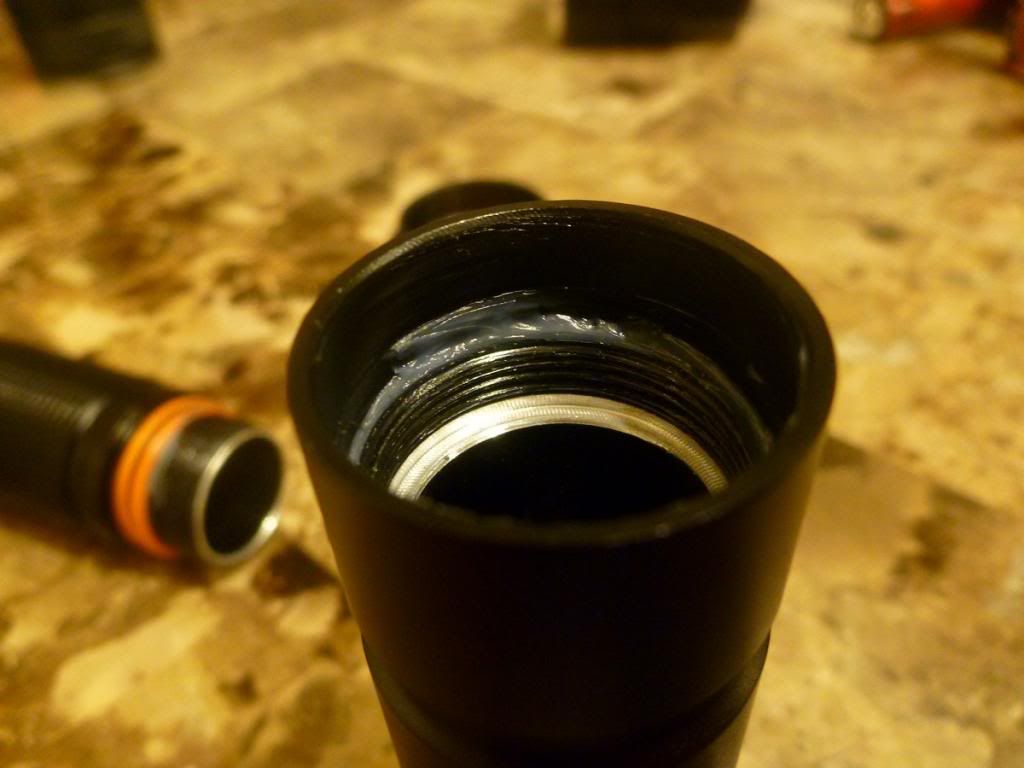 Tailcap Clicky
Double O-rings on every joint possible, did I mention they were well lubed?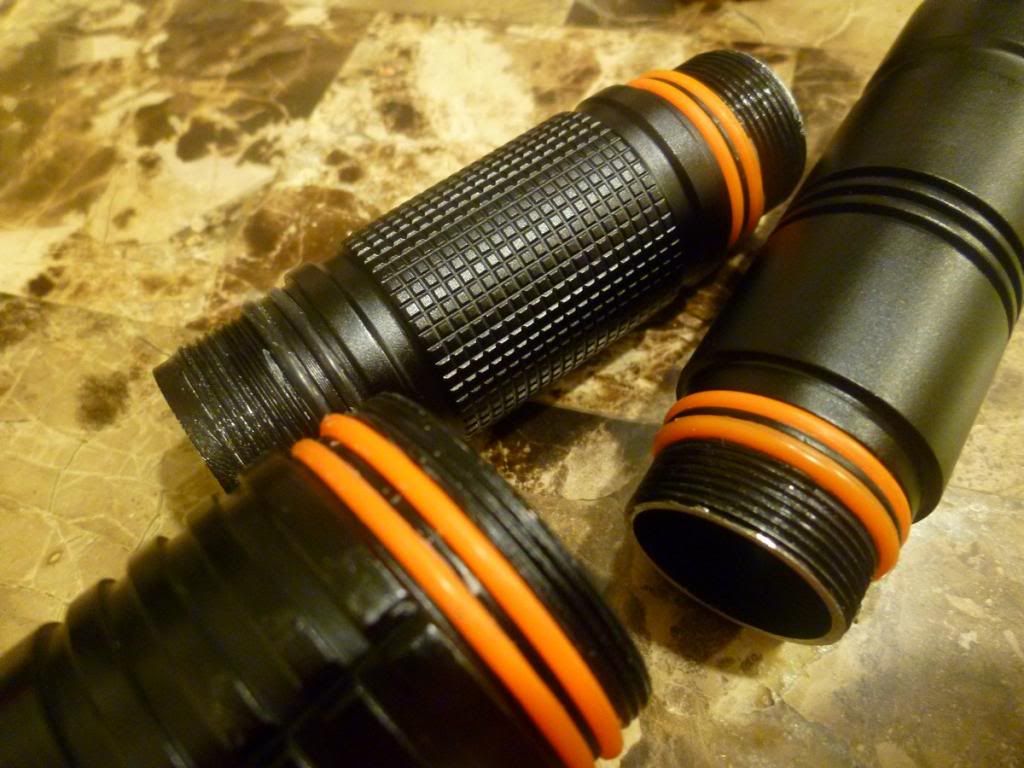 Left: solarforce L2m head,   Right: MX-900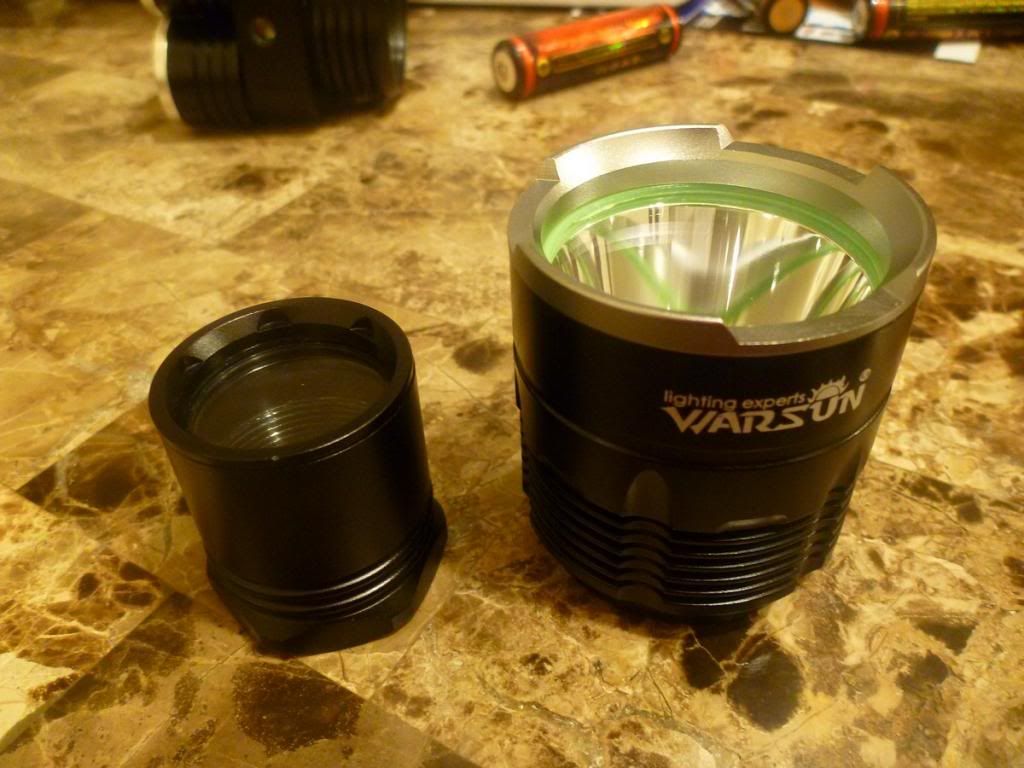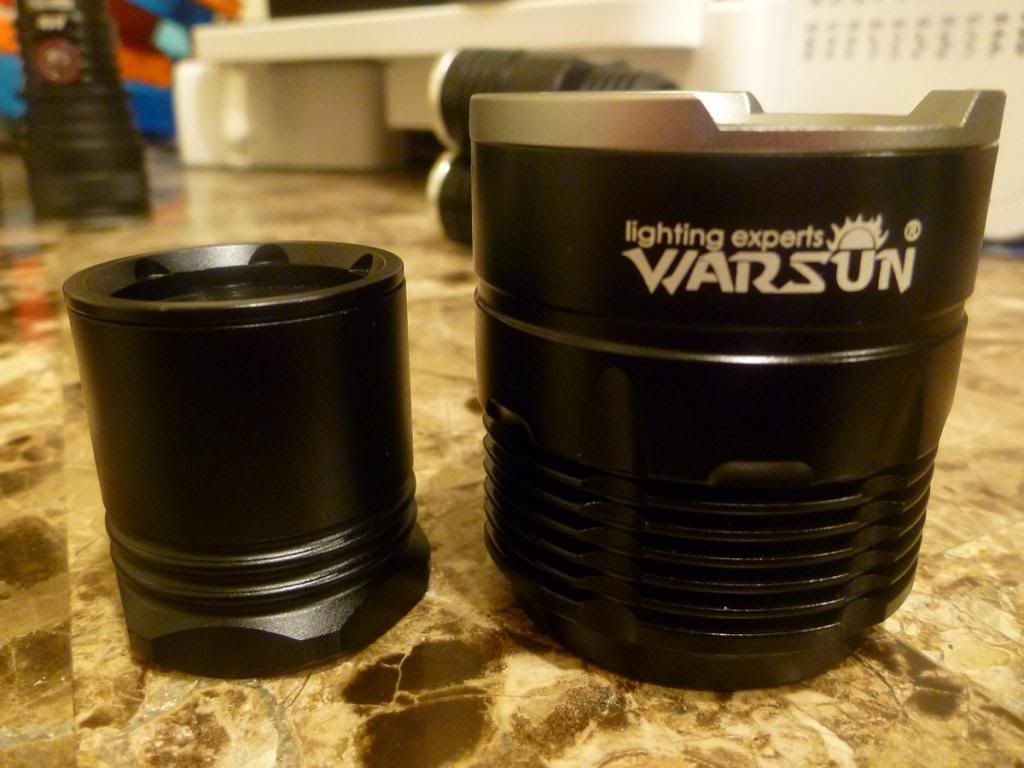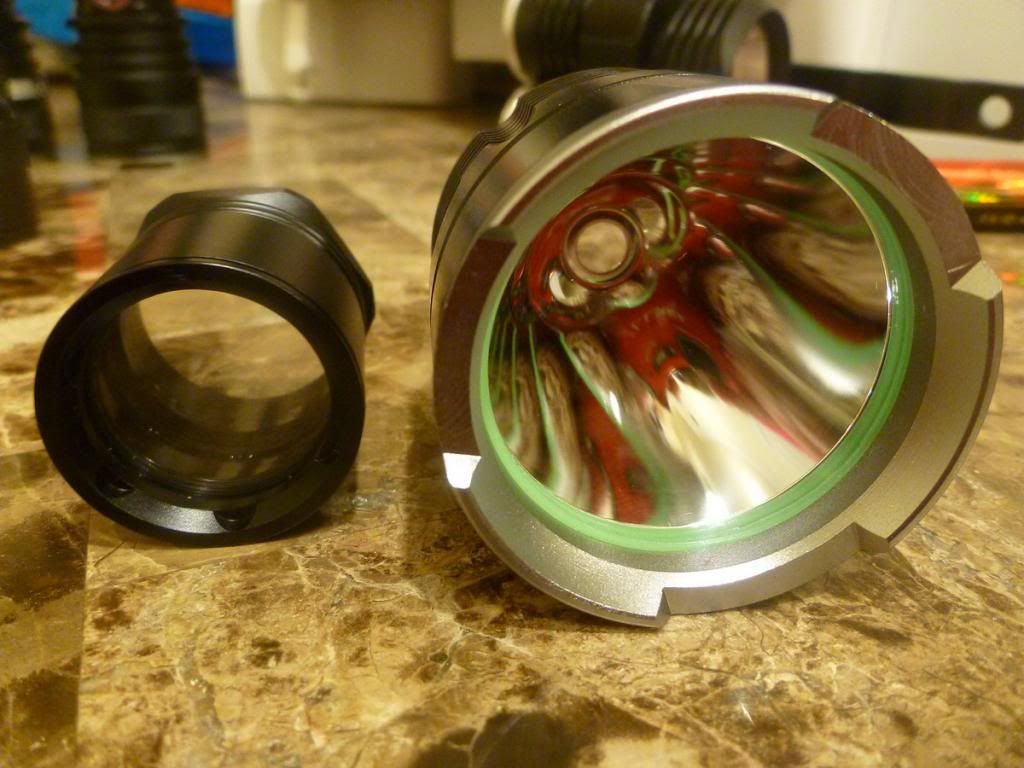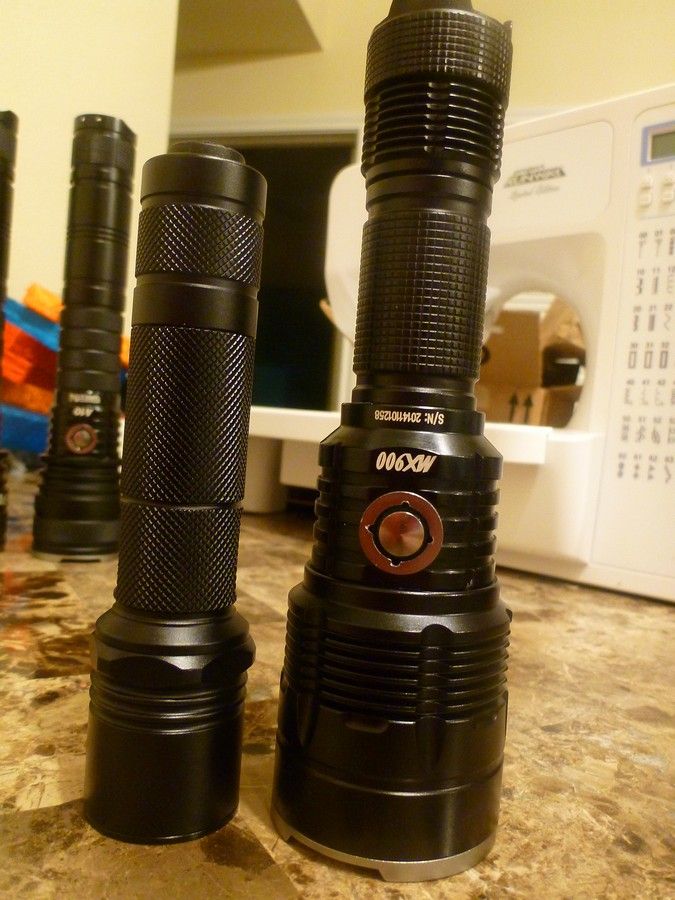 Left: Solarforce L2m, Middle: Warsun MX-900, Right: SkyRay King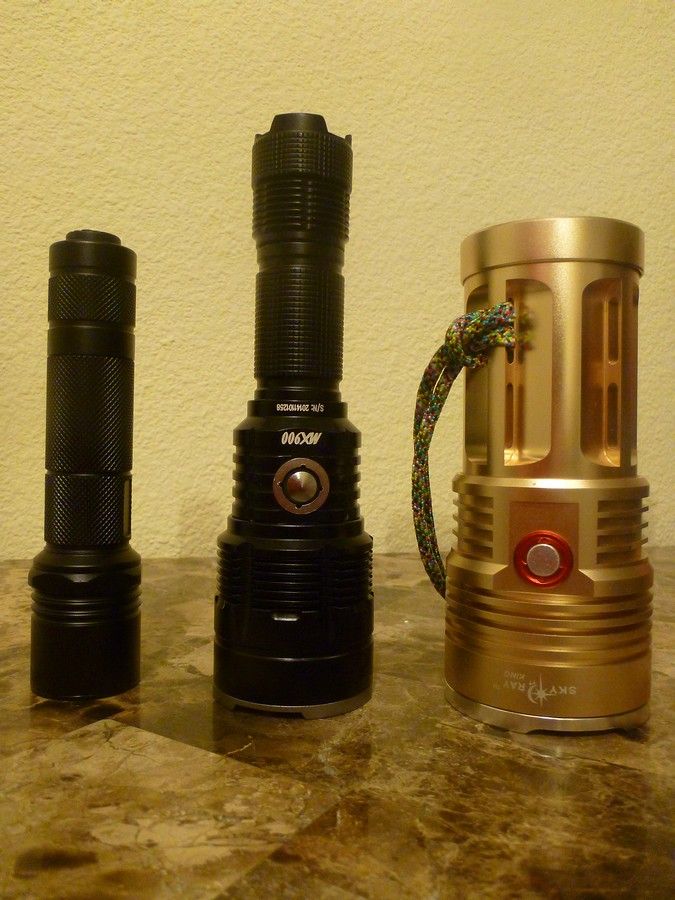 Left: SkyRay King, Right: MX-900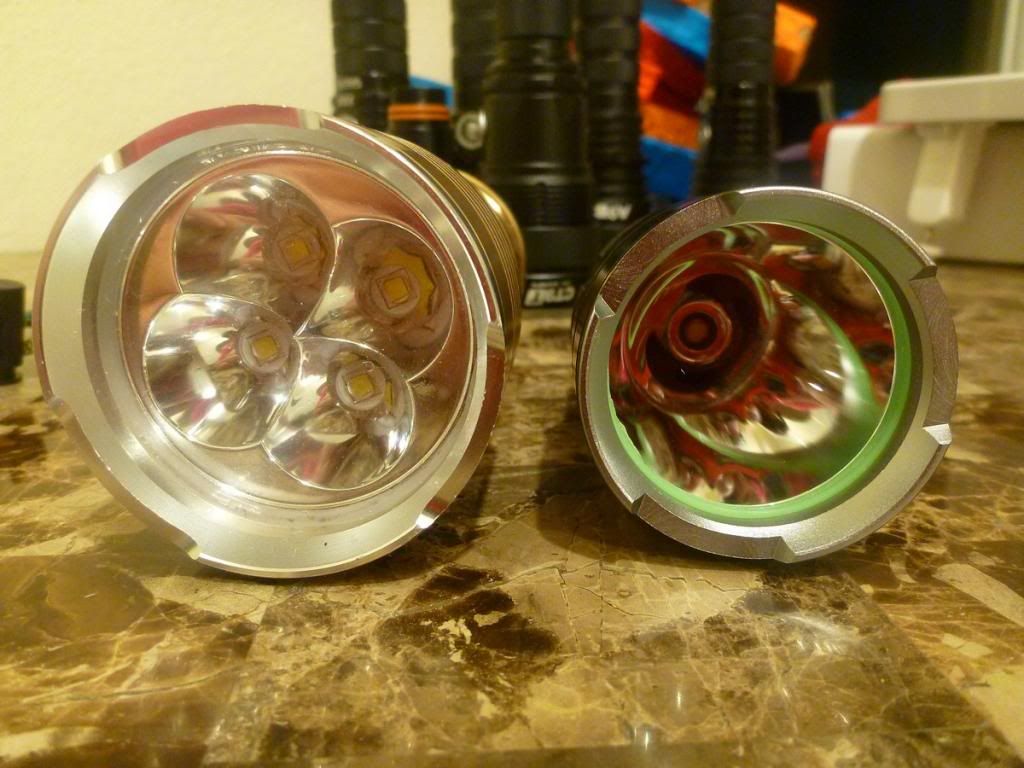 MX-900 with extra tube for 2x18650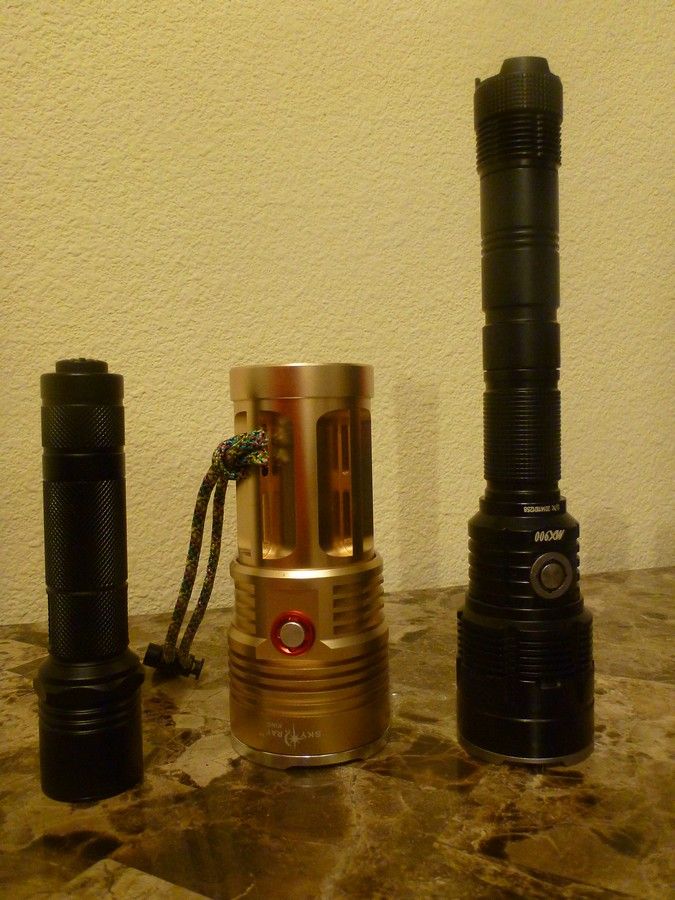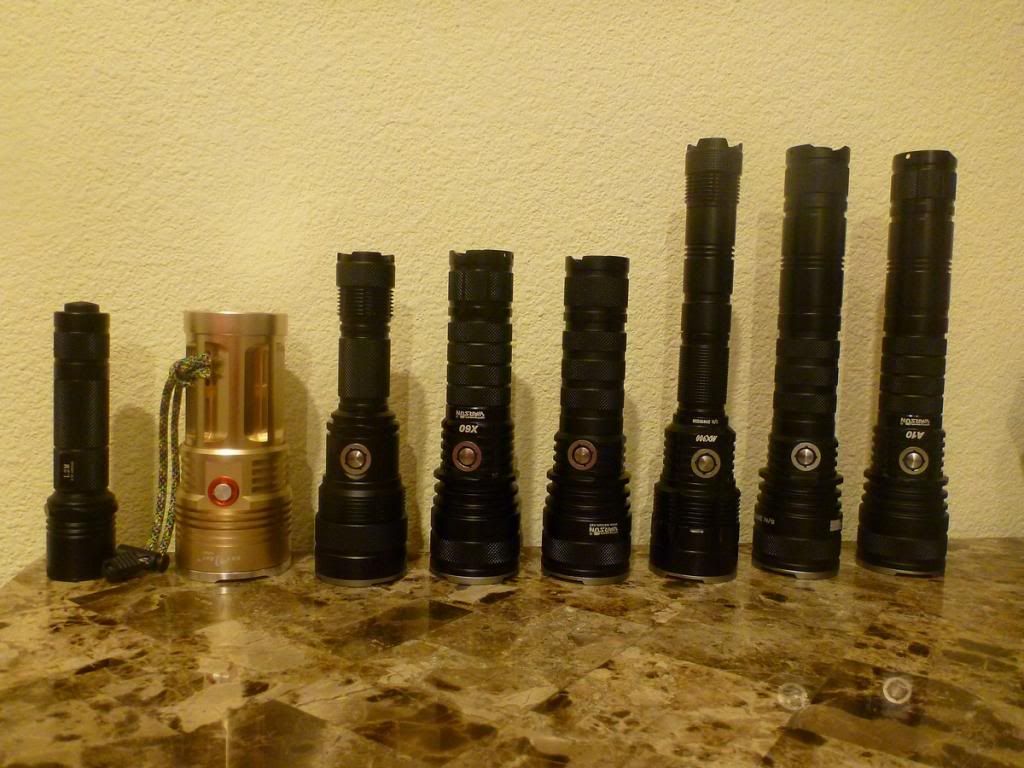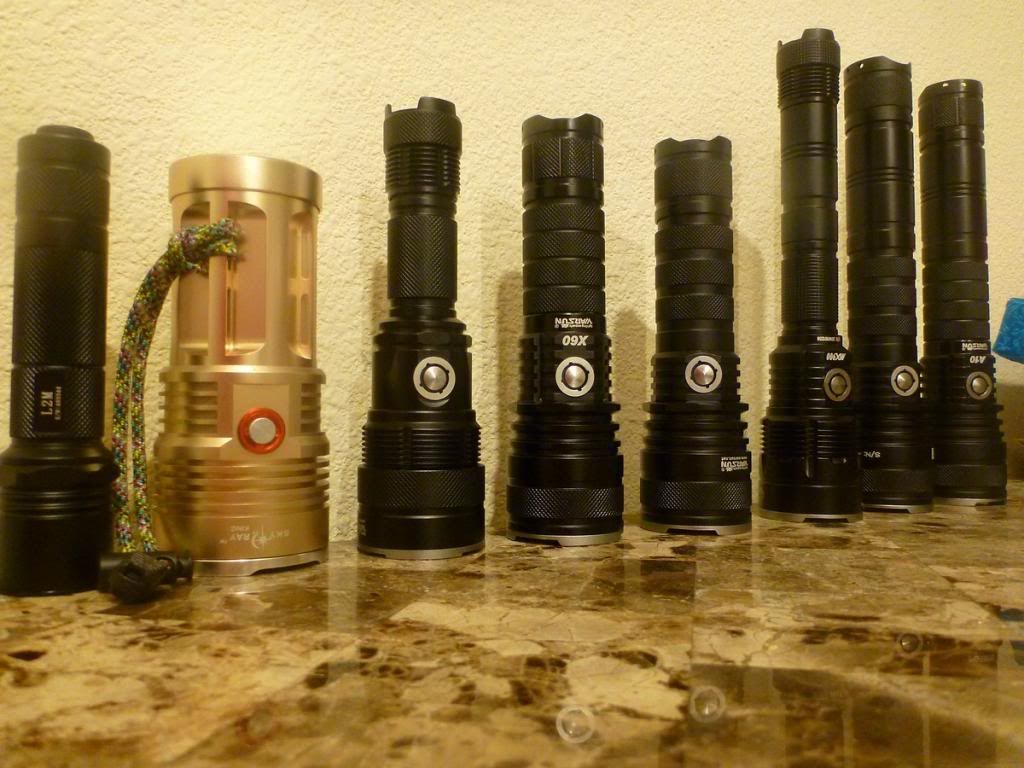 MX-900 completely disassembled, notice I can take the three GITD rings off the extra tube if I want.
glass lens with very thick GITD O-ring that fits around both sides of the lens.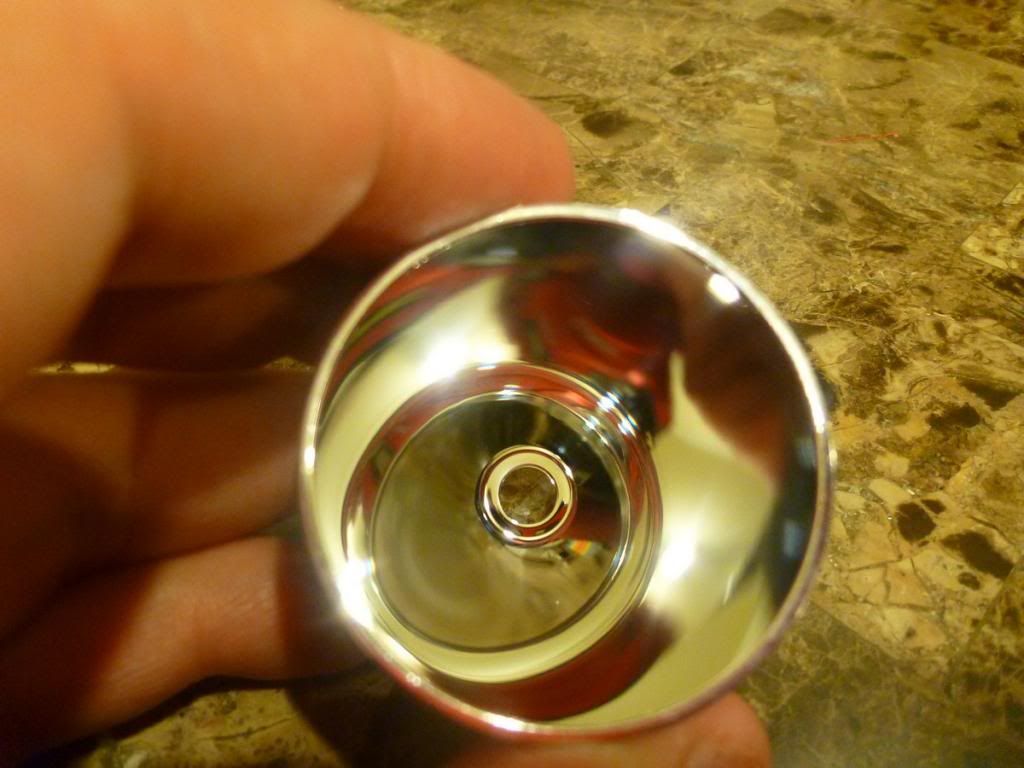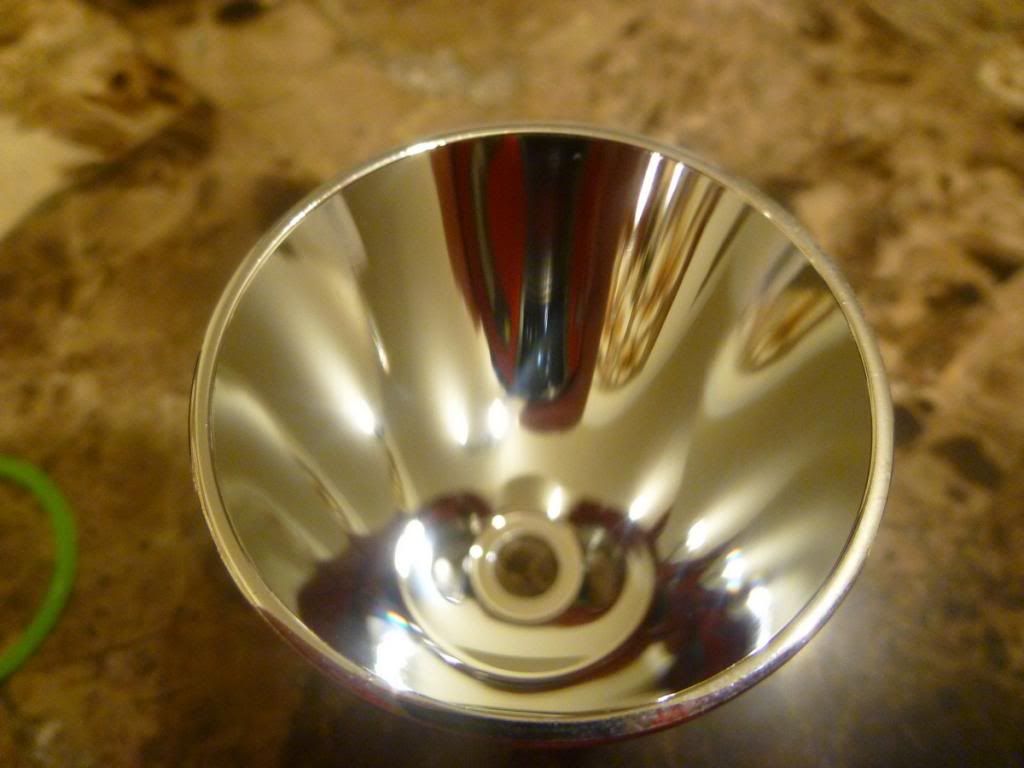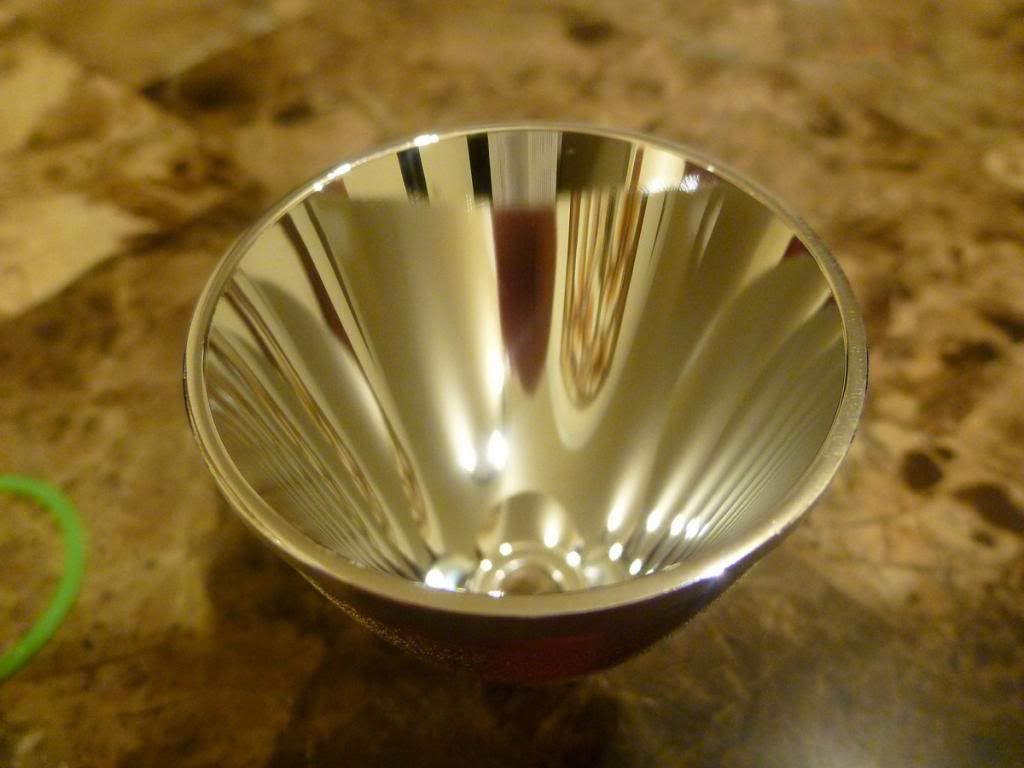 Inside the driver head, as far as I could go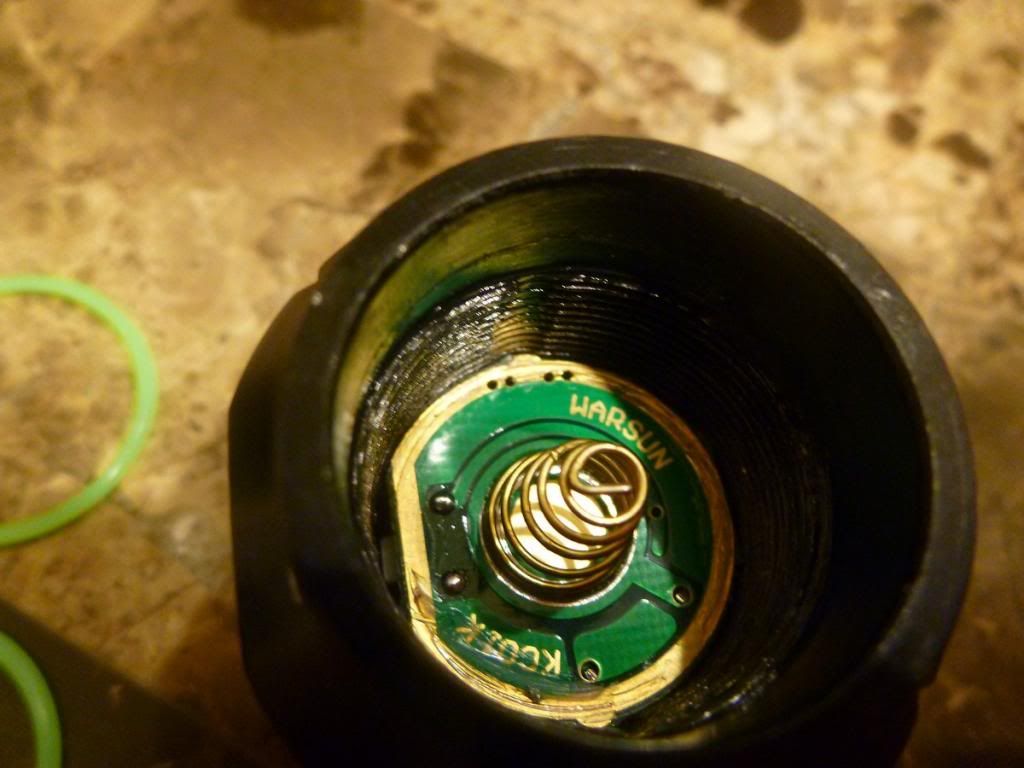 Like I said, they spared no expense on lube. I can actually some of this as back-up on my other flashlights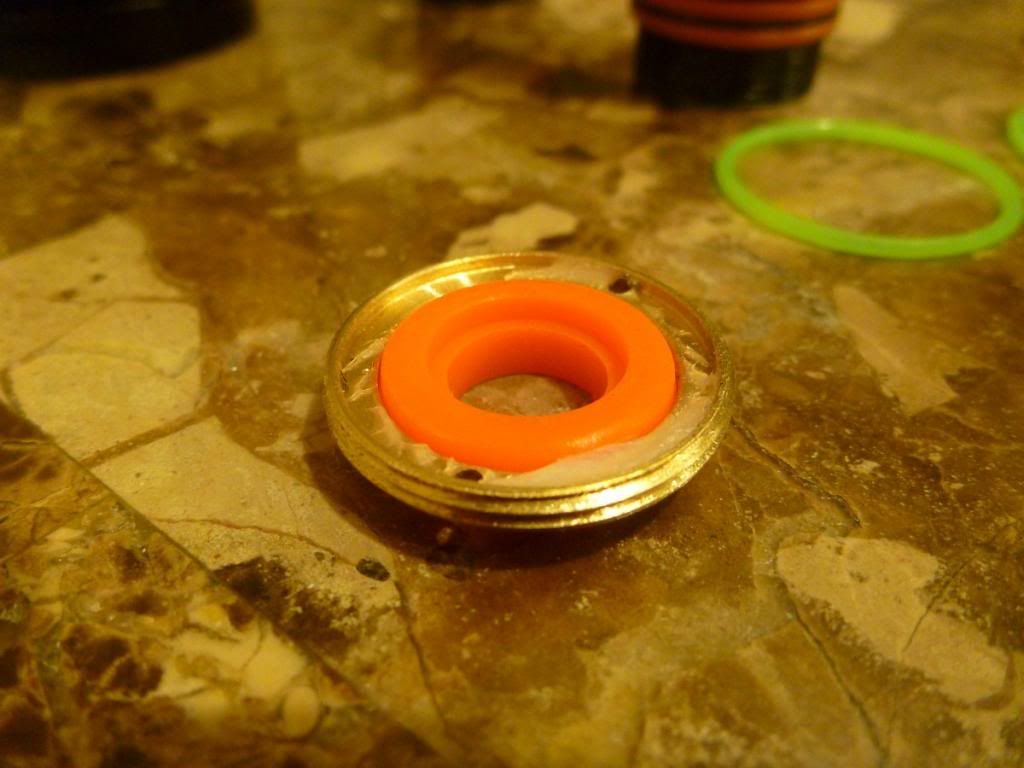 Left: Nitecore TM-26 with blue status indicator     Right: MX-900 with red LED low battery indicator