Hey everyone, well if finally had a couple hours to build a project I had been thinking about for awhile. We sell off road LED automotive/tractor lights and about a month ago they changed designs so we had one left over that we couldn't sell. I also had a big 12v battery not being used. I have a friend in construction and the Exit sign was torn out for a re-model so I got a free battery. I was going to mount the light where the switch is and I think it would have looked better but where its placed now is twice as usefull.
The plan was going to go to the goodwill and buy a heavy duty plastic lunch box for the project but I remembered I had an ammo box in the closet! So I guess you would call this more of a Lantern than a flashlight but hopefully its acceptable. It defiantly is budget! It cost me $0 out of pocket. I had all the parts LOL.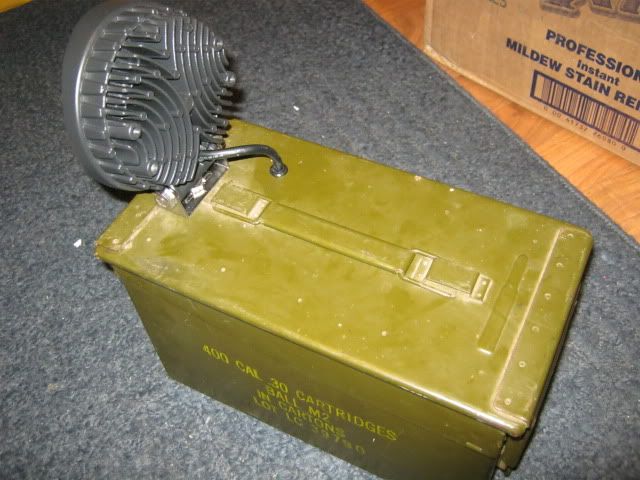 Its manufacturer rated at 2000LM 6000K The light it puts out is like a giant flood/cone. This would be the perfect light for working outside or lighting up a campground. It really is a thing of grace and beauty. I'm also going to install a fuse.
I still have some work to do, right the battery is just held in place with some wood boards but I plan on filling some plastic bags with expanding foam insulation. It makes a super tight, strong holder and is fairly easy to remove.
The battery is pretty heavy maybe I should make a 200 cell 18650 pack for it? I plan on using it this weekend so I will have some beam shots