I want to do a short review on the Xtar H3 Warboy. I won this flashlight in a Budget Light forum giveaway which was open to any member to enter. Thankyou Xtar! Thankyou very much! I do not know the current price for this light. Apologies for low quality cellphone pictures. It arrived to my door well packaged, shipped directly from Xtar in China in I think about 2 weeks.More information on Xtar

This review will not be a typical flashaholic review but instead is a basic review for a newby to modern flashlights.
I want to compare the Xtar to an old flashlight that I found around the house. It is a –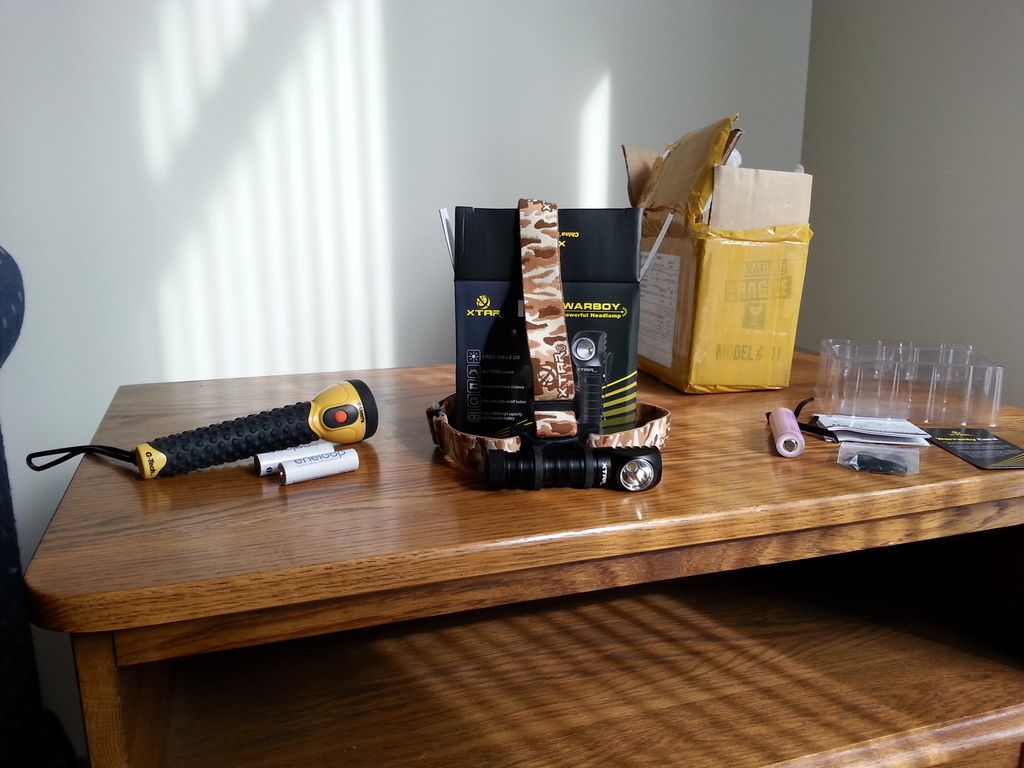 Garrity G-tech.
I would estimate this light to be from about 1995. It takes 2 AA batteries. It is made of plastic and I am sure it was cheap to buy at the time. It has a nice grippy handle and a button to click on and off. If I was 9 years old again (which is a long time ago now) I am sure this flashlight would have been one of my most prized possessions along with a bicycle and a fishing rod. But fast forward to today and when I turn it on I think there must be something wrong with it. It really has so little light that I think the batteries must be dead. I try new batteries and get no improvement. Ok so maybe that is all it's got. Maybe the good old days weren't that good afterall because the Garrity ,,,, Sucks.
Now to the -
Xtar H3 Warboy.
This is a brand new model that just came out. It takes 18650 Lithium ion batteries which are commonly used in laptop battery packs. These batteries are rechargeable and can last 2000 charges and likely more. They pack a lot of power. The cost of a battery and charger will very quickly be much cheaper than constantly purchasing AA batteries. The Warboy is beautifully crafted in aluminum and is anodized which makes for a tough finish. This light with its 90 degree design is made to be used as a headlight but it also really works well in a chest pocket.

This design is also very useful to place flat on a table and angle the flashlight any way that you want by rotating the pocket clip to keep the flashlight from rolling. The pocket clip can be used on any of the 7 grooves in any direction if desired. The headstrap seems nice quality and works very well.


Of course you can still carry this light in your hand as well. This light has 4 modes. Click the button once to turn it on. It will come on in the last mode that was used – So if you were in high mode before, it will come on in high this time as well. If you want to change modes then hold the button down and the brightness level will change about every second. Then just release the button in the mode you want to use. Did I just say brightness level? Yes compared to the Garrity this light is much much much brighter even in the lowest mode. Note: camera settings are not the same in pictures below but do show the difference of the 2 lights.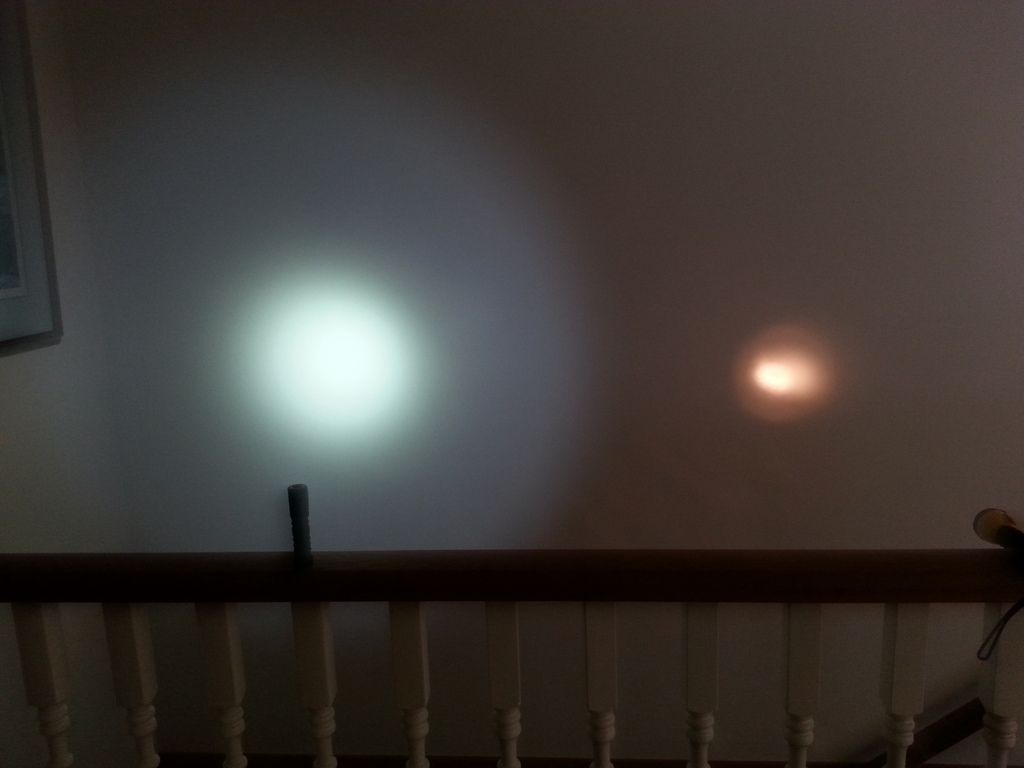 In the highest mode I think the claimed 1000 lumens to my eye seems accurate.


I would think this is one of the brightest single 18650 headlight style lights that you can currently buy. It will light up a room similar to a 60 or maybe 100 watt incandescant lightbulb! Not only that but this is a high quality light. There are many lights to choose from nowdays and it is very difficult for a newby to tell a cheap light from a good one. I cannot really think of a single complaint. I reccomend the Xtar Warboy and give it 5 stars out of 5.
This is my Pussycat. I do use a flashlight to find it at night (on low setting)

This is my cat with its' deer friends on utube