So I've finally started to collect the parts for a custom searchlight. I found a guy here who had a custom 9.6in silicon dioxide overcoated aluminium (AQ) reflector built by Opti-Forms. He also had a custom made anti-reflective polycarbonate lens made with high temp anti-reflective glass center piece. I bought both from him for $260. The reflector alone, when new from Opti-Forms, was $700 so I think I got a great deal! He glued his own mounting mechanism to the reflector using high temp putty. I think this will come in handy for my build. 

A pic of the gorgeous reflector.



Side profile also showing mounting mechanism.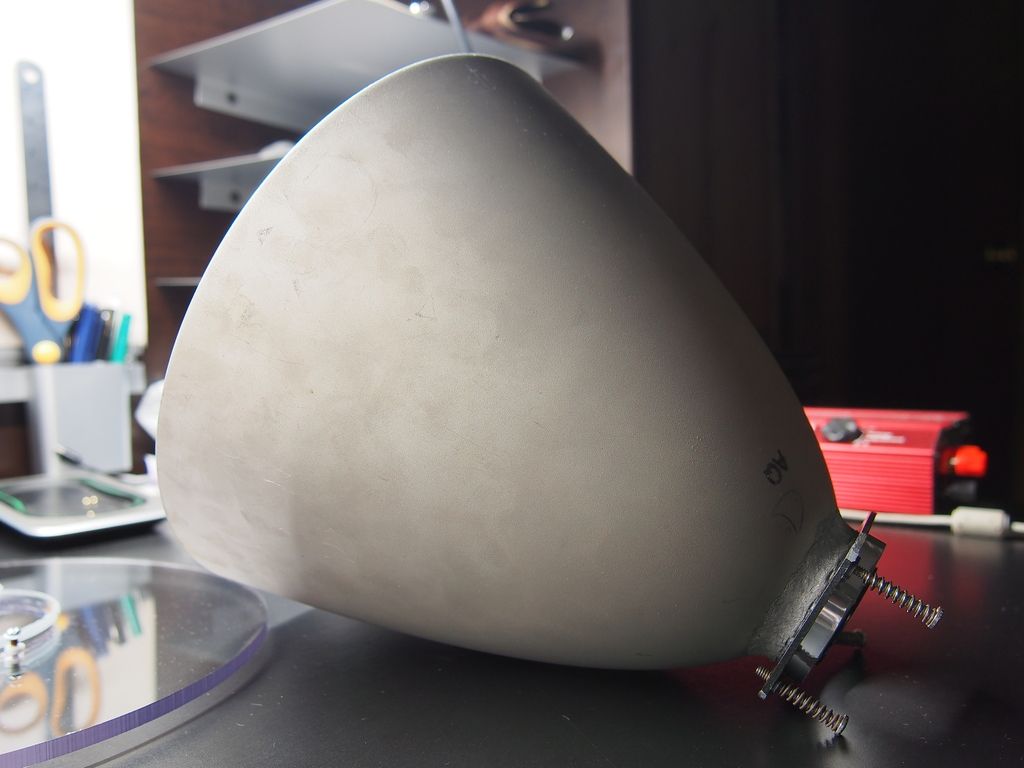 And some pics of the lens. A few minor scratches but nothing I can't deal with.



High temp AR glass mounted to the center of the polycarbonate lens.



After I had the lens and reflector I had to find a housing to mate all this too. Turns out Walmart had a cooking pot that will work just perfect as a housing for this beast.



Couldn't have asked for a better fit!!



Even the lens fits the little lip around the edge of the pot just perfectly.



So now that I have the reflector and the housing out of the way, I need to get to the heart of it all: the bulb. I still have not decided exactly what kind of bulb I'm going to use. I had seriously thought about buying some of member D1S's remaining stock of DL50 Fat Boys and overdriving them to 100watts. That should give me close to 10000lumens of light output which is plenty. But I took the reflector outside the other night and fired up a Osram 66240 bulb in the reflector and the results weren't as impressive as I had hoped. I'm looking for maximum throw and intensity. While the beam produced by the Osram bulb was tighter than most flashlights it lacked the intensity to be a seriously impressive light. I haven't found any specs for the DL50 bulb but I was under the impression that the arc dimensions are the same as a regular automotive HID bulb so the beam shape would be very similar, albeit 3X brighter with a 100watt ballast. I don't think being 3 times brighter would yield much more impressive results. So sadly I think I have eliminated the DL50 bulb as a possible candidate for this project.

That brings us to where I am currently. I have decided that the only way I'm going to get the results I'm looking for, and to utilize this reflector to its full potential, is to go with a short arc bulb. Automotive HID's are AC (two hotspots in the arc) while Short Arc bulbs are DC ( a single hotspot in the arc). Most of the light from Arc bulbs arc concentrated in that single hotspot which, depending on the bulb, may only be 1/4mm long. This should produce a super tight and extremely intense beam like I'm looking for!
 

Xenon short arc bulbs are much less efficient than automotive HID's. The bulb I think Im going to go with is a 450watt Xenon short arc bulb. According to Osram it produces about 13000 lumens. ( Thats only 28lumens/watt
) but the electrode gap is only 3mm long. Considering the hotspot is possible only a 1/4 or 1/8 of this length I think it will produce the results I'm looking for....

And finally since I have not completely decided on the bulb I also don't know which ballast, ignitor, and power supply I'll need to finally fire the bulb up. One thing that is for sure is that all of this will cost quite a pretty penny so the project will move quite slowly. I'll continue to update thread as I figure out what parts I'm going to need next! Stay tuned!!