So heres very short one, for more pictures and coupon code read this review by Sirius9.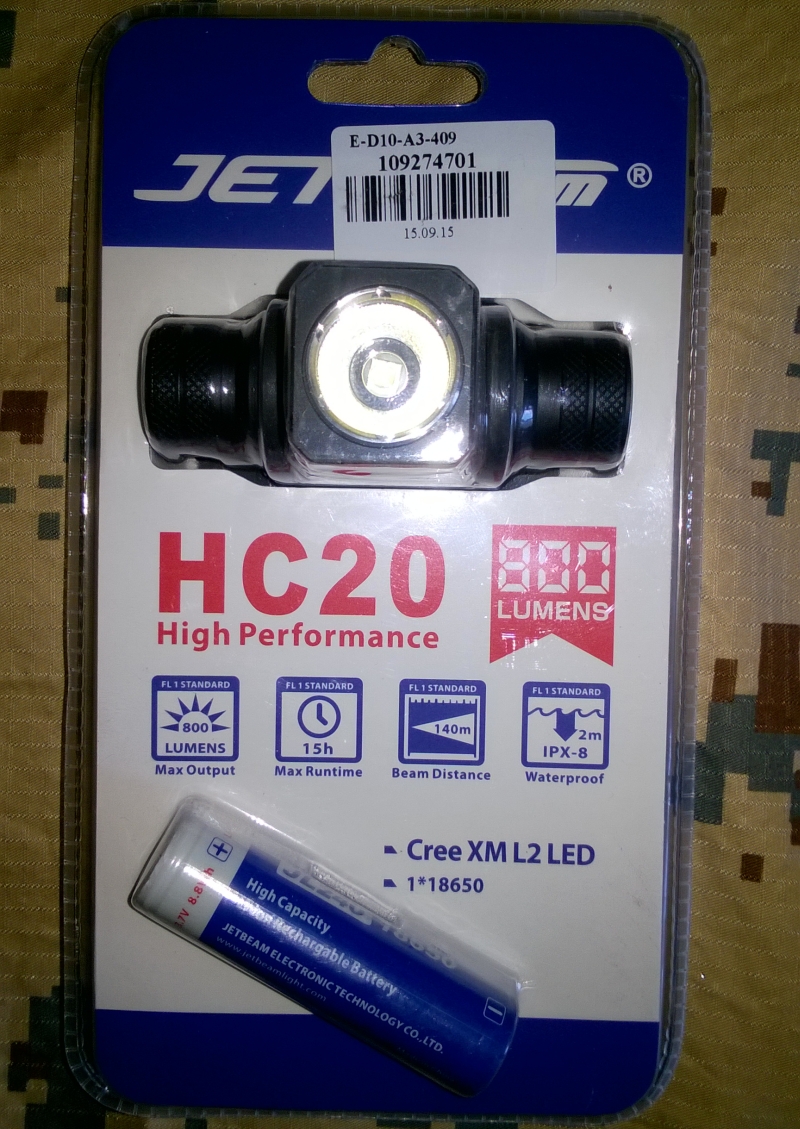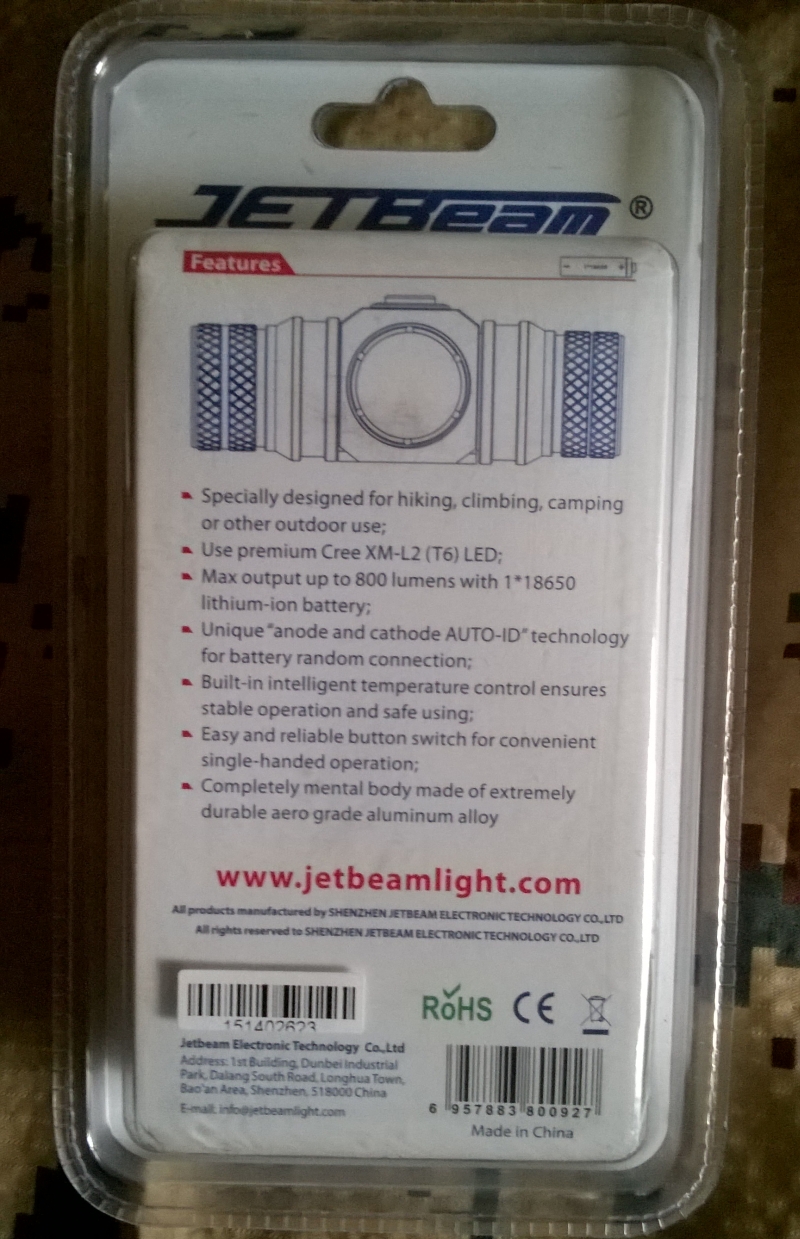 Package contains light, headband, warranty card, manual, spare o-ring and Jetbeams JL240 protected 18650 battery that is rated at 2400mAh but people have reported that it comes with 2600mAh cell inside(battery not seen in pictures since I already inserted it into the light, heres the link to it on Jetbeams webpage)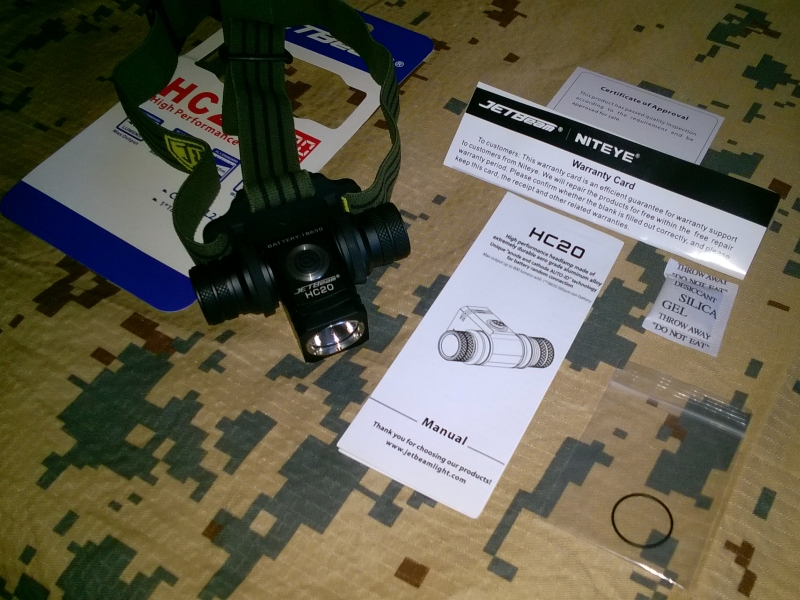 Good things:
Build quality of light as well as of headband is very good, no scratches or nicks, dents on mine.
Threads are smooth and there is no problem when inserting longer, protected batteries with screwing the battery tube cap back on(threads wont start to grind on each other like in Xtar H3 for example).
User interface is simple, press the switch for 1/3 of a second and it turns on in last used memory even if the battery has been replaced. Its electronic switch, so there will be little delay between the moment you press the switch and when the light turns on, but its rather short one, noticeable, but not as laggy as in some of other e-switch lights Ive used that have at least half second delay to turn on.
Modes are changed via clicking switch ones, sequence is high-medium-low, double click in any mode bring strobe, double click again turns on SOS, single click while in strobe or SOS and youre back to the mode you were in prior to strobe/SOS.
There is no direct access to low or high or strobe from off. Everything else regarding how it operates is described above.
Turning off takes long press again, it takes longer to switch it off, more than when turning it on but less than one second.
Not so good things:
Occassionally flickers when turned on, stops after few pats on the light, apparently some contact issue, some folks on Amazon have complained about theirs flickering too.
I cleaned contacts(all but spring, which is deep inside the tube) and it still flickered. I then reversed the battery, prior to this it was negative forwards, turned it over so the positive end goes into the light first and touches the spring at the end - it will flicker less and wont be as sensitive to vibration.
Others have said that its due to spring inside the light being too short.
Slightly hitting the light on its left side(where the spring is located) makes it flicker, not constantly, just one time flick per hit - I dont see this as a problem, but it depends on the way you will be using this light, lots of bumps and shaking(your head should endure those as well
) might cross this out of your wishlist.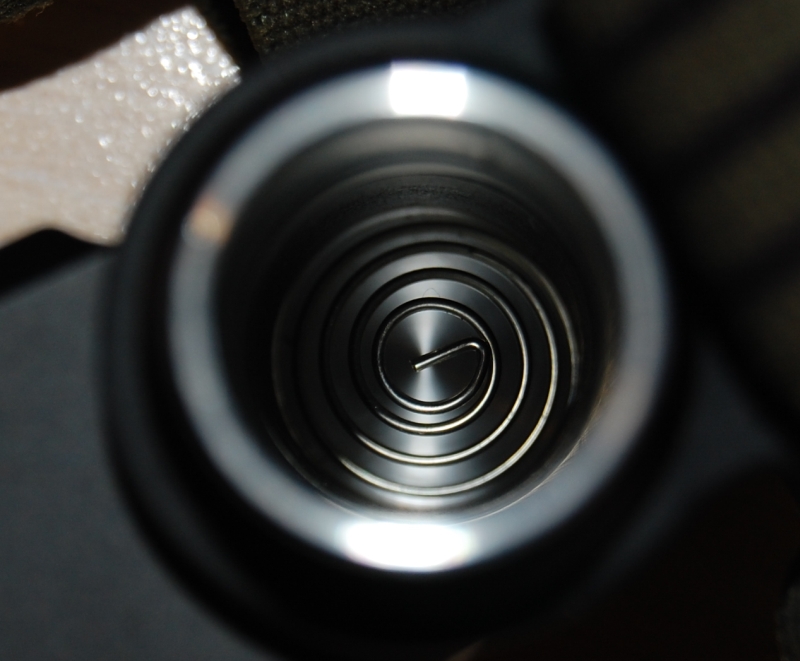 Theres plenty of room for the battery inside, so it will rattle depending on amount of shocks or vibration the light will be exposed to - I guess its really due to tube being too long/spring being too short for most batteries(Im using protected only).
PWM is visible when testing for it, but not noticeable in real life use(couldnt stand PWM on lowest setting on my Ultrafire UF-H2B), YMMV.
PWM is accompanied by audible whine in  medium and low modes, gets louder in low mode. 
Long story short - its basically two things wrong - light flickers due to battery tubes length/shortness of spring and it whines when in low and medium moeds due to PWM which might not be an issue if youre using your light in noisy environment and not in rather silent one.
Other thoughts/observations:
 +It has comfortable headband
+Switch is located on the top of the light, making one hand operting very easy and blinding oneself with lights reflection from hand while operating switch shouldnt occur
+Comfortable headlamp rubber/silicone holder
+Easy to adjust headband on the fly
+Has mode memory
+Comes with Jetbeams branded battery, very attractive addition
+Battery can be inserted either way, the light will function properly
+Rather throwy, makes it good for cycling, for close up work will need some sort of diffuser given its high output on low and beam pattern(rather tight hotspot for a headlamp)
+Even though I would love it to be neutral white, its cool white, but it doesnt bother me in real life use(that is, until I receive and try out my neutral white Skilhunt H02 which costs more though)
-Would love to have another mode, ultra low one.
-PWM whining would be good riddance.
-LED's dome seems to be off-centered a bit, but Ive learned that its a common thing on LED's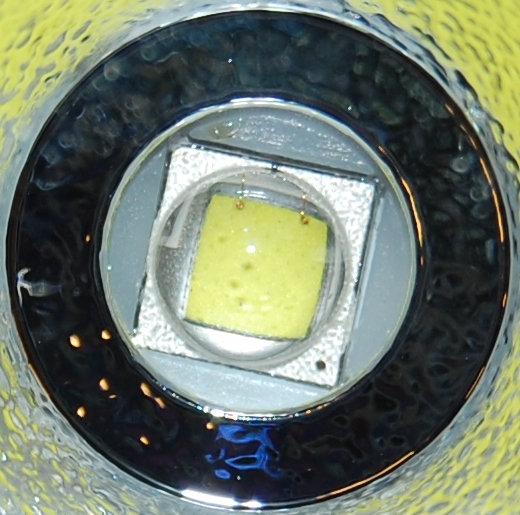 -Clamshell packaging is hard to open, must be careful not to damage battery when using knife blade when opening it up.
For the price this is pretty good headlamp, I hope it will work fine for a long time and wont fail.
I informed seller about the flickering issue and they resent me replacement unit with free tracking number(so it seems) :)!