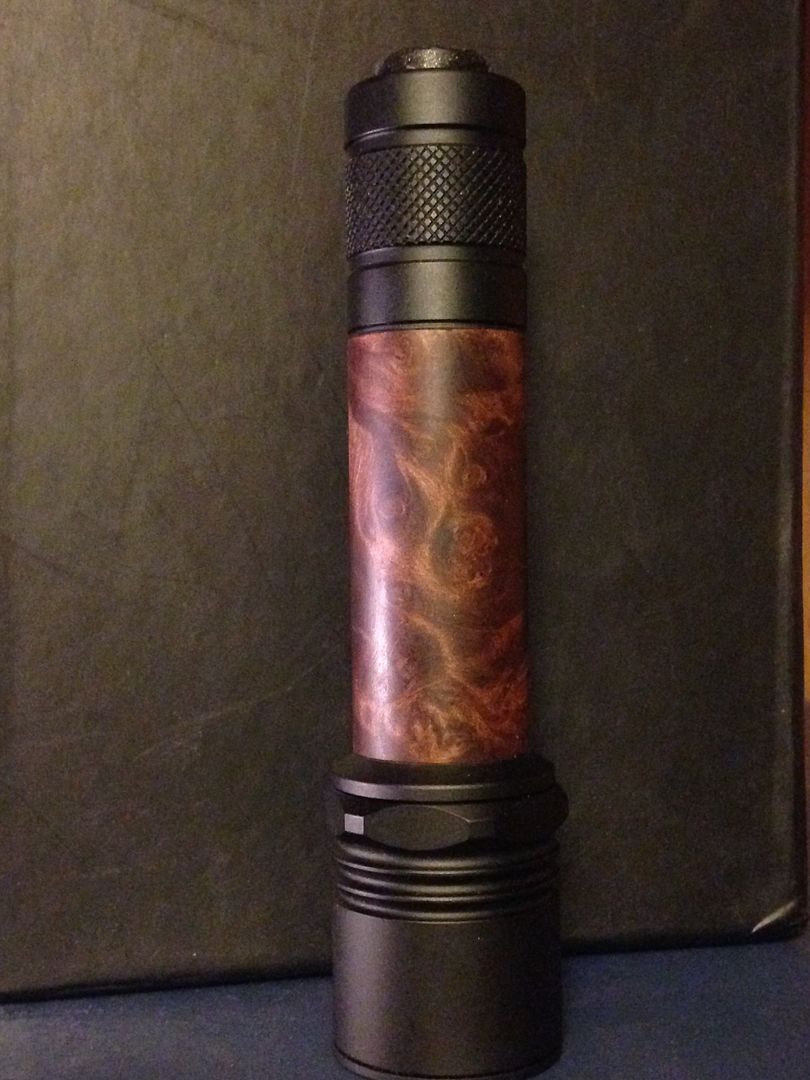 Lacquered and polished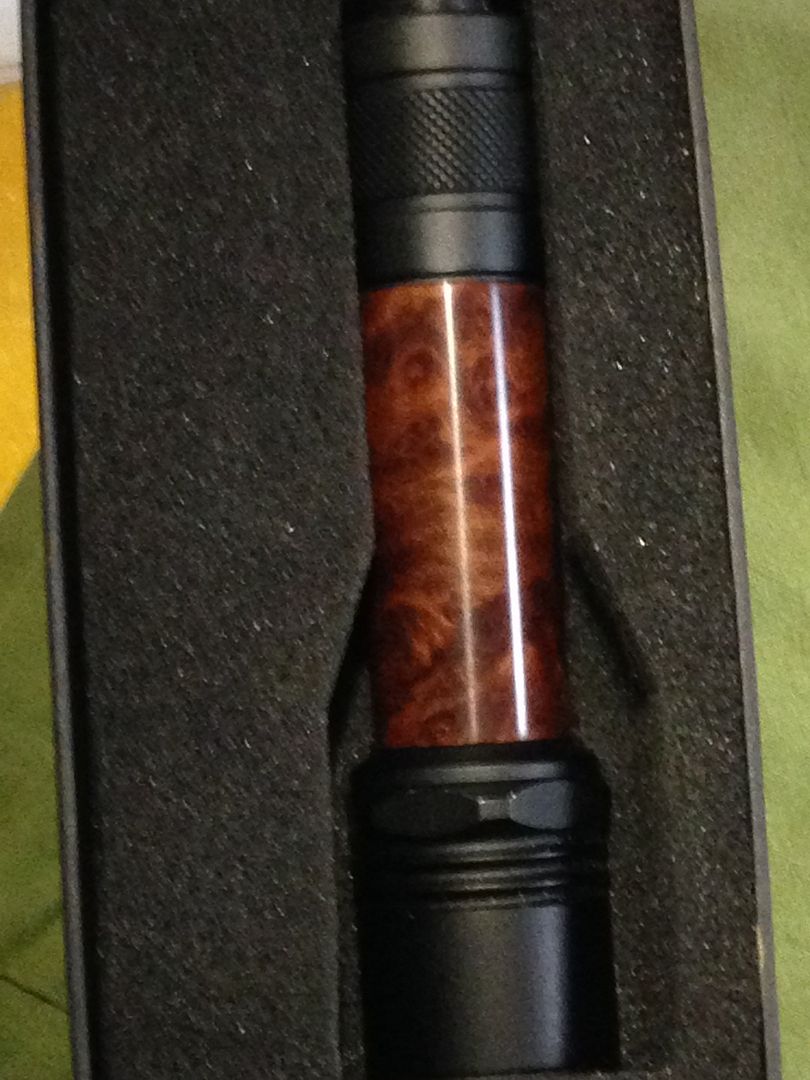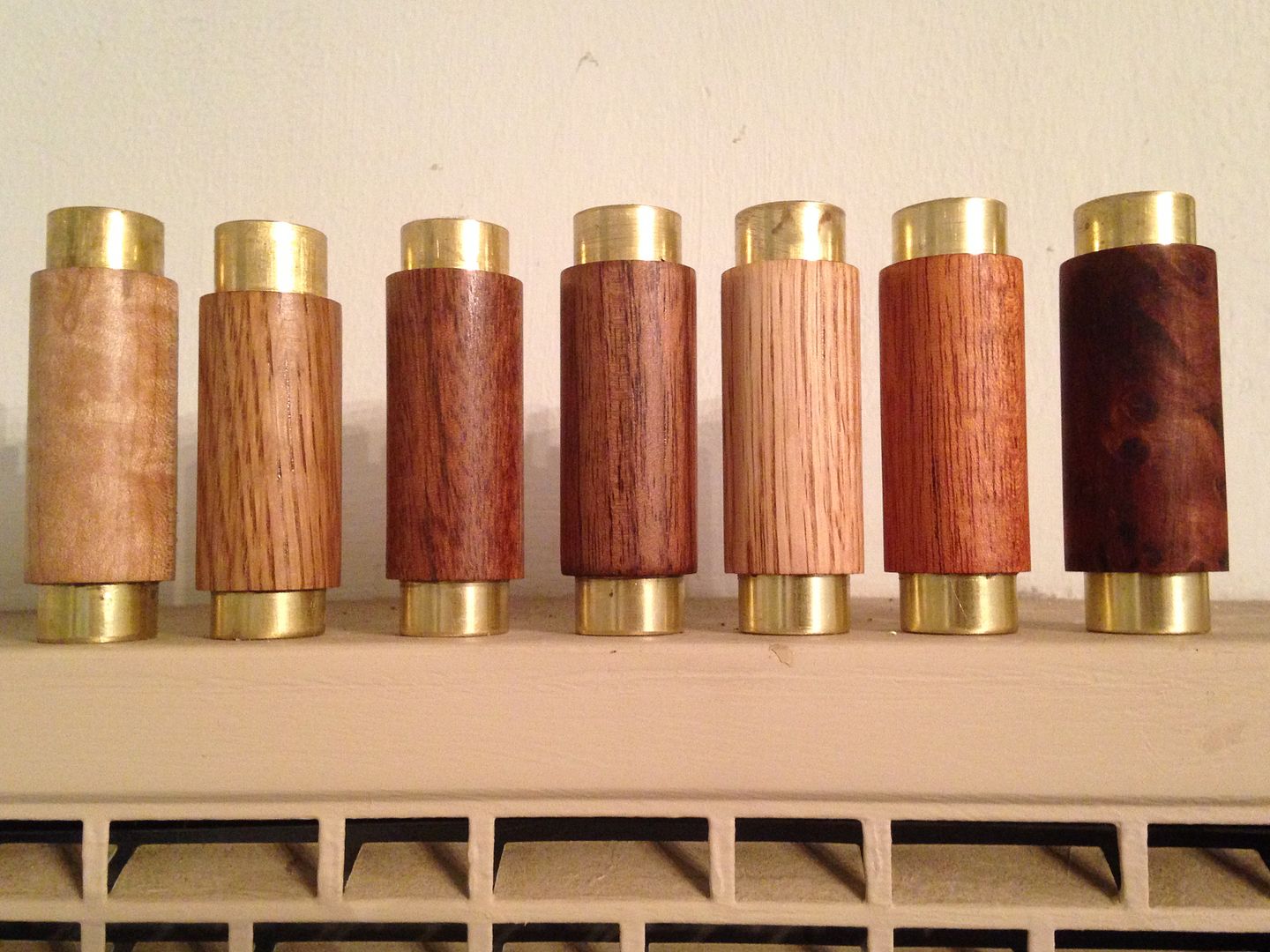 Wood options for 18xxx tubes:
Cherry
Mahogany
Curly Maple
Quilted Maple
Mystery Oak
White Oak
Purple Heart extra$
Redwood Burl
Teak
Walnut
Options for AA/14xxx tubes:
Same as above but also
Lacewood
Zebra wood
Lights I've verified I can do this to are:
Brinyte B158
Convoy S series
Convoy M1
Convoy C8
Eagle Eye X6
Minimag AA
Manker A6
Solarforce L2
UltraFire 501/502
I suspect most tube lights can be done but would need to consult/verify any not listed.
The base price of $50 for an *unprotected*18650 tube includes the wood, the brass, the work including finishing, and shipping Conus. Extras might be longer tube, tube for protected cells, extra brass bling, shaped wood(not cylindrical), and any parts bought(such as a particular host or shorty tube. All negotiable.
I need a battery tube with the correct threading such as a shorty 18350 tube. I have some anodized A6 and X6 tubes but there are too many possibilities and some don't have spare tubes.
I'm sure there are details to be ironed out but this should be enough to get an idea.
Please be aware, this is a budget option using budget methods so there will be minor flaws. I will post each one as it's done so please check them out first.
I'll be offering to make these but in very limited quantities so I thought I'd include a how to for any willing to give it a go.
post #47 has getting started notes and picks.
Just for kicks I made that 2× 18650 502B cherry tube as part of a prize for the last DIY contest. Starting with a battery tube I can fab a brass sleeve and wood handle using the stock end threads and o-ring lands to make different lengths. Longer handles mean more wood so not much point for an 18350 but I'm working on finishing up a 10180 and a 10440 both with wood tube accents. Most of an 18350 cell is either under the head or tail cap threads leaving only a few mm in between. I'm thinking the short A6 and X6 tubes would make a nice starting point for those hosts with from XP to XHP50/70 as options since the knurling in between is mostly eliminated. Generally when I think I'm about to run out of work I get slammed but if I'm in for an extended bit of downtime this might keep me sane and spread some craftsmanship around the web. A chance to further customize your favorite host. This will definitely be limited since at best it will be just a few at a time but think about it and let me know your thoughts on this, different woods, shapes, etc. This isn't a business venture or anything of the sort so pricing will be absurdly low given the work involved. 18500, 18650, 2 × 18500, 2 × 18650, 14500 Minimags, from pine to Purple Heart. If we can work out a spec for it then it can probably be done.
—
Three Tanna leaves to give him life, nine to give him movement. But what if he eats the whole bag?
Scott