I do not have an integrating sphere don't know how to measure lux, CD, lumens throw etc. I am not a tint snob, or user interface snob, I do a little modding but I have burnt out so many emitters and drivers it just makes more sense to purchase higher quality lights in the first place. I like really bright lights but runtime and heat management are also things I like. I do like quality stuff, heirloom stuff, stuff you could pass down to your kids.
First up Ebay Ultrafire zoomy 2-26650
After I stumbled across
BLF
about 2 years ago. My first good flashlight purchase was a Tangsfire C8 for around $12. There was this buzz about this deal on
BLF
at the time and so I jumped in. Well it was a eureka moment when that thing arrived, flashlights had changed from incandescent days! Anyways I felt so confident that I purchased a couple lights off eBay and aliexpress that I picked myself without a
BLF
recommendation.
I purchased this eBay ultrafire zoomy 2-26650 for I think around $17.00. I was originally happy with this light and every one I showed it to liked it's brightness (compared to their 5 lumen old school flashlights) but after buying more and more good lights discovered this one was kind of dim in brightness at about 400 lumens. It is also cheaply made not sure if its even anodized or simply painted, threads suck, orings do not make contact. Body almost seems if it is cast aluminum instead of made from a bar of aluminum. Anyways I tried to make it brighter, wrecked the driver, stole resistors off the driver then stole the emitter. This thing has been sitting in a drawer for about 1.5 years. There will not be any beam shot comparisons cause – It's Busted.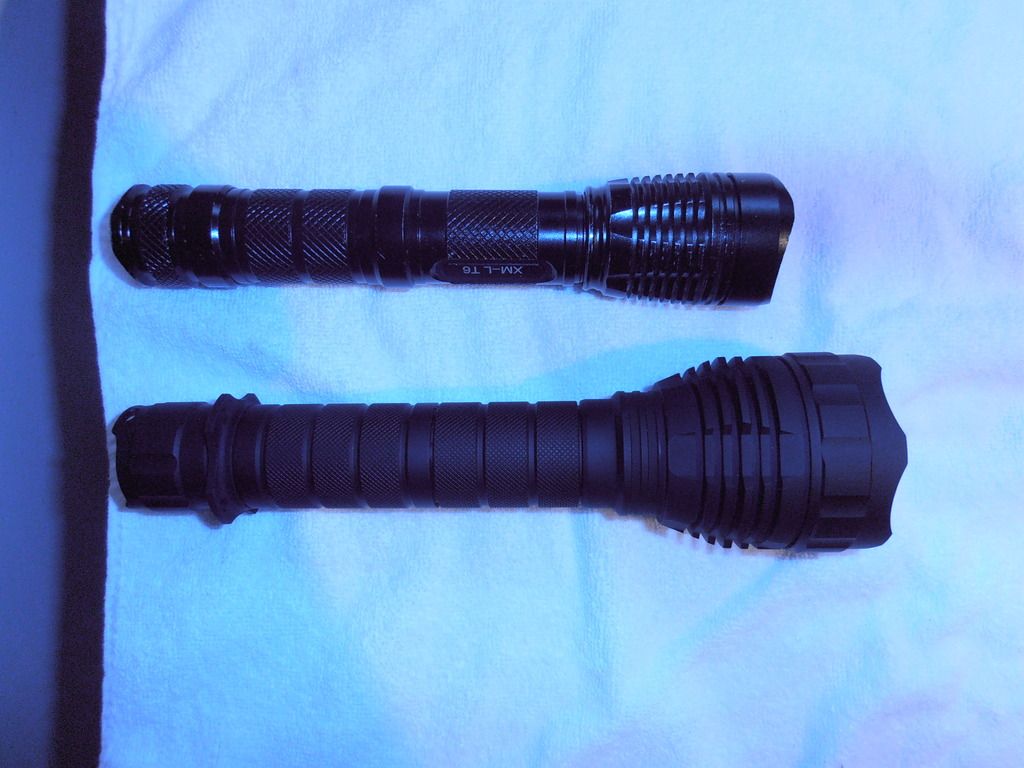 Now to the Convoy L2
I was very fortunate to win a recent BLF giveaway sponsored by Gearbest where I could get anything from their site up to $70 (Thank you, thank you, thank you Gearbest for this and thanks for usually having the best deals out there, and no, I am not affiliated with Gearbest or any other seller.)
There is a
BLF
thread on the new L2's with over 1000 posts! If you are new to
BLF
this is a sign of a popular flashlight. So I chose a Convoy L2 and a Palight dive light. "Convoy" just the word oozes quality, does anyone on
BLF
disagree? I kind of doubt it. Anyways came in a nice box in a bubble envelope in about 2 weeks I think. Box a little damaged but contents are mint. Comes with strap, 18650 adapters etc. This thing is a big heavy strong feeling flashlight, feels very high quality. I am sure this is made from solid aluminum stock. Feels like thick anodization, very flat black with no shine whatsoever, this is the only light I have with such a flat finish. Threads feel great, orings feel great, AR coated lense, reflector looks perfect. My first light which I think is reverse clicky? Anyways easy to figure out, and if you give it quick full clicks there are no blinky modes. Tint is nice neutral white with just a hint of green. my first xpl-hi emitter flashlight. (not too sure which tint I received) Very good thrower, quite a small spot, seems to throw fairly close to my Acebeam K50 but with a smaller spot. (The K50 was one of the best throwers you could buy a couple years ago) Heat – this light will get warm but it takes about 1/2 hour. I have not had it get hot. It accepts short unprotected
IMR
Keeppower or very long Evva 26650, also accepts 18650. Works with one or 2 batteries. Brightness seems the same regardless. So, your choice. For myself I see no reason to modify this light. Edit: although maybeeeee? Cause I do like my lights to get real hot once in a while. Anyways don't know what else to say that hasn't been said in the other thread, but if you are new to
BLF
and the flashlight hobby you likely would be happy just sticking to various convoy lights. I cannot really fault any of the six I have had (some now are given away). I rate this convoy same as the rest, 5/5. (you might take off a fraction of a point here or there but they all round up to 5/5) Heirloom? With the current rechargeable batteries which power these lights I think they are heirlooms. PS: and you are on your own if you buy a light on Ebay without a
BLF
stamp of aproval.