Thorfire sent me their S1 Dive light to review. I was a little reluctant to review it because… I don't dive. However, I'm very glad I did because this is a very handy light and definitely has some great stuff going for it.
Manufacturers Specs:
Material: durable aircraft Aluminum
Modes: High/Mid/Low, 3 modes
Bulb: 3x Cree XP-L LED with a lifespan of 100,000 hours
Battery: 4× 18650 3.7v batteries(Not Included)
Size: approx 155mm (Length) * 56mm(Body Diameter) * 73mm(Head Diameter)
Weight: 685-gram weight (Excluding the battery)
NOTE: The light was tightened for diving test. Please find a helper if you find it difficult to unscrew the light.
Best Diving flashlight
This Diving Flashlight is an extremely versatile, Super Bright. The max diving depth is 70m under water. It is fit for diving and scuba. Designed for the professional divers or under water Photographer.
NOTE: Every flashlight passed our test under the same pressure of 100m underwater.
Easy to Operate
The middle rotary switch controls all the functions, rotate switch in anti clockwise direction, the light starts from High, keep rotating it goes to medium and low. Rotate in clockwise direction to go back and turn off. Easy to be controlled by operation of user.
Comfortable Appearance Design
It is make out of durable aircraft-grade aluminum body. The handle is wide enough to hold on, very comfortable and convenient.
Intend Use
It is mainly used for diving works, Underwater fishing operations, Salvage operations Underwater archaeological work, Teaching Scuba diving. Also it is an ideal choice for outdoor activities, Such as fishing, diving, swimming, hiking, sailing, caving, hunting and seeking survival without fear of rainy days.
Package includeds
1 * ThorFire S1 diving flashlight
1 * User Manual
2 * O-rings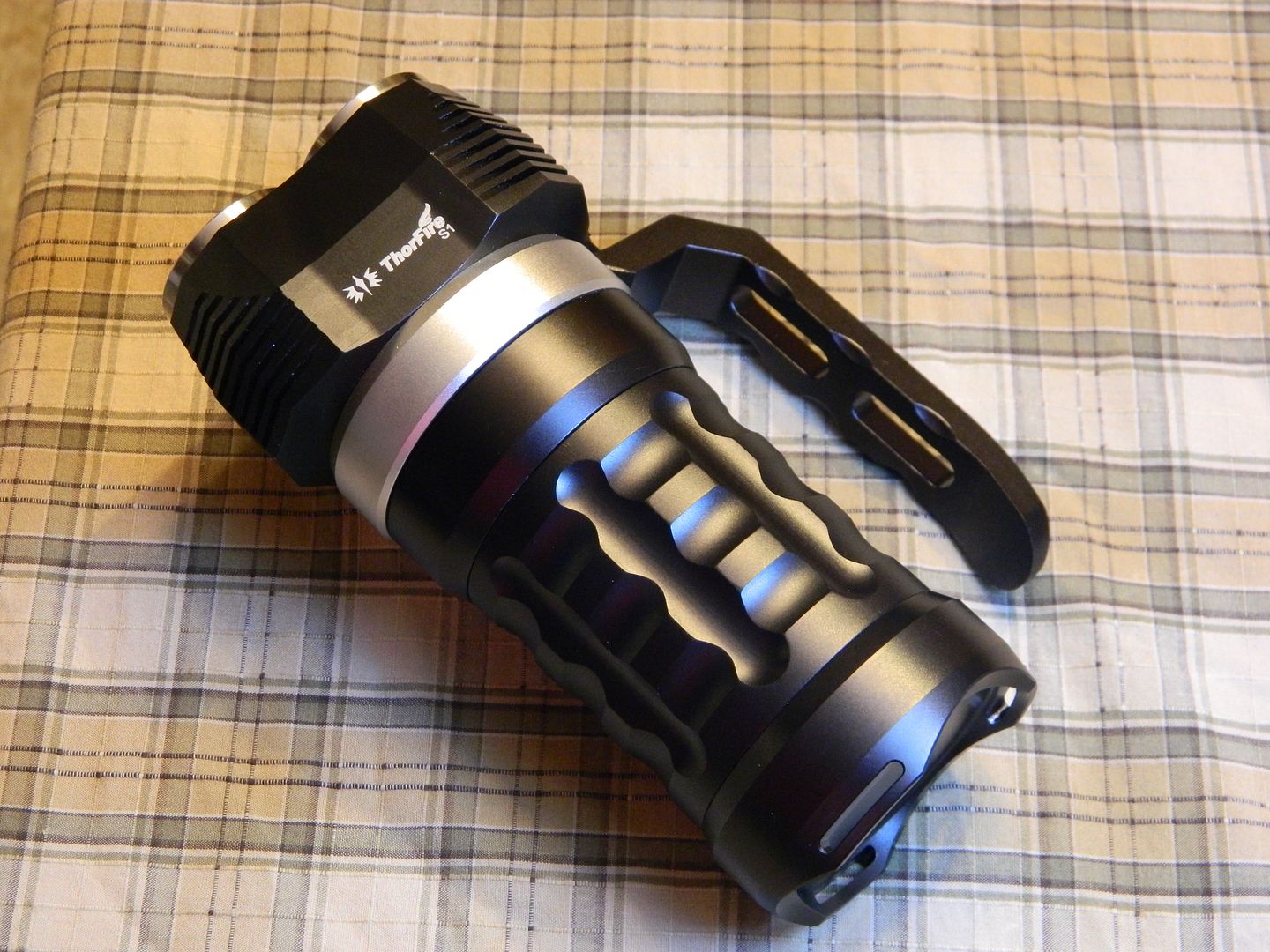 My youtube Review:
Construction: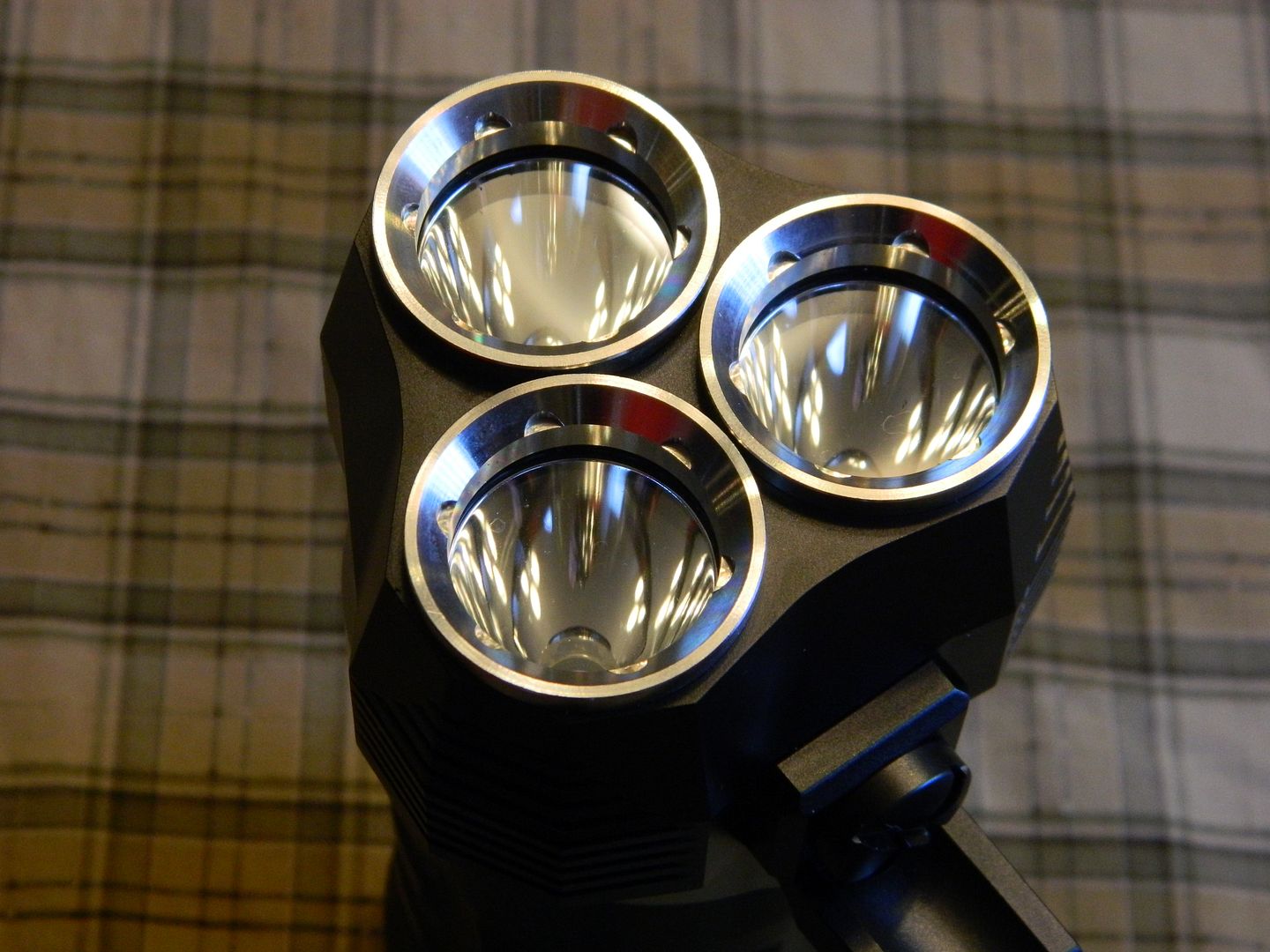 This light is a triple XP-L led flashlight that uses 4×18650 batteries. The LEDs are houses individually in smooth reflectors with Stainless Steel bezels that appear to be glued on (assuming this is to help waterproof)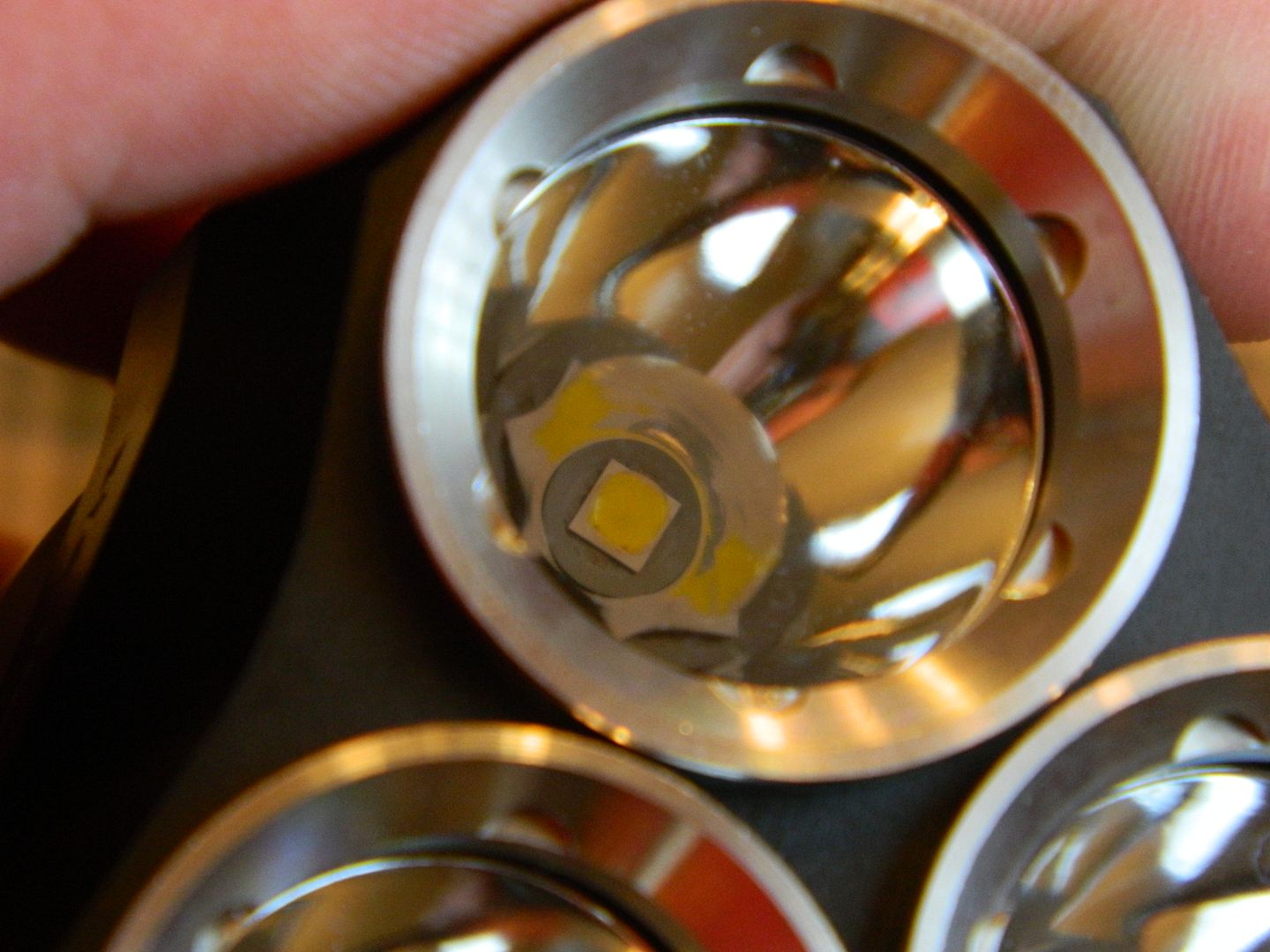 I was unable to remove the bezels due to the close proximity to one another. I couldn't get enough grip with pliers to overcome whatever glue is holding them down.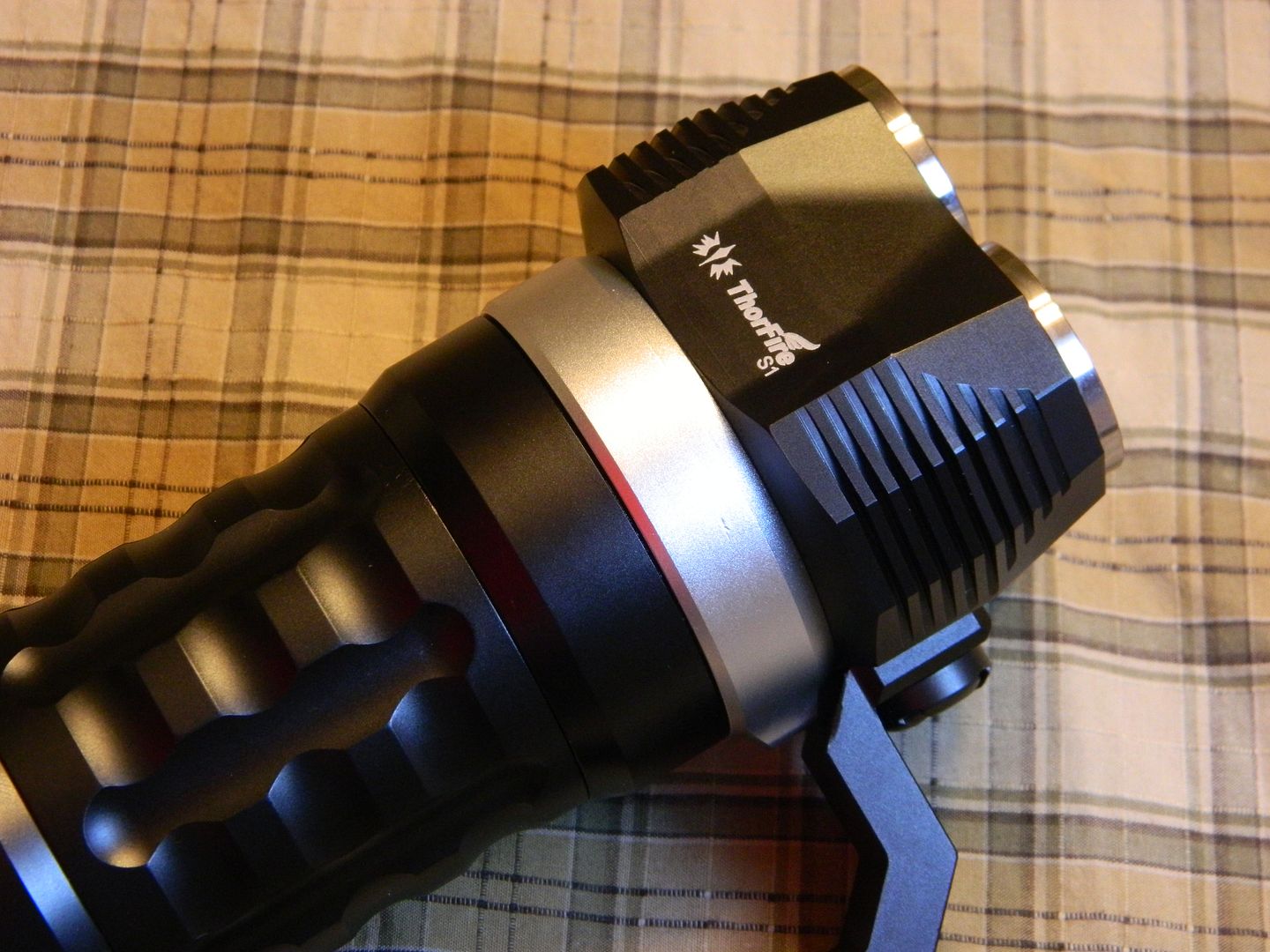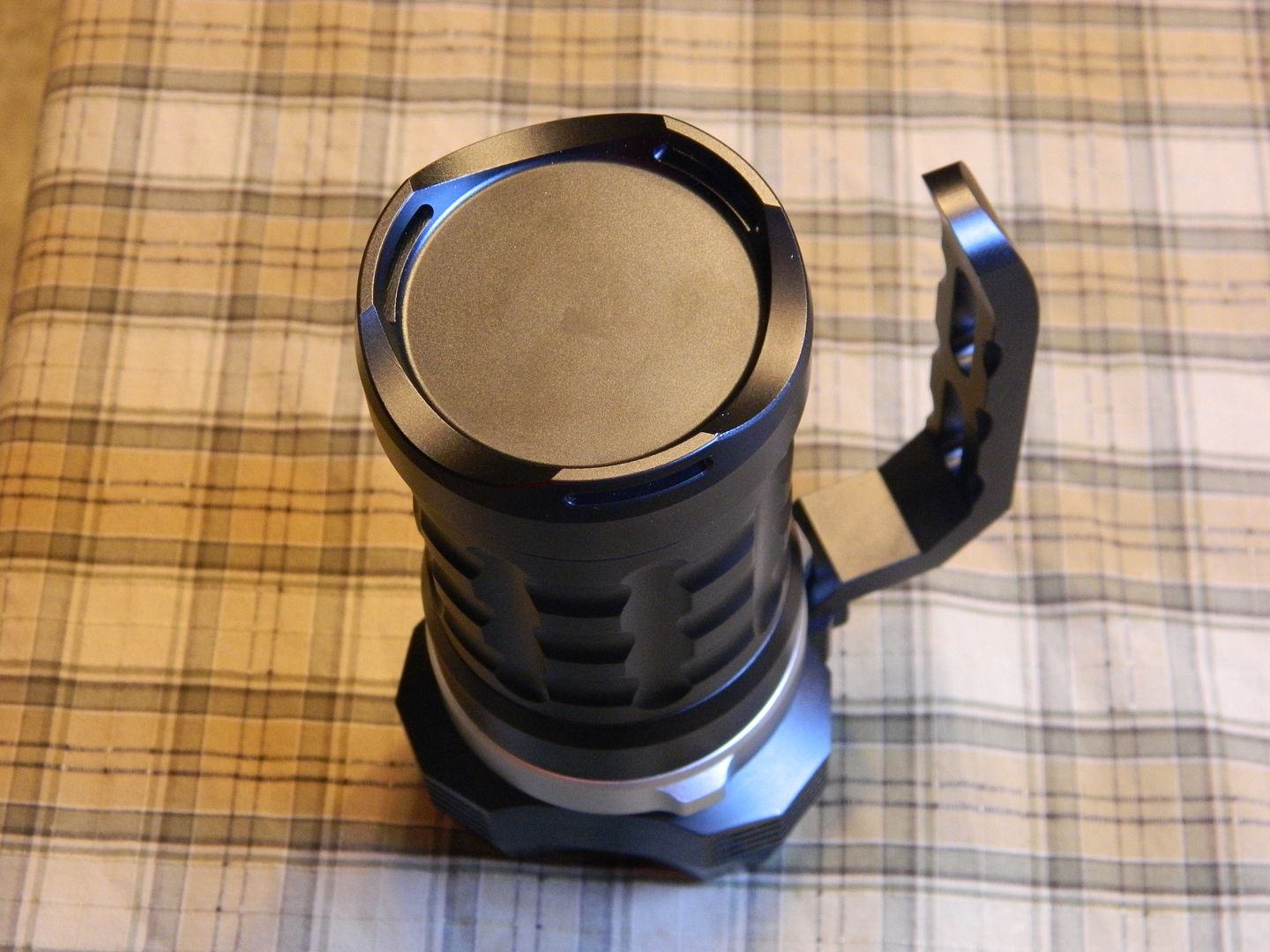 The tail end has several places to attach a lanyard. Those cutouts are also a really good place to jam a butter knife in order to open the light. It will come super tight from the factory, and the instructions warn you of this. The light will tail stand, and is very stable as it does so.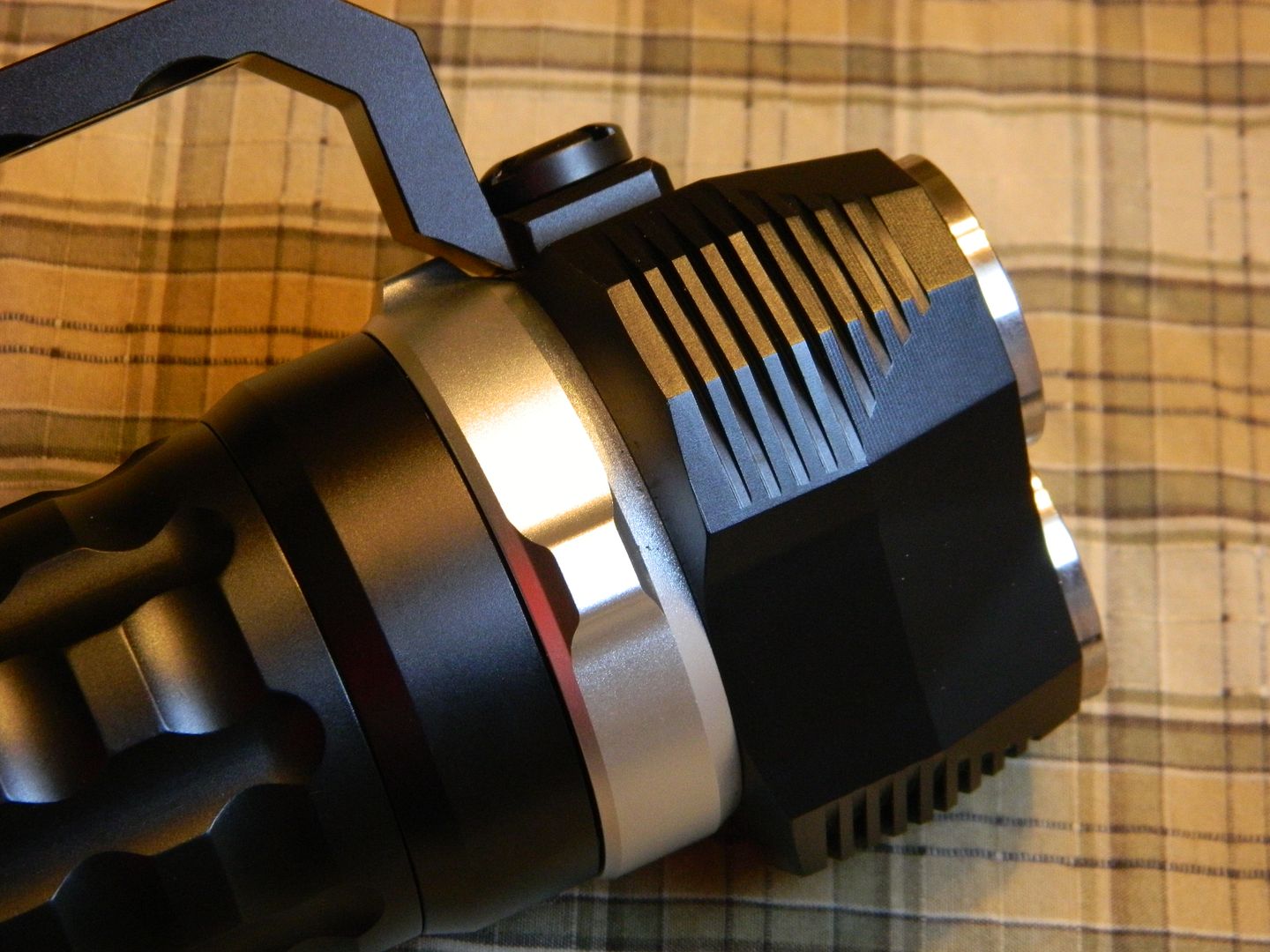 The on/off and mode selection is done via a magnetic ring. There are two tabs on the ring. It can be a little difficult to work this light one handed if you are a lefty as the tabs are placed on the right side of the flashlight if you are holding it by the handle. The head is a huge block of aluminum. It has some cooling fins cut into it, but they are pretty shallow. The handle is screwed on and can be easily removed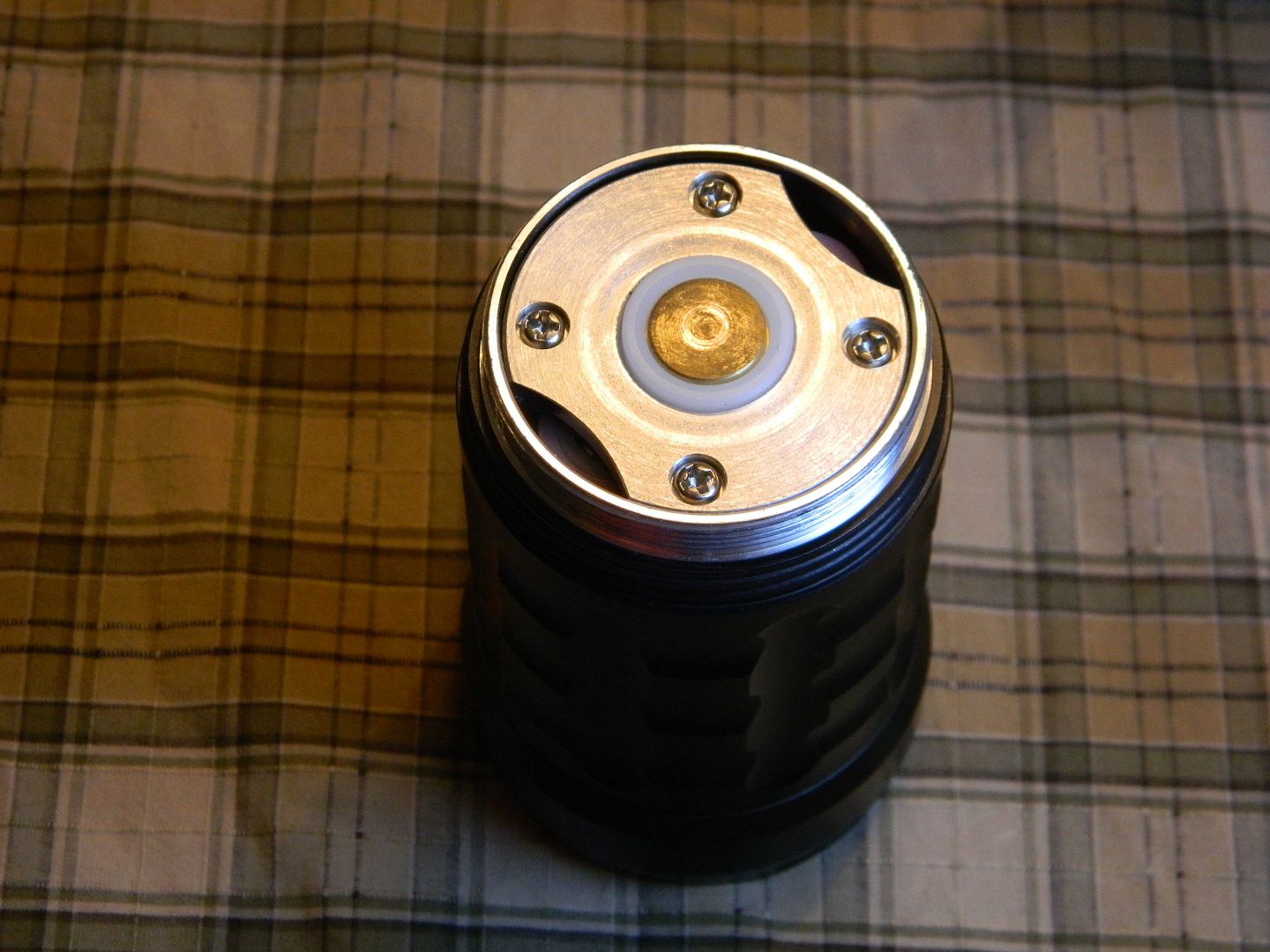 The battery carrier can be placed in at either direction and is polarity free. It is all metal construction and houses NCR18650B batteries with no problem. Shorter unprotected batteries may not give the best electrical connection.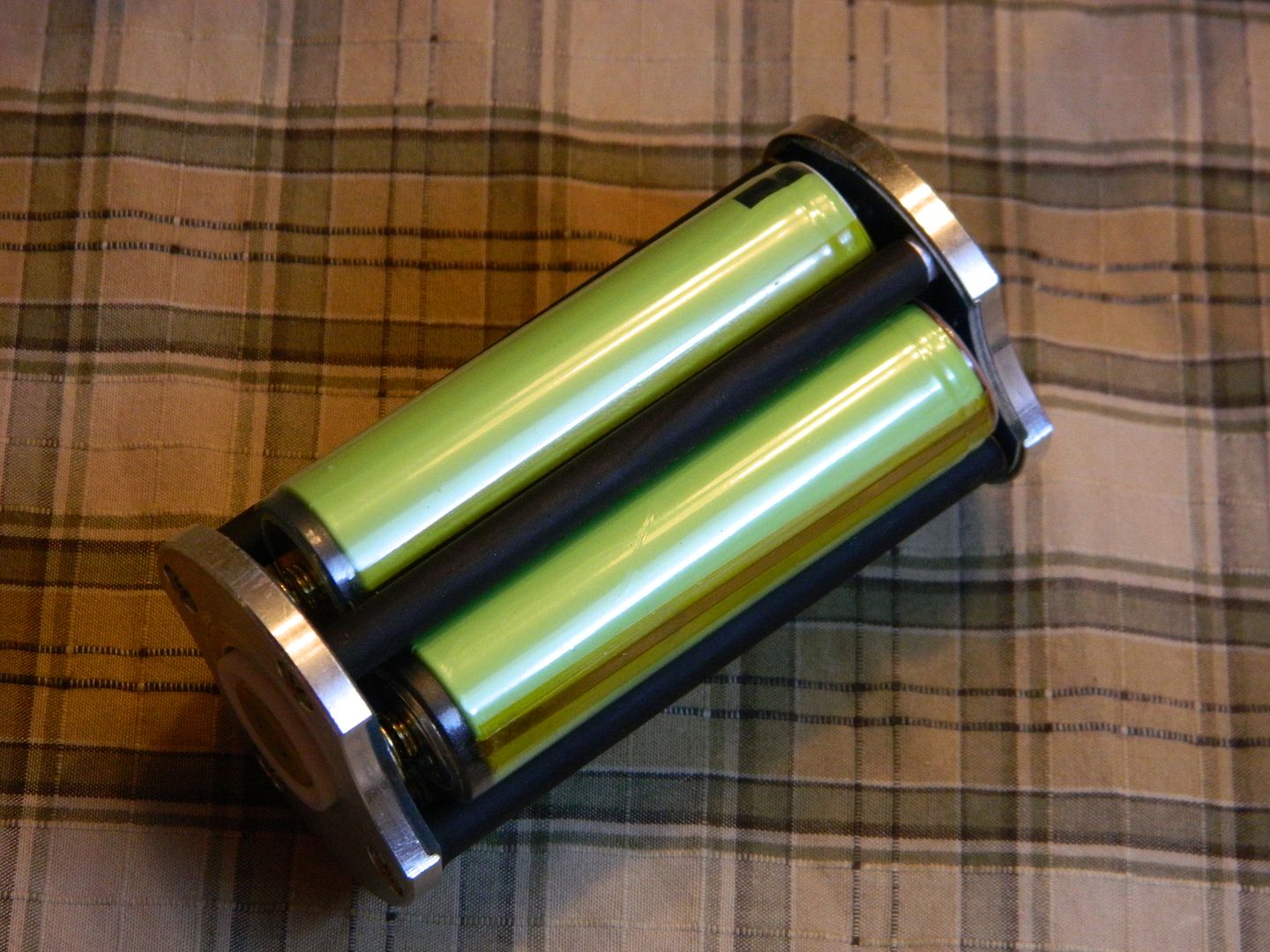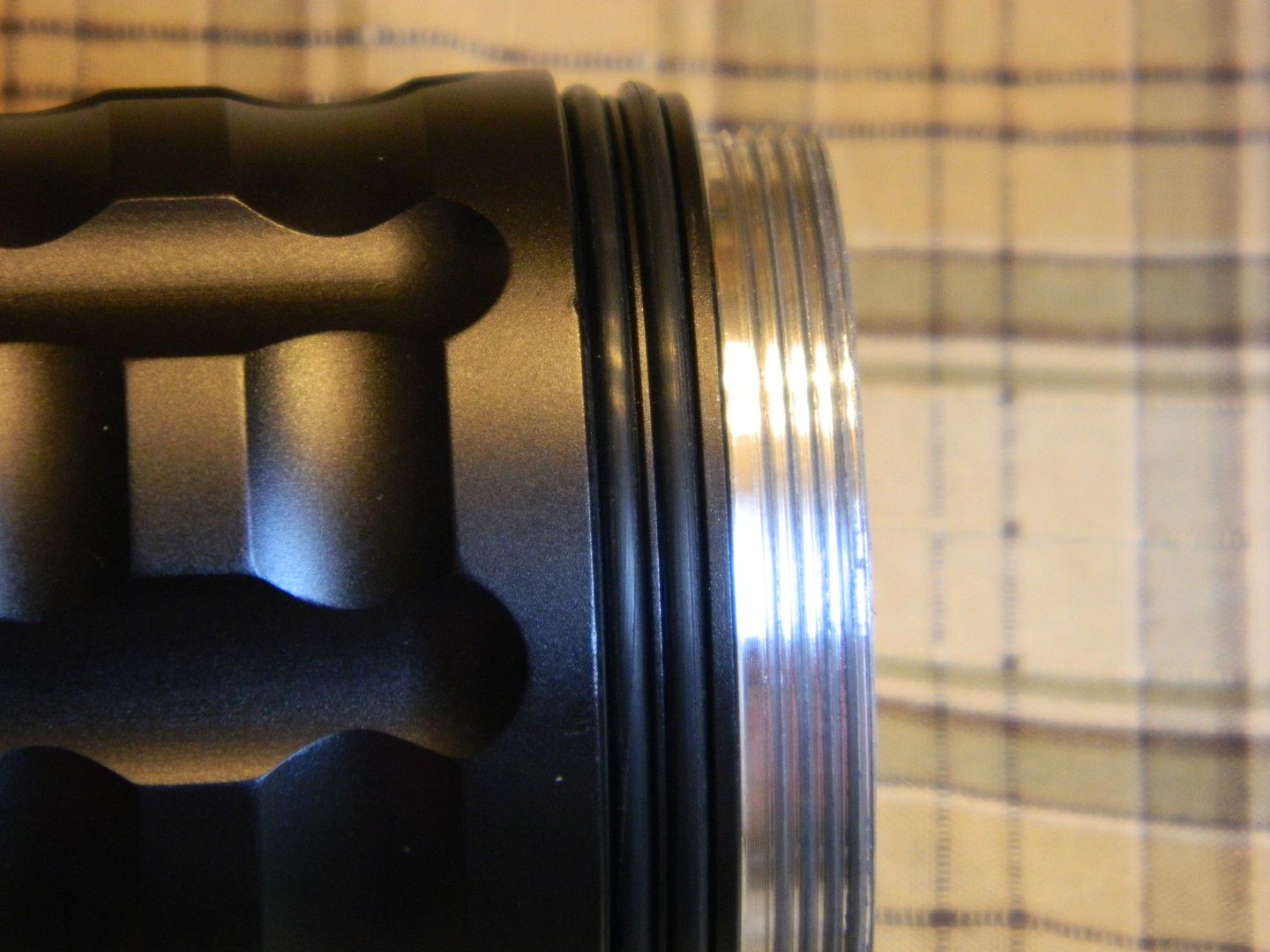 Threads are not annodized, and are the weak point of this light. They are not very smooth and are long! takes quite a while to open and close this light. When you reach the end it is double o-ring sealed and this provides alot of resistance. I recommend that you really crank down on the light towards the end. It will continue to go a long way after what you think should be the end of those threads.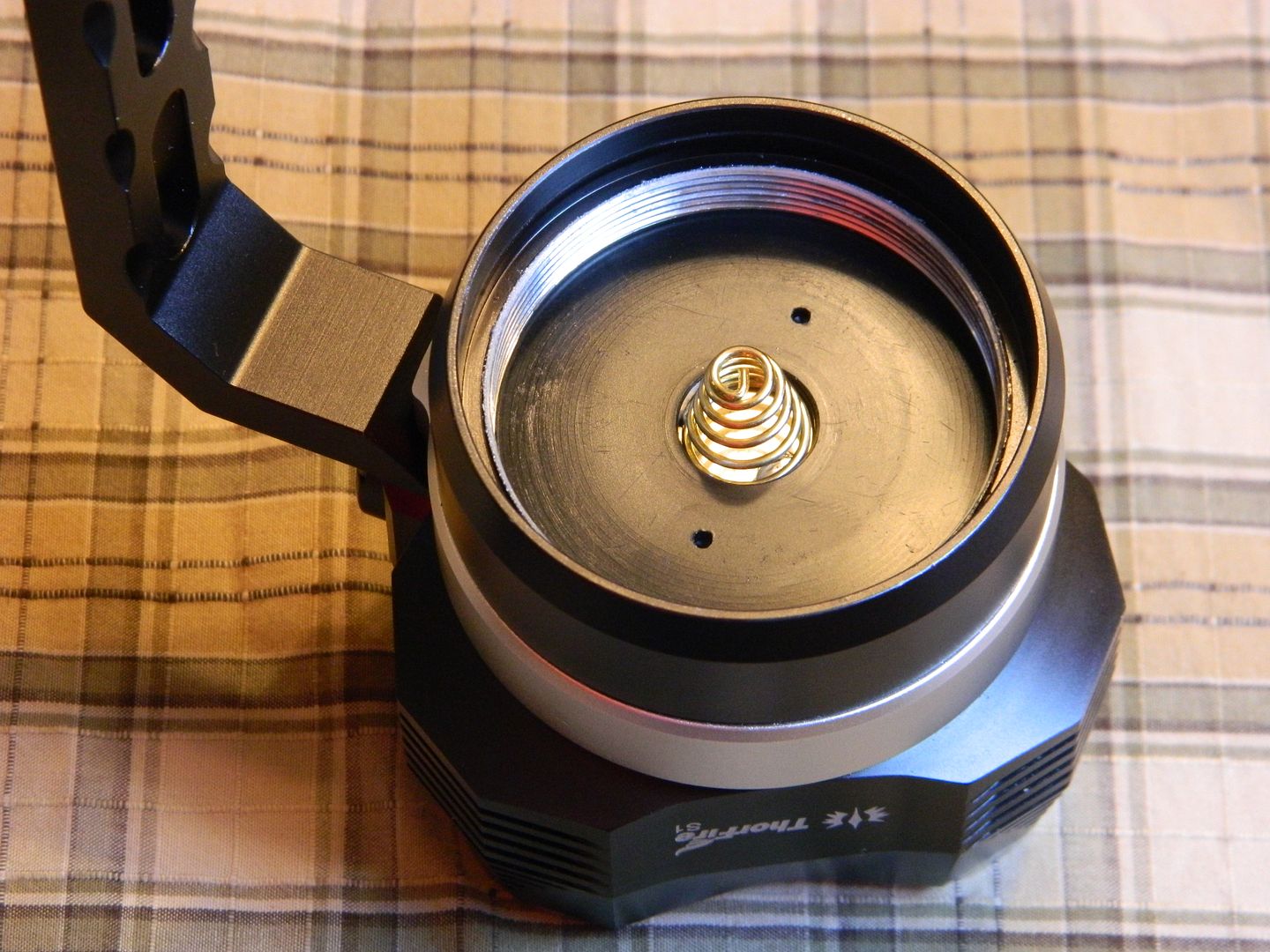 The driver is protected by a plastic tab that is threaded into the head. I removed it with a pair of snap ring pliers. The spring is short and stout, and appears to be good quality.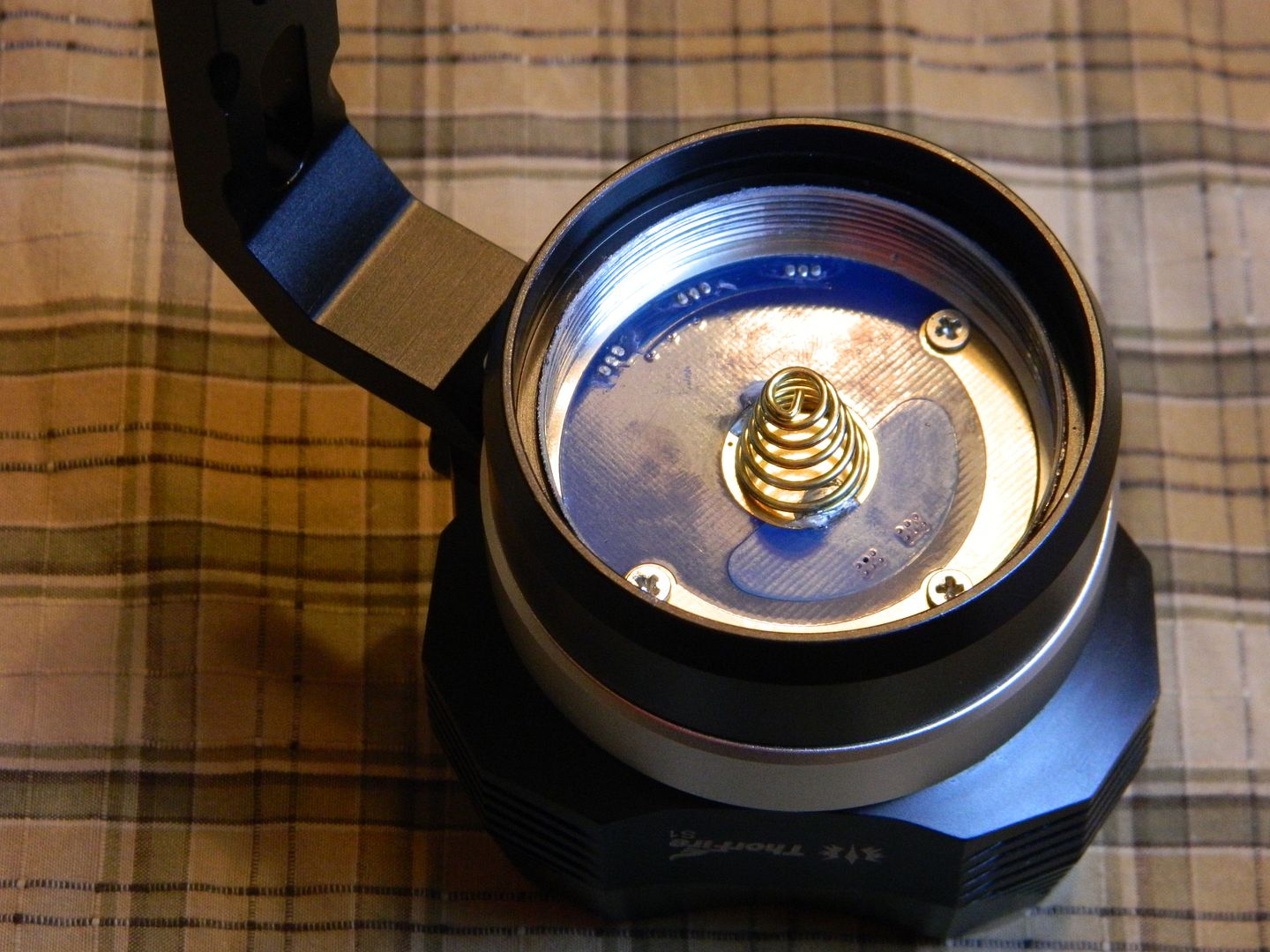 Once the plastic tab is removed the driver is exposed. It is held in place with 3 screws.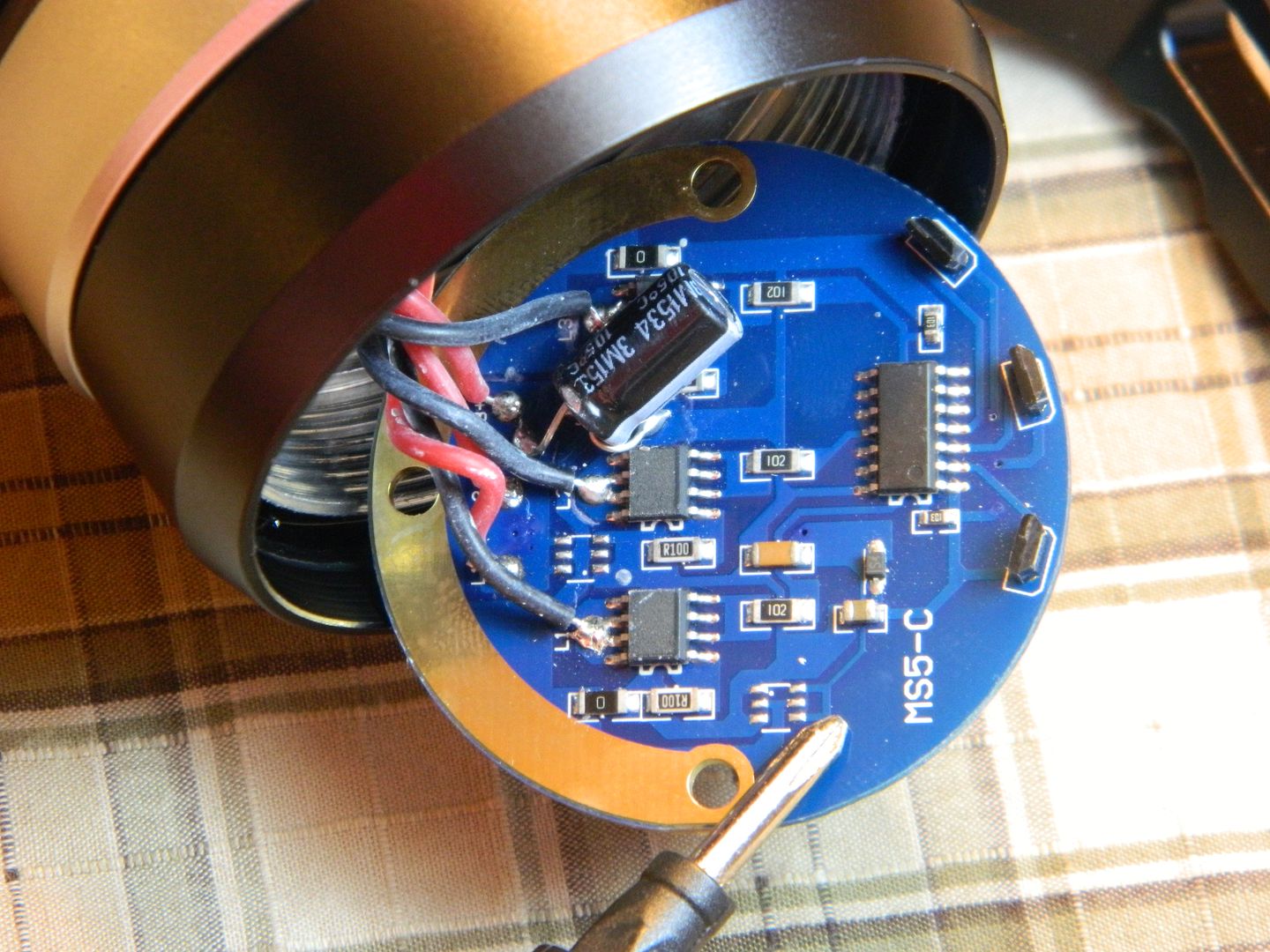 Here is the driver. If anyone wants to leave comments about the type of driver and what is going on here, I will update and add the information here.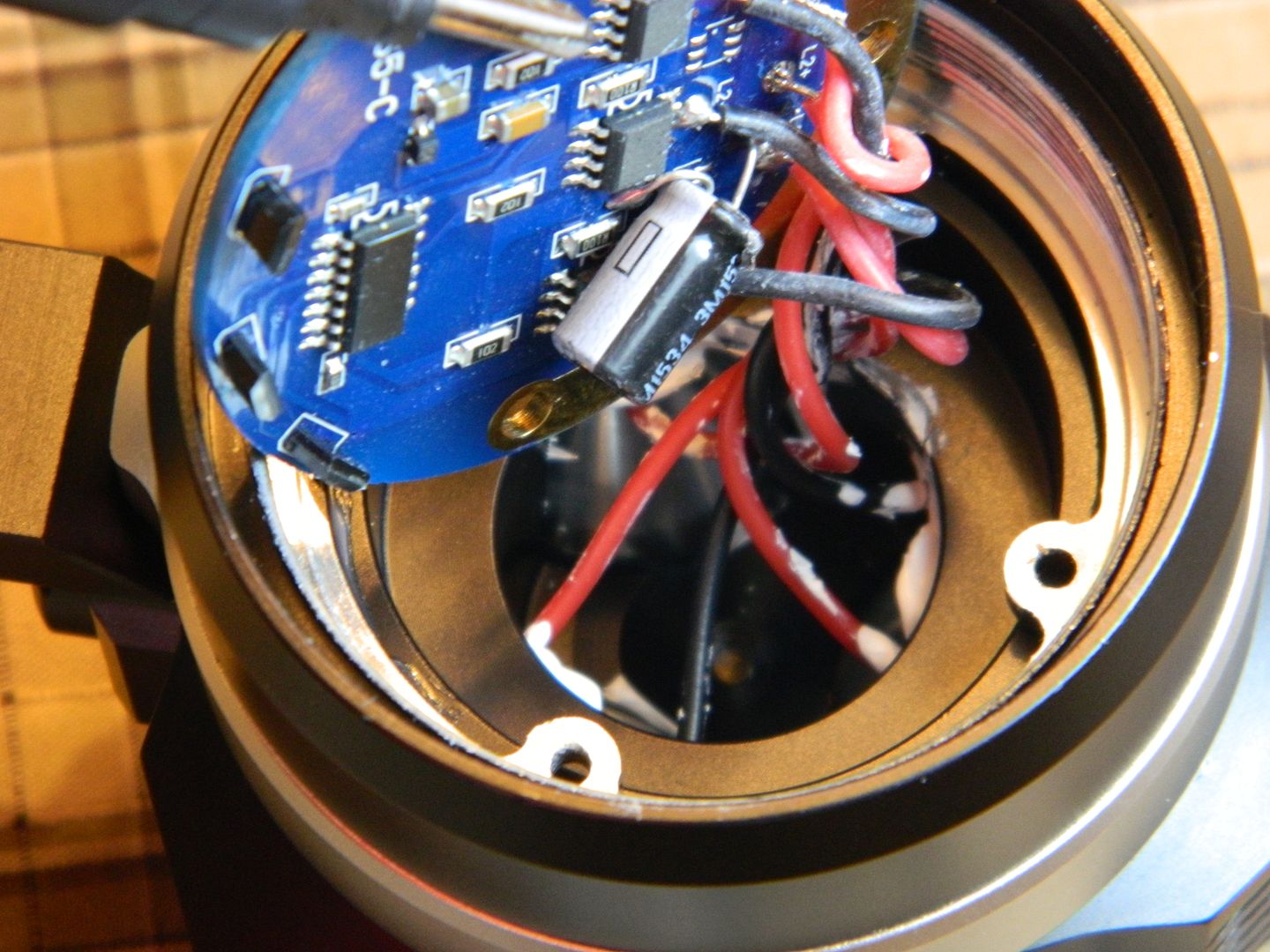 There is a partial integral shelf in the head of this light that the LEDS are resting on. It looks like they have some kind of thermal paste or epoxy holding them in place. There is alot of dead air space inside this head. I definitely see room for improvement as far as heat dissipation goes.
Performance: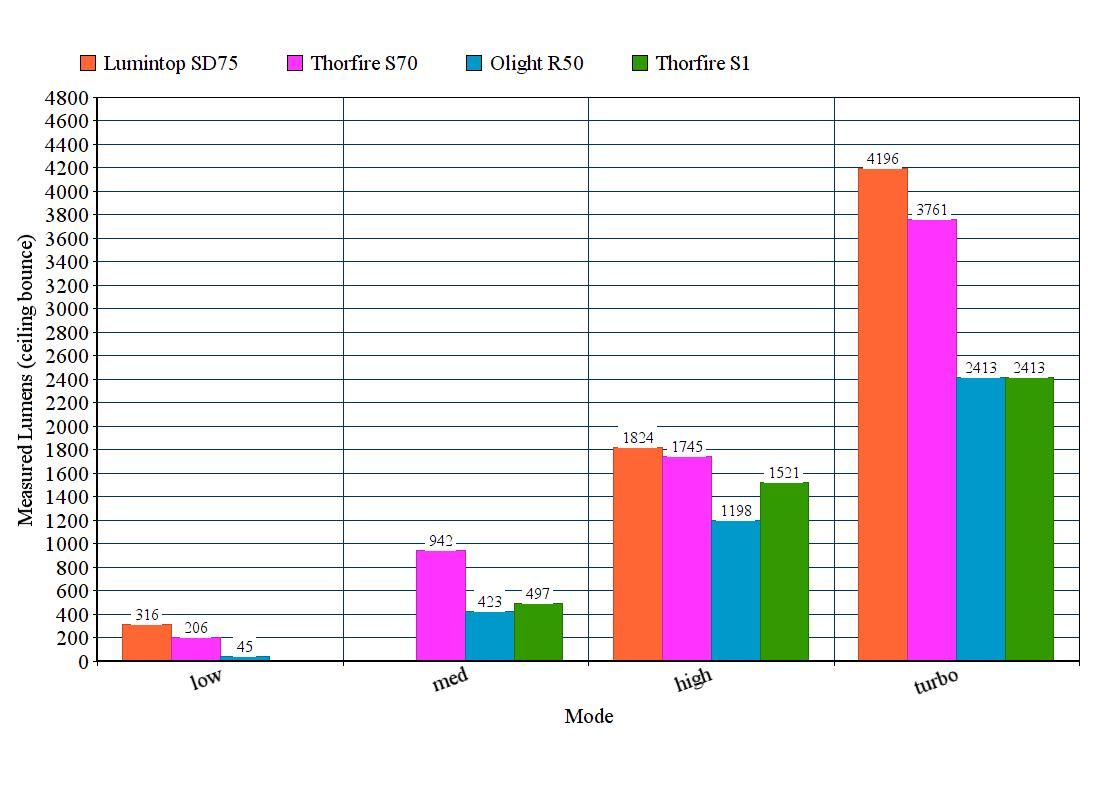 It looks like Thorfire was aiming for 500/1500/2500 lumens for the mode spacing. Considering how accurate my Olight R50 Seeker ceiling bounce was I would say that those numbers are pretty darn close to realistic.
I did not perform any runtime testing with this light. Due to it being a dive light I was unsure if this light could handle being run on high mode for extended periods of time without the water cooling available. I may do some runtime testing in the future, but for now I didn't want to risk frying the light before I got a chance to test and review.
I did run the light for about 10 minutes. The heat dissipation could use improvement. The head seemed to center around where the LEDs where. The heat did not transfer to the battery case well at all.
Beam Shots: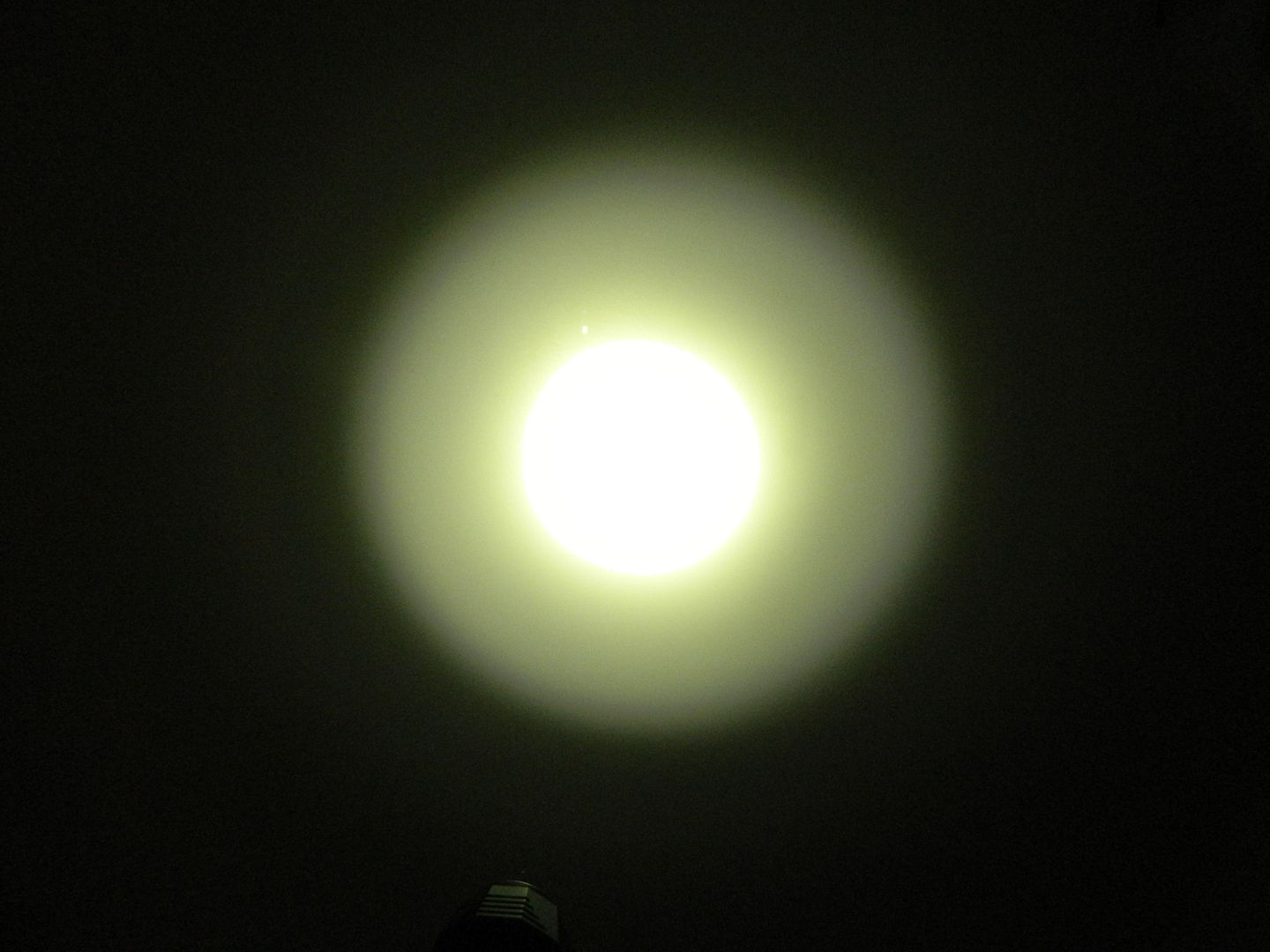 This light really overwhelmed my camera indoors. This is the low mode just to show the hotspot / spill and the shape of the beam. I'm a little surprised that the beam is pretty round. There are quite a few rings there that the camera did not pick up on.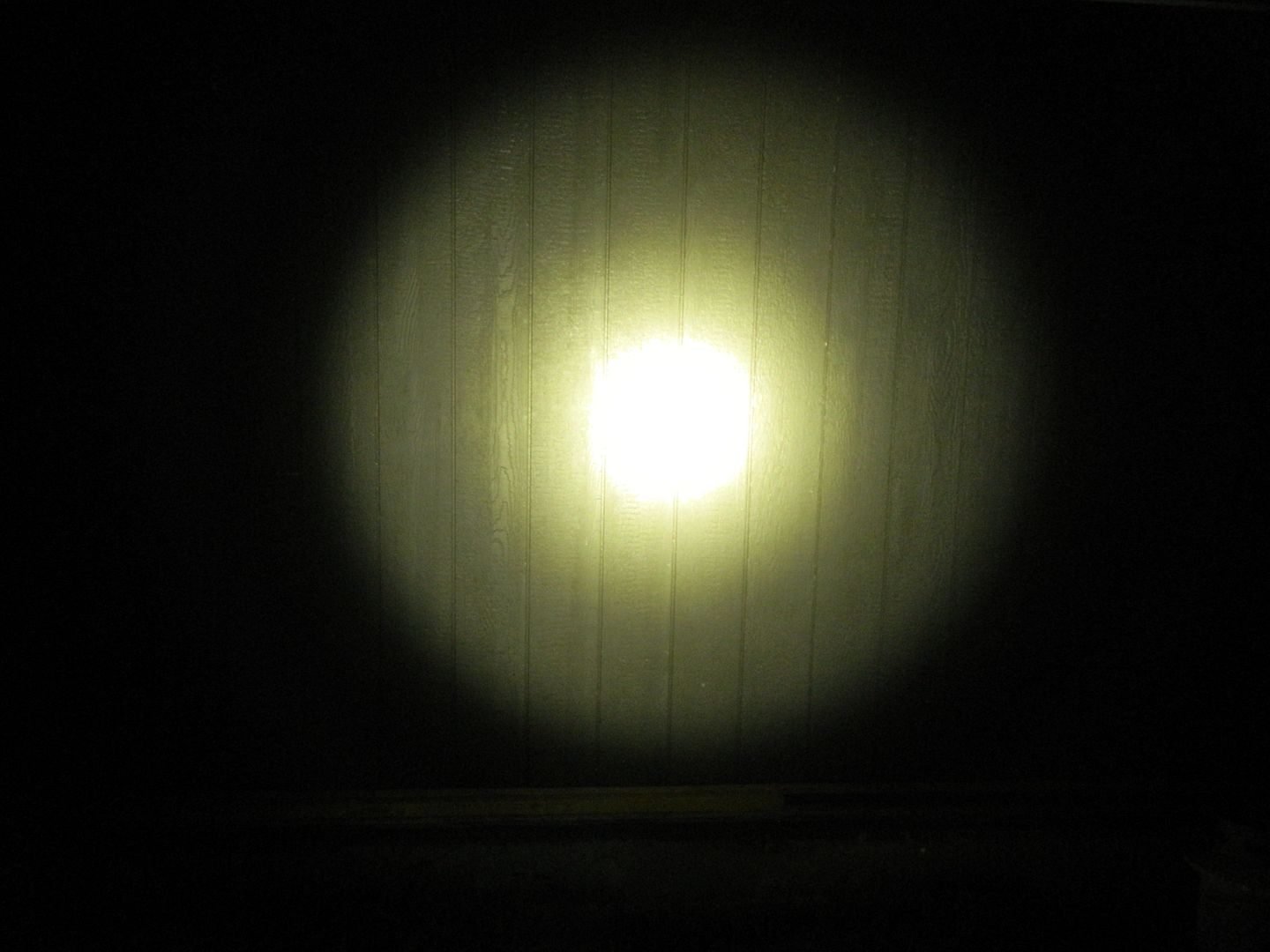 My barn absorbs enough of the light to be able to get a good picture.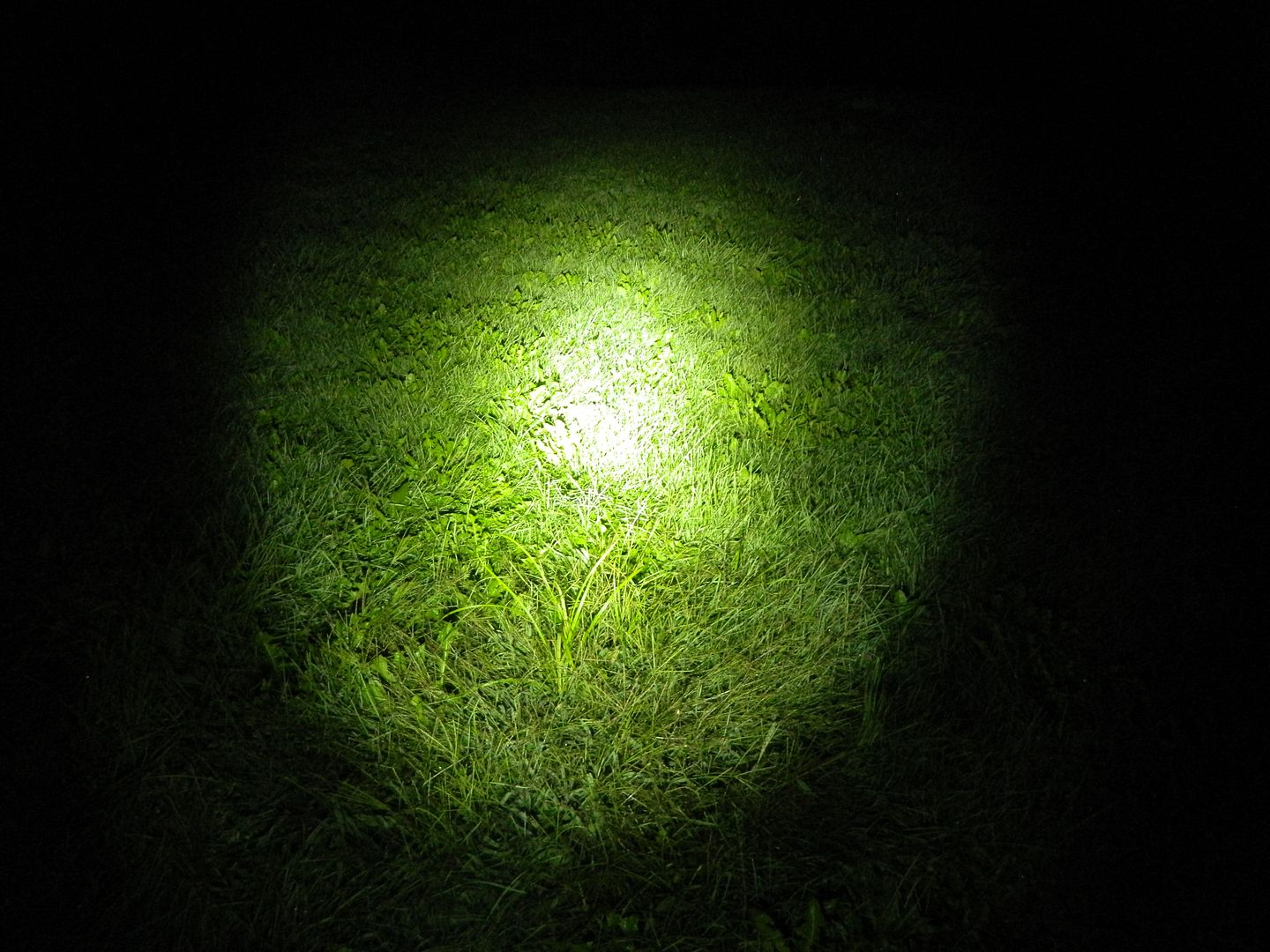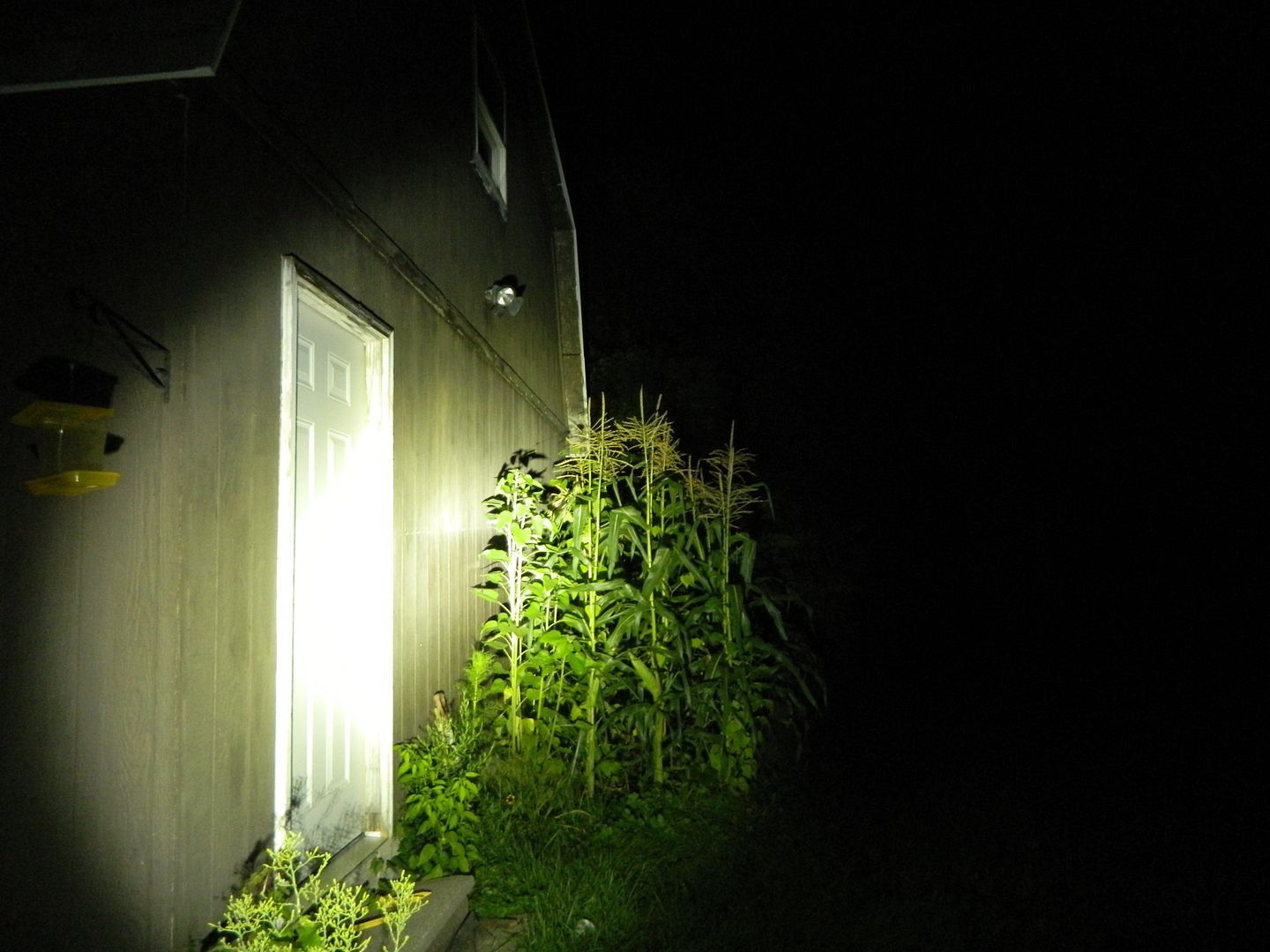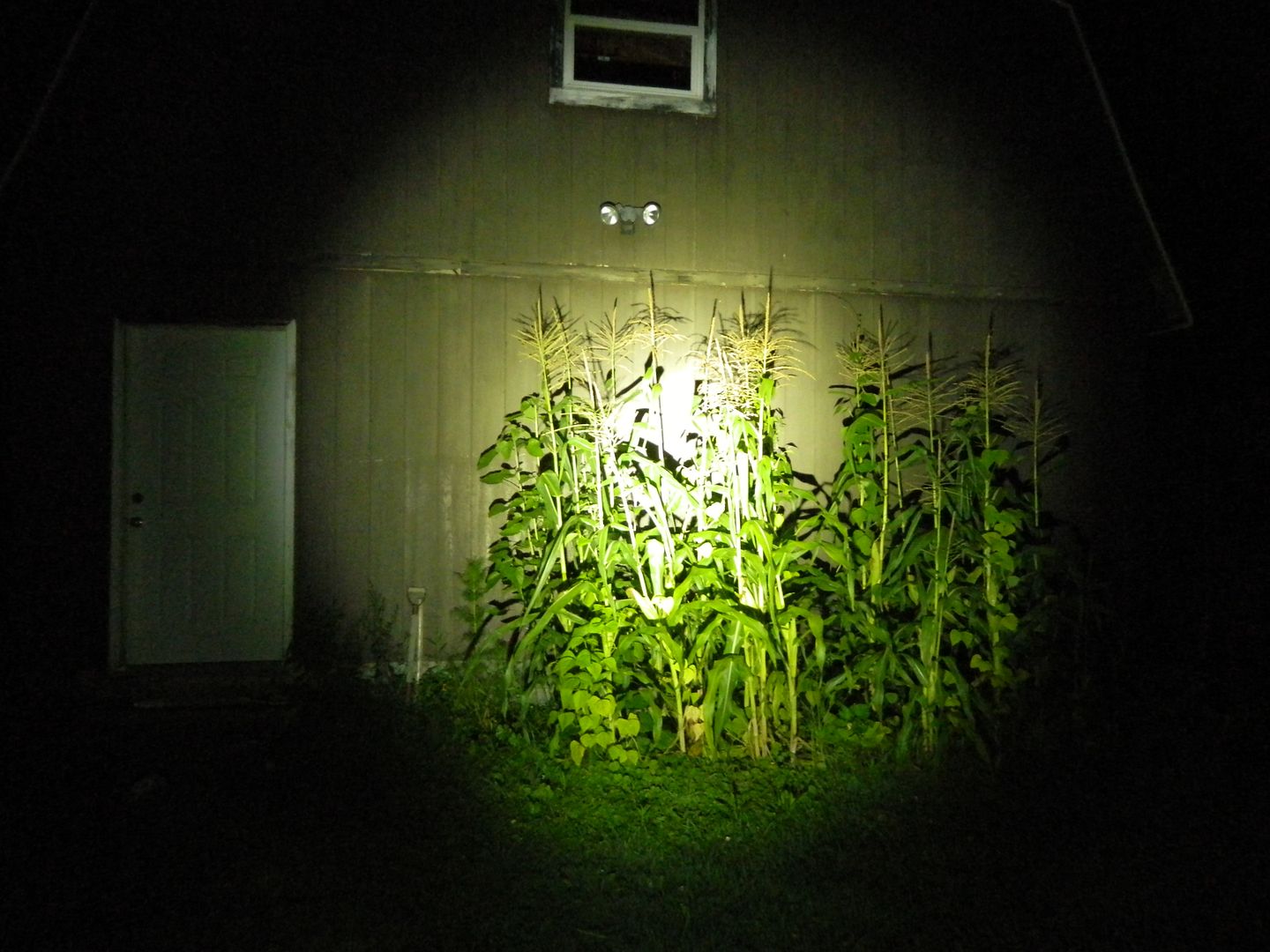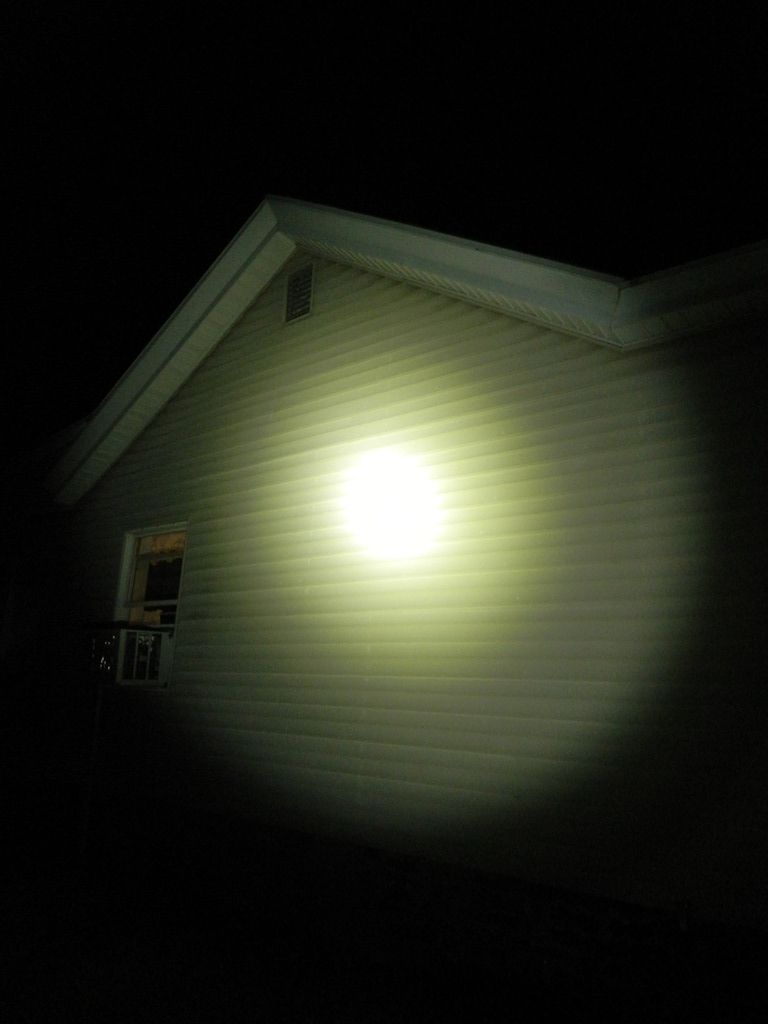 This light is not a thrower or a flooder. There is a rather large bright hotspot, and a large bright outer ring. When I shine this at a distance it doesn't light up my entire back yard like my Convoy and Eagle Eye triples do. It does light up half of yard very well. It definitely throws in excess of 200 yards, but I wouldn't classify this as a dedicated flooder or thrower.
The good:
great replacement for your old 6v lantern.
super easy to use
definite mod potential
very competitive with XHP50 and XHP70 lights as far as brightness
The bad
some short unprotected 18650s can cut out
super heavy
no note of runtime / lumens in instructions
very limited accessories with this light.
could use some better heat dissipation
Conclusion:
This is a nice modern day replacement for your old 6v lantern battery. Although it is a dive light this is a light that can be very useful around the house or deer camp. The simple switch and interface makes this a light that is so simple you can hand it to your grandfather and he could figure it out on his own. Although this is in the $100+ price range it is pretty competitive seeing this is a triple XP-L capable of 2500 genuine lumens and uses four 18650 batteries. I definitely see some mod potential here with this light and am very glad I was able to review it.
So the million dollar question…
Would I buy this light with my own money?
Yes! knowing what I know now, I would buy this light. 90% of my lights are complicated enough where my wife/family wont touch them. This is a light I can leave out in case the power goes out and am 100% confident my wife can use it, and it is also powerful enough to be useful at deer camp when I'm hunting. Likewise this is a light I could leave out at deer camp and all of my buddies could use it without a 10 minute instructional. The light really could use a lower low mode for household use. 500 lumens is still pretty intense in close quarters. There are very few 2000+ lumen lights on the marketplace that are easy enough for my family and friends to use, and also can manage heat well enough where you don't have to worry about skin grafts! The beam is wide enough to make it good for working on your car in the dark, and spreads out enough at close distance to make this a feasible work light. Although this light is marketed as a dive light, this is really a modern day lantern and will be just as useful as those old 6v rayovac lanterns that we all grew up with.