Ok Guys. This is a work in progress, but figured I would start with my youtube review, and a quick write up and add my runtime and brightness charts once I get some more time.
My Youtube Review:
Manufacturers specs:
Cree XM-L2
LED
• Includes a 3200mAh 18650 rechargeable lithium battery • The flashlight can be charged through the magnetic contact charging port (other batteries may also •be used in S2R, but cannot be charged) • New 750mA portable
USB
charging cable • Compatible with new
OLIGHT
desktop
USB
charging dock (optional accessory) • Flat tailcap with strong magnet that allows it to be secured to ferrous metal surfaces as a hands-free • worklight • Pouch included for better storage and organization of cables and the flashlight • Lockout mode can be activated on the side switch for accidental triggering protection, along with a • Low-voltage indicator underneath • Quick access to turbo mode: Simply double click the side switch to enter. • Reverse polarity protection circuits • Timer Setting: Short (3 minutes) and long (9 minutes) • The standby current is below 10uA
INCLUDED ACCESSORIES:
Lanyard Pouch User Manual Charging Dock (optional)
MCC
Magnetic Charging Cable Customized 3200mAh 3.6V 18650 battery
Performance:
My testing is not complete. But I have some very good raw data. I'll be making charts over the next few days. As you can see my ceiling bounce is very close to Olight numbers.
Lumens –
Turbo 1170
high 565
med 138
low 18
moonlight 0
The step down is gradual and takes about a full minute. I ran 7 consecutive runs on turbo to see how it handles heat. It got very warm, but did not damage, and continued to put out over 1100 lumens for all 7 of the turbo modes. I really like that you can slam it back into turbo and keep going. Some lights can never get a 2nd turbo to be at the same power as the first.
Opinions:
Olight has done alot right with this light. I really like the TIR lens on a nice small pocketable flashlight. I usually literally vomit at the sight of a propietary charger, however this small magnetic charger is not only useful, but it doesn't compromise the waterproofing. You can literally put it in your shirt pocket. When you look at the totality of the light, you have a nice bright turbo, good long lasting lower modes, a useful charger, a good deep carry pocket clip, and a UI that gives you instant access to moonlight, turbo, add all this to a light that has both electronic and physical lockout.
As a semi-professional gear reviewer It's been nice to see the improvements Olight has been making in the lights. The S2R feels great in the pocket despite being an 18650 light and has much better performance than a small light like the dqg tiny 4th. Olight has been smart to keep a standard UI over the years, and the improvements in performance and the charging methods is greatly appreciated.
The Good:
Built well
The TIR lens is good for close up work
The charger is great and doesn't compromise waterproofing. No rubber flaps to worry about. It's also tiny
Instant access to moonlight, turbo, and strobe.
handles heat very well for its small size
Electronic locket, tailcap lockout (anodized threads), and pocket clip can cover button.
Tailstands and has a magnetic base
The charger has a very clear red/green led. No confusing purple/red/blue stuff gong on here. You can easily see it from across a room.
The Bad:
Battery goes in backwards. This is going to confuse alot of people. I've already forgot a bunch of times and thought I burned the light out running too much turbo.
Will not take NCR18650B batteries! most of my stash is ncr18650b. This one hurts!
Pocket clip doesn't fit well with thick jeans like carhart. Can be very difficult to put into the pocket of them.
A few times the charger put batteries up to 4.22v Not the end of the world, but wanted to note it.
Really would have preferred a different mode spacing. I would have liked 0, 150, 600
Construction: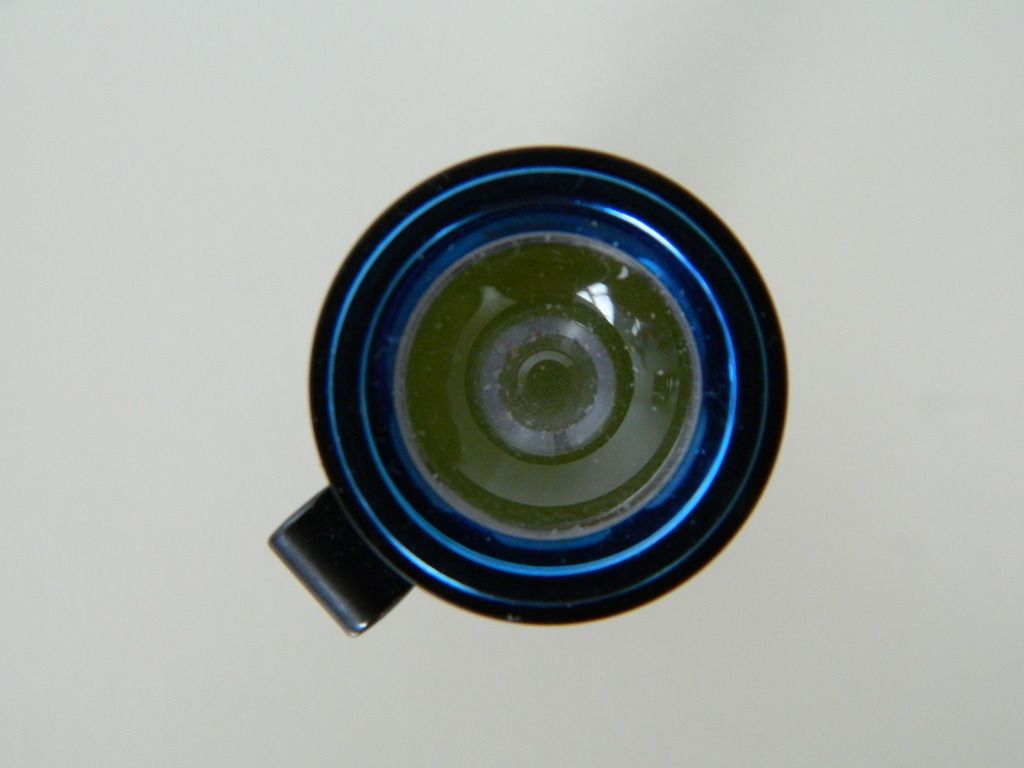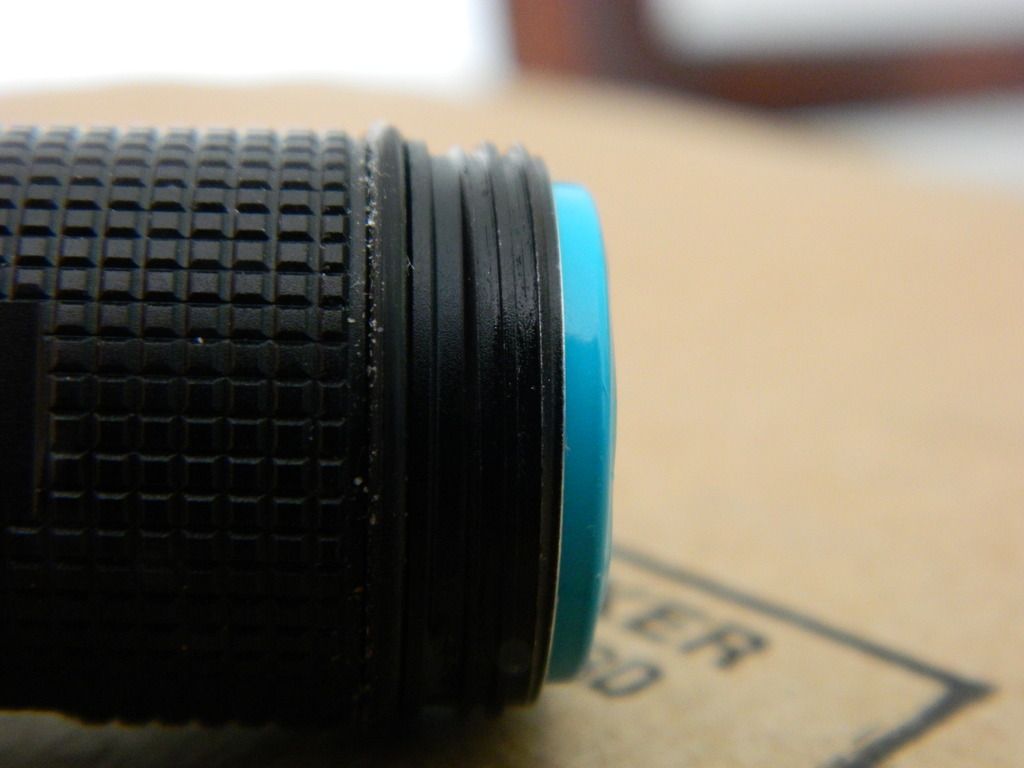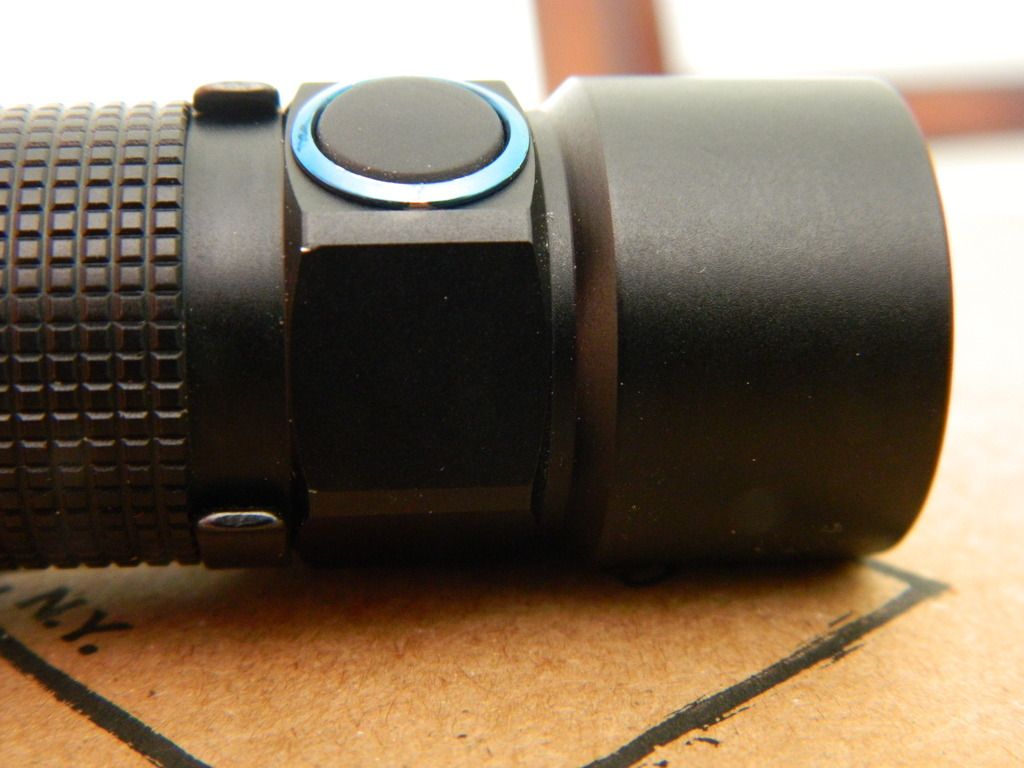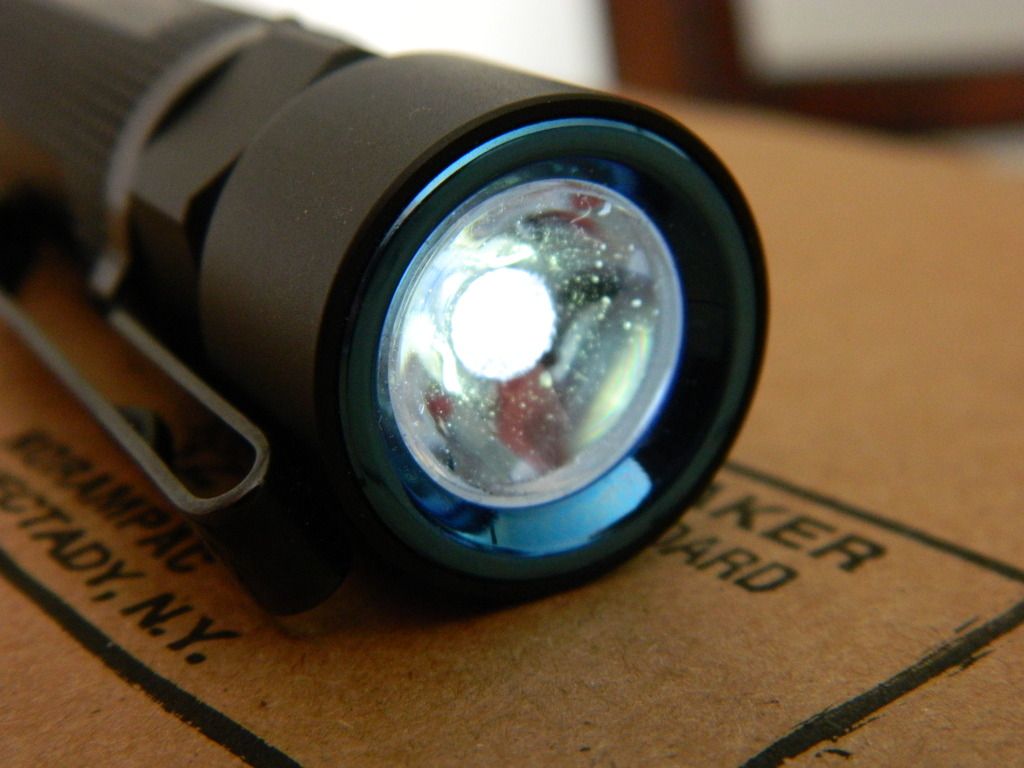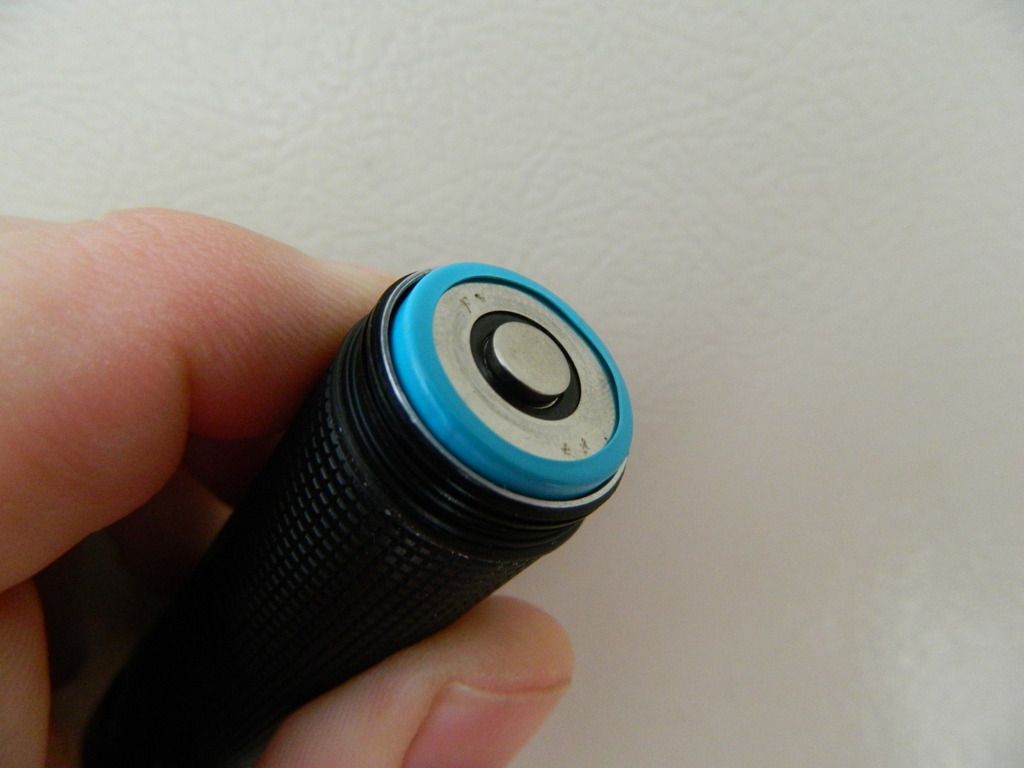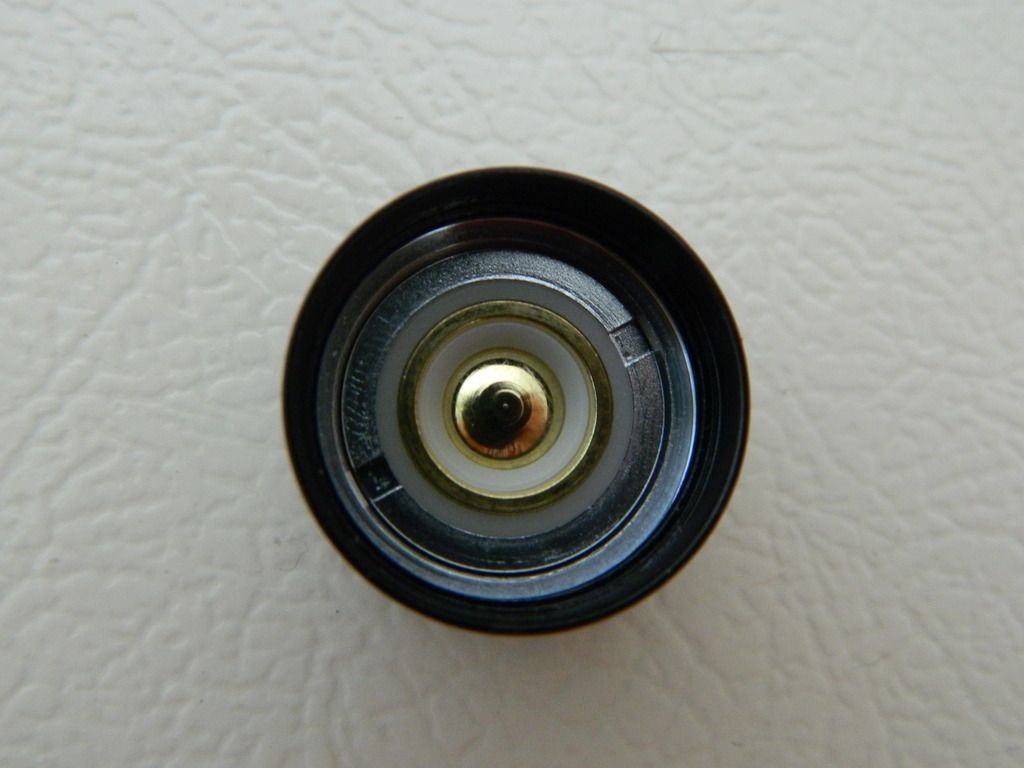 Pretty standard for an Olight. Built well. Please don't pay any attention to the pocket fuzz on the light!
Only thing that is a little troublesome is that the battery installs backwards in order to work with the new magnetic charger.
thats definitely going to throw a few people off.
Size Comparison: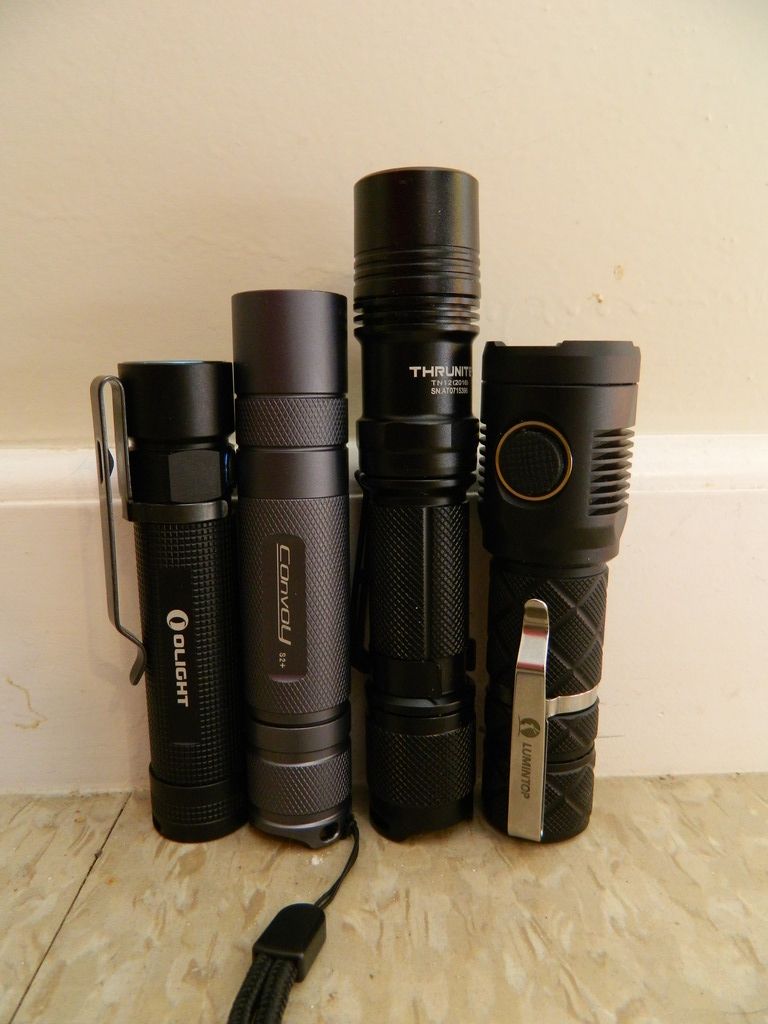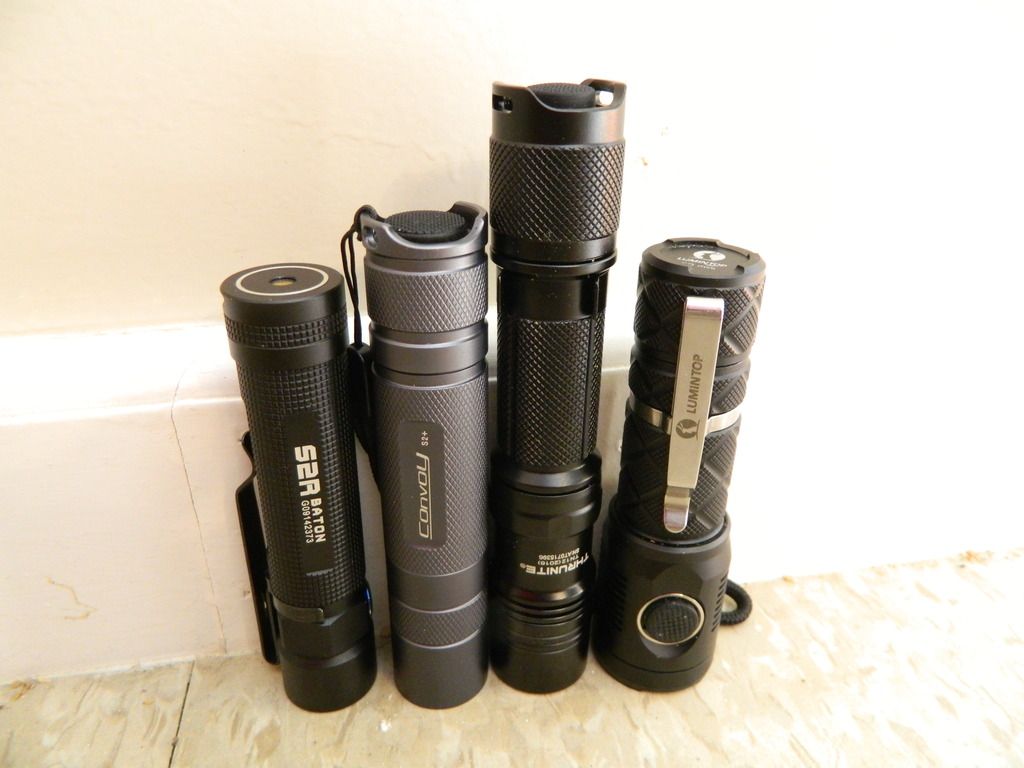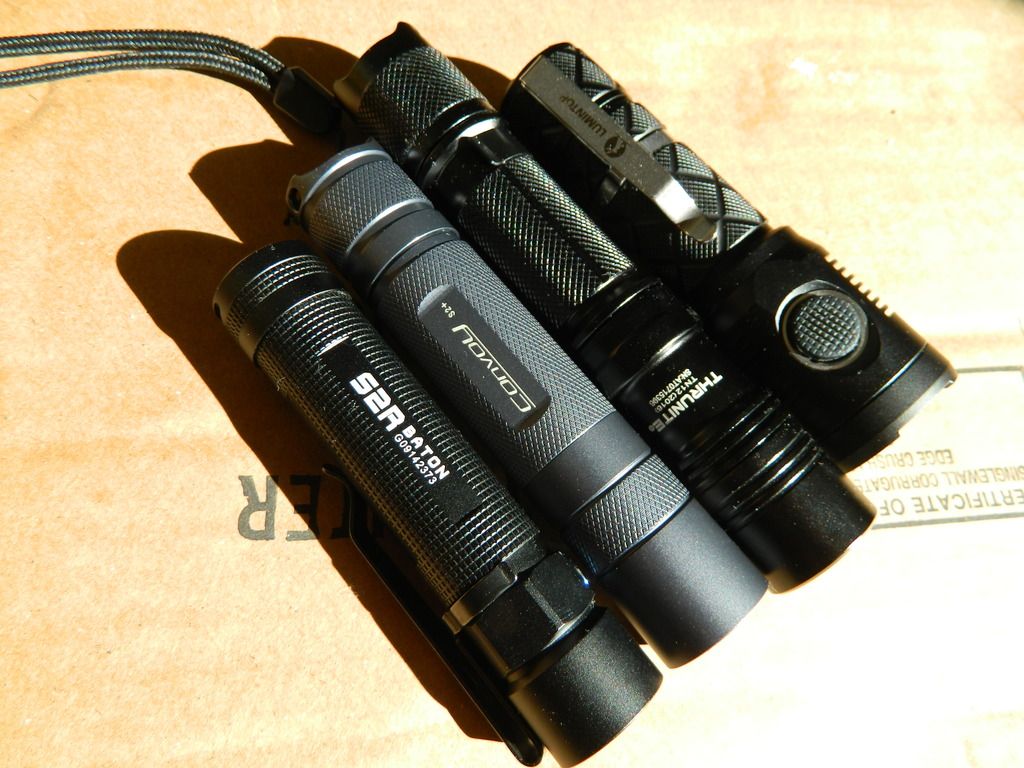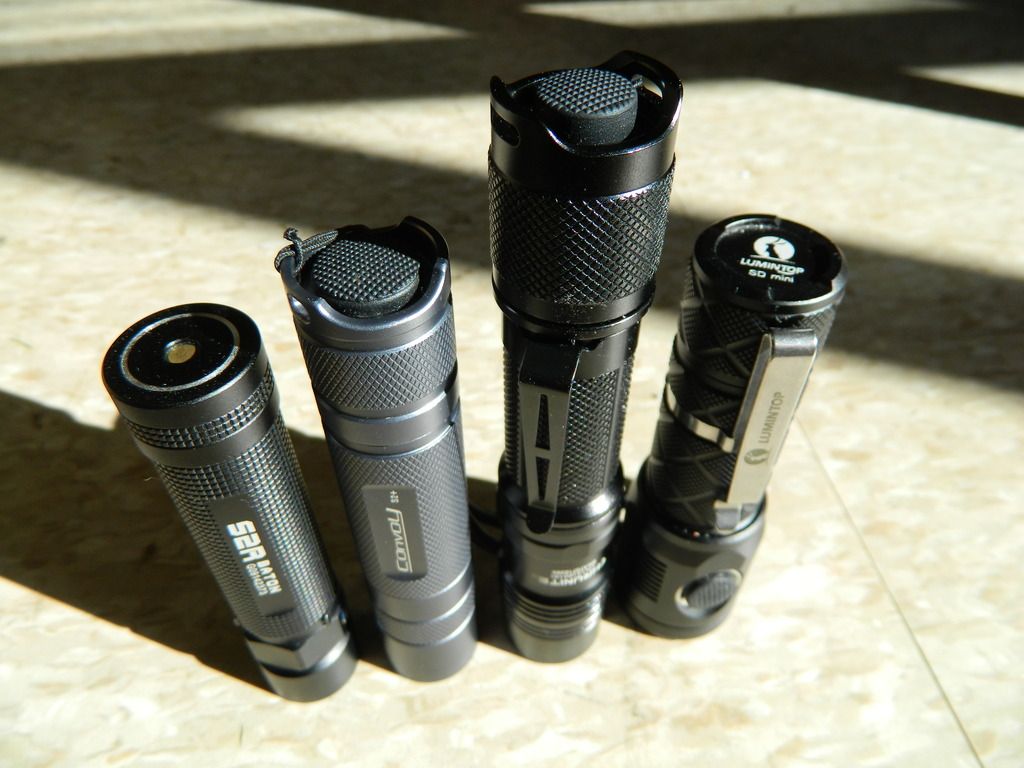 S2R – Convoy S2 – Thrunite TN12 – Lumintop SD Mini
Beam Shots: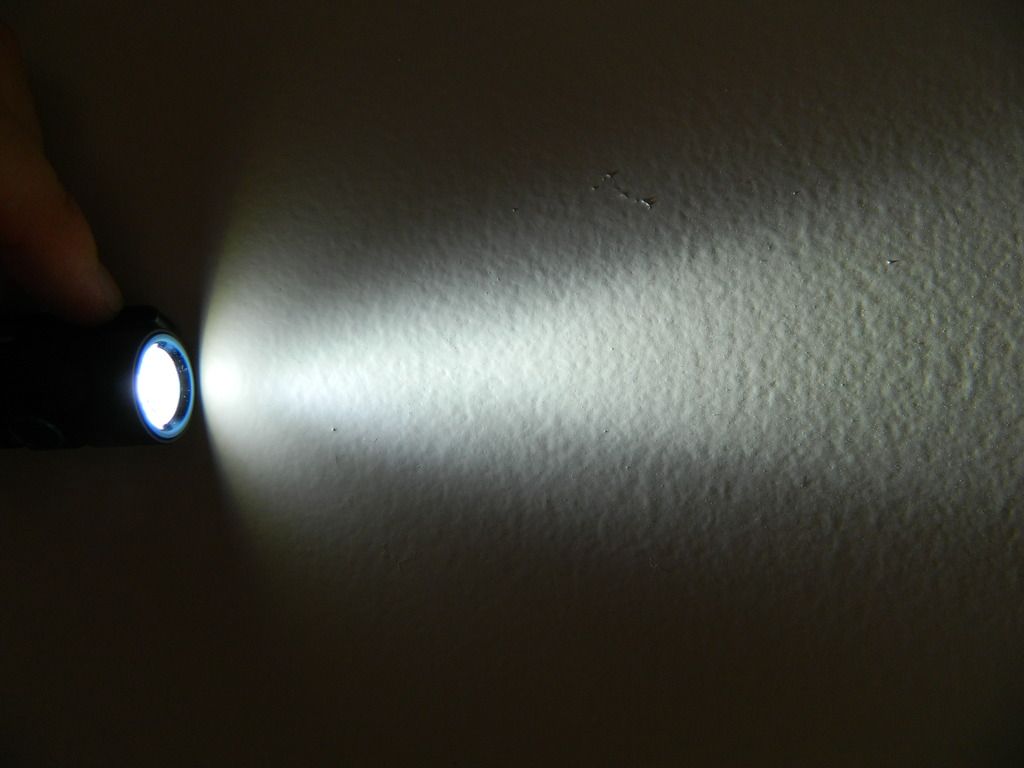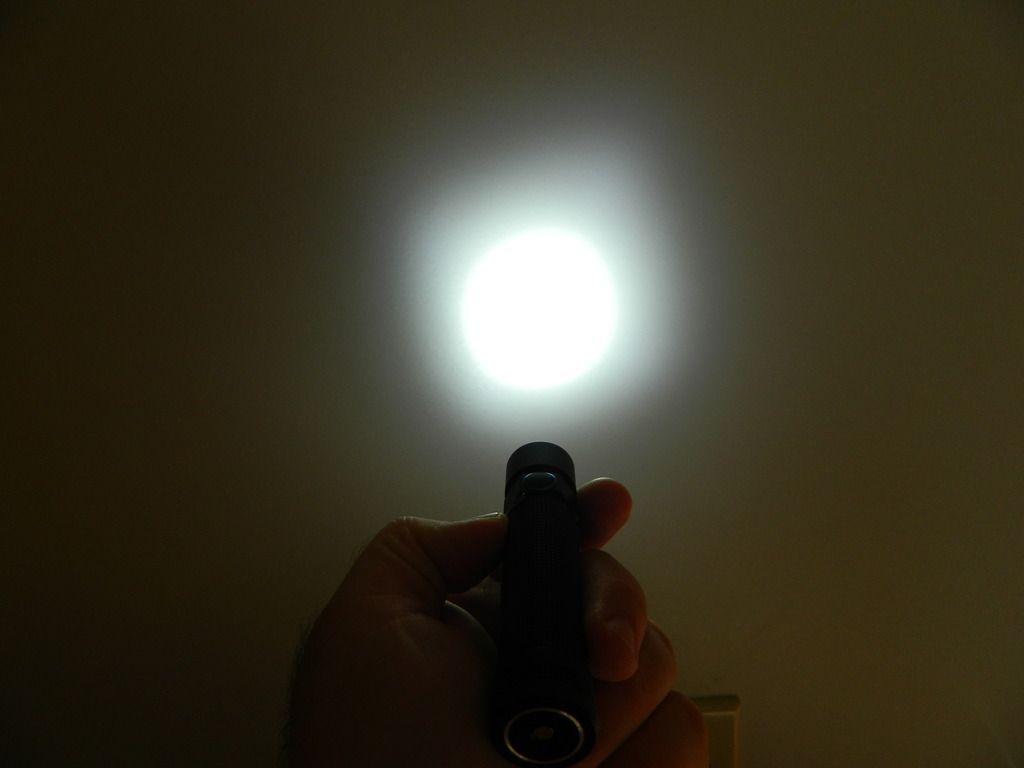 That TIR lens makes for one interesting beam. Great for close up work!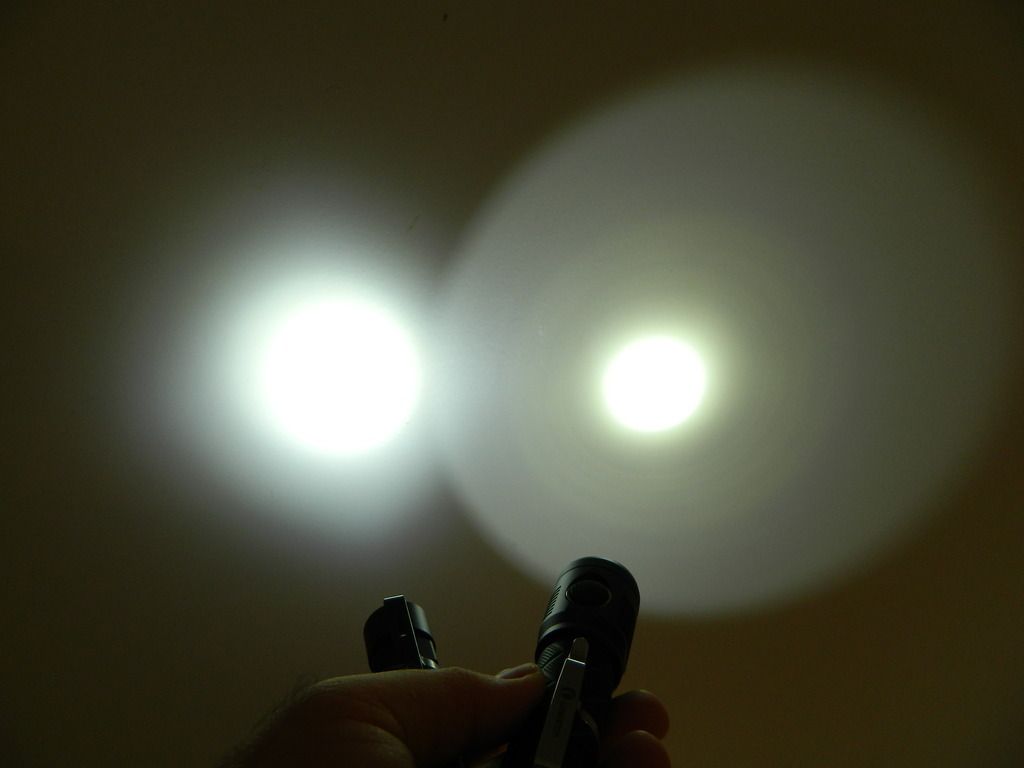 S2R Vs Lumintop SD Mini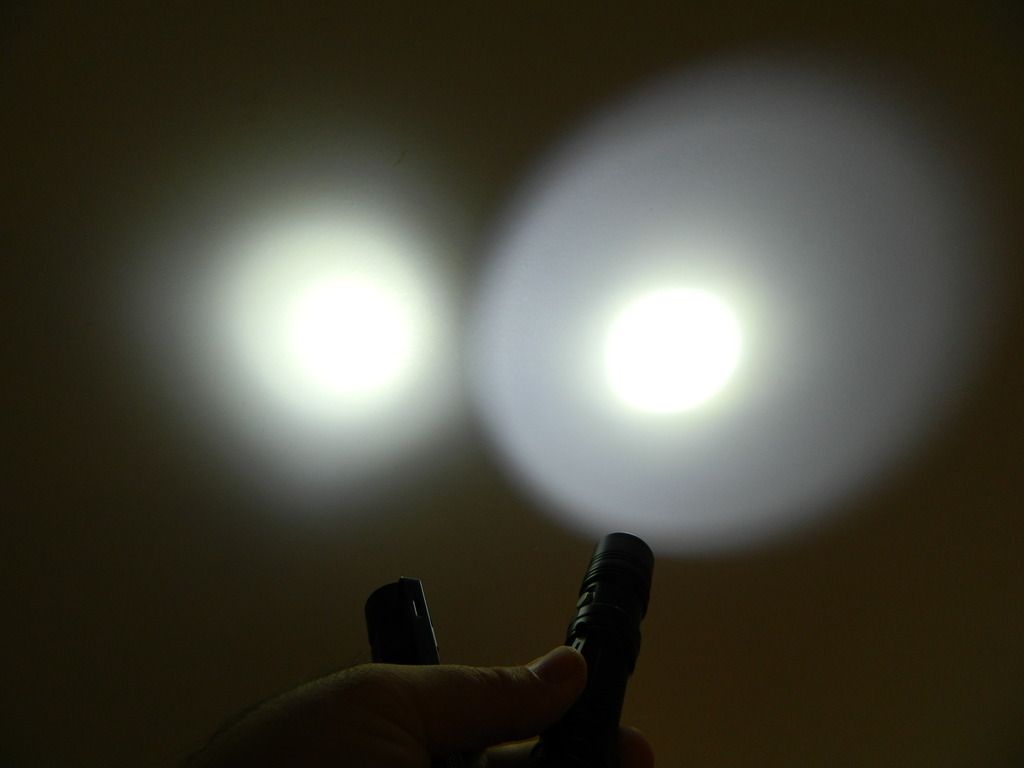 S2R Vs Thrunite TN12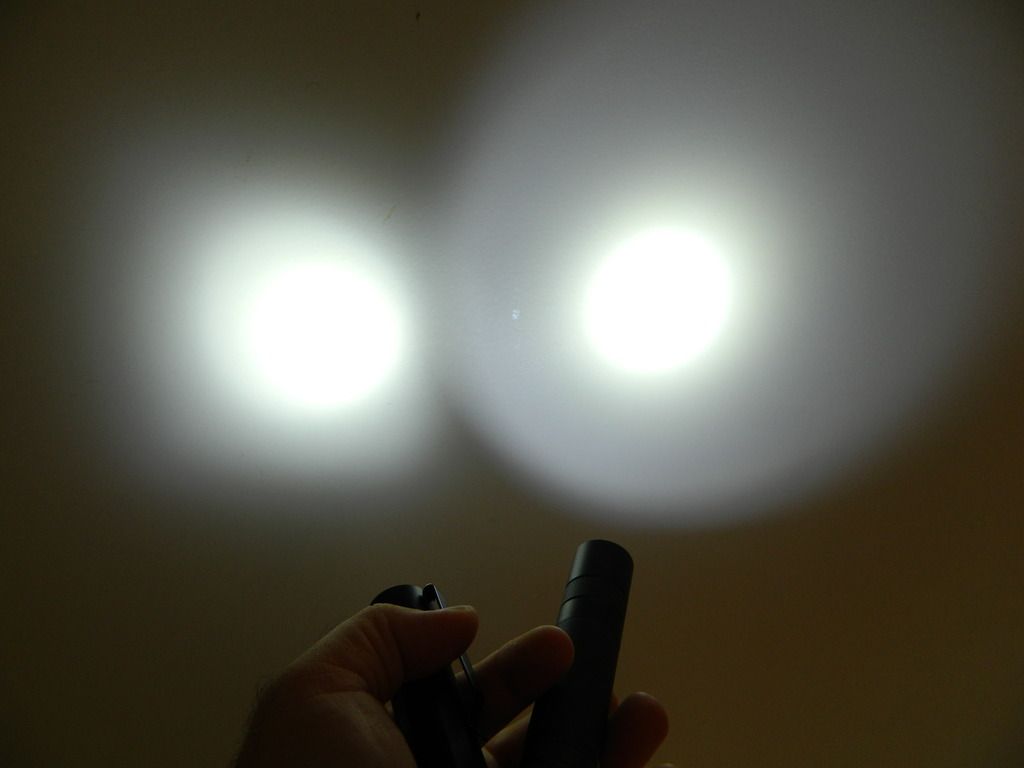 S2R Vs Convoy S2
update:
Added quite a few pictures. Also have another week of pocket carry with this light. No problems at all. The pocket clip is good and hasn't given me any problems. No issues with the light turning on by itself in the pocket either. Going to make one more update in a few more days. Just going to do some more ceiling bounce tests and compare them to the other lights you see in this review.