Hi folks, Bella was kind enough to submit the ROFIS TR20 to me for review. It's quite the EDC, and packed with features and accessories, including a ROFIS 3400mAh 18650 cell.
MANUFACTURER SPECIFICATIONS
Transforms into a Angled Flashlight by twisting the head
● The Rofis TR20 features an innovative rotating angle-head design that you may have not seen before. It means that the head of the flashlight can transform and rotate from normal position into other angles simply by twisting, so you can run it as straight light or rotate the head up to 90 degrees as angle light. It gives more options than a straight light by adjust the angle to shine it where you need light.
● Super bright 1100lm, 6-level settings with 3-blinking modes, micro-USB rechargeable function, power indicator, removable magnetic tailcap, reversible clip, body knurling.
● Measures134mm/5.3" and 85g/3oz, and a very simple UI.
Discover More Uses with Removable Magnetic Tailcap and Reversible Clip
● Angle head flashlights are versatile utility light that allows hands free use, great for task work, especially when you don't want to hold the light in your hand while working. It can be used in accidents, firefighting, first aid, vehicle repair, search and rescue, catching animals, writing reports, disasters, recreation, etc.
● With the reversible stainless steel clip, you can clip the angle light to a pack strap or a jacket pocket, hang it on a fence, cupboard, branch or rope, lay it on the groud shining upwards, clip it to an opened car window, bicycle, boat, horse, boot, etc. The rope hole on the base also makes it hanging easy.
● TR20 has perfect tail stand ability and include a detachable magnet tailcap which can make the light be stick on the iron surface. It is very useful for fix the car at night, long time to light some place etc. for hands free.
Obviously, in every situation, an angled light is the ideal companion for your lighting needs. Highly recommended!
Newest XPL LED, Ultra-bright 1100lm, 206m Long Rang
TR20 is powered by 1× 18650 or 2x CR123A batteries and features high performance Cree XP-L HI V3 LED to boast an incredible 1100 lumens and 206 meters throw distance, truly a small searchlight that lights your entire area and competent for wide-range searching.
Micro-USB Charging Function with Power Indicator
Micro USB port makes TR20 convenient to charge 18650 battery directly without a battery charger and the battery voltage will be easily checked by the power indicator function when battery replacement is needed. The rubber plug can prevent USB port from water, dirt and gravel.
6 Useful Levels and 3 Blinking Modes
The modes can meet your demand on lumens and runtime in different occasions.
● Turbo/Strobe: 1100 lumens which is unbelievably bright and an ideal for law enforcement and security personnel but would be particularly useful for emergency responders engaged in rescue. And strobe light can be served as a self-defense tool because it can make your target dizziness or blind momentarily.
● High/Mid: meet various lighting requirements services like search, hunting, camping, night patrol, where needs the combination of powerful search beam and long battery life.
● Low/Ultra-Low/Moonlight: Need to extend the run time? Just bump the brightness downs to one of the 3 low brightness levels, including 5 lumens Moonlight mode that runs up to 200 hours. If you are at a special situation losing your way helplessly outside completely uninhabited or generally use a pocket light to read or look for items in your carry-on bag so as to minimize the disturbance to others or kids sleeping etc., the low modes precisely come to your needs.
● SOS: sending SOS signals effectively help others to find your location when you are in danger.
● Location Beacon: denoting locations constantly like the location devices in plane, vessel or lighthouse.
Dual-switch Control with Lockout Function
The dual-switch interface is intuitive and well implemented with good ergonomics.
● Press the mode switch repeatedly to cycle through brightness levels of ultra-low, low, medium, high and turbo. This mode has memory effect that ensures direct access to the brightness level last used.
● To access the blinking modes, press and hold the mode switch for about 1 sec. You now have Strobe > SOS > Beacon modes, in repeating order. Note there is no memory feature for the blinking modes.
● Direct access to moonlight output (Hold the mode switch over 1 second) or ultra-high output (Hold the on/off switch over 1 second), also STROBE mode (Double-click the mode switch).
● Simply press and hold both switches for over three seconds to lock/unlock the light, thus preventing accidental activation of the TR20.
Exquisite Workmanship & Excellent Cooling Performance
The flexible head is appropriately stiff and do not slide around accidentally and you will be marveled at its compact size as long as its excellent high reliability & durability:
● The body is made of high strength aerospace aluminum alloy construction with anti-scratching type HAIII military grade hard-anodized finish, and the texture on the exterior of the light is handy for holding with cold/sweaty hands or even if you are wearing gloves.
● With ultra-precise high efficiency aluminum alloy reflector and double-side AR coated, tempered window, which resists impact and thermal shock, the light has maximized light transmission (99% light transmittance) and achieves perfect mix of throw and flood than most competing products.
● Reverse polarity protection prevents damage from incorrectly inserted batteries
● IPX-8 Waterproof (underwater to 2 meters): suitable for use in even the most severe weather conditions
Includes the Rofis 18650 3400mAh rechargeable battery, USB charging cable, holster, paracord-style wrist lanyard, stainless steel clip, spare USB-port cover, spare O-ring
As shown in the photo above, with a twist of the head in a clock-wise direction, it transforms into an angled light, from one degree, to ninety degrees, or any increment between.
The head was a bit tight on my example, but nothing a bit of lubricant couldn't fix.
Shown in the photo above are the side clickie switches. The lower is the On/Off, the upper is the mode selector. It just doesn't get any easier!
Above photo shows the battery indicator illuminated. When power runs low, indicator will turn red.
The photo above shows ROFIS TR20's intergrated water-proof USB charging port. The TR20 includes a USB charging cable as part of the accessory pack. The 18650 cell can also be removed from the light and recharged by placing it in your charger. So if you don't own a 18650 charger, it won't be a problem.
It should be noted, I did run the light for an hour and recharged the cell back up to full with it inside the flashlight. I did remain in the room while it recharged, and I'm happy to report no unexpected issues occurred and the battery charged to 4.16 volts. The approximate charge time if the battery is very low and recharged inside the flashlight is 5 hours.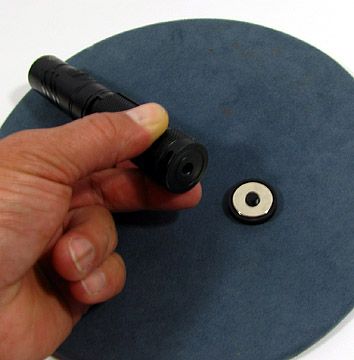 The above photo shows yet another great feature. The tail cap incorporates a removable magnetic base. It's a fairly strong magnet, and should come in very handy.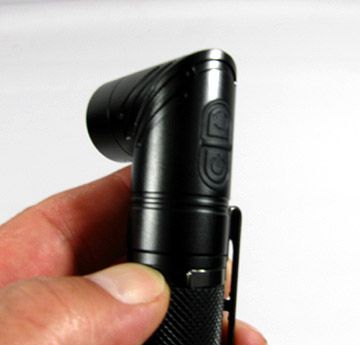 At this point, the only minor grip I have with the light are the switches. Since they are flush with the body of the light, they tend to be difficult to find in the dark. Raised switches would have
been better, but at this point, it's the only negative I can find with the light. However, ROFIS incorporated a great function into the light should you find you have a problem locating the
switches in the dark. With the light turned ON, press and hold the ON/Off switch for one second. This allows the power indicator switch to blink twice every 3 seconds. This feature really works great
and I wish all my other lights had this function.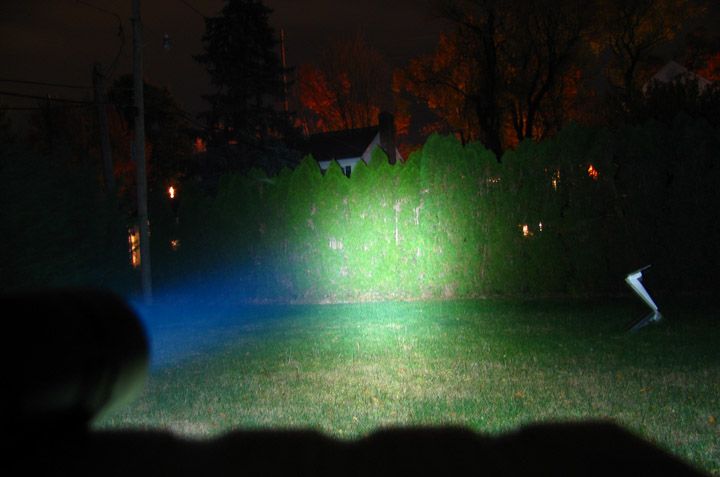 The photo above is a beam shot at about 50 feet.
As I've already mentioned, this is truly a feature rich flashlight. I am very impressed with the all the features ROFIS has crammed into this EDC. For me personally, it goes straight to the top of my EDC flashlights.
I'd also like to thank Bella once again for the opportunity to review such a wonderful flashlight.