A little good news. I just got word that even though my review is a bit long (people should know as much as possible before spending money) The guys at BangGood have decided to offer a coupon code for the Rofis KR20. Their normal price for the Rofis is $64.95. I am adding a link to use and a coupon code that will make the price $45.95. It really is a great light. Enjoy the discount.
To get the discount please Click here to get to the Rofis KR20 at BangGood when you check out please enter the code RFKR20 and you will get it for $45.95
This is my review of the Rofis KR20, the light was provided to me by Banggood for my honest and unbiased review. I will in no way speak of or infer that a product is better than it is. What you read will be the truth and my honest opinion. With that said let's get on with it.
I almost turned down this review as I know very little of this company but, I like a challenge and a chance to test a product I know nothing about.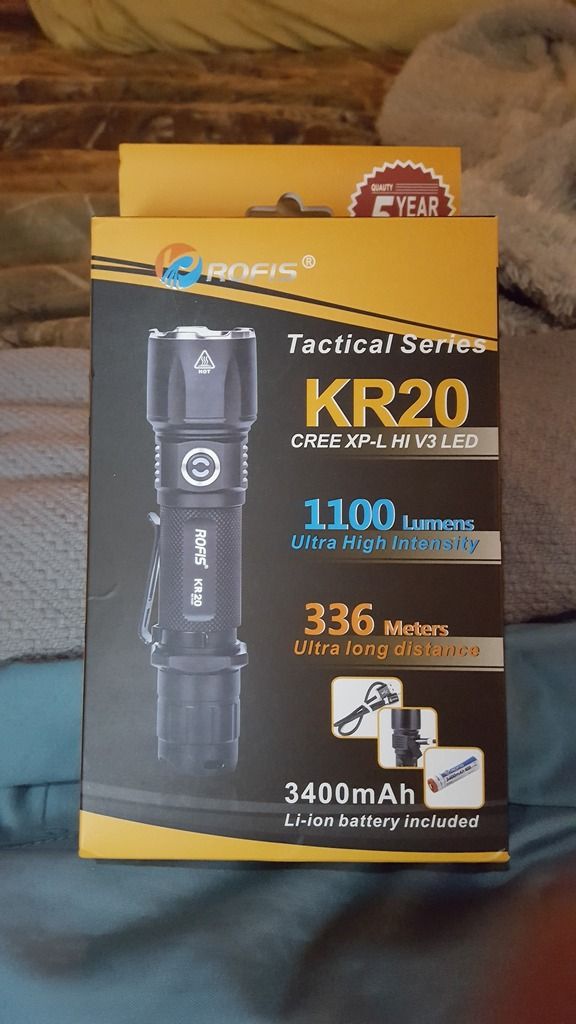 The product as it is described and advertised.
Features:
  1. Premium XP-L HI V3 LED
  2. Intelligent charging circuit with voltage detection charges safely and rapidly
  3. USB rechargeable, onboard USB charging port is water, dust and impact resistant
  4. Multiple output modes are conveniently accessed via rapid rotary switch
  5. Intelligent memory function stores preferred brightness setting
  6. Broad voltage circuit accepts both rechargeable and non-rechargeable Lithium batteries
  7. Optimized ultra-precise reflector offers a longer beam distance than competing products
  8. Stainless steel bezel ring protects core components from damage
  9. Toughened ultra-clear mineral glass with anti-reflective coating
10. Constructed from aerospace-grade aluminum alloy 6061-T6
11. HAIII military grade hard-anodized
12. Reverse polarity protection
13. Stainless steel titanium-plated clip
14. Anti-rolling design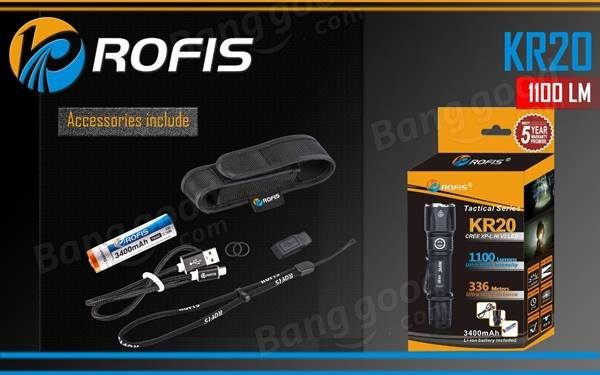 Package included:
1 X ROFIS KR20 XP-L HI V3 1100LM 18650 LED Flashlight
1 X Rofis 18650 Li-ion battery(3400mAh)
1 X Holster
1 X USB cable
1 X Lanyard
2 X Spare O-ring
1 X Spare USB port cover
1 X Clip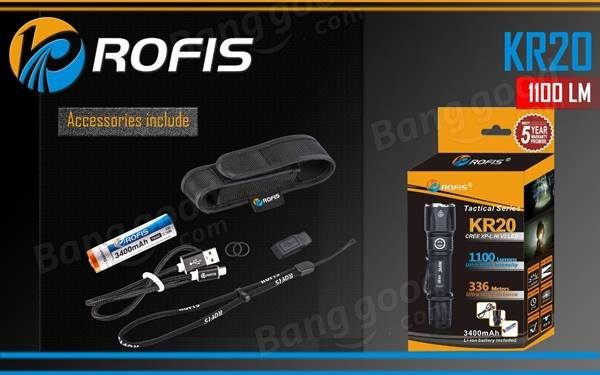 Basic operation instructions.
Tactical Setting:
1. Momentary Illumination:  Momentary illumination mode is accessed by pressing the tail switch partway down and holding with the flashlight in standby.
   Release the switch to turn the light off (The flashlight will return to memorized mode when next turned on).
2.Tactical Strode: When light off, lightly pressing the tail switch partway down twice in succession to activate strobe mode, release the switch to turn the light off,
    long depress to keep strobe.
3.To switch ON: Press the button on the tailcap until a "click" is heard, the flashlight on and keep the brightness level last used (The brightness level mode has
    memory function to memorize the mode last used).
4.To switch OFF:  Press the button on the tailcap a second time until a "click" is heard, the flashlight off.

Outdoor Setting:
1. Switching ON/OFF
    To switch ON: Press the tailcap switch until a "click" is heard.
    To switch OFF: Press the tailcap switch a second time until a "click" is heard.
2. General Operations
    Brightness Level:  With the light turned on, press the mode switch repeatedly to cycle through brightness levels of ultra-low, low, medium, high and turbo.
    This mode has memory effect ensure direct access to the brightness level last used.
3. Special Modes
    Strobe/Location Beacon/SOS mode:  With the light turned on, press and hold the side switch for over one second to activate Strobe mode.
    Press and hold once again to access Location Beacon mode and repeat once more for SOS mode.
    Moon mode:  First to press the side switch and press the tailcap switch to activate and keep moon mode.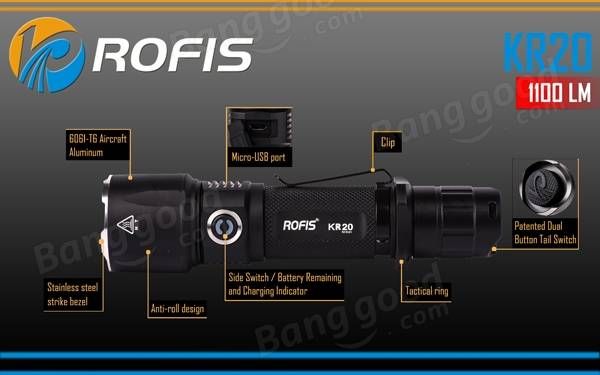 That is a ton of a description and was already enough reading for most for a single day.
As luck, would have it I do not review a product on every exact detail. I review from what I find myself from the time I open the box to the time I begin typing.
The battery as advertised on the Rofis website
SPECIFICATIONS: Type: 18650-3400mAh Chemistry: Li-ion Capacity (mAh): 3400mAh Voltage: 3.6V Maximum Charge Current: 3350mAh Charging Voltage: 4.2 + 0.05V Maximum Discharge Current: 5.1A Weight: 52g Dimensions (Diameter x Height): 18.5*68.8mm 
As stated above what comes in the box is exactly right. Two points I want to touch on. The first thing I did was test the battery in an Opus charger and here are the results from that.
3239 mAh
mR 107 -after second full charge completed 
Opus read 4.194v
My DMM shows 4.09v several hours after charge but not used. 
I expect it's a quality cell but little or no real data on the net.
2.4A current at its highest setting using the Rofis cell. And 2.3 using one of my Panasonic NCR18650PF Protected 2900mAh Rated at 10A. Protection circuit normally cuts it at 7.5A
It is a much better light and cell than I expected. Or so far seems to be.
The second thing is the holster. I have purchased lot of lights over the years and many holsters. This is one of the best yet that came with the light. Normally you would have to purchase one this nice separately. I put it through the wringer during a 13-and-a-half-hour shift Sunday night and it did not open accidently or breakoff from my belt.
My personal thoughts and observations.
This is more of a multi-purpose light than a tactile. It can do most things well.
The light is set up with both a tail clicky and a side switch. I have already been asked if there is a lock out because of the 2 switches and the answer is no it does not and here is why. The side switch will do nothing at all if pressed alone. You can press or hold it as long as you like but, the tail switch must be used in some way before the side switch will do anything. So, no need for a lockout. A lockout feature is great when needed. Accidently turning on your light and not knowing it is no fun at all, and in a tactical situation it would probably give away your position. That said there are cases when a lockout is very necessary especially lights with both tail and side switches but, because of the design of how this light utilizes the side switch there is just no need for a lockout.  
This light has about any mode you can think of and a couple I had not. None of them are as complicated as they read.
The first and easiest thing to do is just press click the tail switch. I am not sure what setting they supposed to be at when first turned on but my sample came on in turbo and was easily as bright as advertised, possibly a bit brighter.
Once you turn it on by fully clicking the tail switch, you can then use the side button to begin to do several things. Again, the simplest would be to press the side button once, if it started in turbo then it will cycle to the next lowest setting which they refer to as Ultra Low @ 12 lumen, press it again and you cycle to the next lowest which is low@ 80 lumen. The other levels are as follows, med.@ 220 lumen, high @ 500 lumen and then back to turbo which is 1100 lumen. It does have a memory function so if you stop at high and use the tail switch to turn the light off when you turn it on again it will come on at the high setting.
Another neat little feature is as you cycle through the different light levels each time you change levels in a couple of seconds the side switch will blink a couple of times in either green or red. If it blinks green means the current battery supply is above 50%, if it blinks red then the battery supply is less than 50%. It will begin to blink quickly if you are about to run out of power. This can be very handy. If you switch to turbo mode and you see it blink red, then try going to a lower light level. Going from turbo to medium could easily give you a green blink because it will calculate the power needed for that mode with how much power is still left in the battery. Changing from 1100 lumen brightness to 220 lumen is a major drop and could easily give you the time needed to either complete what you are doing or change to a fully charged cell.
The side switch is referred to as the mode switch. Here are other things you can do with the side switch.
Special Modes
Strobe/Location Beacon/SOS mode:  With the light turned on, press, and hold the side switch for over one second to activate Strobe mode.
Press and hold once again to access Location Beacon mode and repeat once more for SOS mode.
Moon mode:  First to press the side switch and press the tailcap switch to activate and keep moon mode. This is a level below the ultra-low and is rated at 4 lumen.
These are not hard at all but do take a little getting accustomed to. And some of these features I see little or no need for but, many may want them. Either way they are all in there for use. And from time to time you have to click the side switch again. It is not a short or bad switch, from what understand it is just a lot of information being processed and very little processing power. I even had to turn the light off and on again to cycle through the brightness levels. A lot of that could easily be my needing to become more accustomed to how this light operates compared to most of the lights I own and use daily.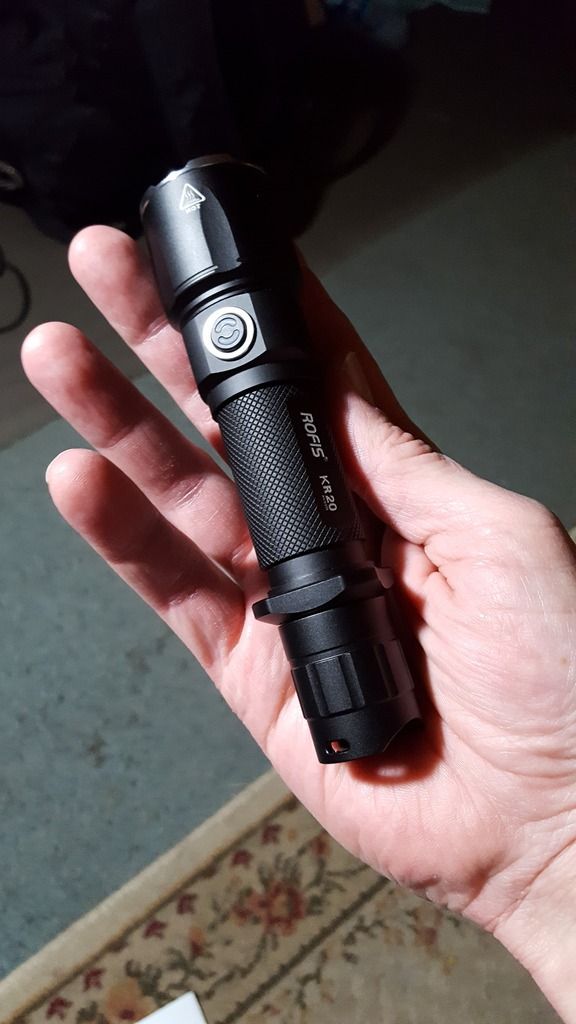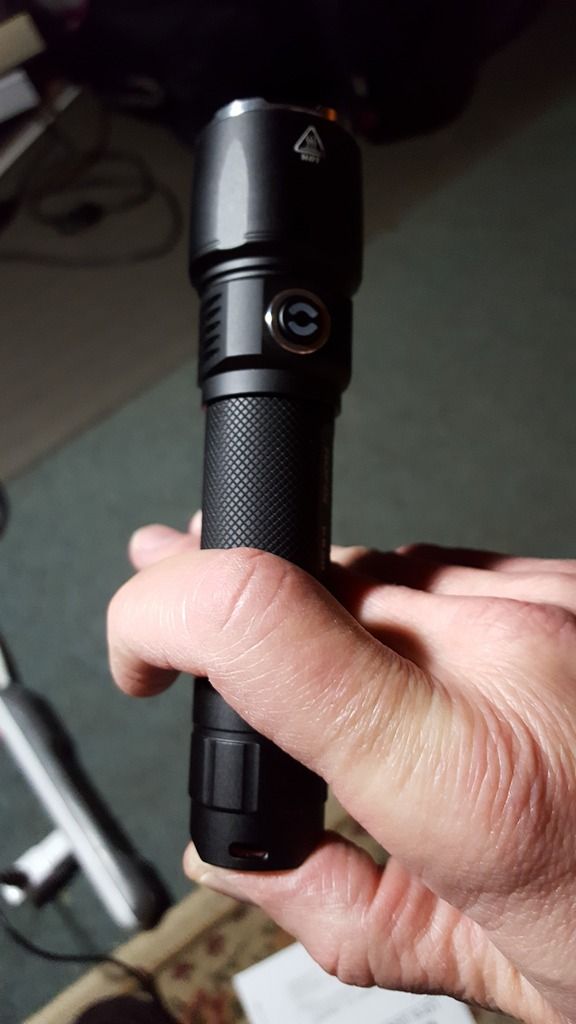 The light itself.
This is not a zoomable light however, it throws light as good as many zoomers. 336 meters is a very long distance for a light that has no zoom function. I did not actually measure the exact distance but, it reaches out a good distance more than say a Thorfire VG-10 or a JetBeam C8. Each of these are close in size and power. I own both the VG-10 and the C8 and they are great lights but, the Rofis just out performs them both in almost every way. I would buy this light without any of the extra modes and charging features just because of how well it projects light.
I am including some short distance light shots comparing the three. Currently we have snow on the ground and that makes longer distance photos of light very hard. It will be gone in a day or two and I will get some outside longer distance comparisons.
As best I can see the pill would be a challenge to get out. I can find no way to get the bezel off and the board is soldered directly to the threads. From what tiny bit that can be seen it appears to be aluminum. For now, I am just not willing to melt the solder just to have a look, and if it is aluminum it would take some work getting it off and even more to replace it. I have requested any information that Rofis is willing to share by email. As soon as I get a response I will post it right away.
I have read from others writing about this light that it lacks the look and feel of a higher end light. I have no idea what higher end company they may be referring to, as the fit, finish and feel of the light is as good as any I have used, tested or own. If it is Streamlight or Surefire they may be talking about I can tell you without a doubt the fit and finish are easily on that level. I no longer own a light from either of those companies simply because you are paying twice or even three times the amount for a light that is no better and in many cases inferior to many competitors. I am not saying those are bad lights or companies, in fact they build excellent lights. I just choose not to pay for a name.
The threads are machined very smooth wide and deep, this speaks of quality and the longevity of the light. The anodizing is very well done. I have dropped it at work onto a concrete floor twice already and not a mark on it.
It is large enough to feel and easily hold onto and still small enough to be carried easily. And one of my favorite items is that they have the belt or pocket clip on in the right direction allowing you to carry it lens facing down. I was a deputy Sheriff for about 6 years and I can tell you from personal experience that you want to be able to draw your light in a ready position just as you would a weapon. When you need the light, you need it fast and pointed in the right direction. If the lens is face up there is far too much extra movement just to get it out and turned on.
Honestly, I can find little that I do not like about this light, even the USB charging port cover is fitted so well and tight that you almost do not know it is there.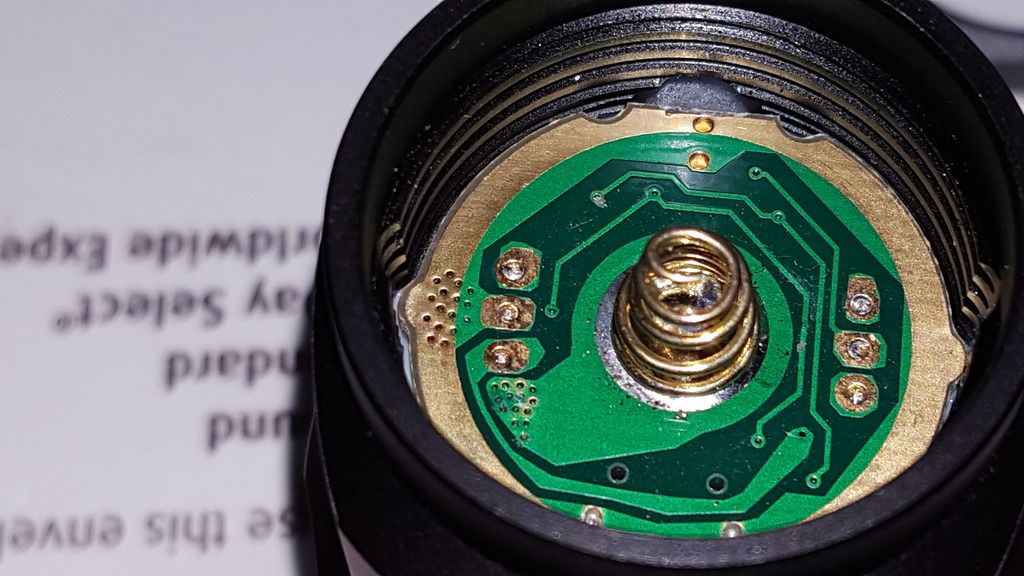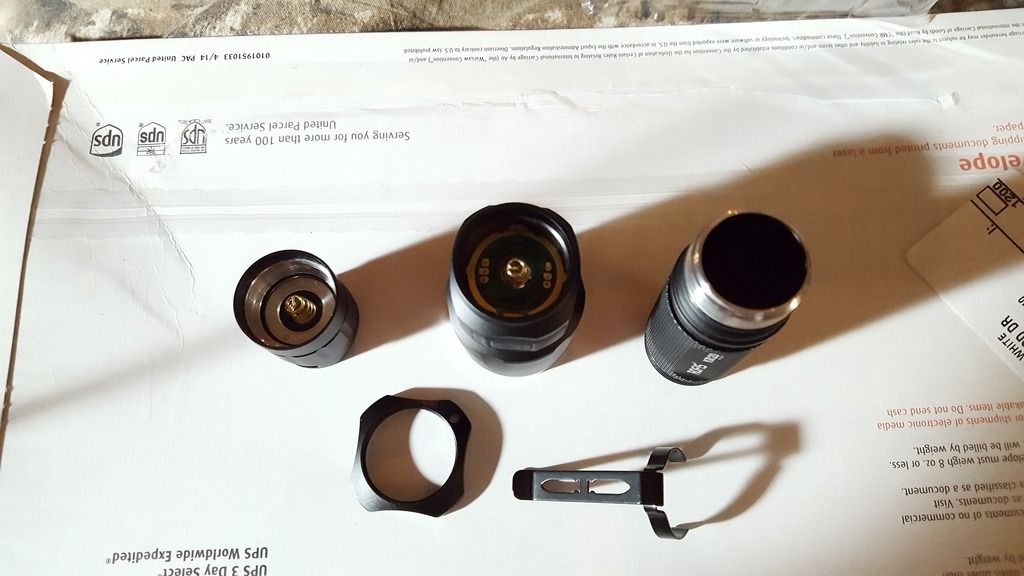 Here is a picture for size comparison and also it lets you see just how much it resembles the Thorefire VG-10
Below are some not so great indoor short distance shots of the Rofis alongside a Thorfire VG-10 and a JetBeam C8. In all the pictures the order is the same. Left is the Rofis, middle is the Thorfire and the right is the JetBeam. The snow should be gone maybe as early as tomorrow, maybe at least enough for some distance comparisons. These short shots are more to give you an idea of the color. It is almost impossible to see real differences in beam intensity at 15 to 20 feet when lights are clocking 500 plus lumens.
This is with each light set at medium, as I said these are close, maybe 20 feet. Even at this close range you can see at the far left the Rofis flooding almost to the other side of the Thorfire and the beam is still tight. I the wall were not there it would have thrown well past either of the others. That is not a guess, I have seen it happen. I did not have my phone with me or any camera at all.That was the day it arrived. It can throw well past either of these. All 3 are great lights that will remain in my collection as each has it's own use.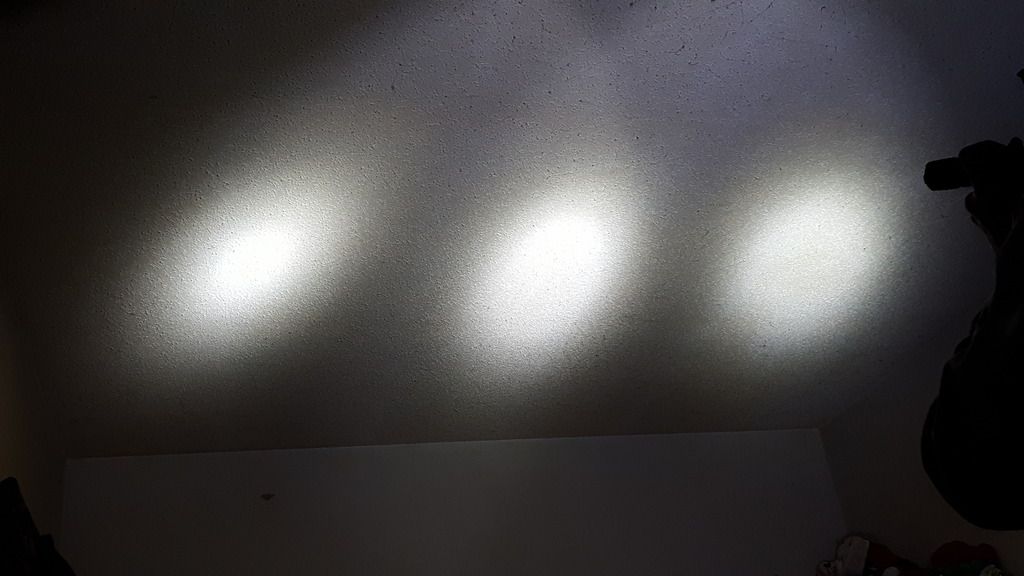 This shot is with all 3 set at their highest level. As I said seeing any real difference in light intensity or brightness at 20 feet this close together is almost impossible.You can however see both the middle (Thorfire) and right (JetBeam) both have what almost looks like a hurricane like swirl.Differences in reflector size, depth, and quality. On the left the Rofis you donot see this.It is still a nice tight beam wanting to get past that wall, the Thorfire wants to reach out as well but in the end it would run out of distance and light output. It is still totally stock so it is rated a few hundred lumen lower than the Rofis. The reflector on the Thorfire is a bit more narrow and not quite as deep. There is also the difference in emitters. The Thorefire is an XML-2, like I said it is a great light just not designed to reach out quite like the Rofis.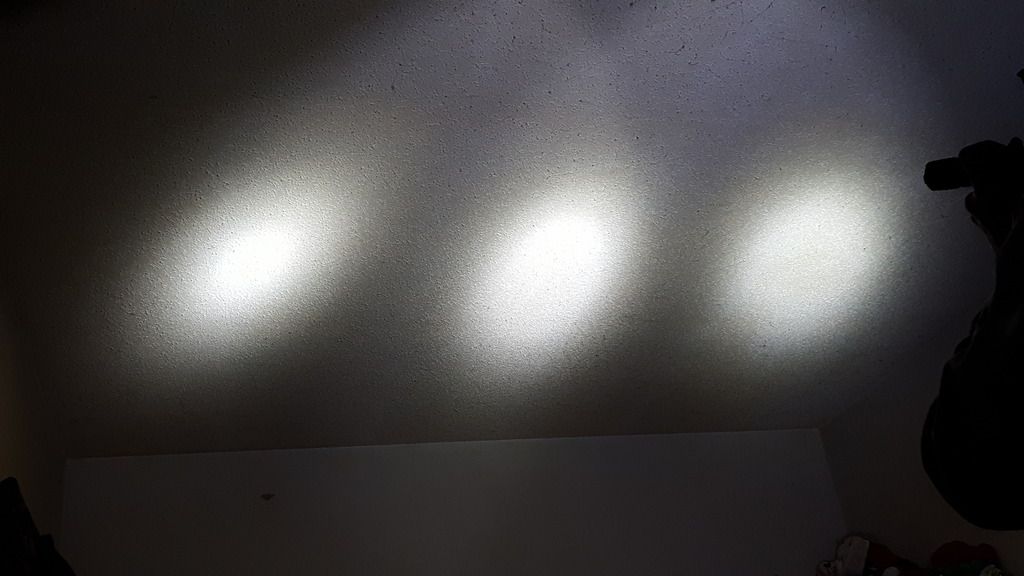 Here are a coupe of shots side by side, same order. Rofis is on the left,Thorefire in the middle and the JetBeam on the right. I love these shots, These indoor pictures really do not do justice to any of these lights.
I may try in an hour or so and see what I can get outside. If there is still too much snow then the light just bounces and spreads lover the place.
I have put all 3 batteries in the charger, if I can find just enough ground that is not totally covered in snow I will get some much better beam shots and distances that can let the lights reach out.With some luck maybe in another hour or so I can get them edited into this post.
I like to review and evaluate a little differently. I love seeing the numbers, but I also like what counts the most. The same things my father taught me many years ago. Is it well made, is the design sound, does it work as  the maker says it will, and most of all do you like it. I can honestly answer that I believe yes to all of those.
I welcome any feedback, or corrections. I will get those pictures up soon.
Enjoy.
Update 12:13am 1/8/17
It is extremely cold outside but I said I would get some pictures with distances more suited to this light. There are no side by side shots as the flood would just blend the two together. 
Because it is so cold out currently 22 degrees F I skipped over the lower settings.
First is the Rofis set to medium at about 150 feet.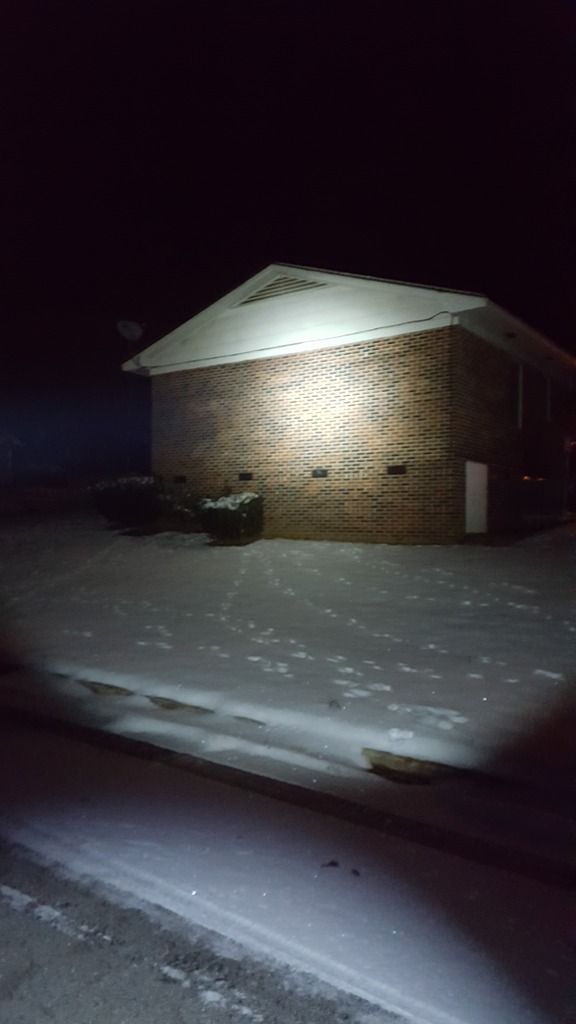 This is the Thorfire VG-10 set to medium same distance.
You can see that the Thorfire lights it up very well but floods a lot more the Rofis is a much tighter beam.
For the highest setting I had to add some more distance. These two pictures are at 60 yards. Both lights set to their highest settings. First is the Rofis.
Now the same distance with the Thorfire.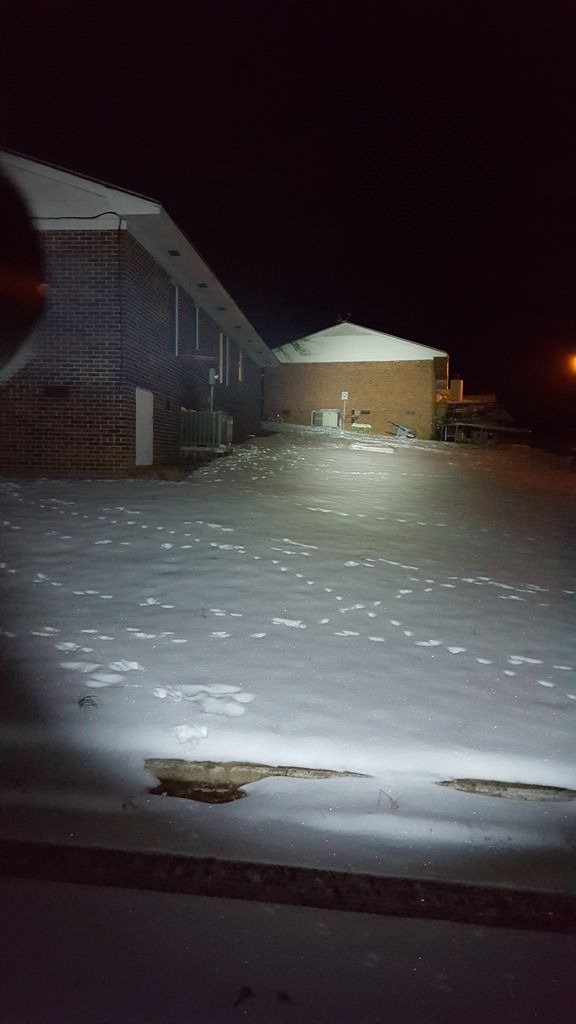 Again it is very easy to see much less flooding with the Rofis giving it a tighter and much brighter when it hits the wall. Much to my surprise the Rofis not only has a tighter and more focused beam but it also has more flood cover. With the lights off that area is totally dark, all of the light that you see in both sets of pictures are only from the light I am using at the time.
Now one last picture and this is just the Rofis and I did this just to see how well it would do. This is a shot of the treeline about 150 or 160 yards from my front walk. There is still a good deal of moisture in the air and you will see that in the picture but, you will also see that the Rofis lights it up. I normally only test zoomers at that treeline most lights of this size just flood out too much to light it up to see very well. Check it out. it kind of surprised me.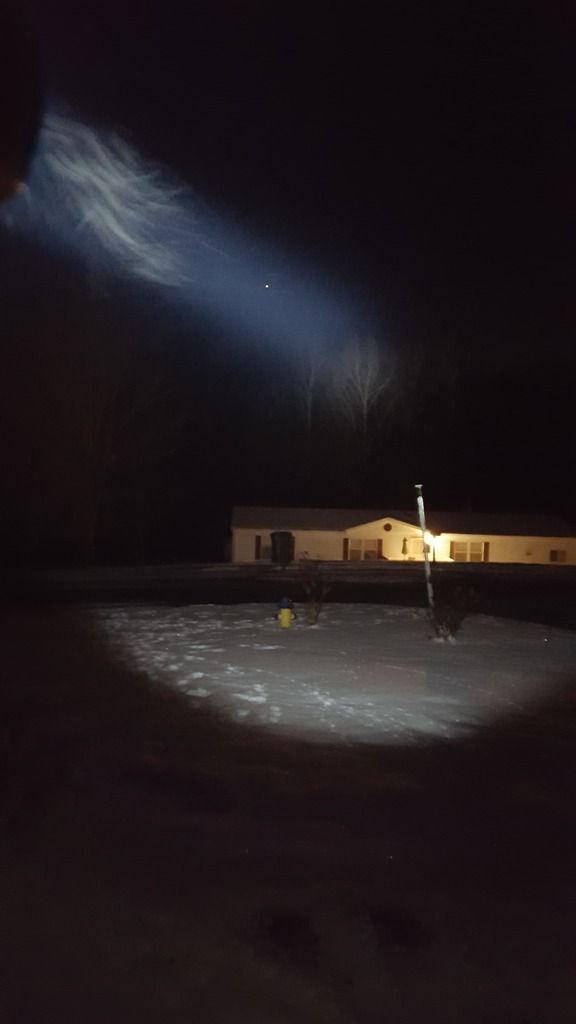 Well that wraps up my testing of the Rofis KR20. I really had no clue what this light would be like. I knew almost nothing of the brand. After spending a few days and nights with it I can honestly say I'm sold. I would buy this light. It is a great all around light. Yes it is advertised as a tactical light but I disagree with that. If I were the person marketing this light I would run it as a multi-purpose light. It does very well in a work environment, and I am a mechanical  technician so any light I take to work really gets punished. It works great in and around the house for just normal everyday needs, the light level can be lowered very easily for indoors and if something outside comes up crank it up and you can light up almost anything you would need to. It does have the most used and desired tactical functions so it is a tactical light as well. So just in case someone at Rofis happens to read this. I would change my marketing on this light. It is a multi-purpose light. It easily fits the needs of any person looking for a light that can be both low level and very high level lighting, it can be carried comfortably, it would work just as well camping as it would in a tactical situation.
I will admit, I really enjoyed this one. I like surprises.