Hello Everybody!
This is a review about Thorfire TG06S. I got it kindly from Thorfire direct. They sent me the light and I make a honest review for it.
You can buy this light from Amazon.com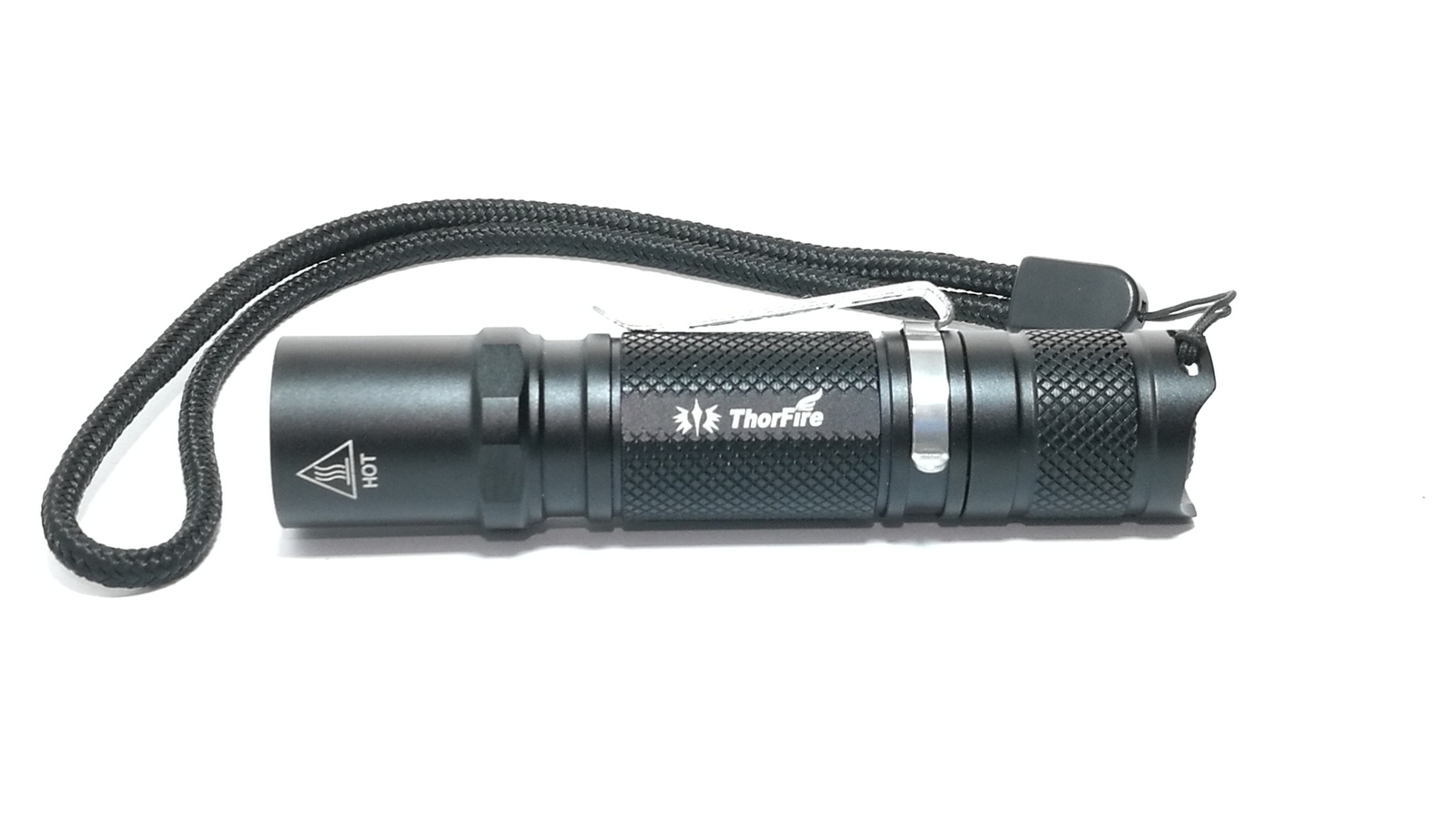 The flashlight uses Cree XP-G2 led and the factory data claimed 500 lumens with 14500 li-Ion battery and 150 lumens with AA non rechargeable battery.
It only accepts button top batteries. It came with two spare O-rings and a lanyard and a user manual in a cardboard box.
It has four modes plus a hidden strobe mode.
My biggest problem with it that it is always starts on high and it has no mode memory. So it is good outside and for an EDC in your pocket but to leave it next to the bed and at night you want to go out of the room and BAM! Blinded by the 497 lumens. So that is not the best.
For the strobe you need to quick double tap the switch from any mode.
I measured it only with Solder blobbed unprotected PKCELL 14500 Li-Ion battery.
Here are the numbers:
-High: 1,76A and 497 lumens
-Mid: 0.53A
-Low: 0.13A
-Firefly: 0,03A
It has a turbo stepdown with lithium battery as you can see it stepped down to about 40% after 3 minutes. At 3 minutes I measured 44°Celsius on the head warmest point. The stepdown is instant and noticable.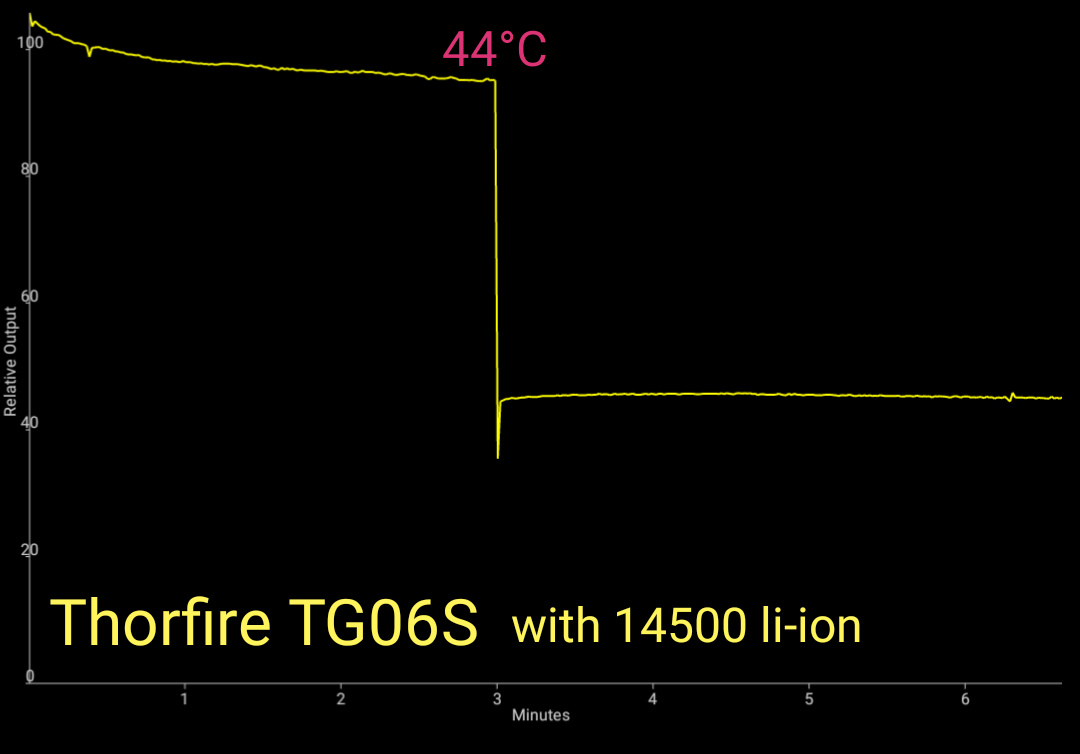 -Intensity: 4800 cd
-Throw:138m
-Size: 95,85 mm length and 22mm thickest diameter on head.
-Weight with 14500:
Disassembled into 3 pieces: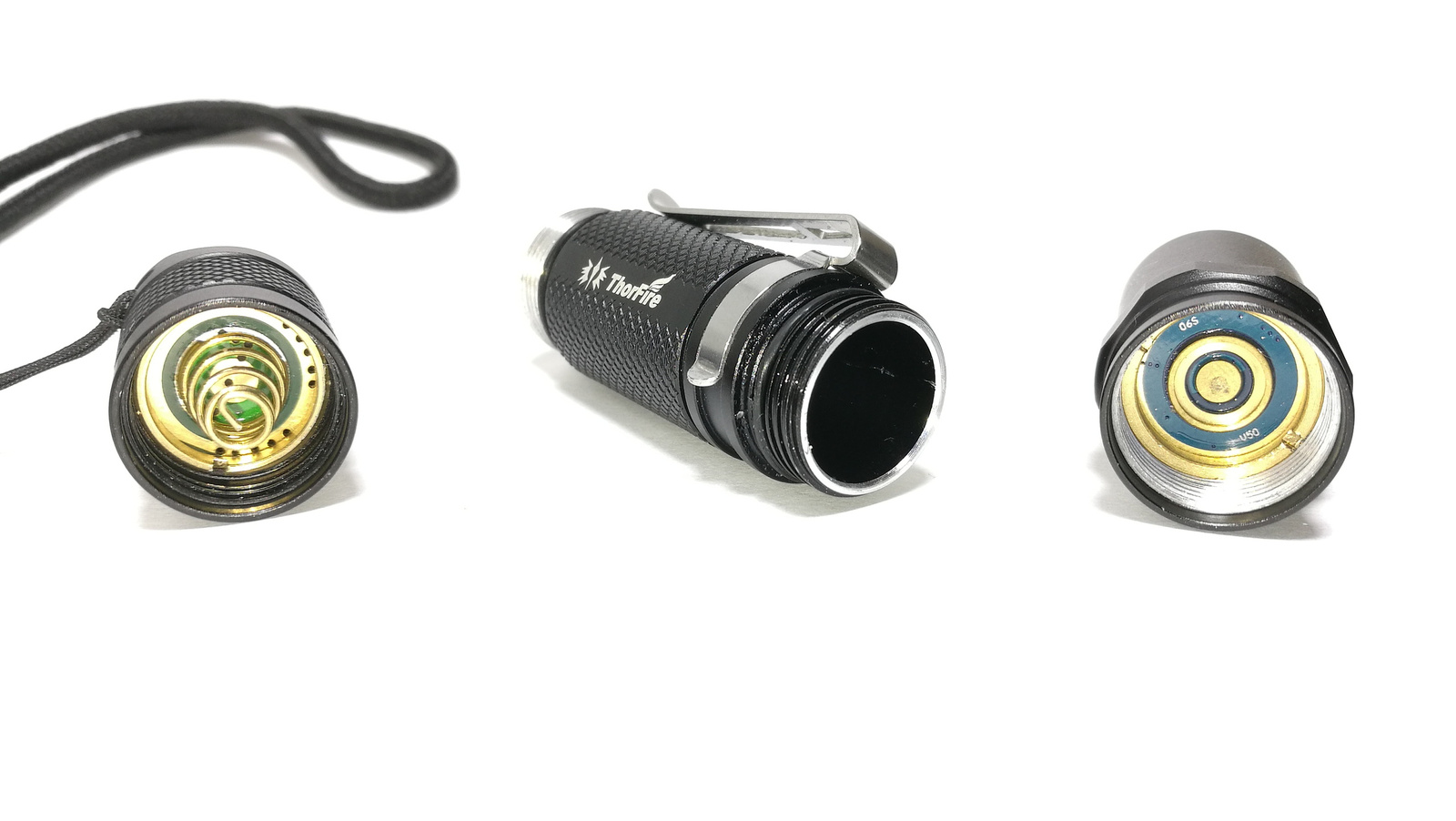 Further disassembly:
-Tailcap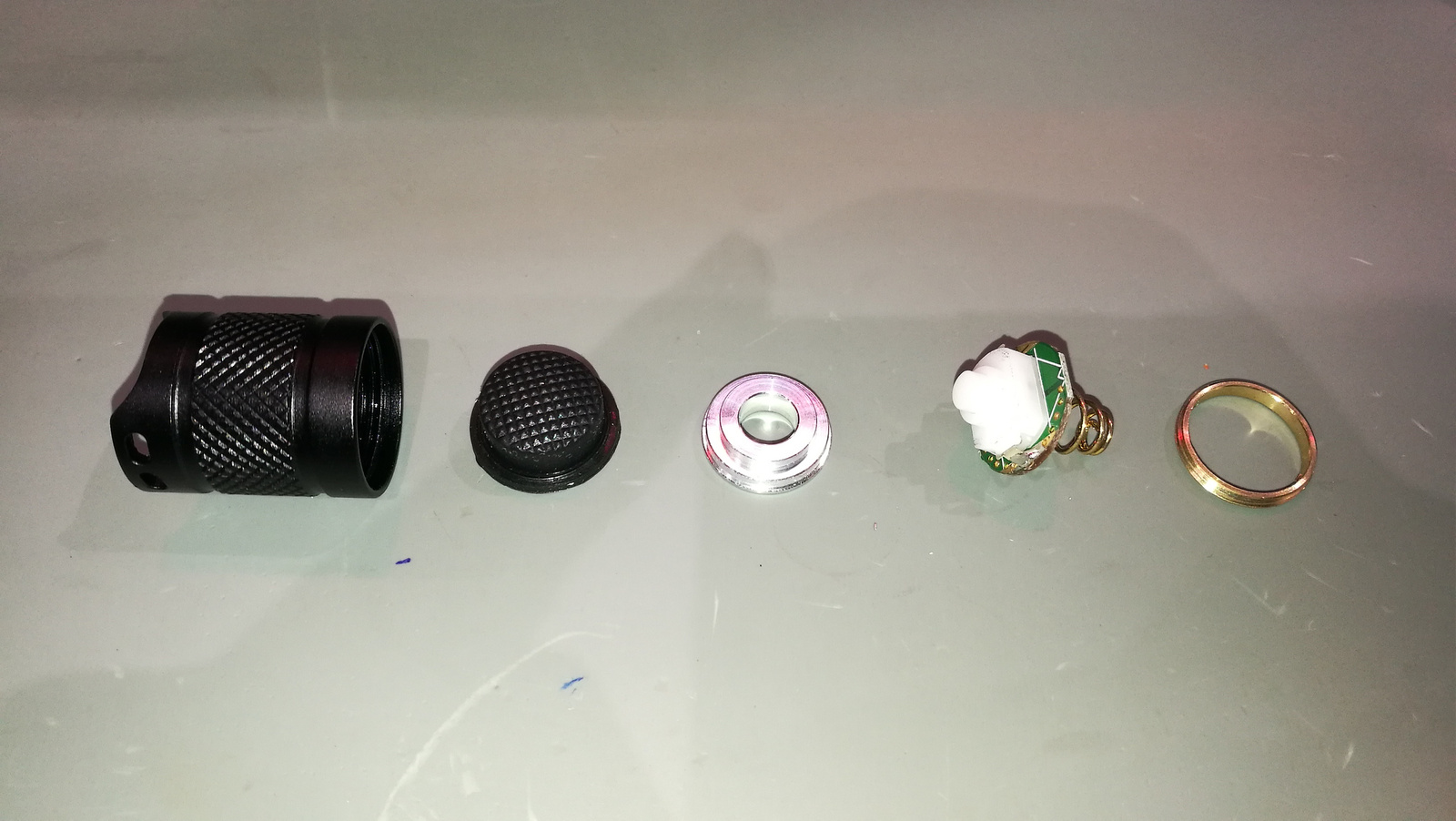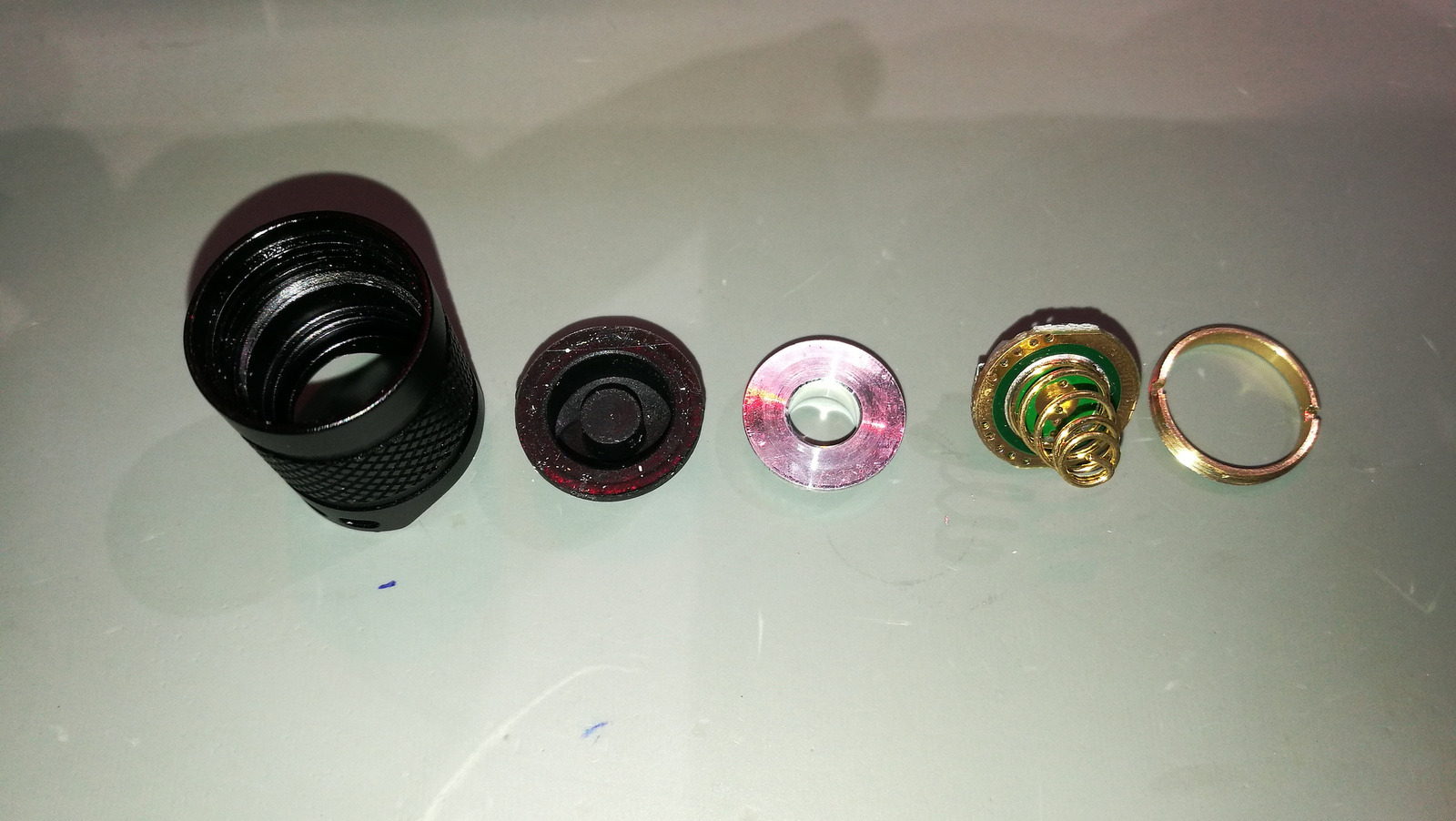 The switch is an Omten type 1288 switch. The spring has some coating on it. And it is stainless steel. The switch board retaining ring uses separate thread from tailcap.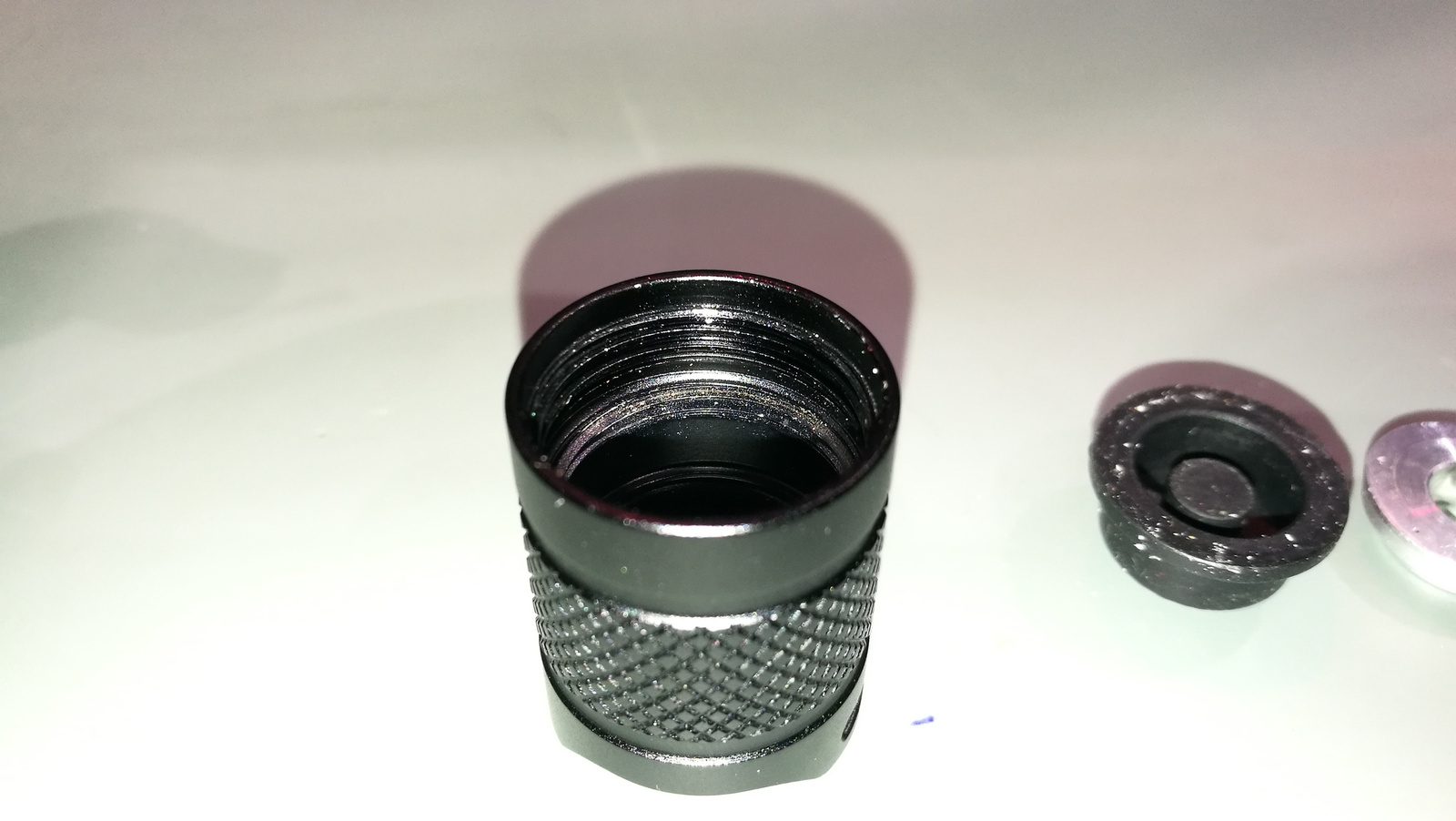 The rubber switch boot is 14mm diameter and it has a very soft material like in VG10S and VG15S.
The tailcap has two lanyard holes so you cen put in lanyard and the light still can tailstand.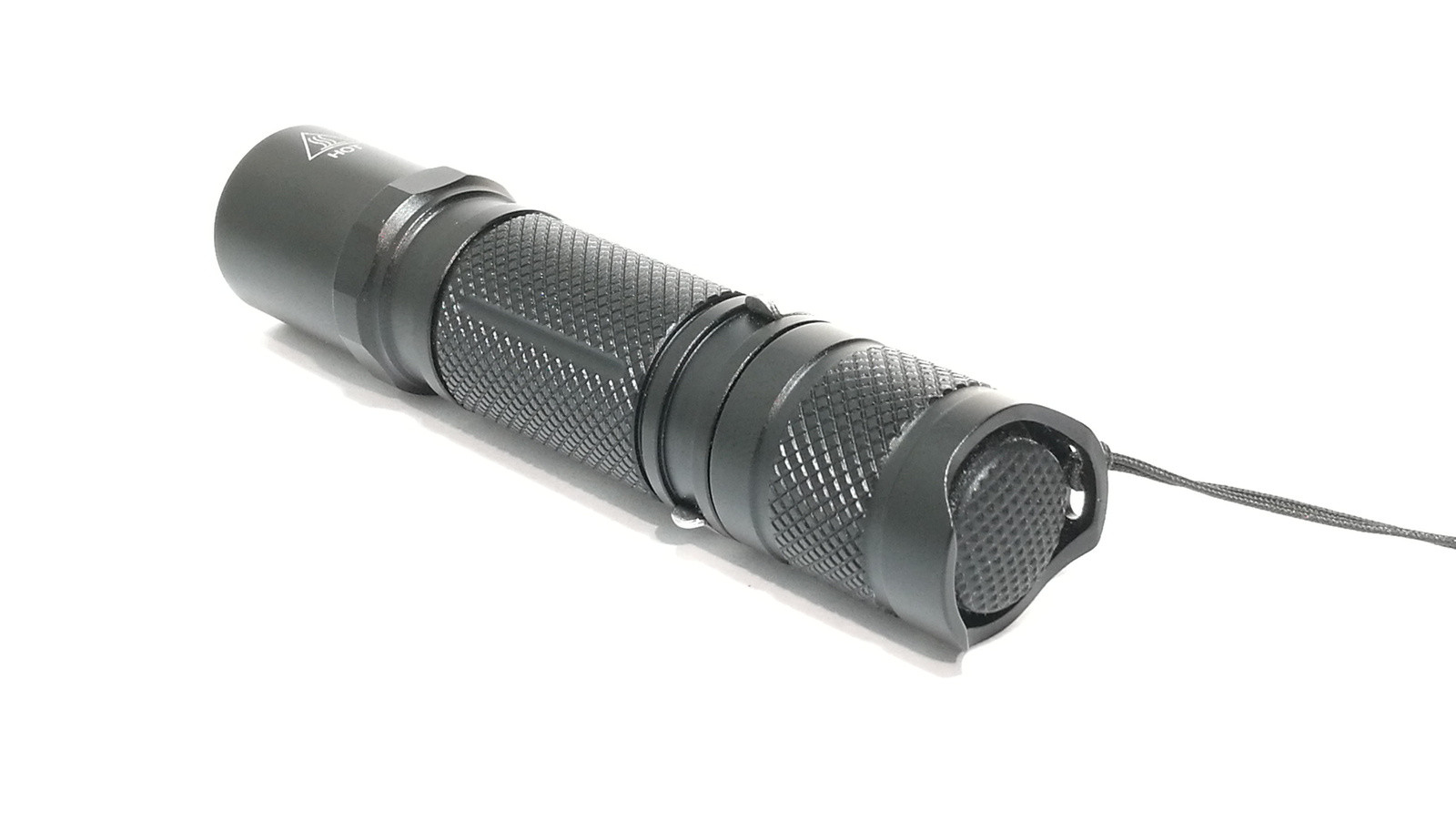 -Tube
On the head side it uses regular threads.

Buton the tailcap side it uses square threads.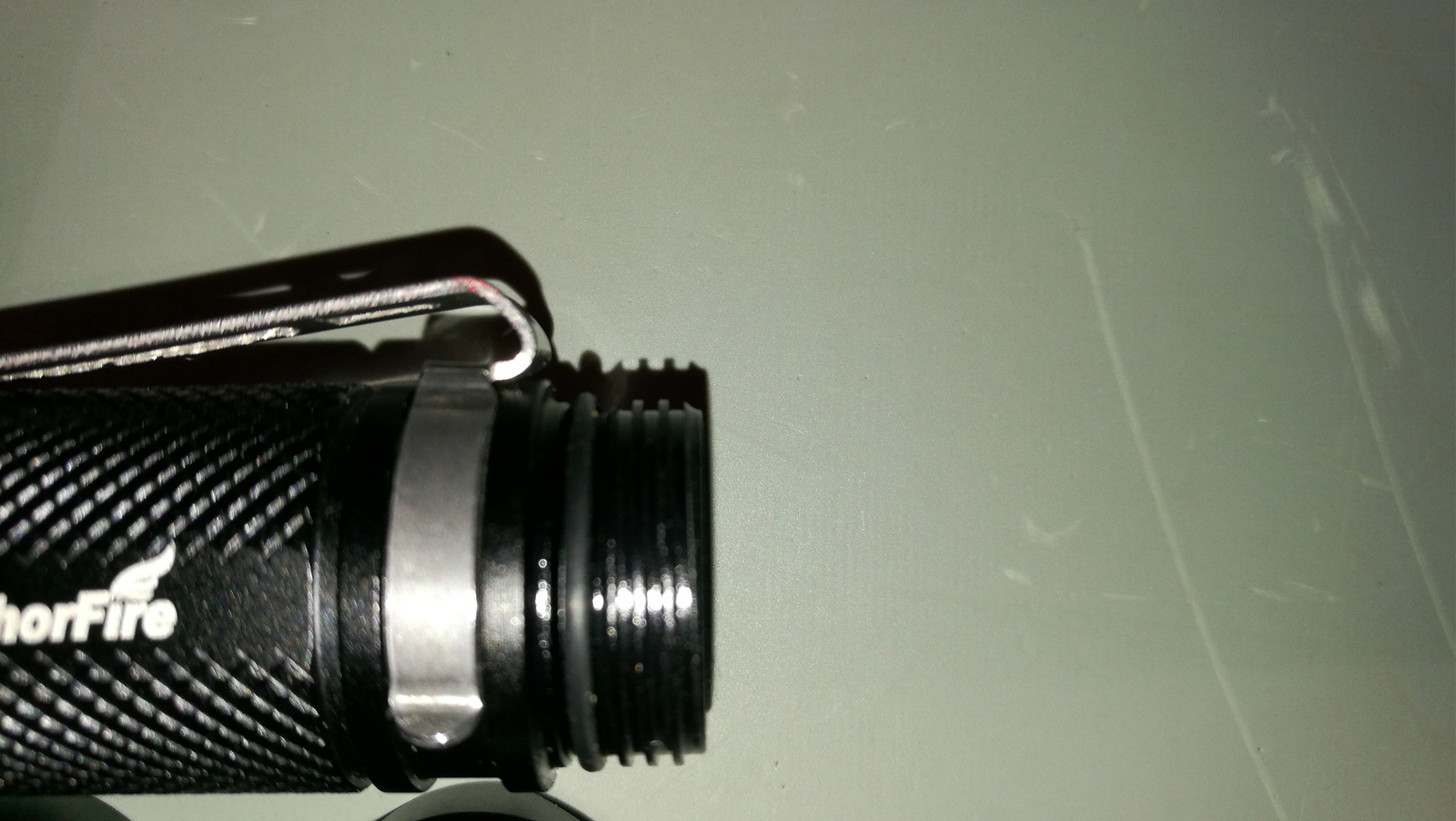 The thread on the tailcap end is anodized so you can lockout the light mechanically here. The tube end is nicely chamfered and no sharp edges anywhere on the whole flashlight.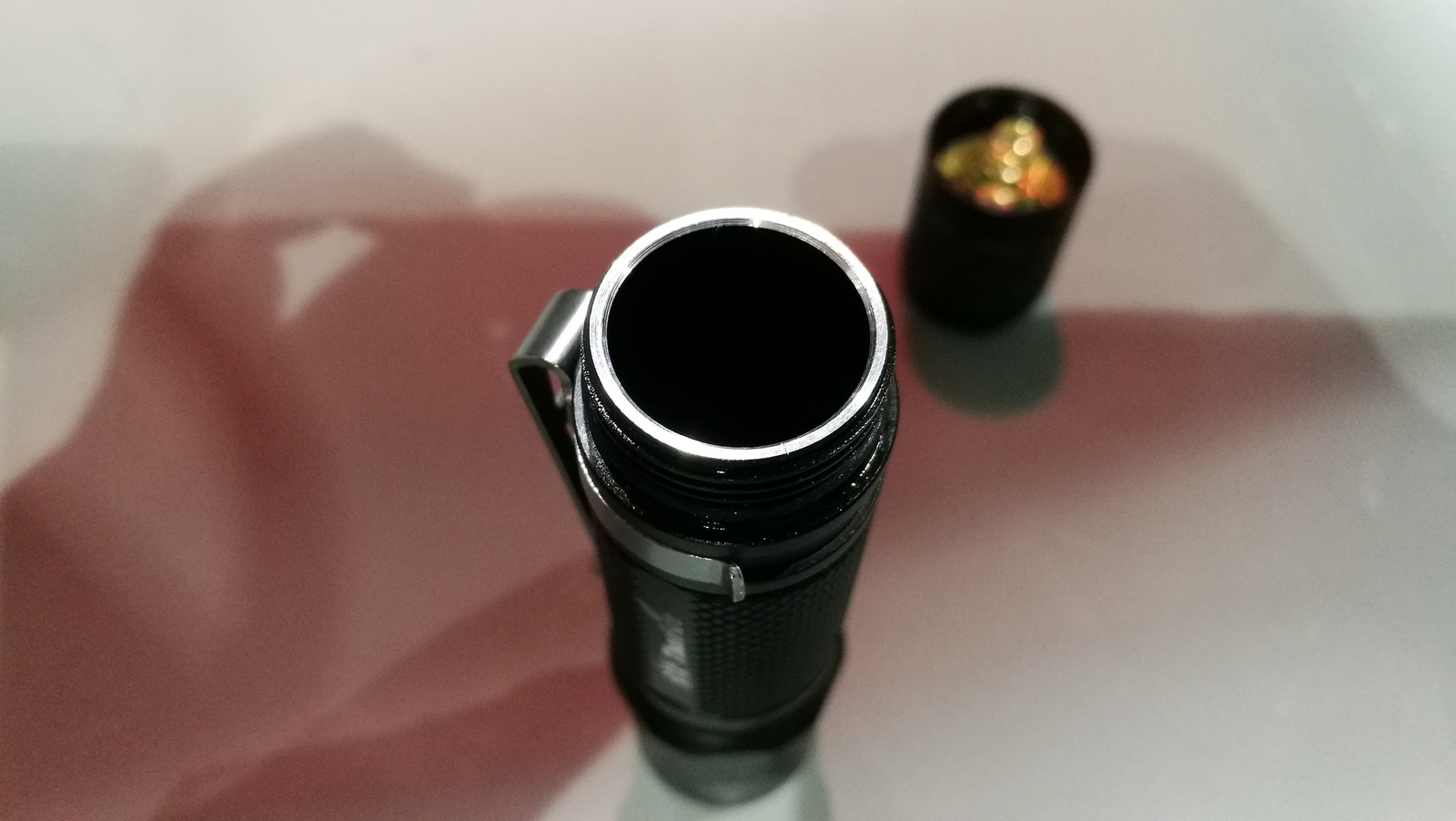 It has a very firm and secure stainless steel pocket clip. The style is same as on Eagle eye X6 and Convoy S8 and some other lights. You can put it on the head in reverse and use it as a cap light.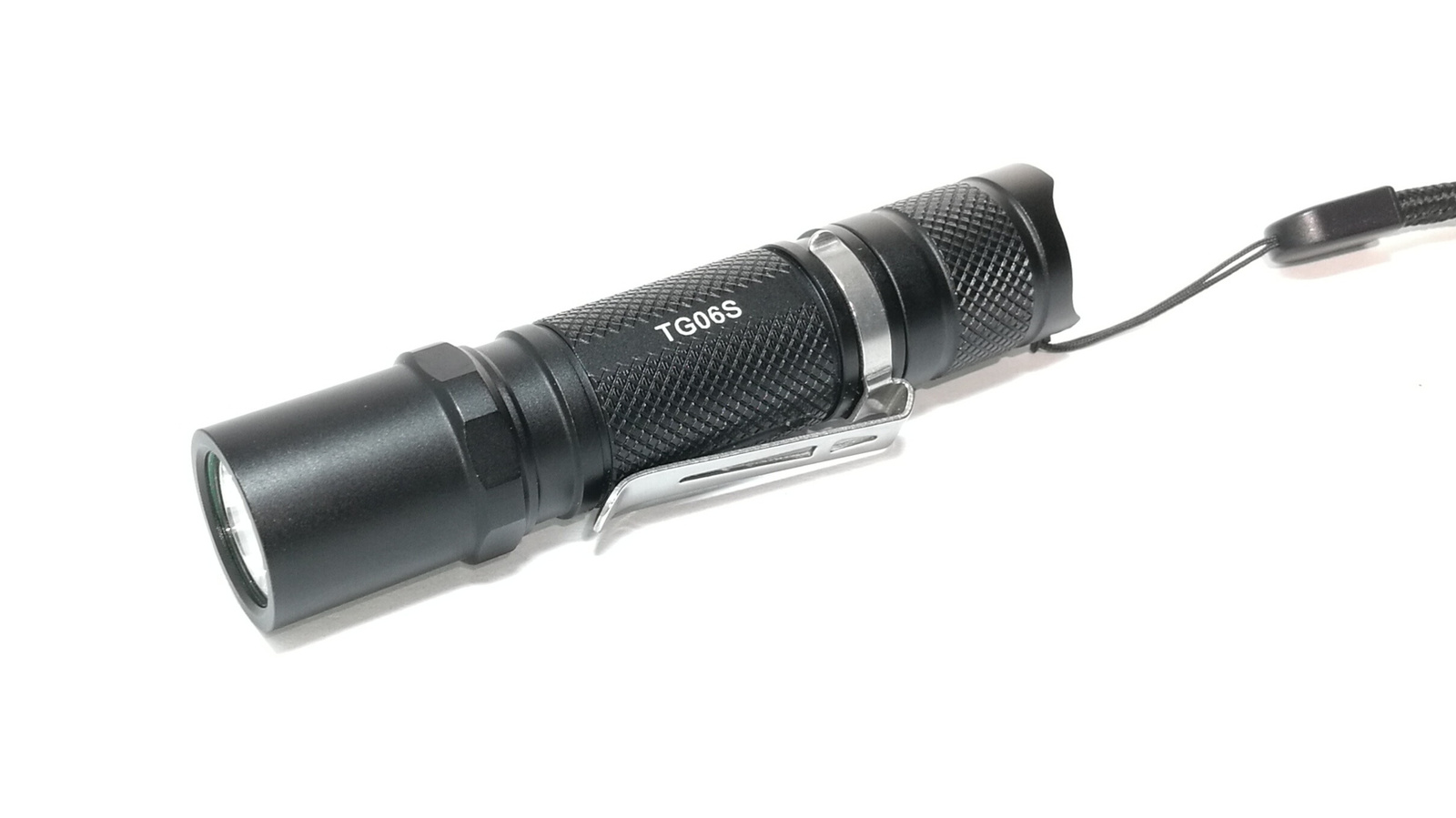 The knurling is nice and not slippery. The tube has O-rings on both sides so the waterproofness guaranteed. And the threads came well lubed.
-Head
Look at the business end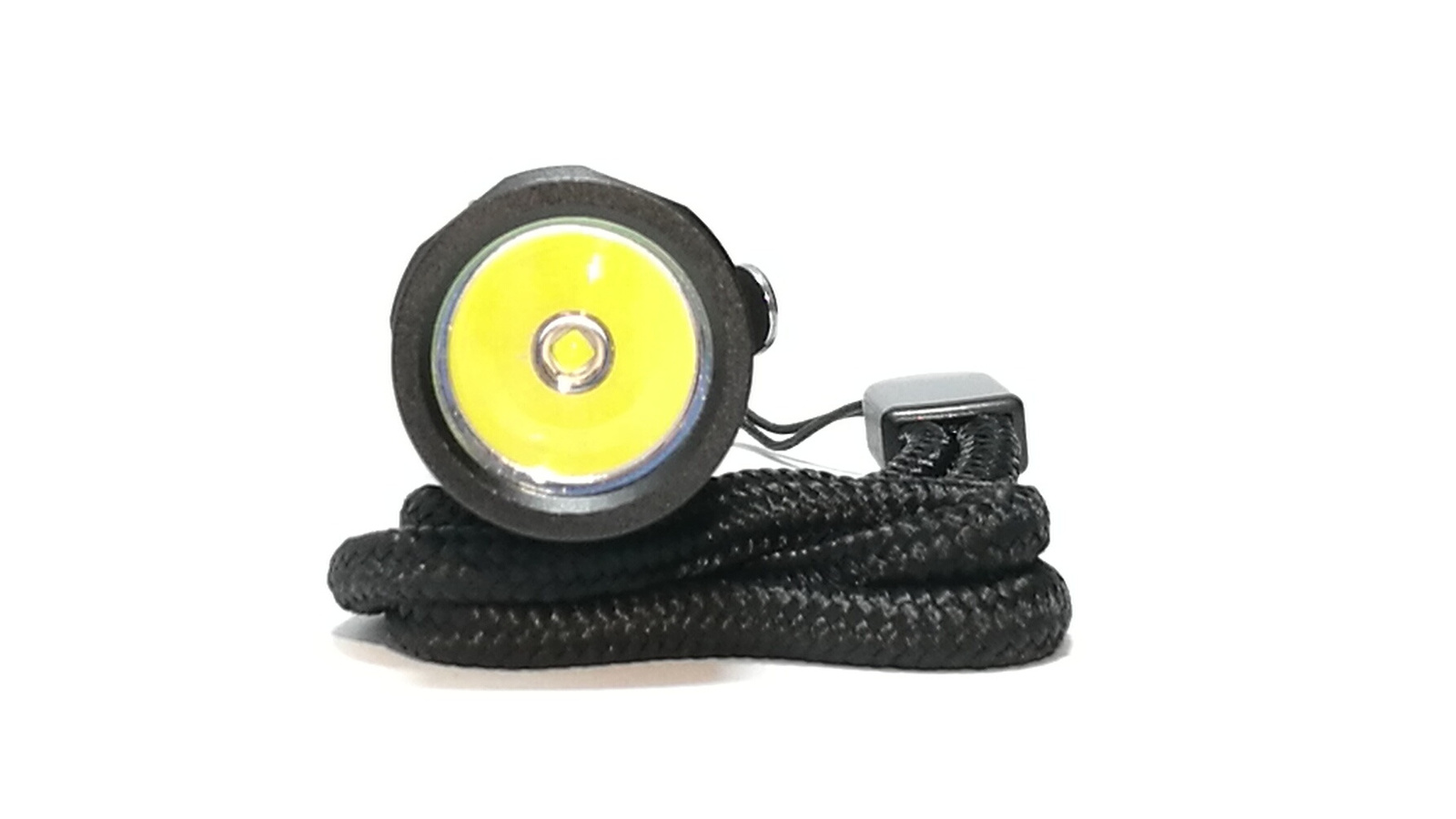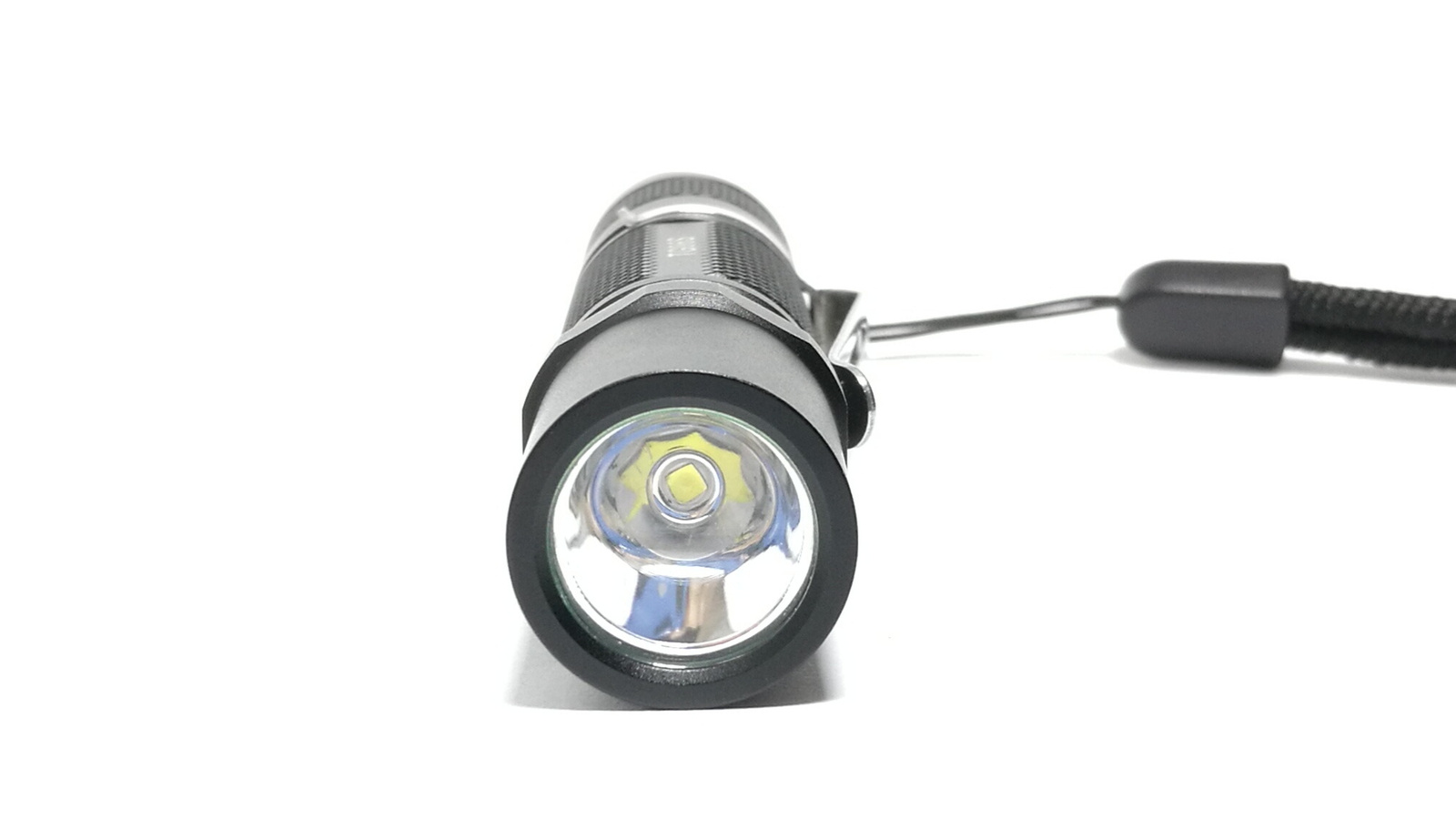 It has glass lens without AR coating, and a smooth reflector. The glass has O-rings and the head has a hexa design part which for anti rolling.
The driver accepts only button top cells sadly for me. but I solder blobbed one flat top to fit.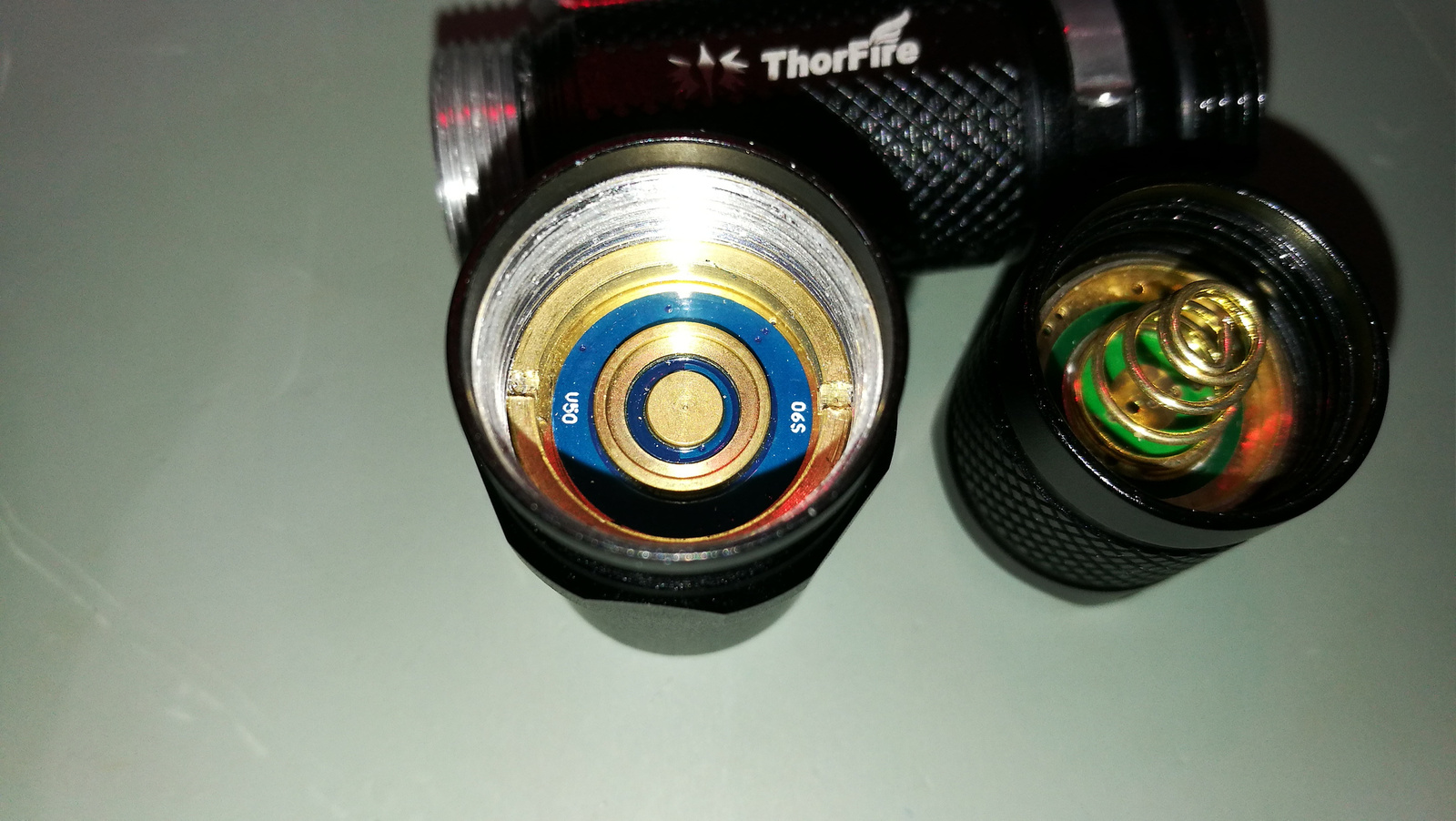 The driver held in by a retaining ring which uses the same threads as the tube.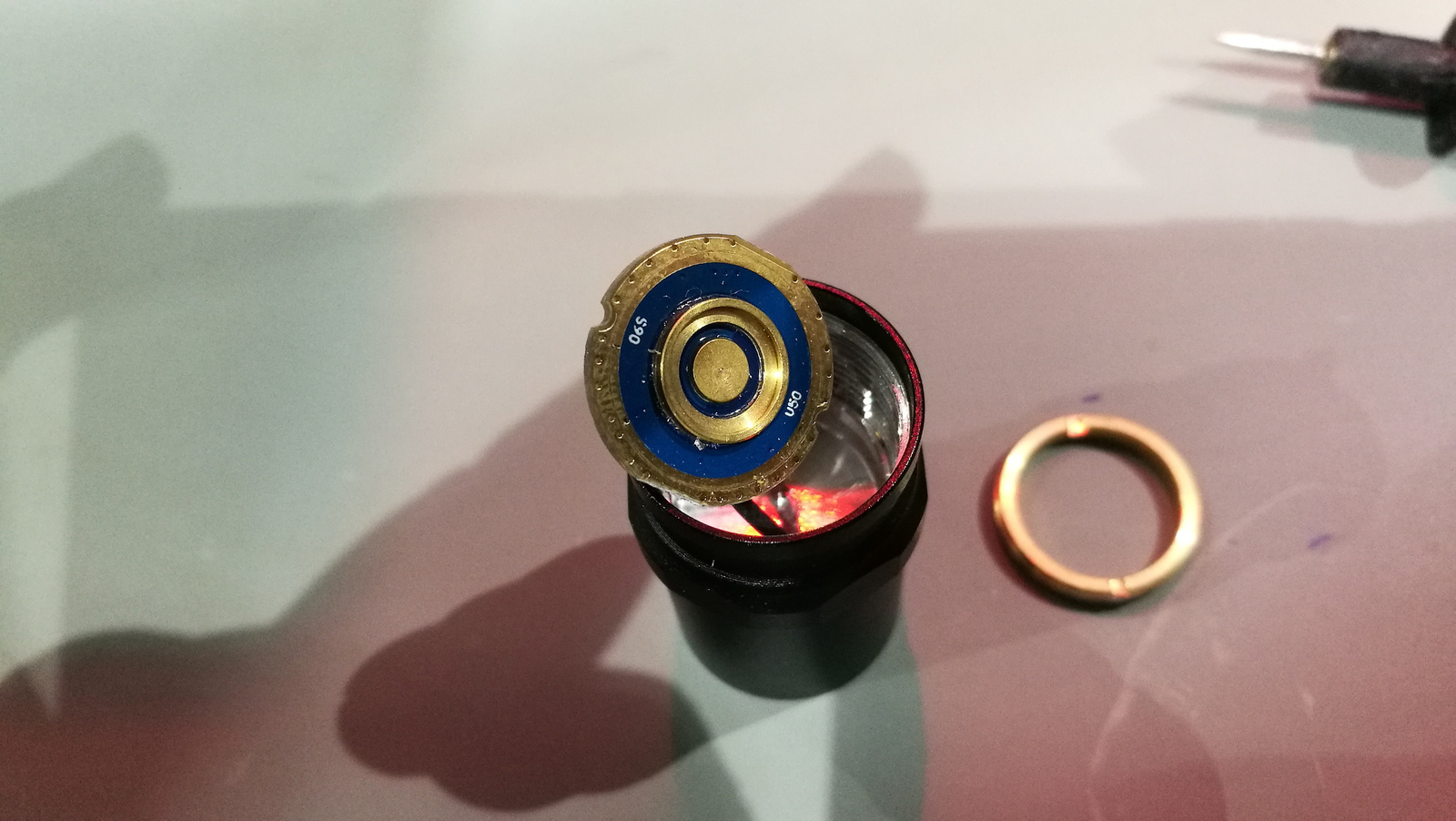 Mechanical reverse polarity protection.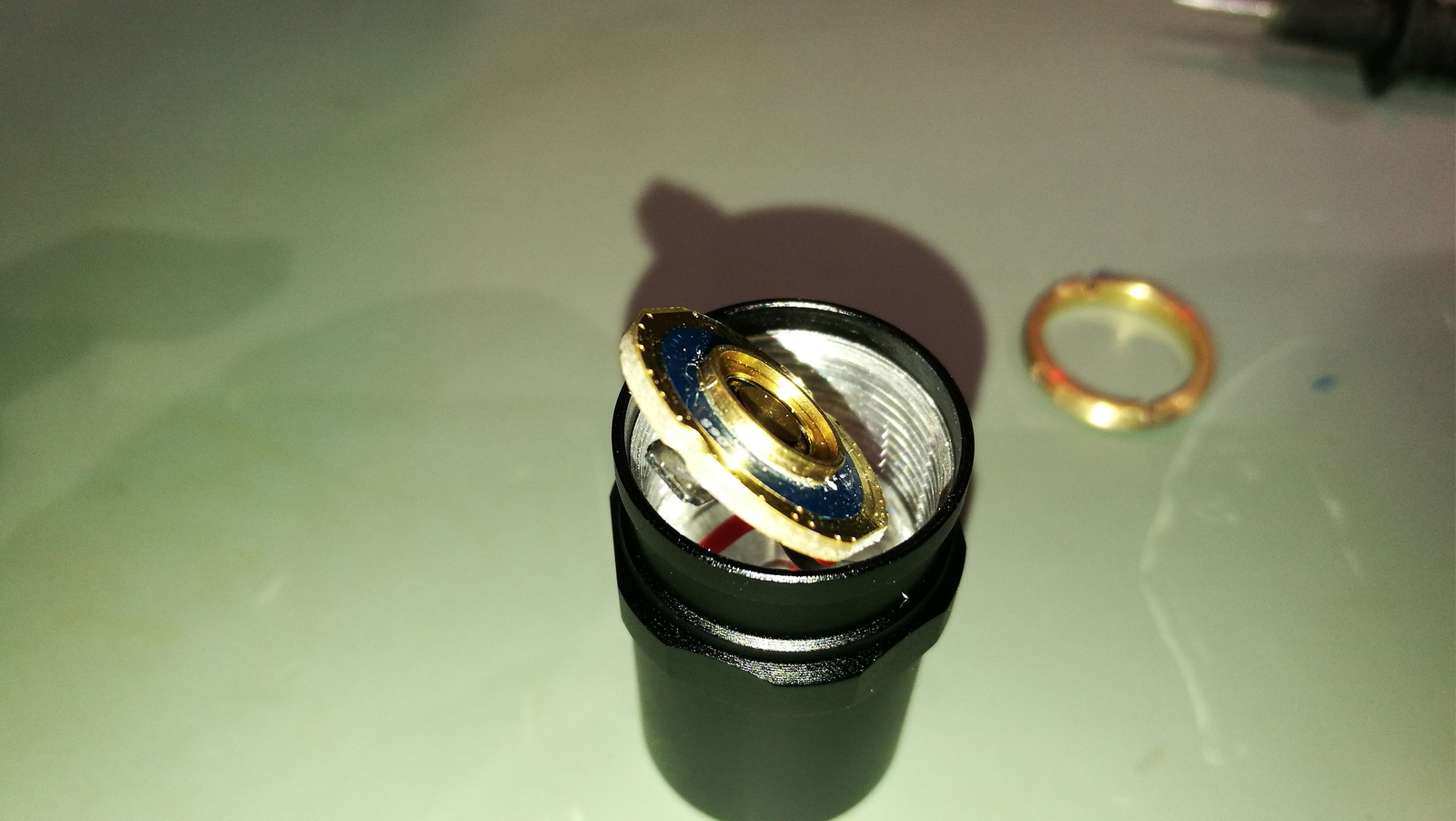 The other side of driver: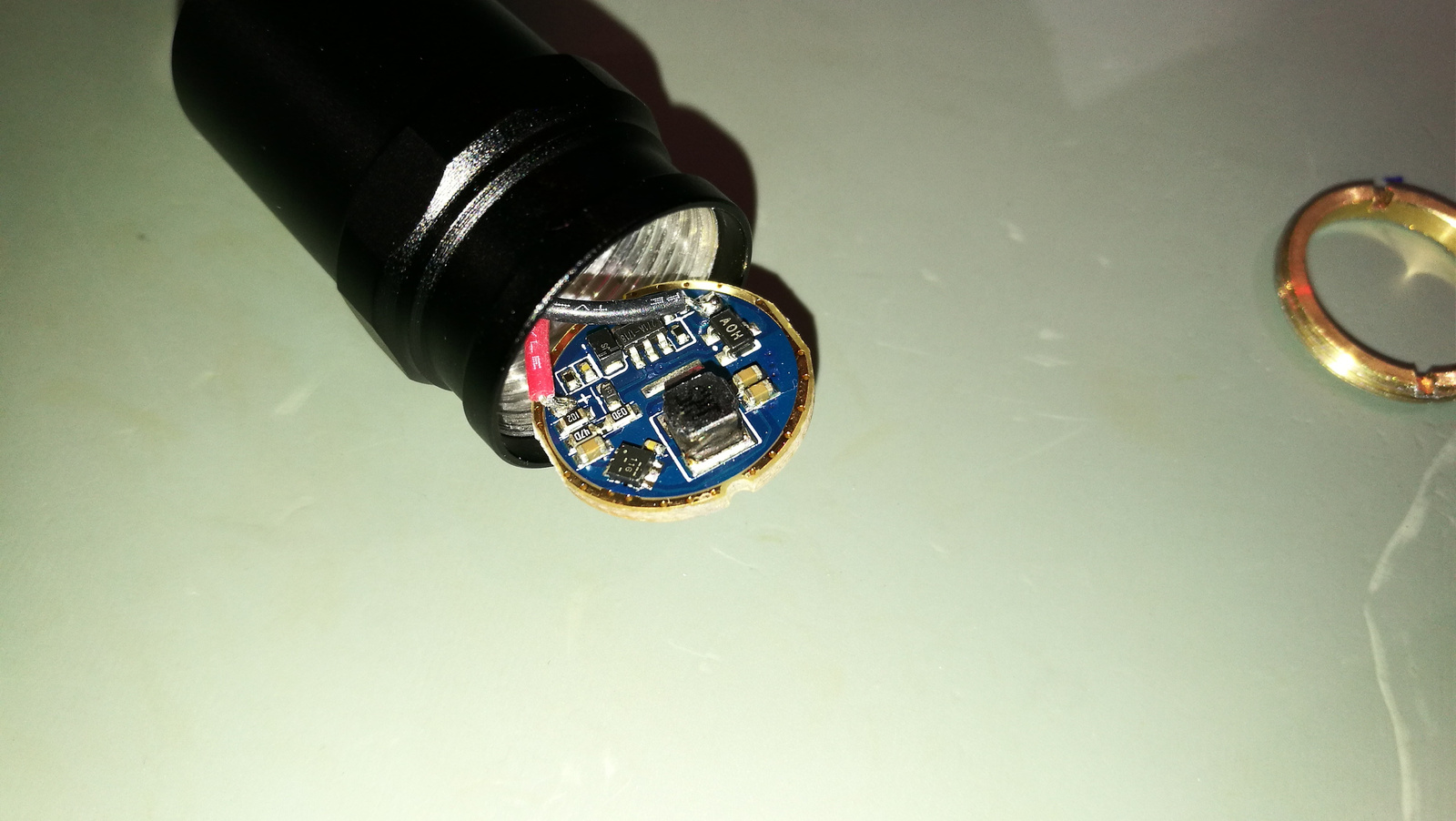 The led shelf is a thread in type so it presses the MCPCB to reflector and lens and the O-ring in front.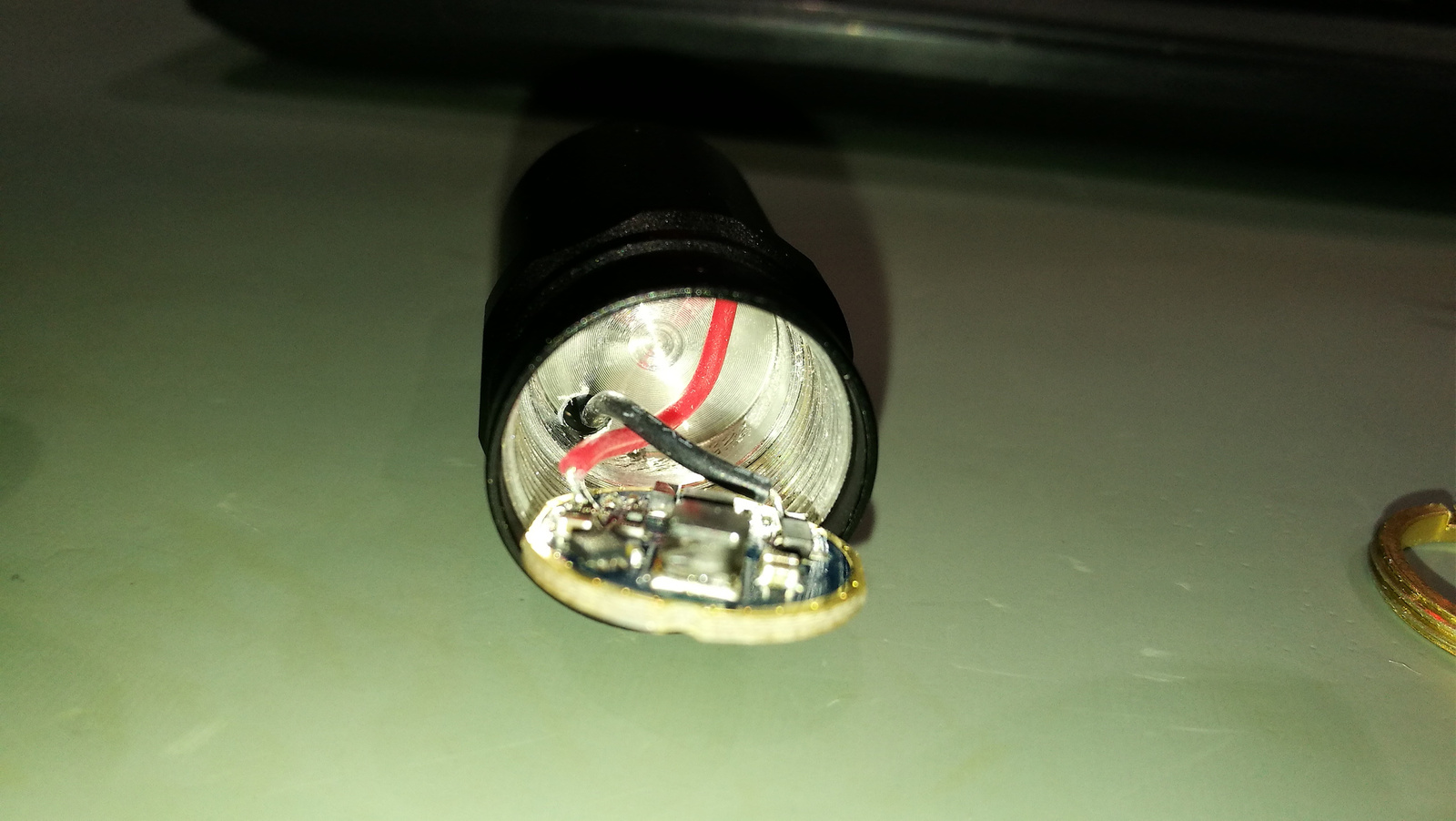 Size comparison from top to bottom: Thorfire TG06S, Zanflare F3, Lumintop TOOL AAA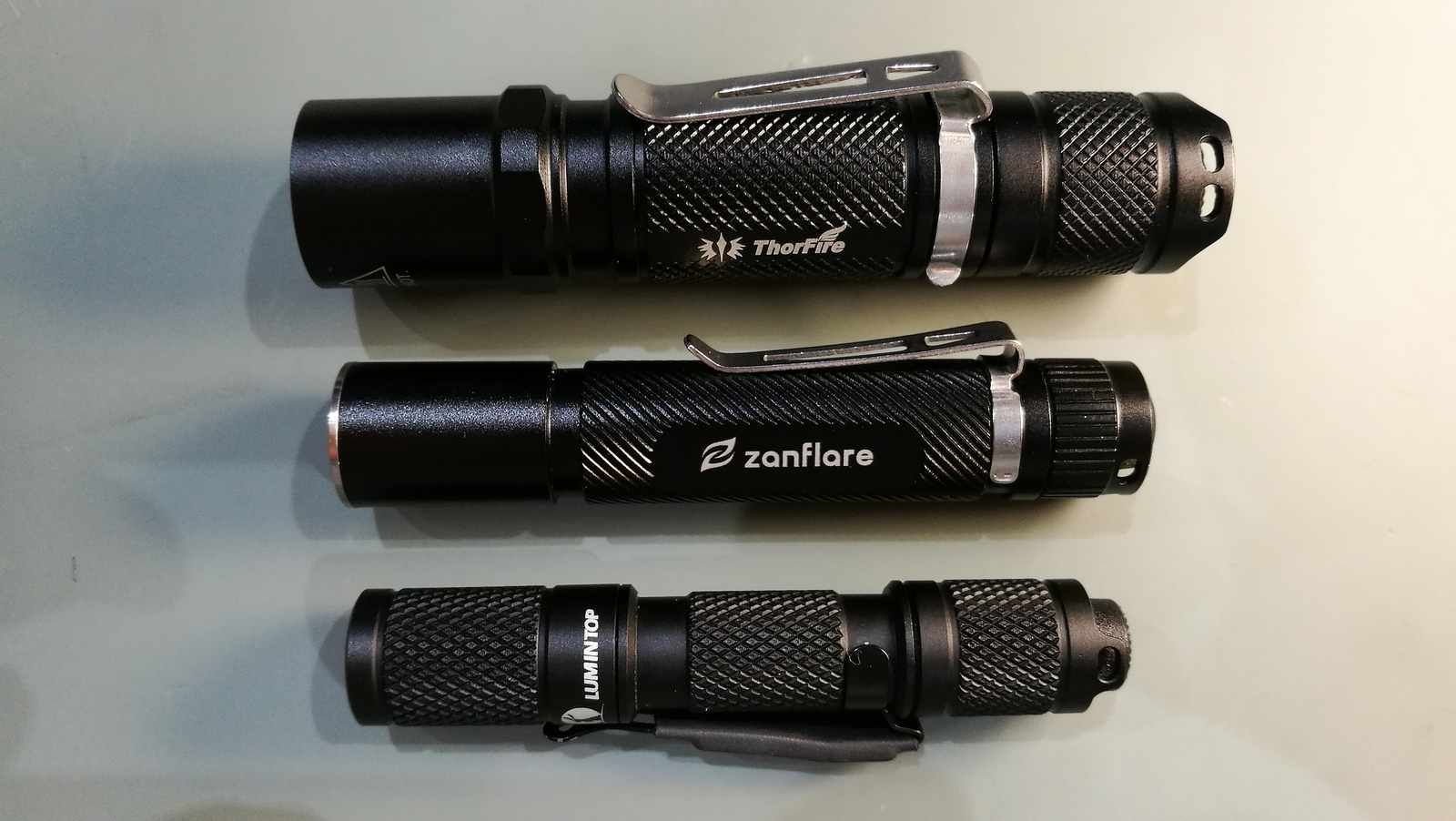 Left to right: Lumintop TOOL AAA, Zanflare F3, Thorfire TG06S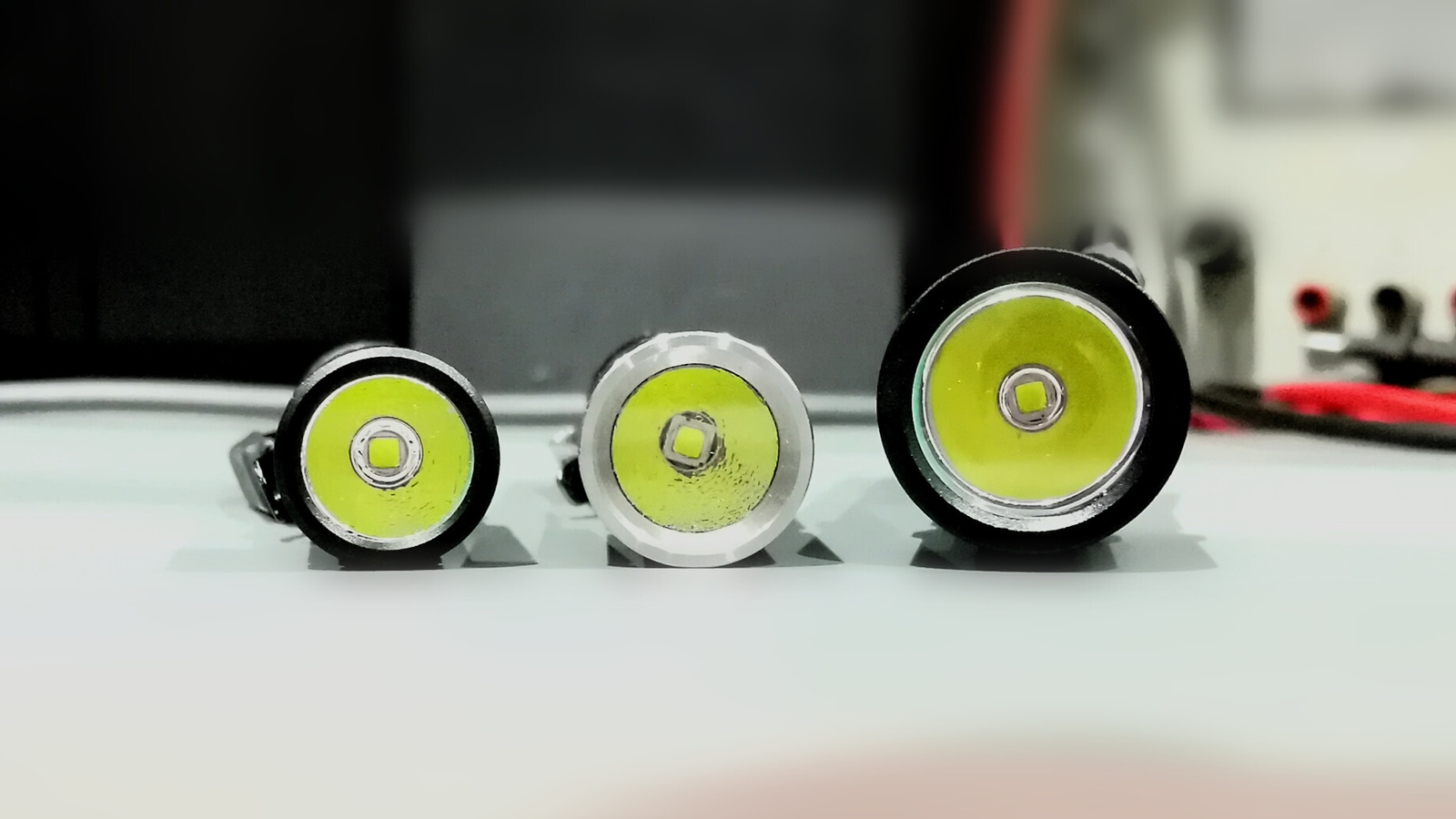 Utorch UT01 and Thorfire TG06S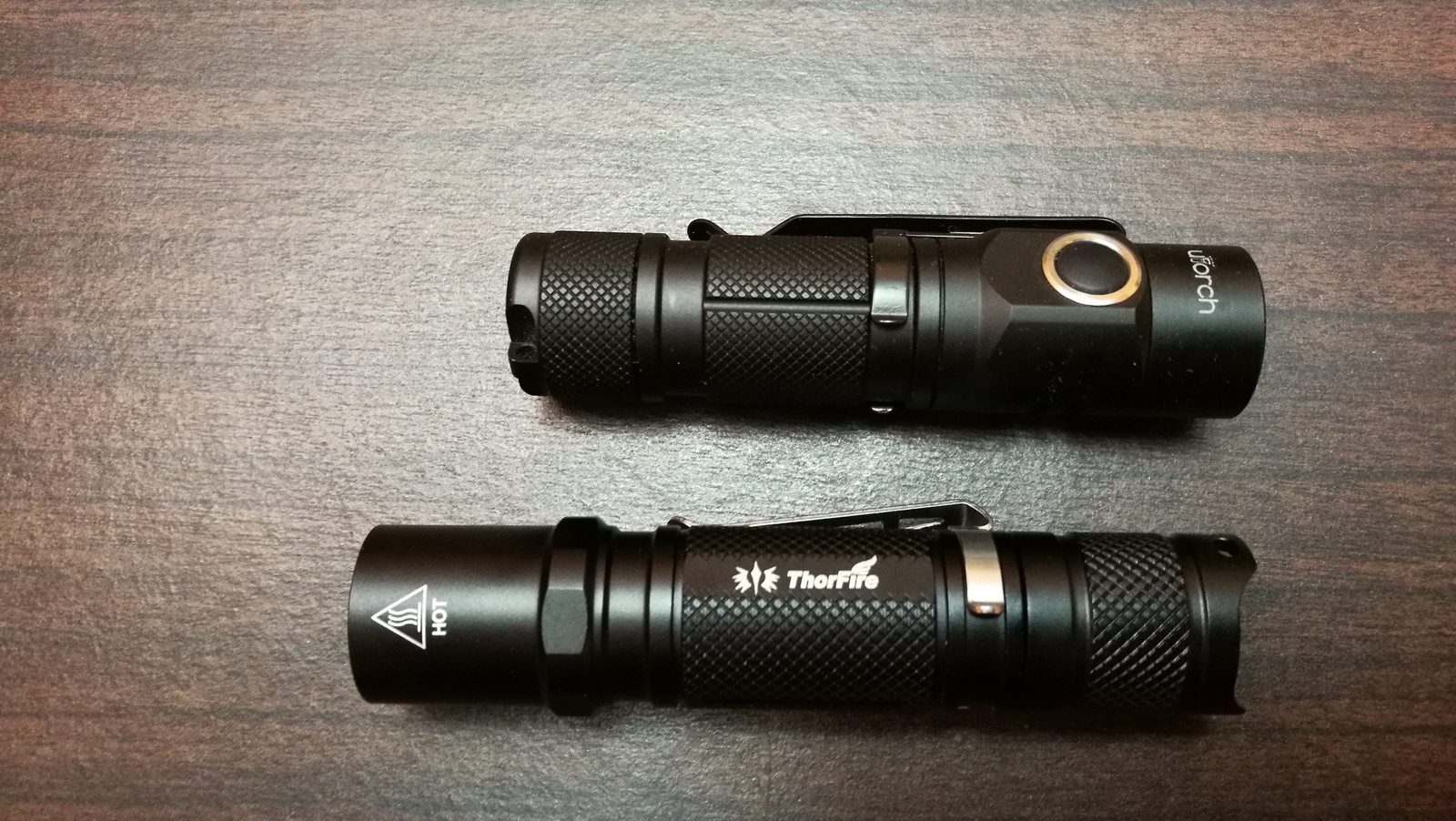 Beamshot is dim because that is the setting how I shooted my all flashlights for my big flashlight measurement and beamshot collection.
Please open my google tables and you can compare data and beamshots with a lot of other flashlights.
So in person it is brighter.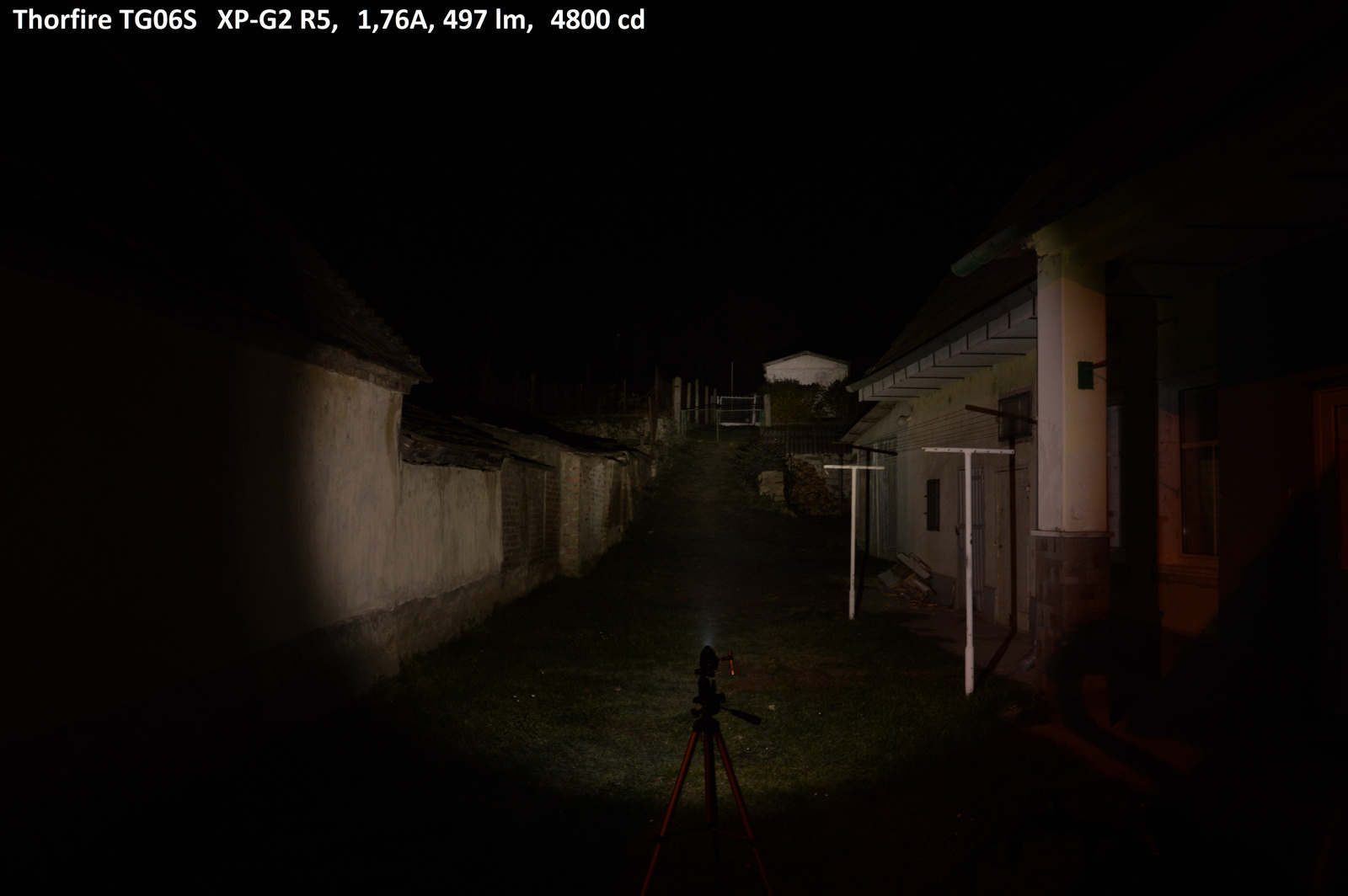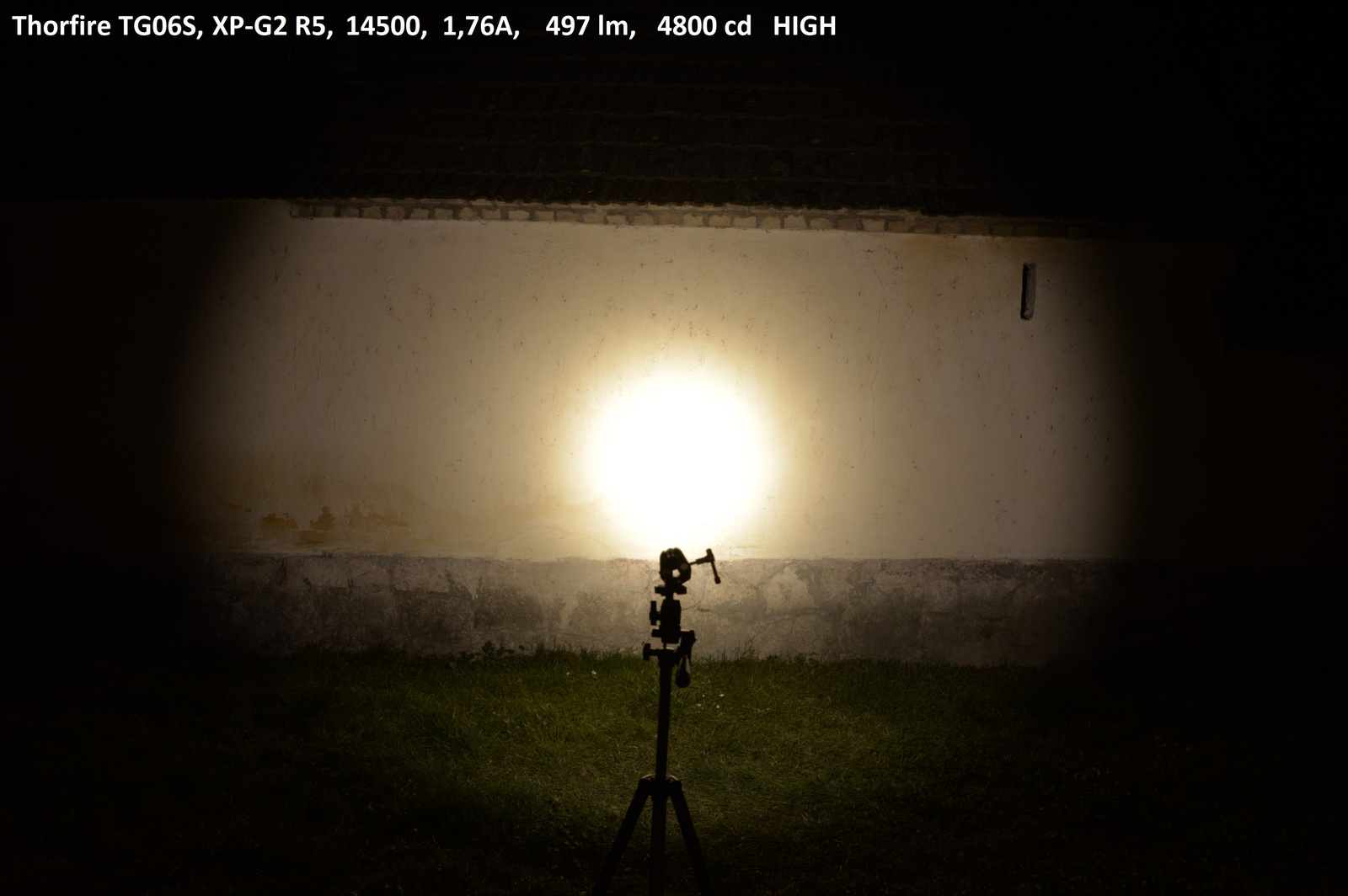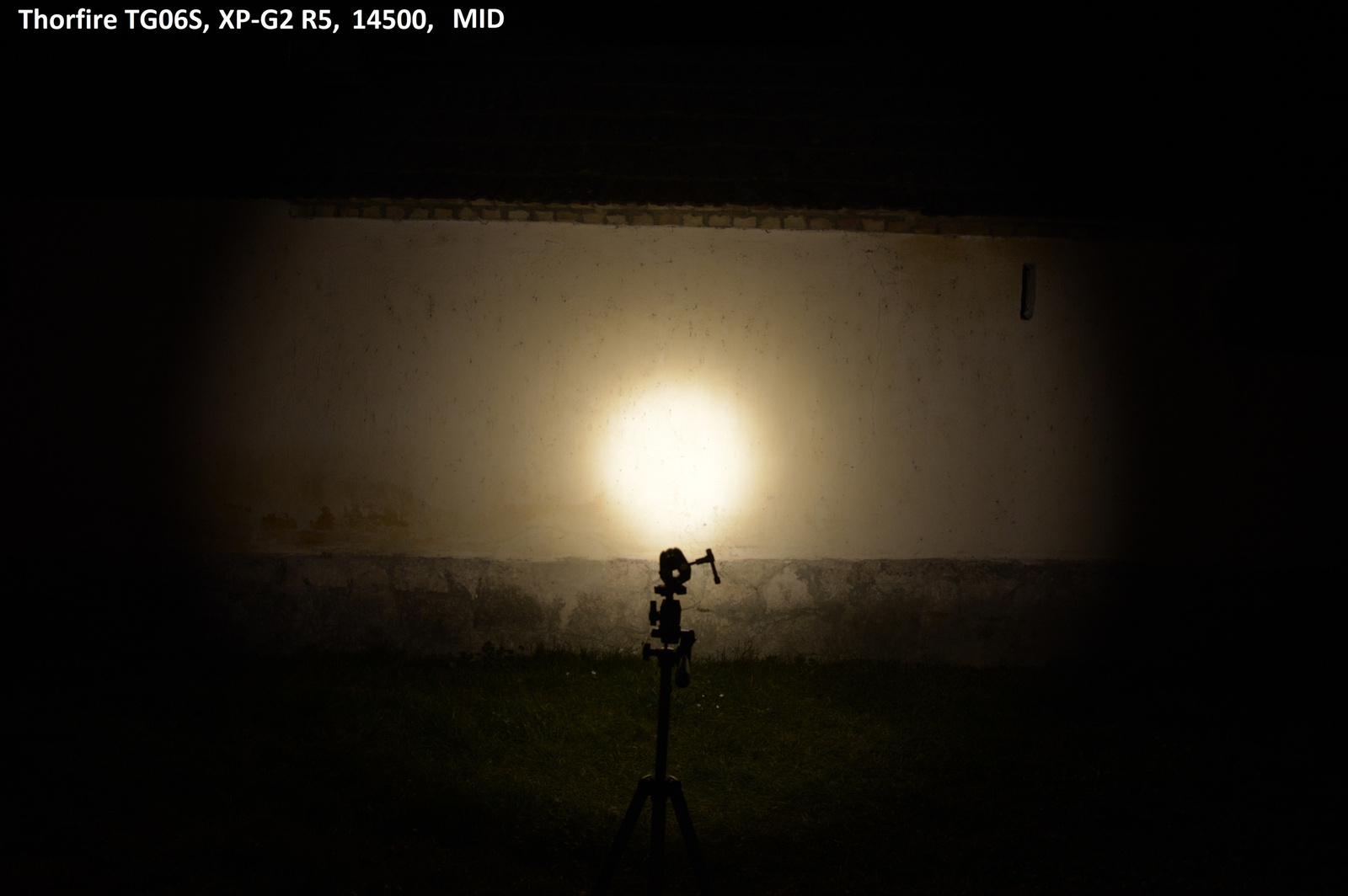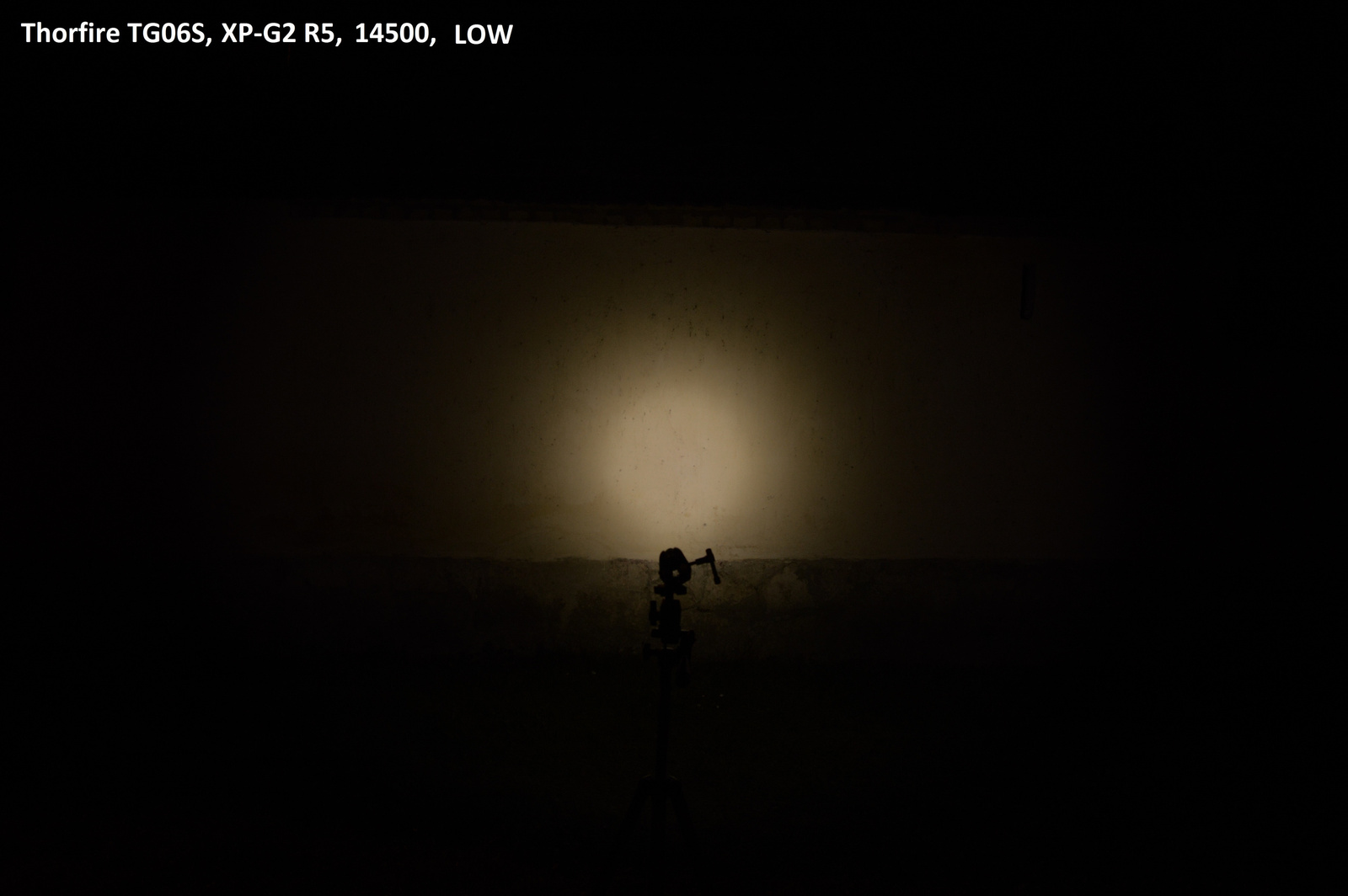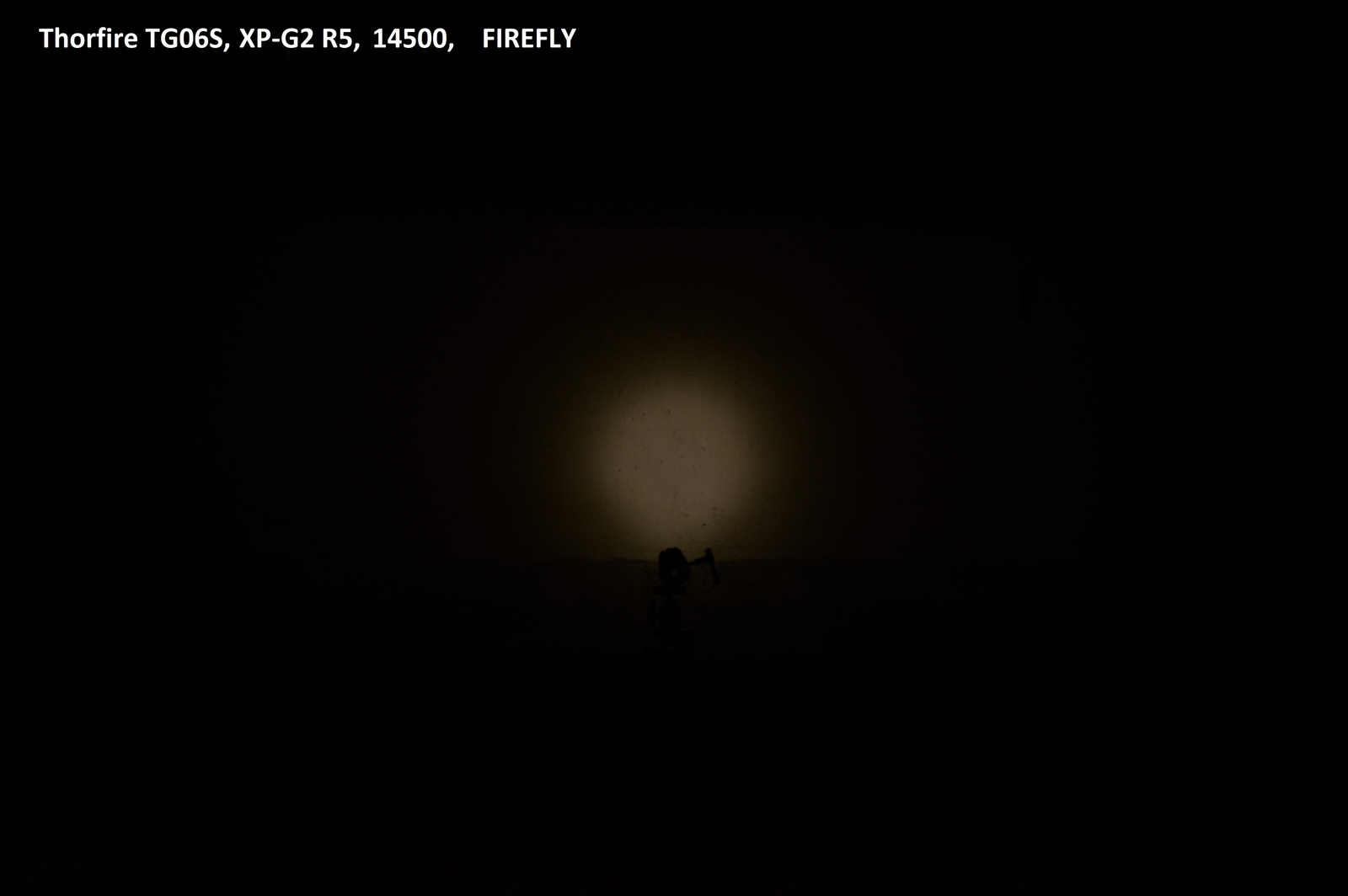 Summary:
It is a pretty bright flashlight for its size and It throws as far az 2800mA convoy S2+ lights because of smooth reflector and small XP-G2 led. And it has overall good quality and machining and anodization. Just that start on high without mode memory bugging me. And I think it is a good alternative of UT01 for those who don't really like side switch or it is a pretty head to head for Lumintop TOOL AA but I haven't got a TOOL AA yet to test.
Thank you for reading through!
—
Reviews: Olight Seeker2 pro, Lumintop GlowI, Sofirn SP36, Convoy 4X18A, Convoy M21C, Brinyte SR8 Rescue Angel, Astrolux MF01 mini, Astrolux FT03S, YLP Sherp S15, Sofirn SP40, YLP Panda 3R and Unicorn, Armytek Prime C1 Pro, Acebeam M50, Imalent MS18, Convoy M3, Nitecore TIP2, Imalent RT70, Wuben T70, Sofirn SP32A, Thorfire VG15S, Thorfire VG10S, Thorfire TG06S
Mods: Imalent MS18 dedoming, Astrolux MF01-20K, Small sun T08 MT-G2, Eagle eye X6 triple XPL, Ultrafire F13 MT-G2, Convoy C8 XHP70, Solarstorm T3 triple XP-L HI
Big flashlight measurement and beamshot collection
3D printing stuff for flashlights
My flashlight related Instagram