Hi flashaholics!
I got a Solarstorm T3 from a hungarian flashlight forum member for repair. The driver was completely dead and very beaten up by removing so I adviced him to buy a BLF Q8 instead because it is cheaper than repair. It needed a completely new driver or piggybacking. He decided to leave the light at me and I can do with it whatever I want.
After about a half year I had some leftover XP-L HI leds on DTP copper MCPCB-s from Convoys and by mistake I made a driver on a wrong diameter board for a friend's H03 so I decided to put them together.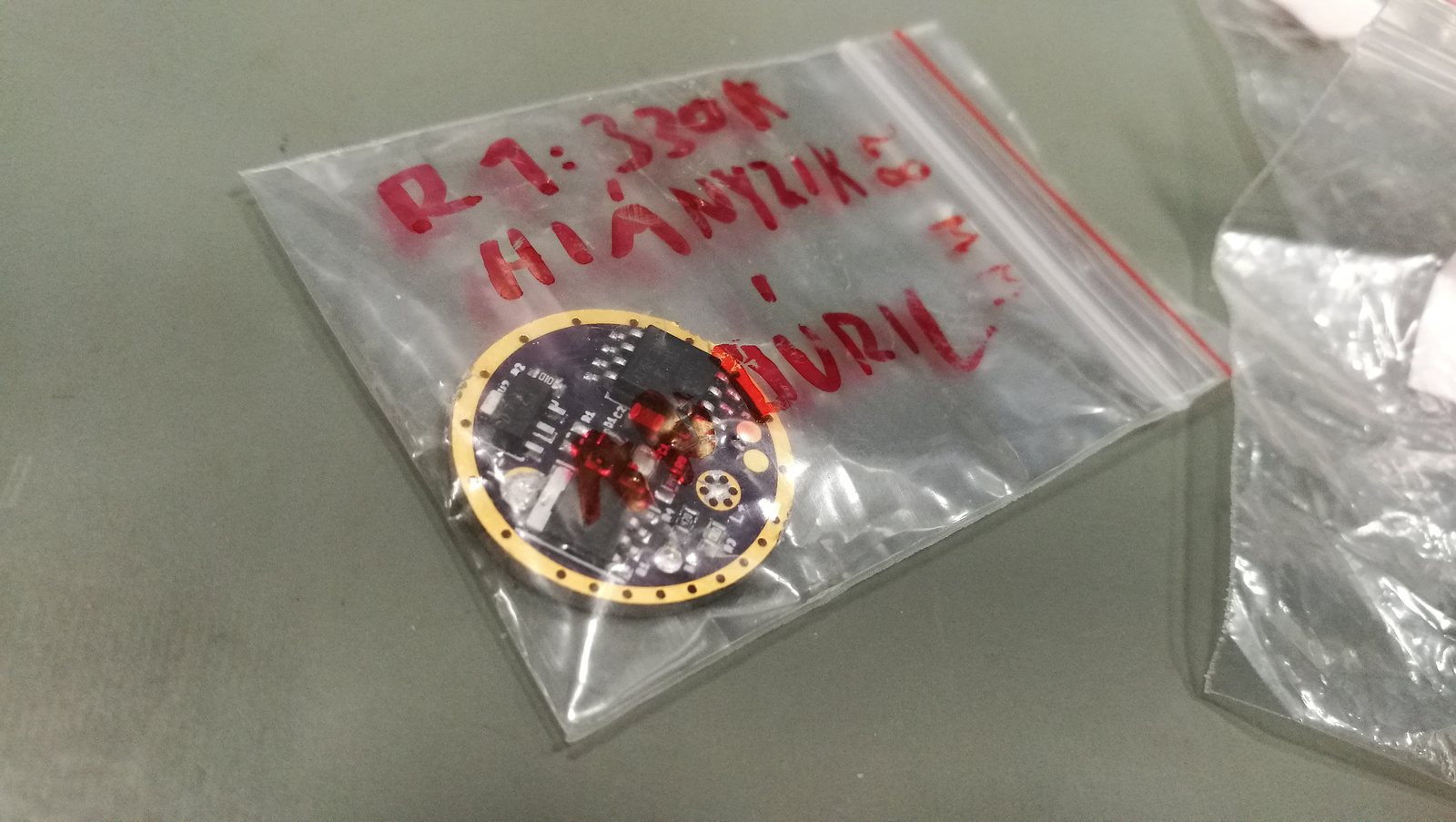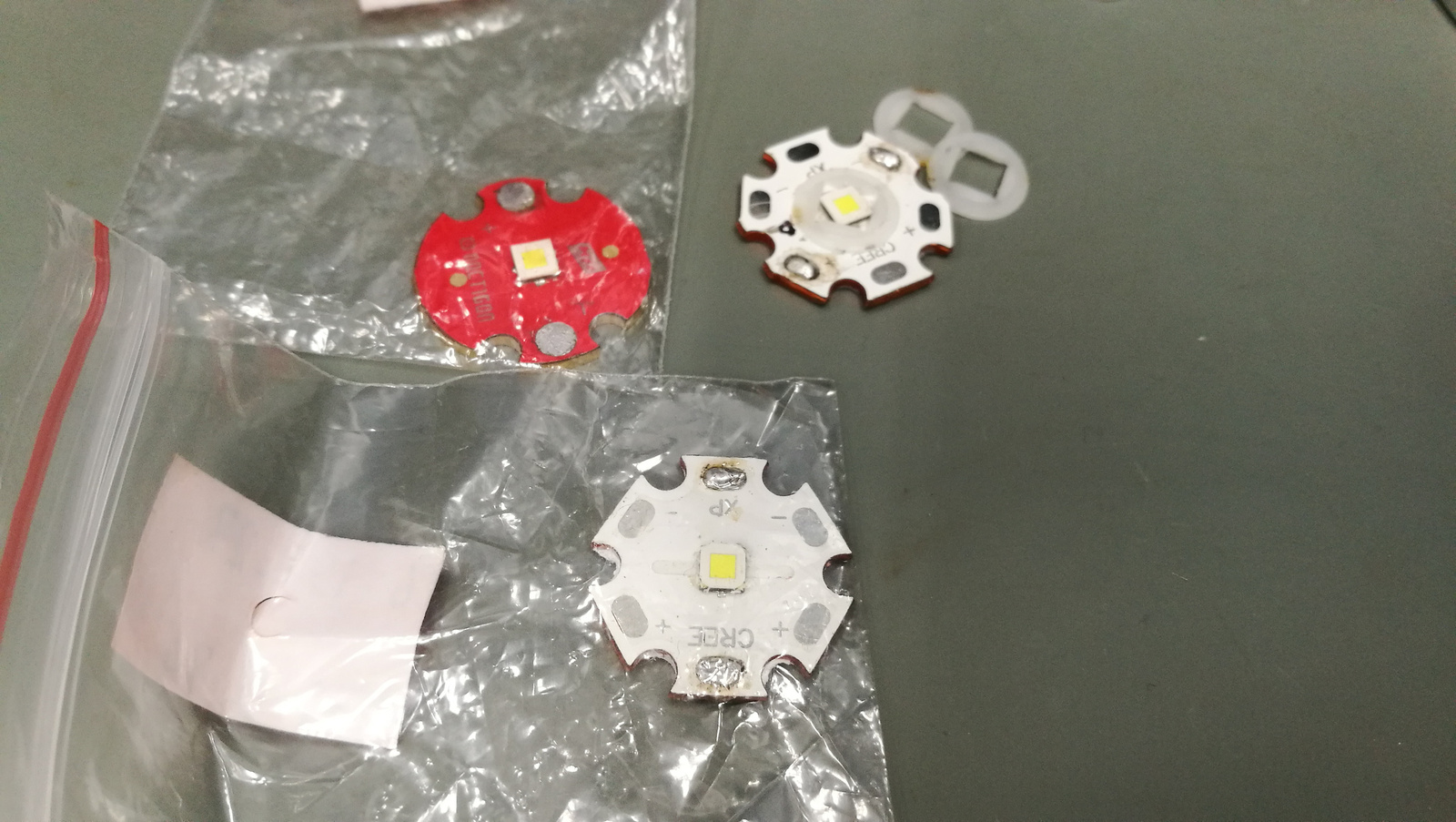 Start: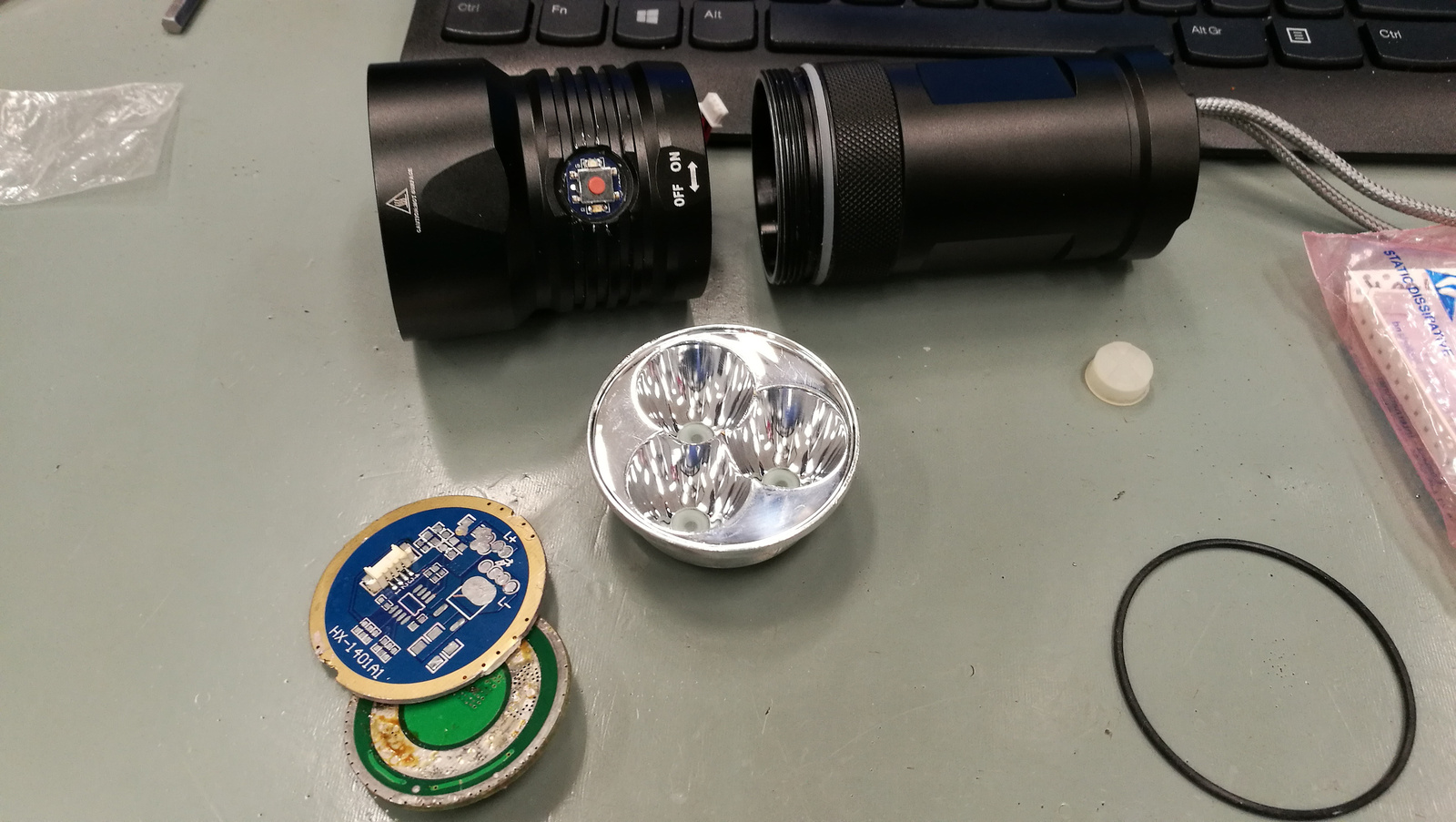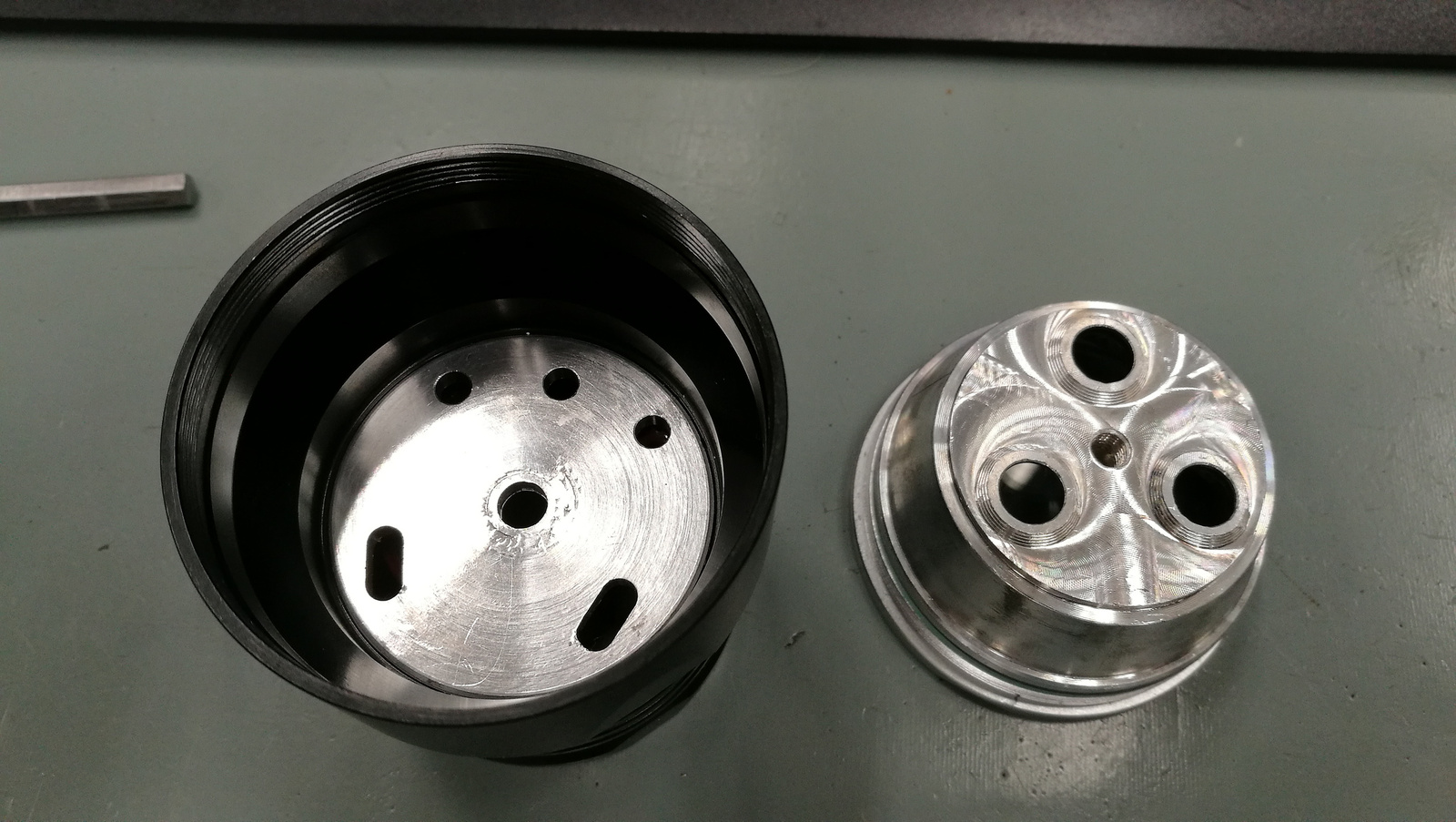 I cleaned the stock driver except from switch connector.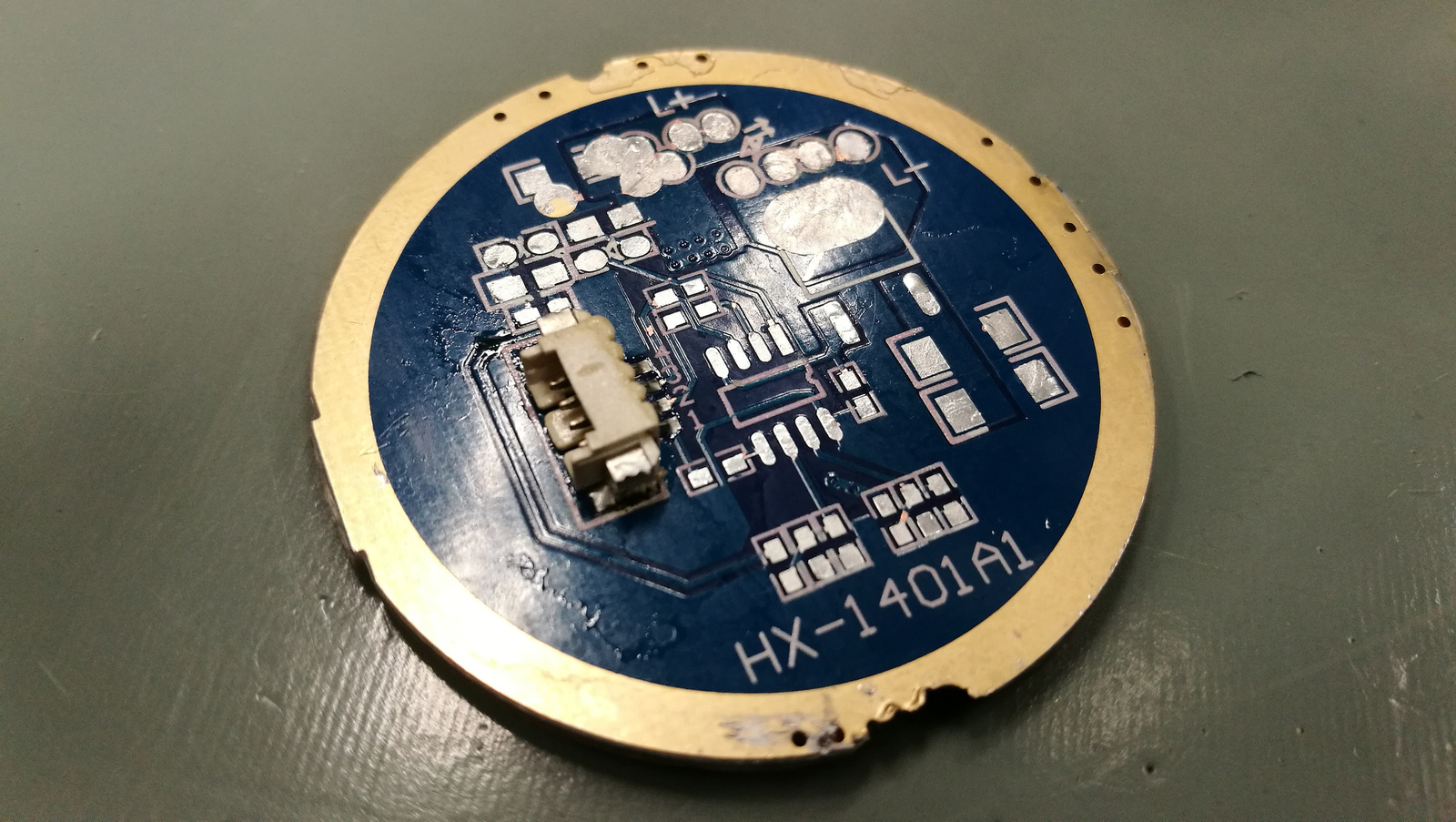 putted on a beefy contact ring from another dead driver.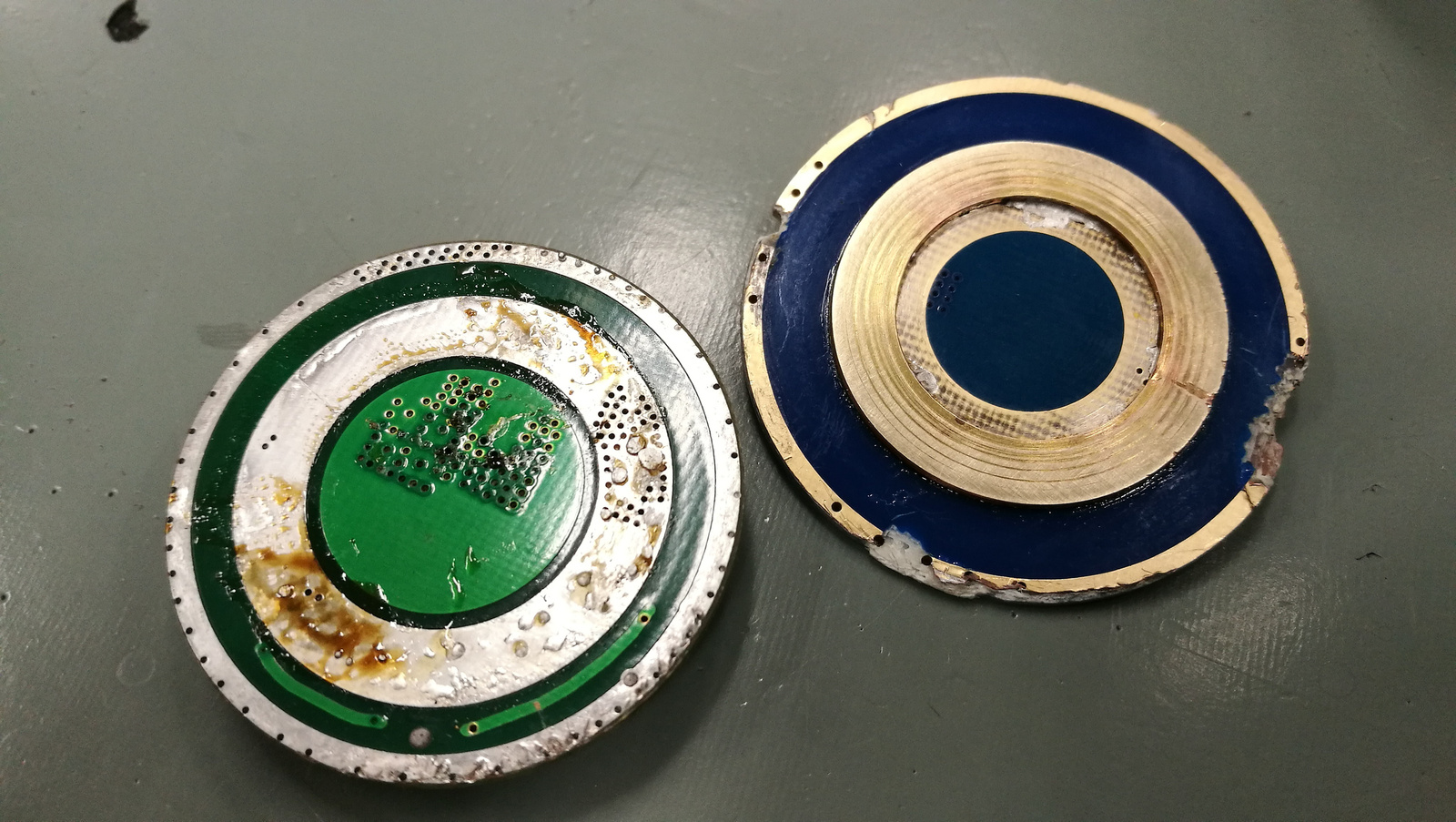 Leds
good for Andúril.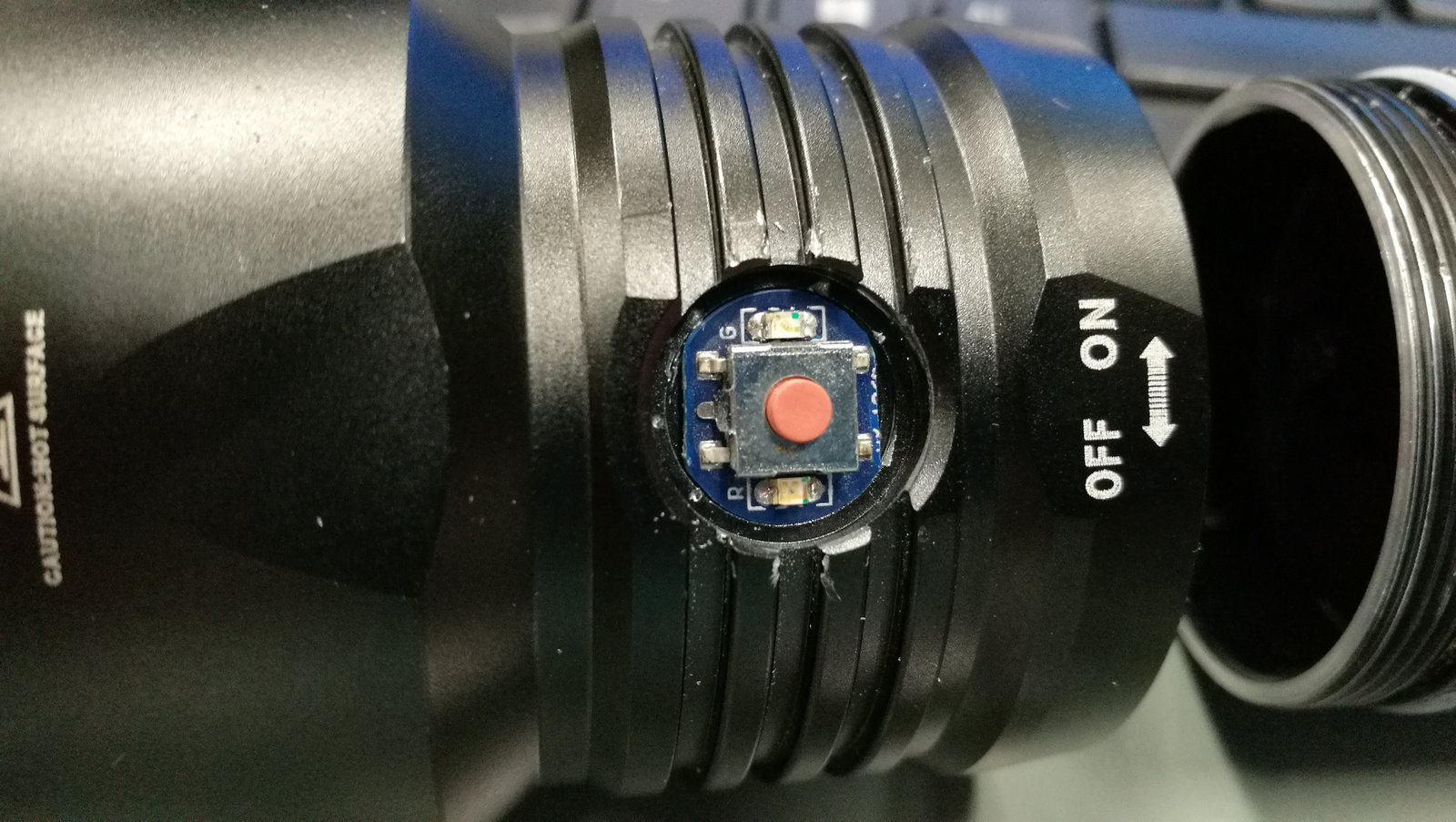 Untwist the tube center piece to reveal screws.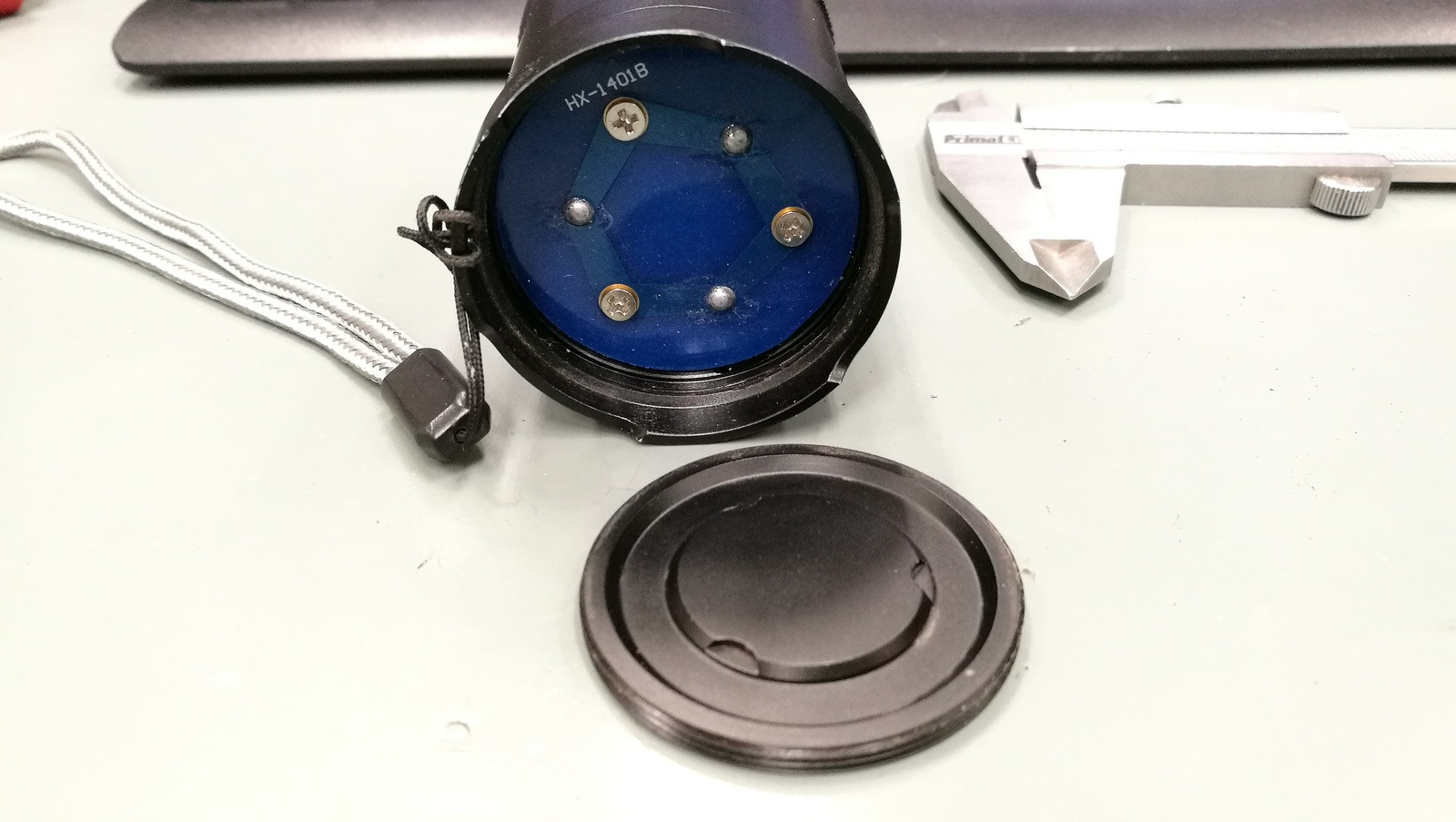 The springs only soldered on the other side. It is interesting how spring end goes to center and then through board. But this increasing resistance. Also the only electrical contact with tube was through the screws threads cutted in the metal. The tube all anodized there.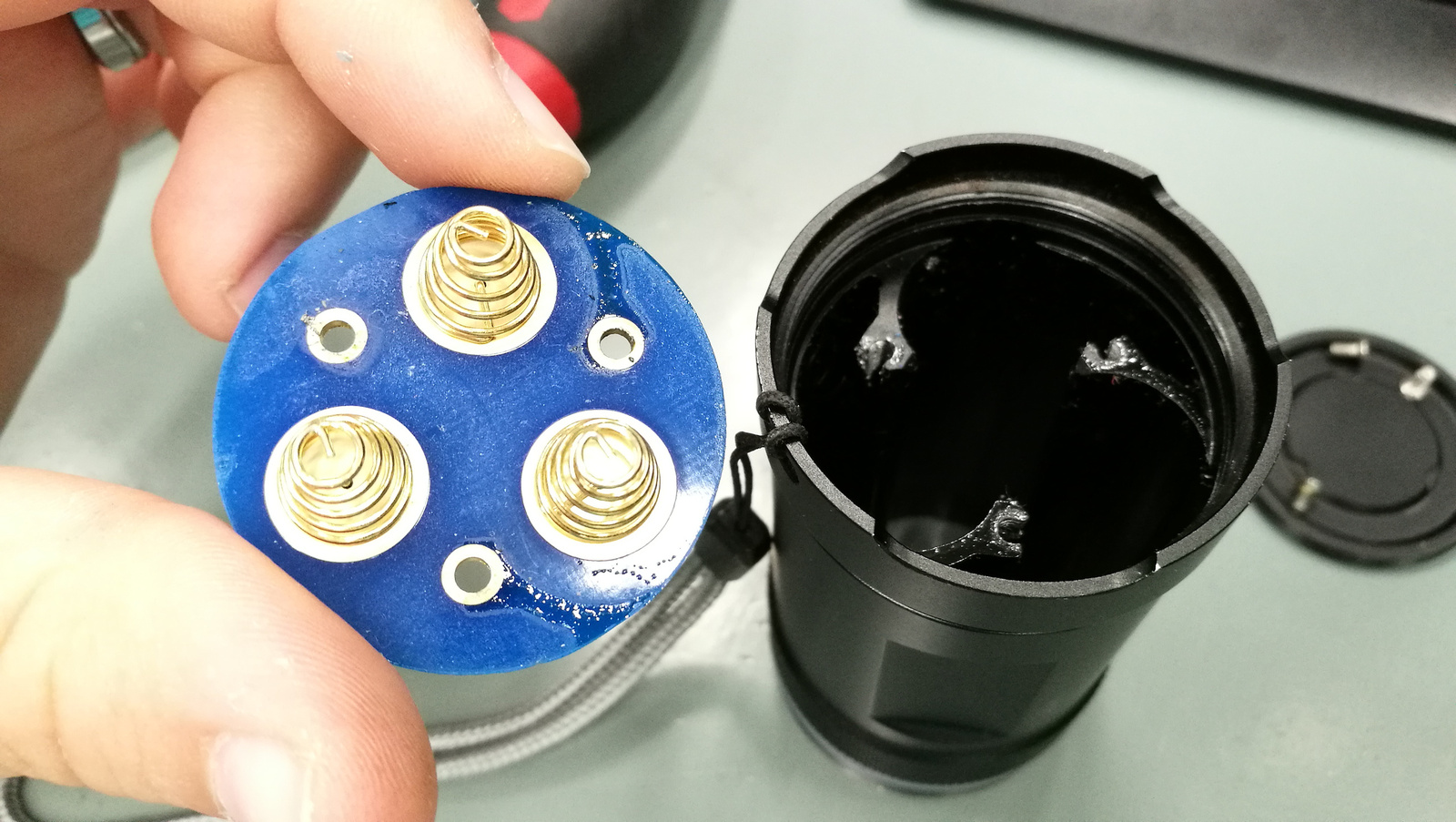 So I sanded off the anodizing and made spring bypasses to the screw holes and soldered them there. Also replaced screws with much longer ones.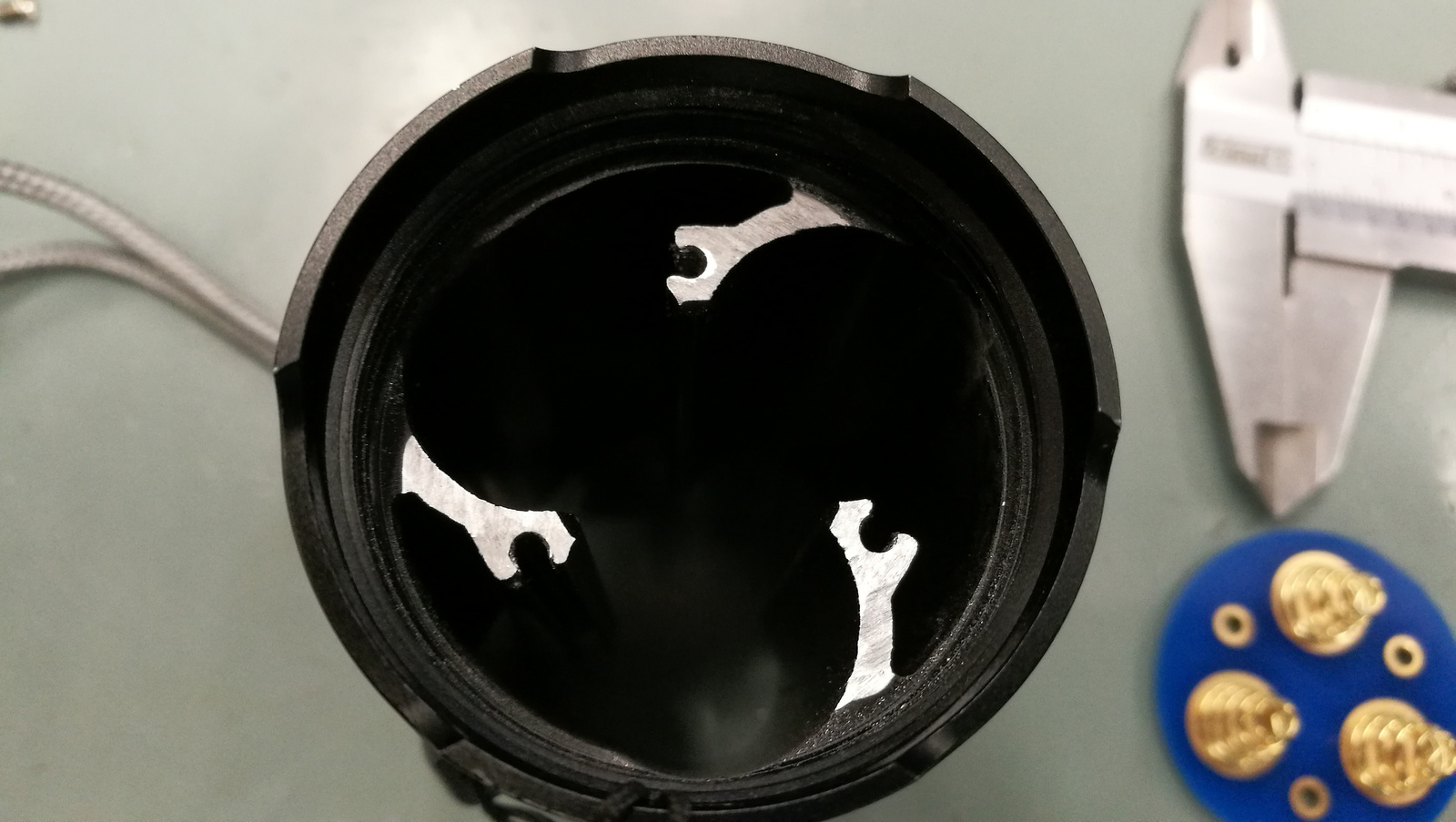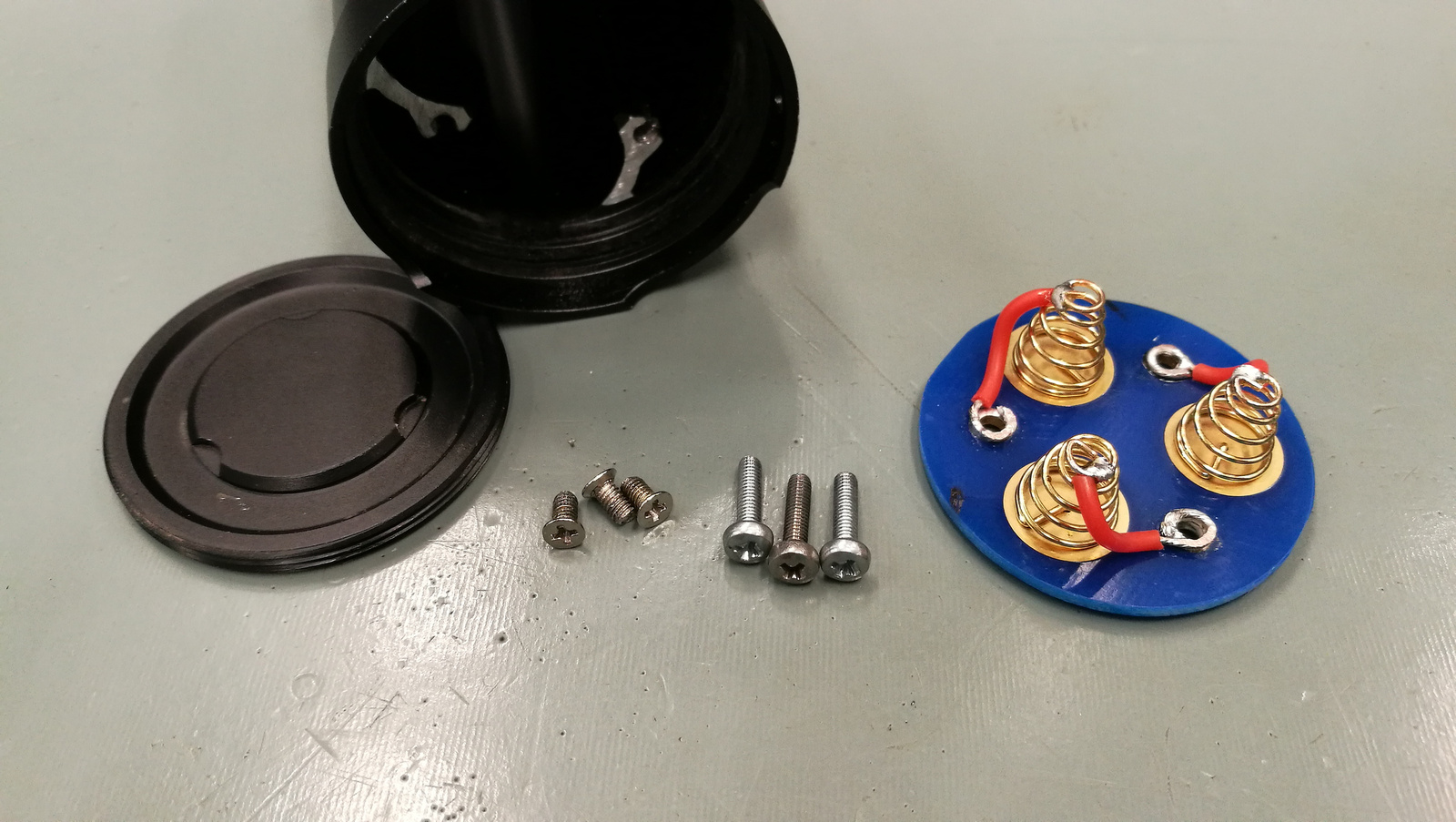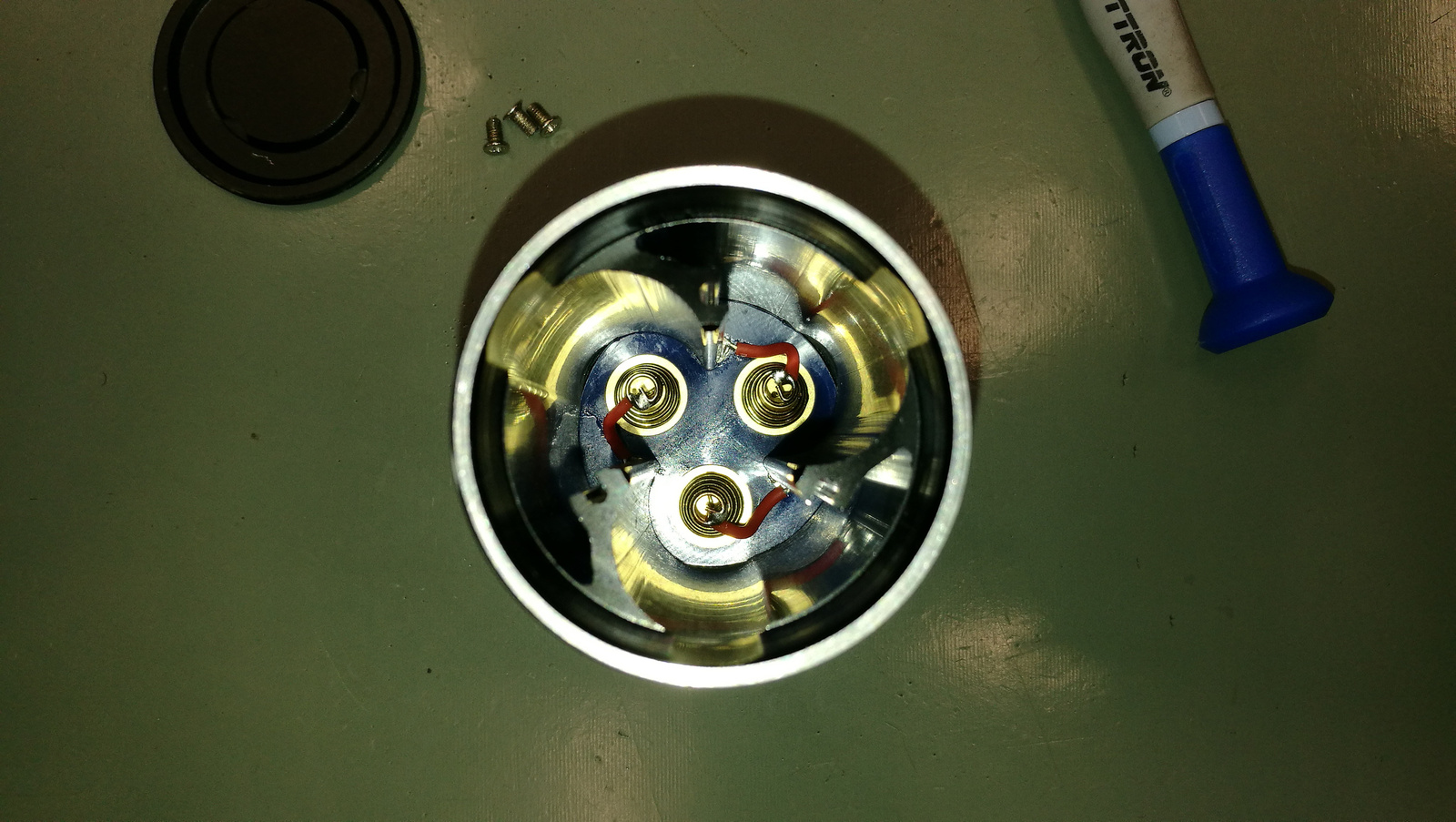 3×20mm board just fit.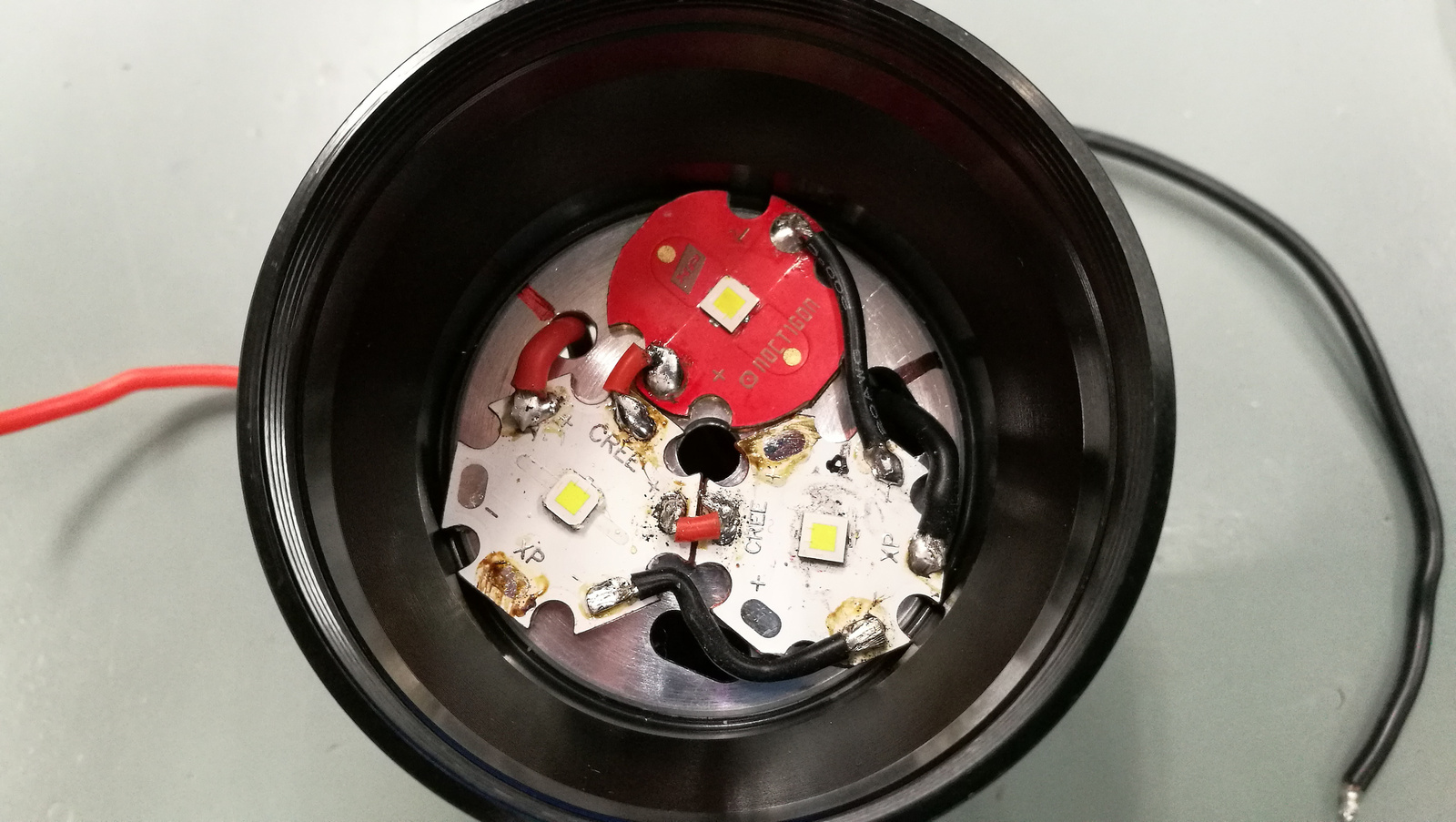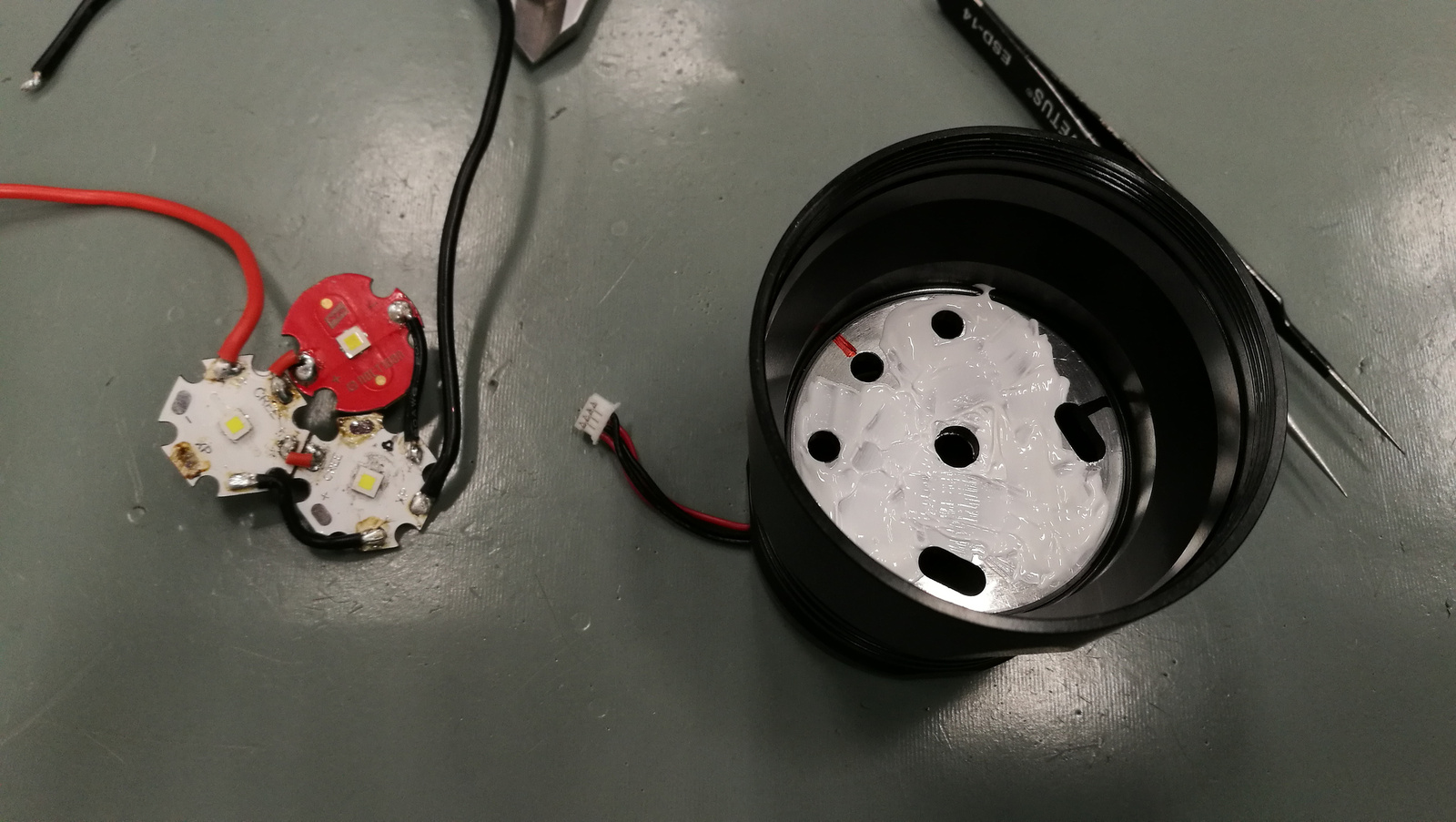 Other side.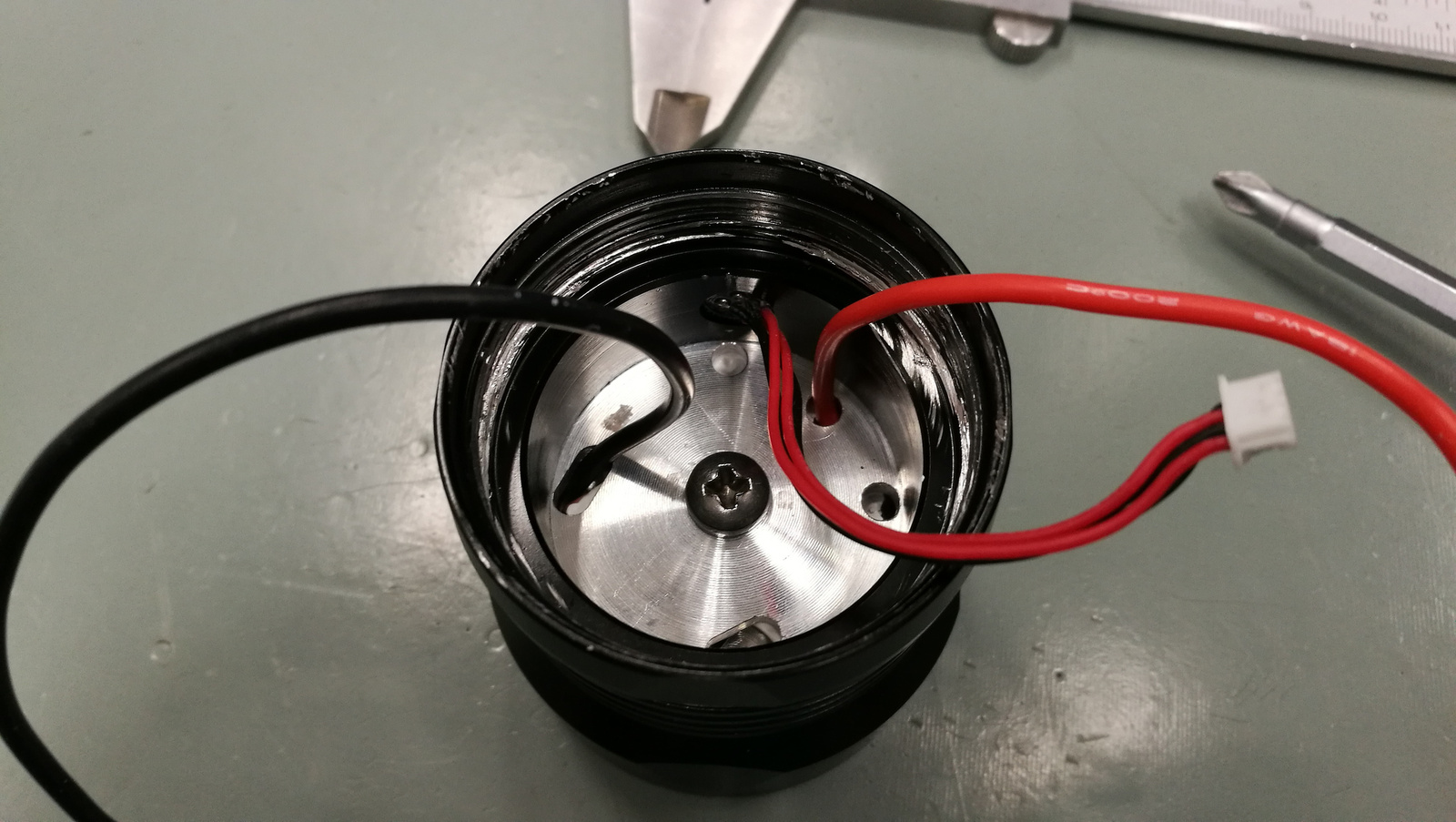 Leds work and no shorts.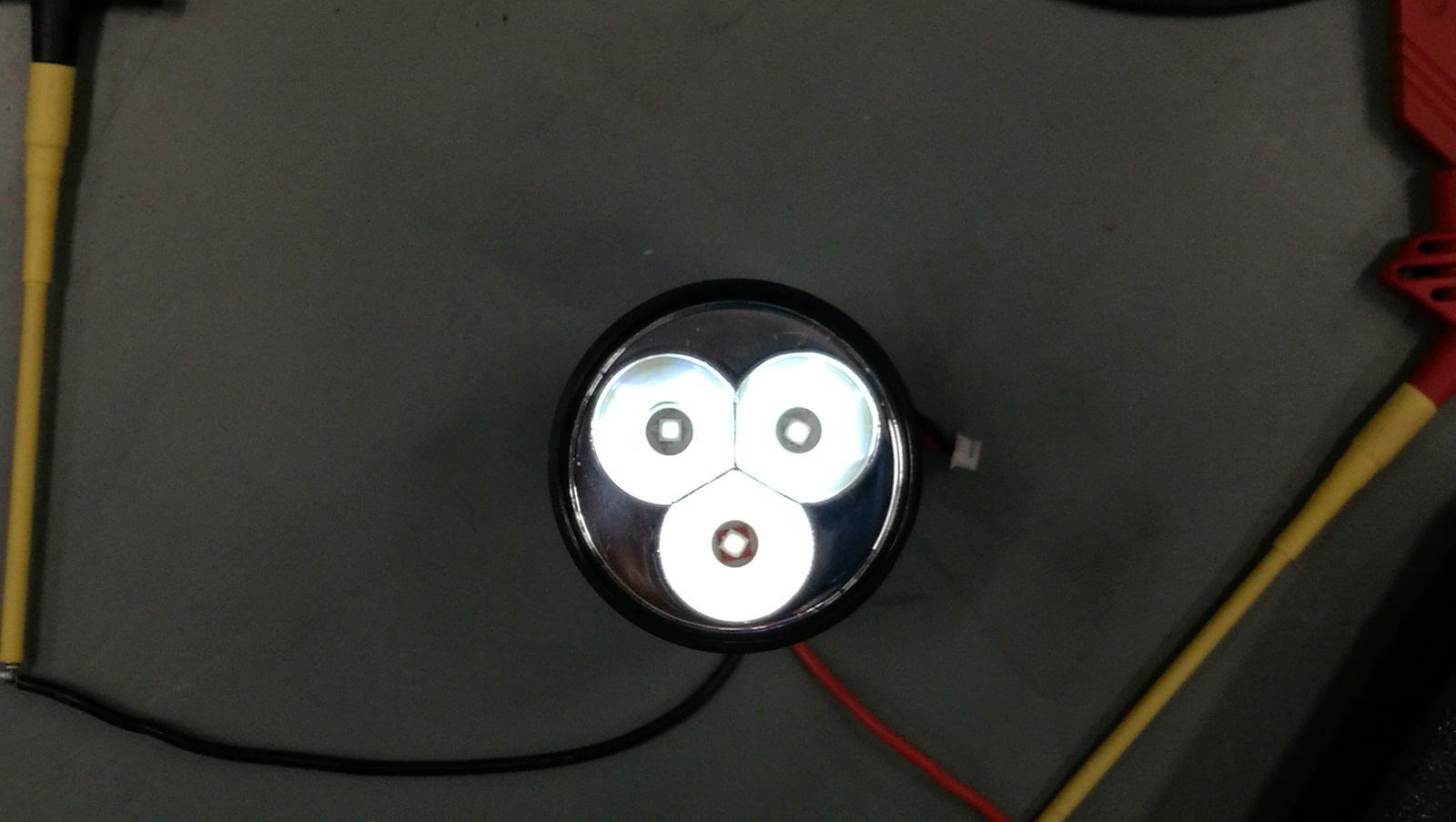 Putted in a thermal silicone to transfer heat from shelf to small driver for better thermal throttling.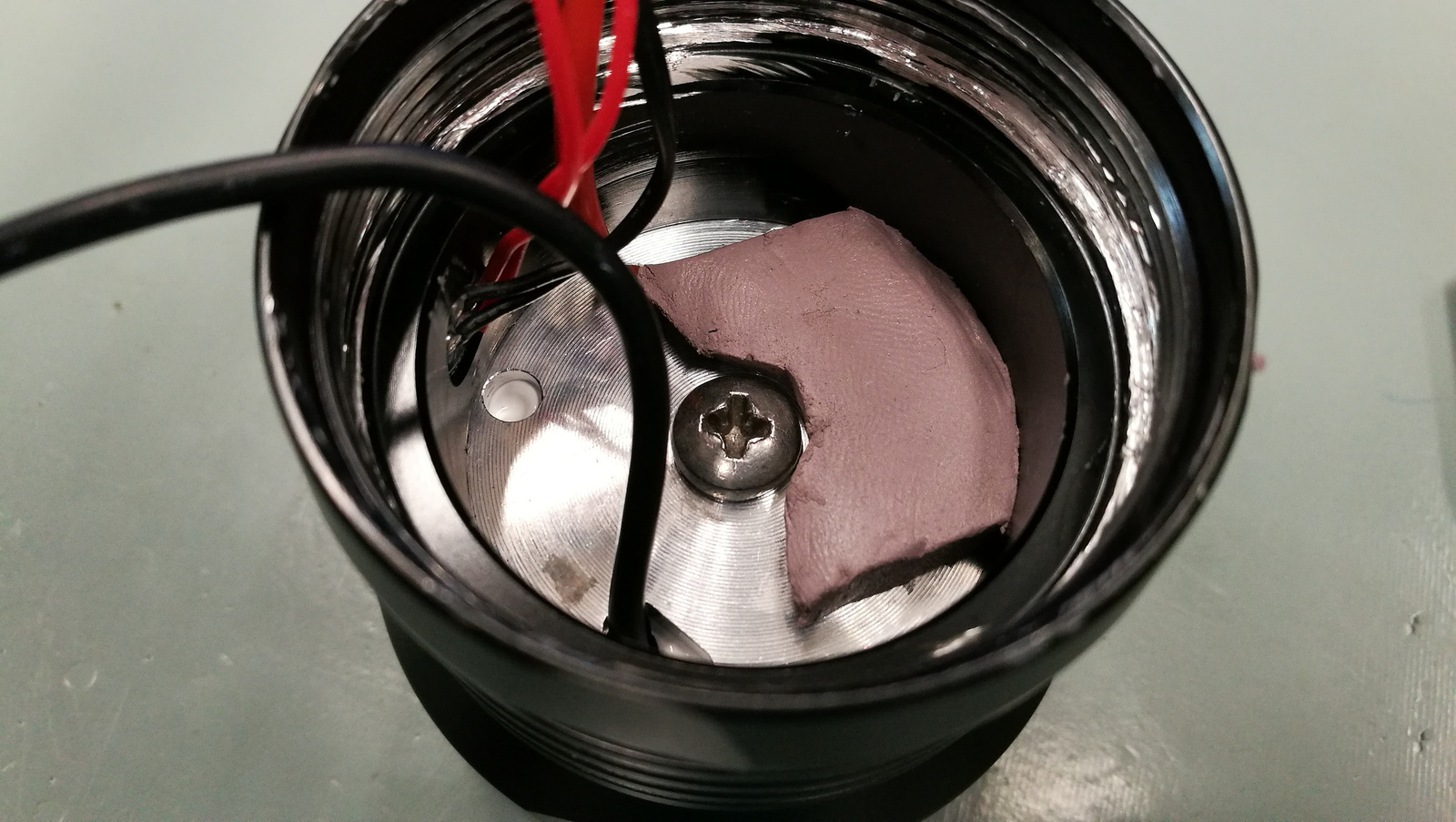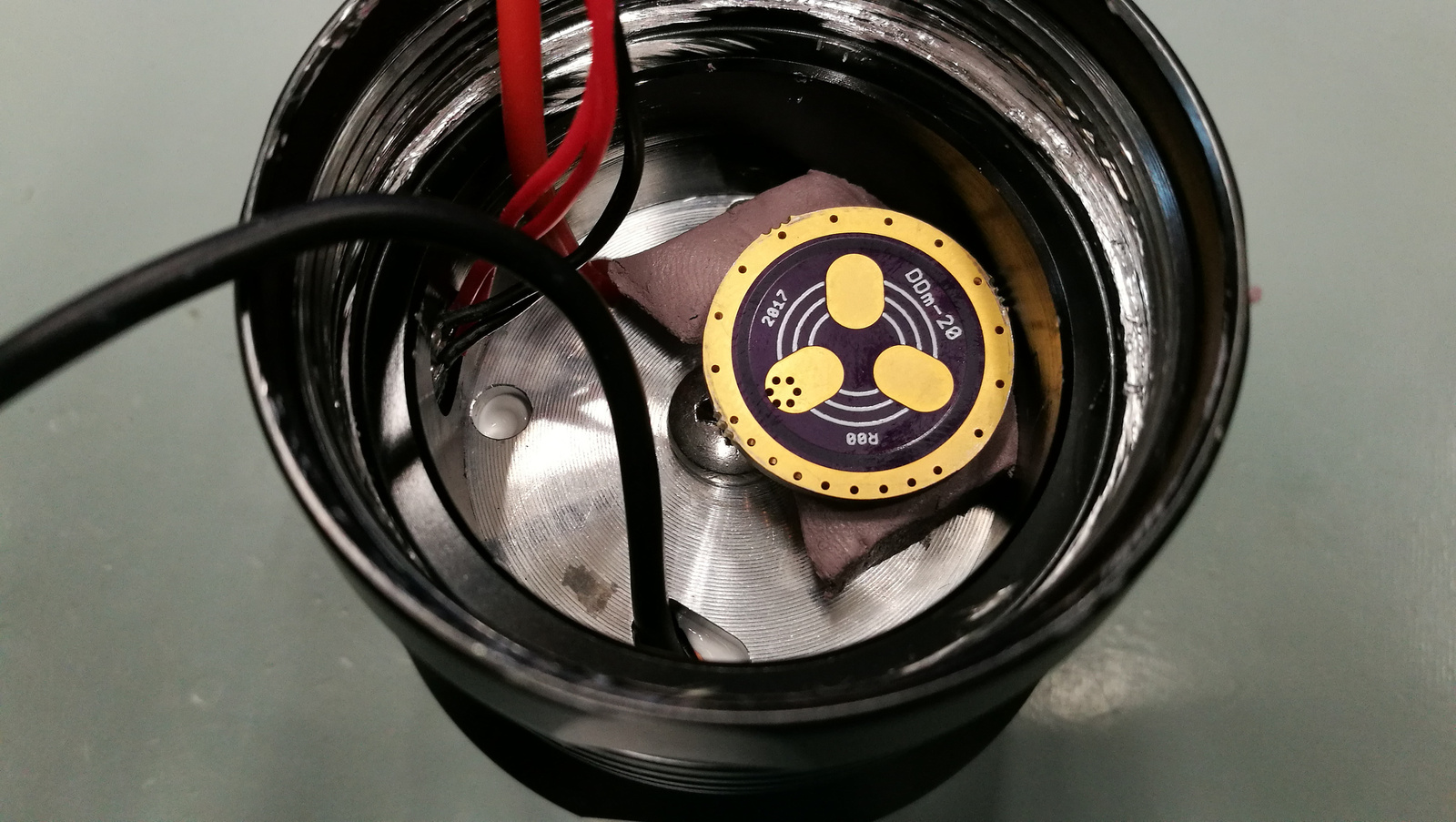 A lot ground vias ripped off from edge so I needed to beef up the ground ring some way. It is not pretty but works. cutted in the old driver edge and soldered 3 pieces of solder wick. And made a hole for positive led wire.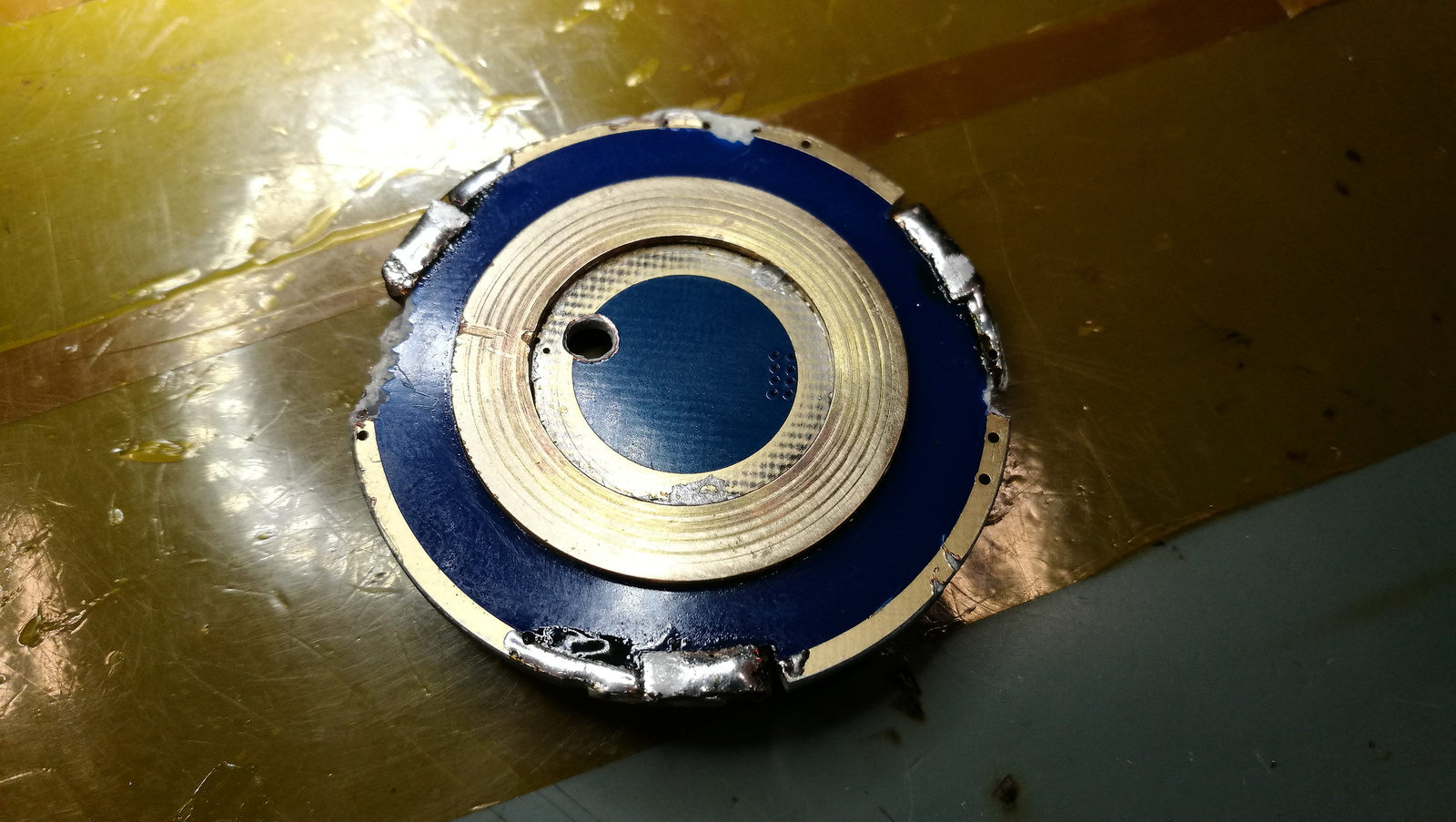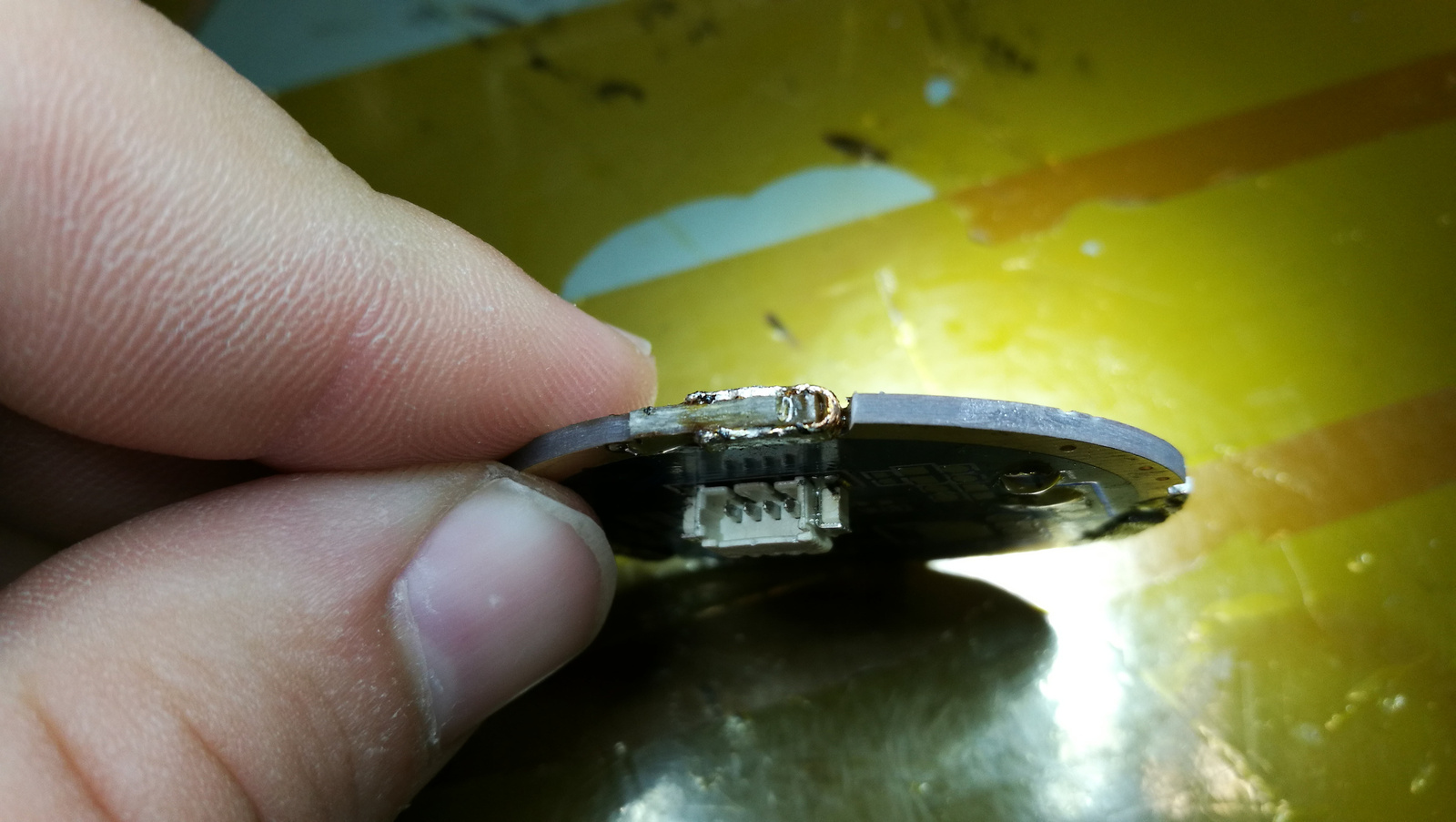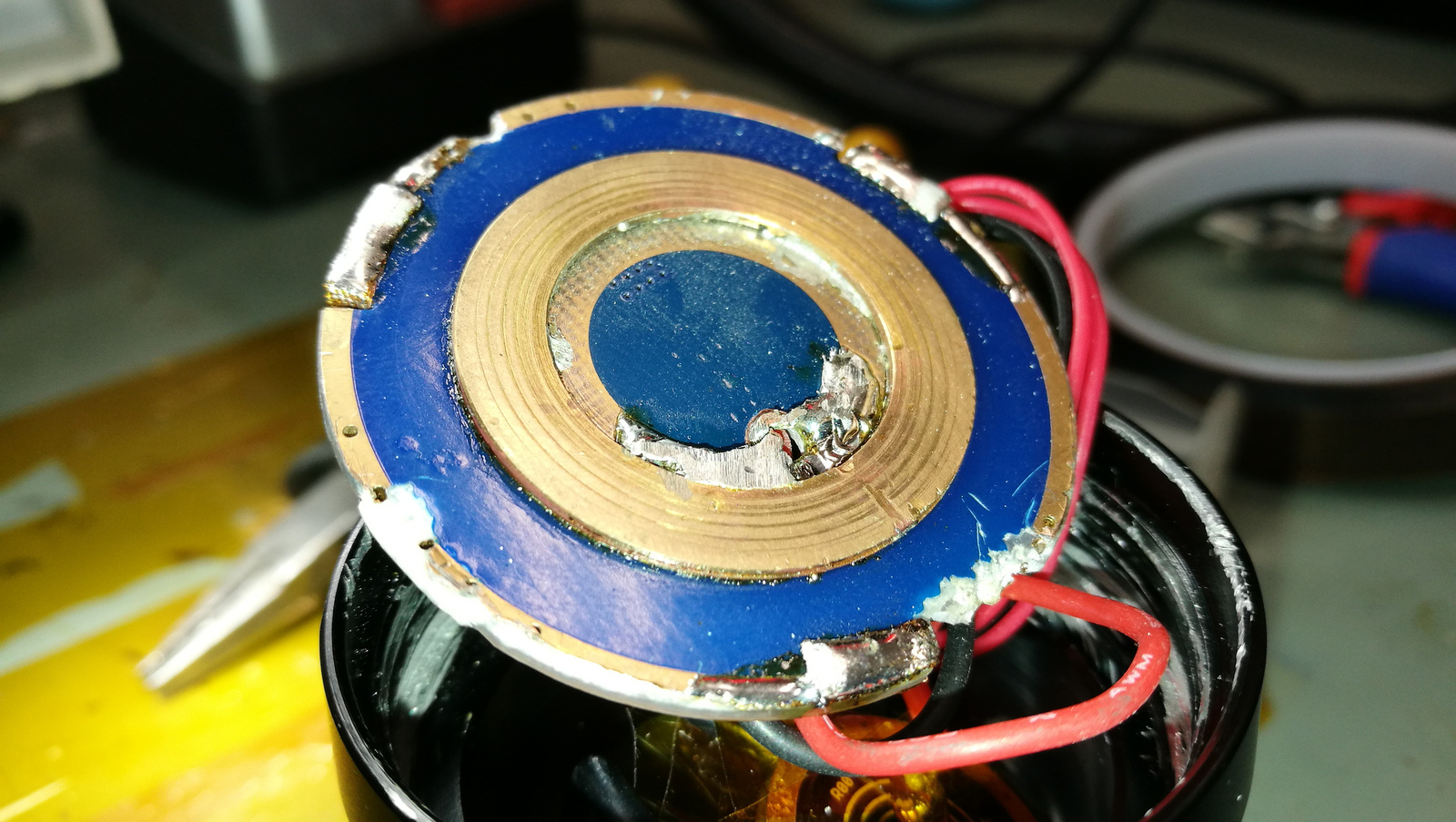 Used some component places on the old driver as resistors for switch leds and switch wire soldering points.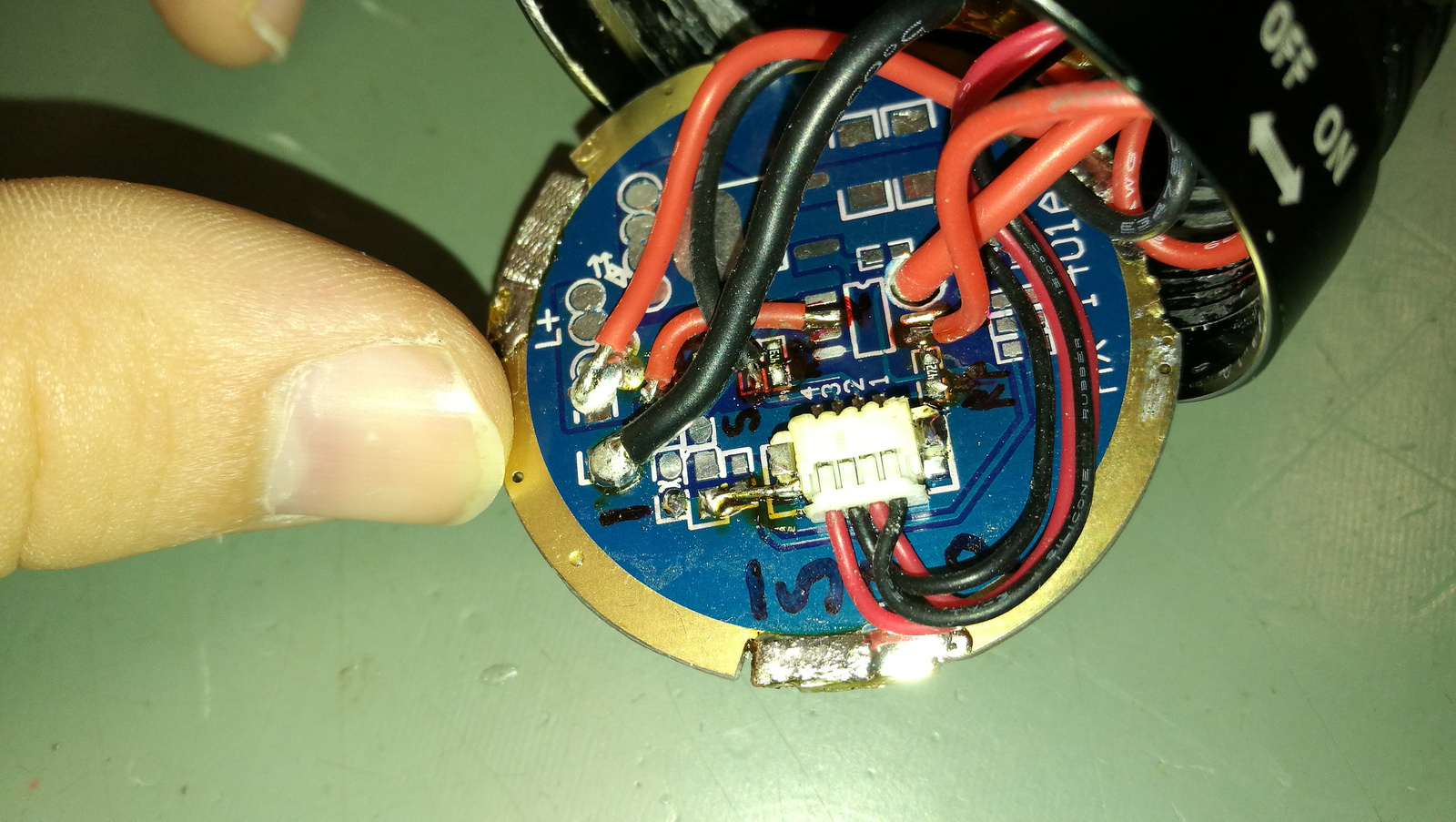 The new driver in the cavity with some kapton tape to avoid shorts. But the atmel top remained uncovered on other side.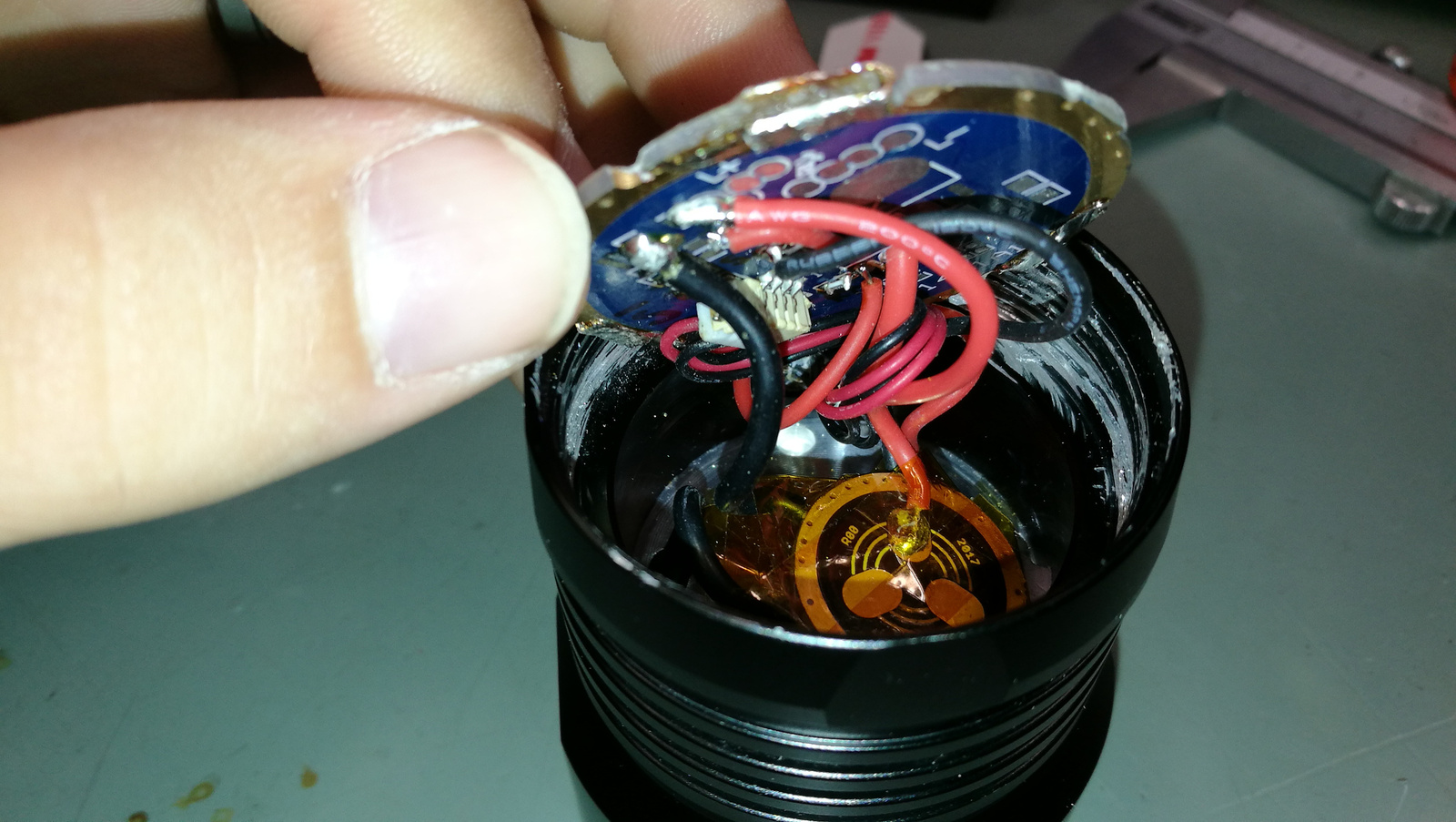 Small sponge to press the driver against the heat silicone block.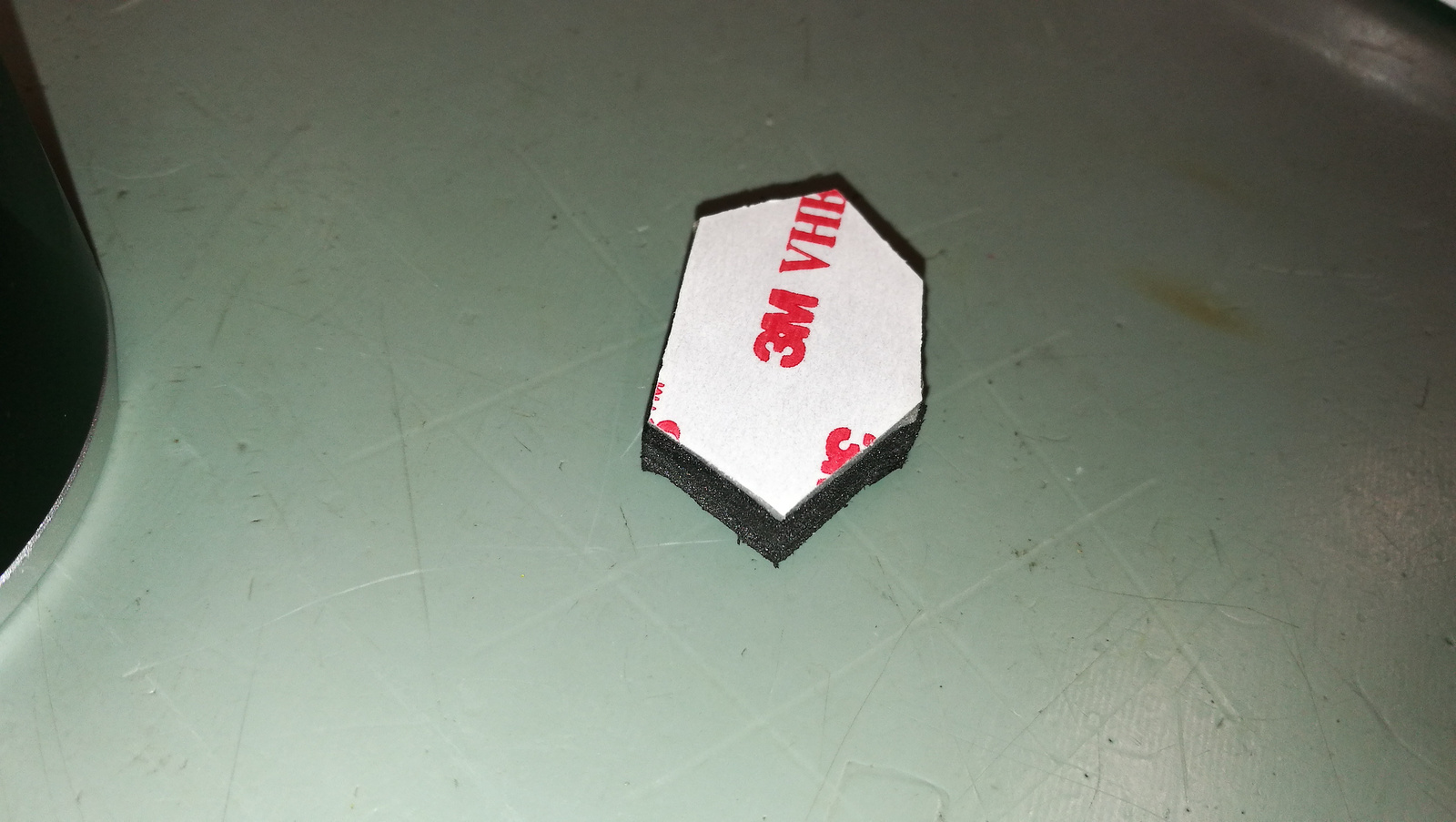 It is alive.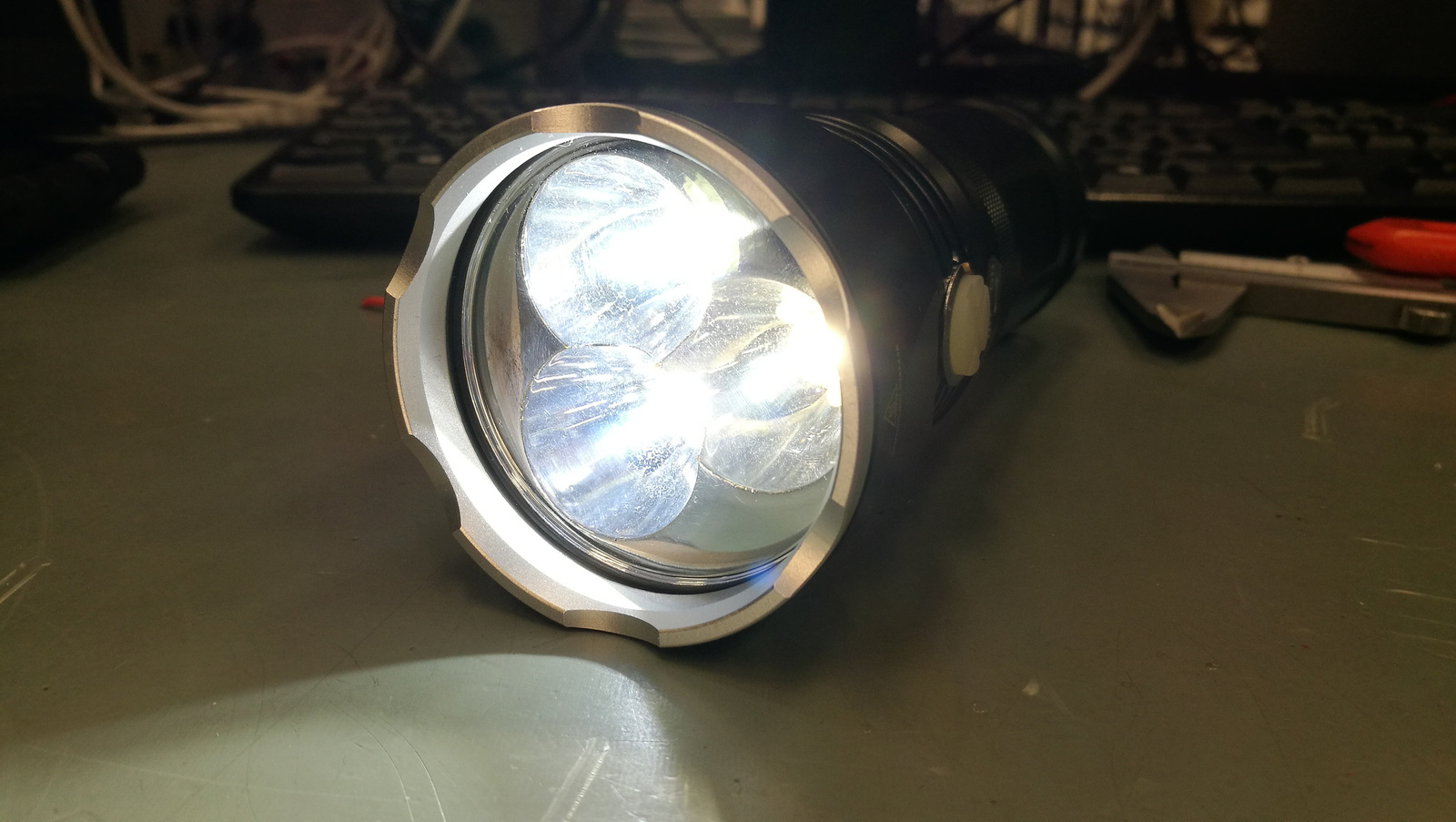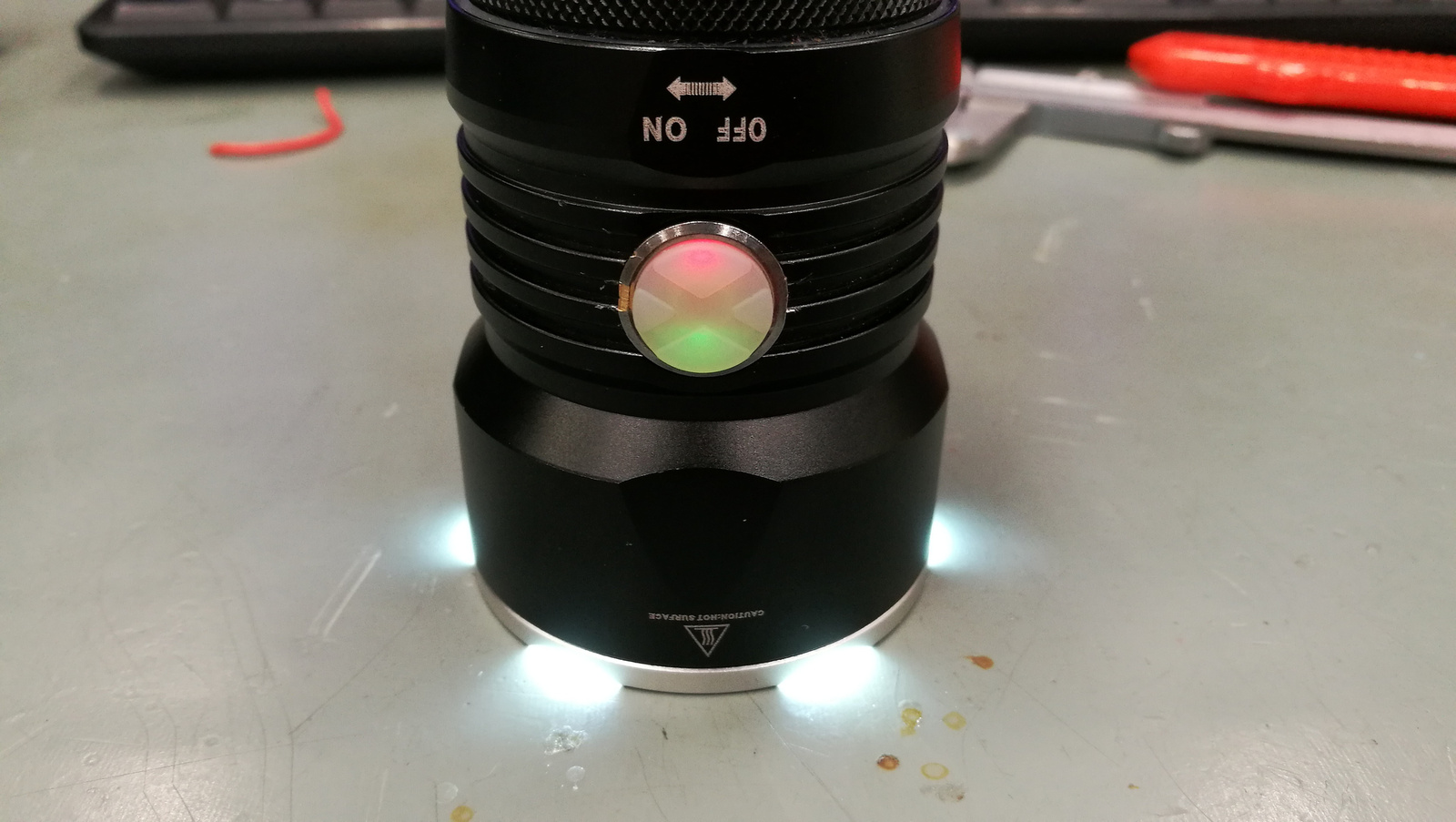 The green led is always on and the red is controlled by Andúril.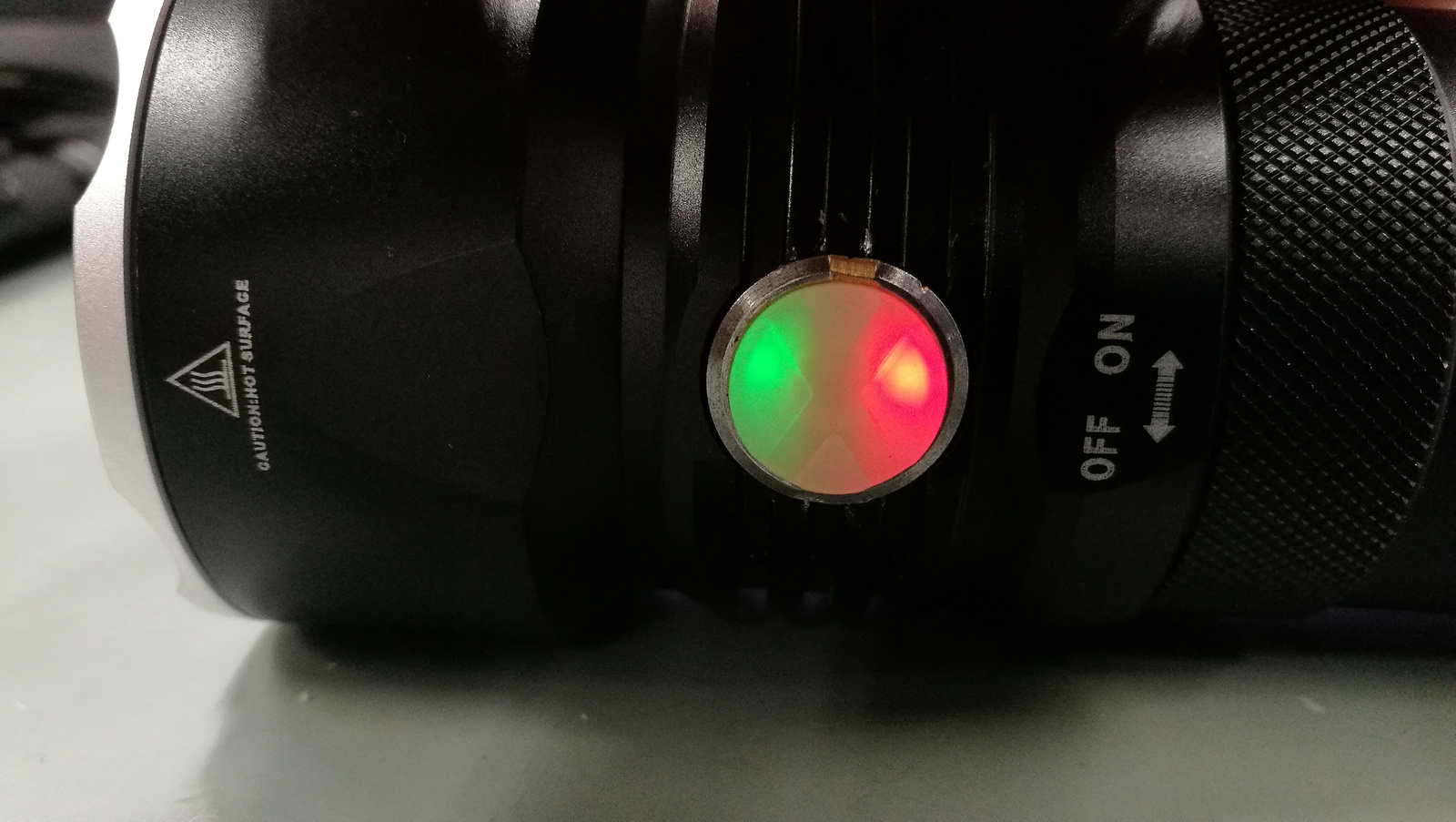 As you can see I had one warmish led and two cool white 1A leds. I don't care because this light is made from what I had from other lights.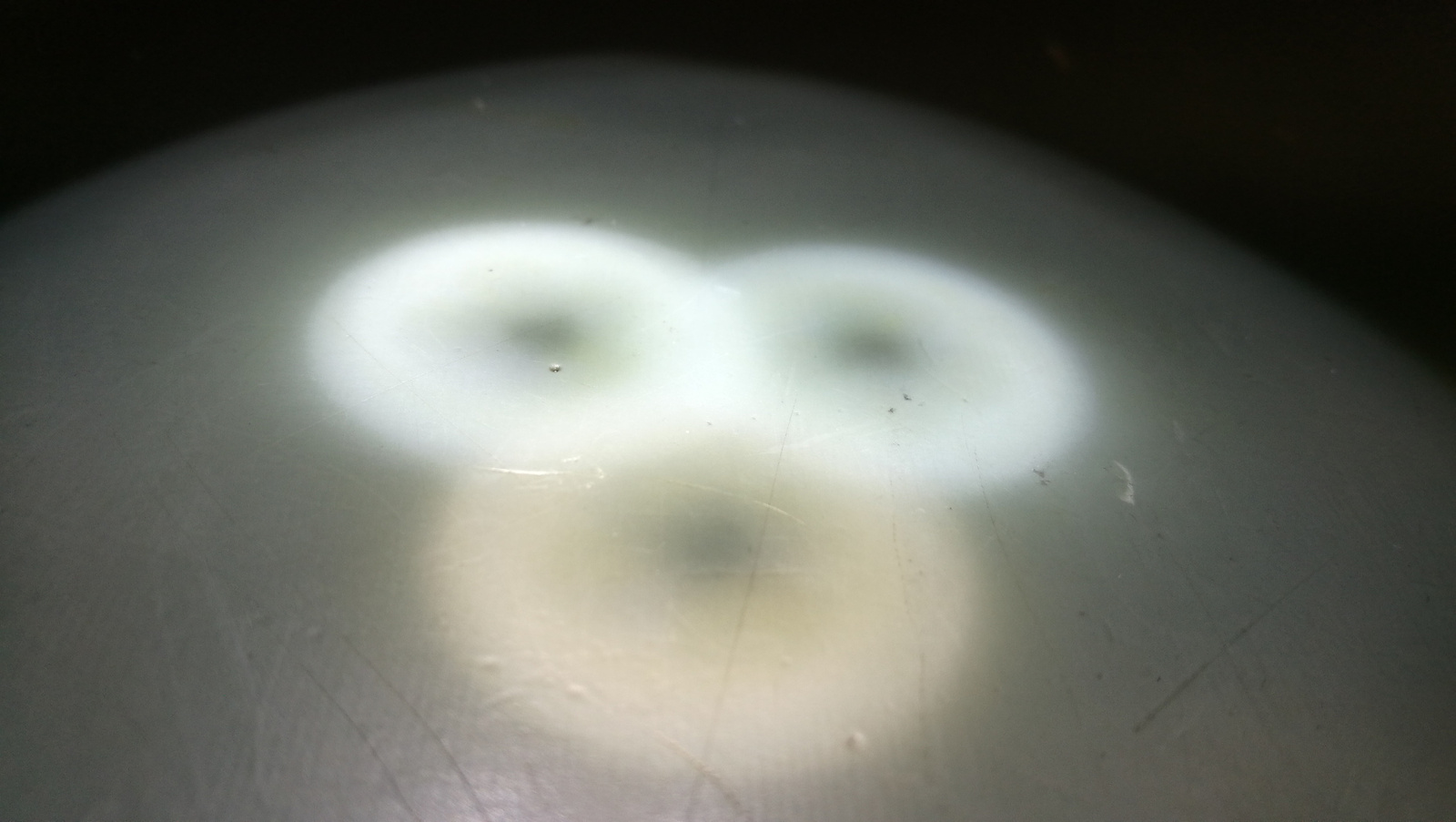 It turned out that the switch is not the best so sometimes andúril is acting weird because of bouncing. So I will replace the switch soon. But it works mostly OK.
Not the cleanest and prettyest works from me but I used a lot of things in that which are just collecting dust on the shelf.
I'm still at work so I have no measurements but I will update this post when I measured it. I hope it is above 3000 lumens.
—
Reviews: Olight Seeker2 pro, Lumintop GlowI, Sofirn SP36, Convoy 4X18A, Convoy M21C, Brinyte SR8 Rescue Angel, Astrolux MF01 mini, Astrolux FT03S, YLP Sherp S15, Sofirn SP40, YLP Panda 3R and Unicorn, Armytek Prime C1 Pro, Acebeam M50, Imalent MS18, Convoy M3, Nitecore TIP2, Imalent RT70, Wuben T70, Sofirn SP32A, Thorfire VG15S, Thorfire VG10S, Thorfire TG06S
Mods: Imalent MS18 dedoming, Astrolux MF01-20K, Small sun T08 MT-G2, Eagle eye X6 triple XPL, Ultrafire F13 MT-G2, Convoy C8 XHP70, Solarstorm T3 triple XP-L HI
Big flashlight measurement and beamshot collection
3D printing stuff for flashlights
My flashlight related Instagram