Greetings,
This review will be dedicated to the latest Olight pisto light, the Olight PL-2RL Baldr.
1200 lumen. For pisol light – that's plenty.
Integrated red laser


TIR

optics, protected by AR lens
Tech.Specs
Beam Distance (m) 235
Max. Performance (lumens) 1200
Charge type Optional charger
Compatible Batteries 2 x CR123A/RCR123A
Light Intensity (candela) 13800
Light Form Standard hotspot diameter with impressive distance. The perfect all-around beam profile.
Lens / Reflector Type TIR reflector (big, defined wide hotspot)
Mode Operation Side Switch
Form/Size Factor Small size (Car key / Zippo Lighter)
Link to the flashlight page on Olight website
Let's begin
Like all the recent Olight lights, this one comes in a small white carton box, that has a picture of the light as well as it's tech specs.
The light comes with a tool, that can be used for switching the bundled part for attaching the light to different pistol types. The supported firearms are specified on a special booklet.
Well, the light looks and feels very solid and expensive. It surely looks like it was made to last. The TIR lens is protected by AR coated glass, which is super-cool.
The laser. It has a very legal and moderate output of up to 5mW. The laser can be calibrated according to your light (and firing distance).
The light is attached to the pistol using the small handle, this time it's metallic without any coating. The light comes with 2 CR123A batteries pre-installed.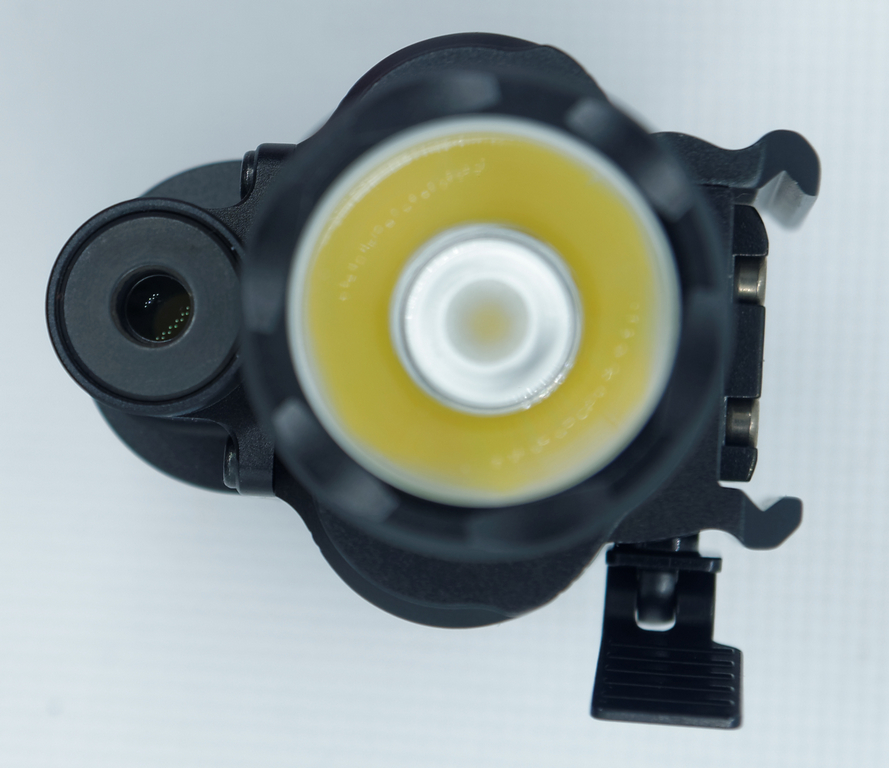 Naturally when you turn on the light+laser at short distance they are off-centered, but it's fixed as you get further from the target.
User manual. The buttons have a nice and crisp feel to the click. The click itself is far from silent. The buttons are made from some rough plastic. You can change modes during the light operation, it won't switch off. The switch itself is a pleasure to use, feels like a safety switch of a gun.
The laser spot can be easily distinguished from 30-40 meters or even more.
The light itself … Well I think it is a very good match between a beam profile and the light purpose. The hotspot is wide, bright and very evenly lit, with a sharp edges. The spill is not too bright but it's definitely there.
It think it's a great light for the people who really needs it. It combines a bright light and a laser sight, and the person using it will have an advantage over one without it.