Energizer AAA 500mAh Universal (Green)


Official specifications:


Capacity: 500mAh

Voltage: 1.2V

Low self discharge

Maximum temperature raise at different discharge currents: 1A:+2,0°C, 2A:+4,7°C, 3A:+6,9°C, 5A:+9,2°C
This is low capacity NiMH
AAA
batteries from Energizer.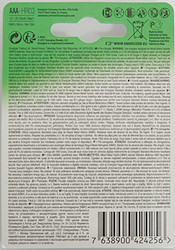 The cells are rated for 500mAh and contains 500mAh.
Conclusion
The batteries works as expected, i.e. the are rated for low capacity and match it. Being low self discharge they may be practical for some low current applications.
Notes and links
How is the test done and how to read the charts
Compare to other AA/AAA batteries: Alkaline/NiMH/Lithium