Direct Charging DC 5V 1A USB Charger Y G004


Official specifications:


Plug type: US

Color: Black

Product material:

ABS



Voltage and current: AC110-220V

Output: DC 5V/1A

Input: AC100-240V 50/60Hz 0.3A

US plug size: 50*30*20mm/1.96*1.18*0.78''

I got it from Ebay dealer: greatbuydirect66
It was packed in a plastic bag inside an envelop and included a useless plug adapter (It will not fit most European sockets)
Measurements


Power consumption when idle is 0.07 watt


USB

output is coded as

USB

charger (

DCP

)

Weight: 14.5g

Size: 53.6 × 32.0 × 23.1mm

At 120VAC the charger can deliver about 0.8A, this do not really match with the 1A rating.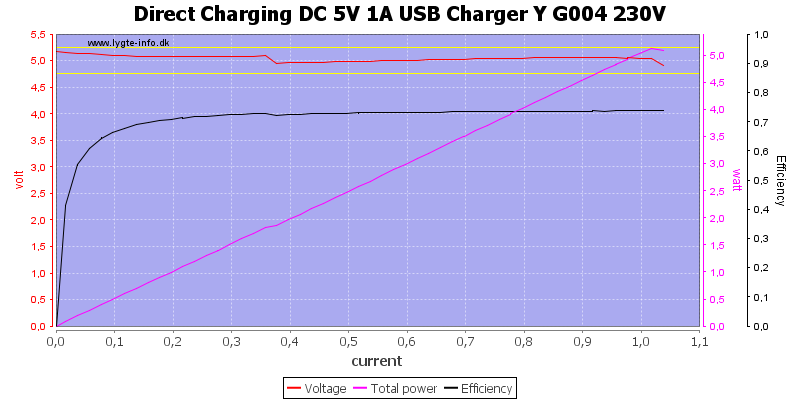 At 230VAC it can deliver 1A, but not more.
I did the 1 hour test at 0.8A, this looks fine.
The temperature photos below are taken between 30 minutes and 60 minutes into the one hour test.
HS1: 73.9°C
M1: 60.1°C, M2: 45.2°C, HS1: 60.8°C
HS1: 59.8°C
HS1: 62.9°C
HS1: 71.5°C
The unloaded regulation has some spikes: 25mV rms and 938mVpp
At 0.5A load the noise increases to 157mV rms and 1293mVpp.
Tear down
The front was just clipped on and could easily be removed, not good for safety.
On this side is a rectifier diode.
And a fake safety capacitor.
On this side is the bridge rectifier and the mains switcher chip (Marked PT3773C)
Creepage distance, we do not use that! There is less than 1mm from mains to low volt side, legal requirement are around 6mm.
The charger failed the 2830 volt and the 4242 volt test between mains and low volt side, this makes it unsafe anywhere in the world.
Conclusion
The power supply has lot of noise, cannot deliver rated current and is dangerous.
Stay away.
Notes
The charger was supplied by a reader for review.
Index of all tested

USB

power supplies/chargers
Read more about how I test

USB

power supplies/charger