[Updated 11 Dec 2020]
Hello all,
Welcome to my Garage Sale (Flashlights, Spare Parts from Projects etc). Having spent a while working on various flashlight projects, I've collected a few items. Some of them I no longer need mostly because I have a little too much on my plate and may be more useful to fellow flashlight enthusiasts. All items are priced to sell; please drop me a PM if you're interested and give me your best offer. 
I will be updating this page when items sell / have new items for sale. All items will be shipped within the continental USA only, otherwise shipping typically becomes > cost of the item. Shipping is typically $4 for regular USPS. Thank you.
######


Convoy S11 - HOST - 26650 Flashlight, Black - $10 + Shipping
Condition - New
MSRP typically $17.50, selling for $10 + Shipping OBO.
This is a great host for your 26650 build. Note that this is just a host and does not include LED/MCPCB or a driver.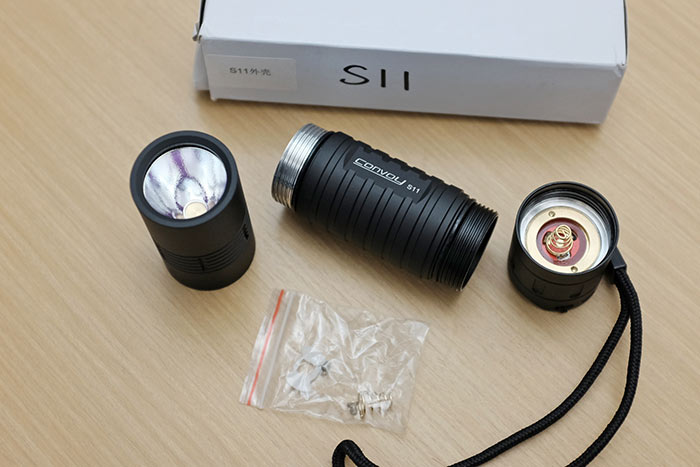 Includes the following:
AR Coated Glass Lens 28.8mm x 1.8mm
28.8mm W x 20.6mm H x 7mm Hole OP reflector
XM/XHP50 centering ring
Extra Spring
Brass Pill suitable for 22mm driver (z-height 6.8mm)
Brass Pill suitable for 20mm LED MCPCB
Complete clicky tail assembly 
Lanyard 
######
 SOLD ITEMS 
Lumintop LM10 - Polished Copper - 18650 Flashlight  (Sold)
LED: Cree XP-L HI 1A(CW 6500K)
MSRP: $95.95
Condition: Like New
* Does not come with the battery in the photo, please read description below *
Details: https://lumintoplighting.com/products/lumintop-lm10-copper-brass-10-years-anniversary-2800-lumens-flashlight-108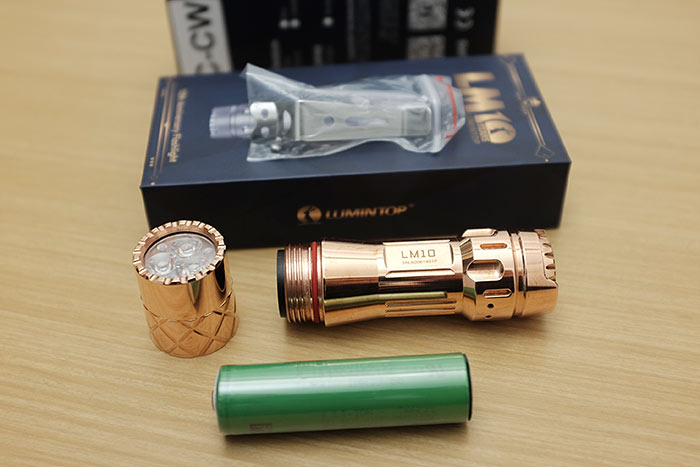 Alright so this is an odd one.
I received this flashlight at no cost, unsolicited, after a customer purchased this light and requested for a full refund because the light was not working. For some reason, the distributor had this sent this to me after refunding the customer, presumably for me to investigate why it was not working. 
It turns out that this flashlight had no issue at all and I verified that it was working perfectly well. After some investigation, I found out that the customer had tested this flashlight with a button-top VTC6 that he ordered together with the flashlight, and the battery turned out to be a little too long, causing the inner sleeve to not have contact (i.e. the tail-switch was not in contact and therefore the flashlight appeared to be not working). This flashlight, like the FW3A and their variants, work best with unprotected flat-top cells. 
The distributor told me to keep this flashlight for myself and did not want it back, but I have no need for this since I already have a copper FW3C which I purchased at my own cost. I believe this would be better in the hands of someone who has better use with this light. 
I was previously listing this item with an option to mod, but unfortunately some new commitments arose and I don't think I will be able to help with any additional mods. As a result, I am selling this item as it is. 
The money I make from this sale minus shipping cost, I'll send back to the distributor, or donate it to a charity of the distributor's choice. 
Emisar D4S V1 - HOST - 26650 Flashlight, Green -  (Sold)
Condition - New
MSRP typically $50 for the full flashlight.
This is a great host for your 26650 build. Note that you will need your own LED MCPCB and Switch PCB. 
Includes the following:
Carclo Quad LED Optic and Glass Lens (same the the Emisar D4S default optic)
Requires 4-LED MCPCB, e.g. a Noctigon 4P QUAD MCPCB
e.g. https://intl-outdoor.com/components-6.html?limit=36 
Includes default Emisar D4S Driver 
Complete Tail Assembly with Spring
Switch cover, Switch ring, does not include switch PCB
Extra O-rings 
Lanyard 
######
Lumintop FW21 - 21700 Flashlight, Grey - (Sold)
Condition - Used lightly but in nice condition
I purchased this a while ago with my own money with the idea of using it for driver development, but I decided to work on the FW3A instead, so this has been collecting dust... Selling this flashlight the way I got it from the factory, no modifications. 
LED - Luminous SST20 4000K
MSRP $55.95 (see here: https://www.nealsgadgets.com/products/lumintop-fw21-edc-flashlight?variant=31349887959114
Specs:
Triple SST20 4000K
Anduril firmware 
Fet + 7 + 1 driver 
Belt Clip
Does not include battery
Includes 18650 adapter 
Milled tritium slots (vials not included)
######
Thanks!