I've been reading and posting here and there and located the info on adding pictures so this thread is to bare myself and show you what I do that makes a place like blf of interest to me.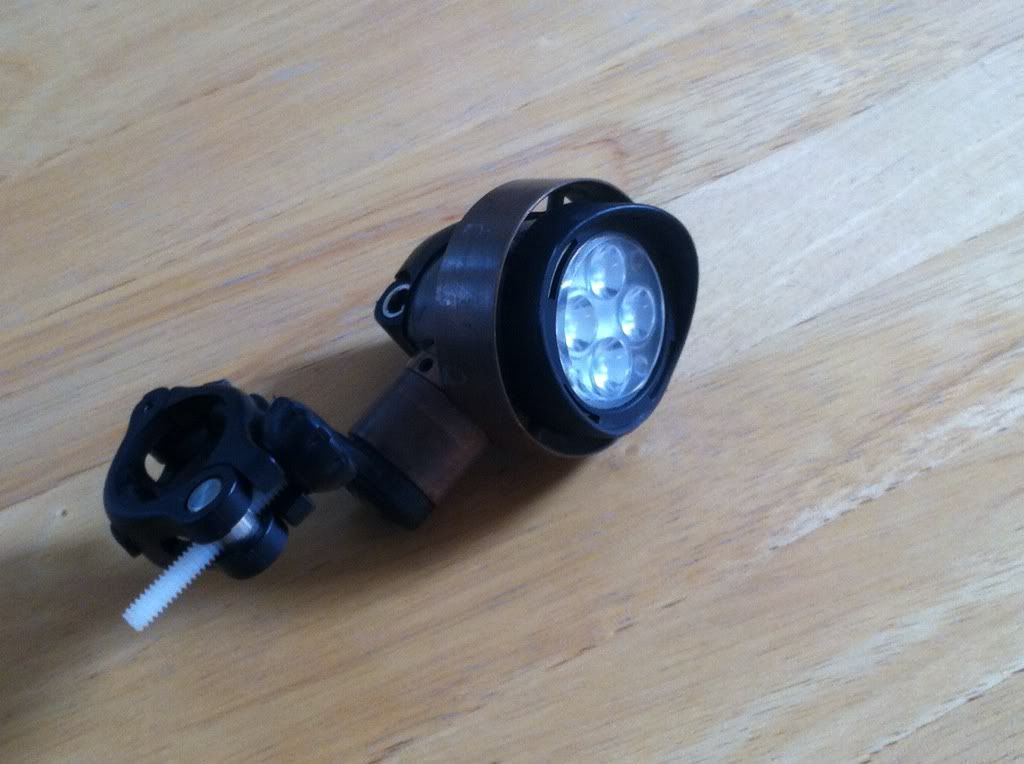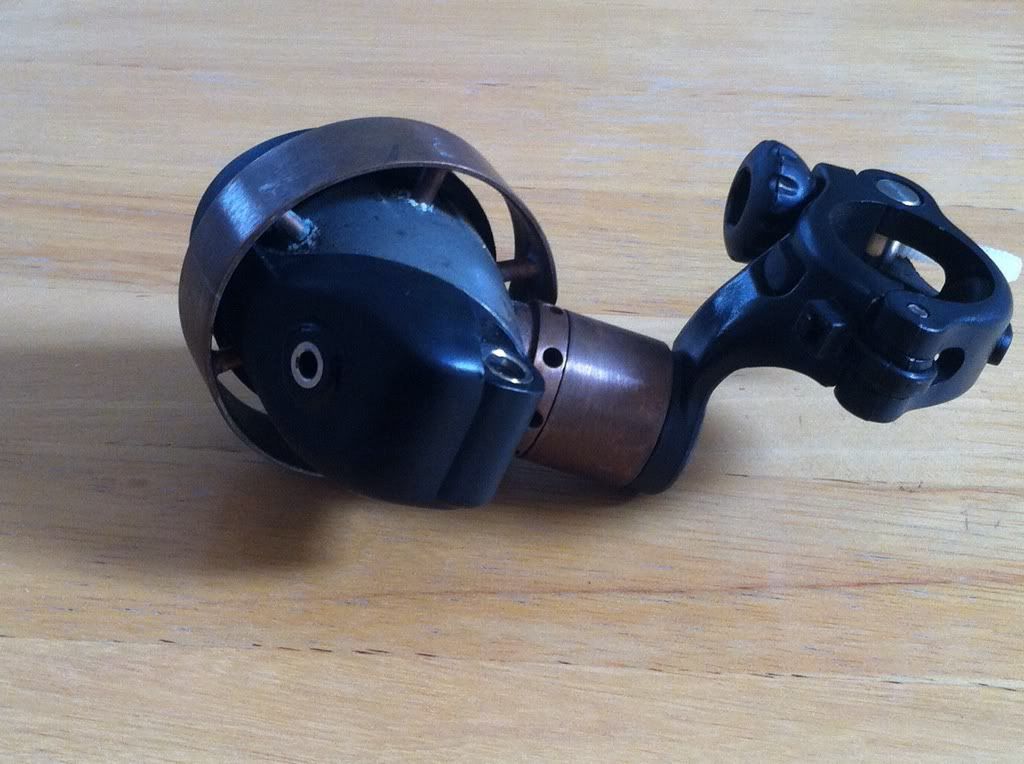 This is a mod of a Vistalite VL 500 series lamp head. It used to use mr11 bulbs and be powere by 6V "Nightstick" batteries made from 5 sub-c nimh cells in series. It now holds a Cutter 4up xpg r5 board driven by a Taskled Maxflex boost driver with a 10.8V pack of 18 4/5 sub-c cells 2p9s( 2 parallel strings of 9 cells) and focused through a Ledil GT4-XPS quad lens. There are various bits of copper added inside and out to provide a place for heat to go and a way for it to get there. The output is in the ballpark of 1300 lumens and works quite well as a bar mounted light( somewhat floody with a very smooth beam that covers the trail immediately in front of the bike out to ~ 30'. It would shine farther but it's pointed down at the ground. In place of the stock switch I epoxied a small jack to remote the switch by my right thumb. The small rods radiating from the body of the lamp are copper nails that were drilled through the outer ring(1/2" copper pipe), the housing, and the heatsink behind the led board and soldered to each. The driver board is on a separate sink that is likewise connected through the shell to the base by soldered copper nails. The only AA used in either thermal path is the one between the pcb and the initial heatsink layer. Below the copper base is a section of copper pipe I used to locate the lamp head below the shifter/brake cables. In order to have more area to drill throughother base si made up of concentric rings of copper cut and sized from different dimention fittings. This base was also then drilled radially to increase surface area( imagin holding something the size of an egg in your hand and drilling it with an 18V drill). I have done 2 these quad mods, one with the two heat sinks separated, and the other with them essentially as one with different paths to ambient, and though they both perform fine when in motion, the one with connected sinks reaches the thermal cutoff of the Maxflex board sooner when I'm no longer moving. Bear in mind the size of these units. When I first started doing this I was afraid the plastic would melt (this was a problem with the interior parts with and halogen bulbs). I went with Nimh cells in part because they allowed me to nudge the voltage right up to the forward voltage of the 4 xpgs on low without going over the fv on high with fully charged cells. The other reason was a seriously over ambitious dive light that took me a 18 months to complete(if you think this post is long, the one for that build will consume chapters). Like I said, I have 2 of these but my next mod will be a quad mod with different optics as I prefer a tighter beam for the helmet light
—
Three Tanna leaves to give him life, nine to give him movement. But what if he eats the whole bag?
Scott