Here is a bit of info: how to do a review https://budgetlightforum.com/t/-/20189
I would say just do what feels natural and find your own style. Don't try to fit the mold of the reviews you see. It's your time— say what you want to say, not what you think everyone wants to hear.
I'd say just be yourself and try to make it technically informative but sound like you're describing it to some of your mates that share the same interest as you. In effect that's what you'll be doing anyway. :bigsmile:
Reviews probably have different goals. So maybe decide first why you want to do a review. For showing that it's a great edc light? Focus on that.
It's a great thrower? Focus on that.
Sharing your impressions?
I would still suggest to make a (short) list or template and work through that.
I don't know how much time you have on hands, but a template considerably helps. It will save you a lot of time. From my own experience I would look at a review you liked, and use that as a template. THEN from there you can make your own style. You don't need to rediscover every detail in a review that has been done before.
Even if you start with your own style, I'm 100% sure you are still copying ideas from other reviewers, by memory ;)
I say you should include things in your flashlight review such as brand name, manufacturer, pictures of the flashlight, power source, beam shot images, the internal parts, and the flashlight's special features.
It varies according to the power of the light and the distance of your target. Ideally you want to reproduce what your eye sees in terms of brightness. Manual settings are very helpful. A camera without them will likely not produce good results. I would use full auto and note the exposure values that the camera chose. Then switch to manual adjust shutter speed, ISO, f-stop as needed to reproduce what your eyes see. If you're trying to show the tint of an emitter it an get tricky. You will likely need to select a particular white balance setting to get the best results.
I make a list of the points I want to cover and then write and edit in a plain text editor because I don't like what MS Word does.
I don't think caliper pics are necessary unless someone is disputing your measurements, which is unlikely. I actually had that happen to me though.

Everyone will differ somewhat on that last question. I think you should cover anything you think is notable or interesting (good and bad) about the item reviewed. If it's a host you think is moddable then pics of the internals are good to have. If it's a powerhouse (or not) you might want to do some basic measurements like tailcap current. If it's a thrower some candela numbers are good to have. If you are technically inclined and have the equipment, all of these and more are appreciated. But it's your review, so ultimately it is your opinions that we're most interested in.

Objectively, candela, lumens, power wattage consumption are three important things to cover.
And subjectively your views on the quality, UI and robustness of the flashlight are important too.
outdoor beamshots definitely will help, comparison with other lights even better appreciated :bigsmile:
Thanks…y'all have given me some things to think about.
Unfortunately, I do not have much as far as instrumentation…just a cheap wallyworld analog multimeter…so my review will not be very tech/numbers/graph oriented.
Size comparison photos are nice. A shot in your hand and shots with other common lights are good. The most important thing with pics is to try and get them representative of what you actually saw. Be sure to state that or state if they are brighter or dimmer. Tailcap currents are required! But state if you feel your meter is accurate or not (or state your using thin leads) and the voltage of the battery(ies).
-Garry
This is the cheapo mm I have…does it even have the right settings to take a tailcap measurement?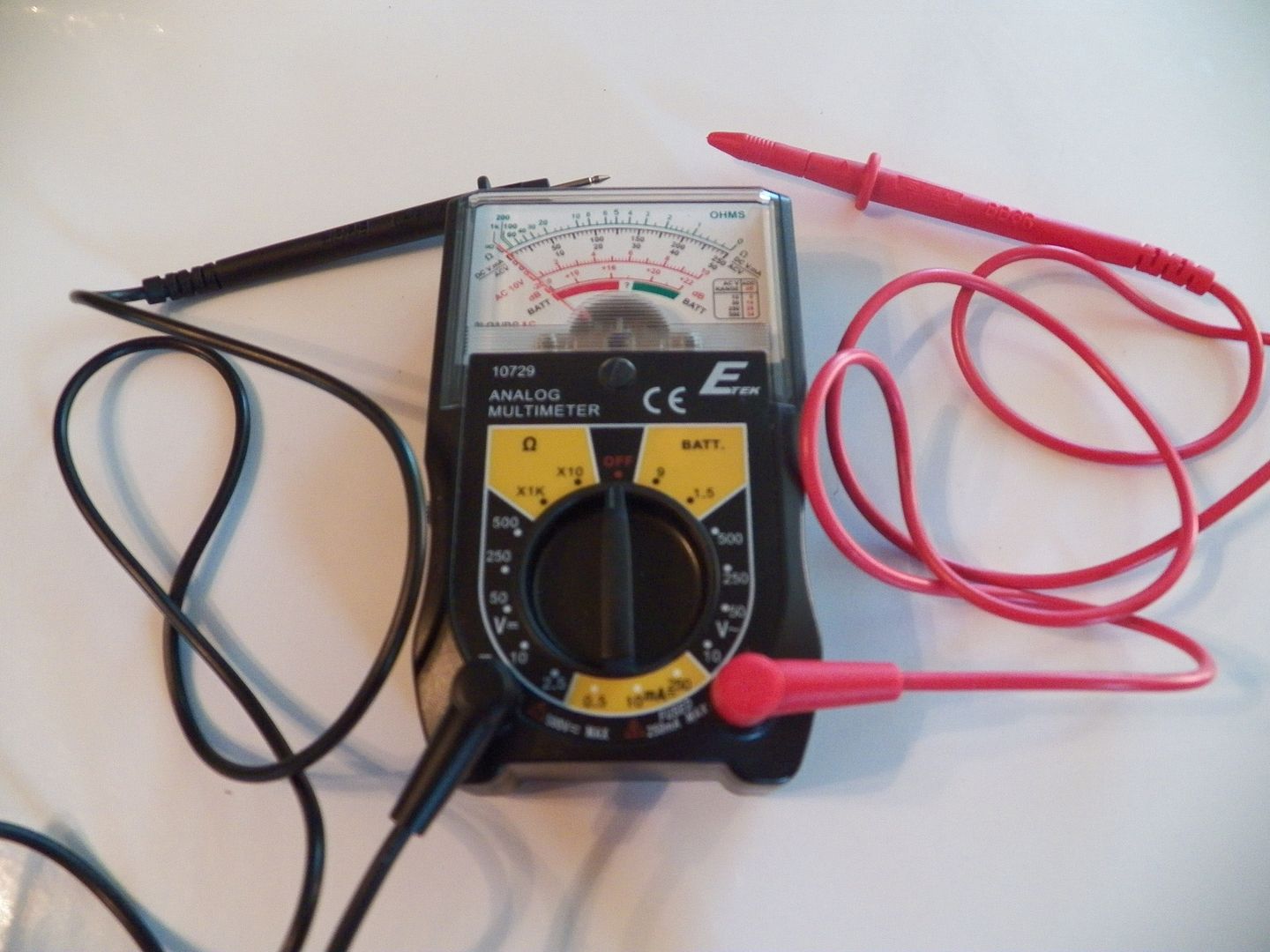 Your meter cannot measure high current levels (well, higher than 250mA) so better to use it to measure voltage drop than try tailcap current readings. I generally don't find this data that useful but we all like different things in reviews. So I suggest write what you would like to see and find useful.
If you don't use an external editor to write it, do copy the entire review to clipboard in case a problem occurs when you press "save" to prevent losing your review.
You don't have to spend much to get a meter that will measure decent tailcap currents. All kinds of threads on meters.
-Garry
Look for a DMM with something that can handle 10a or 20a unfused. This is the one I purchased.
Look at a review of mine. I list, on the pics, what settings I used.
I personally don`t like to pre-write the text in Word.. but I still do it.
The reason why I do, it saves me time to finish it all up before posting.
The reason why I don`t like it.. is different fonts..
Every time when I do a review, the fonts keep changing on me.. really annoying.
When I copy and paste the text from my OpenOffice Writer, the text appears in a different font from the custom BLF font.
But sometimes bringing it back to the same font as the rest (I use randomly choose a font for the whole text)
the size sometimes is still different etc..etc..
I do my reviews in Word and paste in BLF editor and I don't have any issues with the font.
-Garry
There are fella's who do theirs in depth with pain staking asessments. I really do appreciate their time & effort. They do amazing work. Myself, I like to keep things super simple for the layman. Lets face it…. Most of we lumenatics look at a light & know instantly if we like it.
Maybe add comparisons to a few other common lights that are similar in size, style, output, so that others might have a reference.