@ Hobo…. That looks good. Is the 'Glow Gasket' the AQUA one??
Thanks! Yeah it's aqua. I like how it just looks white in daylight, one has to look closely to notice it at all.
I also have a lava one in my SST-20 FW3A. Looks good too, but doesn't glow as long. Also the whole optic looks very pink in daylight with it in place.
IMHO aqua is the color of choice.
Your welcome, thanks for the info.


I have an AQUA & was thinking yours was too. I really like the green Trits with it!! I am gonna copy you on that.

I agree with what you said about the AQUA too… it is all but invisible when not charged up.
I almost got a LAVA… but got a SKY BLUE instead. It does not glow very long either. It also looks good when it's glowing but not a long glow time. And shows Blue in daylight when not activated.
How did you attach them,its a great idea.
I use E6800 . In the D4V2 thread there is a picture
I have one and it's too yellow. I have a roll of 219b sw30 that I'm going to use to replace for a more beautiful warm tint.
UV Band Pass film…. 1 tiny little 0603 UV emitter/resistor and 3 trits… cleaned it up some….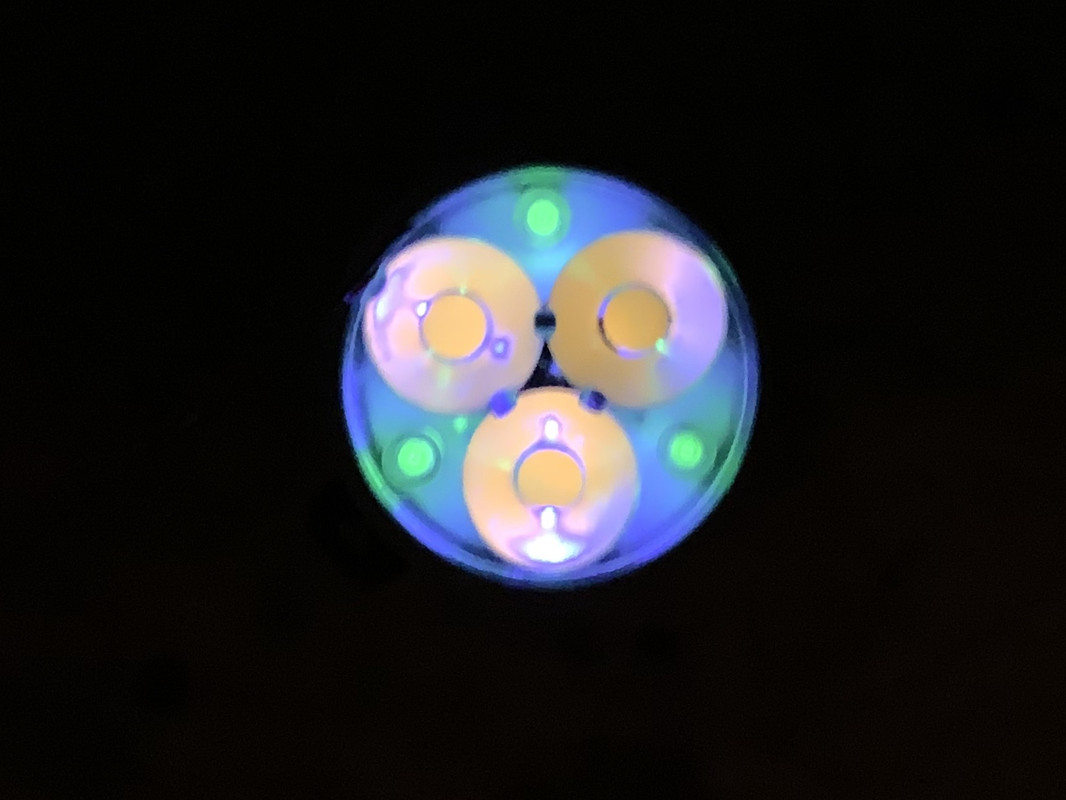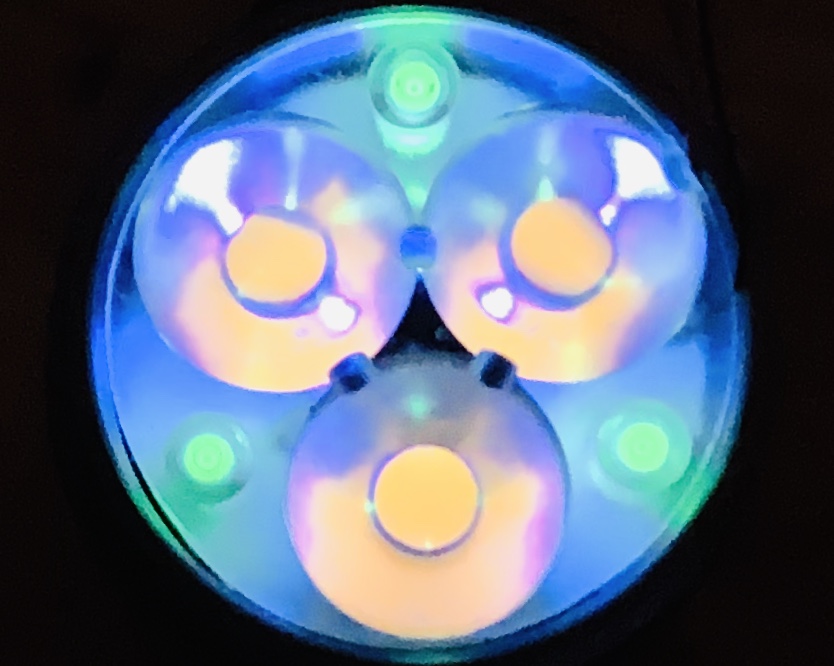 Going to try and reduce the size or fit the glass BP lens to the triple optic…

Since it seems pennzy does not do pictures… let's see if we can't decipher & actually see what he did with these three pictures…… All lined up in a row in one easy to locate place… Right Here in THIS Post…… …


.
SS Flat Washers from Amazon

.
E6800 Industrial Adhesive


.
FW3A with SS Washer attached with E6800

Thank you.
Seems adhesive not available in UK, would expoxy resin or UV cure glue be OK?
I think anything would work that would stick Stainless Steel to Aluminum.
3M 5200
JB Weld
Epoxy might work long term… might not??
UV Cure maybe??… I don't know for sure.
?
??
???
The stuff he used (E6800) appears to be 'clear', so you 'might not' have to be as particular with exact application so as not to create aj eyesore.

Experiment with what you think might work. Worse that can happen is it comes off & you have to try again with something else.

Where did you get the sw30 219B? I bought some 219B 3000K 9080 from LEDRISE.EU and to my surprise they are very positive DUV instead of negative like how we know them. Even the 219B 3000K 9050 version is less green yellow than the 9080 I got.
Somewhere in China:
AMAZING!!
How are the images etched into the body and the lens ring?
Thanks Teacher . I'm working on pictures.

The E6800 is very strong yet the washer can be removed without any damage to the finish if the switch needs to be removed or you want to try something different. Trick is to apply very small amount with a toothpick then stick the washer down and let it sit overnight. I use this glue for many different tasks. Makes great strain relief for wires or power tool cords. Epoxy dries hard and strong and has it's uses too but E6800 can be molded into flexible, vibration resistant , waterproof apps.
All the Goop Glues are basically the same product.
My pleasure pennzy, glad to do it. It took me a while to get the hang of pictures too.

.


Once you get the basics though it is pretty easy.
Thanks for the additional info on the E6800 also, it sounds like some handy stuff in/for many different applications. I gotta get some & try it out.

Does the use of glow discs, glow powders or tapes in the emitter/lens cavity affect the beam tint of the actual light? Also, do tritium tubes in the optics affect the beam tint?
I doubt that the minimal emission of the trits and/or glow gaskets would make a significant difference to the powerful output of the LED emitters unless they were used in a lower power mode. Technically they would add color to the light but I've never noticed any difference. I guess it's similar to adding a teaspoon of sugar to a gallon of water.
Does a red noctigon mcpcb make lights rosy? I wish it did so people would stop complaining about green

Haha… or people could just order some rosy 219b and be done with it