Dear BLF community, since this is one of my first posts, hope you will help a noob like me with sufficient details so i ca better understand what you mean. I read a whole lot of stuff on this forum, but a lot of knowledge only leads to more questions, so bare with me, please.
i am looking for a close to 0 spill strong thrower, preferably a zoomie, at a decent cost. Please do not suggest the Laser exciting phosphorus throwers, as the price point is prohibiting for me, i would love one under 50$. size does matter, so i need something compact and with as small as possible head diameter, so i reached the conclusion after a bit of reading that aspherical is the way to go.
Now, to better explain why these needs: i am planing to use this flashlight not for walks in the park, but for attaching it to an airsoft weapon. That being said, i need 0 spill so if i want to point at something in the dark that is 70~150 meters forward, i do not light up all of my colleagues that might be somewhere in front of me(not exactly in the front of the beam, but slightly sideways or lying on the ground. this is a scenario where i go on a outdoor filed. i said zoomie because i would like to zoom in and have lots of flood when i enter a building.
the SK68 replicas proved to be weak and unreliable due to poor led, drivers and small pill, si i saw the Italian Cometa, but that had lots of issues as you all reported too, and it is not found anywhere either. what i liked about it that it had no rings around the spot, in zoom in and zoom out modes too, although it had a bit of a big head.
Regarding the driver and UI, i only need strobe, and turbo(eventualy a low setting), preferably with last mode memory, no complicated ui is really needed like the Anduril. I really love the 2 button tactical switch of an Opsmen Flashlight 501 Fast i had and lost that had a center tail switch for on/of and mode switching and 2 side pads that went straight to strobe(attached picture).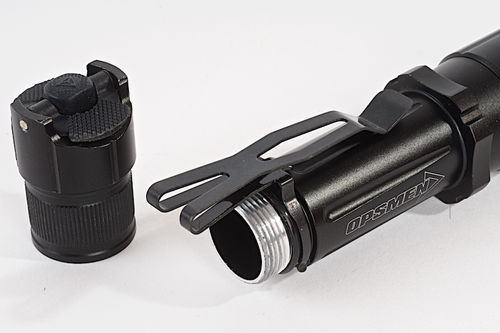 Now, i know there are small to 0 chances to find all that i want in a stock flashlight, but i want to start with the flashlight itself for the start, and focus on upgrading or modifying the driver/tail switch later.
Thank you for your patience, guys!