Please, when you get the light, let us know the UI (low to high or high to low) and does it have memory.
Hope someone can do a BG and then put in a better driver and XP-L HI in it. Been looking for a good zoomie for awhile.
Mine is not in yet. It's tracking # is RF387292563SG. 17track.net says it arrived in the US on the 20th, but no further updates. USPS never heard of this tracking #.
Just ordered one of these. Now just have to wait 4-6 weeks for it to arrive.
I don't really need USB charging and am not a fan of the standard 5-mode UI. Goal will be to possibly use it as a mod host.
If it could be mod, it would be great with an efficient driver.
Yeah. I tend to like overpowered ultra-compact lights. If possible, plan would be something along the following:
Replace driver with 17mm FET e-switch driver from Mtn Electronics
Replace stock switch mechanism with a tiny microswitch (I have a bag of them on-hand).
Consider shortening pill or moving driver mounting so driver can sit closer to emitter. Goal is to open up as much space in the battery compartment as possible.
Ideally battery should run completely below the switch with no wasted space.
If successful in opening up additional space in head-end of battery compartment, shorten body tube using human lathe method.
Replace emitter with XPL HI
File down back of head and top of pill so lens can retract closer to emitter dome. This makes the light more compact and gives a wider floodbeam without affecting the spotbeam.
The stock light is 125mm long. This is too big for my pocket EDC. Ideally I'd like to shorten that to 90-95mm.
Just got it! Lik'n everything I see so far. Clicks rotate thru the modes, click&hold turns it off. Little twist of the tailcap breaks the connection, so simple lockout works. Classic cool blue tint of course, classic image of the XM-L2 phosphor zoomed out, it's a zoom slide and feels slightly stiff and well lubed and smooth. Seems fairly bright with the stock SupFire cell, which was in the light btw, not in the spot for it in the packaging (probably to get by customs). Of course it throws a big XM-L2 image because of the narrow aspheric lens - can't do much, accept swap it out for an XP-E2 or XP-G2, and/or de-domed, etc.
The switch feels really nice as well. Smooth to the body, so might be hard to find in the dark.
Shipped the 13th, so 12 days to arrive. Might just say it's worth the cost, even at $23, but I bought it to be modded, so the tear down will tell me a lot more. Everything comes apart easy so far - bezel unscrews, tube unscrews revealing a brass pill with the classic holes to unscrew. Anodizing feels pretty darn good, and I'd say the tailcap has squared off threads.
That's it so far...
Always high? Memory? Next level?
Well it's an e-switch, so modes are hi-med-lo-strobe-sos, always starts on hi. No mode memory, 1st click from OFF goes to hi, them click-med, click-lo, click-strobe, click-sos, click-hi. To turn it OFF, press&hold. I took detailed pics, took output measurements, amp readings, etc. Got it fully dis-assembled - pretty quick, pretty easy (no glue, all std CCW to loosen)
On a fresh Samsung 30Q: 2.15A tail on hi (DMM meter, heavy wires)
For zoomed in (flood), lumens hi: 690 @start, 653 @30 secs, med: 350, lo: 139
Throw in full zoomed out focus: 11 kcd taken @5 meters
Body length: 126.8 mm -> 138.8 mm
Parasitic drain: 0.016 mA (very low, 7+ years to drain 1 Ah)
If I jumper the tail, and measure lumens: 731 @start (this means you probably get a 5%-6% bump if you bypass the tail spring)
It's almost there, but I'd have to say the modes are a great disappointment, but as advertised. Shame because doing modes better adds nothing to the manufacturing costs, only a bit more up front software dev, non recurring costs. Pics being uploaded...
Sorry, what are the lumen spacing? Can't find it on the original post.
Thanks, Tom!
690Lm / 350Lm / 139Lm … I see what you mean by disappointing. 690/170/40 would've been better.
With no mode memory, I'm glad the flashlight always turns on in high.
In first bullet item above
Well, it's everything - mode spacing, strobe and SOS not hidden, only one way nav thru modes, time delayed push&hold to turn OFF - could be faster, no way to get to lo to start with, etc.
Shown with a BLF A6: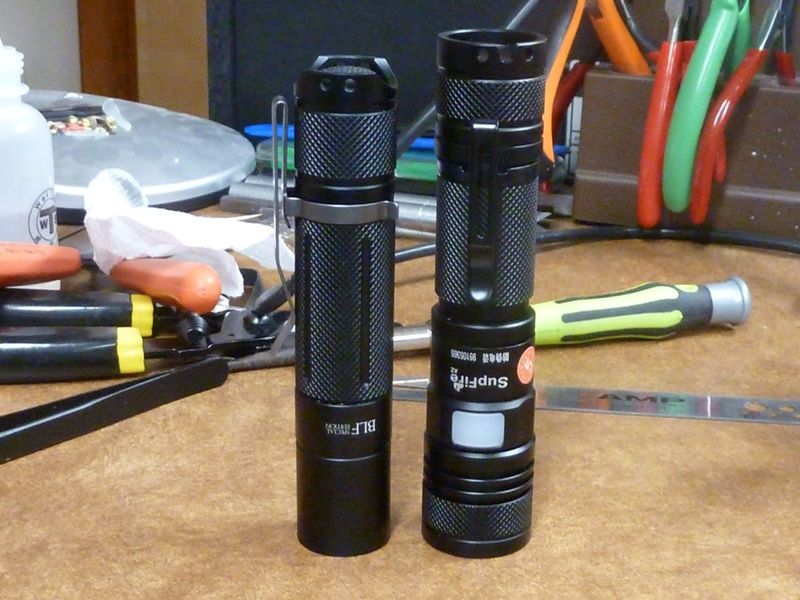 Tail threads, not many, but nice: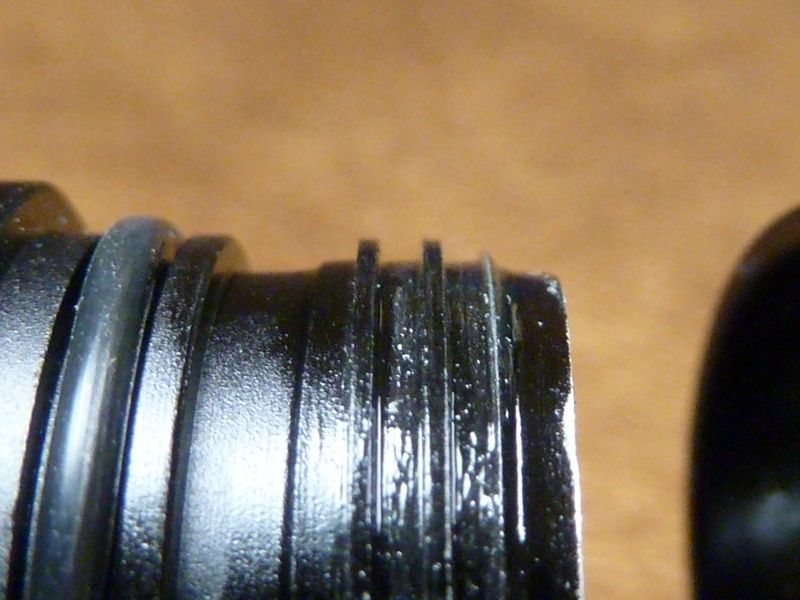 Main assemblies:
Clean LED area, pretty darn clean resulting beam pattern: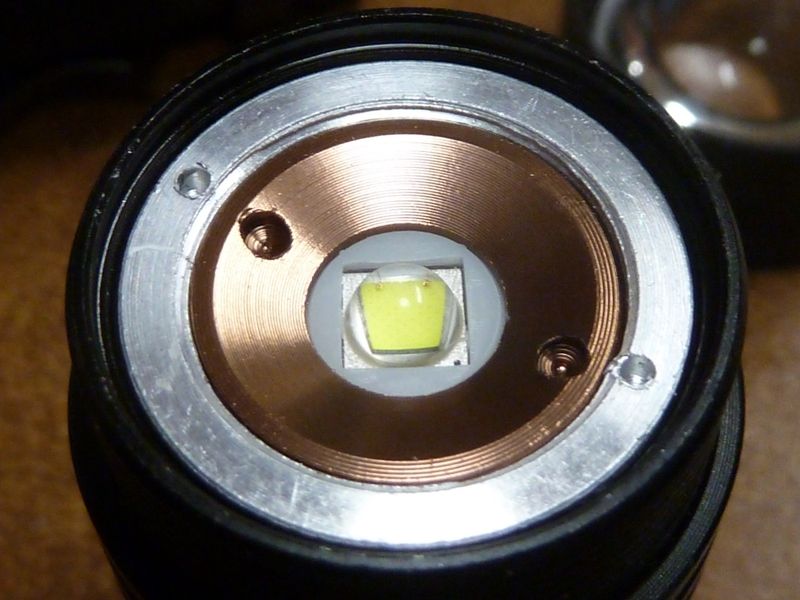 Bottom of driver parts: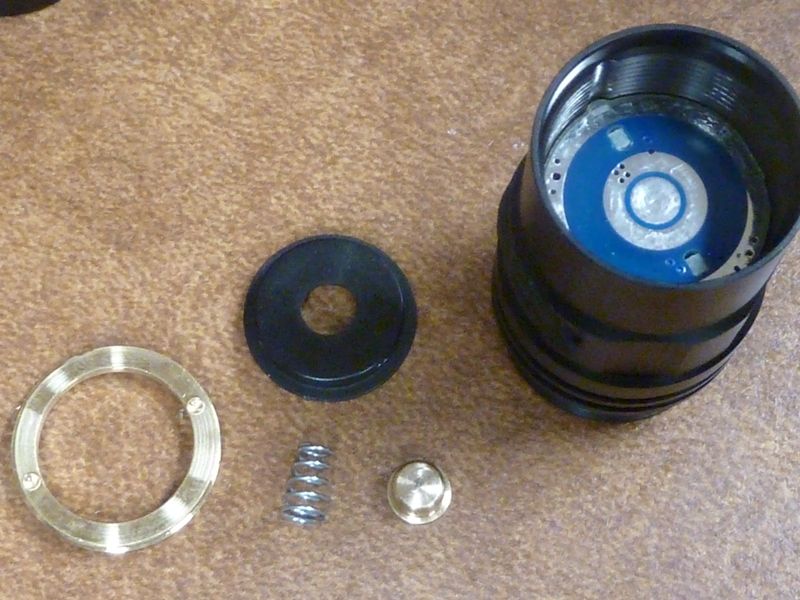 Top parts: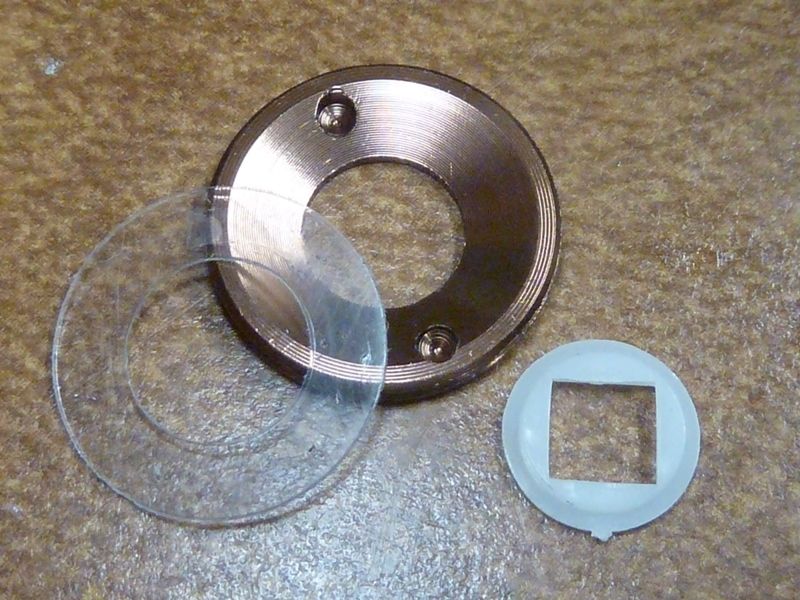 Not much thermal grease, but it's there:
Some not so good news, driver/pill parts: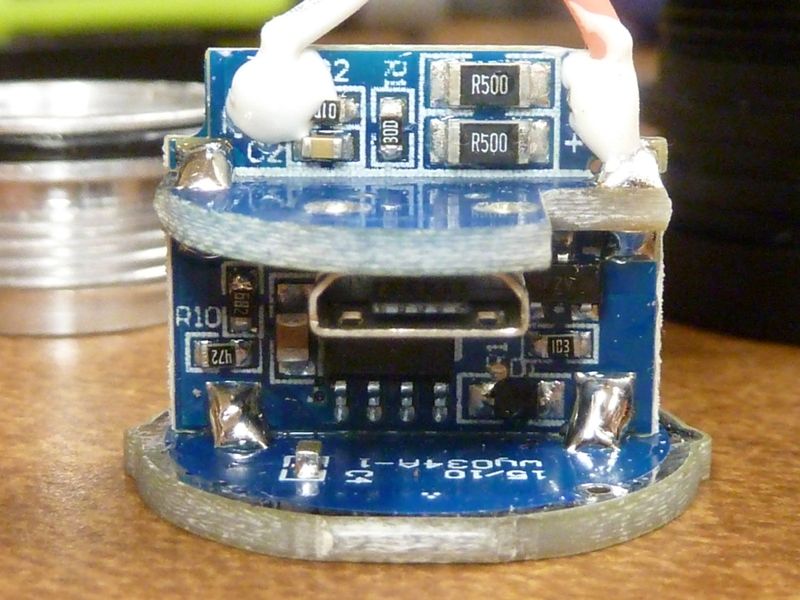 Well, the LED driver and USB charging seem to be combined in one, and the nasty vertical board that the switch and USB port mount on does some serious blocking, preventing a typical driver sandwich mod.
But... There is 6.64 mm vertical clearance above the top edge of the vertical board to possibly fit a 17 mm driver there. Could use the new OSHPark slim boards perhaps to save some space. Now, not sure how to use the USB charging with a LED driver replacement, but might be possible. Could also jumper in wires to take over those nice look'n green and red LED's. They do look awesome lit up behind that translucent/white switch.
Photos not showing
Edit: photos is working now.
Hhmm, they are for me. It's photobucket, I've been using for years. Wonder if it's having some connectivity problems…
I got the latest A8 version. It is very usable flashlight despite the mode spacing. Nothing beats this light at this price range imo.
Where did you get the A8, and what is the A8? I think the A2 is the XM-L2 version, and the A5 is an XP-E version. Should have bought the A5 - cheaper and will be changing the LED anyway.
Isn't the A5 non-zoom and no usb charging?