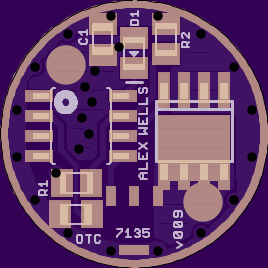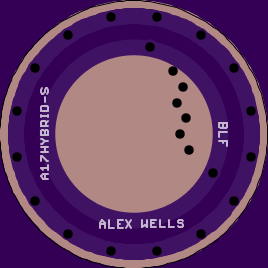 https://oshpark.com/shared_projects/7sNNyipn
v009 changes:
Changed from 18x 0.5mm GND vias to 16x 0.6mm GND vias for spacing reasons.
Pulled GND via circle in a lot. The entire minimum annular ring for each via is now spaced the minimum trace distance from the board edge. This should be fully compliant with OSH Park's design rules.
Swapped out lame LFPAK56 outline. It was nowhere near correct and just wasting all kinds of space. I used a Power-SO8 outline that came with Eagle and filled in the blanks by hand for now. I reduced the amount of solder paste laid down under the tab vs the old outline, somewhat like what NXP actually recommends. I'll fix a real part later.
Tilted the squiggly line of vias at a rakish, dashing angle more fitting with today's styles and trends.
Minor silkscreen changes.
I think what's left to do at this point is pin down a name and then clean up the sloppy silkscreen on the bottom.
Here's a WIP screenshot from v008: