Hugsby XP-12 Review
Reviewer's Rating:
Special thanks to TOMTOP for providing the flashlight for review
SKU:L0028 Mini Flashlight  - (note: aid link is for tracking purposes only, no compensatory affiliation)
Price: ~$6.00
Manufacturer's Features:
Super mini size (only 15.3cm) ,  very convenient to carry and store.
Equipped with high quality CREE XPE R3 LED, dispel darkness around you.
The maximum output brightness is up to 120 lumens.
Only one mode, easy to use.
Uses aircraft-grade aluminum alloy, with a very solid construction.
With wrist strap for easy carry.
Skid-proof, abrasion resistance and waterproof design.
Special reflector design can enhance light output efficiency.
Manufacturer's Specifications:
Item Color: Black
Material: Aluminum alloy
LED Type: CREE XPE R3
Light Color: White
Lumen: 120LM
LED Span:50,000h
Waterproof Level: Daily life waterproof
Battery: 2 * AA battery (Not included)
Item Size: Approx. 15.3 * 1.9cm / 6.0 * 0.7in
Item Weight: Approx. 39g / 1.4oz
Package Size: Approx. 15.6 * 2.5 * 2.5cm / 6.1 * 1.0 * 1.0in
Package Weight: Approx. 48g / 1.7oz
---
Recently, Hugsby flashlights have started to gain a reputation as affordable yet well made alternatives to other budget lights in its class.  These days, AA flashlights are a dime a dozen and it's easy to get lost in the shell game of guessing which budget light will deliver what they really say they can.  Long story short, there's good reason why their reputation has been climbing. 
The light isn't much longer than the two AA batteries which power it.  It's also not much thicker either.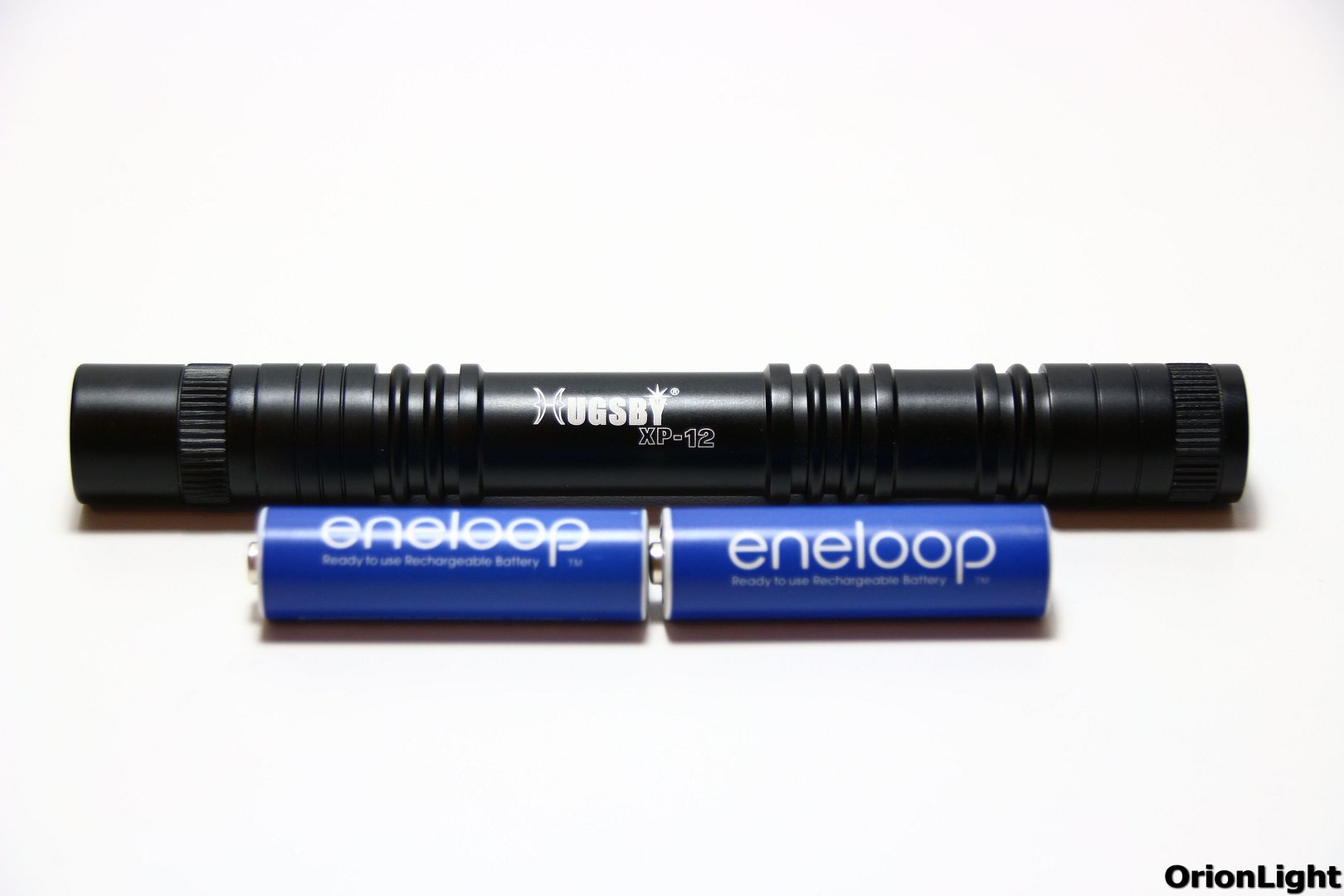 From what I can tell, it has a genuine XP-E insdie.  It also has a very lightly textured orange peel reflector inside.  It's difficult to tell from this picture, but the reflector is actually quite deep, which is why it's able to throw its 120 lumens as far as it does.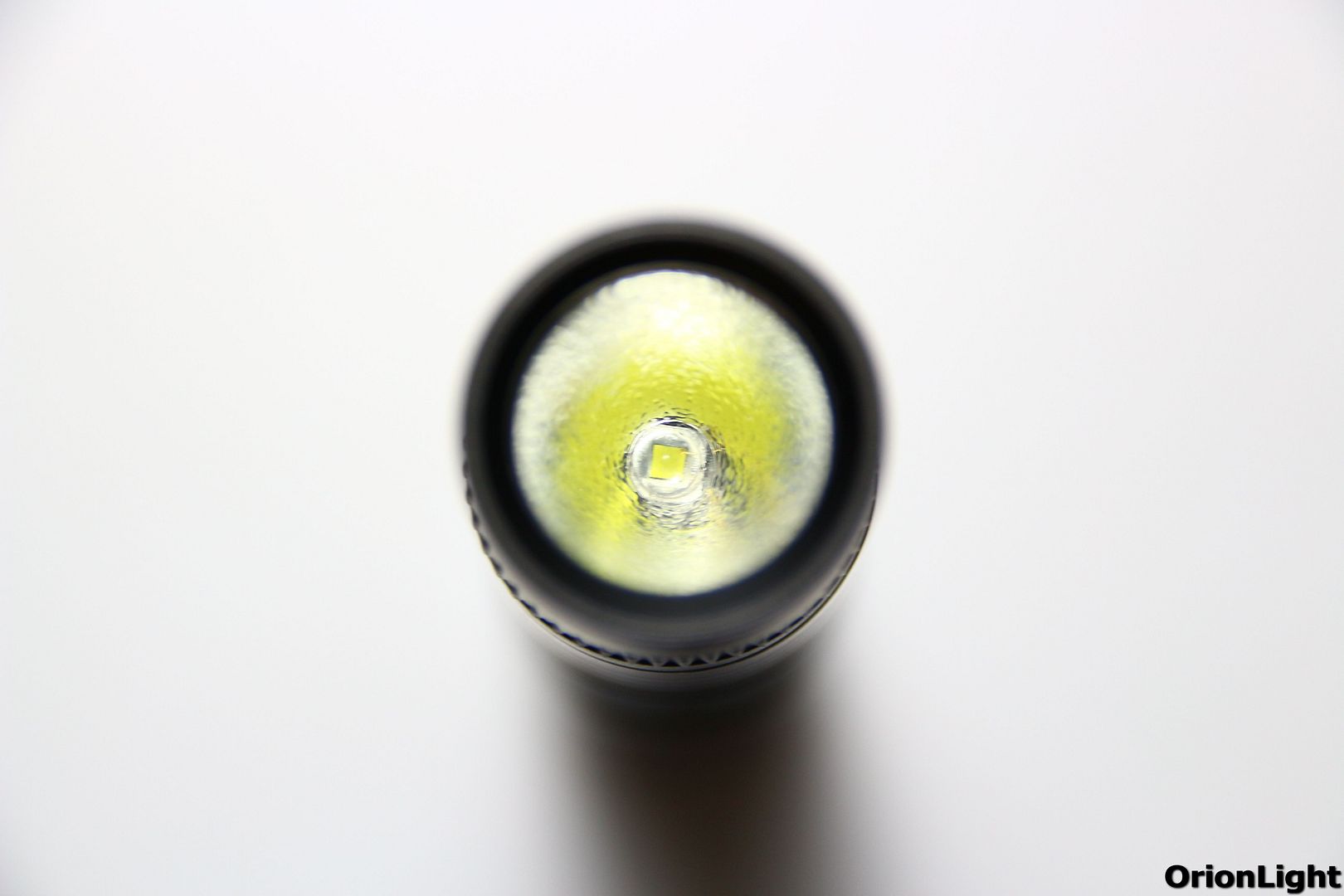 Here's a top view of the tail cap on the left and the head on the right.  The head features a foam right for physical reverse polarity protection.  There also seems to be no retaining ring.  Instead, under the foam, the driver seems to be soldered to the edges.  I had no way of removing the driver, emitter, or reflector from the head.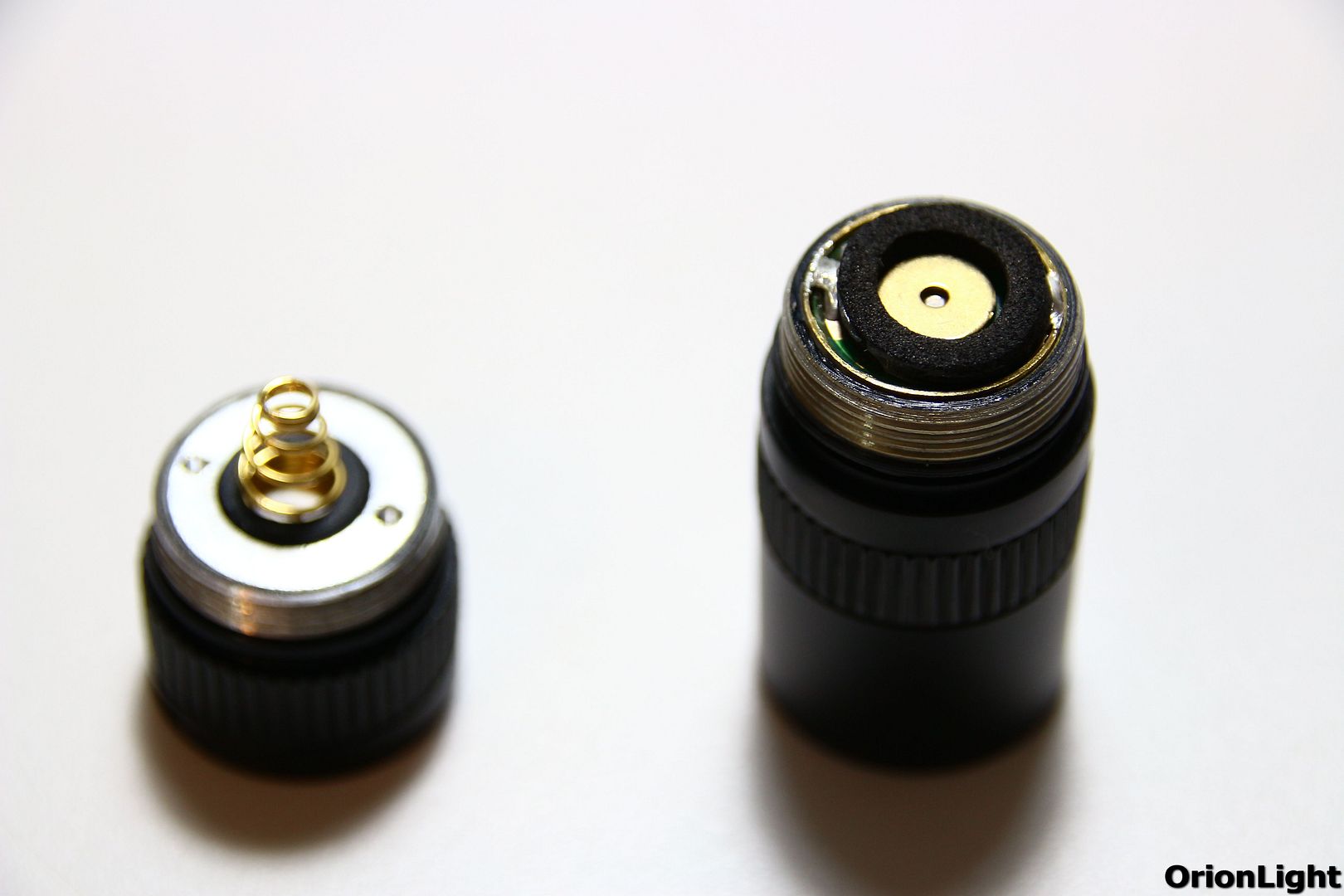 Here's a side view of the threads.  They came a bit dry and gritty, but nothing a clean rag and some lube can't fix.  After that, they turn with ease and the o-rings are perfectly sized to fit nice and snug.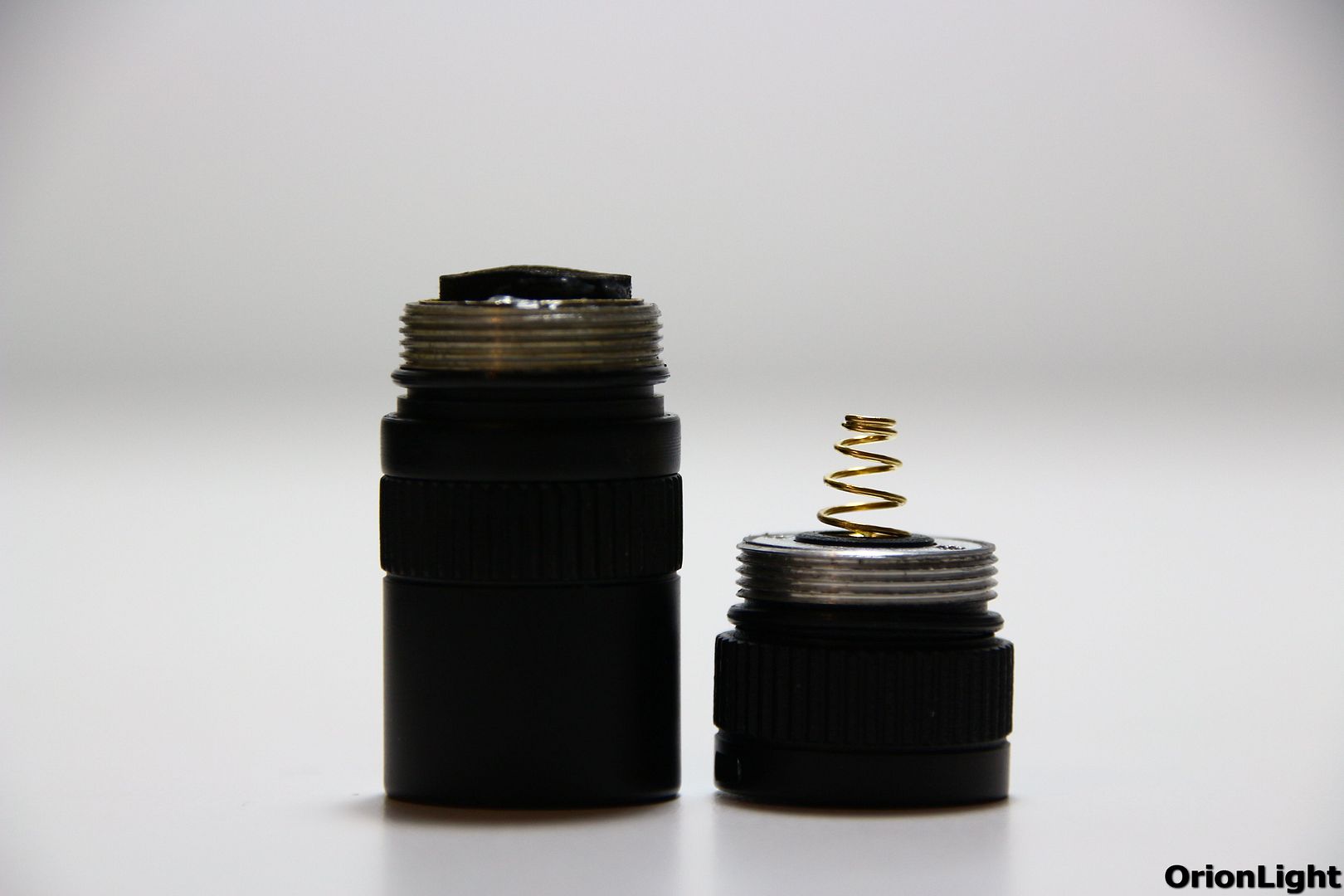 I had a little more luck taking apart the tail cap assembly (after bending a pair of my needle nose pliers.  Boy that retaining ring was screwed on tight!) Simple switch, copper spring and a rubber cover that's stuck inside the tail cap.  The switch is nice and solid. 
Here's a living room beam shot collage of some lights in the same class.  The XP-12 may take 2 AAs compared to the other lights, but the output is about the same on its one mode.  The pictures are taken at 1/3, f4, ISO-100.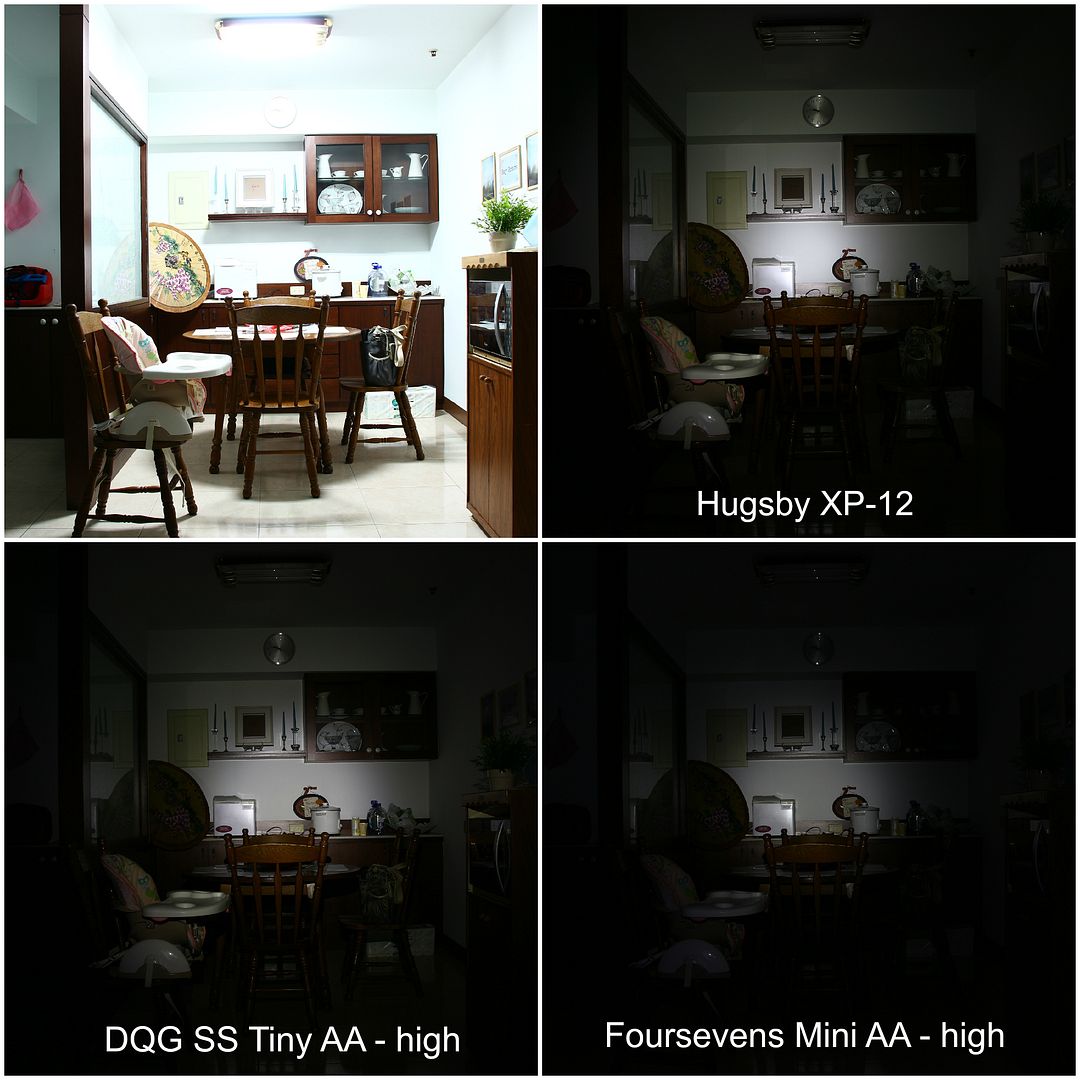 Pros:
Solid build quality
Slim design, making it easy to carry
Good useful output
2*AA on 120 lumens gives great runtime
Deep reflector for great throw
Unbeatable price point for similar lights in this class
One mode only, great gift for non-flashlight enthusiasts
Knurling is simple yet extremely effective and well placed
Cons:
Doesn't seem to be easily moddable
One mode only, less versatility
Takeaway:
At a $6 price point, it's hard not to be recommending this to everyone.  If you're looking for a light to keep in the car, buy this.  If you're looking for a quality gift that won't break the bank, buy this.  If you need a simple light for every day use, buy this.  If you have spare change, buy this. 
If Hugsby lights are all made to this standard and this affordable, I might just start a separate Hugsby collection.  Really.  Buy this light.