Hi folks,
I decided to purchase one of these even though driver output has been reported as low. Since I ordered from Amazon and using my Prime account, got it in 2 days with free shipping today from this link.
LINK REMOVED DUE TO DRIVER DEFECTS.
I did get a low reading at the tail, about 3.38a. However, this started to fall quick to about 2.89a. No way that could be correct with my Trustfire batteries, and heat not affecting it that quickly. So I popped out the driver, and although a different type than my Skyray 9x T6, I immediately found the problem. One resistor, labeled R820, was not in contact and falling off.
I could be wrong here, but I suspect these drivers are assembled by machine due to the extremely small parts, but regardless, I suspect this is a defect with all Trustfire AK-47's. Trustfire doesn't actually make these since they are not on their website, but it's clearly only one company that produces it. I say this because anyone that has reported on tail current, reports they are unusually low.
This wasn't easy to re-solder (especially after having a large Dunkin Donuts coffee) but I made the repair, with the aid of a magnifier, and now tail cap current jumped to 5.75a using 3 × 26650 Trustfire cells. So figuring 80% efficiency, it's up to 5.82w per led. Keep in mind my Skyray 9x T6, which puts out huge amounts of light, is 4.90a at the tail to give an idea how much power this light has.
Below are the photos of the light and a photo of what needs to be repaired.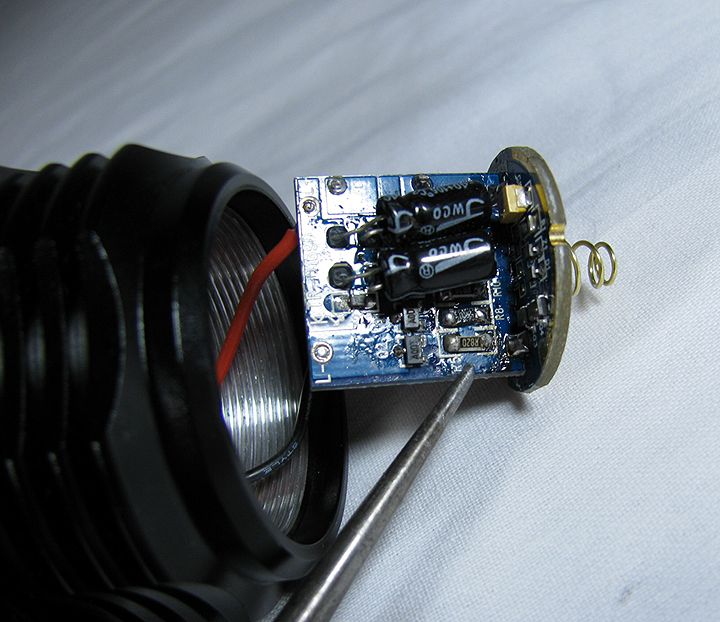 Resistor pointed out and repaired. Initially it was hanging off. Please check your driver
as soon as you can to verify my findings.
UPDATE
Here are photos comparing the beam of the Skyray 9x T6 to the Trustfire AK-47. To my eye while taking the photos, the Trustfire beat the Skyray in brightness and certainly in LUX readings. The Trustfire has a slightly more condensed beam, but likely due to the 9th LED having a full reflector and being centered in the reflector.

AK-47, 3 × 26650 Trustfire 5000mAh cells. 5.74a+ tailcap, Ceiling bounce, 1,500Lux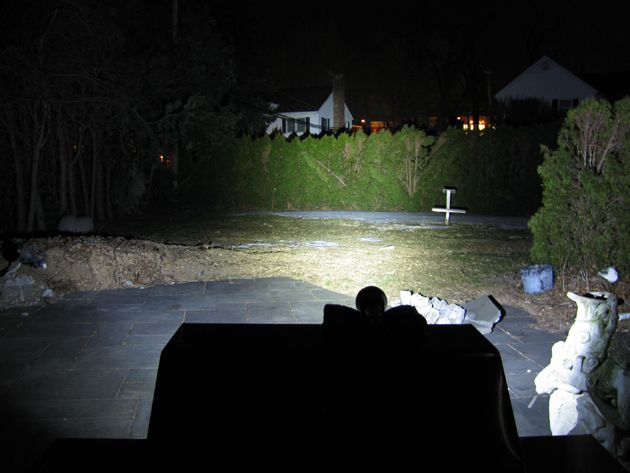 Skyray 9x T6, 3 × 26650 Trustfire 5000mAh cells. 4.90a tailcap, Ceiling bounce, 1330Lux
I've been getting a lot of PM's regarding this AK-47 and some of the differences between it and the Skyray 9x T6. I thought I should post a couple extra photos for reference. It should also be noted a seller on Ebay has an AK-47 for sale, but it has the SkyRay reflector on it. The price is good, but make sure you know what you are purchasing.
Although both lights look similar, the AK-47 is actually a different light from bezel to tail cap. Meaning the external components have been machined in a different style, which I personally like better. The most obvious is the reflector which shows the 9th LED actually has a complete reflector, which aids the beam. It also has a very nice GITD o-ring in front of the lens, which the Skyray does not.
The AK is 607 grams where as the Skyray is 621 grams, this is without batteries installed. The Skyray has a thicker battery tube and larger heat fins, likely where the extra weight comes from. But this doesn't affect performance in any way.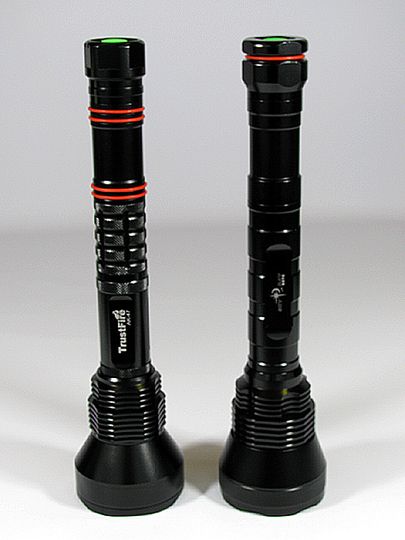 AK-47 left, Skyray right. The AK does not come with the red colored o-rings on the grip. I added those myself on both lights.

AK-47 on left, Skyray on right : A nice clear shot of the reflector differences.
BTW…this is the Ebay seller with an AK-47 but with the Skyray reflector.
http://www.ebay.com/itm/300865490139?ssPageName=STRK:MEWAX:IT&_trksid=p3...
Here are some final beam shots just taken. Camera was on a tripod and settings were as follows: Manual exposure, 1.3 sec, f/2.8, ISO 80. It should be noted the distance for these were 100 feet to the shrubs.
All lights had fully charged batteries, except I popped the SR 9x T6 cells out after the photo and tossed them in the AK-47. Hey, I was trying to give the Skyray a shot at winning
The following lights have been requested to compare to the AK-47.
AK-47 Vs. Skyray KING, DRY NW Turbo, and SkyRay 9x T6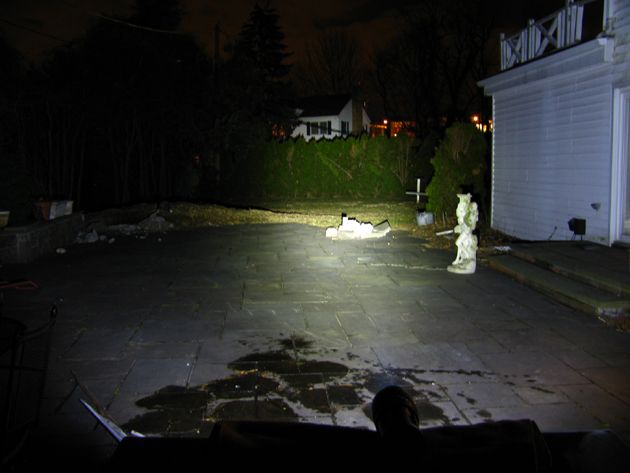 SkyRay KING CW 6.8a tailcap – HIGH Mode

DRY NW Turbo Mode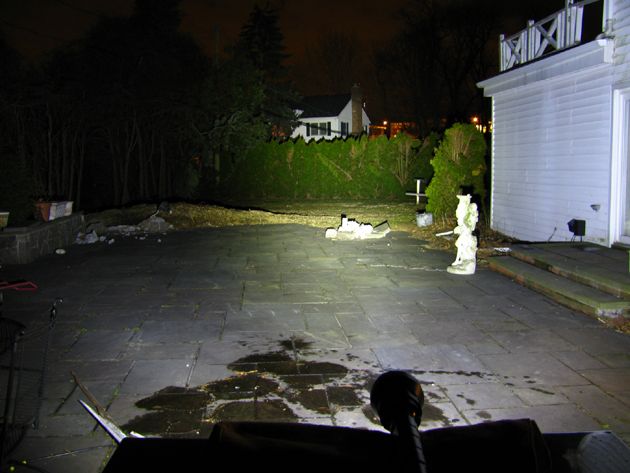 SkyRay 9x T6 HIGH Mode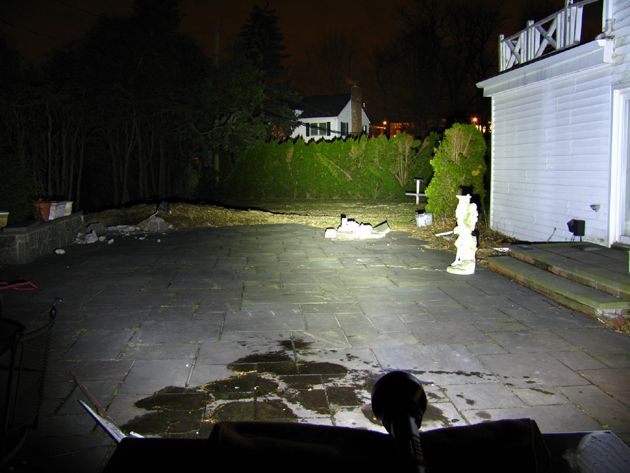 Trustfire AK-47 HIGH Mode