Thrunite sent me the T01 for review. This is their newest aaa flashlight. It is a single mode twist head AAA flashlight that uses the XP-G2 led along with a TIR lens.
Official Website: http://www.thrunite.com (Coupon Code:THRUNITE, 5% OFF For Official Website Only)
Amazon US: http://www.amazon.com/thrunite
Amazon Ca: http://dwz.cn/1eGTT0
Amazon UK: http://amazon.co.uk/shops/A2DUUB2J3TY3×1
Amazon DE: http://amazon.de/shops/A2DUUB2J3TY3×1
Amazon FR: http://amazon.fr/shops/A2DUUB2J3TY3×1
Amazon IT: http://amazon.it/shops/A2DUUB2J3TY3×1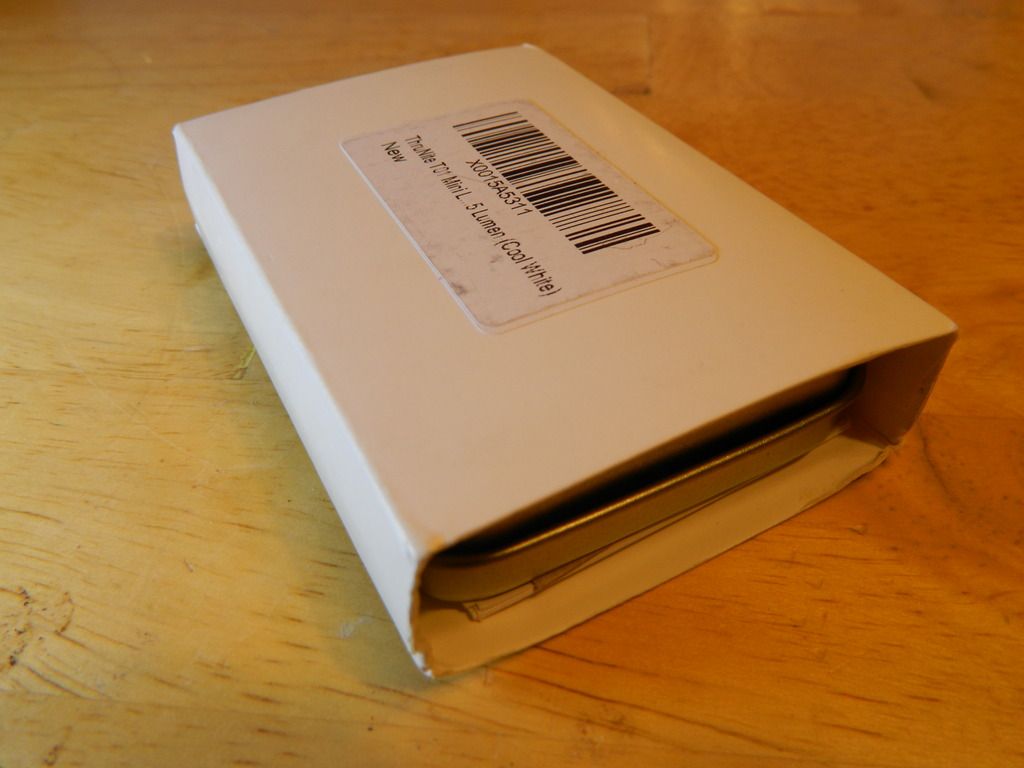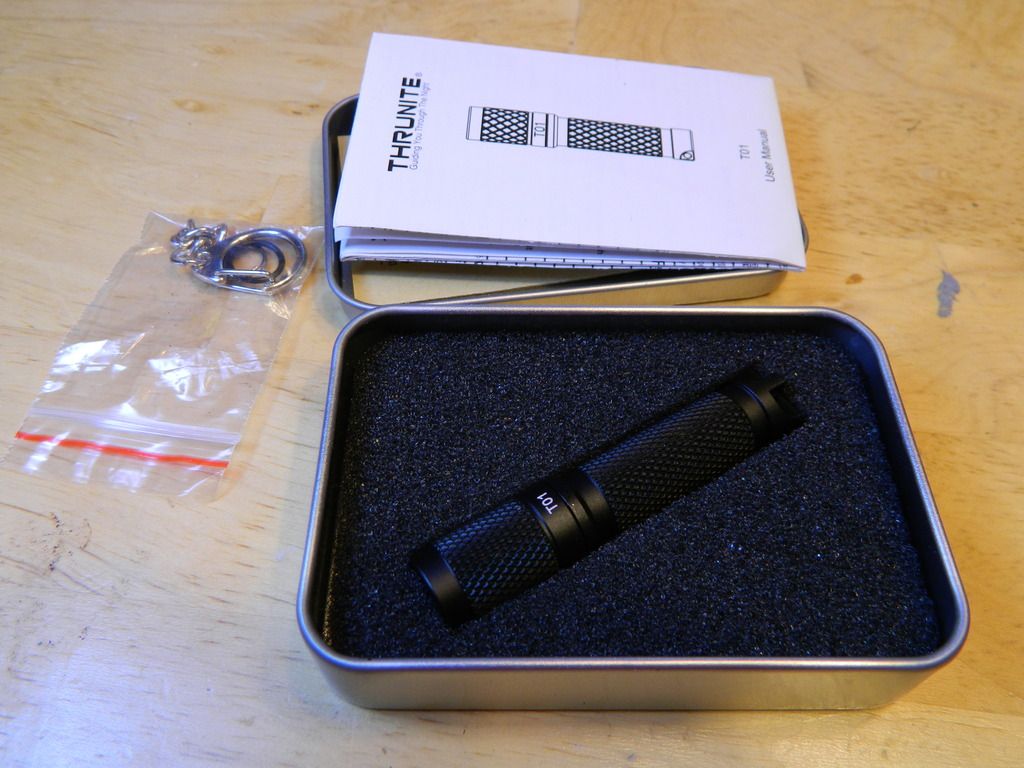 Manufacturers Specs:
⦁ LED: Cree XP-G2 LED
⦁ Battery: 1 AAA battery
⦁ Peak Beam Intensity: 780cd
⦁ Max Beam: 57m
⦁ Lens: TIR Lens
⦁ Input Voltage Range:0.9V-3V
⦁ Reverse polarity protection: No
⦁ Impact resistance:1m
⦁ Dimention: 65.6 mm(length)*14.2mm(head diameter)
⦁ Weight: 9 gram without battery.
⦁ Surface Finish: Premium type III hard-anodized
⦁ Output and run time (1 mode): 125 lm; 40 mins
⦁ Accessories: 1 * O-rings, 1 * keychain ring.
User Interface:
This light is as simple as it comes. Single mode flashlight with a twist head. Just tighten the head to turn it on, loosen the head to turn it off. No special modes… super simple.
Construction: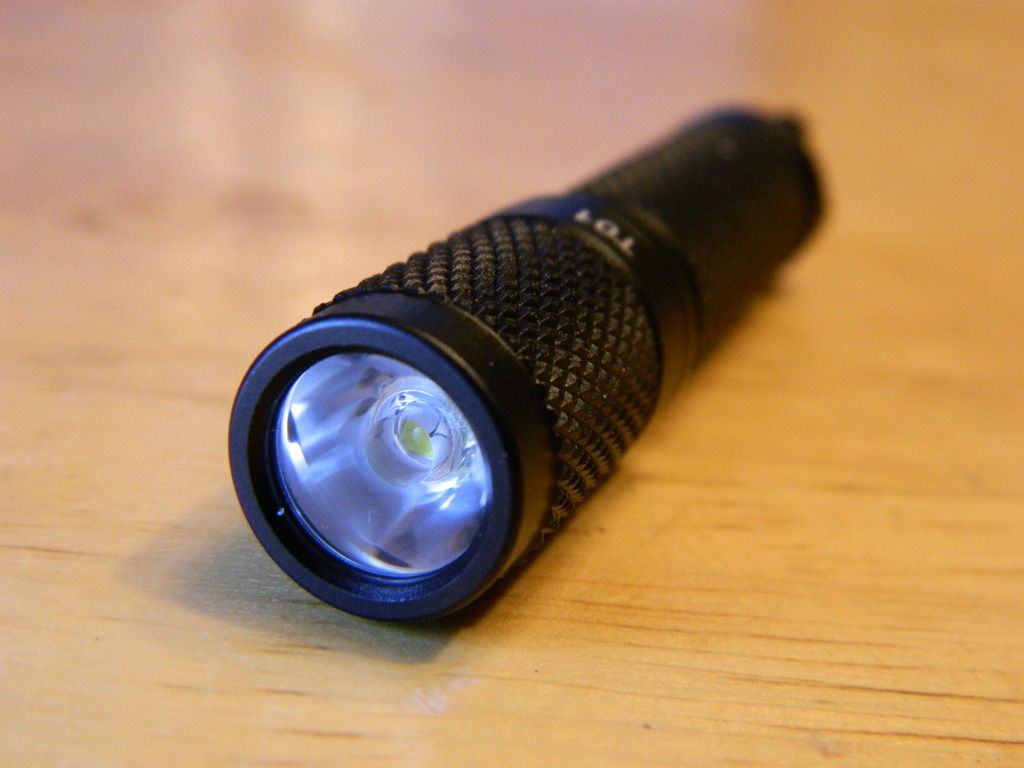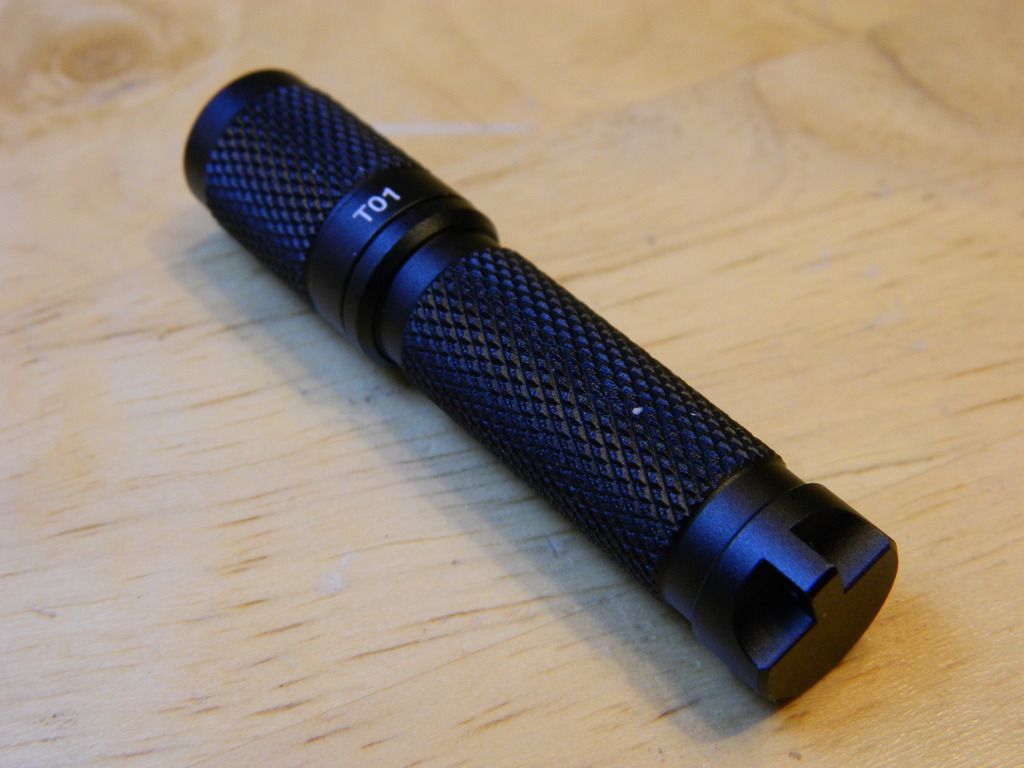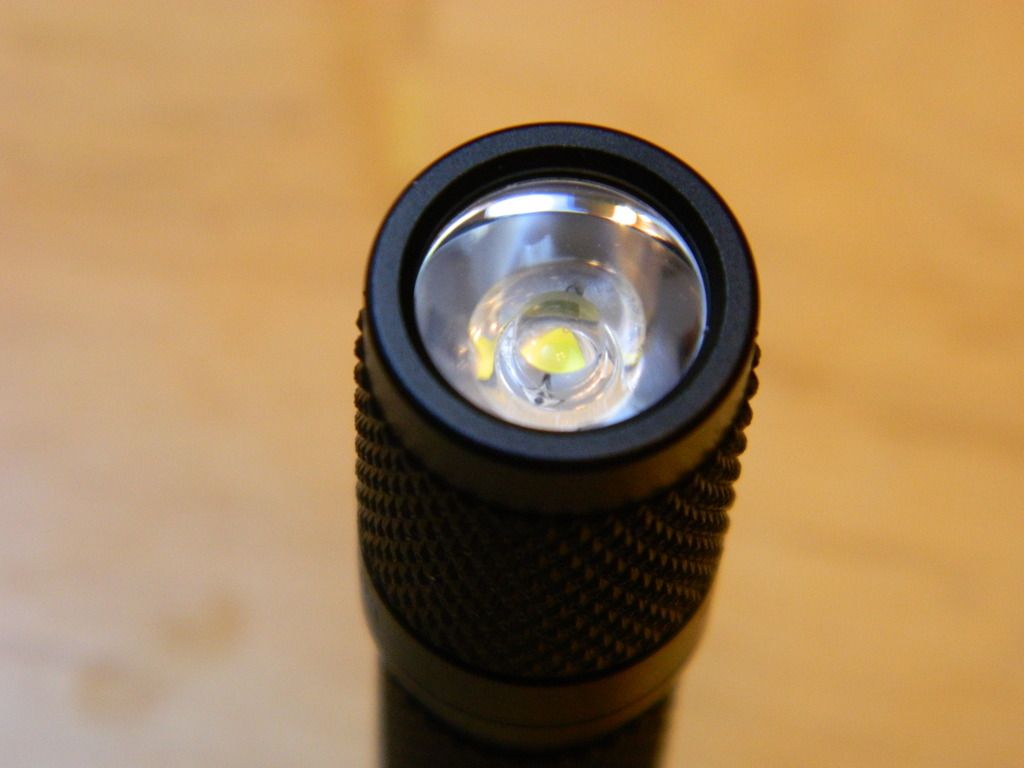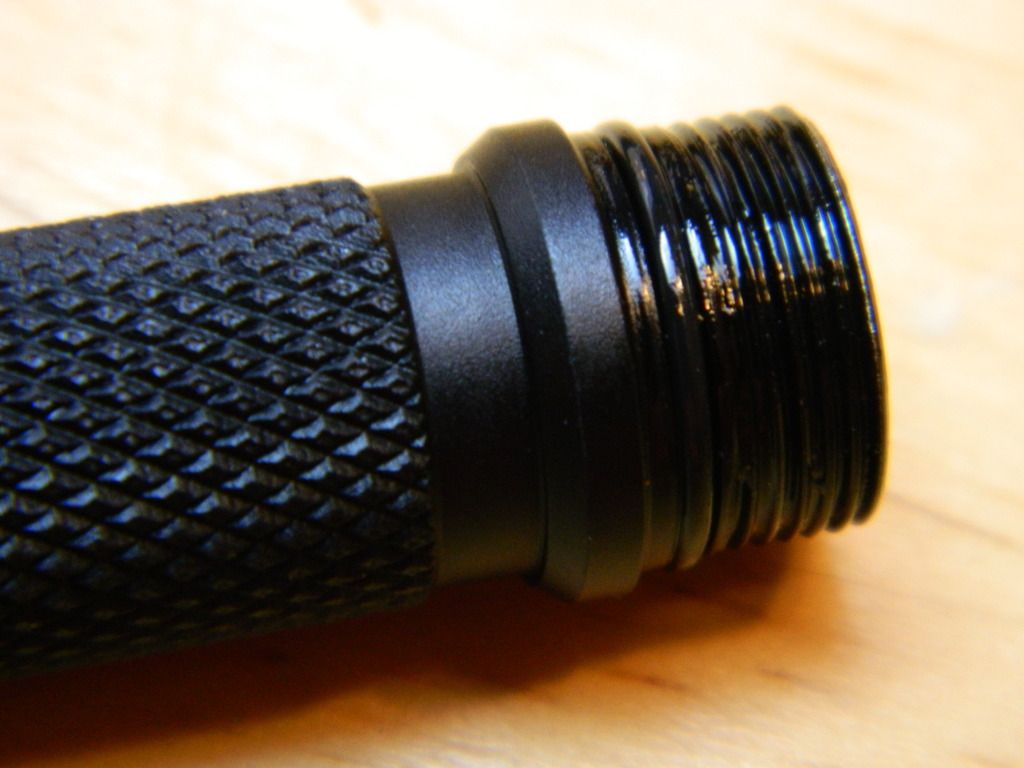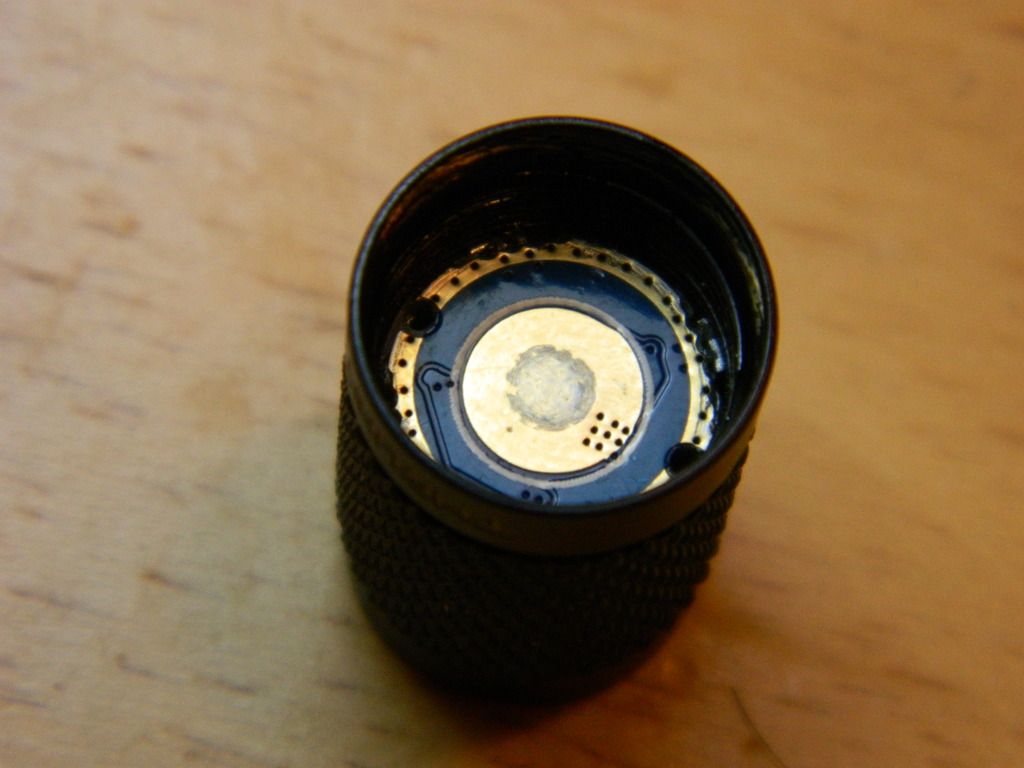 My example came with nice smooth lubricated threads. The O ring was intact and in good shape. The light works terrific with a wide variety of batteries. I tried it with Alkalines, Eneloop Pros, Tenergy Centura's and Amazon basics. No rattle in the light with the batteries at all. It only has springs at the negative terminal of the battery. This light uses a TIR lens along with the XP-G2 which gives it a nice diffuse beam that was pretty clean in my opinion.
Performance:
My ceiling bounce test came up with 154 lumens for Alkaline and 159 with NIMH. I ended up with only about 20 minutes of good light using Alkalines and about 47 minutes with an Eneloop Pro. The light never got too warm and did not notice any flickering or problems while testing.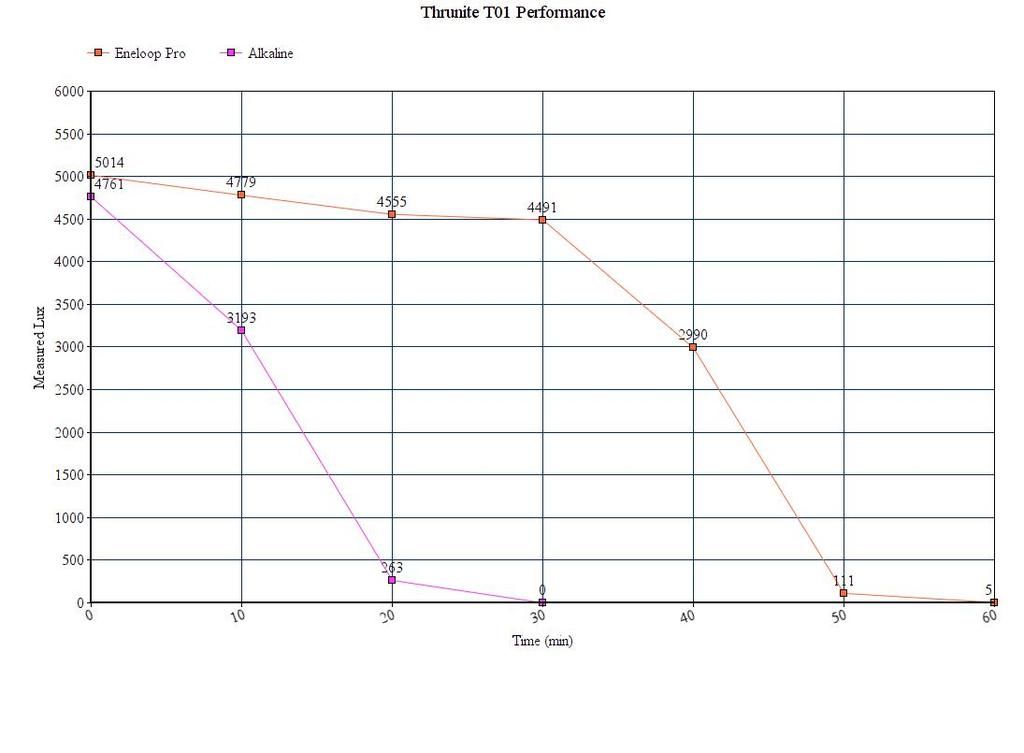 As far as brightness and runtime this falls right into the middle of the pack. Not the best and definitely not the worst. It is actually quite remarkable because this is the cheapest light in the comparison at just $10. It's always very satisfying to me when an inexpensive light outperforms more expensive lights.
Youtube Review:
Beam Shots: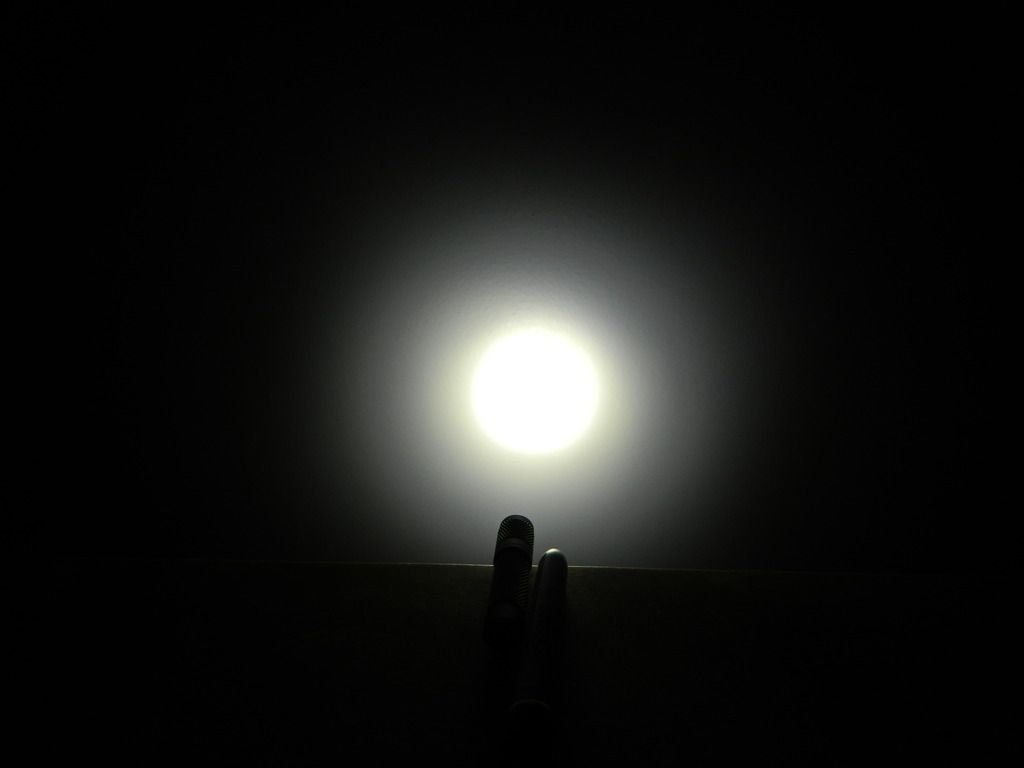 T01 Vs Ti3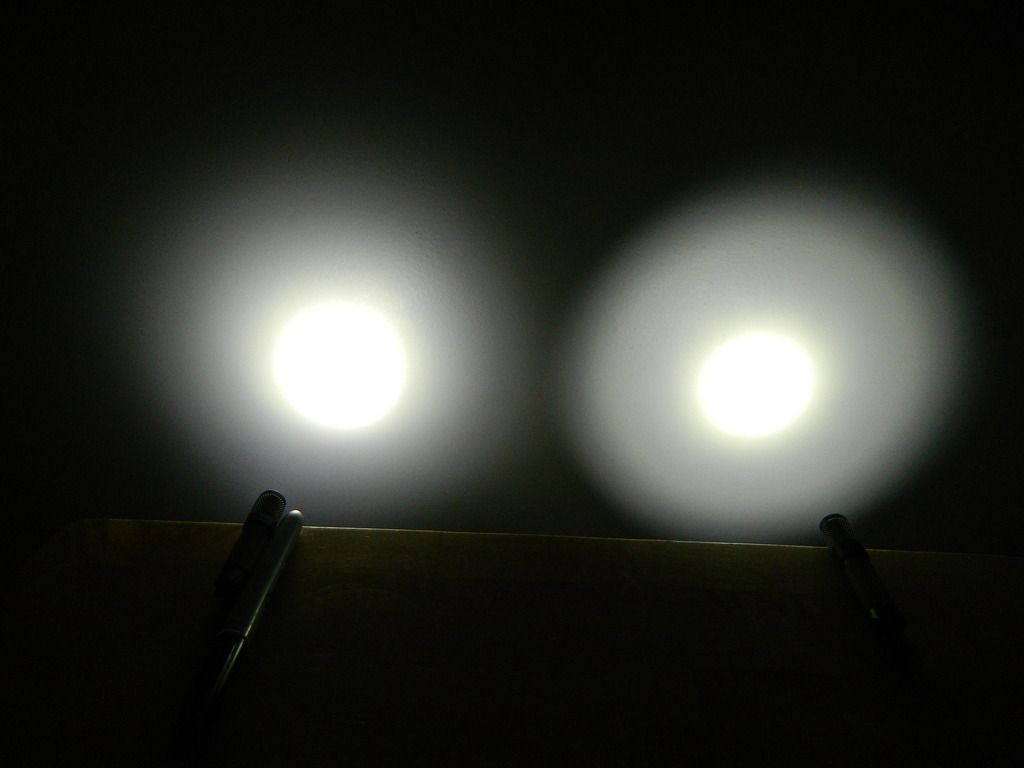 T01 Vs Lumintop Worm

T01 Vs Tank007 PA01

T01 – Worm – PA01 – Ti3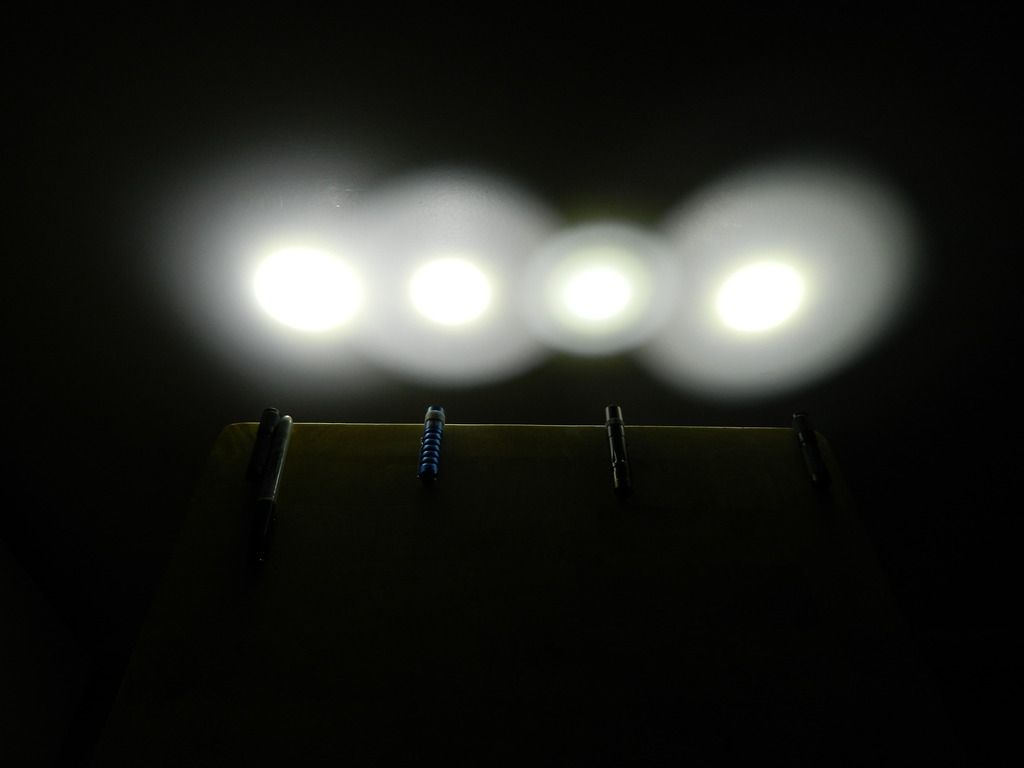 Size Comparison:
t01 – Worm – Pa01 – ti3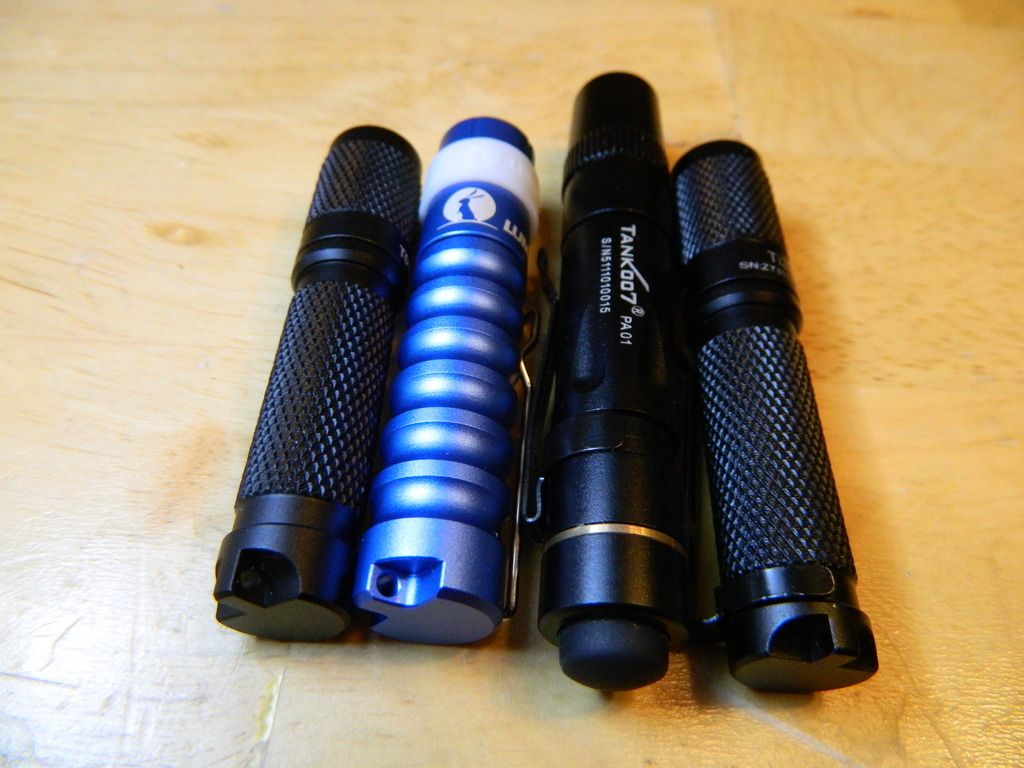 T01 – Ti3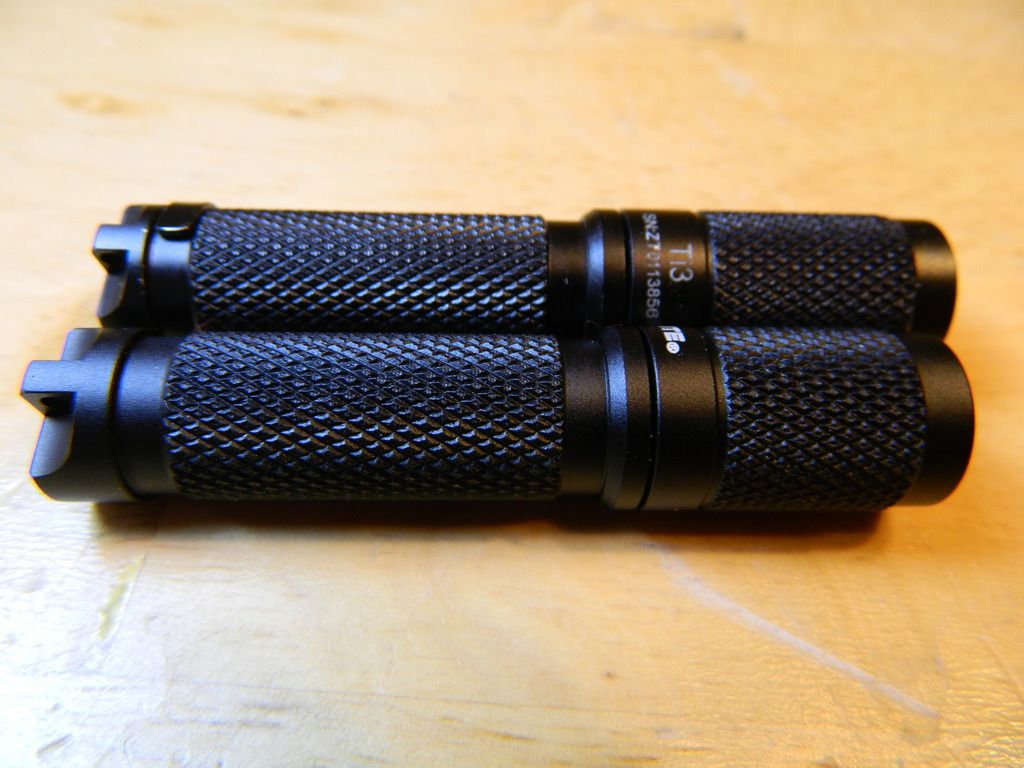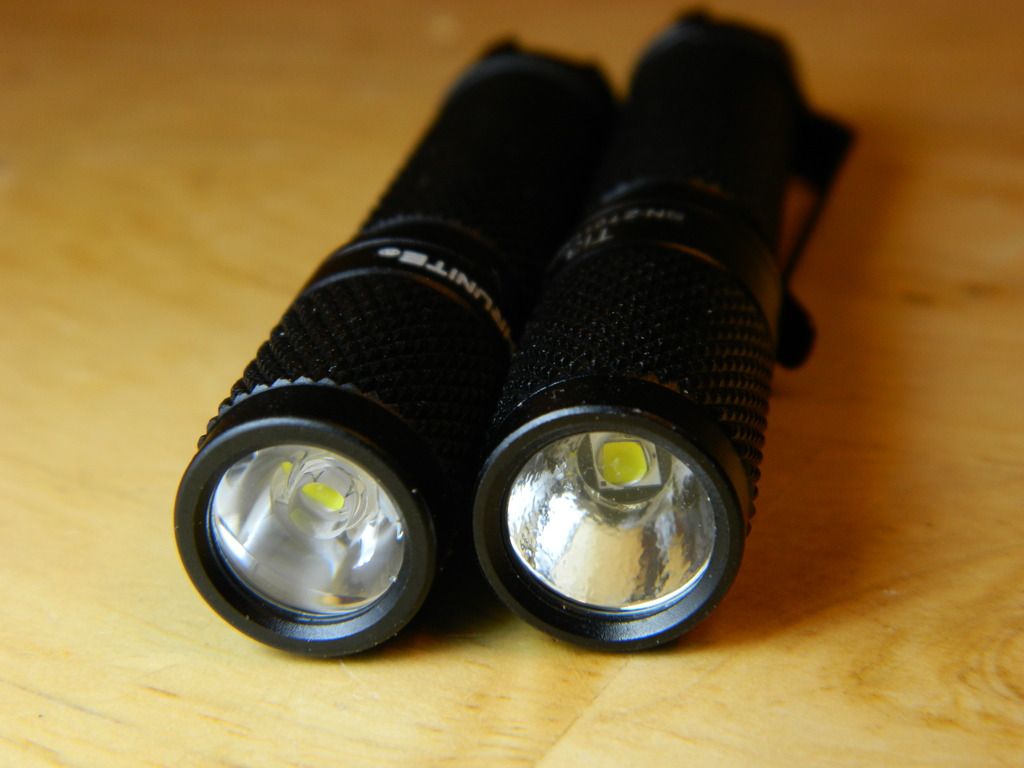 Positives:
For anyone who likes single mode twist head lights this is a great choice. At $10 that definitely sweetens the pot! I think the beam is very attractive and easy on the eyes, especially when you are using it to read. There are no hard lines or edges in the beam, everything blends quite nicely. The threads are good (not great) and everything came lubed and ready to go. It's also super small and light weight. Nice keychain option. It clips very easily to a zipper on your coat or backpack, and also would make a fantastic little backpacking light as you can hang it form the hook at the top of your tent or hammock. It's also small enough to fit in the smaller nook and cranny of your car for emergency use. I also strongly prefer single mode lights for inside of my car. Nothing worse than busting out the strobe when you just need to read an address.
Negatives:
It's a mega bummer that it doesn't come with a pocket clip as I love to shirt-pocket carry lights like this. However, it's not a total loss as you can use the clip from your Ti3 if you have one. It does work in both directions. I'm also not a huge fan of twist heads. I strongly prefer a nice strong reverse clicky. But bear in mind this is just a preference of mine, I know many people who strongly prefer the twisty. I've never found a twisty that can survive in my pocket without turning itself on, or loosening to the point that the head falls right off. I also would have loved to see 10440 support for this, but at $10 I can let that go. I also would have definitely liked to see a stylistic difference between this and the Ti3. At a quick glance it would be tough to tell the two of the apart. The runtime with Alkalines is also a bit of a bummer, and could definitely be a turn off for people who do not use NIMH
conclusion:
One of the biggest complaints I hear from people who read/watch my reviews is that there aren't enough single mode lights out there. This light fills that void for people who want a good light, at a cheap price, that is simple and easy to use. This is a very useful light to me. Paired with an energizer lithium this would make a great little light to stick in the console of my car, or even hang from the rearview mirror. I also find that I use my Ti3 for backpacking alot. I usually end up putting it on the zipper of my backpack. This makes it easy to find whenever I need to get into my pack at night. I imagine the T01 will fill that same purpose, just without the extra modes to switch through. I personally wont carry a twisty for an EDC light, so I don't foresee this being a light I carry daily, but your mileage may vary. Overall I'm very happy with the beam, and found it to be very comfortable to read a book at night with it. Many lights have bright spots that can be tough on the eyes at close range. This beam is diffuse enough that it didn't bother me. If you want a single mode AAA light for $10, I don't know if your going to find anything better aside from the BLF 348