Today I got in a "new" UltraFire SRK - the U-6L2 model in gray w/blue bezel. I was hoping from all the positive comments on it, it was going to be moddable so took a chance and ordered one, though didn't know what I'd do about the switch. I don't have, or ever had, a 6X, so thought I'd try one. I bought and ordered it direct from UltraFire.com, paid their listed price of $38 shipped to US from here: http://www.ultrafire.com - U-6L2, ordered Mar 26th, arrived April 13th. Figured I'd be guaranteed to get the true original UltraFire and not a clone. Wait - I thought Ultrafire was a clone brand? Well, it is many times, but there actually is a true UltraFire brand out there.
Apr 14 Updates: the gray finish and styling is maybe the best I've seen in any SRK clone. I don't know how the anodizing will hold up, but it looks very nice, overall feel with the knurling panels around the body is grippy. There does appear to be a solution for a driver update, using the switch and perhaps one segment of the digital LED display. It seems do-able with Narsil on a 17 or 20 mm driver. It's just too nice of a look'n light not to make a go of it.
Here it's compared with a few other SRK's I have. Recent 12X gold, highly modded Q8 4X prototype #1, the U-6L2, standard SupFire M6, 4X SRK clone w/mods. The U-L62 is longer, but it does have nice machined holes for a lanyard on the tail
Overall clean, no marks, maybe slight grease on thread but not enough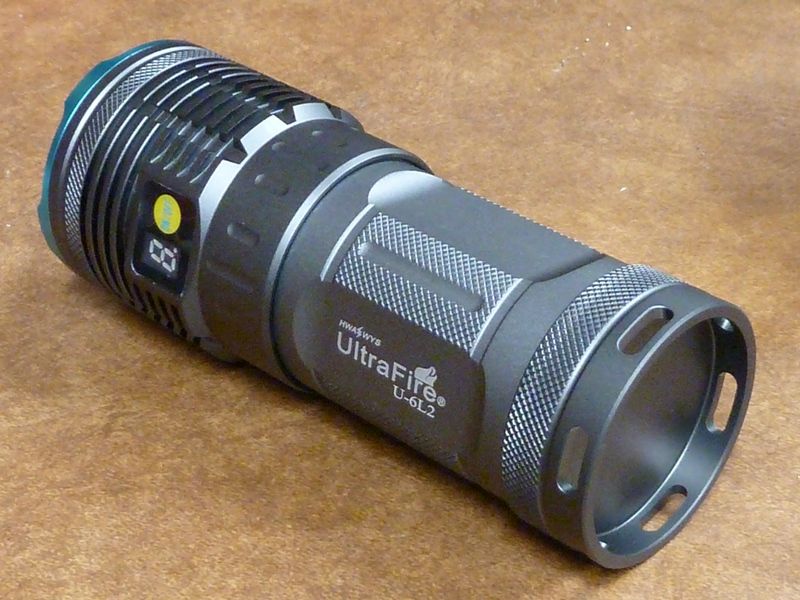 Here you can see an opposite threaded (CW to loosen), 2 thread retainer ring. What are those shavings at the notches? Probably from the battery tube where it tightened down on the ring - rough edges, you can feel the bit of grinding when tightening. It has a slightly raise Batt+ contact ring, maybe bout even level with the low profile retaining ring:
Top view. Raised alignment pieces around the LED's - might be blocking some output:
For the display, an "H" for Hi, "E" for mEdium, "L" for Low shows momentarily, then battery level is shown. Digit display showing battery level, 9 for full, 5 for reading of 3.4V, 3 simple modesin order of hi, med, lo and lo isn't that low. You must click through all levels to turn the light OFF. Press&hold will start the slowest strobe I've ever seen, or maybe it's a fast beacon? Dbl click doesn't do anything accept act as 2 single clicks: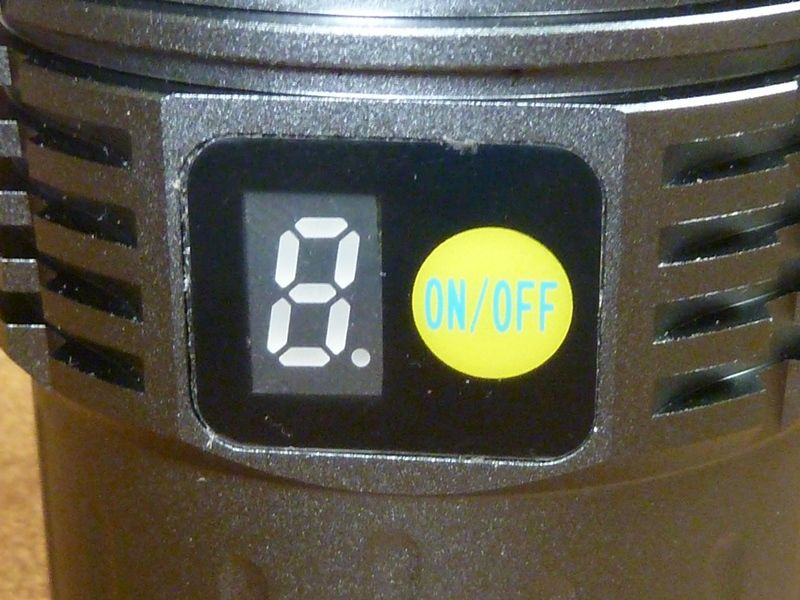 Cover for the power connector for AC charging. No USB charging. Internally, this socket is wired direct to Batt+ and Batt-, so if a true Li-Ion charging algorithm is implemented, it would have to be in the wall pack:
Showing access to the pill:
Driver views: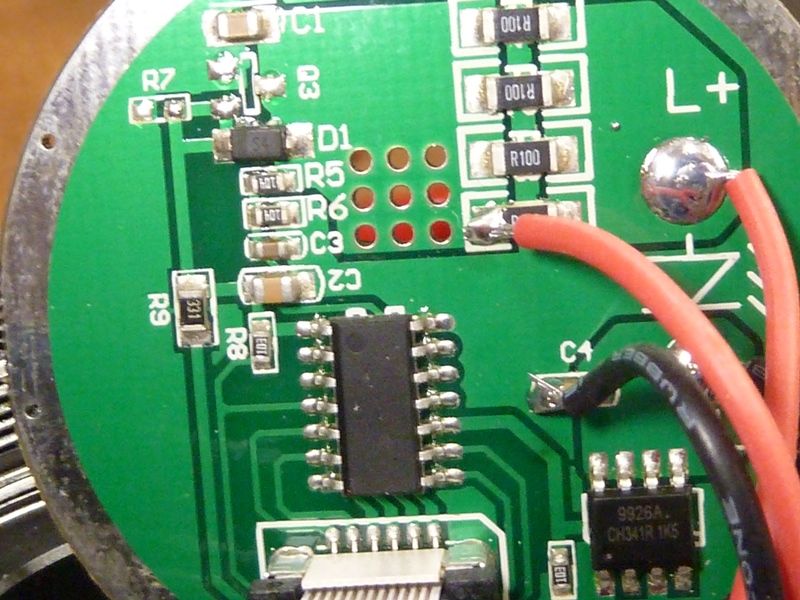 A view form the top with the LED board hanging out:
Not shown in a pic yet, there is only one screw securing the MCPCB to the reflector, and it's not centered - just one side.
Some modding bad news challenges here:
for driver replacement, how do I get control of the e-switch button with a custom 12 wire super thin ribbon cable? Well, can tap into the 12 pin ribbon connector, or traces coming out of the connector for an e-switch signal, and possible use of 1 segment of the 7 segment display.
there's no shelf. Thought it was mentioned these lights had a shelf - can't find the post now. Combine this with a thin LED board (1.93 mm thick), a super thin glass lens (1.32 mm), flat bottom reflector (makes it difficult to use regular 16 mm DTP MCPCB's), and there's not much room, height wise, to add in a shelf of any substance, if at all.
Some initial measurements:
On four SANYO GA's at 4.20V:
3,400 lumens @start, 2,825 @30 secs
24 kcd @5m (310 meters)
This is pretty decent output, in very CW of course. It's pretty warm at 30 seconds, and a 575 lumens drop, 16.9%, in 30 seconds is pretty significant, though could be expected for a thin aluminum MCPCB with no thermal grease, no shelf, assuming it's not DTP as usual. Maybe on Samsunq 30Q's it would do better, but the extra amps would produce even more heat, so the output drop would probably be steeper.
I'd love to send a somewhat direct email to that email address printed on the MCPCB, expressing my disappoints with this light, but I'm sure I'll get nothing more than a polite response, saying we are sorry, and what is your question?
Main purpose of starting a thread on this light is to have some relevant source of information on these lights for those considering buying one, and also get more feedback from those that have them. I'm not sure - maybe the 6X versions are worse than the 4X ones, or maybe earlier models were done better. I'd have to admit the switch problem was totally on me - I was taking the gamble it could be worked out fairly easy, but I thought I was buying a quality made SRK clone that had a shelf for the MCPCB.
I suppose comparing to other SRK clones out there in stock form, this one does pretty good for output. For example, the 12X gold one I bought in Jan 2017 did 2,700 @start, 2,210 @30 secs. Lower output and slightly higher percent drop in 30 secs: 18.1%. There are some merits to this UltraFire light.
The light comes in a plain brown box with no markings, and not even a manual. It does have a card though with some coupon codes that expired in 2016... I guess CE approval is out of the question
. Hhmm.
Theoretically, it could be bumped up a bit in output by either or all:
replace LED wires with thicker ones (stock are about 26 AWG or so)
resistor mods (bank of 4 R100's shown)
bypasses on springs
highly recommend at least some thermal grease for the ledge the LED board sits on
---
More detailed pictures:
Backside of switch/digit display assembly:
A/C charger connection: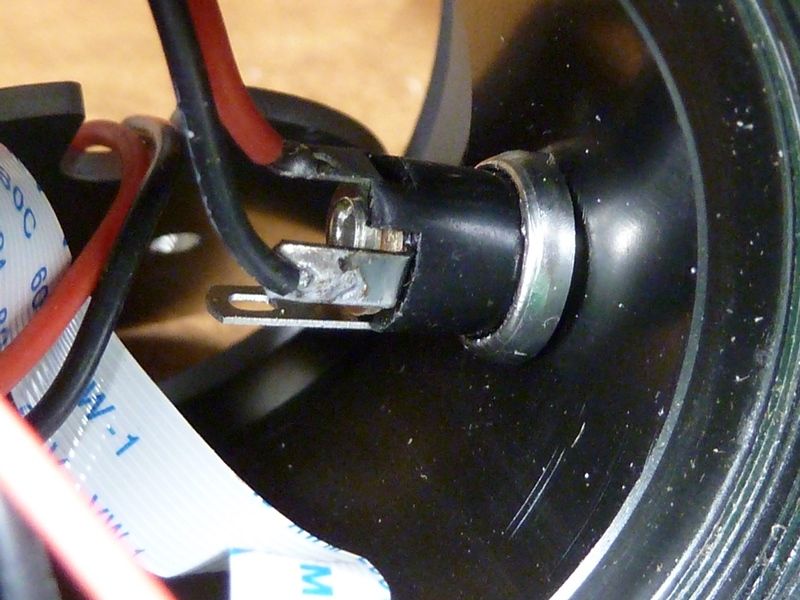 Not quite square threads, but not too pointy either. Anodized so no conductance. Can do a mechanical lockout:
Shows the thin lens: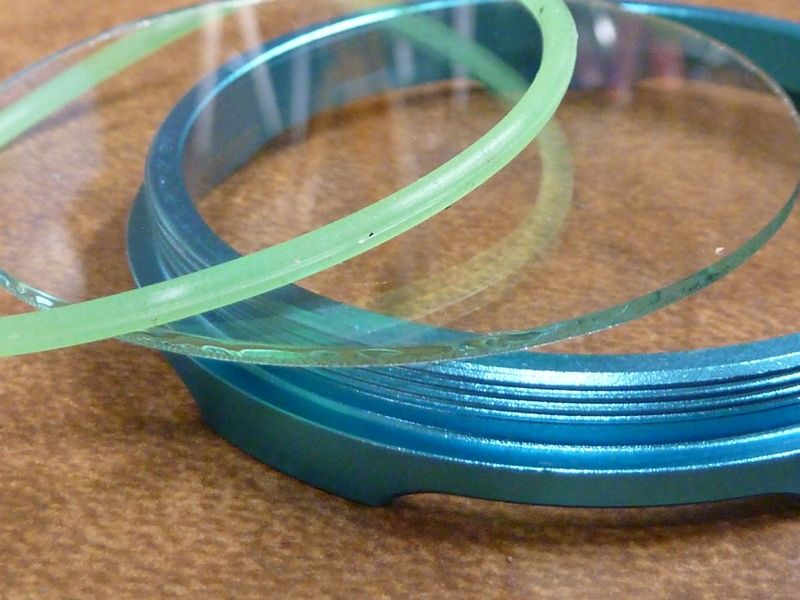 Under the tail cap, pretty normal: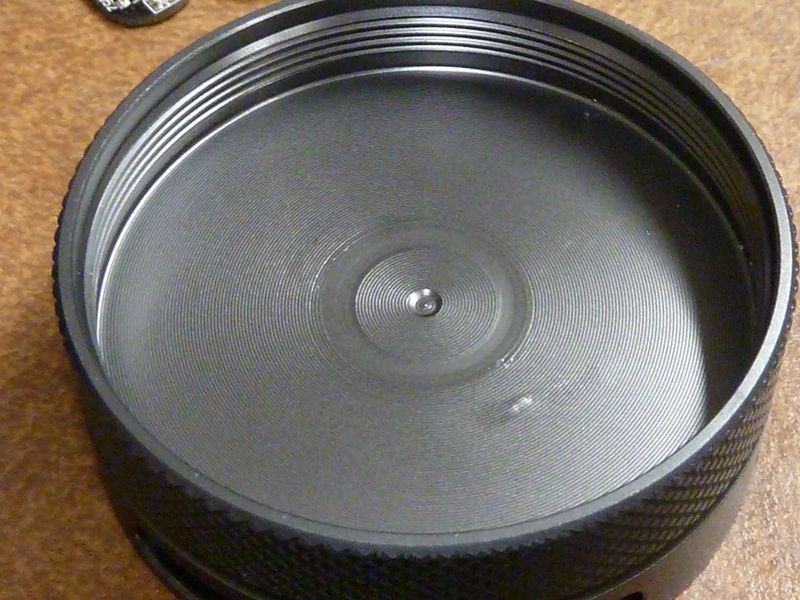 Fairly thick LED alignment pieces, little thicker than a SinkPAD:
---
Availability