Hi everyone this is the review for the new Olight H2R rechargeable series headlamp.
The H2R is the bigger, brighter, 18650 based version of the popular H1R. It was designed as a consumer oriented headlamp with USB charging capability and comes with a all-new magnetic headband. In this review I will also compare it with its closest rival, the Armytek wizard V3 pro.
Manufacturer specs for the H2R:
LED: Cree XHP-50
Max output: 2,300 ANSI lumens, 5,850cd throw (153M)
Battery (included): Customized 3,000mAh 18650
Beam Type: TIR lens, wide hotspot
Resistance rating: IP68
Unboxing
I wanted to add some creativity to the unboxing this time! Wait for the Gif to load, it's a heavy stop-motion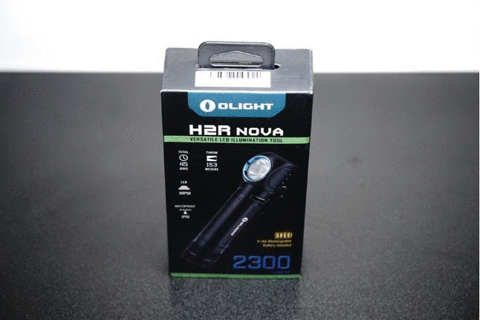 And normal pictures as well:
Front and back of the box

The side of the box indicated the tint.

The inner box, a more premium packaging from Olight this time.

Box contents: H2R, pocket clip, 18650, USB charge cable, foam pieces for the tailcap, user manual.

Manual

.
.
.
The headlamp
The build quality is excellent on par with all Olight products and comes with a deep carry pocket clip.

Very smooth and even anodizing all around.

Olight signature blue bezel

Hexagonal type TIR optic, no glass in front of it. You can see slight difference between tints.

The switch is flat with the head and not likely to be accidentally activated. Good response and nearly silent. There is an indentation in my unit, but Olight says is caused by the box and will be fixed on the production version.

Tailcap with the magnetic charging system, with a "DO NOT SHORT" message… I wonder what happens if I do? More on this later. This magnet also allows it to stick to any metal surface.

One hand use

Size and weight comparison with other headlamps:
Skilhunt H03: 43.8gr
Olight H2R: 62.8gr
Armytek Wizard pro v3: 61.2gr

The new magnetic headlamp design

It has a hard plastic base and a silicone band that holds the headlamp

The base has a curved back
The magnet is strong enough to keep it from falling without the silicone band

Headband comparison, the Olight band is a bit heavier, not a cause of huge discomfort but time will tell.

.
.
.
USB Charging
The H2R comes with the popular magnetic USB charging system that is found in many past models.

However it also works with the Microdock III, but charge time remains the same.

Charging with the USB cable

Charging with the microdock, not much of a difference.

Notes:
-The USB charge system takes 5V 0.77A, will fully charge the bundled 18650 battery in 4hr 30min, requiring 16Wh of energy.
-The light in the magnetic connector turns green after fully charged
.
.
.
Bundled Olight 3,000mAh 18650 battery
This is a custom cell made by Olight and can handle the high current draw of the H2R. Capacity test done with the SkyRC MC3000 shows 2,933mAh capacity down to 2.75V at 1A discharge rate. This is more capacity than my 30Q and HG2, and on par with the Sony VTC6.

Possible dangers of exposed live contacts: there is a on-going discussion about the battery non being protected, and with the charging points on the back being direct contacts it could be disastrous in a shorting situation. Let me explain, technically the battery is protected, directly shorting the charging contacts on the tailcap or on the battery will result in a spark, but then instantaneously the battery then will enter a protection mode where it would supply a limited current of 0.30A, this protection lasts a couple seconds after the "load" is disconnected.
Here I'm shorting the charging points with the disposable DMM on 10A setting and 18AWG leads. The DMM somehow managed to survive after several tests and the protection triggers so quickly I couldn't get a reading. The leads in this picture are reversed I know, but the result is the same.

This protection does prevent something catastrophic from happening if the charging points were directly shorted, but won't prevent unwanted self discharge when a smaller load is present due to live contacts to the battery.
Luckily, the solution to this dilemma is cheap and easy: insulate your -ve charging contact on the battery using 18650 insulator stickers. They are cheap enough to discard after few uses.
https://www.imrbatteries.com/18650-flat-top-battery-terminal-insulators-...
https://www.fasttech.com/products/0/10033033/7236500-18650-battery-insul...

The battery has LVP, discharging it down to 2.5V showed "battery disconnect" in the MC3000, requiring a jump start from another charger.
.
.
.
Beamshots and UI
The H2R uses the typical Olight UI
-When on: hold to change modes, single click to off. It cycles thru low-mid-high-turbo. Double click goes to turbo.
-When off: single click goes to last used mode, hold for moon and double click for turbo.
Hidden strobe mode is activated with 3 clicks in any state.
-Triple click enables SOS mode
.
.
.
Outdoor beamshots:
Settings:
f/4
1Sec
ISO400
Fixed WB
The sign on the grass is about ~50m, the house on the background is about ~100m. Low and medium modes are not very useful for outdoor. But turbo is just crazy bright for a headlamp.
Control

CW: Low

CW: Med

CW: High

CW: Turbo

CW GIF


.
.
.
NW: Low

NW: Med

NW: High

NW: Turbo

NW GIF


.
.
.
Armytek Wizard Pro v3 CW: Turbo

H2R vs Armytek: here you can see that the H2R is both brighter and throws further than the Wizard Pro v3.

Zoomed view: It is amazing how a flooder manages to reach the house on the background, which is about 100M

.
.
.
Indoor beamshots
Settings:
~5M distance
f/4
1/3 Sec
ISO250
Fixed WB
Control

CW Low

CW Med

CW High

CW Turbo

Armytek Turbo


.
.
.
NW Low

NW Med

NW High

NW Turbo


.
.
.
Overall the H2R produces an excellent beam with uniform flood and great reach. Both of my units have nice tints without any sign of yellow/green, the NW version is extremely pleasing to the eyes and offers better color rendition than the CW both indoor and outdoor.
.
.
.
Runtime
With external cooling:
1. Heavy fan cooling: ambient 28C temp with a fan on high setting
2. Light fan cooling: same as above with fan on low setting
3. A/C cooling: placed in front of the A/C gradually cooling from 28C to 22C, here you can see how it steps down less after each turbo run, this is because the temperature was gradually dropping.
Looking at the behavior, I assume the H2R tries to jump back into turbo when the temp is low enough, and then will drop to a level that it will sustain. Due to the short and extreme brightness boost, this is not a very subtle thermal regulation but it works.
The ideal output would be the light fan cooling, where it can sustain close to 1,000 lumens for 1 hour. I think this is the sort of cooling we can achieve when using outdoors.
Non-cooled
The runtime on turbo drops to a tad brighter than high after the first minute and is maintained flat until battery depletion. Making the runtime on high very similar.

Medium

Turbo vs medium, again fully flat regulation at ~150lm

Using a Samsung 30Q does not perform better than the Olight cell

Olight cell offers a bit more runtime

Notes
-Thermal regulation works, but in my opinion the boosting back to 2,300lm from ~750lm is too severe, I would've prefer a more subtle raise.
-Output on every other mode is fully regulated and flat until battery depletion.
-At the end of the test the battery was measures at 2.9V
-The turbo runtime is listed at 1.5min, but I got 1min tops before the output started dropping. Not a bad thing though, as the light gets extremely hot even after only 15 seconds.
Without an external cooling element, there doesn't seem to be active temperature regulation in the H2R, once the output on turbo drops it stays there, but can be activated anytime again for any temporary output boost. Will test again with proper cooling
.
.
.
Final words:
Olight exceeded my expectations with the H2R… With impressive output and familiar interface I must say this is now my new favorite headlamp. There are points that can be improved but overall I would give my thumbs up for anyone looking for an extremely bright, easy to use headlamp that out-performs the competition.
What I liked:
-Excellent beam, output and tint
-Great build quality
-Deep pocket clip serves as an EDC light, not only as a headlamp.
-New headband design looks promising, I hope it holds up in the long run.
-Comes ready to use, even for the non-flashlight oriented.
What can be improved:
-Some sort of internal protection against shorting on the charging contacts, even for small loads.
-Thermal regulation could be more smoothly.
- Would like to see a high CRI version
Thanks for reading and I hope you've found it useful.