Hello BLF,
Hope everyone has been well!
I've been extremely busy for the past couple of months, and recently needed to travel a lot. I had some time during transit so I thought I'd write a little about a simple project which I had worked on at the start of this year. I figured it might be interesting to some folks here.


GXF22 Driver
Introducing a new series of drivers, starting with the GXF22 driver.
In the world of non-switching drivers, there only exists DD FET drivers with an array of 7135 ICs, or transistor based linear CC drivers (like the ones made by LED4power), but not both. I'm not sure why there hasn't been one like this, so I thought I'd make one.
Right now it comes in 22mm diameter, with the candidate host being an Emisar D4. I'll begin this thread with a quick summary and hope to add more details soon. Like my previous project, the GXB172 and it's variants, this one is also a little ridiculous (i.e. not practical?), but hopefully, interesting. It's a little bit simpler though! Like my previous projects, I'll be open sourcing them once they're mostly stable in development. 
The standard Emisar D4 is a very well regarded flashlight, but it comes standard with a direct drive FET driver, and includes a single constant-current 7135 IC for the lower modes. Brightness levels are all handled via PWM. Among many reasons, I've always found this to be non-ideal, especially having a FET DD, which is simply unregulated.
So I thought that it would be nice to have a simple, reliable, regulated non-pwm driver, which is the main reason for developing this driver. Then I added an 'extra' DD FET drive anyway, just to see how far I could push the ridiculous, despite what I just said. I suppose the hope for was to build a nice driver that I would be comfortable using, then add the DD FET as an extra bonus. But oh well~ here we go!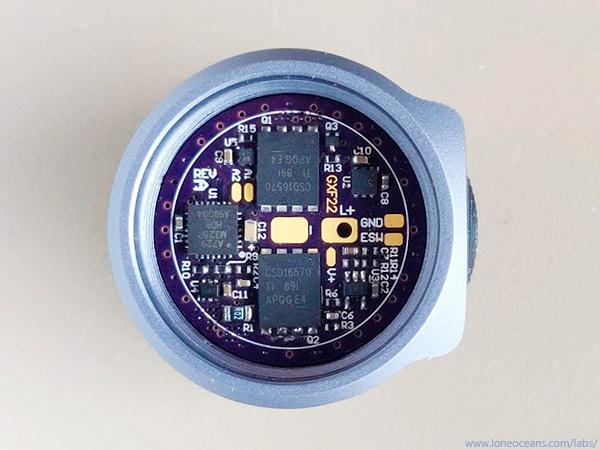 Note - this is just a prototype driver. It's working great, but I'm sure more changes to come. Just thought that people would like to see it for now!
Above is the driver sitting in the Emisar D4 (upside down though, just to show how it looks like). The board is much easier to put together than my GXB172 for starters, which is great for assembly!
Here's a picture of the driver with it's candidate host, a regular Emisar D4. Thanks to Hank from Intl Express for selling a host-only version. 


Main Features
Here are the headline features:
True Ultra low resistance FET Direct Drive - much lower than any other FET driver, and not because of the specific FET chosen!

True 0.5milliOhm R_ds_on

I'll explain a little why it's actually this low R_ds later on

In addition, I have to add that from an engineering point of view, I don't like FET drive, though!

On board integrated true Constant-Current linear driver with no PWM (default 10A regulated current) with 10bit resolution.
Temperature sensor accurate to 0.5C, with improved Fuzzy Logic temperature control, better than PID
On board microphone - want control your flashlight with a clap? Or make it dance to music? Now you can!

5 auxiliary outputs, of which 2 are currently configured for D4 auxiliary lights.

E-switch

Very low dedicated Firefly mode (as low as uA drive if desired)

Low height - fits Emisar D4 driver bay




For proper heatsinking, add some silicone padding of the appropriate thickness.
Description
The problem with most direct drive FET drivers is that they use the battery voltage (powering the micro on board), to drive the gate of the FET. That's not ideal. (Actually there are many more things non-ideal with FET driver, starting from the fact that they are not regulated and can easily blow up your LED and other things, but that's another story).  Let's take into account what happens when we use say a regular FET driver with a highly regarded BSC009NE2LS5 Infineon FET. This FET has a thermal resistance of 1.7K/W, and an advertised R_ds_on of 0.9mR. However when the battery is at full load, the cell voltage drops to just over 3V, and the gate voltage drops to close to 3V. At this low voltage, the R_ds_on increases to closer to 1.5mR, and increases as the cell voltage drops.
This resistance is still very low, and likely much lower than the rest of the system, but it's fun to try to see if we can improve it! My point is that this is pointless, but that's ok! 
On the GXF driver, a small integrated charge-pump gate driver is used, to drive the gate of the FET at closer to 10V, even if the cell voltage is very low. We drive the FET full into saturation and achieve our desired sub 0.5mR on resistance at full load. The FET chosen for now has a 0.8K/W thermal resistance (junction to case), less than half of the Infineon FET. Anyway my point is, don't just look at the datasheet headline for the R_ds_on of the FET - you need to look at gate drive voltage too (and junction temperature, among others). The very low thermal resistance of the FET helps in heat-sinking in CC linear mode.
Is this necessary? Definitely not at all, but it's fun! 
In actuality, this driver is just a simple no-nonsense 10A linear CC driver. I use this flashlight only in this configuration. The DD FET is just for show I guess ;).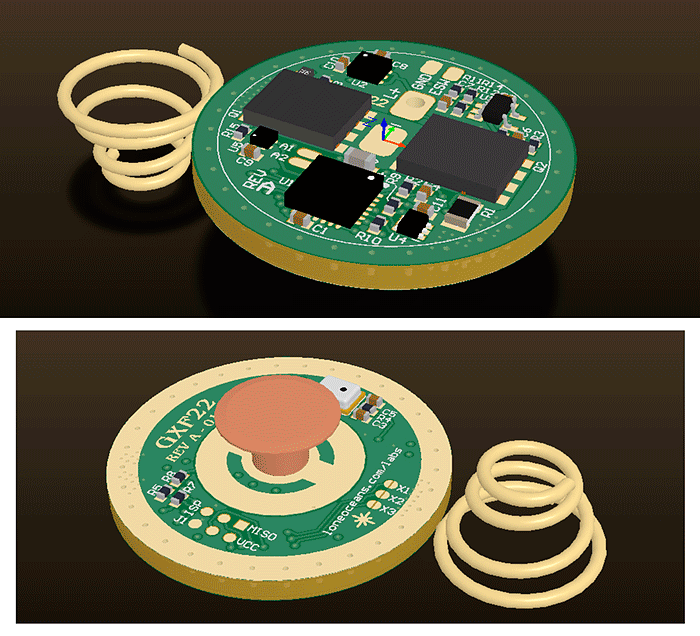 In order to optimize the system for lowest possible resistance, I decided not to use a spring. Instead, a solid copper contact is used. I found that solid copper rivets of the right size are the best, and therefore the optimal choice for this setup! The tail spring instead is not used for conduction, but instead for mechanical compression. It is bypassed not with wire, but with a wide copper foil. 
Programming is super easy via the pogoProg which I've been using for almost all my LED driver projects: http://www.loneoceans.com/labs/pogoprog/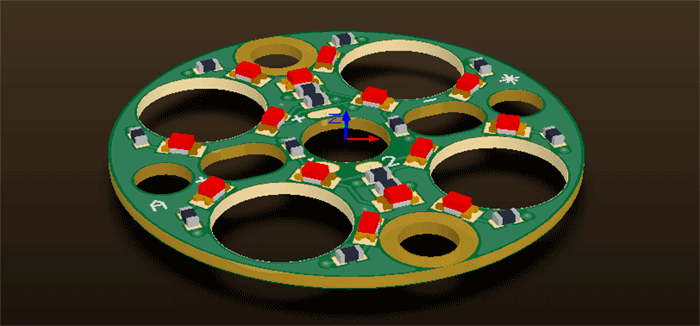 I also made a simple LED board for the Emisar D4. Nothing special, just works. All the LEDs above look red but it has two banks of LEDs which can be controlled via the A1 and A2 lines on the board. This was designed to fit the LED4power board, not the Noctigon one. My flashlight host did not come with a Noctigon MCPCB, so I can't tell if it will fit or not.
Other Features
Since the D4 is an E-switch flashlight, this means it's 'always on'. So I thought I'd add a little microphone inside.
With a firmware of your choice, it's easy to make the flashlight being able to turn on or off via sound, though I guess I wouldn't recommend it since it can be a fire hazard. 
 I also added hardware debouncing for the E-switch.
It would be also fun to have the light being able to dance to music. I had space on this board so I used an ATmega328 for the micro. Lots of flash, processing power, etc. It's just a placeholder I suppose, easy to pop in any other micro. Having a powerful micro also allows me to do weird things on it, like a FFT for the music system (have it flash to the beat of your dubstep track!), and others. Also, I tried out a new thermal management system with Fuzzy Logic - i.e. the thing some rice cookers use. It seems to work! If it's good enough for making delicious rice, it's good enough for a flashlight I hope, and tracks external temperature just like a PID system.
Finally, for the rest of the build, I started a first build using four Luxeon Vs for the Emisar D4, using a LED board from LED4power. Lowest Vfwd for the package, very high light output. This needs to be paired with a good battery, I use a Sony VTC5A since it's what I have on hand, and is one of the better cells I know of for high-drain situations. For more reasonable things, the CC driver takes care of - true linear CC output from 0 to 10A (or whatever you want to set it) with 10bit resolution.
That's all for now, more to come soon! 
 Don't take this driver too seriously, have a great one you all!