Quark 123-2 Tactical with Neutral XP-G R4
Reviewer's Overall Rating: 
★★★

☆☆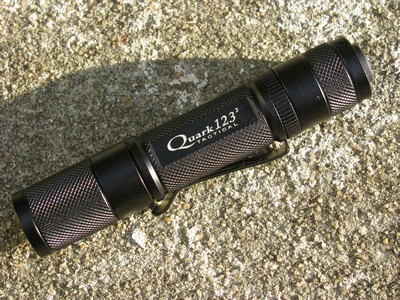 Summary:
Battery:

 2xCR123A/17670

Switch:
 Forward Clicky

Modes:
 2
LED Type:
 Cree XP-G R4

Lens:
 Coated glass

Tailstands:
 No
Price Paid:
 $64
From:
GoingGear.com

 

Date Ordered:

 

October 18, 2010
Pros:
Programmable Modes
Forward Clicky
Bright, neutral tint LED
Good build quality
Compact size
Cons:
Price
Preflash on Low
No 18650's
Features / Value:

★★★★

☆

 
You pays more and you gets more. There are some great qualities you get when you buy a premium light like this. In terms of value, this light beats the programmability of the $20 AKOray K-106 and has a LED that is the equal of one of my $18 Ultrafire WF-504B with its $20 neutral white Cree XP-G R4 drop-in. They even include a $4 pair of CR123A batteries to get you started (that's $62 so far). Then throw in a forward clicky, HA III anodizing, a reversible clip, amazingly good regulation, a 10-year warranty, and the Quark is actually a decent value at $64.

I ordered the light from GoingGear.com Monday night and then placed an order for some 17670 lithium-ion batteries from DealExtreme since the Quark tube won't accept 18650's. The light shipped on Tuesday and I received it on Wednesday (and shipping was free). All of this was before DX even processed my order (listed as "in stock") so I was able to cancel that order (and kudos to DX for giving me a full refund to PayPal within 24 hours).
Disassembled. The body tube with clip attached is reversible so the clip allows head-up or head-down carry:


The light is pretty simple looking, but has some great touches. The exterior has hard anodizing which is rare among budget lights. There is a strong clip (reversible), also rare (though my Ultrafire WF-502B has a similar clip even though it isn't reversible) and square threads (not as big as the ones on the AKOray K-106 though). But the knurling, tailcap, aluminum construction, and o-rings at the joints just like most decent budget lights.

The user interface is unique to this model. What attracted me to it is that it is programmed to only two modes, selected by twisting the head tight or loose (I'd rather have a switch or lever on the back so it could be operated with one hand and my thumb on the tail, but decided I could live with tighten-loosen thing). You can choose from 8 different modes for each position: moonlight, low, medium, high, max, strobe, SOS, and beacon. Moonlight is less than one lumen, dim enough to be used by an usher to read tickets up close and so faint you can look directly into the LED without hurting your eyes. Max is over 200 lumens. With different brightness levels in between, it should please everyone. Programming was pretty easy, you just twist the head back and forth four times, wait for a signal to start programming, choose a level, and wait for a signal that it is set. Even re-programming it to get outdoor pictures on each mode wasn't too bad. This is sort of similar to the programmable AKOray K-106, but easier to set and because the modes are discrete, you know exactly what you are getting and can easily return to your favorite settings if you choose to re-program the light temporarily.
Threads are square but much finer than square threads on the AKOray K-106 (right). Detachable clip is screwed down by a collar just under the o-ring:
I also like the momentary On of the forward clicky, another crucial feature so rare in budget lights. The LED is a Cree XP-G R4 in neutral white, a tint that is nearly unheard of in budget lights (and not easy to get in non-budget lights either).

But here's the thing that made me return it: preflash. When I turn the light on with the head set to Low, I get a bright flash, like a single strobe pulse. It doesn't happen every time, but it happens often enough. I have heard about preflash on some other lights, but none of my budget lights have it. This is such a great light, but when I want Low, I don't want a bright flash first. The whole point of Low is not to blind yourself. I might as well have a light that comes on High that I can switch to Low quickly (like my much cheaper 504B). From what I have read, 4Sevens is unable to work this design flaw out of the circuit board and every tactical version of their lights has had this same bug. Here is a small video of the light on Max, then turning it off, switching to Moonlight, turning it back on, getting the preflash (at 0:12). Then I turn the light off and on, still in Moonlight, to show the Low preflash (at 0:20).
Pack-ins include a holster, lanyard, batteries, rubber handle strap, extra o-rings, and instructions (not shown), all in the "green packaging" which consists of a ziplock bag: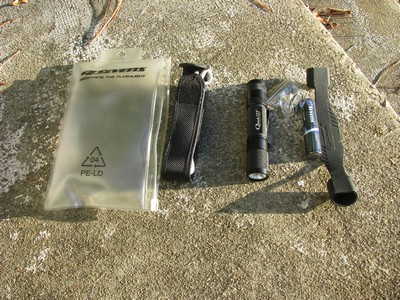 Build Quality:
★★★★★
Like I have said, the build quality is very good. It isn't that any particular part of the light is any better than a good budget light, but it just lacks any weaknesses. The threads seem just a little rough, but because I am returning the light, I haven't even lubed anything or tried to work the parts at all. The o-rings are tight. No flaws in the finish.

Battery Life:
★★★★★
One kind of odd design choice with this light is it is made for two CR123A batteries. The voltage range of the head is 3.0-9.0V but you can't use an 18650 because the battery tube isn't wide enough. You can use a 17670 or even two RCR123 lithium ion batteries. Like I said, my plan was to order some 17670's which would be another $11 that I wouldn't need to spend if the light accepted an 18650. However the result is a nice small size and no battery rattle when using CR123A's. If you really want, you can buy an 18650 tube. Because Quark parts are generally interchangeable, you could order a Quark AA, AA2, or 123, and then get the 18650 tube and it would be like having two different lights. A few budget lights have that kind of flexibility (Solarforce, Romisens, some Ultrafires), but not to the degree of a Quark (for instance the Romisen is either 2xAA or 1xCR123A, neither of which is that interesting to me: too short or too long).
From the top: Fenix L2D, Aurora SH-035, Quark 123-2, Ultrafire WF-504B. No problem carrying the Quark in your pocket; it is just a little bigger than the 1xAA Aurora: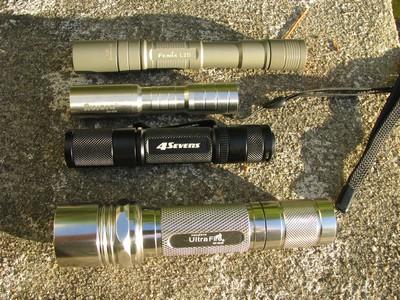 I didn't do any runtime tests, but tests by others with much better equipment indicates that the regulation is flawless, with constant high output throughout the battery life on two cells. Using a single lithium-ion battery, the regulation suffers some, but is still quite good. This is something that almost no budget light has. Most of my budget lights come on very bright with a fresh lithium-ion battery and then fade, fade, fade. I have done some mods to put better-regulated drivers in some of my lights, but even so I don't think they would match a Quark.

With the different modes available, you can choose how long you want the battery life to be. A 17670 won't last as long as an 18650, but should be pretty satisfactory. 90 minutes on High is a good number.
Light Output:

★★★★

☆

 
The neutral white tint is good and looks very similar to my other two neutral tinted lights which are 5B1. With the larger XP-G die the light has a large hotspot, and with the smaller diameter reflector, the throw suffers. Output is really more similar to my modified Aurora SH-035 with neutral XP-G. I have more XP-G lights than anything else right now, but I will also compare the light to a Fenix L2D with a XR-E Q5, a light with very similar quality as the Quark, even bezel-selected mode shifting.
These pictures are taken with the lights 50cm from the wall. The camera is set to ISO 100 with different shutter times. The Quark is always on the Left.
To show you the tint, here is the light up against my Ultrafire WF-502B with a cool white XP-G R5 and NANJG AK-47 3-mode driver (1 amp), first at 1/25th second to show spill, both on their maximum brightness. The 502B is a P60 host, so it has a larger reflector that focuses the light better, but the hotspots are about the same size: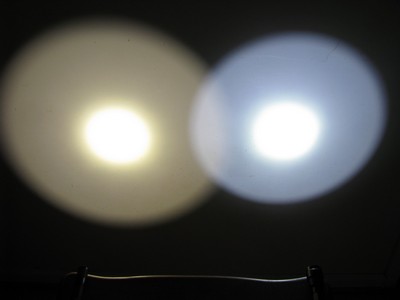 Now at 1/200th second: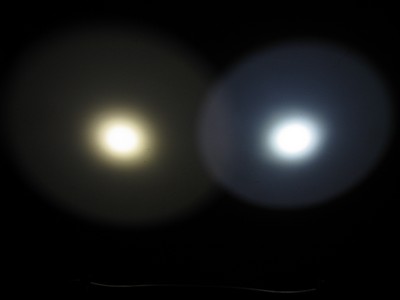 Now at 1/1600th second. You can see the 502B has a more intense hotspot: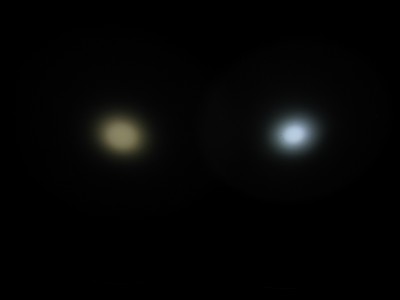 Here's a very similar series with the Quark against my Ultrafire WF-504B with XP-G R4 neutral and 3-mode 1.4A driver. Theoretically the higher driving current should make this light brighter than the 502B above even though it has a slightly brighter R5 bin. Because the tints are similar, the white balance of my camera wipes out the neutral tint. First at 1/25th second:
And at 1/200th second: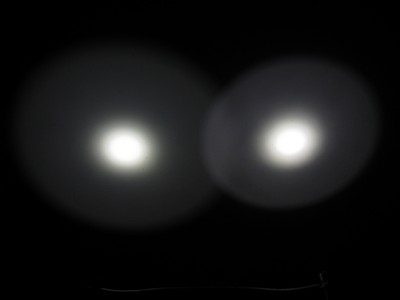 And at 1/1600th second. Again a more intense hotspot that will generate better throw, but look at the group picture above and see how much more compact the Quark is than a P60 host for not a huge difference in performance:
This is fairer comparison between the Quark and the Aurora SH-035 which I rebuilt with a 2-mode NANJG 112A driver (1 amp) and a neutral XP-G R4 I got at the same time as the one in the 504B. At 1/25th second the Aurora can be seen to be more floody with brighter spill: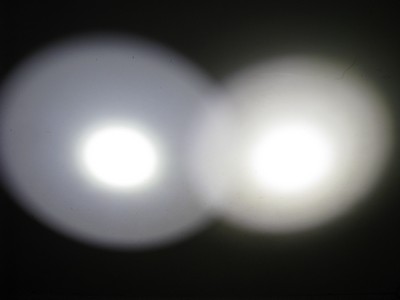 At 1/200th second: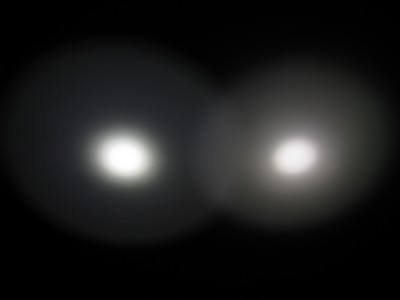 And at 1/1600th second. The Quark has the brighter hotspot:
Okay, one more series, this time against a Fenix L2D with a neutralish Cree XR-E Q5 and powered by 2 AA batteries. Maximum brighness of the Fenix is only 180 lumens, so it isn't really a fair comparison. You can see the XR-E has a tighter hotspot even though the reflector isn't any bigger than the Quark's.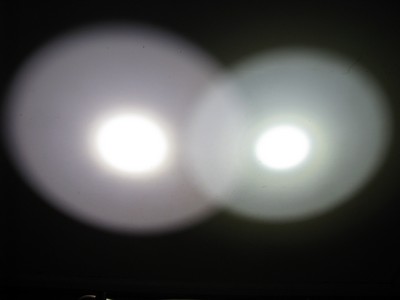 Now at 1/200th second: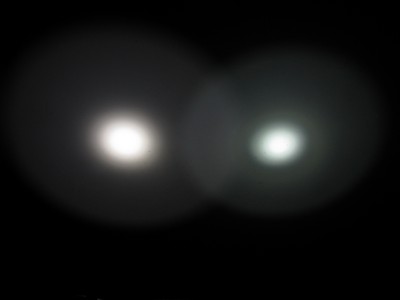 At 1/1600th second, the hotspots have roughly the same intensity, but the Quark produces more light: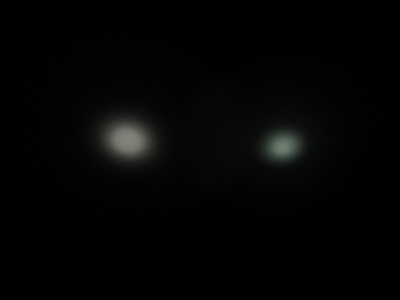 Now to show off the Moonlight mode of the Quark. The 504B dirver has a low that is about 5% of the High, so maybe 10 lumens. The Quark's lowest mode is less than 1 lumen (0.2 lumen claimed; the hotspot is barely a smudge in this picture). Here are both at 1/25th second: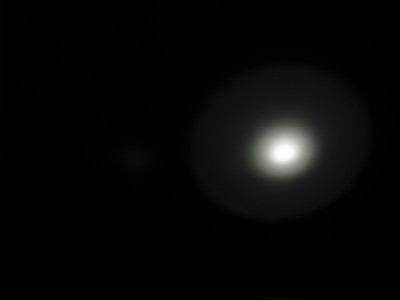 Now it's time to take the light outside. These images aren't going to be as bright as my past reviews. I changed the exposure from 4 seconds to 2.5 seconds which makes the High setting look a little more like what it looks like in person, but at lower modes I think the pictures make the lights look dimmer than real life. The lights are aimed at the 4' fence posts in the distance which is about 100' away. The potted plant is 25' away and about 2' high.
Here are the modes of the Quark from Moonlight to Max. First Moonlight. Consider this a control shot. Moonlight produces no light at a distance. It is for close-up only. It was good for looking at the buttons on the back of the camera.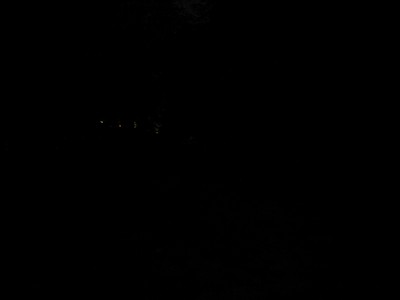 Now Low (still not picking up anything):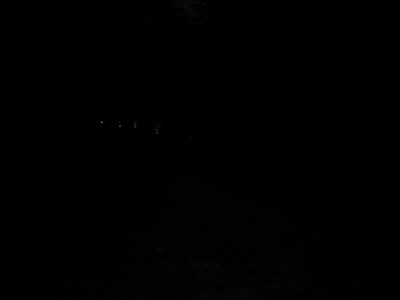 Now Medium. You're starting to see some grass, but in real life this is definiely brighter: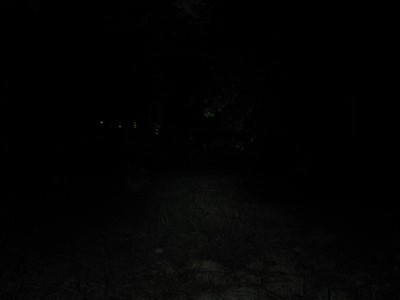 On High, you can make out the plan and barely see the fence posts: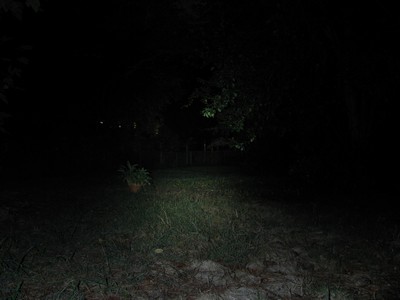 Now on Max everything shows up pretty well: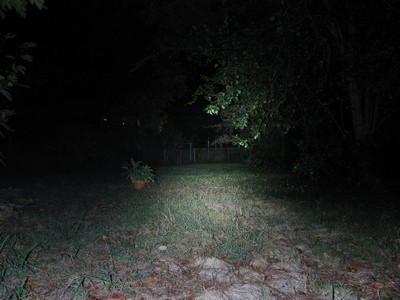 Okay, now for comparison, here is the 504B on its highest setting. Note that it has better throw, but seems brighter all around here: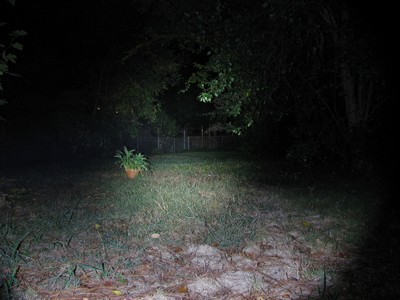 A fairer comparison against the XP-G R4 Aurora. Definitely less throw than the Quark, but the foreground is brighter: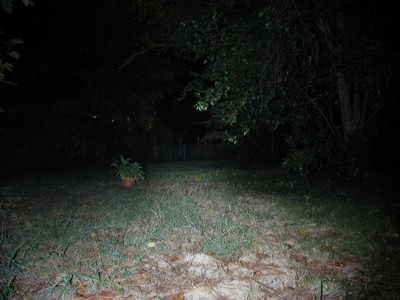 Here's the 502B XP-G R5 which again will have better throw with the bigger reflector: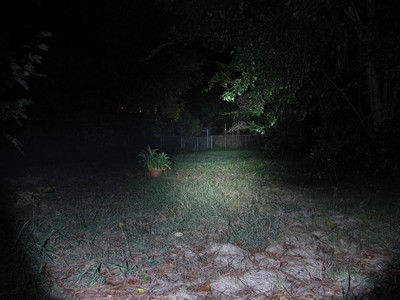 While I'm at it, here is my 501B with a XR-E R2 and a smooth reflector for great throw. I think this shows that if you want good throw, even an older LED like the XR-E has its uses over more powerful XP-G's: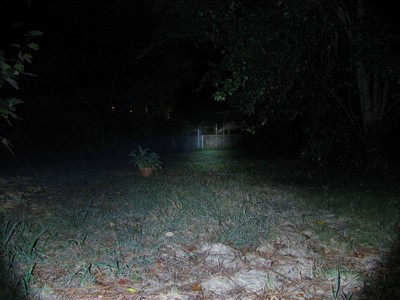 Here is the Fenix L2D with a XR-E Q5 powered by 2 AA NiMH's. This light has a smooth reflector and you can see the beam is ringy even outdoors: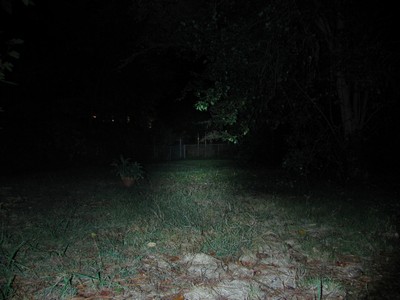 Lastly, here's my Ultrafire WF-1200L P7 with 2x18650's and 90mm reflector. A lot more lumens and really good throw too:
Now to compare throw, here are details from the full-size pictures of the different lights on High:
Ultrafire WF-502B and WF-504B: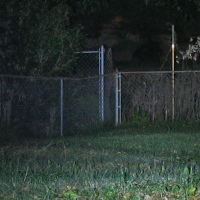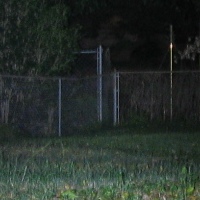 Now the Quark and Aurora: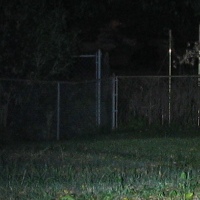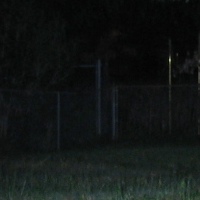 The Fenix L2D (throw is just a little less than the Quark) and 501B: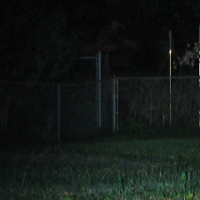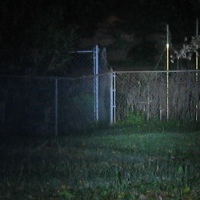 Now the WF1200L: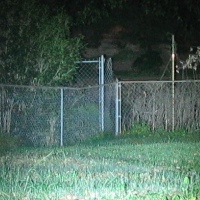 Summary: 
★★★

☆☆

 

I would have been really happy with this light, even buying new batteries, except for the preflash. Budget lights are great, but as I have refined what I want in a flashlight, I wouldn't mind spending more to get one light that really does everything the way I want. It has taken me owning a lot of lights to figure all of that out (a misstep with a budget light isn't nearly as expensive), and I still have some great budget lights that I have customized to get them close, but the Quark is just so close to having everything. It is significantly smaller than a P60 light and therefore fits easier in a pocket. But it still gets almost as much light out of the XP-G and runs for 90 minutes on a 17670 battery. Ultimately the preflash killed it for me. If it was a $20 light, I'd just accept the preflash and be happy, but not at full price.