Howdy, folks. I'm creating this thread to collect interest in the battery free FET tail switch board circuit I've designed with the help of Quadruple doing the PCB layout (Thank you). I've gotten interest from a few members for a few hundred pieces "depending on price". As always, price depends on how many pieces, so here we go..
17 and 20mm boards will be exist.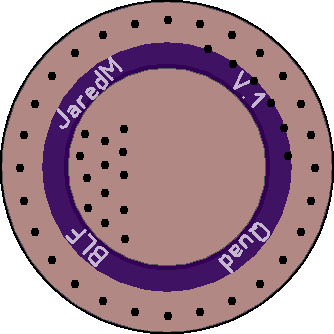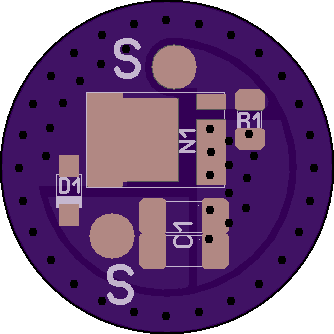 I have a two main options in mind. Prices are ballparked off of a few quotes and my specified components at qty pricing. I will update them when better info is available. Note they are cushioned just a bit, so expect at least a small discount.
1) I buy all the components and supply them as a kit for DIYers. Price is estimated at ~4USD + shipping. Min qty to do this is ~100 committed.
2) I have these assembled (without a spring, so just the FET/cap/pcb) and distribute them. ~6USD + shipping. Min qty to do this is ~500 committed.
Qty discounts can apply if we get further along in this process.
A potential third option exists that for the smaller qtys, I could hand assemble these boards for about the same ~6USD, but I can only do this for 10s of boards, not 100s. Quadruple may or may not offer these as well. I'll let him speak for that. Additionally, the design and parts list will be made available after everything is tested to work to my satisfaction.
May 3 2021: Initial proof of concept circuit was verified to work. Light will stay on for up to ~10minutes at a time (per switch cycle), which is way longer than anyone seems to need/want for a remote pressure switch. Despite this, with the lower gate voltage mosfet and optimized capacitor, this should improve on the prototype board.
May 11 2021: Prototype board designed and components ordered. Will hand assemble and fully test. Results will be posted.
May 19 2021: Oshpark boards scheduled completion for May 27th (17mm). 20mm boards being designed and will get expedited, hopefully arrive before or at the same time as the 17s. Components arriving tomorrow. Continuing to search for cost reductions, package changes may occur. Will release all details once prototypes are finished. Working with Zappaman to source high quality tape switches. Buying a C8+ host to design an adapter/spacer.
*
*
*

*
*
*