Dear BLF members,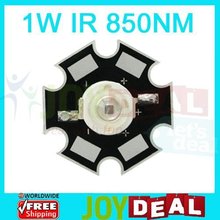 I can not find 1W(single IR led) IR 850 (infrared) on 16mm star anywhere…
So if you know where I could order them it would be much appreciated.
There are lot of them on 20 mm base but not on 16???
I can not find them on 16 mm star anywhere, and 16 mm is most commonly used for P60 drop ins so this is really strange…):
P.S.
Do you maybe know what is maximum drive current for this babies?
I need that for gen 1 night vision device so it must be brightest possible.