Has anybody seen these before? Looks like it could be used for a lot of different things.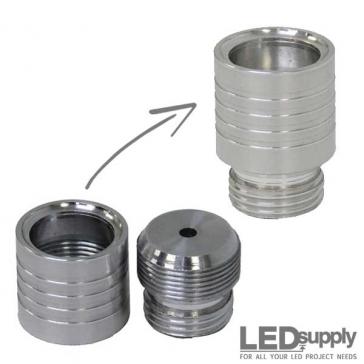 http://www.ledsupply.com/led-heatsinks/dynamic-led-heatsink-housing
I'm doing something similar with brass pipe fittings to add mass to the hollow pill/focus of a zoomie I'm improving.
Yeah, I was looking at those the other day. It's one of those things that just begs you to add it to your shopping cart. I think you should buy one and tell me if its of any use.

Yep, I just asked the same question, about the LED housings, over at
https://budgetlightforum.com/t/-/37851
Forums » Other LED Lights » LED Light Bulbs
It's a fixture not a "bulb" but — awfully similar to a flashlight …??
— but in reverse, wondering if flashlights could be modified to use as fixed lighting, putting the driver in the battery tube.
The parts do look awfully similar to tube flashlights, but the LEDsupply parts are upwards of $30 apiece I think.