Oh, I didn't want it added to your list. Just sharing what I found for a good laugh.
-Garry
Hum, it may be Jason, but only if the specs and incorrectly written.
The Boruit has all the modes Low>High>Strobe> OFF, but the "dimming" seems to go from UP to Down in 4 or 5 steps, while the Shuolide is Low>High>OFF and seems to have a real "ramping" style, not by modes! At least it was what I understood from the several readings I made on different models. Please let me know if I'm wrong here!
But, again, the specs are not always "understandable"

BTW, I just bought the Shuolide by 8.89€, meaning half the price it had yesterday

Meaning, less than a quarter than the more than $40 USD it is priced on Amazon! :money_mouth_face:
I really hope it has a nice ramping from bottom to top an top to bottom!
EDITED ABOVE :person_facepalming:
They must have hammered the side XM-Ls flat.
You might add the Yupard, clone of the crelant ch10 to the list
I just received an Olight H2R Nova and I am blown away.
GENERAL DATA
Beam Distance (ft) 501
Beam Distance (m) 153
Max. Performance (lumens) 2300
Charge type Magnetic USB charge base
Compatible Batteries customised 18650
Light Intensity (candela) 5850
Light Form Wide/broad hotspot. Perfect for up close illumination.
Lens / Reflector Type TIR bead lens (wide/broad beam)
Mode Operation Front Switch
Form/Size Factor Medium size (Permanent Marker)
Series Series H (Headlamps, Multitasking)
Unique Characteristics
Huge beam spill (TIR with diffuser lens)Smaller than a pinky finger.
Optimal for packstrap/pocket/headlamp
Pocket light and headlamp in one with magnetic charging. Buy one light and get two!
Magnetic tail fix, 90degrees light illumination direction
I received and made a review of the Acebeam H20.
Maybe it is not on the budget side of the wallet (+ $70) , but it is a solid and simple headlight.
1000lumens
5 Modes (with memory): Firefly > Low > Medium > High > Turbo
4000K XPL-HI Led + OP reflector
1x18650 or 2xCR123 batteries
It is nice for close range activity due the large hotspot and the Neutral to Warm tint.
New headlamp from Imalent HR70.
http://www.imalent.com/Item/Show.asp?m=2&d=208
1. USB magnetically charged headlamp.
2. 3000mAh IMALENT 18650 high discharge battery included.
3. Maximum output up to 3000lumens, with CREE XHP70 2nd generation LED.
4. Instant turbo (double press power switch), instant low (triple press power switch), hide strobe (double press when it is at turbo output).
5. Magnet at tail cap to free your hands while working.
6. Longest runtime 50hours at 30lumens.
7. 30LM-300LM-700LM-1500LM (press and hold the power switch, the output levels will cycles and release to get the one you need) and Turbo 3000lumens.
I have been interested in this headlamp form Amazon Headlamp
It claims to use "ULTRA-BRIGHT: CREE XPE-R3" so I'm not to familiar with the LED as far as color temperature.
200 lumen high might not be real exciting.
What has my interest is the included 14500 cell with USB charging function. This would be the first 14500 usb re-chargeable I have seen advertised.
A non- 14500 alkaline version is offered for $2 less.
I have to admit I 'm kinda cheap so I don't know if I'd throw $20 at it. I think for $20 or so the Wowtac might be a better deal.
Just curious, the Nitecore HC33 headlamp isn't listed yet. Any cons to this headlamp?
.
I like this, didn't know about it, thanks for posting!
Looks like it has better mode spacing than the Nitecore HC33. Also appears a good competitor of the Acebeam H15 and Olight H2R.
I hope there is NW (Both Acebeam and Olight offer NW). I hate when manufactures don't list if their lights are CW or NW, or not listing CCT when they do.
I also prefer a magnetic base/tail like the Nitecore HC33 and Olight H2R. Doesn't appear to have it.
I've been looking at this one with the same USB battery:
www.aliexpress.com/item/NICRON-Rechargeable-Twist-Flashlight-4-Colors-480-Lumens-Waterproof-IP65-USB-Charging
Looks like the same 14500 USB charging battery as the amazon one. It's a few bucks more but a much better/brighter LED (XPL V5) 480lm.
I don't believe it comes with a head band but the unique thing I like is the "twist" feature so you can go from head/angle light to straight flashlight. I think you can get a headband pretty cheap but it would have to fit an AA size light, I might message them and see if they have one.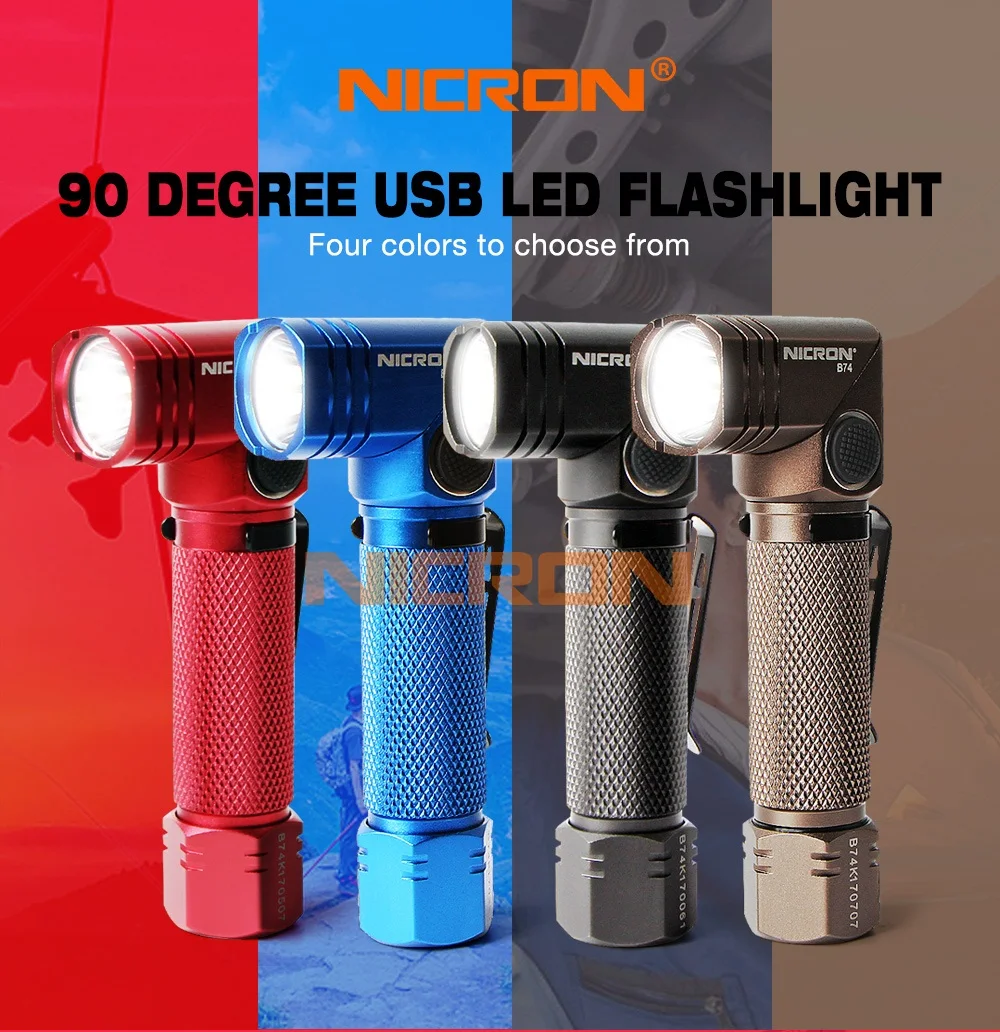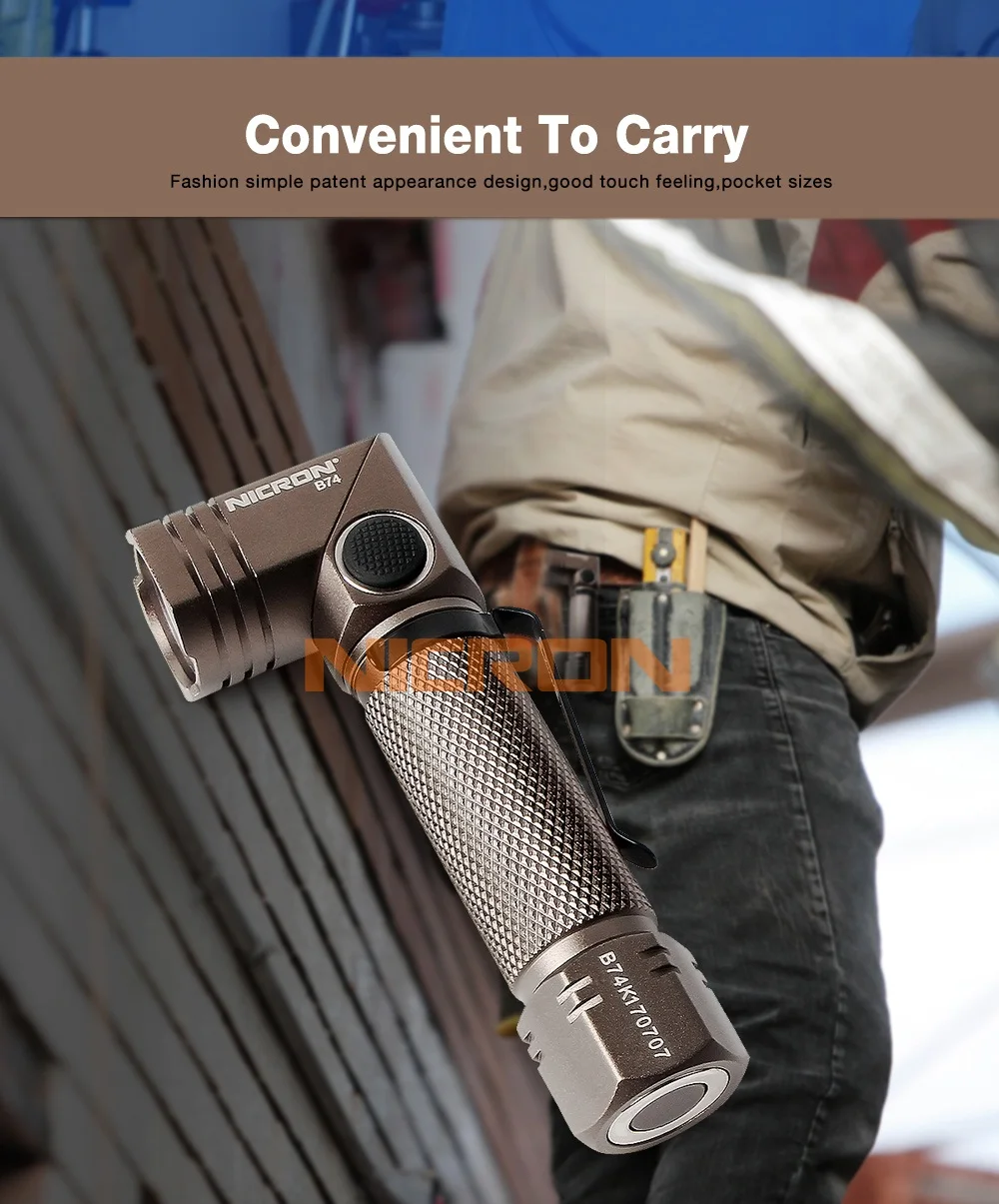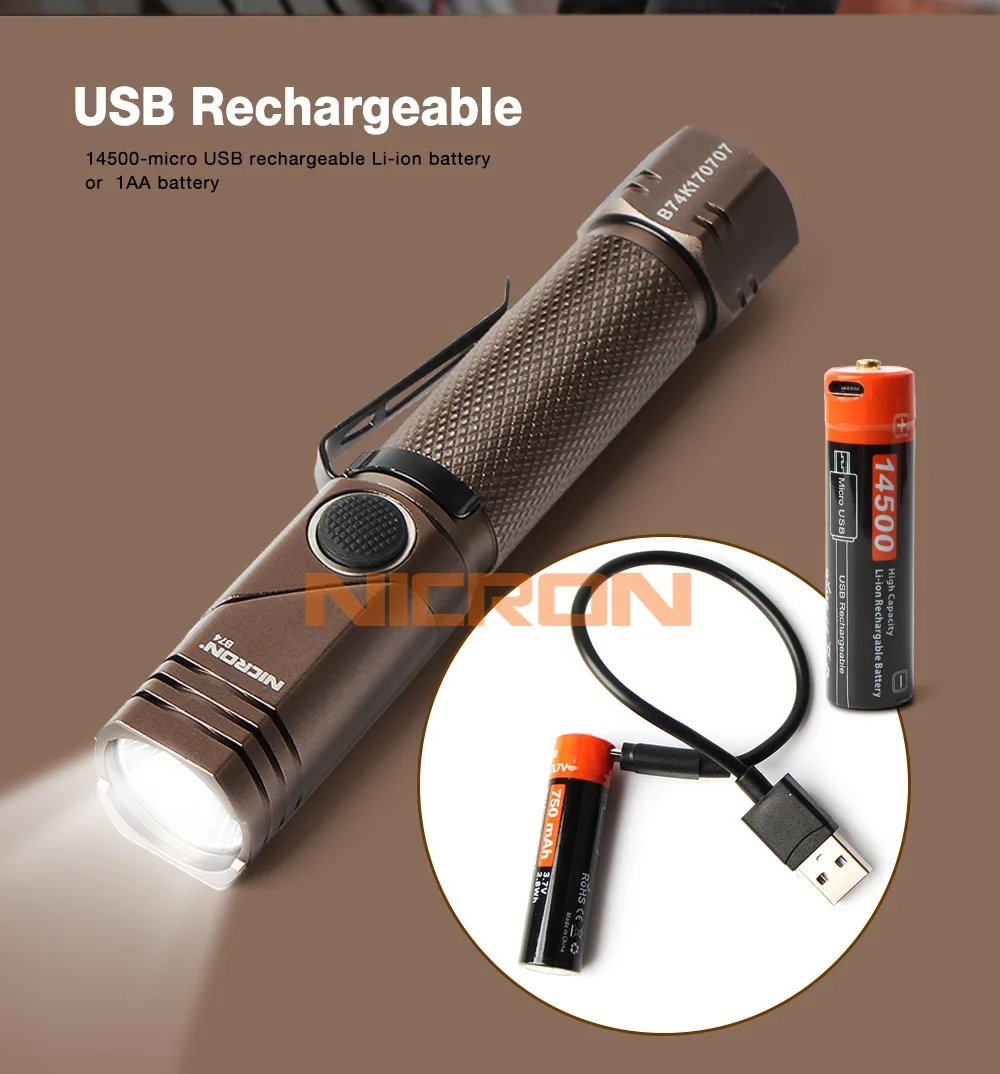 .
.
.
Keep in mind the Wowtac for $19.99 is the XPG2 version, only 550lm. The 1050lm XPL version are the $29.99 ones.
For an 18650 powered light at budget price this may be a good option, 1000lm XPL V5 for $15.93 ($20.02 with an included battery)
www.aliexpress.com/item/Boruit-1000LM-XPL-V5-LED-Headlamp-Flashlight

None of the Olight or Acebeam are listed either.
HC33 is CW only, hopefully they add a NW version. Otherwise it looks pretty good for the $$$. There's some good aff deals on it floating around.
I tried to make a list of the most popular lights. I can't have all headlights as they would be 100+ lights. Olight and Acebeam are very expensive which makes them not very popular around here. I'm sure they are good, but there are much cheaper lights that are just as good.
Idk, I may seperate the list into groups. Maybe 18650 lights and then non 18650 lights. It's arraigned by popularity right now. Maybe I should arrange them alphabetical?
I've pretty much lost interest in this thread now that I have my Crelant headlight that works great for me.
Since I don't have time to research a bunch of lights and if anyone thinks their recommended light is good enough to add to the list, it would really help me out if you could arrange the lights info like burnsd did. This makes it easy for me to add it to the list.
I received my newer model Boruit today and first impressions are pretty good considering the price. Very thin lightweight aluminum (could be considered a good thing).
-Garry
We know it doesn't have the constantly adjustable brightness levels of the old model, but what do you think of the new brightness levels?
Well I typed up a huge long description of operation, measurements, and my impressions and lost everything I typed :smiling_imp: :smiling_imp: :smiling_imp: . I'll post it up again tomorrow. Basically I like it.
Has anyone done up a review on this light with its own thread? Thinking to do so (if I can find time). See post# 59 for the light I'm referring to (single LED model).
-Garry
I have only seen the Russian thread. Nothing in English.
Ok, yeah I meant to say "besides the Russian thread". This light probably deserves its own review thread. For now, here are some quick details:
Functionality: Quick press turns on in a medium mode, another quick press changes to high, another quick press turns off. Pausing at medium (longer than about 1 second) and then quick pressing turns it off. Quick double-press from anywhere, a mode level or even off turns on strobe. A quick press returns to the mode the light was in prior to strobe (a mode level or off). Press-n-hold from off does nothing. Press-n-hold from strobe does nothing. Press-n-hold from a mode level triggers a quasi-ramping of 5 output levels starting from whichever mode level you were at (medium or high) and proceeds downward to low then back to high and downward again until you let go. Low is low, not moonlight. (I'll measure output in my sphere at some point.)
Tint: is a very crisp cool white. It actually doesn't bother me in use. A 3C side by side with it looks yellow in comparison. The Zanflare F1 cool white even looks warmer compared to this. Sounds terribly high K, but like I said, it doesn't bother me (and my favorite tint is a 5B1 around 4,000 to 4,200K).
Heat: I left it on in high mode for about 5 to 6 minutes and the body barely got warm. I expected more heat, so I'll have to look into this.
USB: The light actually operates from a USB power source without a battery installed (doesn't appear to reach highest output, but that could be due to my AC adapter or USB cord I suppose). With a cell at 4.00v it charges at 380mA. At 4.10v I'm seeing a 180mA charge rate. At 4.14v I'm seeing 120mA.
Beam Pattern: To me the light has a very good headlight beam pattern right out of the package as-is. It's very floody with a hotspot that's not too intense and blends nicely into the spill. Spill is quite wide. (I'm curious to try a 60º optic in it for comparison.)
The light body is a very very light aluminum. This could be a positive aspect considering it is a headlamp, but it does feel cheap due to it. General fit and finish is very good for this price level. Threads are decent and much better than many cheap lights.
I don't want to derail this thread to be all about this light. Hopefully I can find time to post a new thread and piecemeal a review together.
*EDIT: *Battery charged up to 4.20v, charging light went green, and it seems charge current has completely stopped. Unplugging and replugging in USB triggers red charge light for just a second or two and then green.
Tailcap currents on fully charged 4.20v cell (an old, but good Protected Trustfire 2400):
Basic 2 Modes:
Medium: 0.40A
High: 1.87A
5 Step Quasi-Ramping:
Level 5: 1.87A
Level 4: 0.84A
Level 3: 0.40A
Level 2: 0.13A
Level 1: 0.05A
-Garry
New thread for the above Boruit headlamp found here.
-Garry