Okay, another crazy GIF…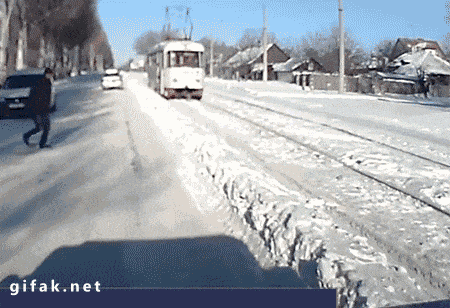 Sorry for the small image, couldn't find another…
A drunken man on a railway line at an Essex station survived by clinging to the platform edge as a train went past.
Staff at Romford station said they were "amazed" the man was not killed.
CCTV captured the moment as the train rushed by just inches from the man's legs.
I just did 4 reverse image searches, and that's the biggest version of that pic that I could find.
I know you said that he survived, but it looks like that guy got cut in half.
Seems that this topic was better expressed via non qualifying (?) video's rather than true pics (but nice ones nonetheless

).
Lets assume that the subway guy indeed survived and thus I'll pass the baton to G0OSE. … take it away!
Wait a minute, are gifs not qualified for the game?
Thought I had seen some discussion farther upstream, but certainly could be mis-remembering or mis-interpreting.
Moving GIFs would certainly expand some of the entries.
Thanks maniakman


I don't mind gifs, or very short videos - nothing more than say 10 seconds though. I just appreciate people entering either way


So I'd like to see some funny animals, as in they are doing something funny.

I just updated the title of this thread and the original post.
This is what I added...
2021-06-28 UPDATE:
Politics are now off-limits.
That means no discussing politics and no pics of politicians or anything political.
This is being done to prevent future arguments.
Have fun.
Surely that dog is the spawn of Chewbacca, or maybe his brother!

At least sexy pictures kept us distracted.
Hi everyone, please strictly avoid political commentary on all sections of BLF. Please go back and edit or delete posts in this thread that go against these rules:
BLF Rules:
BY REGISTERING AN ACCOUNT YOU ALREADY IMPLICITLY AGREED TO ABIDE BY THESE RULES:
Please don't be rude. Rude people will have their accounts deleted.
Please don't use dirty language, please don't swear, and please avoid lewd

(link is external)

or risqué

(link is external)

conversations.

Please avoid controversial or divisive subjects such as religion and politics.

Please avoid fighting. If you or somebody else is losing their calm, please drop the subject.

Please don't even think about spamming this forum. Spammers will be prosecuted.
Please don't even think about using this forum for illegal or dishonest activities. Criminals will be prosecuted.
By registering an account, you agree to the BudgetLightForum.com Privacy Policy.
All opinions expressed by users of this website may or may not be accurate, and as such BudgetLightForum.com does not officially endorse them. BudgetLightForum.com does not encourage risky behavior, and will not be responsible for physical, emotional, financial or other damages resulting from the use or misuse of any information or misinformation expressed herein. All users are encouraged to use good judgement before making any physical, financial or other decisions based on the information or misinformation expressed on BudgetLightForum.com.

Have fun.
I'll pick a winner tonight when I get in after work if anyone else wants to enter