Today I have the new Thrunite TH30 Headlamp on my review table. This is a fairly slim profile headlamp that can also double as a EDC type light. It has a impressive 3350 lumen turbo mode, is USB rechargeable and ships with a Thrunite IMR battery. Thanks to Thrunite (Referral) for sending this to me to take a look at.
Full Image Gallery: ThruNite TH30 Review - Album on Imgur
YouTube Version of this Review: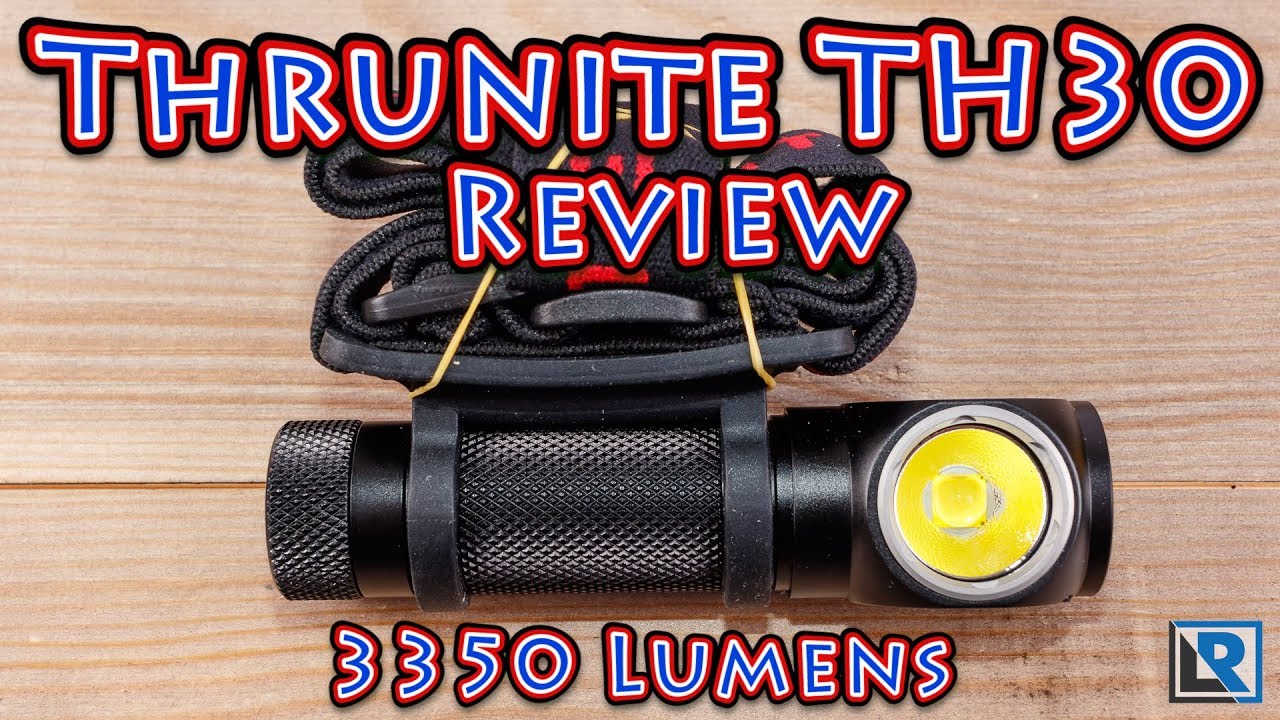 Packaging
Packaging is typical of what we are used to from Thrunite, simple, and functional. It's a small brown cardboard box with minimal details printed on the outside. Unfolding it from the front cover reveals the headlamp packed in white foam. The battery is preinstalled with a protection disk. One of the nice things is that the head strap is already assembled and attached to the light. Underneath are the accessories which include a Micro USB cable for charging, pocket clip for the light (Can't be used while in the headlamp mount), extra head mount, usb cover, manual, and branded black and red 3 piece head strap.

Construction
The TH30 itself is made from aircraft grade aluminium and is anodized a fairly shiny black. The light comes into 3 basic pieces, the head, body tube, and tail cap. Starting at the tail cap, the bottom is flat, and non magnetic. Knurling matches the body tube in a fairly aggressive diamond pattern. Threads under the cap are ACME style, and were lightly greased. The body tube has a pretty minimal diameter, and it has the same knurling as the tail cap. The pocket clip can mount onto the body tube either near the head or tail. Unfortunately the clip isn't very deep carry when mounted near the head , but is reasonable when at the back of the light.

The head itself is fairly typical of a right handed light but it has been slimmed down where possible. As a result it only has cooling fins opposite of the emitter, and the sides are flat which is where the writing on this light are located. The only button is on the top of the light surrounded by an uncoated aluminum accent bezel. It's a large, domed textured silicone rubber button that is semi transparent. Underneath are charge status indicators. The button stands a little proud and as a result the light won't slit flat on it's head.

The mount and stap were nicely preassembled. The mount itself is made from a black silicone rubber and is the style where you pass the light through silicone rubber hoops. This means the light stays put pretty well and isn't the easiest to remove or add back. The head strap bands are black with red Thrunite lettering woven into the fabric. It's a fairly basic strap and doesn't include any of the silicon strips on the inside to keep the strap in place on helmets.

Size/Weight/Water Rating
I measured length at 106.5mm, minimum diameter at 23.6mm and maximum diameter at 28.2mm. Weight of the light with the included cell and head strap was 172.3g. The light is IPX8 water rated.

LED/Runtime
This light uses a Cree XHP 70.2 LED available in both cool and neutral white. My example here is in neutral white which is my preference. The LED is quite large but nicely centered in the reflector. Lens is glass and anti reflective coated, the reflector has a orange peel on it that does a good job of smoothing out the beam.

Runtime on the included 3100mAh IMR battery totaled 110 minutes from Turbo. When starting on high the light really steps down after about 5 minutes due to heat and is only running at about 25% relative output where it ran for the majority of the time. I saw very little difference when I ran a cooled output for 20 minutes compared with uncooled as well suggesting it's a timed/voltage decline. Stepdowns were smooth. The last 10 minutes of runtime the light will start flashing to let you know the battery is depleted and ready to shut down.
Total Runtime

Uncooled 20 Minutes

Cooled 20 Minutes

Heat is a bit of a concern with this light on turbo since it produces up to 3350 lumens. During my test, the head easily reached 120F while on turbo within about 3 minutes. This is hot, but it won't burn you. When being warm as a headlamp the silicone rubber mount does a good job of insulating your skin from the heat. The manual does say for the safety battery, driver and LED they recommend not using the light at the maximum for more than 10 minutes.
The beam is mostly flood and quite smooth. The center is slightly hotter but it's nicely diffused thanks to the orange peel reflector. This light really isn't a thrower but because of it's power it does a decent job out to about 100 yards or so.

Battery and Recharging
Included in the package is a 3100mAh Thrunite Branded high drain, button top IMR 18650 battery. While not officially mentioned, given the performance characteristics it's believed this battery is a rewrapped Sony VTC6 with protection. Working voltage of this light is 2.75V to 4.2V so 2x CR123A batteries will not work in this light.

Recharging is accomplished via a microUSB port on the very top of the head of the light. I like this location as it's out of the way. The usb cover is attached with a decent amount of material as well and an extra is included in the packaging just in case. A red LED is under the main operation button will let you know the light is charging and it turns blue when charged. I measured max draw during charging at 1.5A which matches ThruNite's claims, and a full recharge took 2 hours and 34 minutes. The light can be powered on to low mode during charging via USB.

UI and Mode Spacing
Changing modes in this light is easy. When the light is on pressing and holding the button will cycle through modes. The light starts on low, and progresses linearly though Low, Medium Low, Medium, High, and SOS. To get to turbo at anytime double click, and to use firefly when the light is off just long press. The light will remember the mode you were last in except for Firefly, Turbo, or SOS.
Turbo (3350 lumens for 1.5 min then 1050 lumen after step down)
High (1275 lumen; 90 minutes)
Medium (352 lumen; 5 hrs)
Medium-Low (130 lumen; 14 hrs)
Low (25 lumen; 60 hrs)
Firefly (0.5 lumen; 32 days)
SOS (645 lumen; 305 minutes)
The light can be mechanically locked out by just breaking contact with the tail cap or body tube. Given this lights power I would recommend doing that.
Pro's
Available in Neutral or Cool White
Mode spacing is nice, and it has a simple UI but I wish strobe was not part of the main group.
Very smooth floody beam, not much noticeable tint rainbow to me.
High quality included battery that is non proprietary.
2 Year free replacement warranty, with a limited lifetime warranty after that
Con's
Pocket clip is reversible but not very deep carry
The button cover protrudes a little so it won't stand on its head very well.
Wish it had active thermal controls
Conclusion
If you have followed my reviews for a while you will know I am a fan of headlamps, for me it's probably in the top 3 types of flashlights everyone should own. The Thrunite TH30 is a very nice high lumen headlamp option. Understandably Turbo doesn't last too long, due to the immense amount of heat 3350 lumens creates, but the lower modes are sufficient. I really like that this headlamp uses non proprietary batteries which makes getting extra's or a replacement easy and less expensive than some other brands. I like that the light comes with an excellent and safe battery as well, I think it's an extra layer of safety to have a protected cell when your using one on your head. I think it's safe to say this is my favorite headlamp of 2018 so far.
ThruNite is offering at 20% off discount on the TH30 at the official ThruNite store with the code "20%"TH30 3350 Lumens Headlamp Ultra Bright Headlight