Is this the face of a guy who can give you a scientific flashlight review with graphs and charts and all that other stuff that is so popular at the fancy flashlight forum?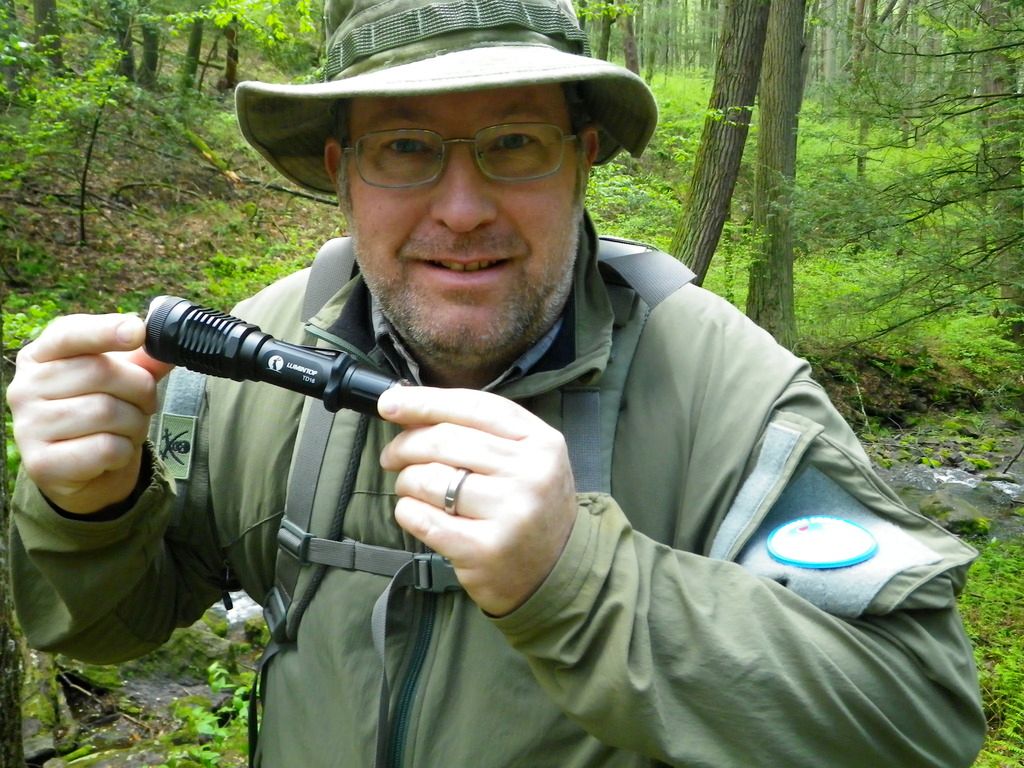 No, no, it is not. It is, however, the face of a regular flashlight user with an opinion. Before we get to the actual review, there needs to be a little housekeeping.
First and foremost, I was provided this light by the Amazon storefront conducting business as the Lucky Light Bank. Lucky Light bank sells other brands of flashlights besides Lumintop. I see that they currently have others including JETBeam, and Klarus, as well as some generics. I was told they also sometimes have Olight, Xtar, Fenix, and Nitecore.
I'm not the only person they reached out to, so any recent Lumintop reviews you have seen or read over the last few months were likely done by people who received product for free. Obviously, lots of companies do it, which is fine, but I think people should be more up front about it.
Anyway, I'm not a high profile gear reviewer who ever gets free product... ever... so it was a real treat for me. I'd like to thank them for the opportunity. For those who are interested in the Lumintop TD16, there is a 20% off coupon; use "BLLCone8". I'm not sure if the coupon code will work for everything they sell, but it wouldn't hurt to try.
Second, I'm not an unbiased flashlight expert. That is to say, I'm not unbiased, nor am I an expert. I do have a sizable flashlight collection (about 125 lights and counting) from which to make comparisons from and I am a decades long user/EDCer of lights. I think I provide an informed viewpoint about gear, but my experience and, more importantly, my particular needs, color the way I feel about any particular light.
Third, the videos embedded here were shot after three weeks of constant EDCing and the TD16 has been EDCed by me for over five weeks as of this writing. Concerning the videos, there are short and long reviews. The short one is a "Just the facts, mam." review with very little opinion offered up by me whereas the second, longer vid is all that plus me at my opinionated best, or worst, depending about how you fell about me and my opinions. The third is just me smashing some watermelons with the light.
It was coming right at me!
www.youtube.com/embed/8XeQ2mB9RDE
www.youtube.com/embed/9hwOCkw3YXc
www.youtube.com/embed/YYVxLMkGEjs
Expect the high production values and special special effects that I'm known for and much more. I really out did myself this time. yt
LOL, don't get your hopes up.
At the end of all this, I hope my credibility is intact and I haven't become what I loathe... a purple unicorn.
I'm not going to link to it, but to understand the reference, search "edc purple unicorn"
With that out of the way, let's talk about the light, objective facts first.
The 1000 lm Lumintop TD16 is a full sized tactical light running on either an 18650 cell or two cr123a primaries with a working voltage window between 2.8 and 8.4 volts. In theory, you could run two 16340 cells without damaging the light. My sample utilizes the Cree XM-L2 U2 emitter and has a smooth reflector. The reflector is a thing of beauty. It is also available with an XML-Hi emitter at a reduced High lumens of 920.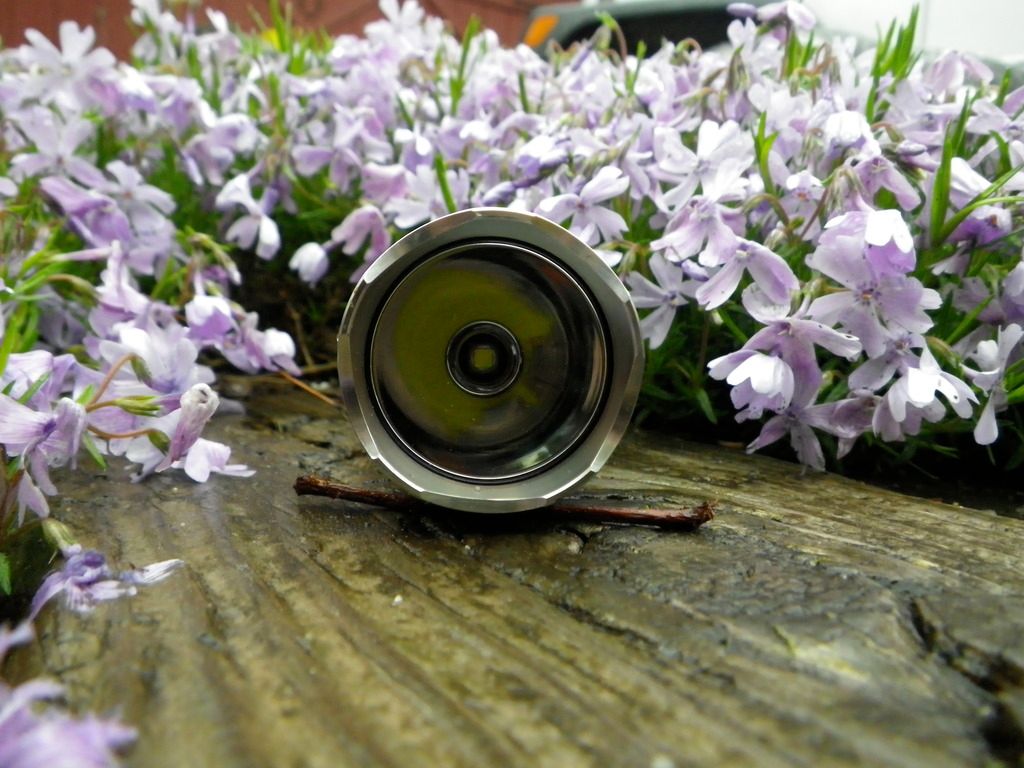 There are six modes altogether, but three are hidden. Your three standard modes are High (1000lm for 1.5 hours), Medium (220lm for 6 hours), and Low (35lm for 40 hours). Output and run times are the manufacture's; I did not test any of that myself.
This is a duel switch light. On/off is accomplished via the rear forward clicky switch. The FC switch allows for momentary or constant on. Mode changes are handled by the side switch. So too are the accessing of the hidden modes.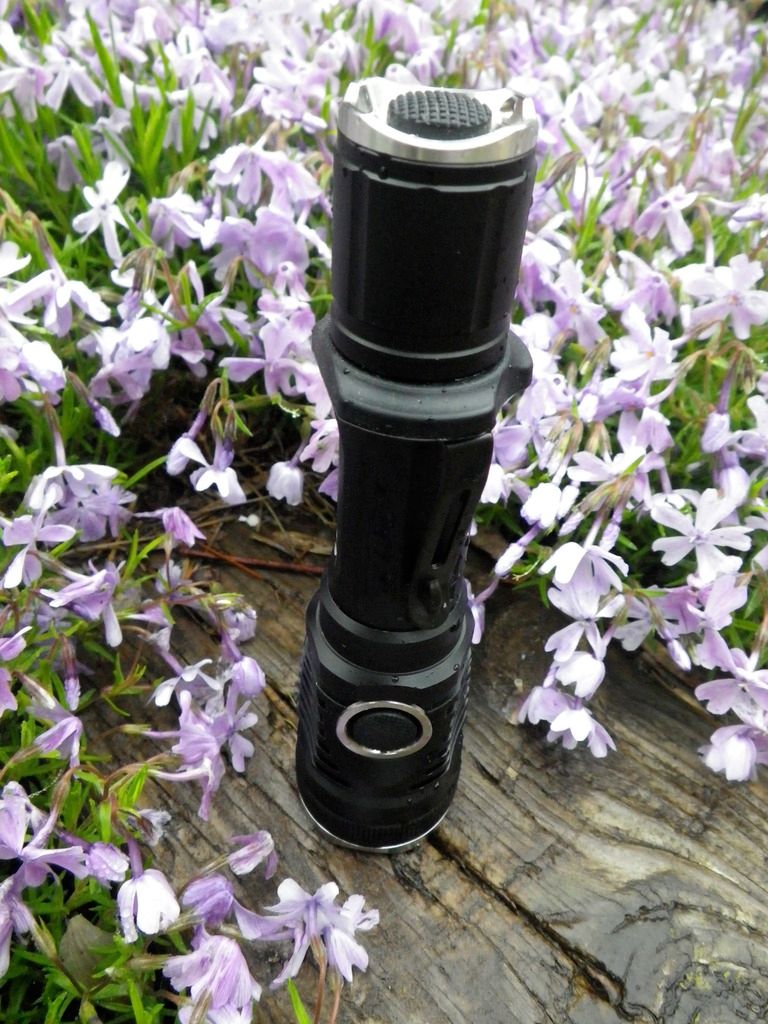 In practice, the UI is really quite simple. Once the light is on, you can cycle through the modes by quick pressing the side button. At any time, a long click will bring you to the hidden modes, which are cycled through the same as the regular modes; i.e., with quick press. A long press will bring you back to the standard mode when you are ready.
Honestly, the UI is simple enough that you could figure it out in sixty seconds without reading the instructions. Also of note is the fact that the directions are short, sweet, and easy to follow; very nicely done Lumintop.
The three hidden modes are all at 1000lm. There is everyone's favorite, Strobe, a Fast Beacon, where the light flashes every other second, and a Slow Beacon, where the light flashes once every four seconds. There is mode memory and when you cycle through the main modes you progress from lower to higher modes until it repeats.
When I said "full sized" before, I meant it. It weighs in on Mrs. Cone's kitchen scale at a hefty 7.1 ounces with a cell, is 6" long, has a 1" body, and is 1.5" wide at the front bezel. That's probably bigger than what most people are willing to pocket carry. There is an included sheath. It's pretty basic, but it affords one the opportunity to carry the TD16 on the belt or attached to the outside of a bag. It would also proved some protection for the light if you are the type to just toss a light in a bag.
You unorganized heathen!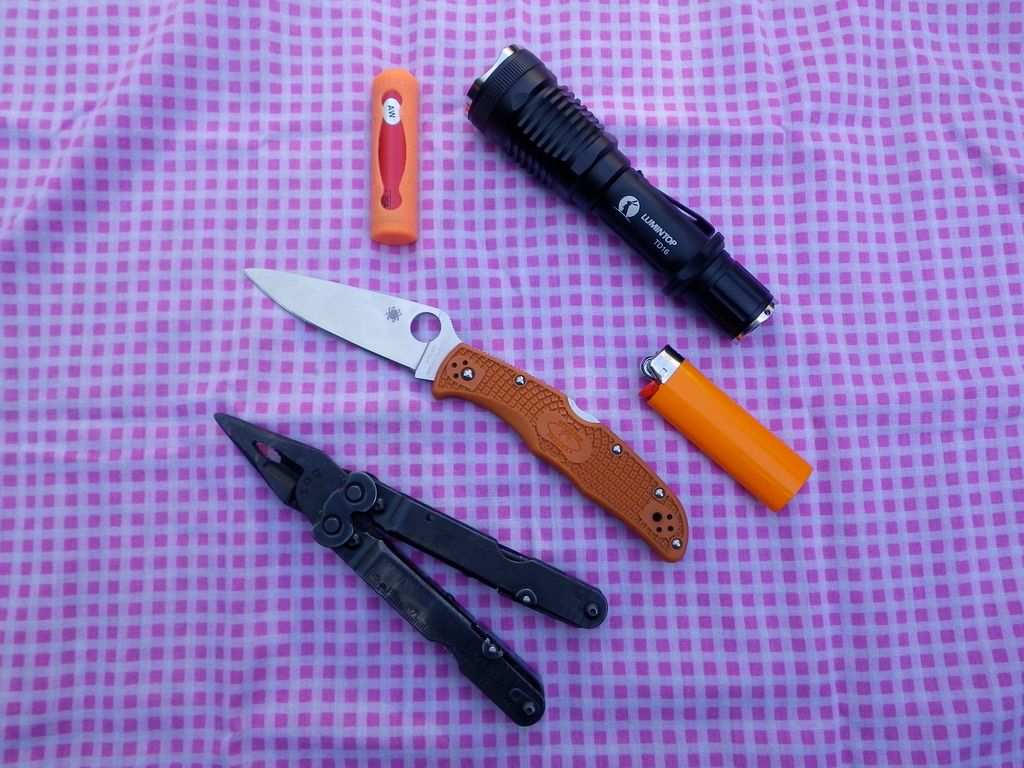 I know JohnnyMac said he couldn't get this light in the holster, but I had no problems. Perhaps I have a near version. The sheath is bezel up and the flap closes with velcro. There is a D-ring and a belt loop. The belt loop is rather small. So small, in fact, that a 1.5" belt will be as big as you'll be able to go.
No rigger's belt for you.
Besides the sheath, included in the box were a spare boot, two o-rings, a lanyard, and, since this was a "kit", an included 18650 cell. You'll also find the aforementioned simple to understand instructions, warranty information card, as well as some promotional material.
Speaking of the box, it is well padded, substantial, and has a quality presentation which is great for protecting the light during shipping and projects quality if you plan on giving the TD16 to someone as a gift.
Other details that don't require a full paragraph-
The TD16 has a sturdy pocket clip that worked well, but leaves a substantial amount of the light exposed; it is removable.
It has a rubber cigar ring; it is likewise removable
Reverse polarity protection
It has an double-sided AR coated, tempered lens
It's IPX-8 water resistant down to 2 meters
Stainless steel, crenelated bezels are at both ends
HAIII hard anodizing Impact resistant to 1.5 meters
Duel springs for shock absorption
It is capable of tail standing
The TD16 is available in several configurations. Besides your choice of emitter (XML-U2 or XPL-Hi, the latter is 920lm), you can get it with or without an included cell. The "kit" I received, which includes the cell, streets for about $110 USD. The non kit lights street for a little less than $100 USD. Finally, the Lumintop TD16 is covered by a factory 15 day replacement policy if the light happens to fail and a 24 month repair policy if the light craps out during normal usage.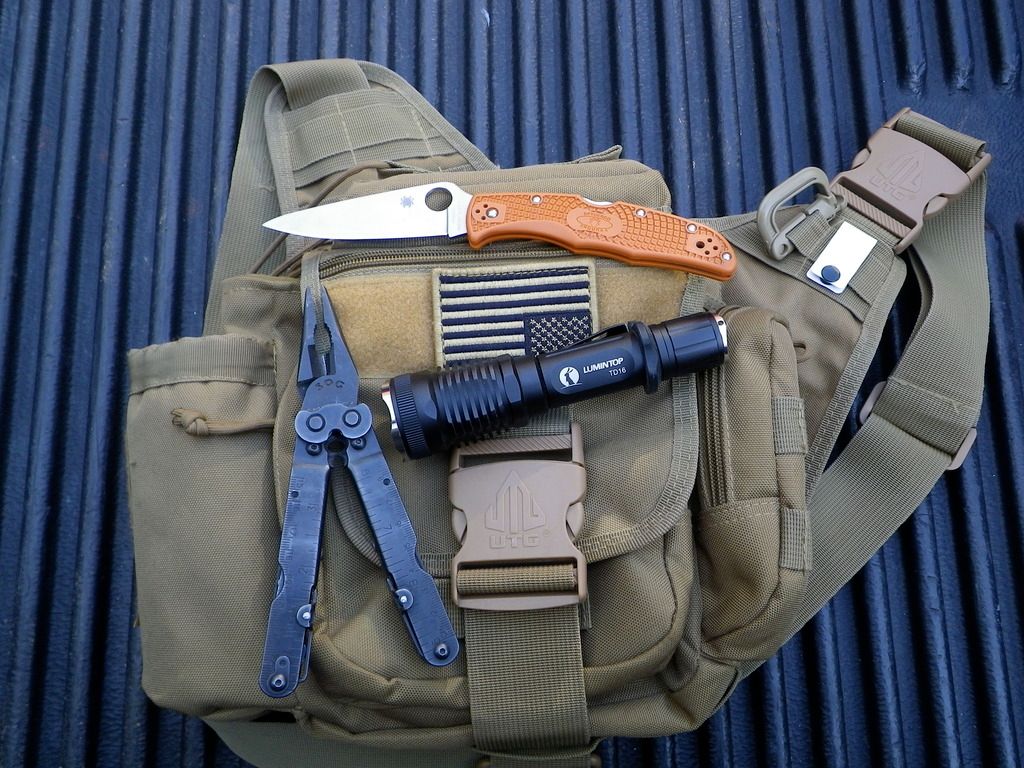 Now, on to the subjective half of this review where you get the unvarnished T.H.Cone and I assure myself that no one ever gives me free gear to test in the future.
I had zero issues with the light while I've carried it. Five weeks isn't two years, but, by the same token, I didn't do this review the day after it arrived at Case del Cone.
Cough, cough, purple unicorn.
I normally carry full sized gear in my pockets, so the size and weight of the TD16 didn't bother me in the least. I laugh at the concept of a AAA light being one's primary EDC light. Any light close in size to the ubiquitous P60 is easily doable for me. A lot of that has to do with the fact that I typically wear carpenter style pants that have a tool pocket on the leg which is just about perfect for this size light.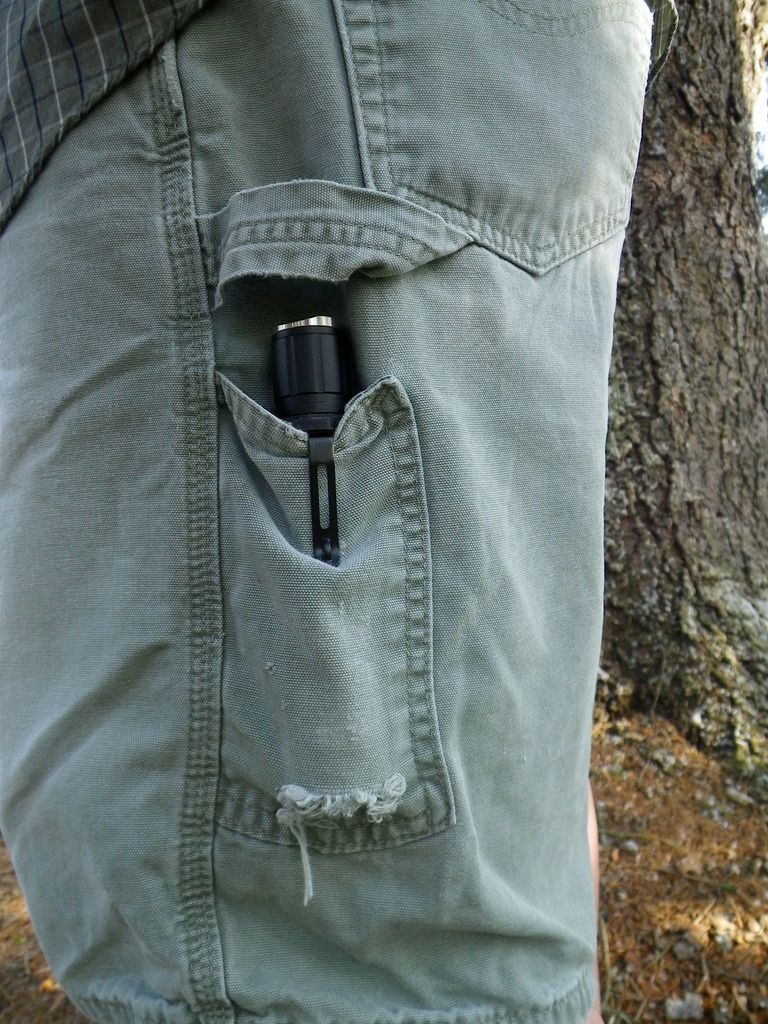 While I didn't notice the weight, the picture does show it riding heavy in the pocket. If this was the very first light you were attempting to EDC, you'd probably notice it right away. I, on the other hand, have clearly been desensitized to it.
I really like the simple UI of the light. Three modes, in theory, are fine for me. In practice, I would have much preferred the addition of a true Moon mode. Moon is the mode I most often need in my life with High being a close second. I like having options in the middle, but the two extremes are what really matter to me personally. I could live with a light that only had the two extremes.
As such, this light could never be my one and only light. No Moon is a deal breaker for me.
Like most people, if I can't avoid them completely, I like having the blinky modes hidden. With the exception of a Strobe only tactical light, no one needs any sort of blinky mode but under the most extraordinary situations. They should, if you ask me, always be hidden.
Speaking of Strobe, because of the mode memory, this light could be set up to start in Strobe and be used in a self-defense situation for those of you who think Strobe, in and of itself, will somehow save you. I will delve more deeply into the so called tactical nature of this light in a moment, but this ability to start and stay in Strobe while using just the rear clicky is perhaps the TD16's one redeeming quality as a "tactical light".
Prior to using this light, I was sort of opposed to duel switch lights generally because they add a level of mechanical complexity to what should be a relatively simple tool. More parts means more opportunities for failure.
While I'm not sure my opinion in this regard has change a whole lot, I really did enjoy the UI in so far as having the on/off separated from mode selection. Plus, it was nice to hold and operate a flashlight while in the saber grip. At this point, you could almost convince me duel switches are the way to go. Almost.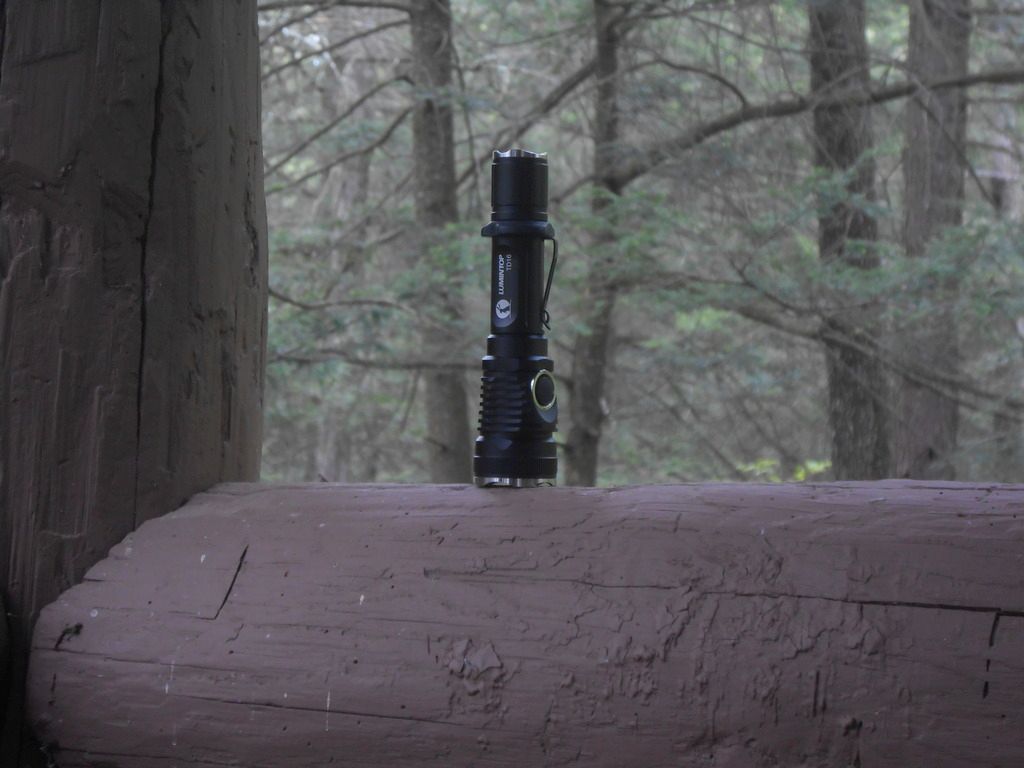 So, like I said, I didn't test the veracity of the claimed run times. I will say that during my usage, the cell lasted several weeks before needing to be freshened up, which is about right for my normal 18650 based EDC lights.
Speaking of the included 18650 cell. It is a protected cell branded as a Lumintop. The part number- NCR18650B- is the same part number as a Panasonic cell, so I suspect it is just a rebadged Panasonic. Which would be a win. In any case, it has been through several cycles and is performing as it should.
Now, should a cell be included with the light? I personally don't think so. Well, not unless it also includes a charger. Here is my thinking. People are either new to the modern flashlight world and need a cell or two when they purchase their first light or they are not.
As noobs, they would also need a charger, right? A cell without a charger is worthless. If they are not new to modern lights, they likely already have plenty of cells and the charger, in which case, they'd probably rather save some money and get the light alone.
But, what do I know?
Granted, Lumintop offers you the option of purchasing the TD16 without the cell, but I think it is a miss to create a kit that includes a cell but no charger. Obviously, just my opinion.
Price? Well, the light, in terms of price, is far beyond the budget category where I normally spend most of my flashlight allowance. It is, however, far below the premium price where Surefire and the boutique brands reside. In terms of price verses quality, it is certainly in the same league as it's closest competitors- Foursevens, Fenix, and Olight. Overall, given the overall quality and the pretty great warranty, I think it is a fair value.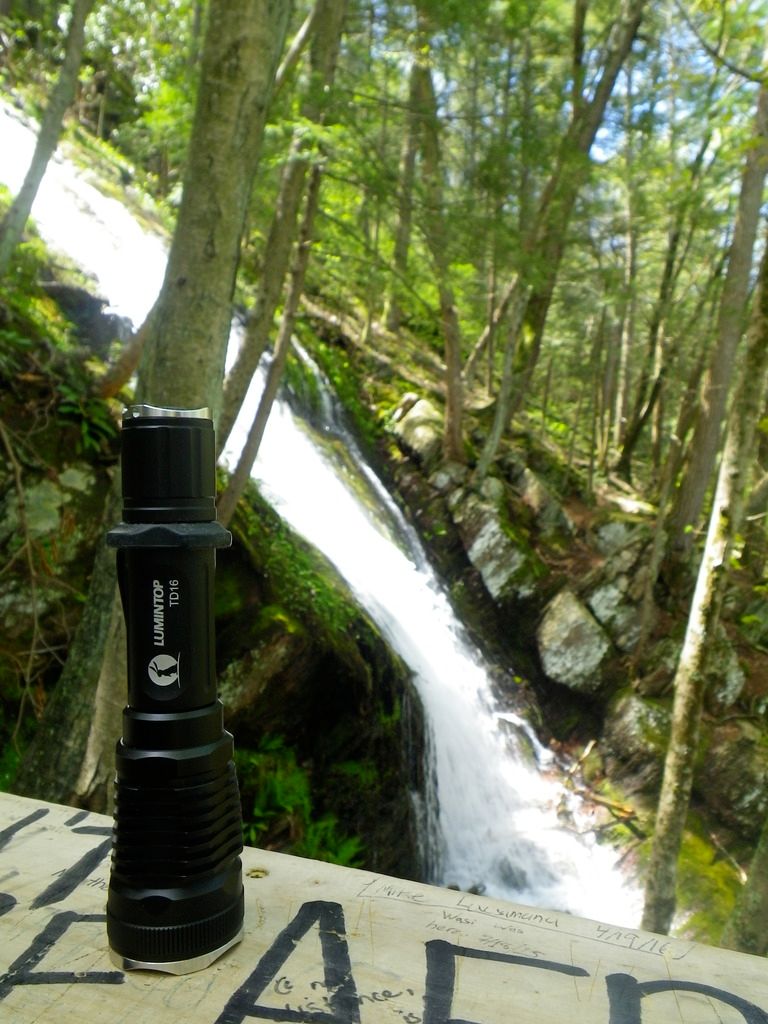 While the price is more than fair, given the top notch quality, I personally think, if performance alone is the criteria we judge lights by, you don't need to spend quite so much on a flashlight.
Remember, I'm a budget light guy at heart, so...
That said, there are several things besides fit and finish that make the cost of the TD16 more palatable. For starters, you get fair replacement and repair warranties directly from Lumintop. You never get anything like that from a budget manufacturer.
Ah, ya, hi. I'm having some issues with my Sipik 68...
Moreover, if you purchase from Lucky Light Bank's Amazon storefront, Lucky Light Bank will extent the free replacement warranty out to 30 days, In my experience, 30 days is more than long enough for any problems to rear their ugly head. You usually know in 30 seconds if the light is a lemon. Warranties and reliable/predictable customer service add cost to products. You get what you pay for in the end.
Only you can decide if that's worth the extra cost to you.
I should add that Lucky Light Bank has a 100% rating over the last 12 months based on nearly 300 Amazon reviews. Make of that what you will.
Even better, because it is an Amazon storefront, and the orders are fulfilled through Amazon, you get all the benefits of dealing with Amazon. Fast shipping, easy returns, etc. There is something to be said for dealing with Amazon, right? I mean, try getting satisfaction from any of those Chinese based venders like Banggood, Gearbest, or DX (the list is long, so I'm not going to mention all of them, but if you are into budget lights, you know who the culprits are) if you receive a dud light or something goes wrong after the sale.
Let's address the tactical nature of this light, shall we? Yes, it has a crenelated attack bezels at both ends and is hefty enough to be an impact device, which is all well and good, but what about it's suitability under the real psychological and physiological stress of modern combat.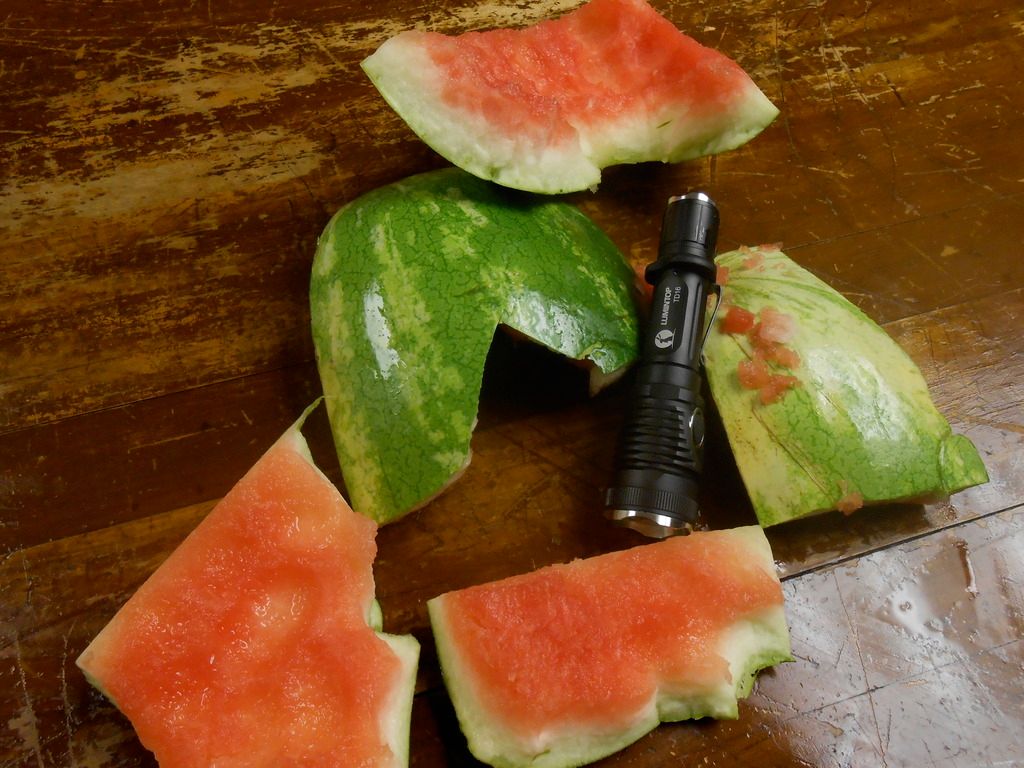 In the end, I think the use of the word "tactical" is overused to the point of being meaningless. While the UI is simple enough to use day to day, it is, in my never humble opinion, far too complicated for use as a tactical light. The added complexity of two switches, which require fine motor skills and double your chance of mechanical failure, disqualifies the TD16, as it comes out of the box, as a tactical light.
The main issue that prevents the TD16 from being a true tactical light is that it doesn't have what I consider an actual "tactical tail cap". For me, having a true tactical tail cap- one that does not click whatsoever- is an absolute requirement for a light to be of actual use in a tactical situation. A tactical tail cap should be press for on, twist for constant. Period, end of story.
Gross motor skills only. I mean, during the stress of combat, possibly wearing gloves, who among us is going to be able to lightly press a switch just enough to get momentary on? The answer is, "No one."
Plus, a switch that does not "click" is essentially just a big spring and, as such, is far less likely to fail under hard use. Those of you familiar with the standard Surefire P60 tail cap will know what I'm talking about. I go into this in great detail in the longer review video if you have the time or are interested in seeing a demo.
I am also of the opinion that a tactical light should be single mode. Why have any possibility of getting anything other than the maximum blinding and illumination output from a light when lives are on the line when you press the button?
Oh poop, I just got Slow Beacon. That can't be good.
All of that said, Lumintop sells an accessory kit for the TD16 that includes, among other items, a remote pressure switch and weapon mounting hardware. The remote pressure switch alleviates most of the problems I just brought up about it not being suitable for real world combat.
I should point out that standard features of the TD16, like the 1" body and the duel springs would all be of benefit if you were to actually mount this light to a rifle.
I also have issues with the crenelated bezel on the tail cap. It prevents the proper use of the cigar ring in so far as you can't palm press the switch during one-handed use nor press the switch into your fingers as you hold a sidearm (the light would still be in your support hand) in the standard two-handed grip.
In fairness, it is removable, which exposes all of the button for use the way I described, but doing so also exposes the treads; which may make them prone to damage if left that way under hard use. Which isn't a big deal unless you desire to put the tail bezel back on at some point.
So, out of the box, I think it is unnecessary and even a little bit of a stretch to call this a "tactical light". For me, it is a heavy duty EDC or utility light that, while it could be used as an impact device in an emergency, is really best by the back door or in a bag. If your clothing can handle it, pocket carry is obviously an option.
As you would expect a 1000lm light with a 1.5" reflector, the TD16 throws out a good distance. Here are some beam shots to give you an idea. It goes without saying that the camera doesn't do it justice. As you can see, there is a well defined hot spot with enough flood for avoiding literal tunnel vision.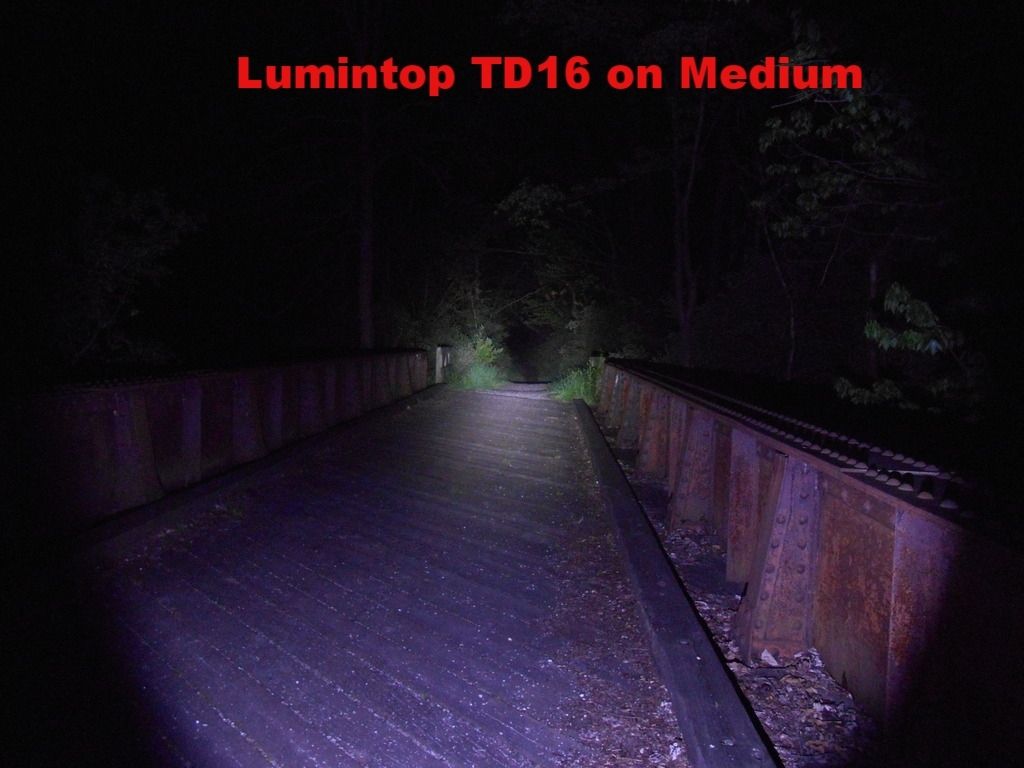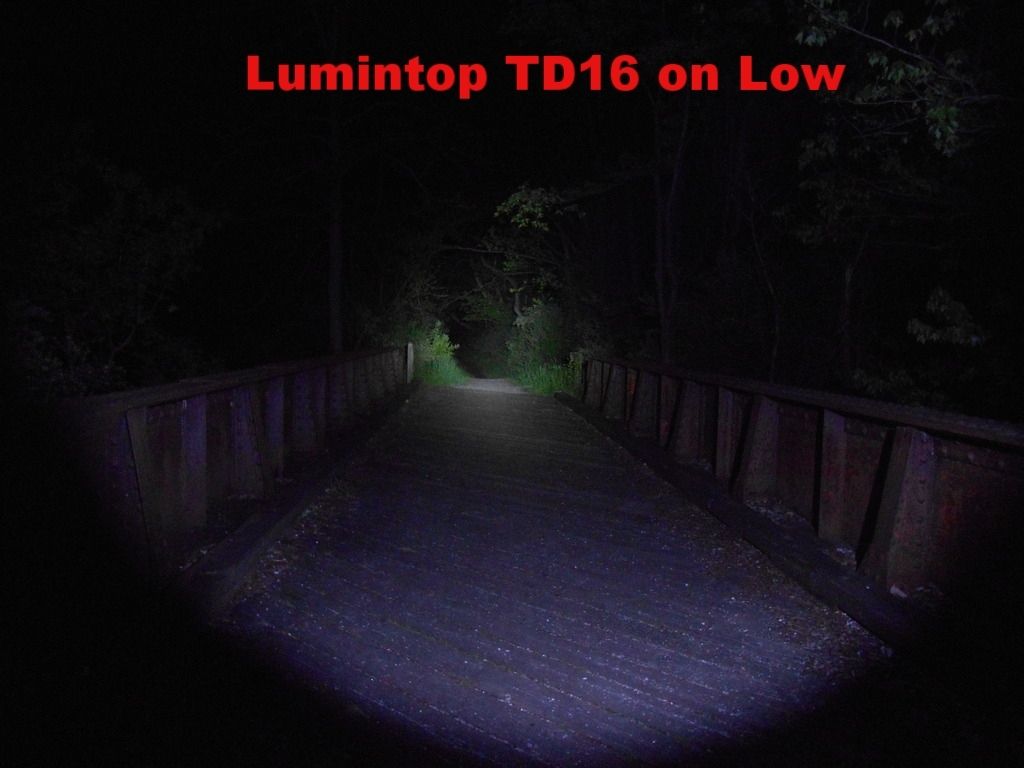 The preceding shots were taken at a local rail trail. This next one is at a hiking trailhead which allows for a 100 yard picture. That's my truck down at the other end. My camera doesn't like to focus that far out at night, but the truck is clearly discernible in real life.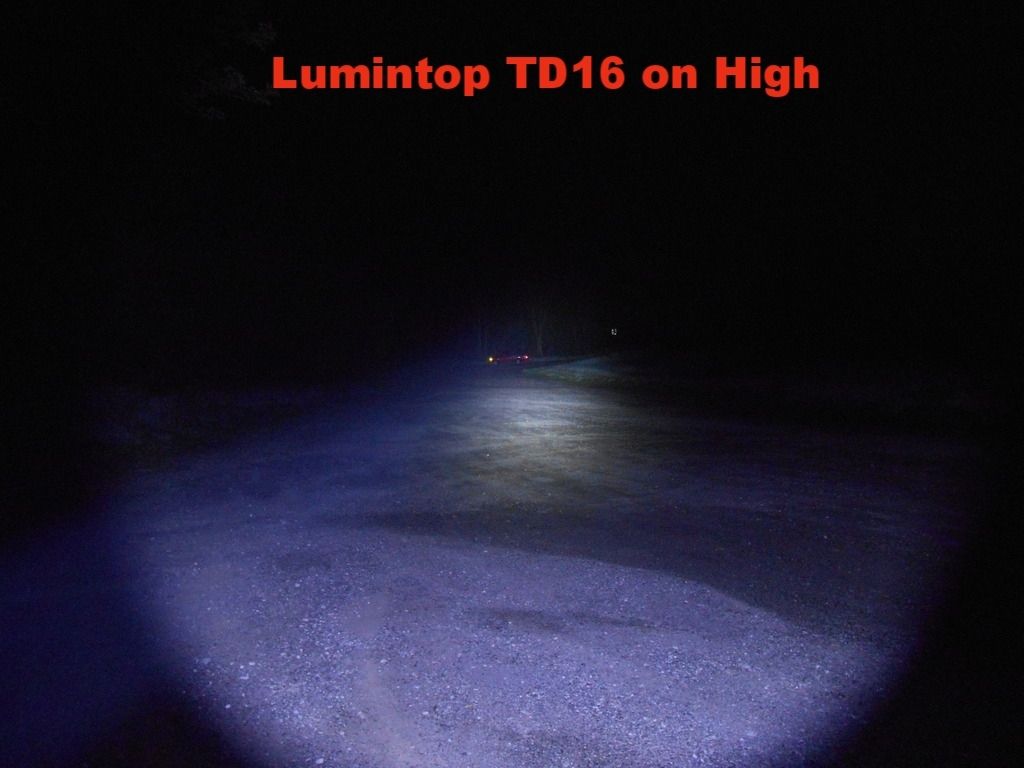 So, after this novella of a review, here are some final thoughts... my bottom line if you will.
The Lumintop TD16 is a really nice light that is well suited for EDCing, utility use around the house, in the glove box, or even as a bicycle light (they make cheap handlebar mounts for 1" tubed lights), but it's not really great as a tactical combat light.
Unless you think it is, then, by all means, have at it.
The price is starting to get beyond where the casual flashlight user is going to be comfortable. On the other hand, for a gear person who wants well built, reliable gear, it is pretty reasonable considering the overall high quality and the fact that you can deal directly with Amazon in order to get it.
We all have different requirements and needs when we search out the ideal gear for our personal use. Like I said, the deal breaker for me is no Moon mode. But, if the Lumintop TD16 checks off all the boxes for you, then is is well worth considering.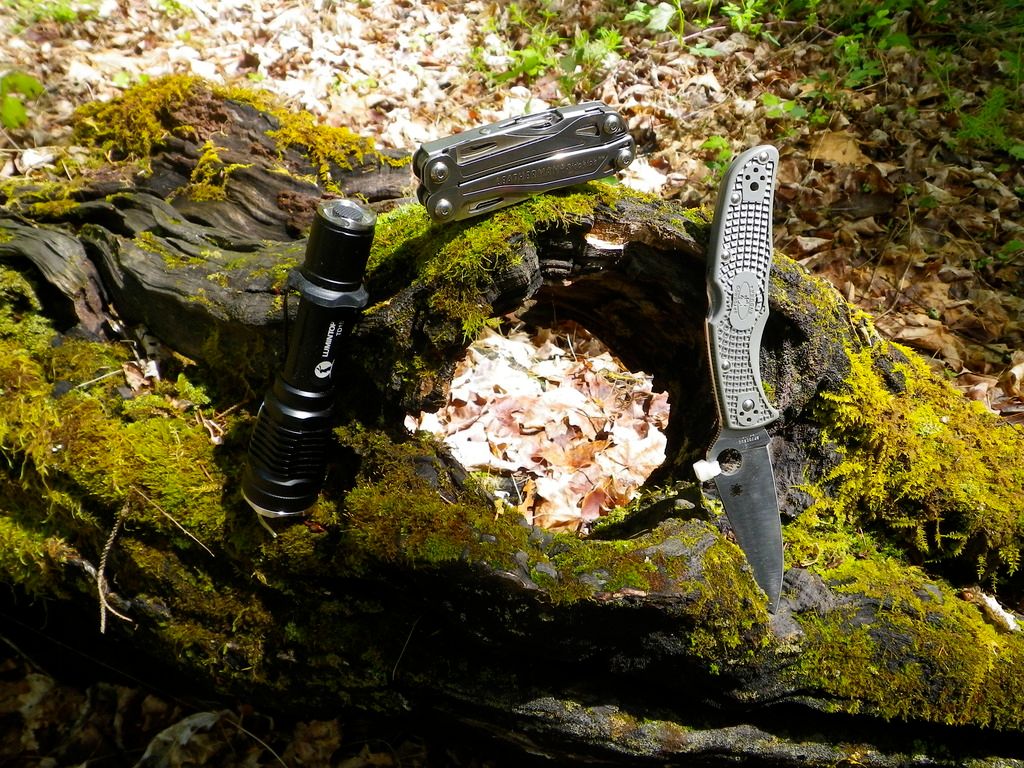 Now, I don't know what it says about the light, or how I feel about it, but even after testing, it is one of eight or nine lights around here that still has a cell in it so it can be used at a moment's notice.
This might be the longest post I've ever composed, so if you made it this far, thanks. I hope you found it helpful and/or entertaining. Don't forget the coupon code if you decide you just have to pick one up. If you have any questions, I'd be happy to answer them for you, so post them up.
I realize I probably should have posted pictures of the sheath, the box, and maybe the cell too. You can see all that stuff in either review video, but if there is a real clamoring for pictures of that stuff- or anything else- I'll make it happen for you.
I'd also like to once more thank Lucky Light Bank for allowing my this opportunity to try a light I'd likely not have otherwise been able to.
For the record, this review is posted on other forums.