I'm no expert in knives. I think I'll let pics do most of the talking. But for the anxious among us; no, it's not SRM quality. It's what you might expect when something that originally costs about 400$ sells for 33$. It's not bad, it's just unfinished and little rough.
This it how it came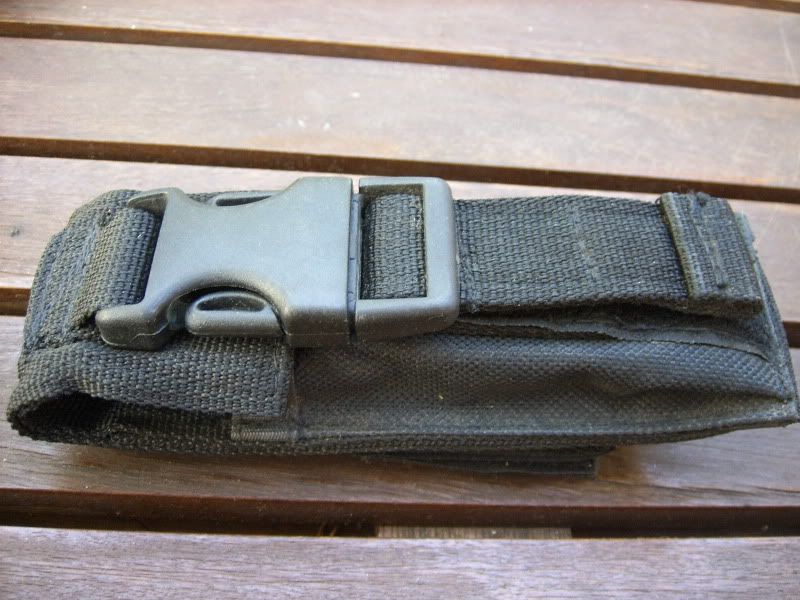 And this is how it looks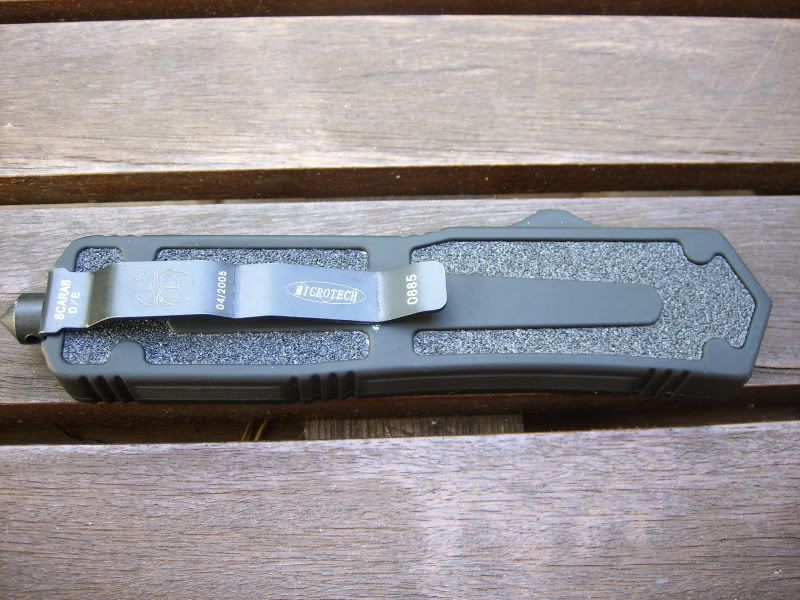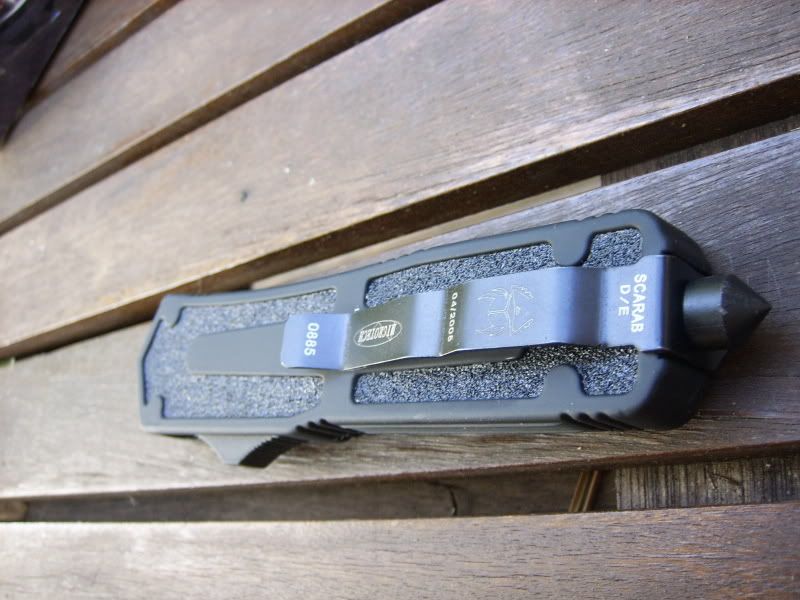 Oh yeah, they sent me the wrong one. I ordered plain edge version. But I don't mind. This is not a sensible knife by definition and why not go overboard with silly blade too. In my opinion serration is the flashy modes of knives. Stupid, silly, useless, but for some reason manufacturers keep pushing them to us. When clicking the blade open there's the metallic click when it locks, followed by very loud springy "sprojojojojojojojojng". When locking open the knife (or mostly the spring inside that vibrates through the whole thing) vibrates for like 4 seconds. Maybe 2 secs when closing. The sections in the frame that are not smooth are very gritty skate tape kind of material which gives very good grip even with wet hands.
I really can't say anything constructive about the action. It works, it requires some force but not excessive. It's fast and secure. Was very dry but a drop of CLP took care of that. And one thing... this is the dullest out of the box knife I ever had. Standard SRM edge is out of this world compared to this one. It hardly did a scratch on my fingernail. Blade seems to respond well to sharpening, though. Just a basic kitchen knife sharpening stick made some difference. I will take this to a skilled sharpener friend of mine later and we'll see how it turns out.
Size compared to 16cm Enlan M014. This is one beefy knife. And it's heavy.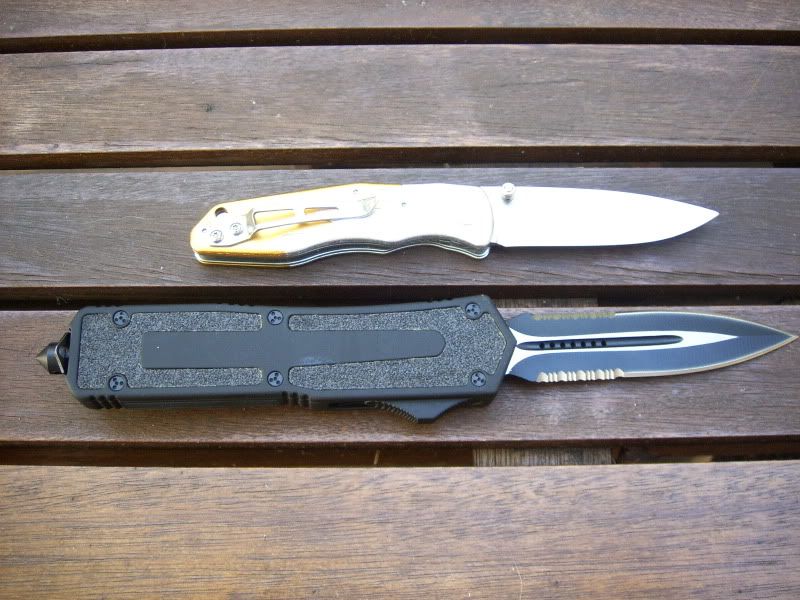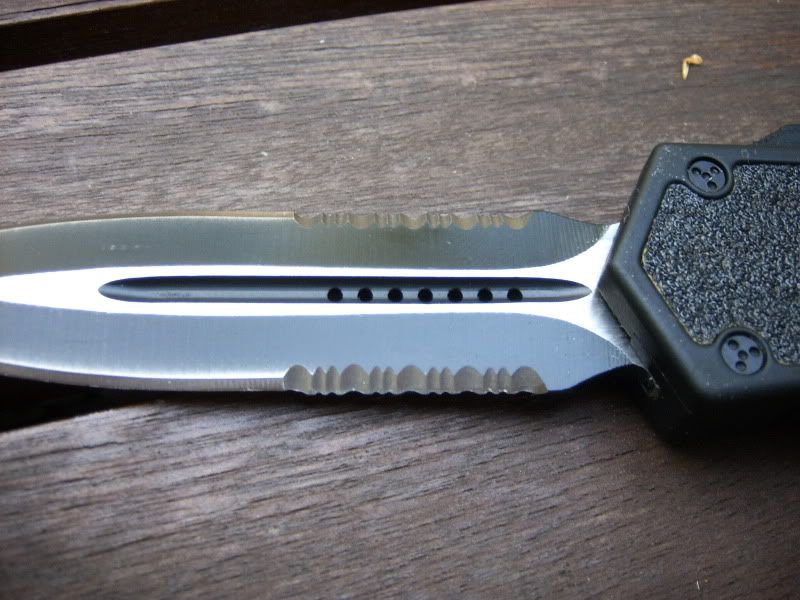 There is play to every direction but down when the blade is open. Back and forth is not that bad, but still very feelable. Side to side is much worse. I tried to take pics with me pressing the blade up and down. It maybe hard to see from these bad pics, but there is like a millimeter of play, and that's a lot.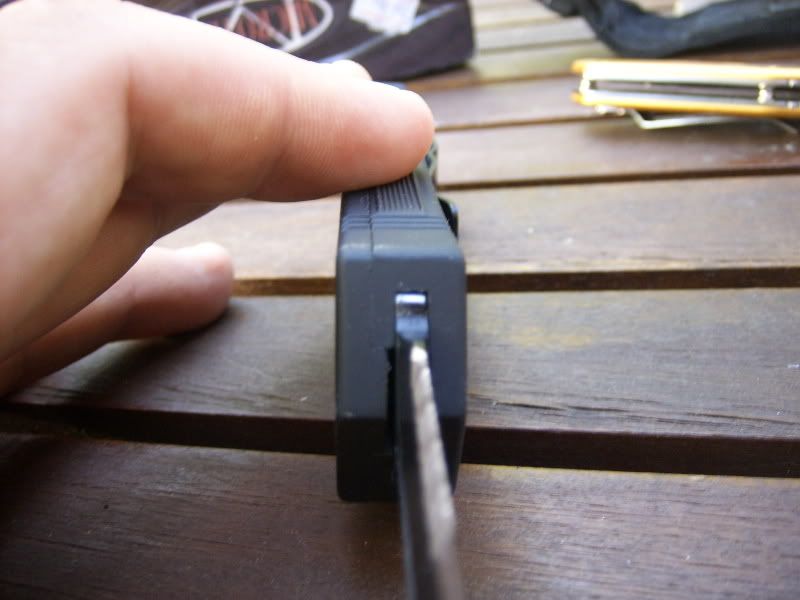 The clear areas of the blade are not polished. This pic does not show it because of limitations on my stupid camera and reflection, but there are visible machining marks. Not too bad, but again, unfinished.
There's some gap and/or uneven tensioning of frame halves. Pic also shows strange mark in the switch housing.
Well... What to say about this knife? It's highly illegal here, so that's one good reason for me to buy one. It's like supposed it to be. Not SRM quality, not sub-standard either. Clicking it open and closed is fun. And in my opinion it's a beautiful object. It's not very useful, but then again I don't see it being any less useful than the 400$ original. It's not just very useful design. Don't get me wrong, it is good for opening letters or stabbing people I presume. But if one would be left in the woods with this knife it would end up with tears.
It works and it is pretty. If that's enough for you, go for it. If you want excellent quality and strict tolerances, get something else.