A while ago, I took apart one of these mini C8s to see how they are built. Here's the thread:

https://budgetlightforum.com/t/-/14067


Now I had the time to start my modding attempt, and it works, kind of, but not very good, so I think I'm going to need a few new ideas. But first things first.

Here you can see the original plastic pill and reflector on the right along with what I'm going to put in: copper cap, leftover XR-E Q5 and TIR optic.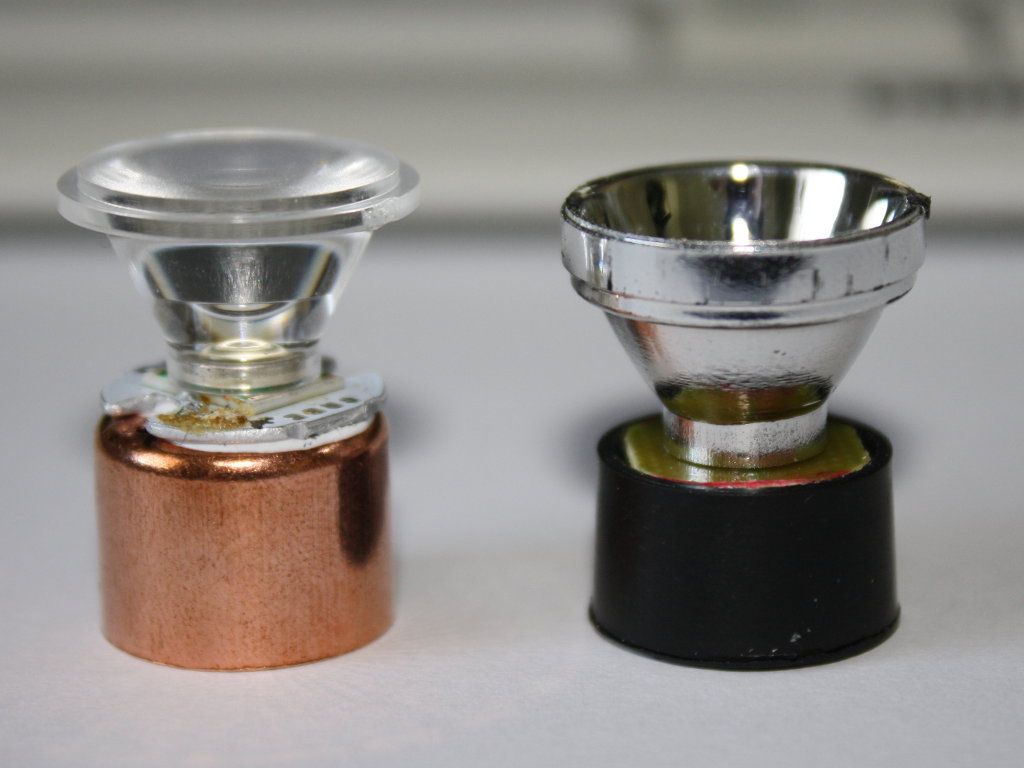 The driver is a boost driver from Fasttech. Note how the ground ring is slimmer on the FT driver. In this flashlight, the end of the battery tube touches this ground ring and completes the circuit.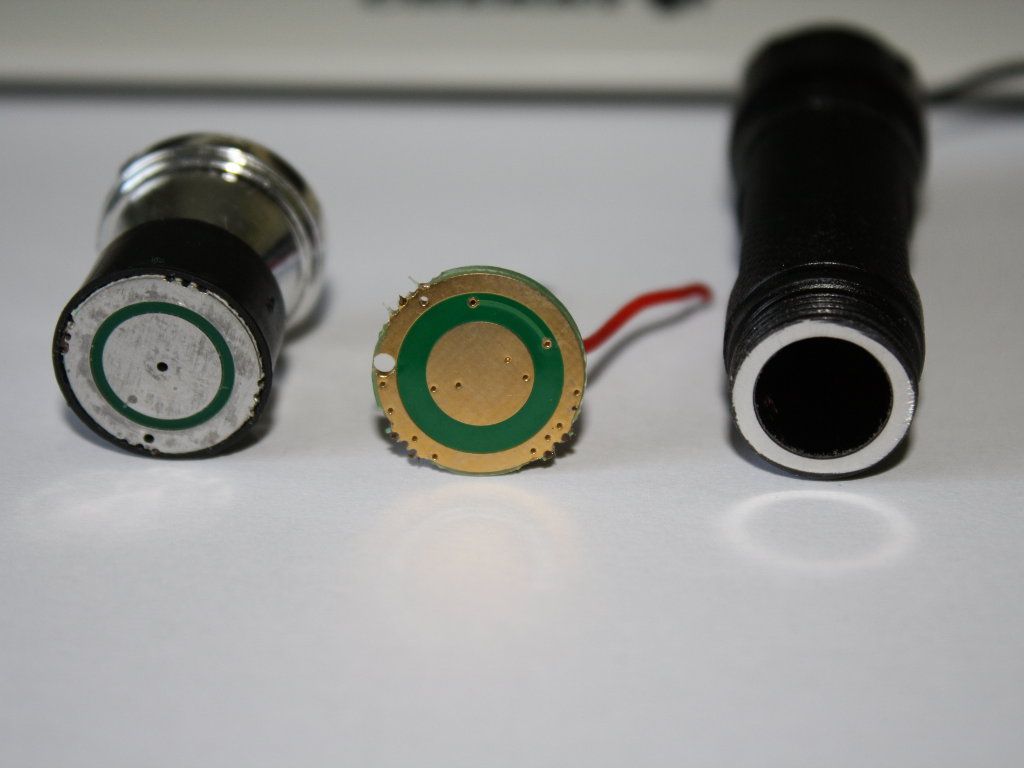 Now because of this slim ground ring I wasn't sure that I would get good contact with the battery tube. Moreover, there is a curcuit trace on the driver that I was afraid to short.
So I soldered contact wires to the ground ring: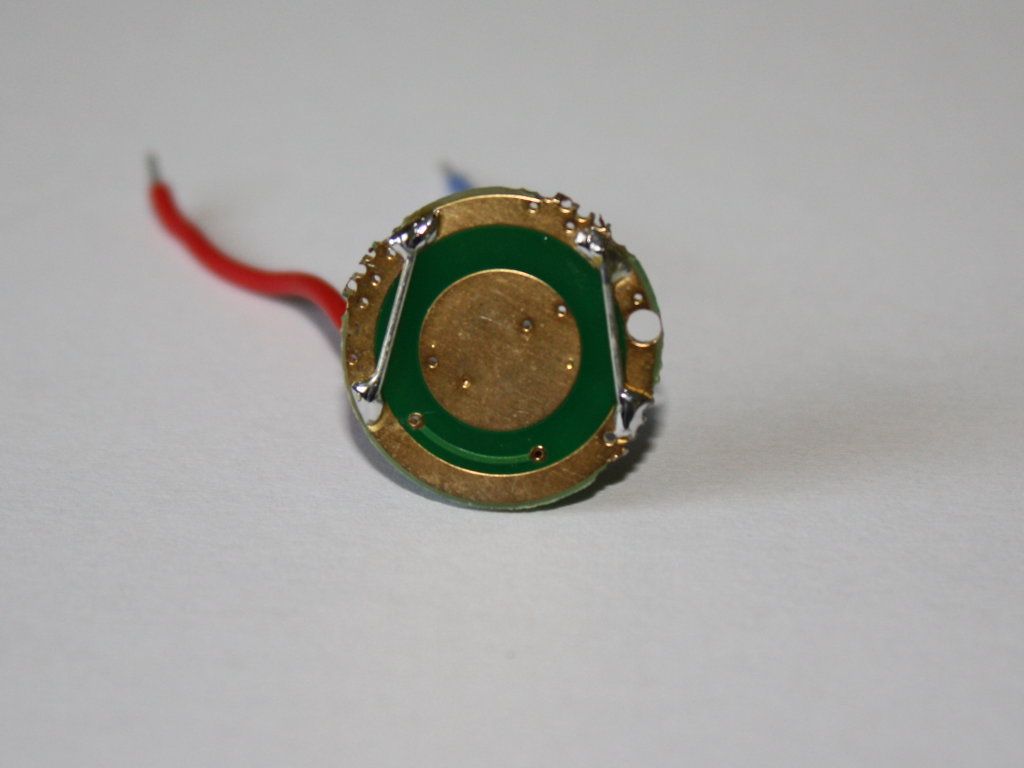 I ground the top of the copper cap flat, drilled holes, secured the emitter with arctic alumina and soldered the driver wires to the star, no problem.

But from here, thing start to get a little bit finicky. Remember that in this head, everything has to go in from the front. Seems that I have two major problems here:

1. The copper cap and the driver have the same OD, so I couldn't solder the driver to the pill, instead the pill has to keep it in place somehow.

2. Everything (driver, pill, TIR) slides without any friction into the head, so I have to make it press-fit somehow...

At first I wanted to wrap the pill in aluminum foil, but I couldn't get that thing shoved into the head. So I just crammed three pieces of stiff copper foil in there: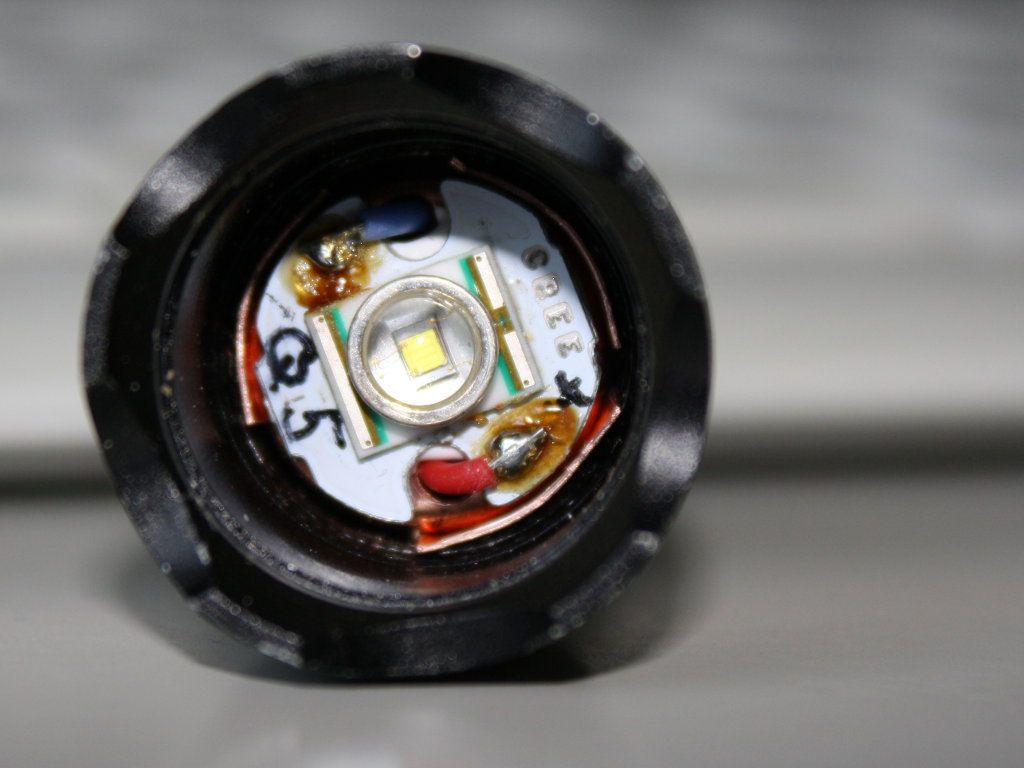 The TIR just pops on top of the emitter, ready to go for a first try.
Screwed the battery tube on, works first try!

But here's the BUT: With the copper around it, the pill has enough friction so it doesn't fall out. But obviously, if I screw the battery tube against the driver, everything will start to move forward, the connection just doesn't feel solid. Also I figure that the TIR will eventually pop of the emitter when the flashlight is dropped.

SO if any of you experienced modder has an idea on how to secure everything in the head I'd be grateful. Up to now I only did parts swaps, but this is my first major reconstrucion and I feel like I have come to a dead end here.


By the way, that Fasttech boost driver is quite a beast! Draws 1.7 amps from an AAA eneloop. Did I mention that the modded light blows the original one away big time?