Hi BLF Members,


We have just released the new Arkfeld UV. Let's check out some differences between them!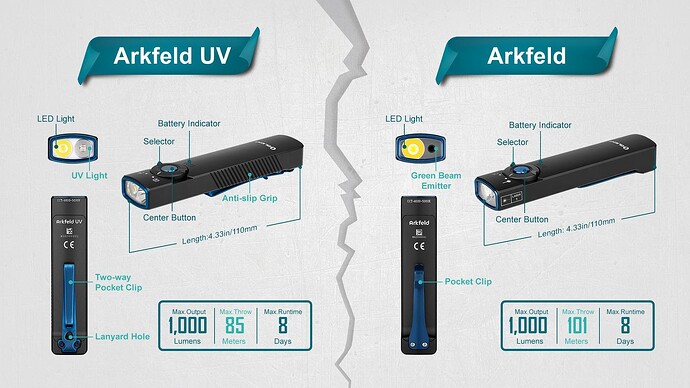 In response to the feedback and suggestions from fans after Arkfeld was launched, the UV version has been improved as follows:
Anti-slip design is added on both sides of the barrel
The size of the tail is reduced, and the volume is smaller
Brand new clip design
A lanyard hole is added, which can be used with a hand strap.
And more:

Olight March St. Patrick's Day Sale – Arkfeld UV is on promoting from 3/14 20:00 EDT - 3/16 23:59 EDT
Sale Price Only $59.98
<A Free Safety Light --Gober-- for All Customers!>


Do you prefer the Green Laser version or the UV version?
Arkfeld – Green Laser
Arkfeld – UV
What else is different? leave your ideas in the comment.