Strange UI.
You can toggle between two groups of modes:
Group 1. L-M-H-T + Strobe (2 half press)
Group 2. L-M-H + T (2 half press) or Strobe (3 half press)
To switch from one group to the other one you have to make 4 very fast half press. If they are not fast enough the firmware interprets that it is a mode change, not a group change.
It is a bit difficult because the reverse switch is very hard and the speed must be high.
I noticed that at the first moment my flashlight had four modes and after playing with it there were only three. Try to do it
This is what mine looks like…courtesy of djozz. He states BROKEN BOND WIRES!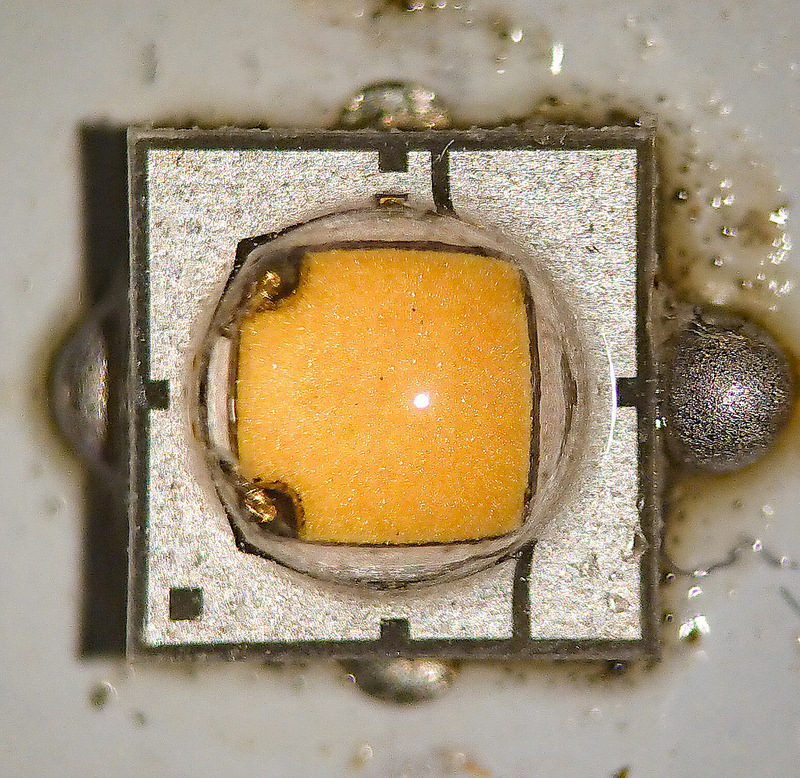 OK,SIR,maybe it[SST-20] is copying off of the Oslon Black flat w/ the missing corners!
The difference is,the SST-20 looks burnt and the Oslon does NOT.
wolfdog I know you like to be super dramatic but the light stops working when the bond wires are broken. The "burnt" look is just how all of these emitters look. Maukka's review looked the same.
In fact, you can barely see the bond wires in this picture because of the dome.
Here is the bond wires from his review:
Where did you find that info?
That explains why mine is 3 half press to strobe and what appears to be 2 half press for turbo.
Thanks
@wolfdog, if your emitter is working it is perfectly fine.
The bond wires on your SST-20 look great.
Otherwise, all of the SST-20s I ordered and shipped would be broken. They all look the same to me, except when broken.
Ok,I am NOT super dramatic. I should have looked at the other thread before I questioned it.
Thanks,dinners on the table,then to test the light in 45 minutes
I discovered it by myself, playing for a long time to debug the technique of group change.
I know exactly what happened with my LED.
I jumped to conclusions which created an illusion resulting in confusion!
Don't let that $22 light get to you —— I have more truck and misc lights around
It is not getting to me buddy,It was sold b/4 I EVEN RECEIVED IT!! Cereal_killer!!,then I get the 5000K version which is supposedly 1250 Lumens and 90Kcd!

How did the 3000k version pan out —-How's the beam on the trail
It has a nice beam profile.No artifacts, Decent sized hot spot,just not fond of the super warm tint!
I came home and looked at mine and your centering ring is not the same. It doesn't even look big enough for a XP sized LED. Experimental white flat centering ring?
/conspiracy
Got mine today, did you know you can swap the driver without having to touch the reflector or mcpcb or even take off the bezel?!
I did pull the reflector and sanded the upward facing side of the centering ring. This made the cut-off from center spot to corona sharper (made the center spot more defined) which I'm pretty happy about however doing so didn't affect throw any measurable amount.
After that I put a 22mm TA driver in it. I was gonna add a lighted tail but it's got the big Omten so no need to do anything back there! The boost in current raised throw from 40kcd to 60.
Also, shame on Nightwatch for grinding the markings off the drivers FET's. It's obvious what they are and just out of spite I've pulled them off and reused one on the 22mm driver I built for it and I'll be using the other one ASAP. It'd a FET driver, what do you think you're hiding?
Neal's store has this announcement, and geared more importantly to the newcomers to general online vendors based in China and ships from China:
Chinese New Year holiday From January 31 to Feb.12
China as a nation virtually grinds to halt…only the international hotels and factories with export commitments are operating…business/most shipping is momentarily shelved until everybody goes back to work.
Thanks for posting that . I couldn't remember those dates.
I understand that. The Lights[My First and this one] are shipped out of El Monte, California USA. So Chinese holiday should NOT affect that.
This is my concern,I talked to DHL by phone and they told me that only a shipping label was created on Friday January 25th. In addition they said that they have ONLY 48 hours to process that in the warehouse. That time has come and gone,not sure what happens next as it sits in a warehouse!,In California.