Gearbest was kind enough to send me the Nitenumen TA01 for review. I picked this light due to the popularity of the NE01 and that no one has done a thorough review and test of the TA01 so far.
Buy it here from Gearbest.com (affiliate links)
Nitenumen Ta01 Link
http://bit.ly/2rf3qBF
Nitenumen NE01
http://bit.ly/2rf9gmI
Gearbest.com flashlight coupon code (for non-sale items):
GB17LED
Link to the Gearbest Lighting flash sale
http://bit.ly/2qfrHd8
Please bear in mind using my affiliate links does provide a small commission to my fledgling little business. Every bit helps and helps me review more lights.
Manufacturers Specs:
● Utilizes CREE XPL V5 LED LED delivering up to 1060Lm output
● Multiple outputs: 5 constant brightness outputs plus emergency Strobe and SOS
● Dual switch, tactical switch to turn on / off the light, side switch to select modes
● Micro USB charging port, smart Li-ion battery charging system provides quick and safe charging
● Red and blue indicators display battery capacity and charging status clearly
● IPX-8 ( 2m ) waterproof standard, full protection in your daily life and outdoor activities
● Temperature control module monitors temperature and adjusts output automatically
● Constant current circuit ensures constant output, ultra long run time up to 150h
Brand: Nitenumen
Model: TA01
Emitters: Cree XP-L V5
Emitters Quantity: 1
Lumens Range: >1000Lumens
Luminous Flux: 1060Lm
Luminous Intensity: 9700cd
Power: 10W
Color Temperature: 5000-7000K
Feature: Anti-Roll Rugged Design,Cooling Slot of High Efficiency,Pocket Clip,Power Indicator,Tail Stand
Function: Camping,EDC,Hiking,Household Use,Night Riding,Walking
Switch Location: Side Switch,Tail Cap
Mode: 7(Turbo; High; Mid; Low; Moonlight; Strobe; SOS)
Battery Type: 18650
Battery Quantity: 1 (not included)
Mode Memory: Yes
Rechargeable: Yes
Waterproof Standard: IPX-8 Standard Waterproof (Underwater 2m)
Power Source: Battery
Working Voltage: 3.7V
Reflector: Aluminum Smooth Reflector
Lens: Toughened Ultra-clear Glass Lens with Anti-reflective Coating
Beam Distance: 150-200m
Impact Resistance: 1M
Body Material: Aerospace-grade Aluminum Alloy
Available Light Color: Cool White
Available Color: White
Mode Testing:
Firefly - .02A 6 Lumen
Low - .11A 63 Lumen
Med - .26A 147 Lumen
High - .99A 435 Lumen
Turbo - 1.90A 890 Lumen
Comparison:
mine - advertised - difference
6 8 –2
63 60 +3
147 150 –3
435 450 –15
890 1060 –170
I have been having some calibration problems with my lumen testing. I think it is time to upgrade to a something a little better. My numbers
have been coming up low for the last several lights. My professional opinion is that the TA01 meets advertised specs and that the calibration issue
is on my end.
Performance: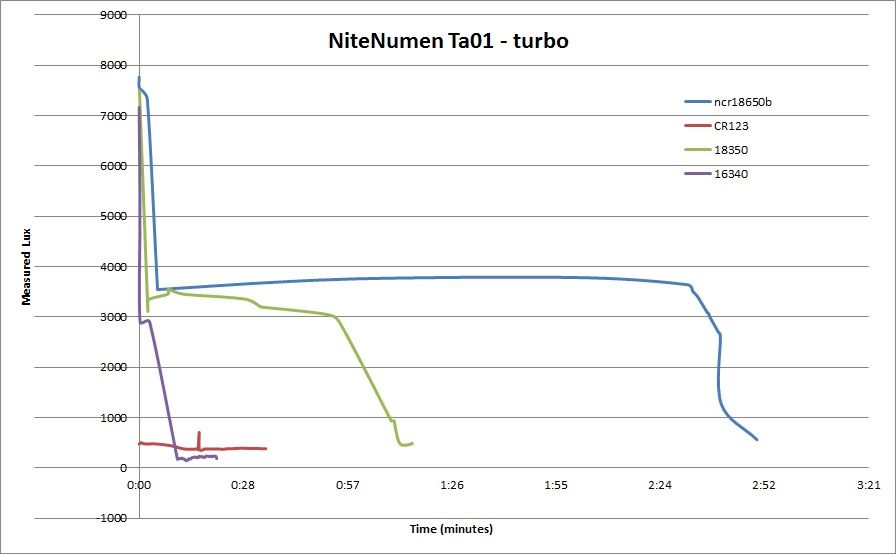 Performance with a CR123 is abysmal at best! I used a panasonic CR123. They are about a year old. 16340 performance on turbo is pretty
bad as well. If you're going to use either of these two battery format I recommend you find a high end battery that can handle high drain. Otherwise performance with a panasonic ncr18650b, efest 18350 800mah were both very good. The 16340 was a olight 16340.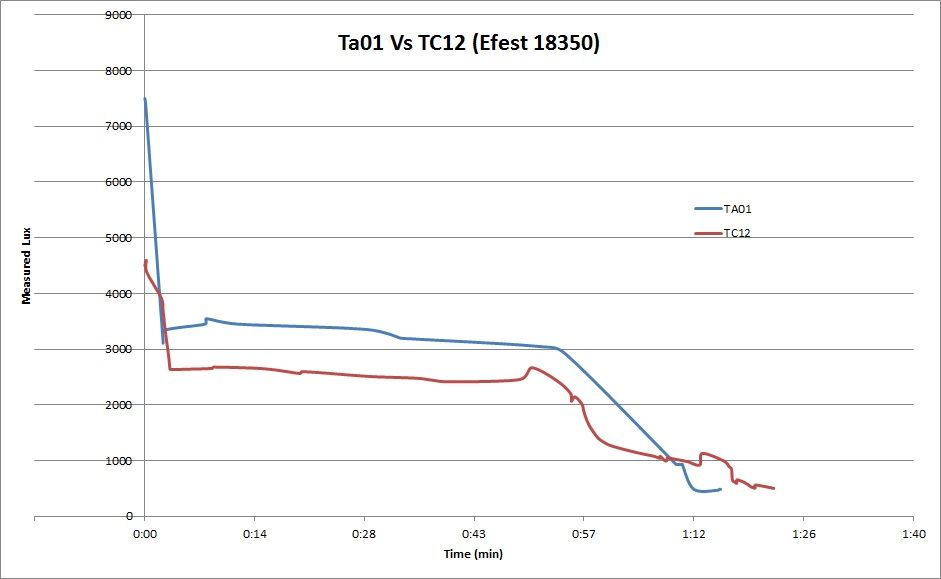 Just to make sure I ran a test using the same 18350 on the Thrunite TC12. You can see the results are very similar.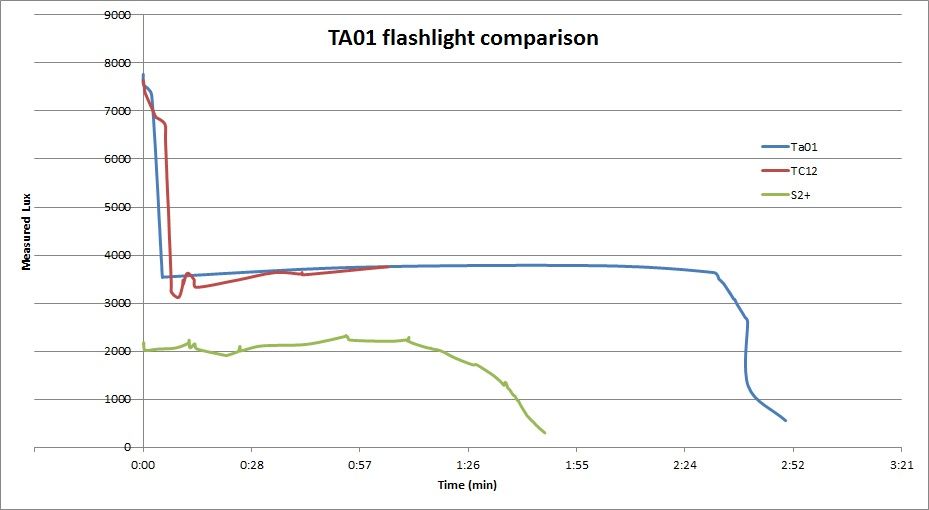 Here I ran the Ta01 up against the Thrunite TC12 and the Convoy S2+. I accidentally stopped the recorder on the TC12 and that is why it is cut short. But you can see that the flashlights perform almost identically again.
Using an 18650 battery your going to have a hard step down at about 5 minutes that is going to take you to about 50% power. If you leave it as is, your going to get nearly 3 hours of run time. The light never got extraordinarily hot during the test. There is alot of good mass in the head.
I also wanted to note that the red//blue LED indicator for battery does not seem to be very accurate. No surprise there though. I've yet to test a flashlight that accurately depicts battery status.
Overall, for the small price range this flashlight can keep up with the more expensive TC12 with no problems.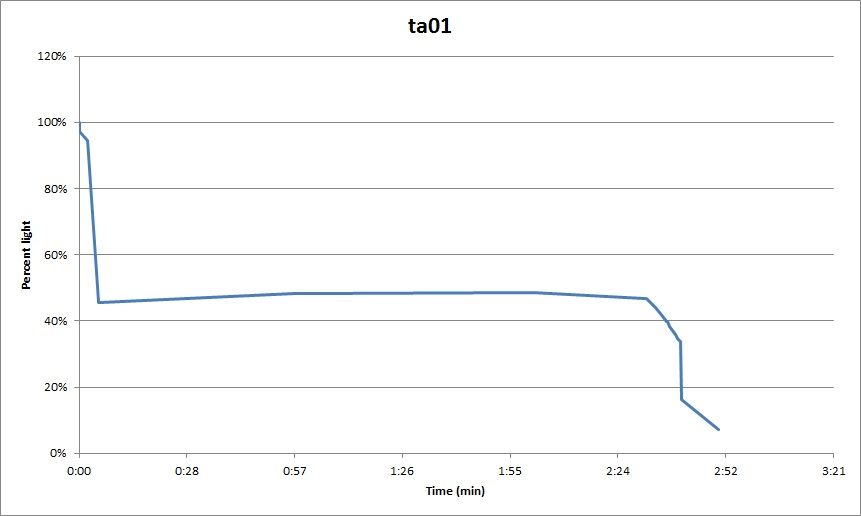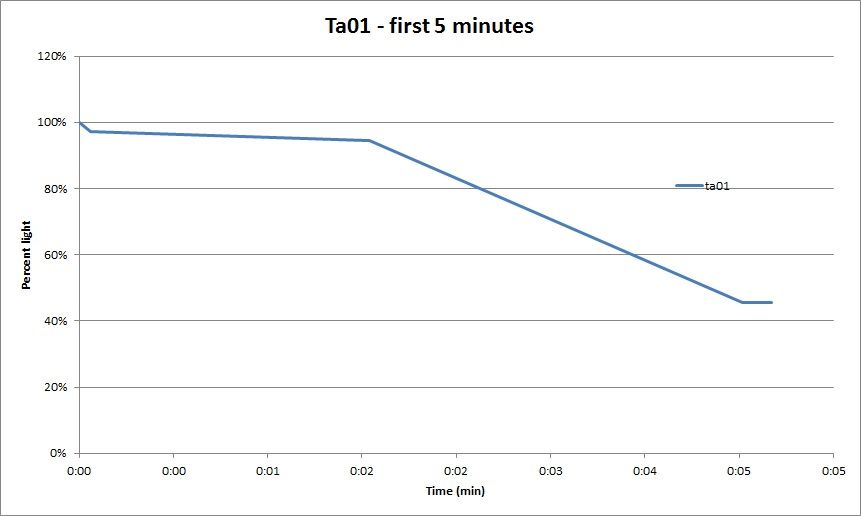 Charging: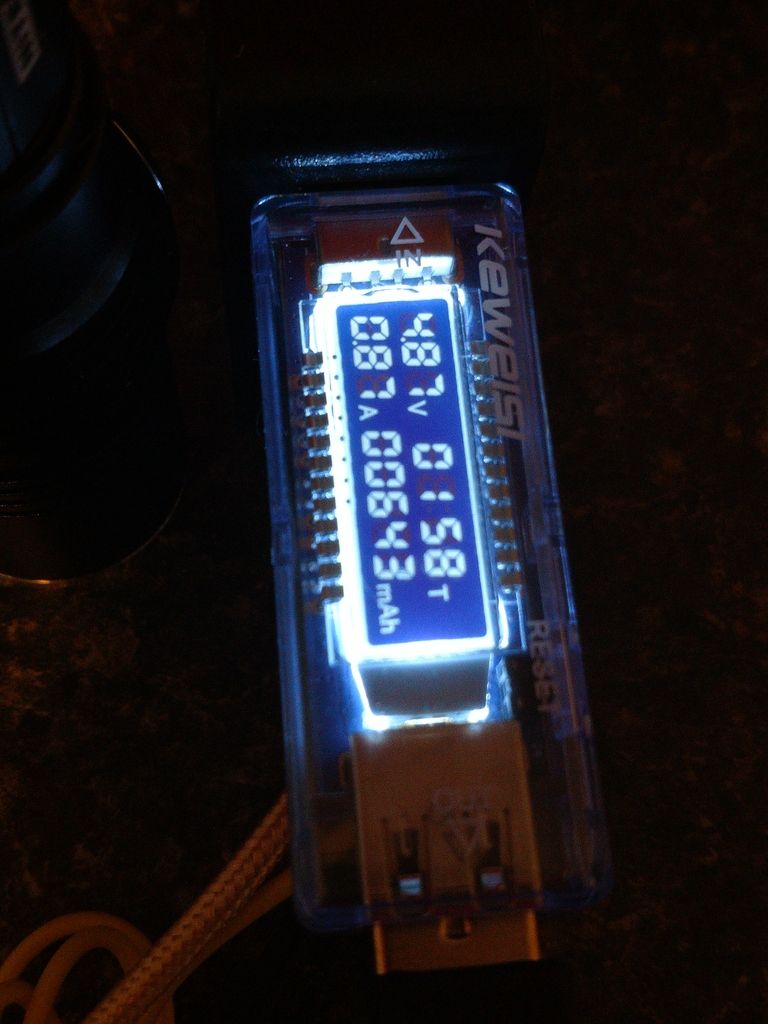 This is pretty self explanatory. The light charges at .87A under load. I found there to be no overcharging. It seems to consistently charge to 4.18v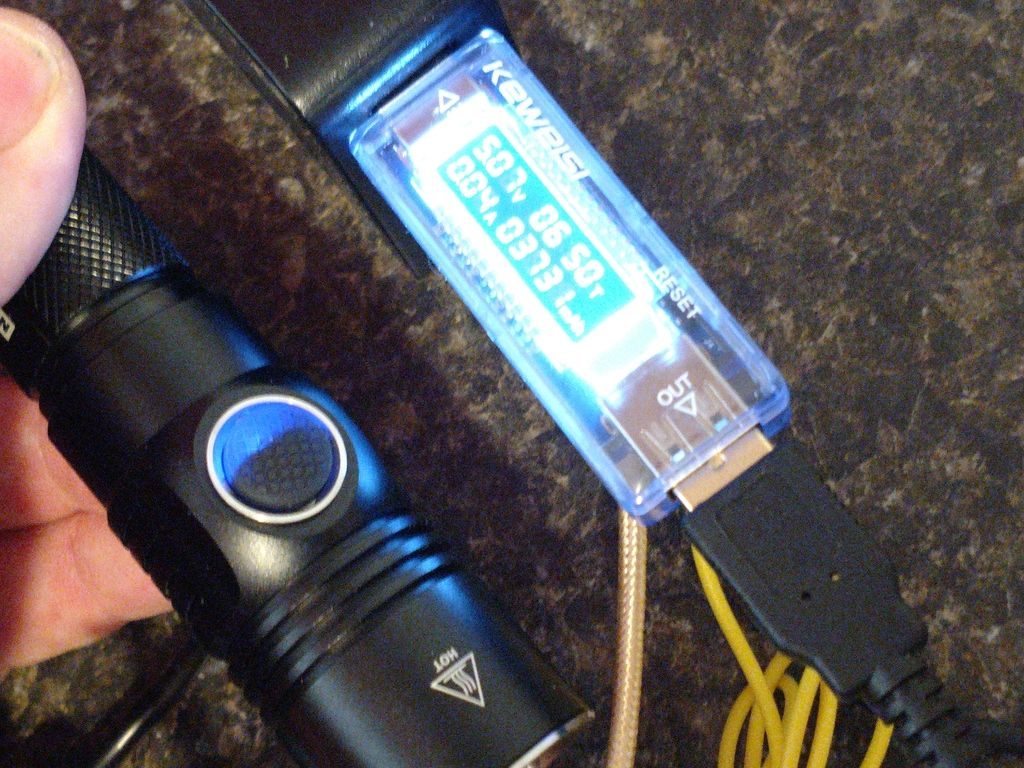 When the battery is full the LED did accurately switch from red to blue. The light then appeared to do a trickle charge of .04A from there.
I charged several ncr18650B batteries in this light and found the results to be pretty consistent.
PWM:
I'm not sensitive to PWM at all… but I know some of you are. I'm not seeing any evidence of PWM in this light. Perhaps it's a frequency I can not see. But my camera did not pick it up either.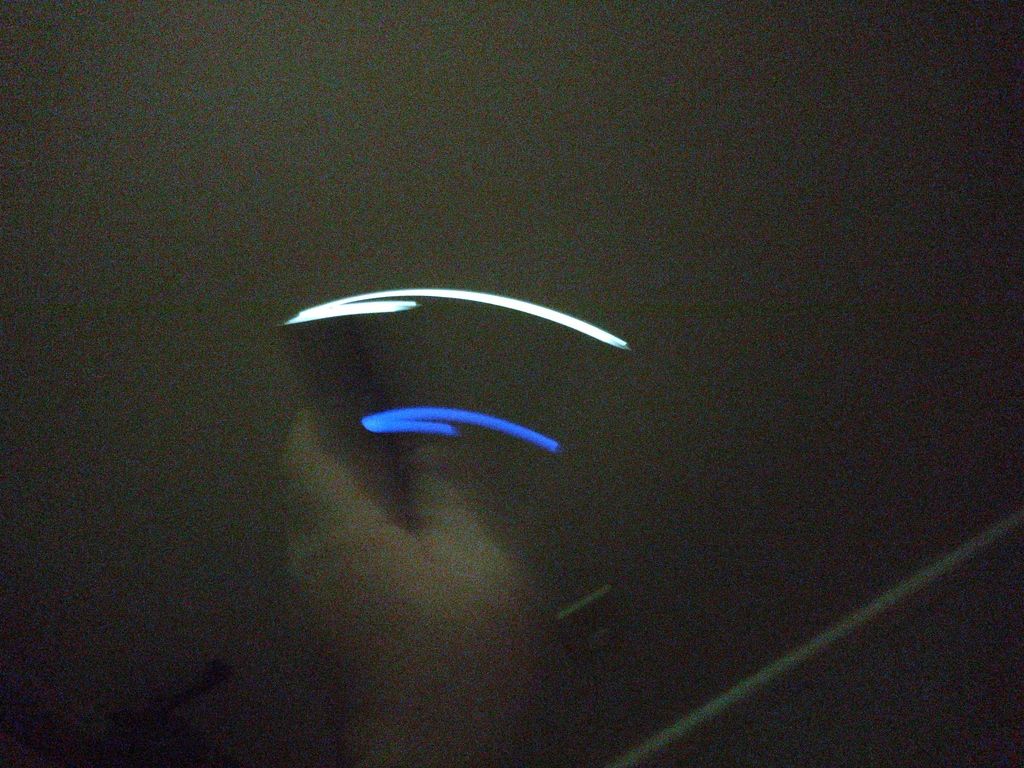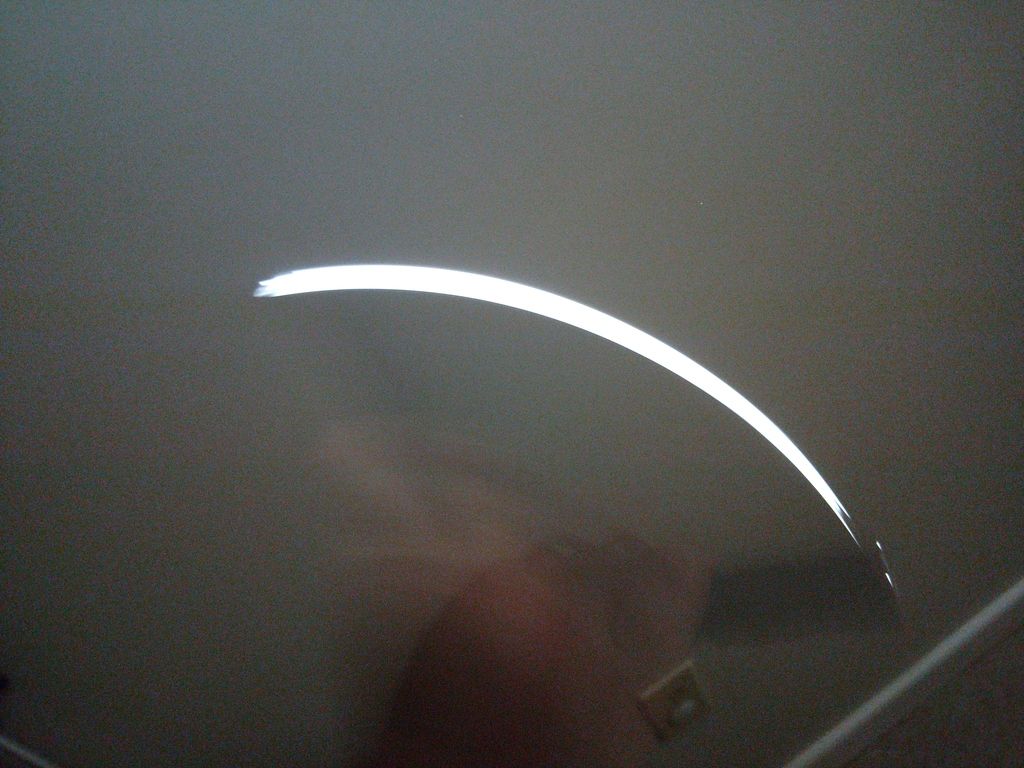 Construction: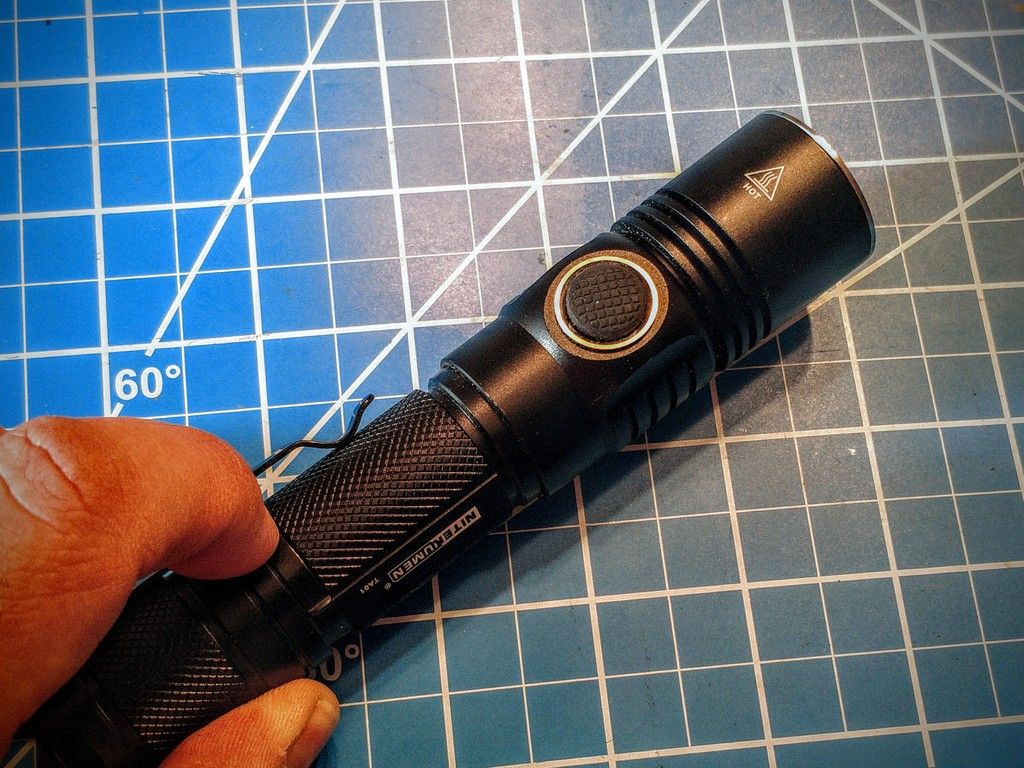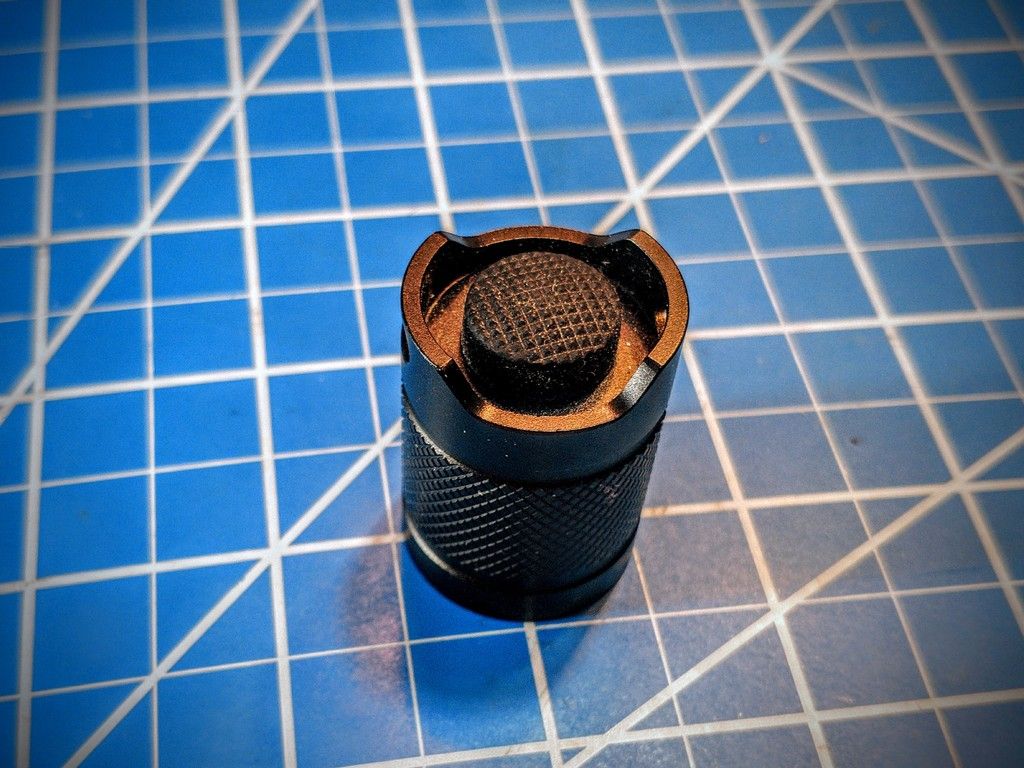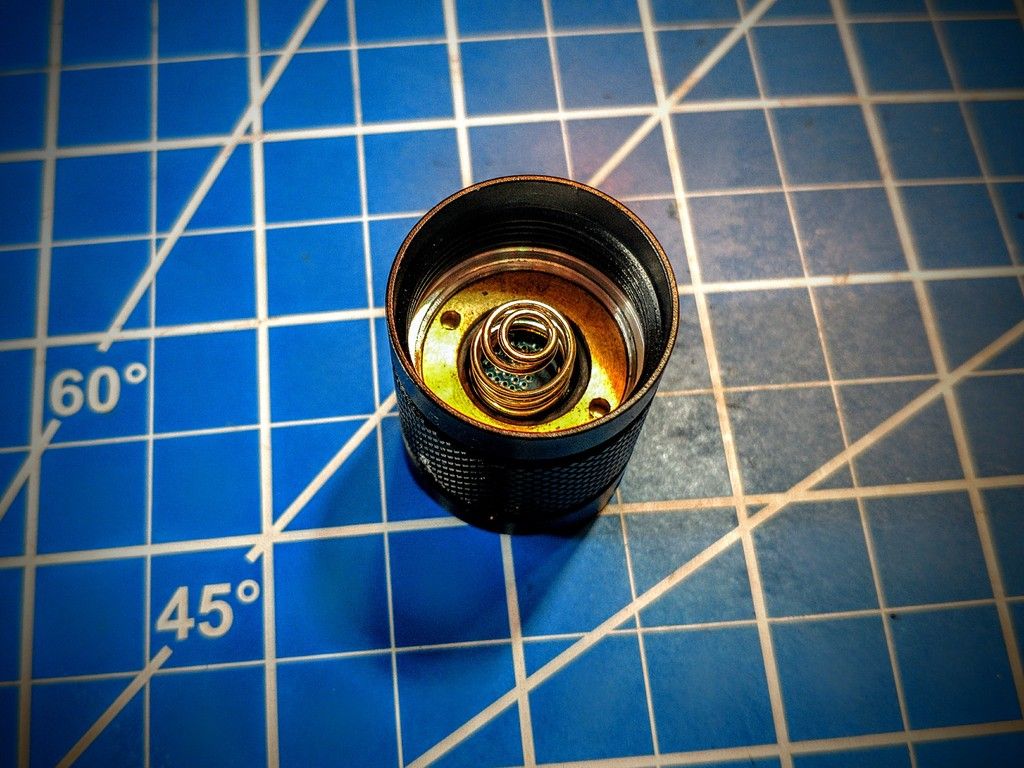 The tailcap has a forward clicky that does operate with momentary feature. Inside there is a nice stout coated spring and a brass retaining ring to hold the switch in place. The light will tailstand if you coax it, but it's not going to happen in anything but perfect flat conditions where you have time to balance the light.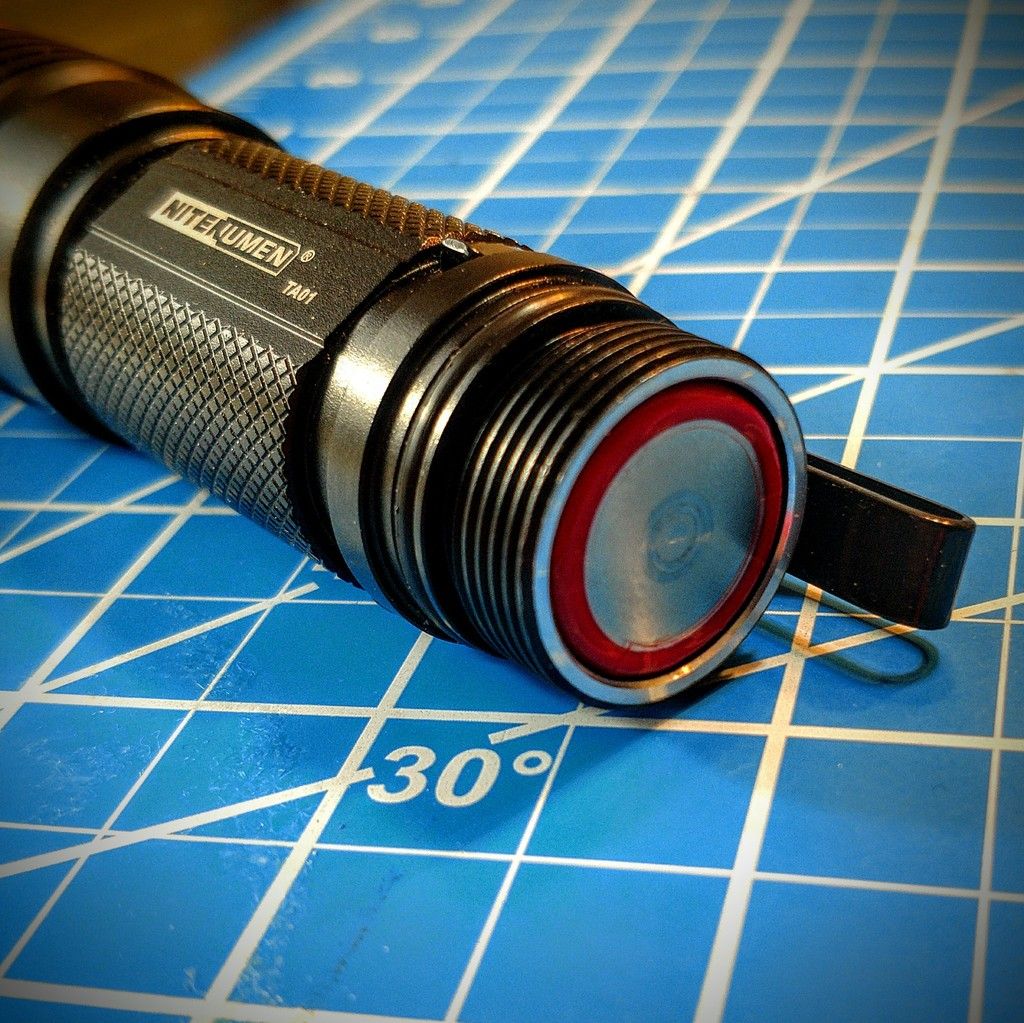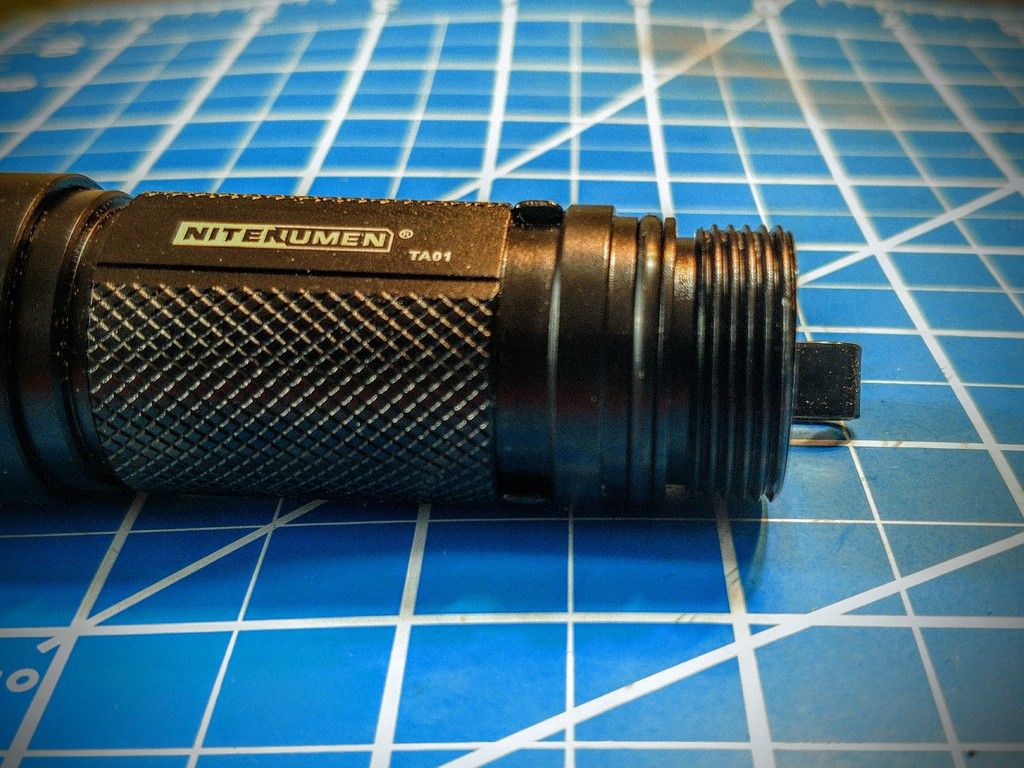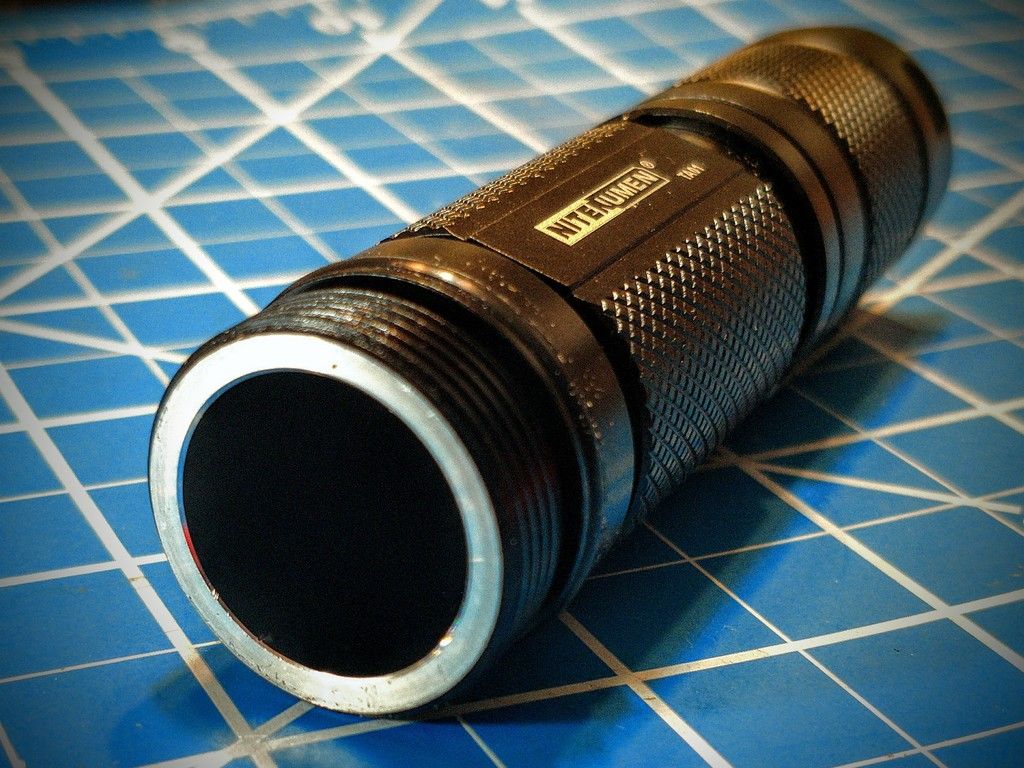 The Ta01 follows in the footsteps of the NE01 in that it has a really thick aluminum tube, annodized threads, and a pretty impressive pocket clip. The clip is equally thick and beefy. The threads are nothing spectacular, but are smooth after a little cleaning and lube. The ability to physically lockout the light is very important to me.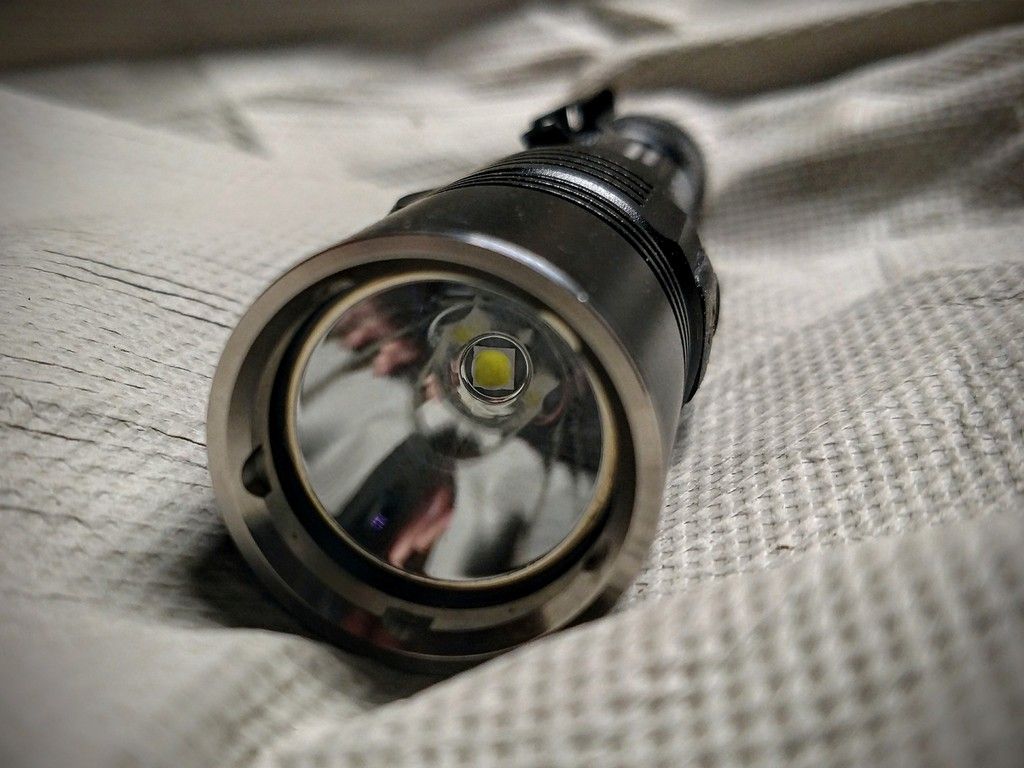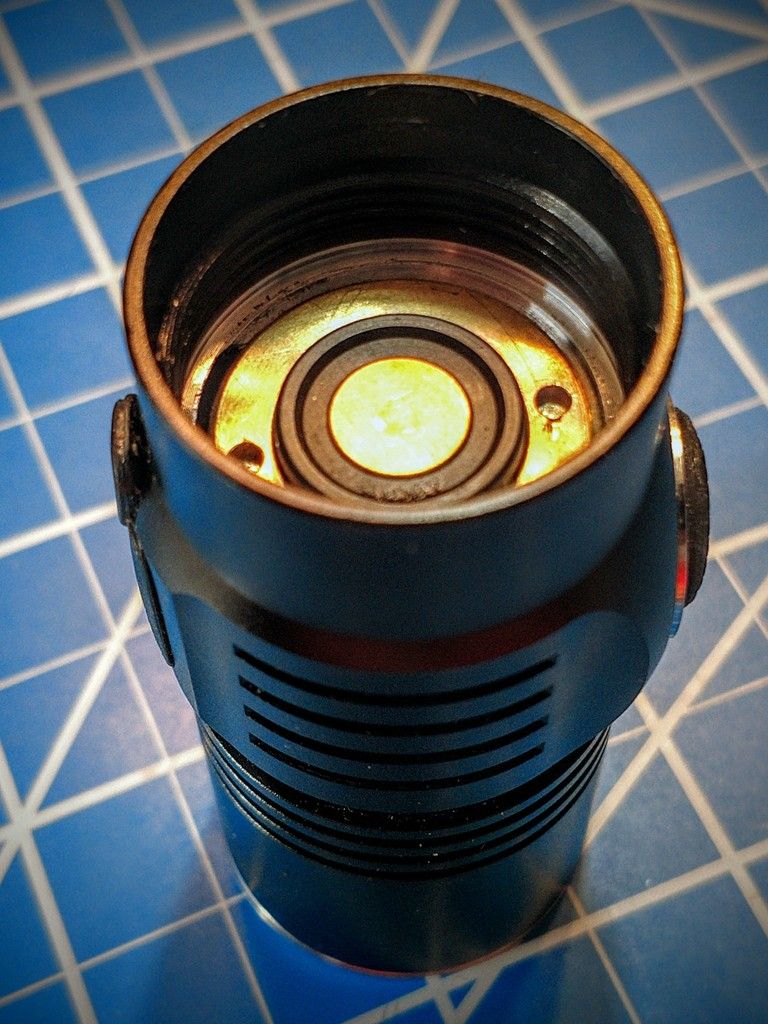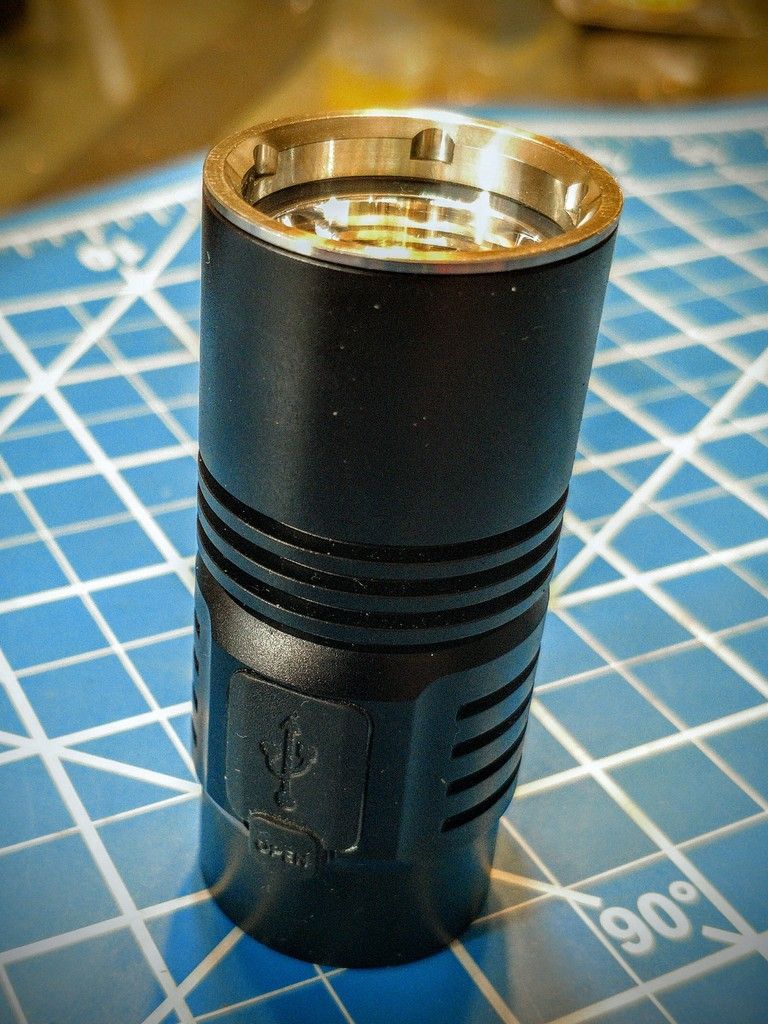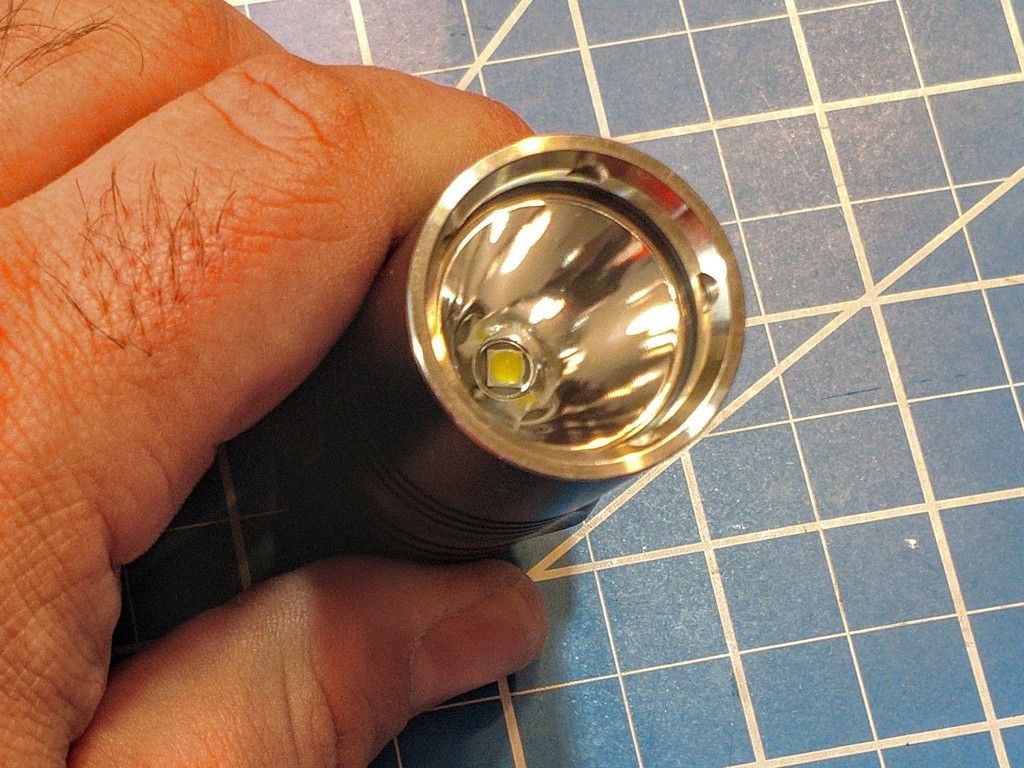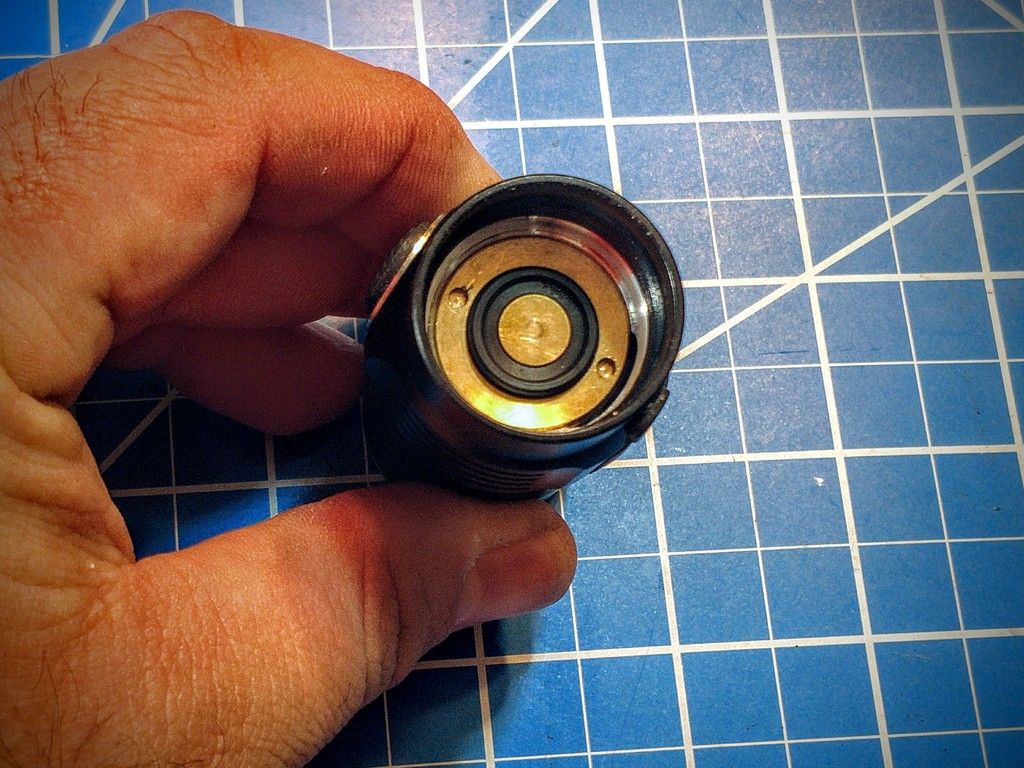 The head has a stainless steel bezel, glass lens (not AR), a smooth reflector, USB port, and the driver is held in place with a retaining ring. I did not remove out of fear of damaging it prior to completing my review. The battery contact should be noted. There is a spring loaded brass button surrounded by a plastic insulator. The brass button is recessed so you are going to need to use button top batteries. I did test numerous batteries and the ncr18650b was a great fit. I attempted several unprotected batteries with magnets attached and they were too short. So battery length will rule out the use of shorter batteries even if you have modified them. This setup provides a physical reverse polarity protection as well as the flat bottoms can't make contact with the brass button. I would really like to see electronic polarity protection in a light, but I guess something is better than nothing. The USB port is covered with a rubber boot. As usual it will only accept USB cables with a thinner profile to them. The ones with the big square rubber boot wont fit in.
The quality of construction is very similar to the NE01. Thick tube, and most of the features we need.
Youtube Review:
https://www.youtube.com/watch?v=R2eJn-Jc4eo
Beam Shots: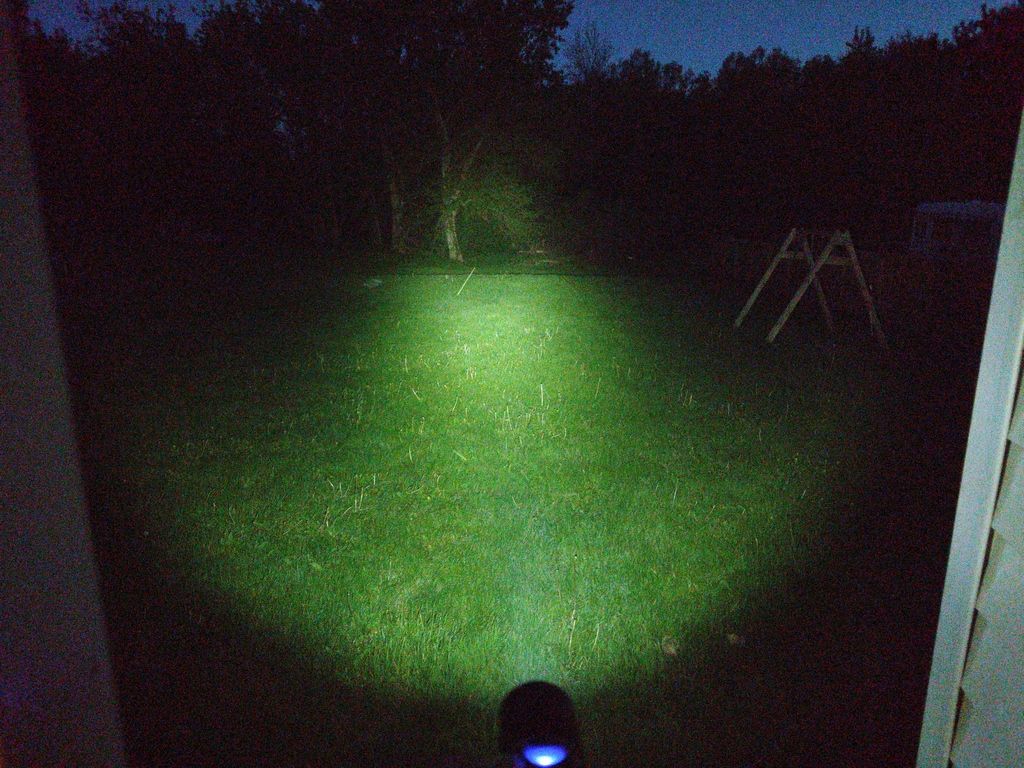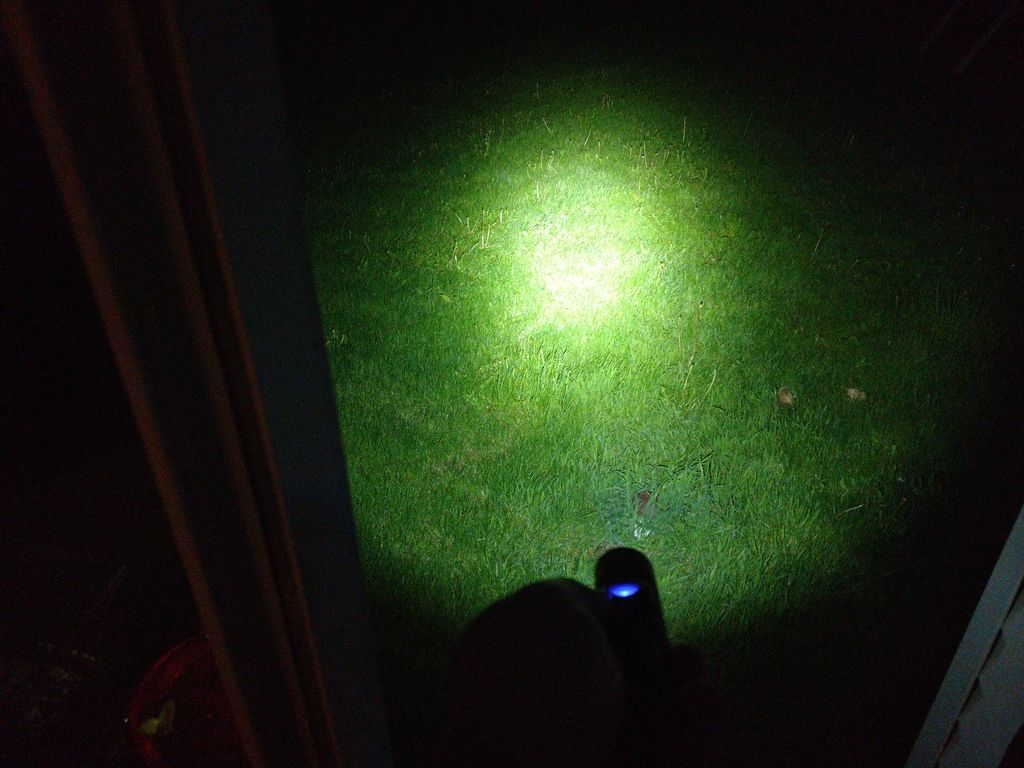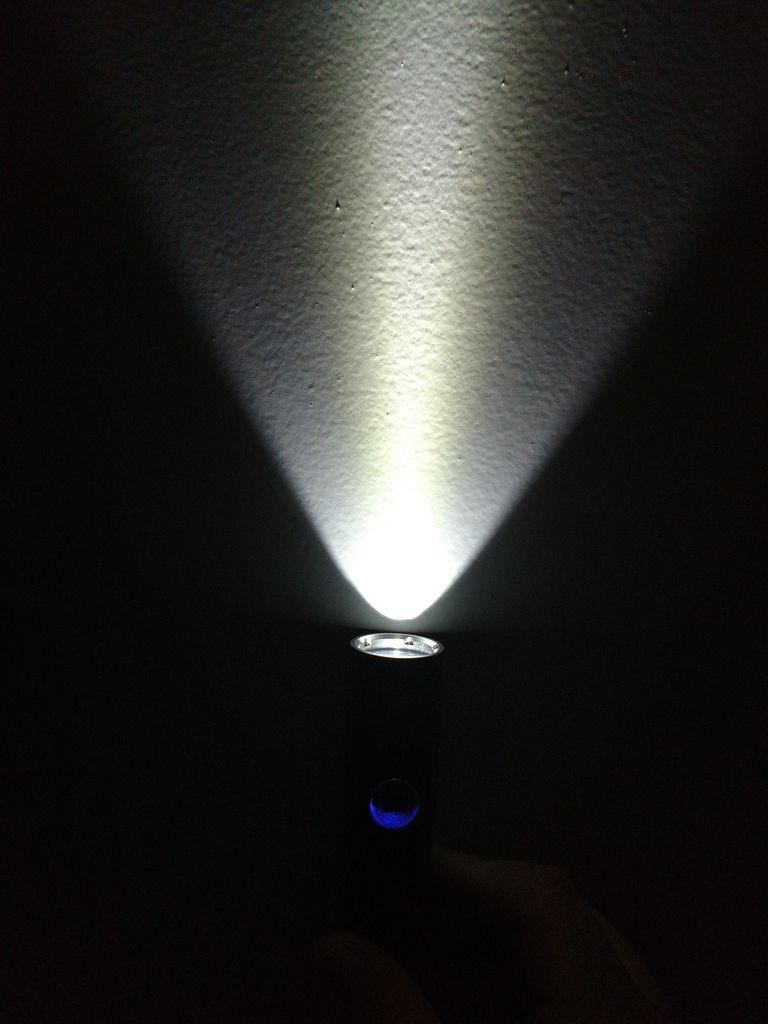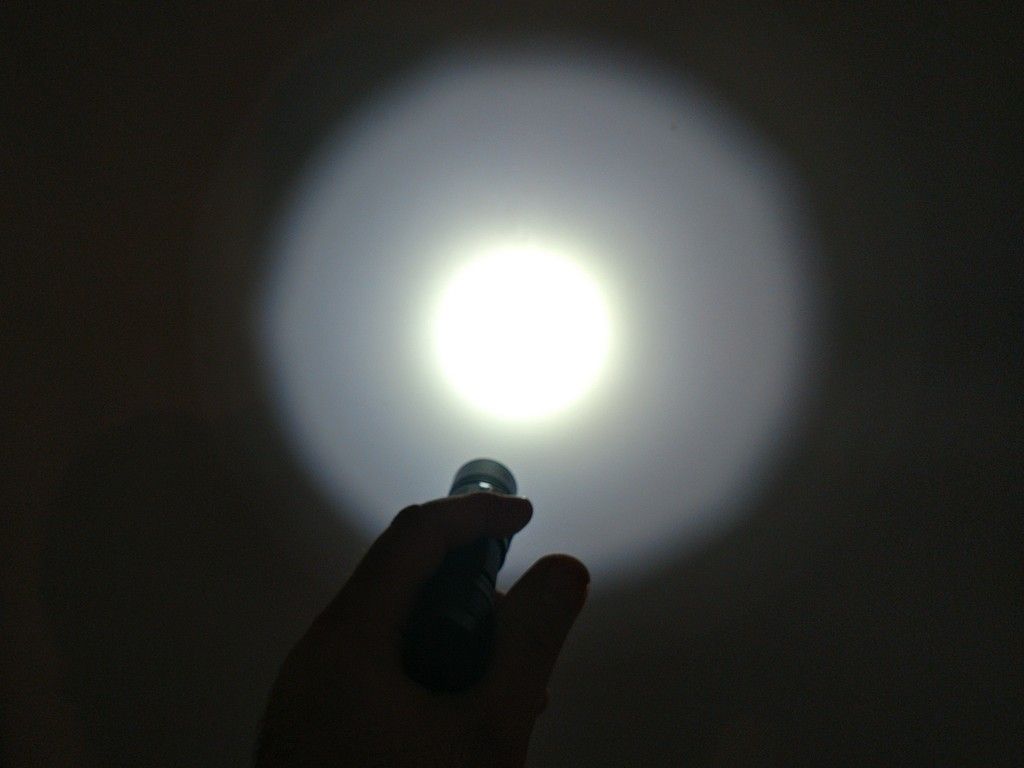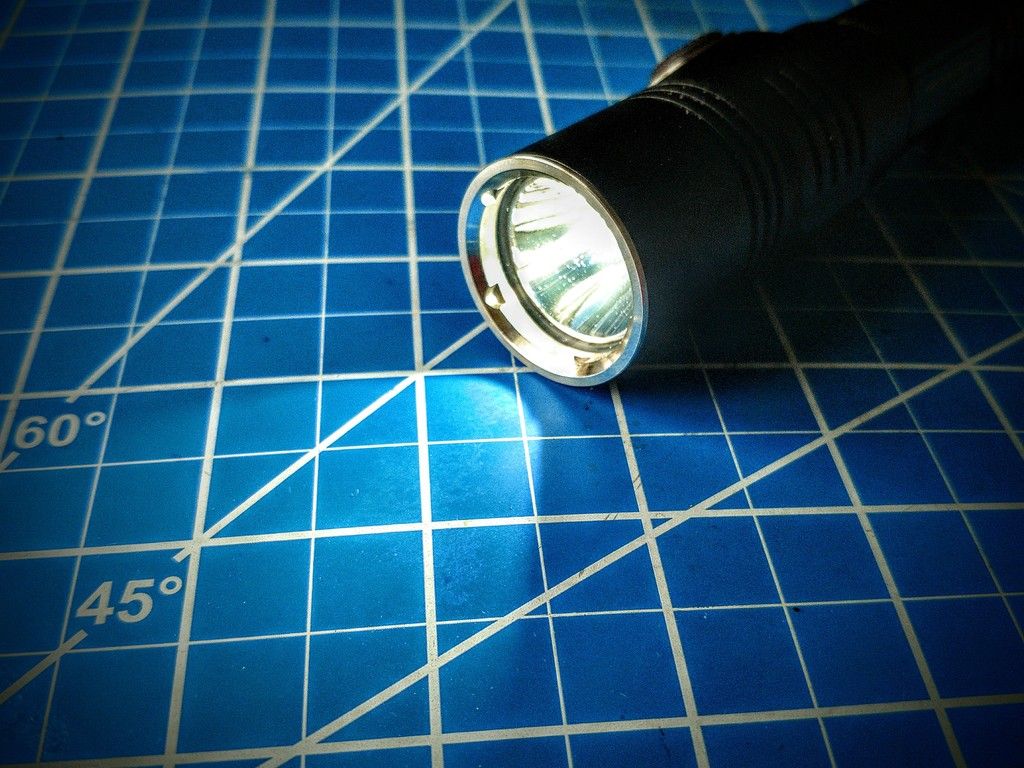 User Interface:
Simple! The light utilizes a 2 switch design that is very common for 18650 tube lights. The rear switch turns the light on and off, and the side switch switches modes. The light has mode memory and will turn on to the last mode used. When the light is on a simple click of the side switch brings you from low-high modes in order. A double click of the switch brings you instantly to turbo. Holding the switch for 1.5 seconds brings you into the special modes that include strobe and sos. Long click again brings you back to the normal modes. There is no mode memory for strobe. The rear switch is a forward clicky and the flashlight does operate with the momentary on feature by pressing the rear switch in partially.
the side switch LED will be blue until the batter is weak and it will turn red. The opposite for charging. The led will start red and turn blue when it is complete charging.
One problem I did have is that the light will go to turbo if you try to switch modes to fast… not a huge deal because if I'm changing modes fast it's usually because I want to go up in light rather than down. The light could stand for a little longer delay between clicks to go to turbo in my opinion.
Conclusions:
How am I the first to review this? The TA01 is a great flashlight for the price. It's only problem is the new budget competition on the 18650 tube light market. The Atactical A1S is the same price and you have the ability to order it from Amazon and get it in a few days. I do prefer the TA01 to the A1S just because of the extra mass in the head. The flashlight is much more manageable to handle during longer runs with that extra material to transfer heat away. The light has alot of great features crammed in for $30, it's super easy to use, and has some good safety features. The USB charging worked flawlessly, it has some respectable throw, a nice clean beam with a decent tint, on top of having mode memory, and thermal protection.
My major complaints are the physical reverse polarity protection, and the inability to use short batteries with the flashlight. It limits your ability to easily mod this flashlight and use your high drain unprotected cells with it. Nitenumen does great work with the pocket clips, and they are about as comfortable to carry as an 18650 tube light can be. The lack of PWM (at least that I can see) is also nice. The NE01 had PWM that I could see readily even when the flashlight was still. Lots of positives about this flashlight, and you're not giving up much by buying this budget light.
So would I buy this light? Absolutely. It performs as good as the TC12 at half the price. Thats enough for me.
Other Things:
Here is something cool to note. During my testing the TC12 overdischarged one of my 18350 batteries to the point where I could not recover it. For a light that has LVP this was not an expected result! The ultimate irony is that the TA01 which has no LVP due to it only being able to accept protected batteries had no problems running the 18350s hard. The TC12 despite having LVP killed the battery. A huge point that you should NEVER trust LVP in a light to keep you safe, even in more expensive lights. The battery was an IMR18350 Efest 800mah.