Looks like the Sun's gonna come out more nowadays!

So what's your preferred tint for your shades??
This year I'm currently behind Yellow/Gold tint!
Brown. I was always into gray/ND for neutral filtering, but when I tried brown for the first time, at first I was all like "eww", but it grew on me very fast. Almost like lighting everything with a WW light.
I like black/dark grey.
I also like the looks of mirror/silver ones, but I've never owned any.
I voted brown but it could as well be yellow/gold.
As Lightbringer puts it, it seems the sun is always shining whatever the weather.
It also makes for beautiful skies. Yellow filter is a classic for B&W photography. It increases the contrast between blue sky and clouds. Add to that polarizing and you are seeing postcards everyday.

Bright Sunlight Costa glass lens blue mirror over grey - Overcast /Rainy/early morning silver mirror over yellow —- But I do have several pairs of grey —mostly glass lens —- Since my cataract surgery I can't stand any glare
Since it's gonna be kinda mix sun and clouds next week or so, I'll grab the yellow ones.
If it's sunny all day, then I usually go for either the blue ones or the Brown/Amber depending on my mood.
Gray. Amber for an overcast cloudy day.

Brown, graduated, photochromic, non-polarized as some car displays disappear with them.
Can't participate in the poll, because these are my sunglasses
I am changing my tint daily, to switch things up. Quality is good, they are not Oakleys, but still. makes life more interesting. people don't think I use the same glasses all the time.
Mine are mirrored blue but the tint is black/gray
Black/gray, also polarized.
My vote is Brown or Amber because of how it makes colors so vibrant. Since they don't block too much light and increase contrast I can get away with using them on those cloudy days when it's still bright and into dusk/dawn. The color contrast reason transfers over to my love for 4000K tint in LEDs!
Pink are nice for Lucy in the sky with diamonds trip

As neutral grey as possible for me - I'm a geologist, colour of rocks is pretty important when field mapping.
My driving sunglasses are a pair of old Nikons from the 1990's. Not pink, but "rose" colored. They cut out blue light very effectively. Eyes adjust pretty quickly once on. These aren't polarized, but do an effective job at cutting glare. What I like about them is that they work well in bright sunlight as well as near dusk when the setting sun can still challenge your eyes. Excellent on bright but cloudy days, too. I have them with aviator style black high tensile strength nylon frames and also in rounded metal frames: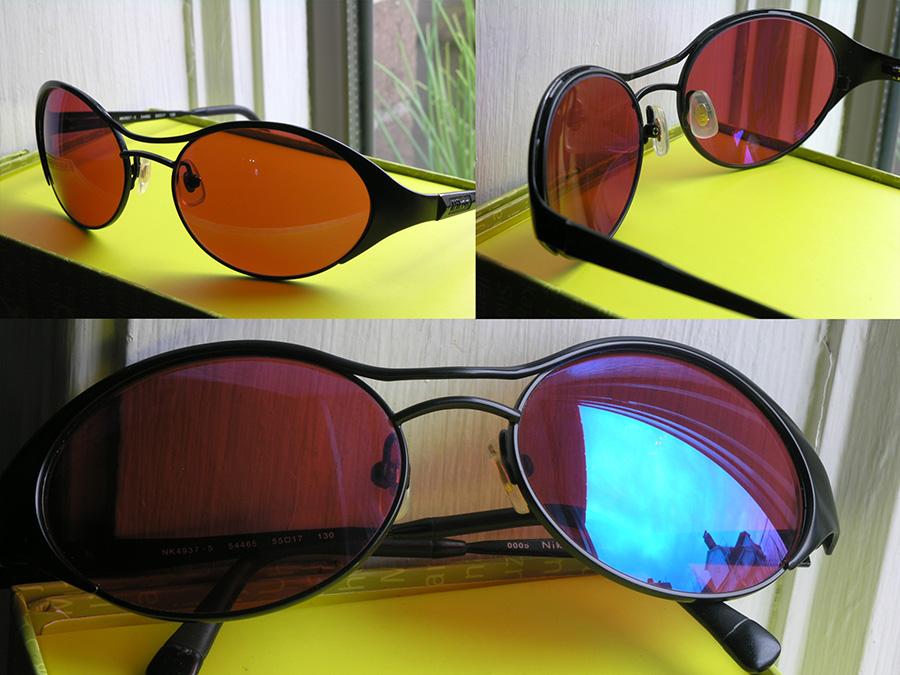 I use and voted for green. But it's not the green pictured here. Thats an excessively green novelty glass. Im talking about the very light green polarized tint that you have to turn in a specific angle to notice the green. That is the sweetest tint I've seen for sunny and lush flowery outdoors. Everything pops. Considering how much love rosy light, this befuddles me.
grey while i am behind the wheel in the daytime.
yellow at night and at the gun range.
I've been really pleased with my Jackson Nemesis polarized sunglasses. They're gray, but somehow they make reds and yellows pop, as if they were brown tint. Great clarity and contrast, and safety glasses to boot. Got 'em on Amazon from Kleenguard. Most of the listings on Amazon are for non-polarized ones, but for driving I always want polarized.
I think brown is the best color for such an item. I don't know why, but for me, brown lenses make everything more cheerful, if you understand what I'm talking about. For several years now, I have been buying only such glasses, as I like the sensations I experience in such lenses. By the way, the eyes get tired much less than in ordinary glasses with black lenses. I order glasses for myself on the website http://sunrayeyes.com since I have known this company for a long time, and I am sure the glasses will reach me without any damage. Although I also liked the option with blue lenses since you guys praised them a lot here.