Previously titled "[WIP] 20mm single sided & 17mm double-sided ?-amp linear driver which nobody wanted ;)"
This is not my most beautiful looking work. I'm only so enthusiastic about the driver in fact. It is a work in progress, please do not assume that it will work properly.
Here is some information:
This driver is a linear driver with PWM. Like a Nanjg-105c or QLite, not like the led4power LD-1.
The controller is a QX7136. This is not the same thing as a 7135.
It uses sense resistors to set current.
'Current Sense' voltage is 50mV, probably similar to what a 7135 is doing internally? The QX7136 claims to have a 100mV dropout, 20mV lower (better) than a 7135.
Uses a Power-SO8 FET like other recent stuff. (LFPAK56 & etc.)
Features:
1mm component keepout around the edge.
1mm solid GND around the edge (no other traces extend into this area).
Zener ready.
Offtime ready.
Single sided.
1.2mm LED+ and LED- vias.
Two 1206 sense resistors.
I expect performance to be similar to a single channel of the Supfire M6 driver.
The 50mV sense voltage is lower than some other drivers. Due to the low sense voltage, extremely low value sense resistors are needed. For 2A you'll need a pair of R050, for 5A you'd use a single R010, for 10A you'd use a pair of R010, etc.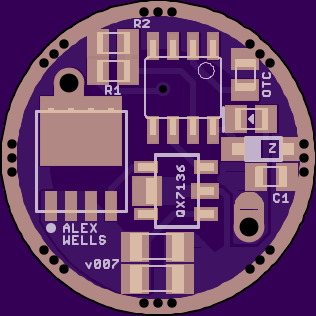 https://oshpark.com/shared_projects/o42VCHG7
EDIT: See post #6 for 17mm v003