Technical Specifications: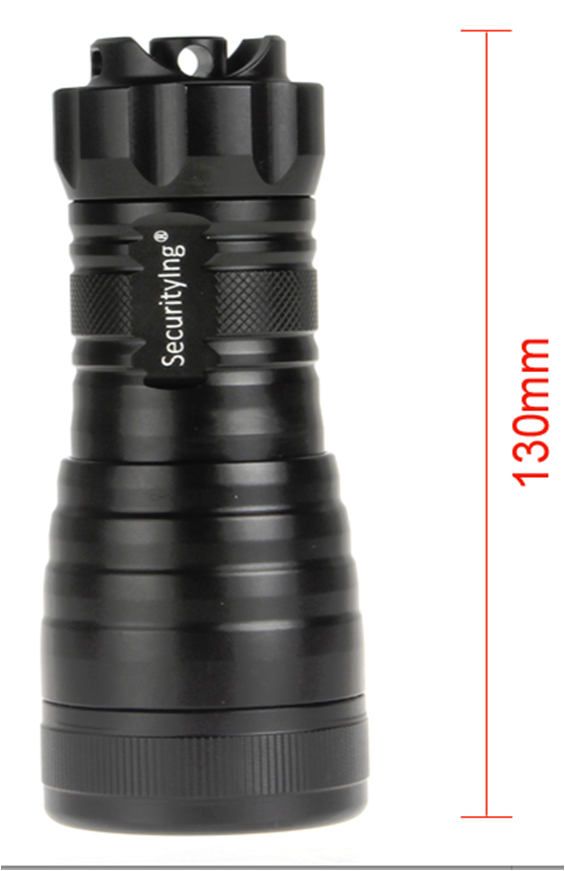 Construction:
T-6061-T6 anodized aluminum
with gloss finish
Size: 130 x 51 x 40 x 42mm (length x head diameter x tube diameter x tailcap)
Imperial units: 5.1'' x 2'' x 1.6''
x 1.65''
Weight: 300g / 10.6 oz (w/o battery)
. About 370g / 13 oz (0.8Ibs) with batteries
UI (User Interface): Twisty. 1 mode (Hi)
Powered by: (3) AA Alkaline / Ni-MH / Energizer Lithium
OR

(1) Li-ion: 25500 (TF @ RTD,
Amzn) or *26500
(Efest sold @
FV
,
RTD
,
MEL
,
MVO
,
BJ
); non Efest (
AV
)
LED: (1) Cree XM-L T6 with smooth (SMO) reflector
Lumens: 500 (FL1 standard cf.
link
)
Current Draw: 2.8A (advertised)
Burn Time: ~2+ hrs
Working Voltage: 2.7- 4.2V
Depth rating: 120-150m (394-492ft)
Description:
This is a short and stocky dive light. Length is about 5 inches, with a 2 inch bezel width. Turns on by a simple twist of the head. Has only one mode (Hi).
This can be used as a primary light on short dives, especially for recreation divers. For extended runtimes use Energizer Ultimate Lithium cells (L91). These should give the longest burntimes (buy Amzn, Sams, eBay) (info: HKJ review, Datasheet)

I prefer to use a single Li-ion in the light. This replaces the AA battery carrier. Use a piece of cardboard to keep the battery from rattling inside (see pic 1, pic 2)

Haven't tried the Efest 26500 - which probably has a higher capacity then the 25500 Trustfire & Ultrafire cells I used. But this was all I could find at the time.
See HKJ's review of Efest cell - actual amp draw will be close to 3 amps when you first use the light.
Beamshot: DIV03 vs. DIV01 (right side)
For comparison with Brinyte DIV05 (see Post)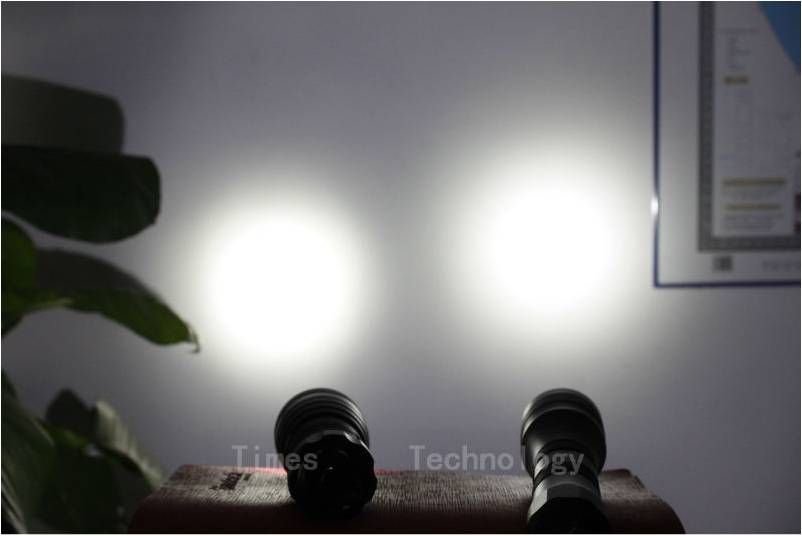 mouseover
The Good:
Very robust light. The wall thickness is thick giving it a solid feel. It's also bright which is a must for me.
Uses 3 o-rings where it comes apart, which should seal out water nicely.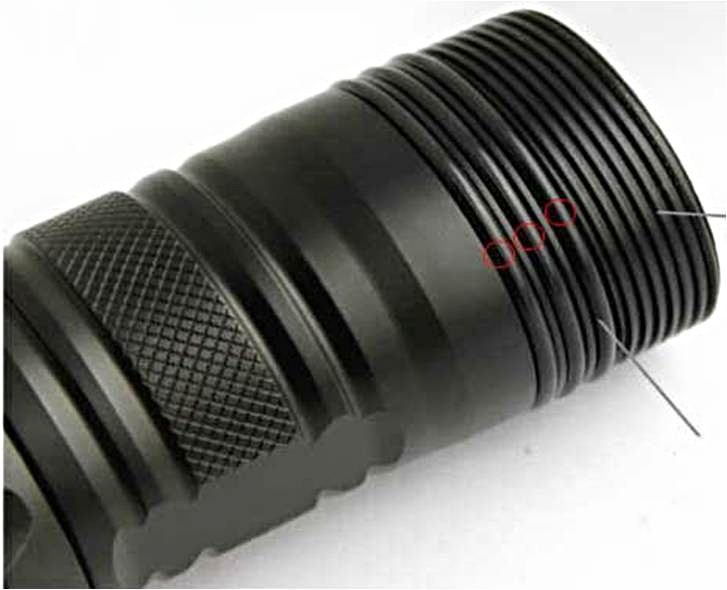 Can be conveniently attached to the hand for hands-free diving >
Comes apart in only
one
place - Very nice! - minimizes potential for water intrusion.

The Bad:
1. Heavy at about 370g / 13 oz with batteries. That's 0.8 Ibs.
2. Runtime could be much better if they made this run on a single 26650. It would be just about perfect if they did. As it stands you'll get a good 1.3 hrs of bright light, then you probably want to change the battery.
3. The AA battery carrier fitted with some
rechargeable Ni-MH cells won't fit back inside the light.

Some rechargeables make the overall thickness to wide and the battery carrier won't go back in. My newer XX Eneloops would not fit - they make it too thick.
These rechargeable batteries should fit: Duracell, regular Eneloops, Maxwell, Sony. I think the problem is that the battery carriers are not exactly the same. Regular Alkaline cells fit fine.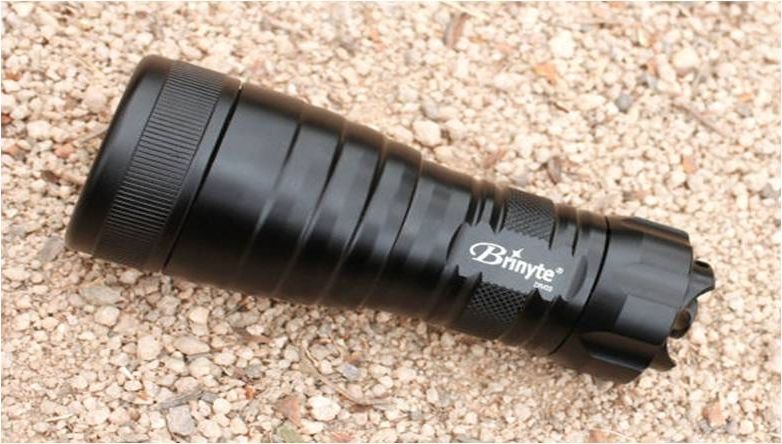 Verdict:
I would give it 5 stars IF (1) it ran on a single 26650 Li-ion battery as well as an alternative 3AA battery carrier.
And (2) it was lighter by about 90 grams.
Overall it is a very good dive light.
added a couple mouse overs (see pics)