Previous full-size headlamp from Fenix that fell into my hands for review a year ago was funky steampunkish HM65R. With all its advantages, such as cool look and split light, this model suffered from the usual for Fenix lack of stabilization .
And finally, after a long time after reliase , I got L-shaped bright headlamp, in which Fenix ​​continues to squeeze everything possible from the SST40 LED, and even added a red light , magnet in tailcap, quick-release fastener. In short, a bunch of everything that you generally don't expect from an ultra-conservative manufacturer.
And since I'm always ready to criticize Fenix, let's see what portion of dislikes I will give them - my usual grunt about too simple UI or a real kick for some serious jamb. Or maybe I will finally be glad with what they`ve done?
You can buy Fenix ​​HM61R at
➤ AMAZON
➤ Aliexpress
➤ NITETORCH they generously offered 20% code HJK5KDNQ valid for all the items in store, including other brands
if you look for reliable 21700 (and others) batteries, i recommend store, there`ve been buying for years - Nkon
Specifications:
LED: Luminus SST40
Maximum Brightness: 1200 lumens
Peak Beam Distance: 158 yards
Peak Beam Intensity: 5287 cd
IP Rating: IP68 - 2m submersible
Impact Resistance: 2 m
Brightness & Runtimes:
Turbo: 1200 lumens / 2 hr
High: 400 lumens / 4 hr
Mid: 150 lumens / 12 hr
Low: 50 lumens / 38 hr
Eco: 5 lumens / 300 hr
Mid: 5 lumens / 80 hr
Low: 1 lumen / 400 hr
Flash: 5 lumens / 160 hr
Dimensions: L-3.98"xW-1.81"xH-1.42"
Weight: 3.51oz
PACKAGE AND APPEARANCE
Quite a decent plastic box. I would prefer a cardboard one. But this is a matter of taste. In general, OK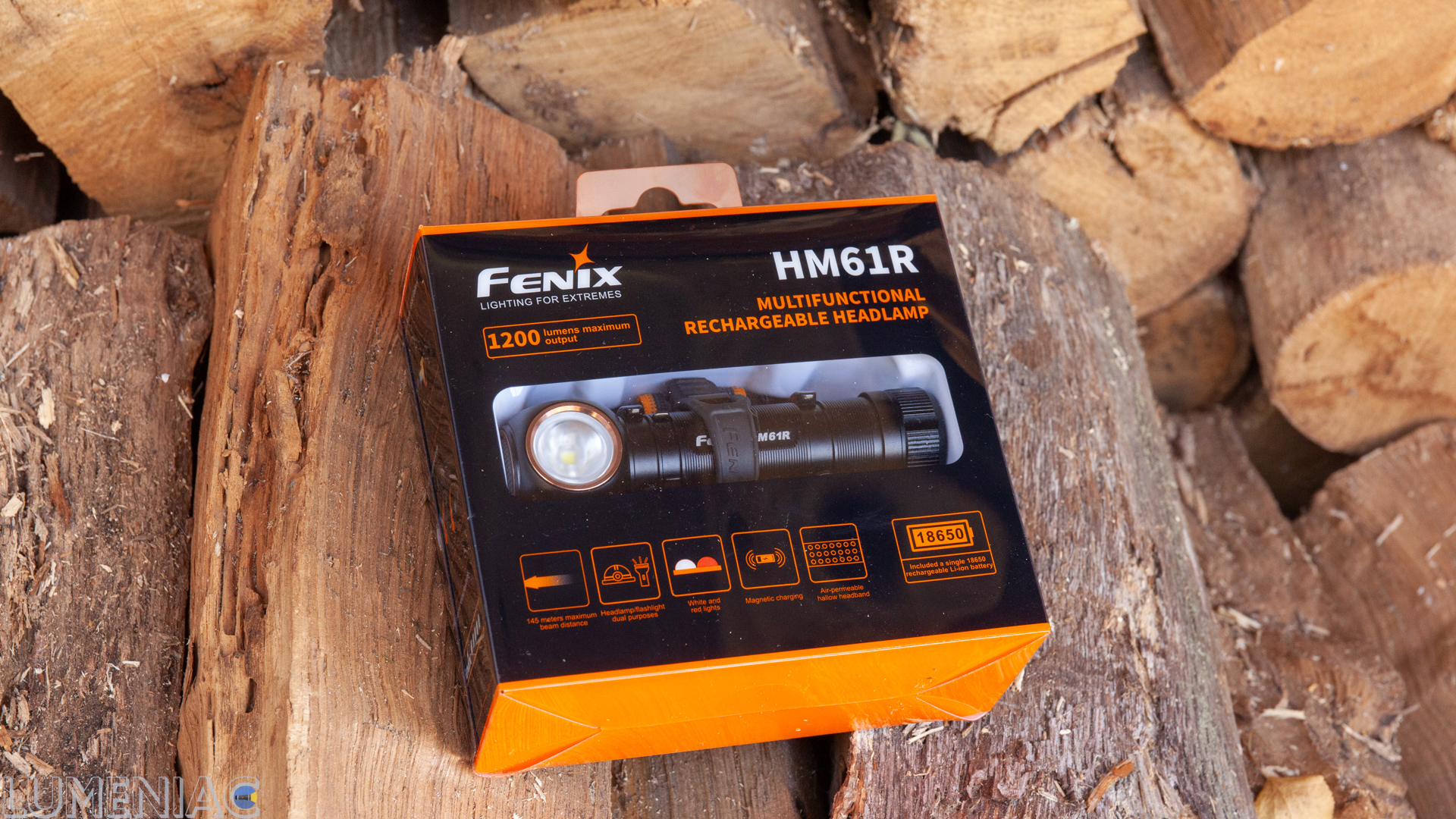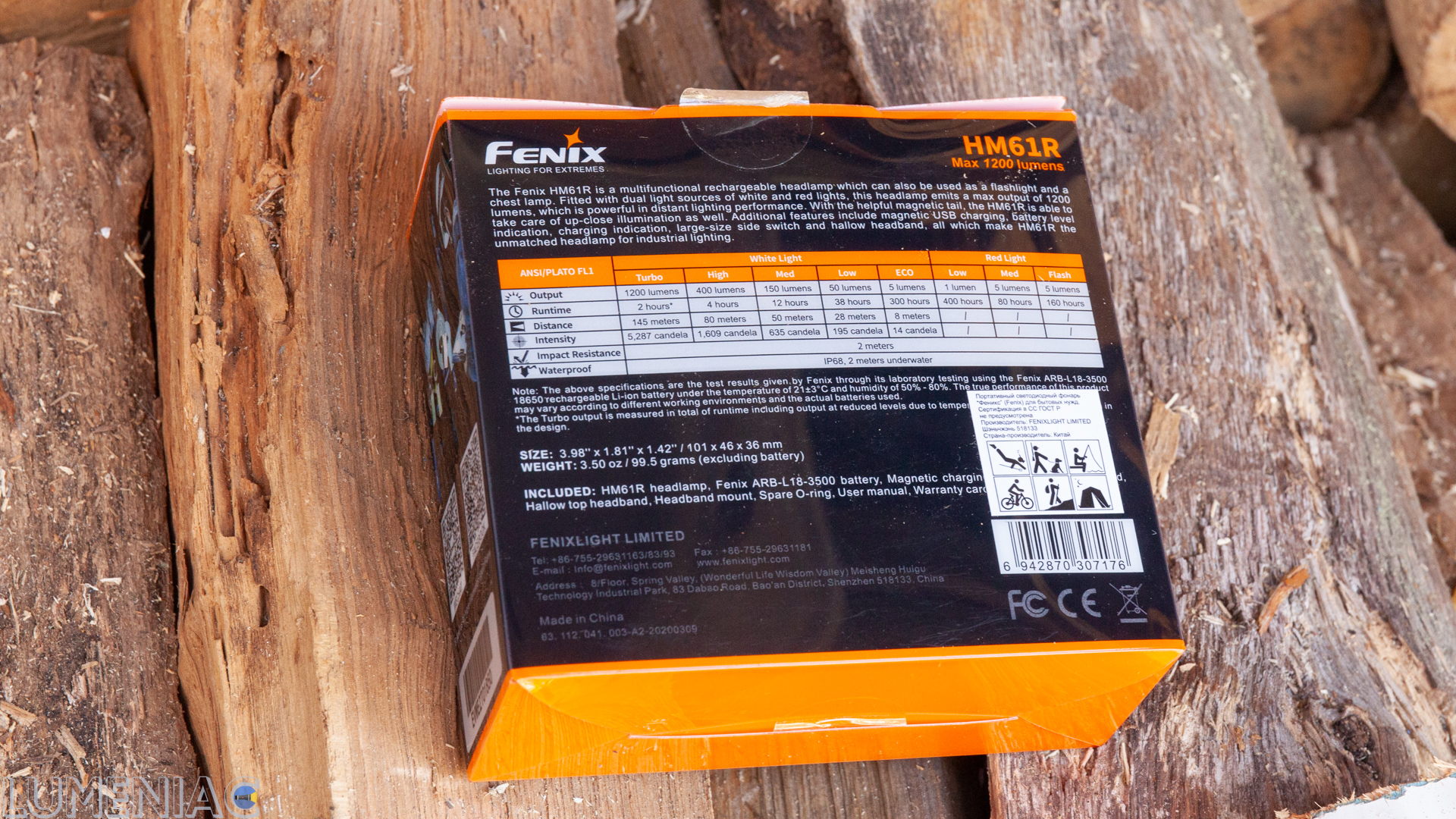 It contains absolutely everything you need: the headlamp itself, 18650 3500mah battery, head strap, charging cable, O-rings and manual.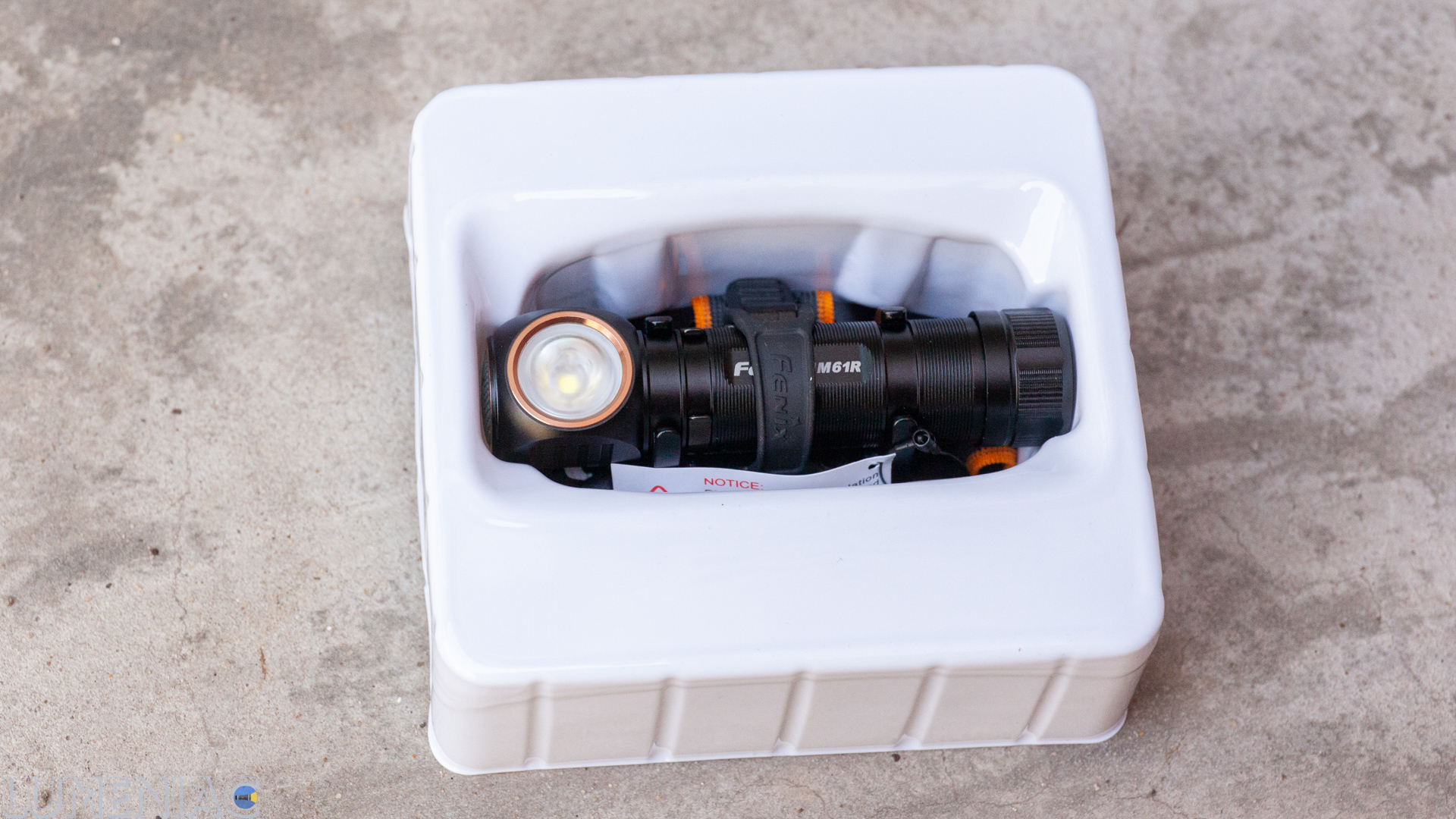 I'll start with the head mount. I've always loved the way Fenix ​​makes them. These are classic "briefs" with reflective stripes on the outside. There are no gel strips inside, alas. The material itself is very lightweight, perforated.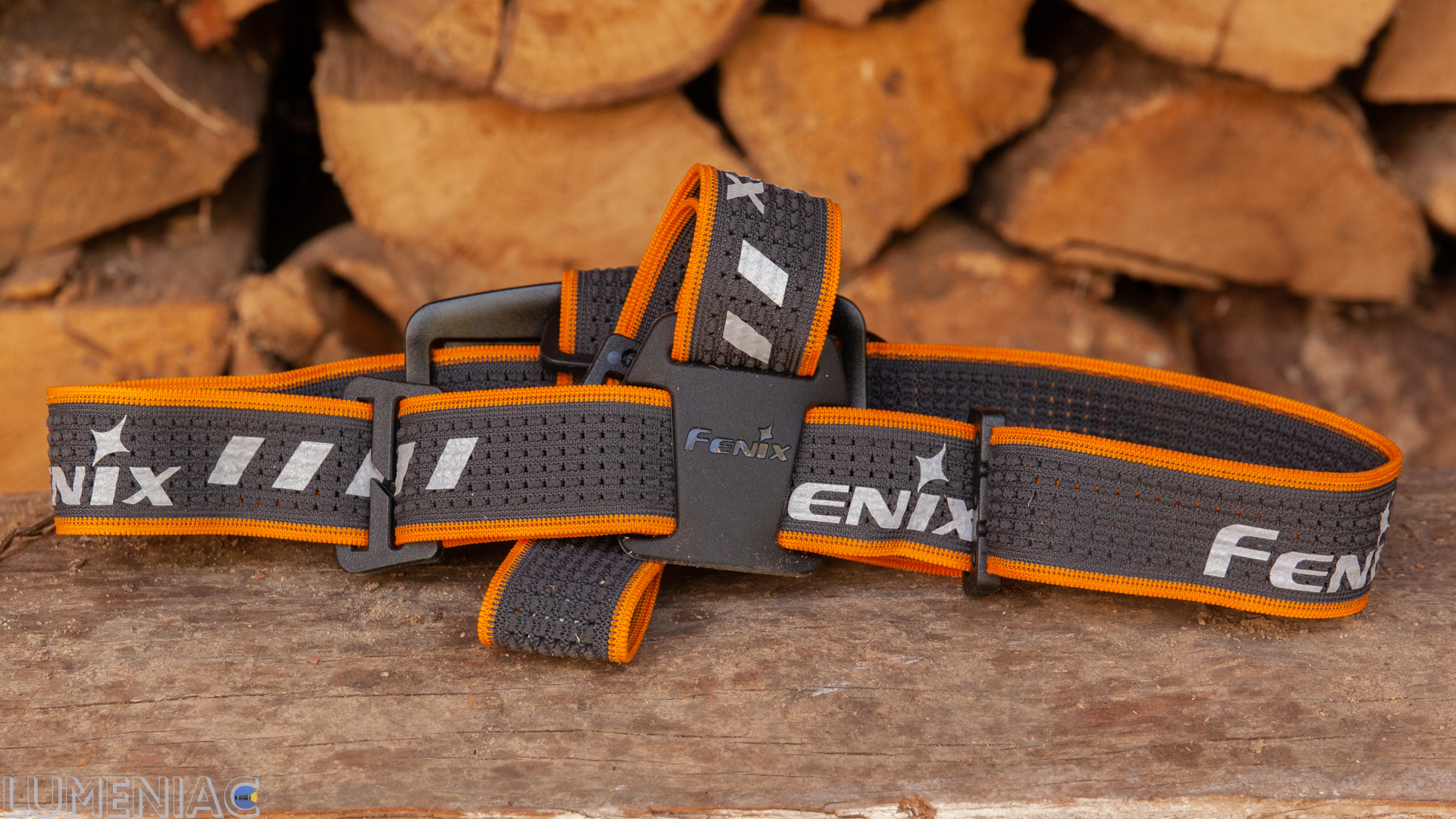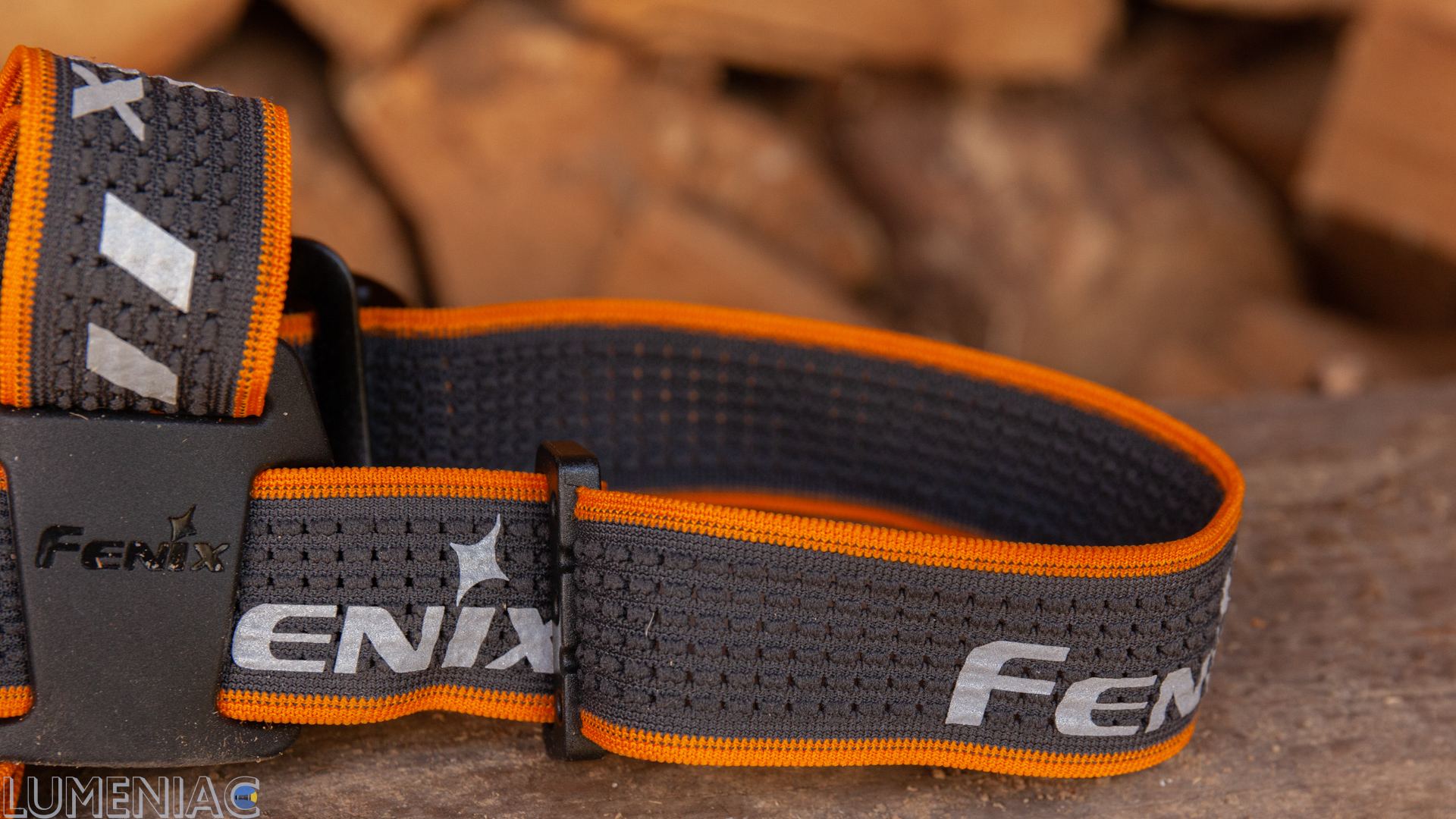 This is how the headlamp looks fully assembled in a headband, nothing unusual at all.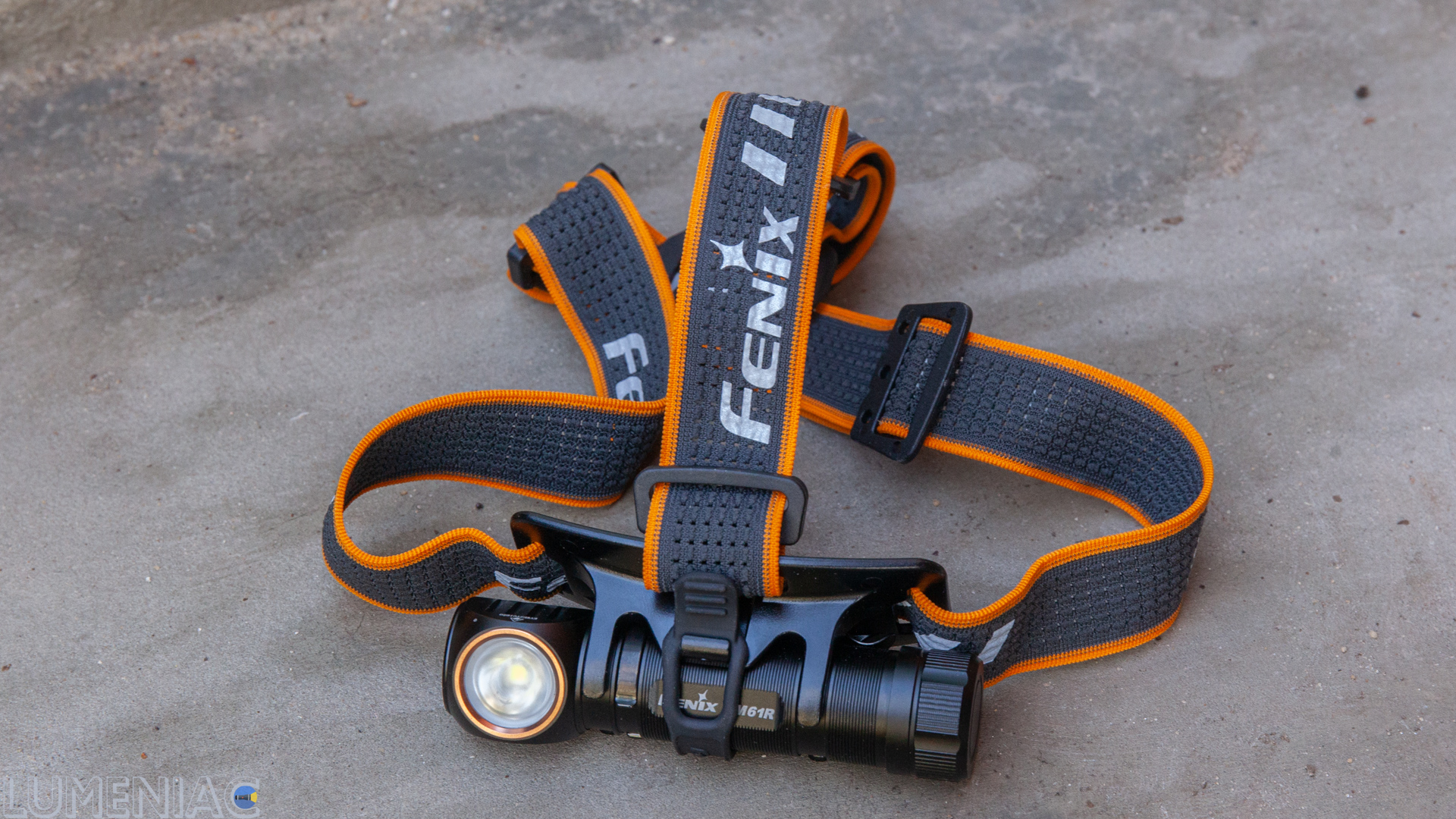 Nothing except the quick release system. It pleasantly surprised me a couple of years ago when I reviewed Olight H2R Nova. But Olight mount kept flashlight by a magnet, then the Fenix ​​version is much more reliable - there are half-open lips that allow you to easily pull out or insert the flashlight, securely fixing it in the latter case.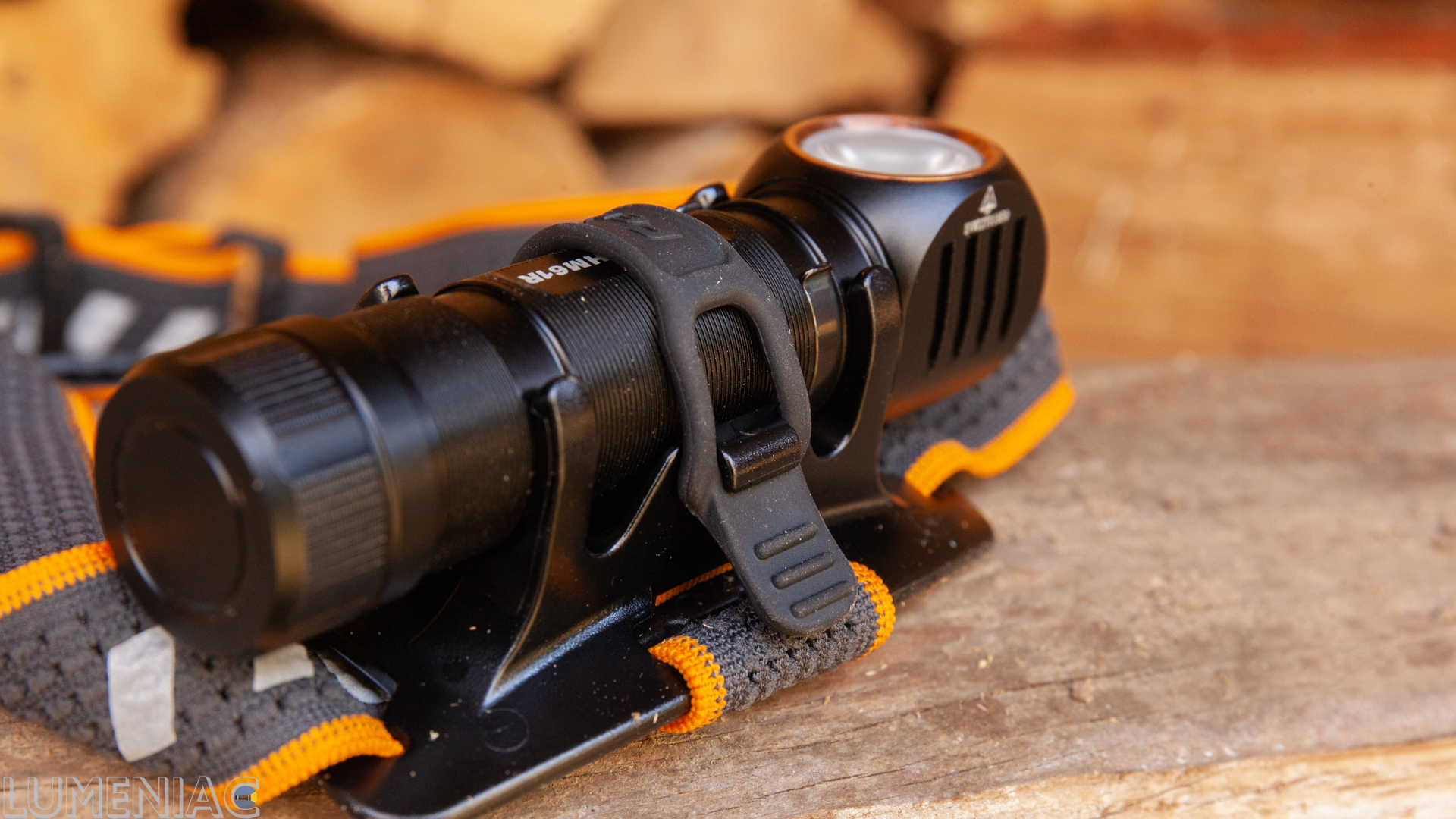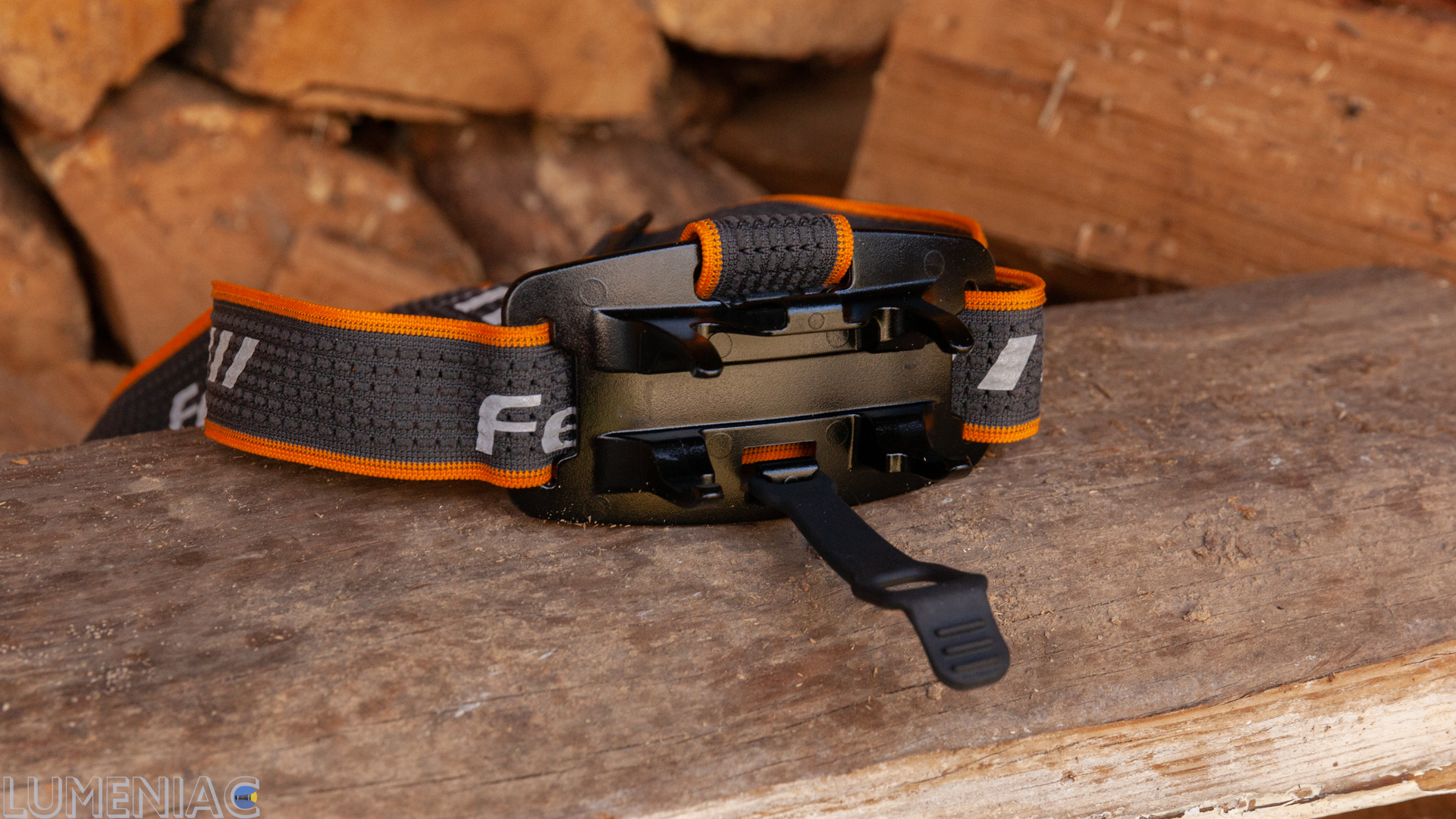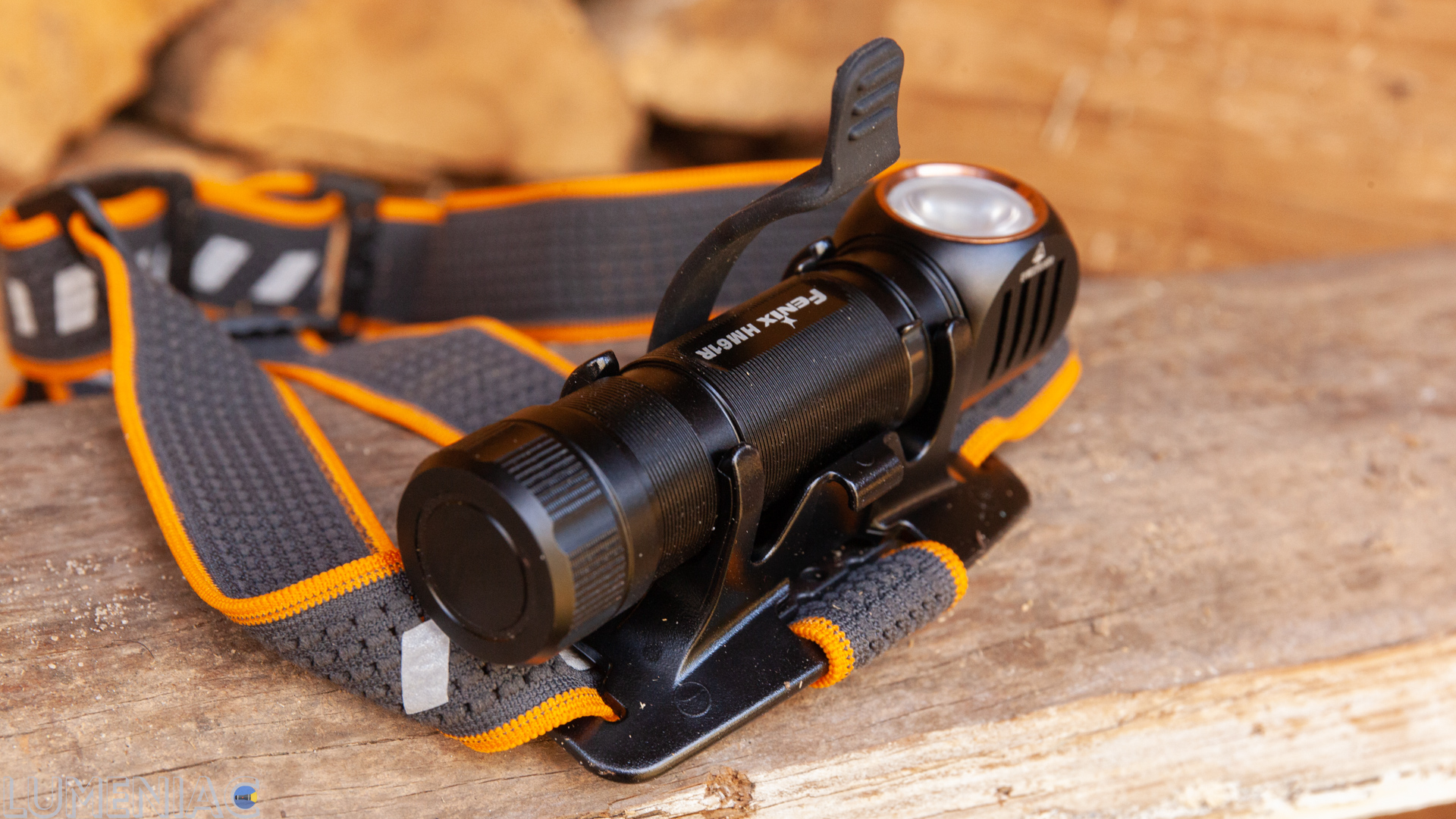 The groove between the jaws is reserved for the clip, the flashlight is placed in the mount in a complete combat assembly. This is actually a practical solution.
The flashlight itself is quite compact and is made in a completely ordinary layout of the L-shaped model. There is nothing new here at all. The 10cm Fenix ​​HM61R is definitely shorter than the extremely popular budget headlamp - Sofirn SP40. But this is not a reason to rejoice - a smaller body with a higher brightness is definitely not an advantage when the question of heat dissipation arises.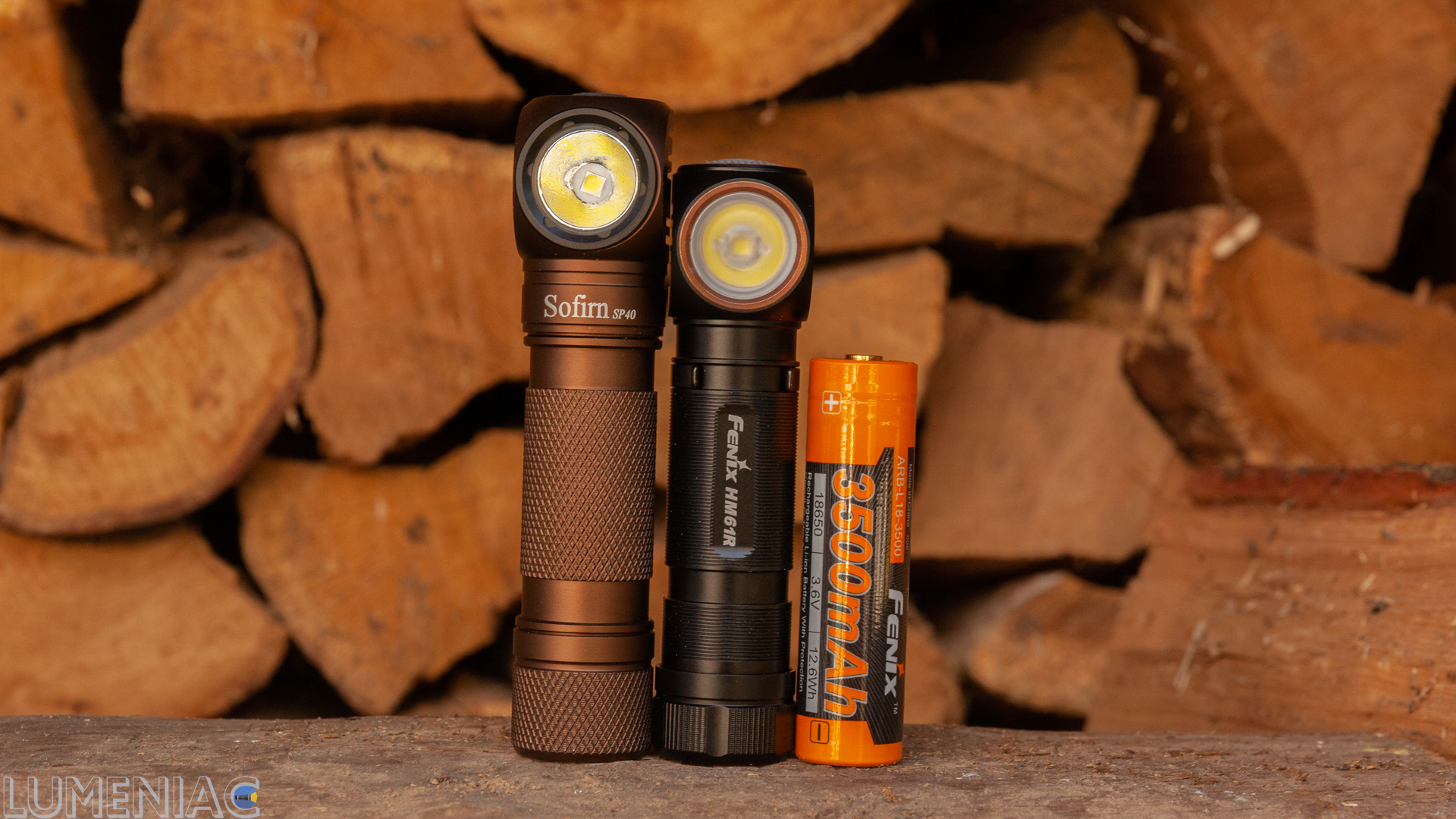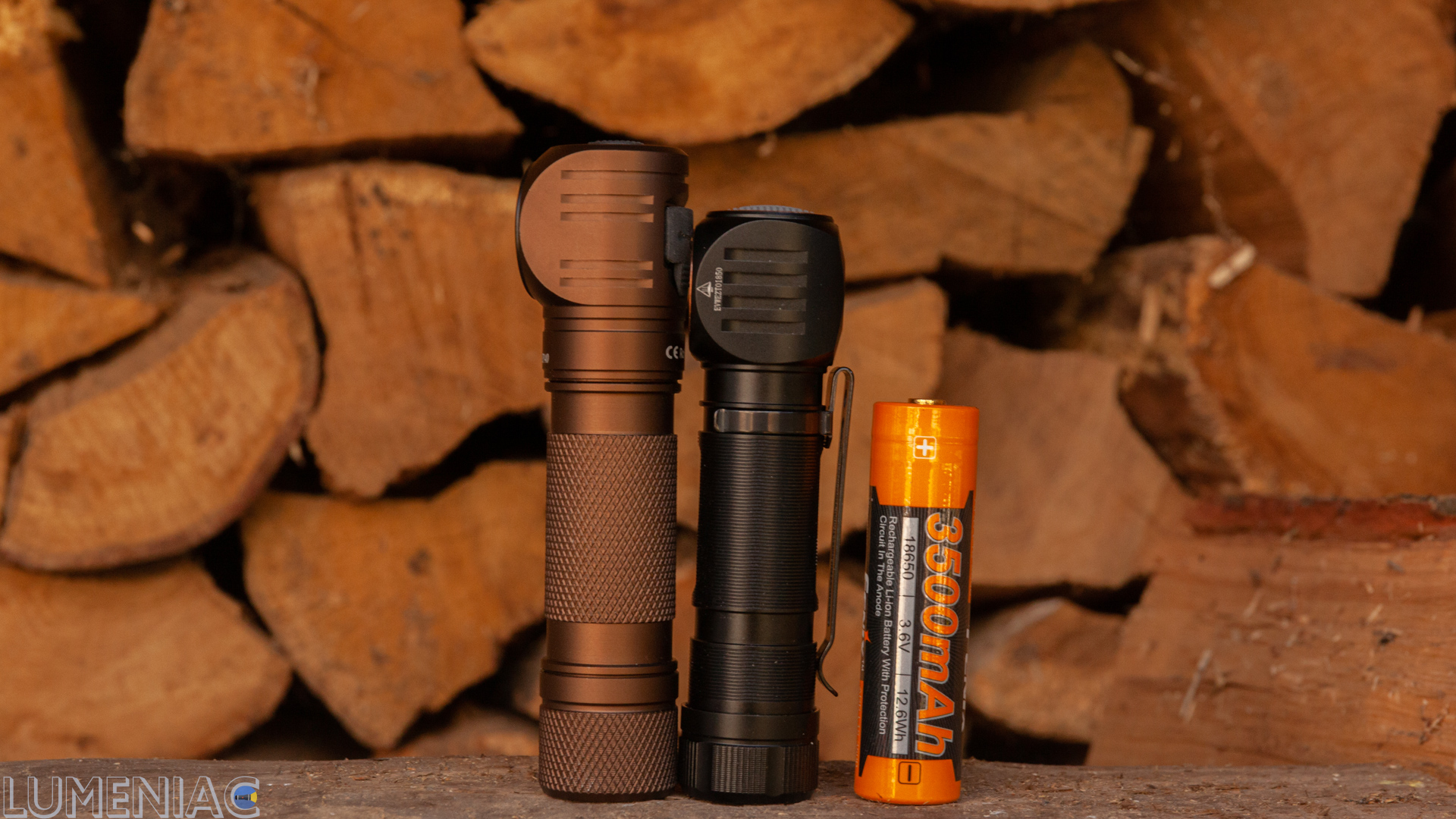 As for the exterior, this headlamp does not stand out for any design delights, and here it is definitely at the level of "just a lantern". There is the difference from some kind of ultra-budget crapis , it is clear that this is a normal branded thing, but there is absolutely no reason to believe that you will remember how it looks after reading the review.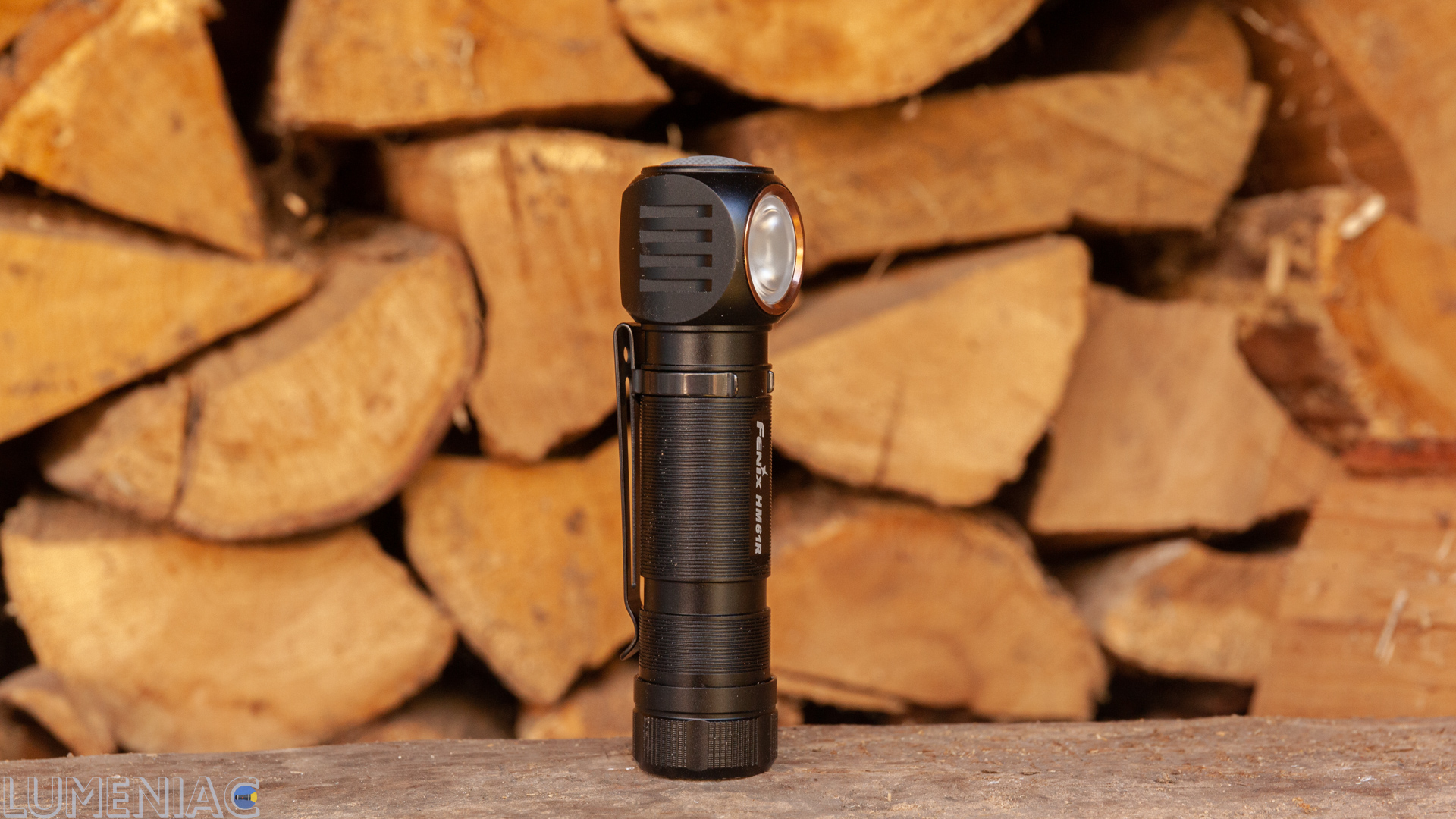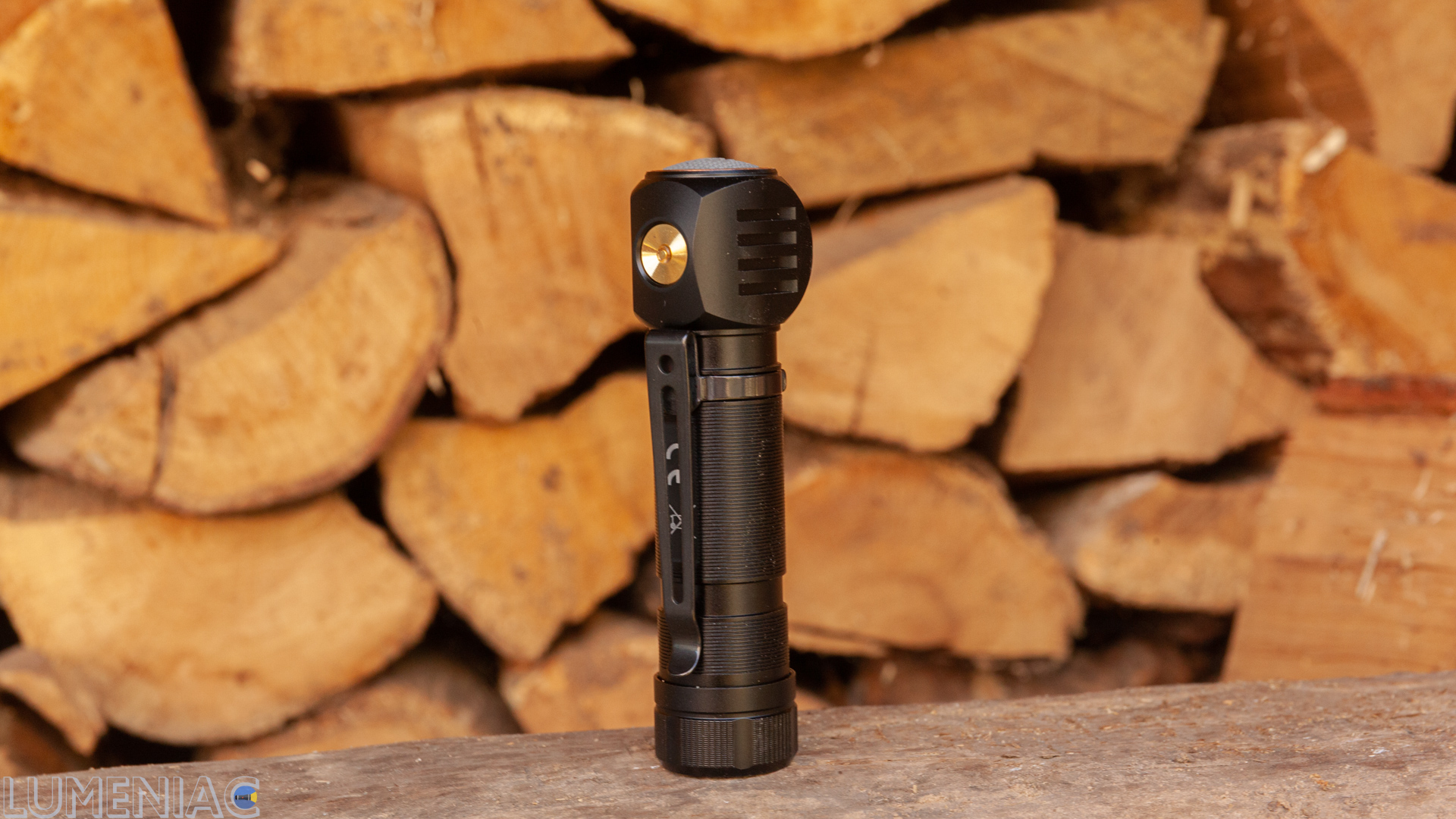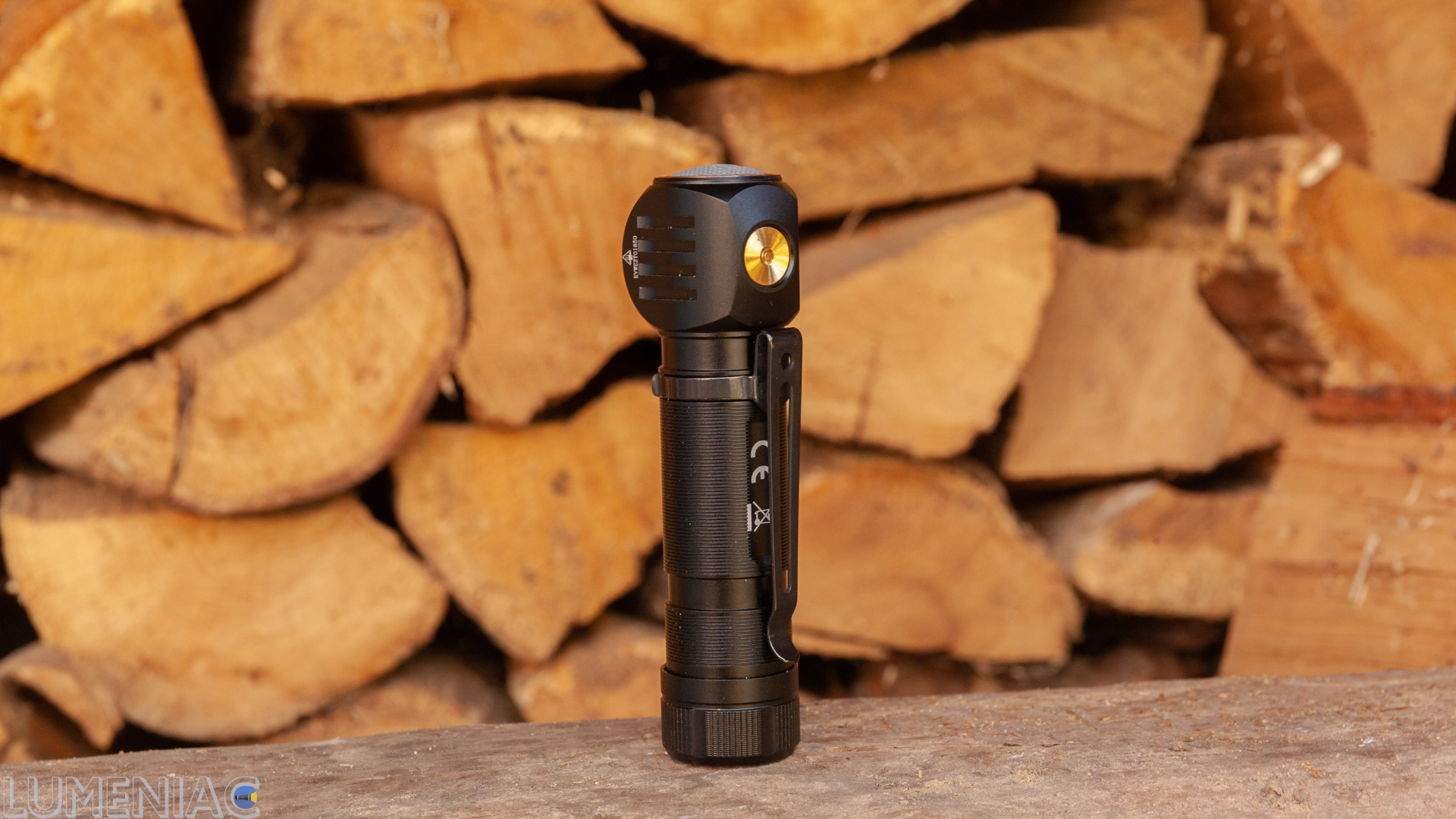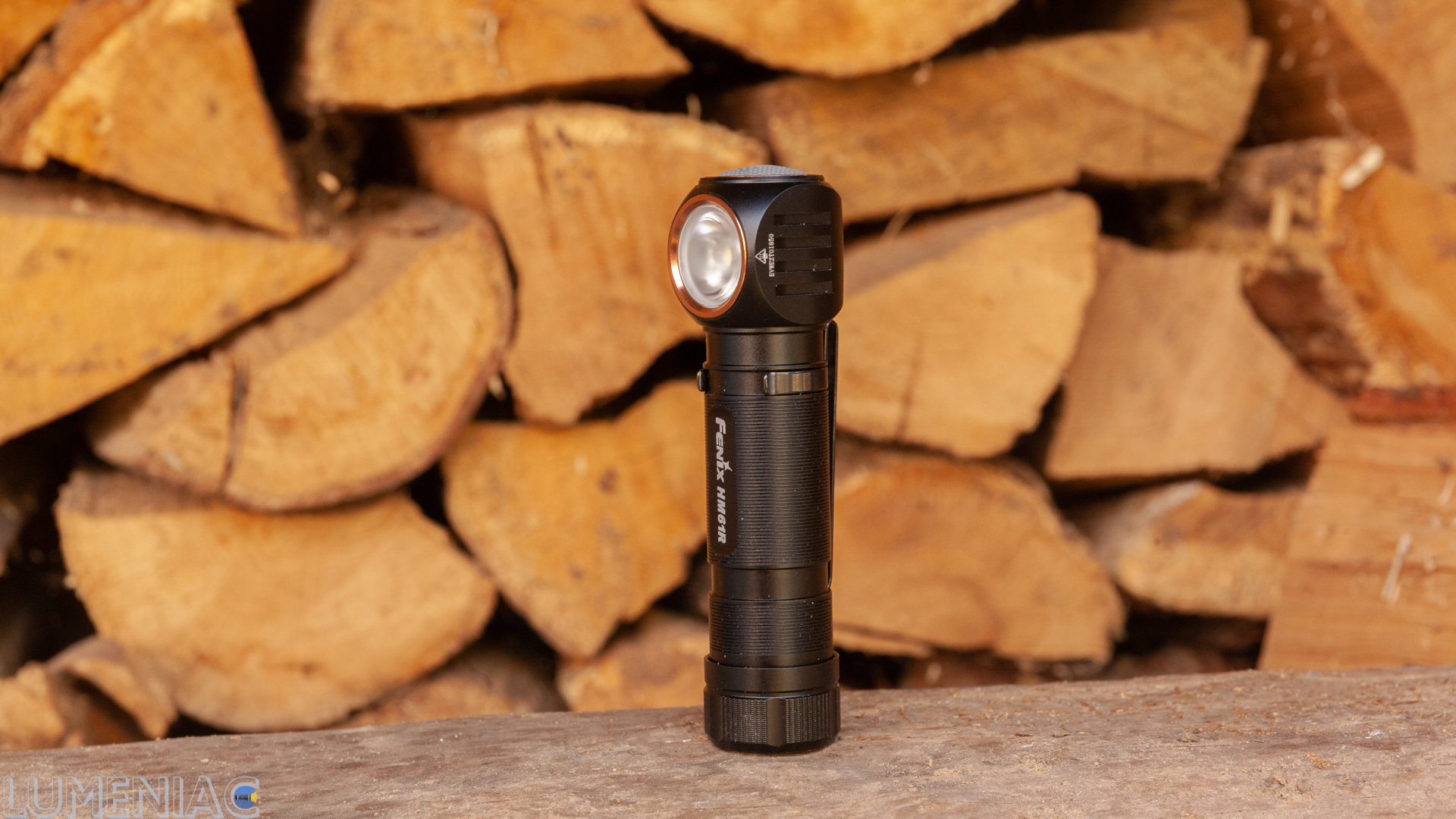 But ultimately - do you need a flashlight or a brooch? Good design is good, but in choice of good looking headlamp that works poorly and an ordinary-looking model with good light and control, what will you choose?
The magnet in the tailcap is strong enough to hold a fully equipped flashlight horizontally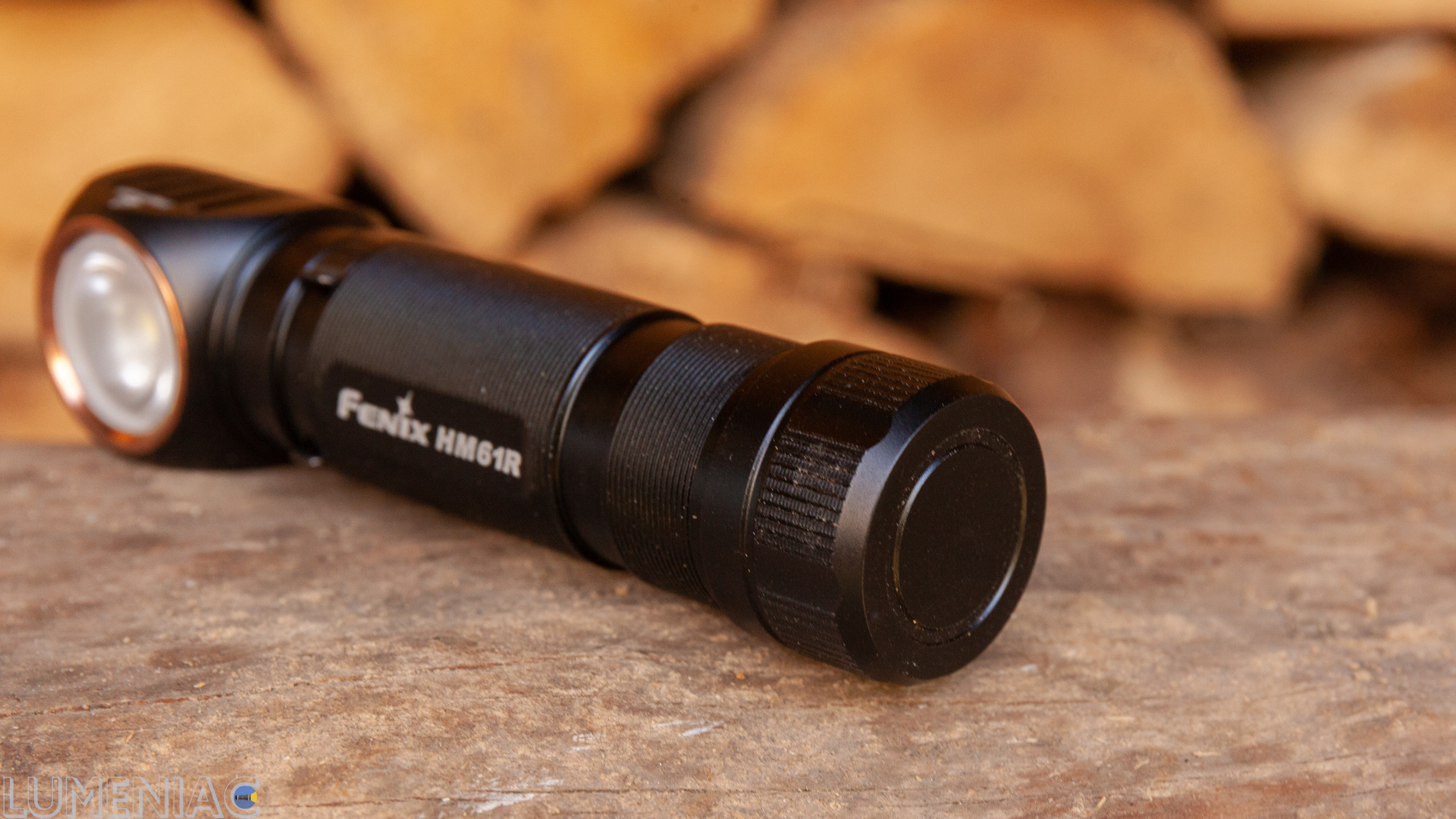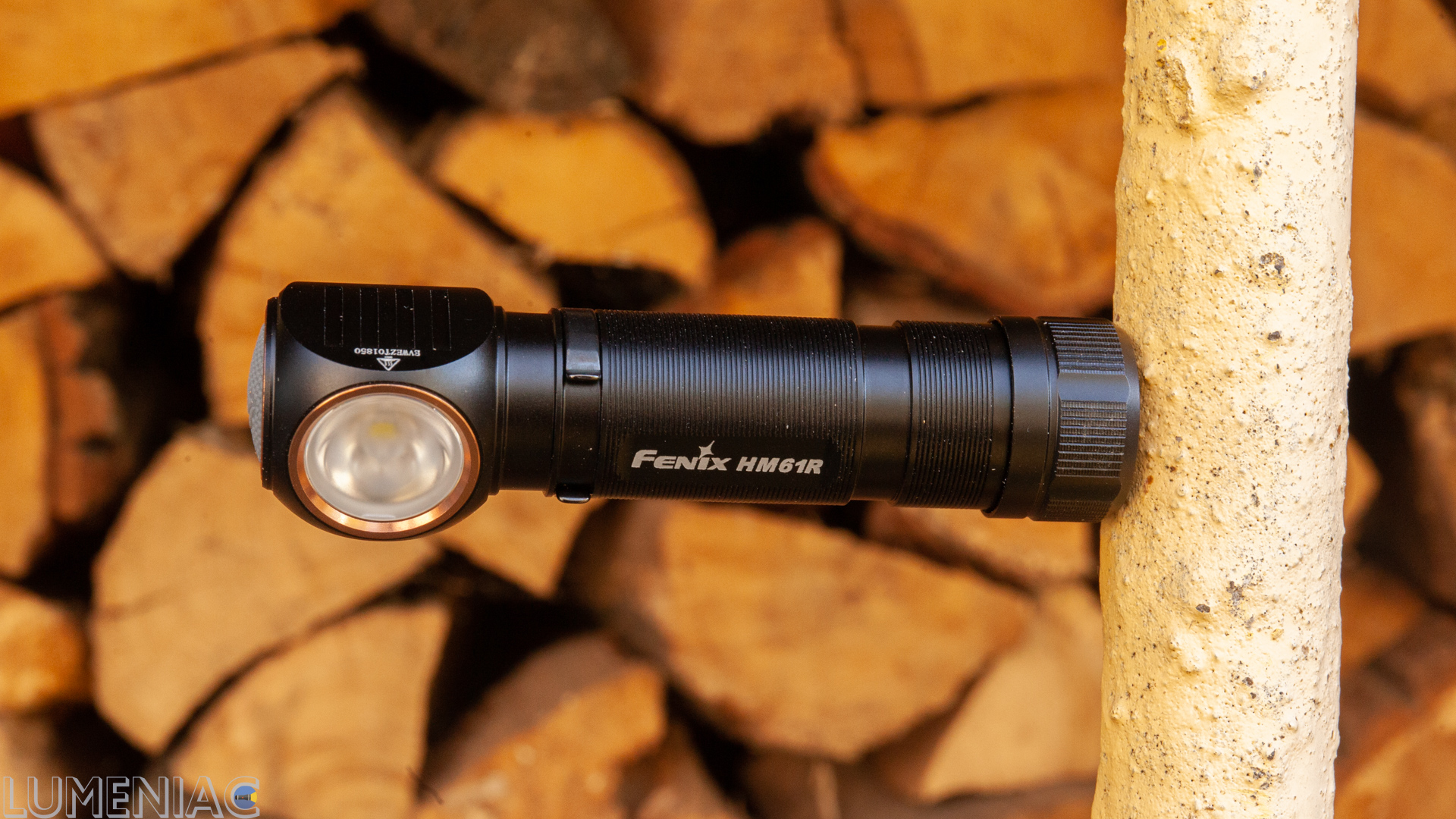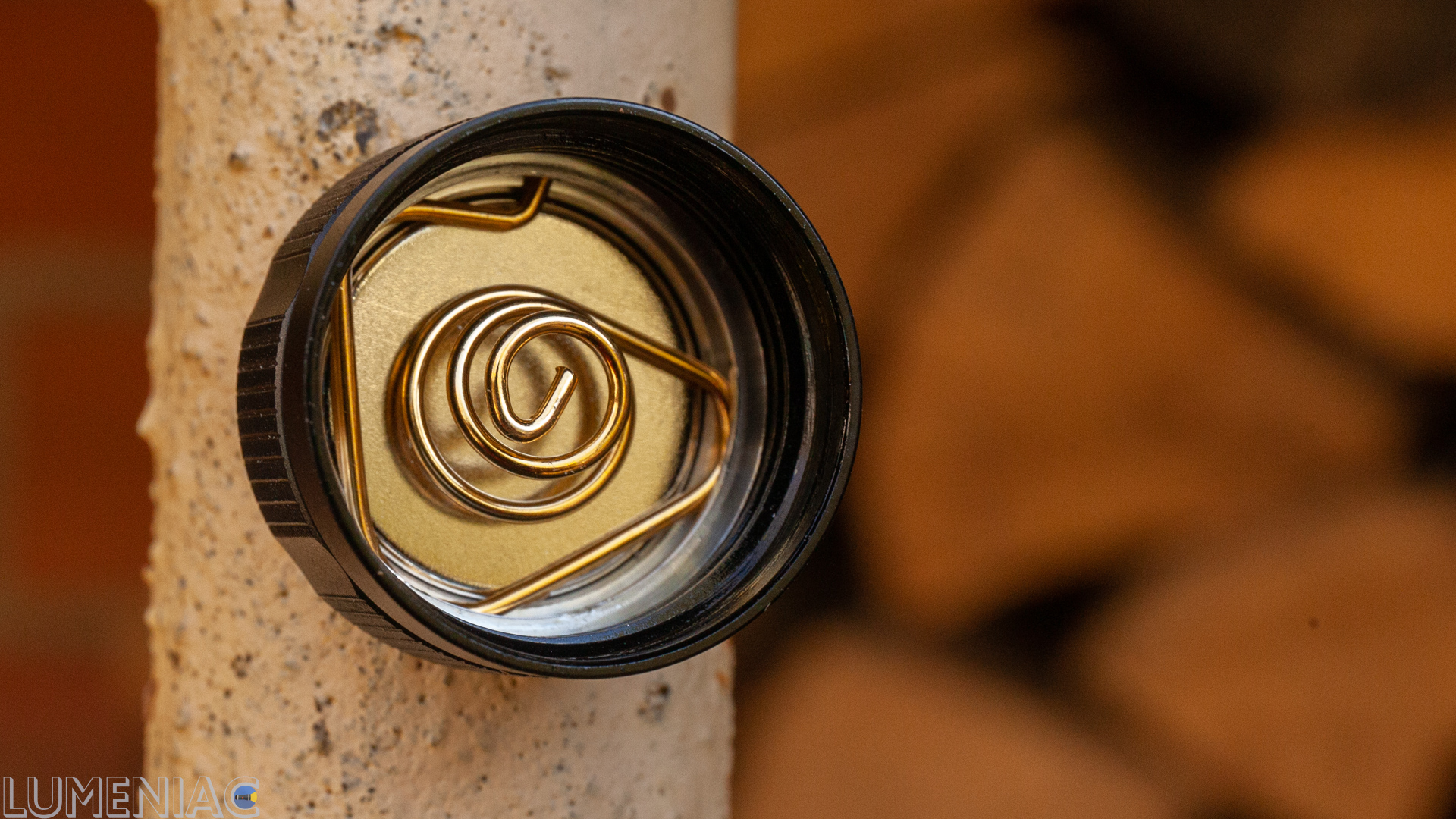 There is also a spring in the tail. As expected,there is no spring at the side of the head , the flashlight will not work with flat-headed batteries. This, in general, is also expected.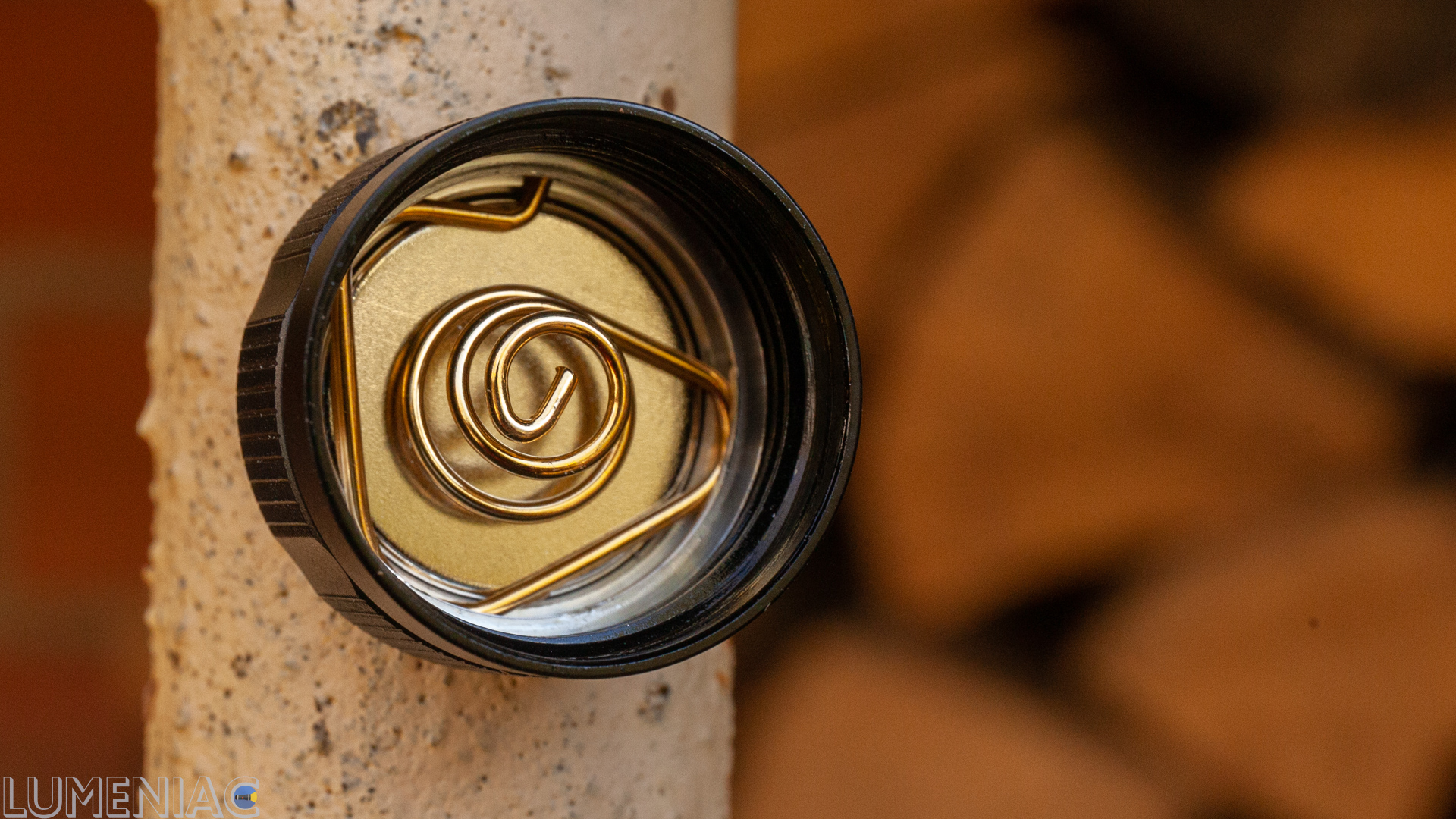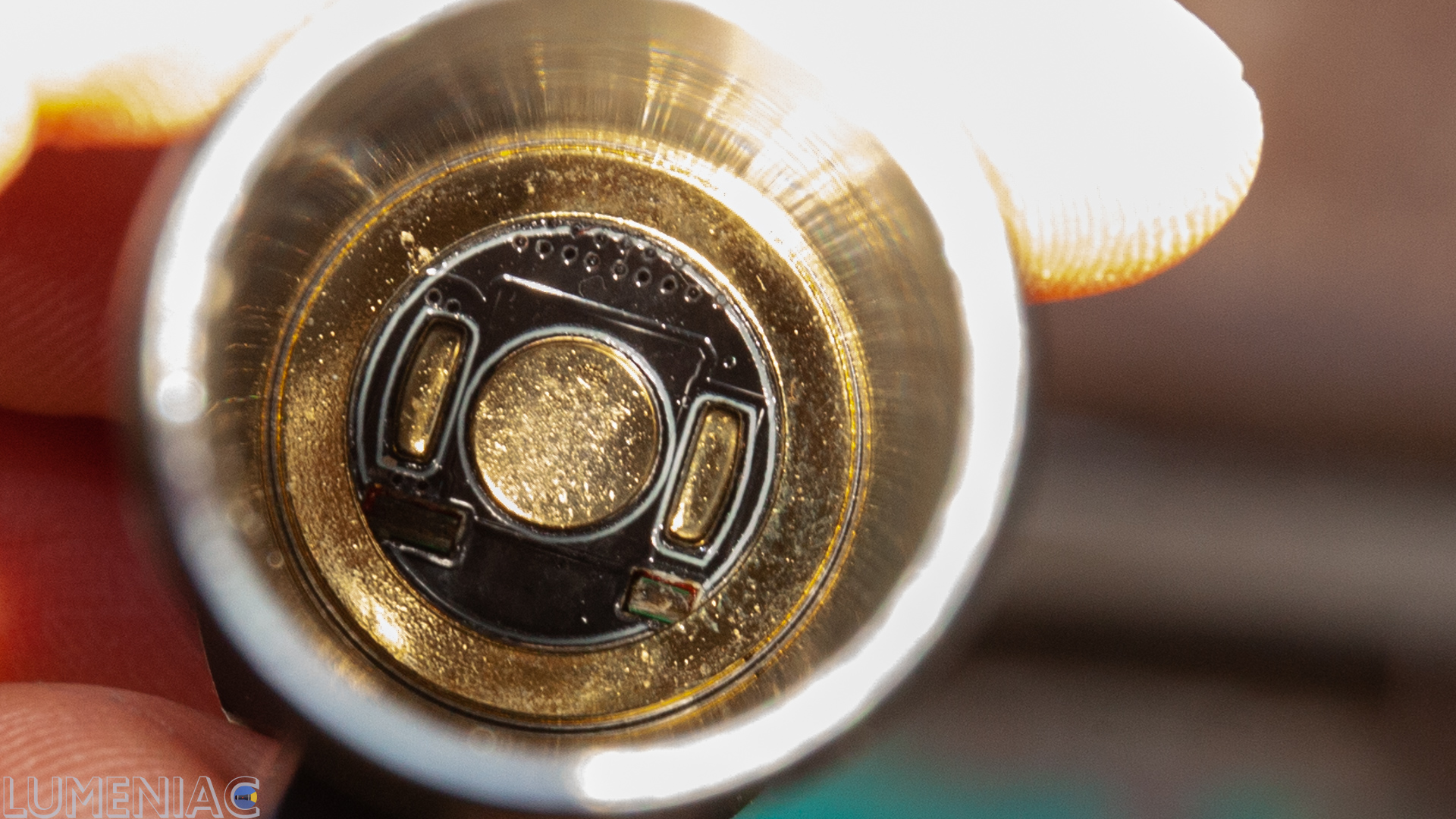 The thread is medium rectangular, and normally lubcirated.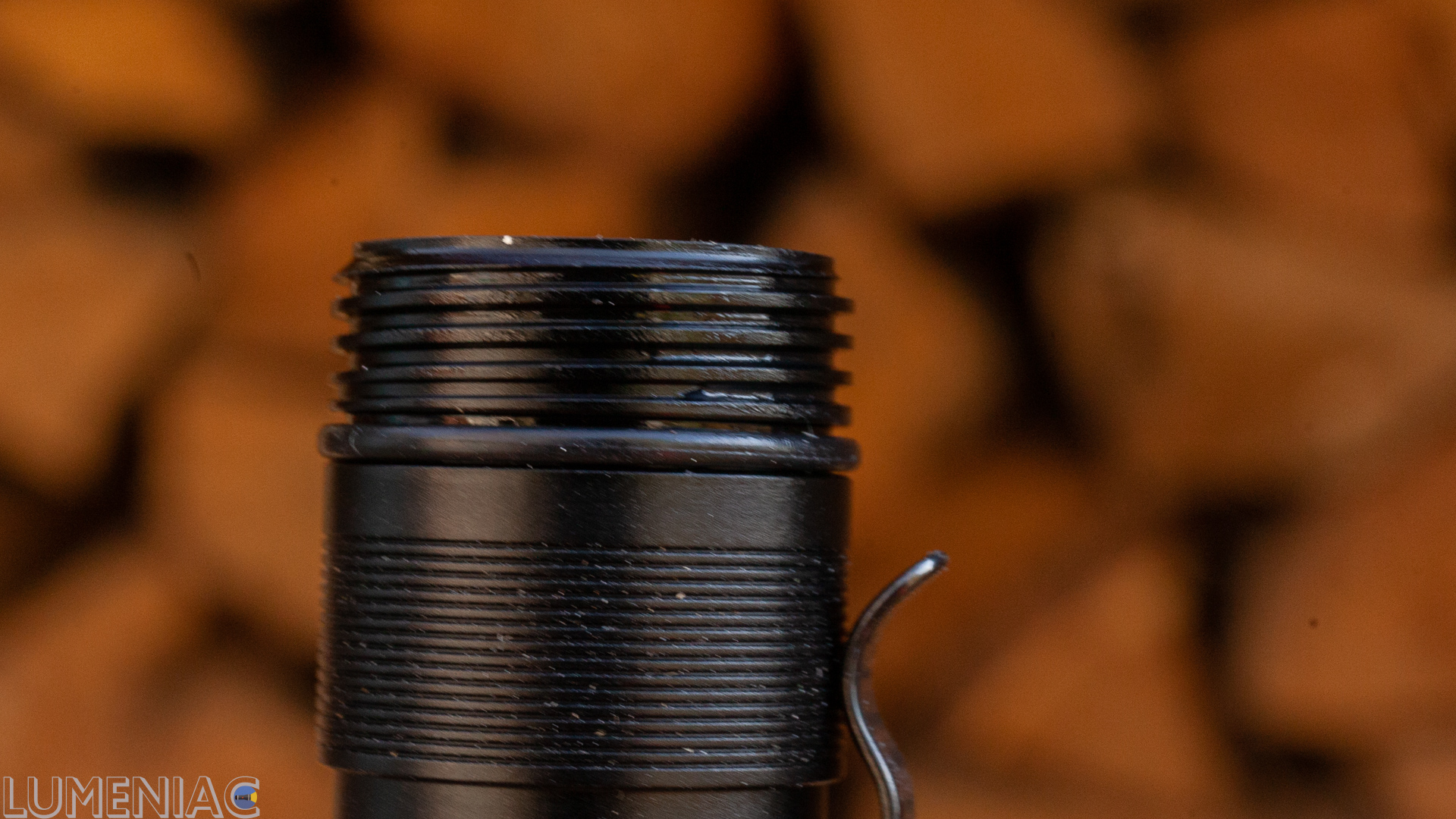 The flashlight is L-shaped, so, of course, there is a clip. Use it to attach the flashlight to the strap of your backpack or chest pocket and largely negates the need for a headband.

The knurling is the simplest.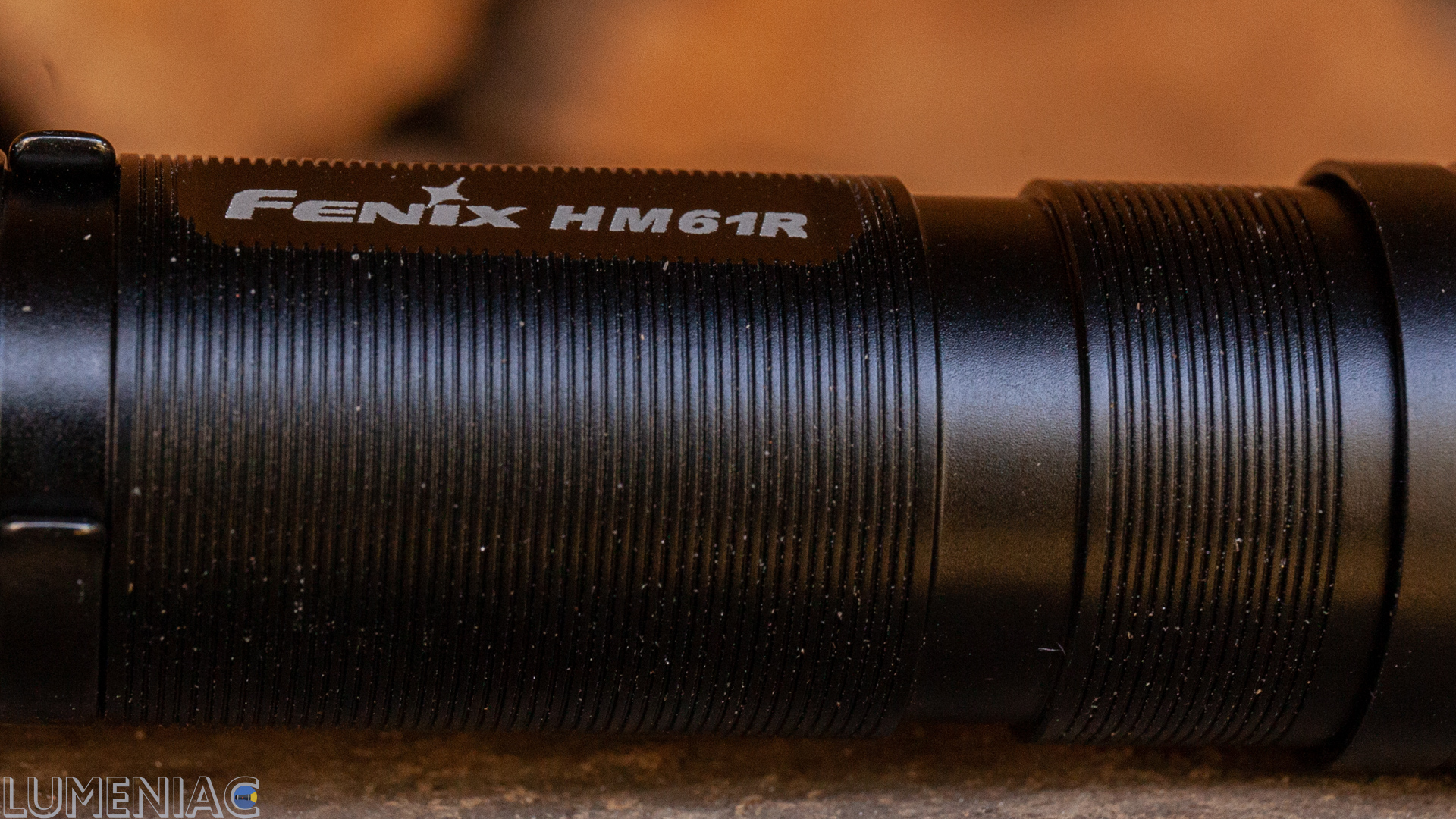 Thanks to two flat cheeks and a clip, the headlamp fits perfectly in the hand.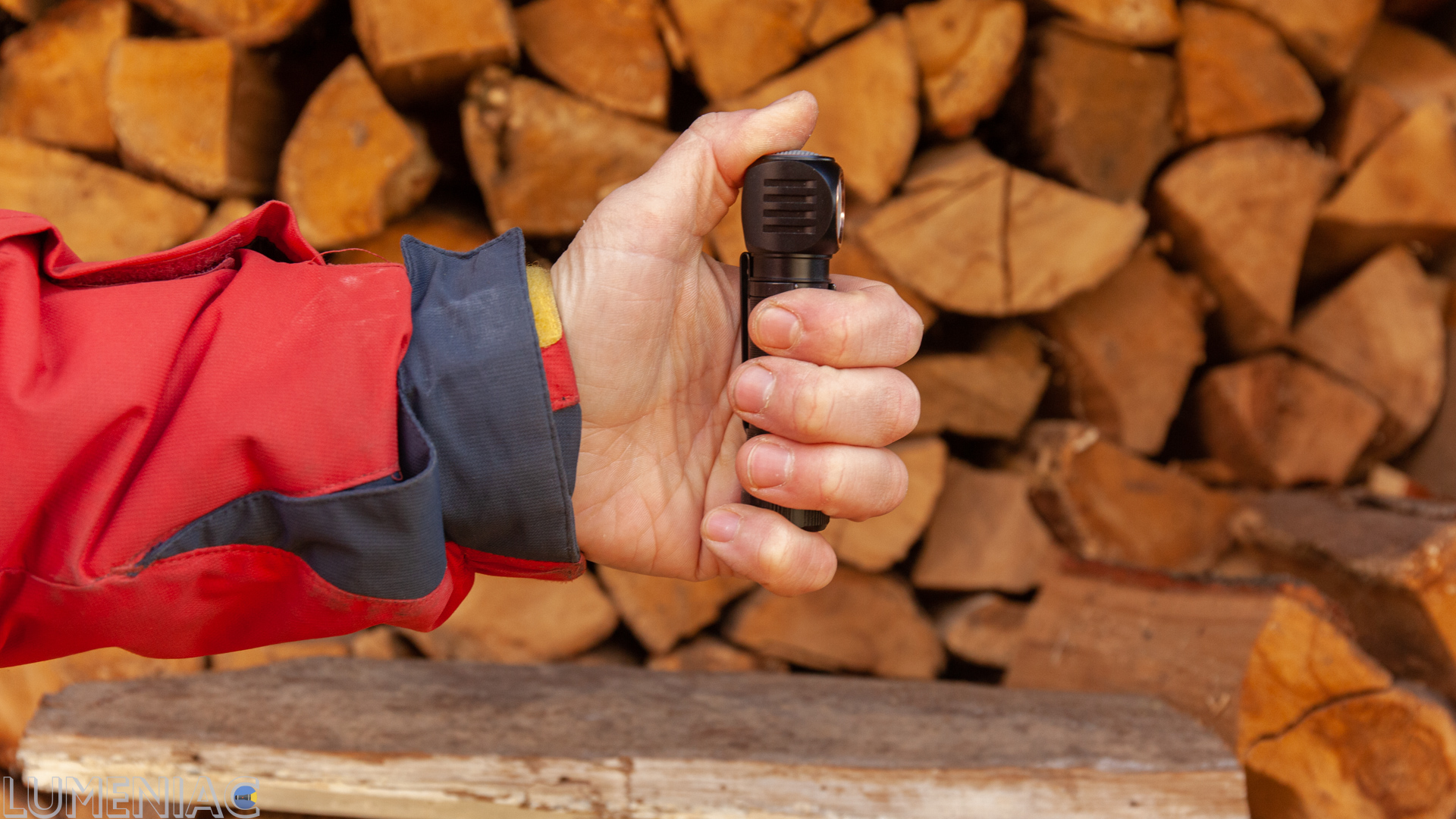 The head is quite regular in size. The cooling fins are deep enough and with such dimensions it is simply impossible to make larger ones. And, again, I don't see any reason to overestimate their influence regarding to max brightness.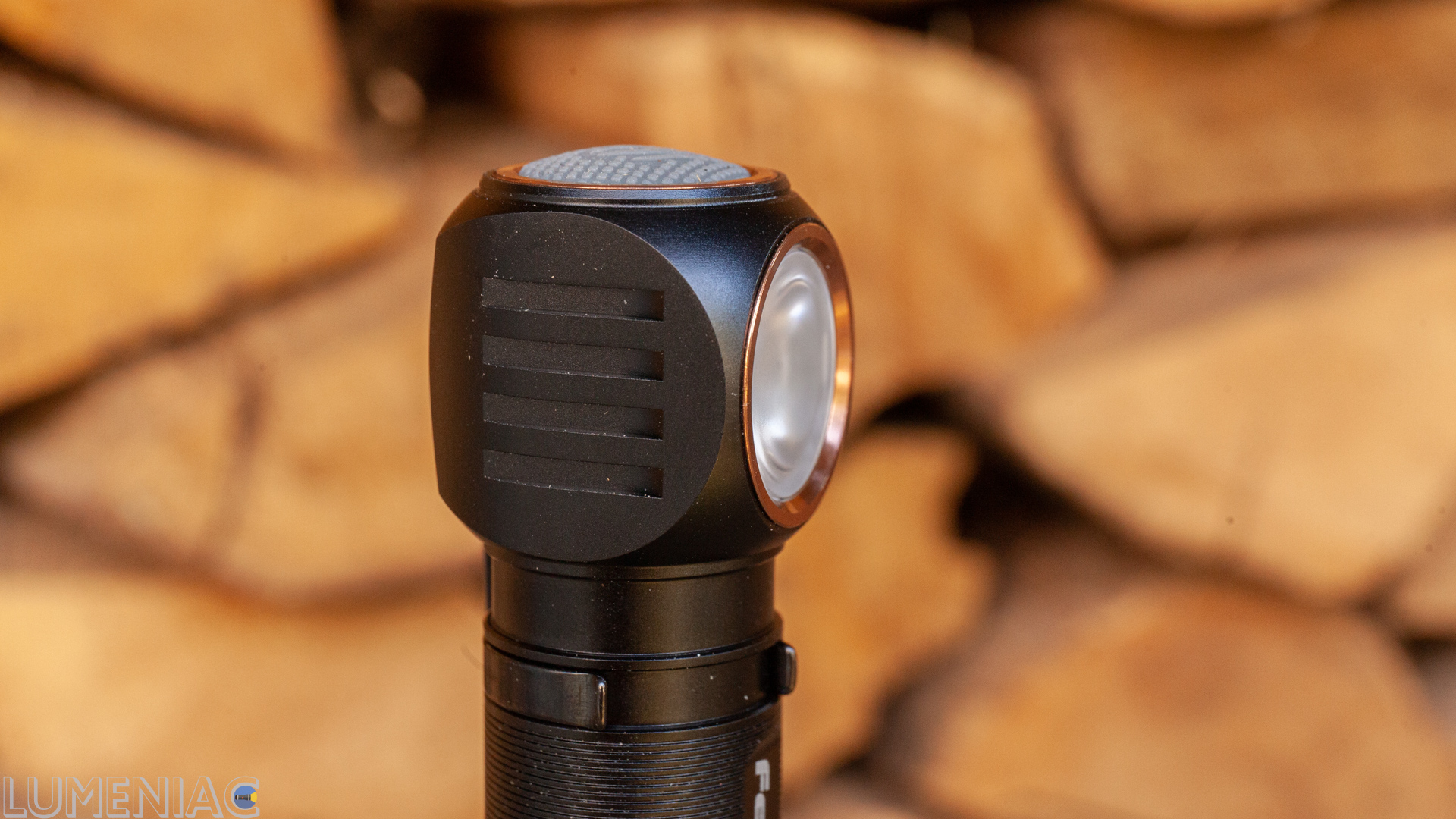 The button is large and comfortable. The move is short with a slight click. There is a dim red-green backlight.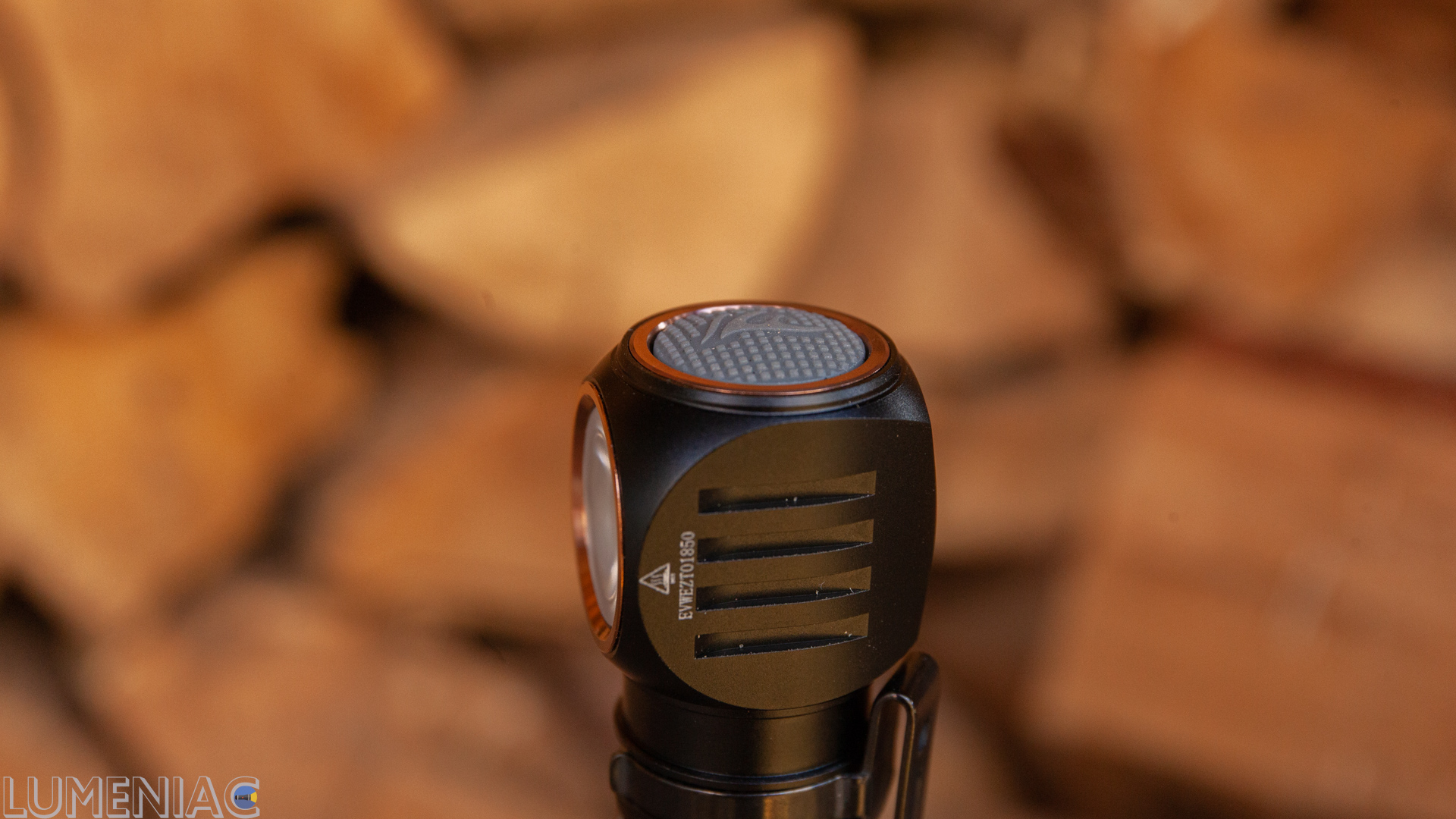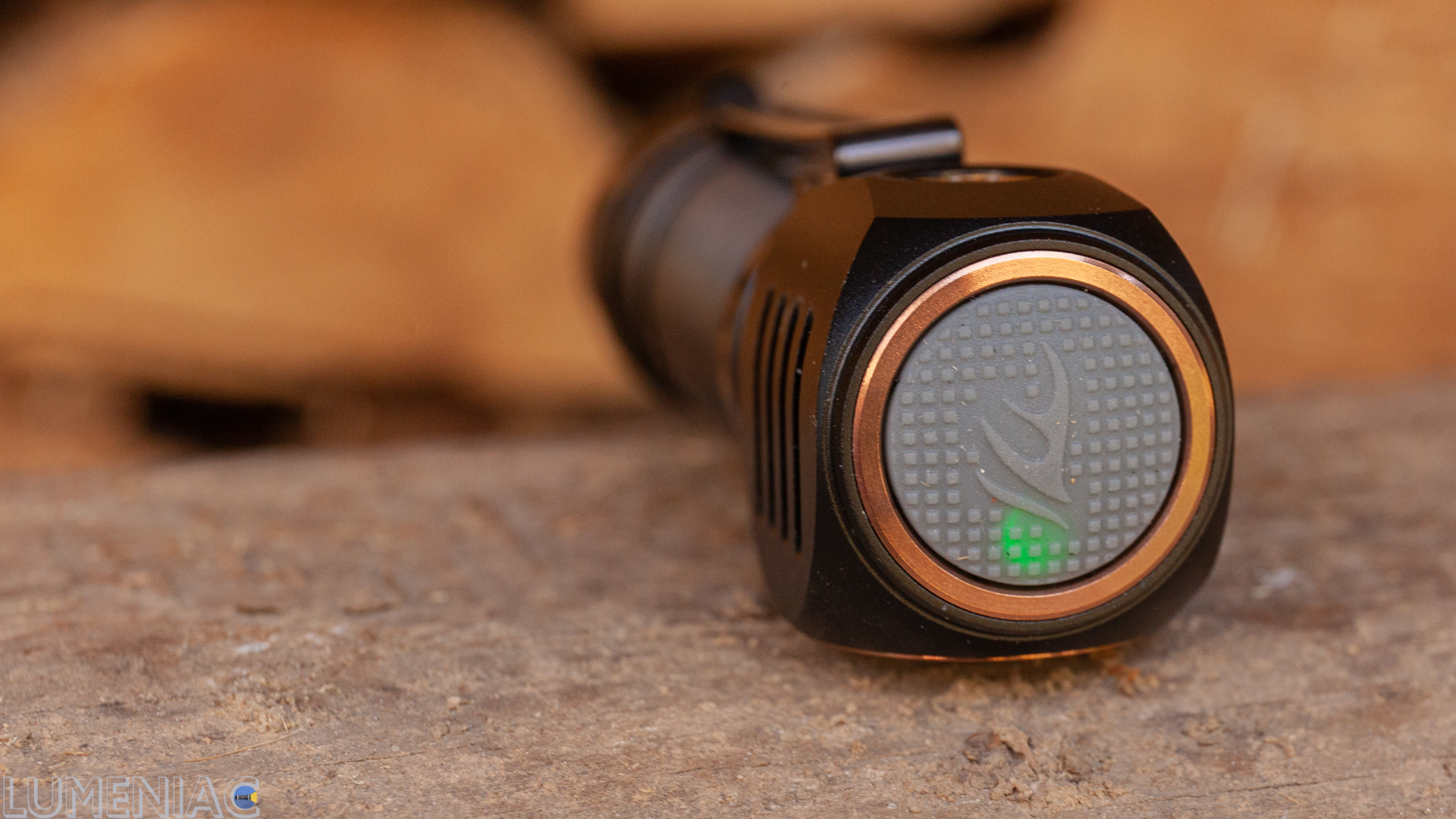 !https://s8.gifyu.com/images/720_button.gif
!https://s8.gifyu.com/images/720_button2.gif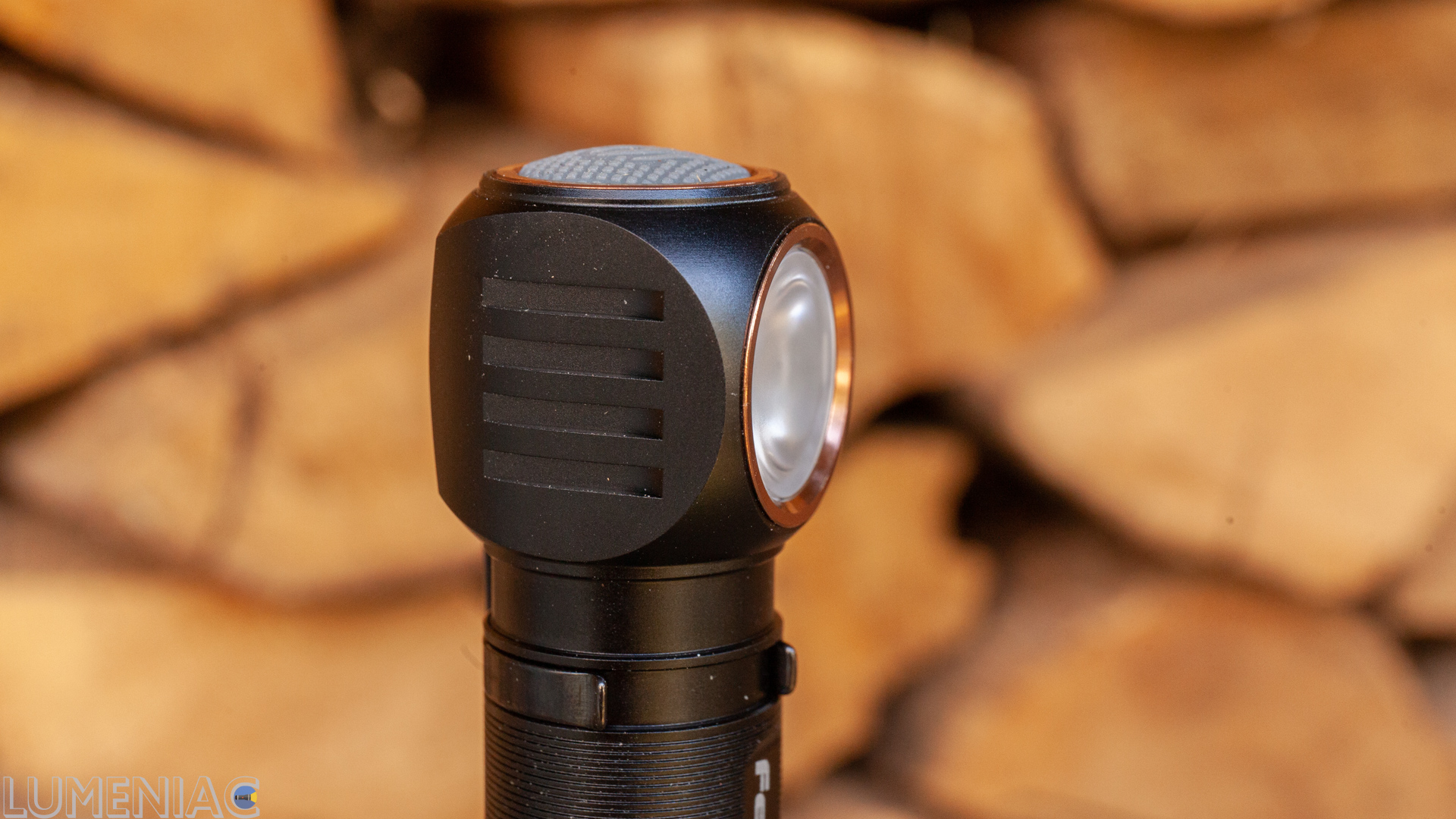 I do not like magnetic charging. It is clear that such one is better for waterproof protection and made it possible to reduce the
body length, but you have to carry a cable with you - you have no options to charge from a regular micro-USB. And the loss-breakage of the cable reduces this functionality to nothing. The same Olight bypass this problem by the fact that their fans have a damn lot of universal brand charging cables. Fenix ​​can do a completely different magnetic charge in the next flashlight.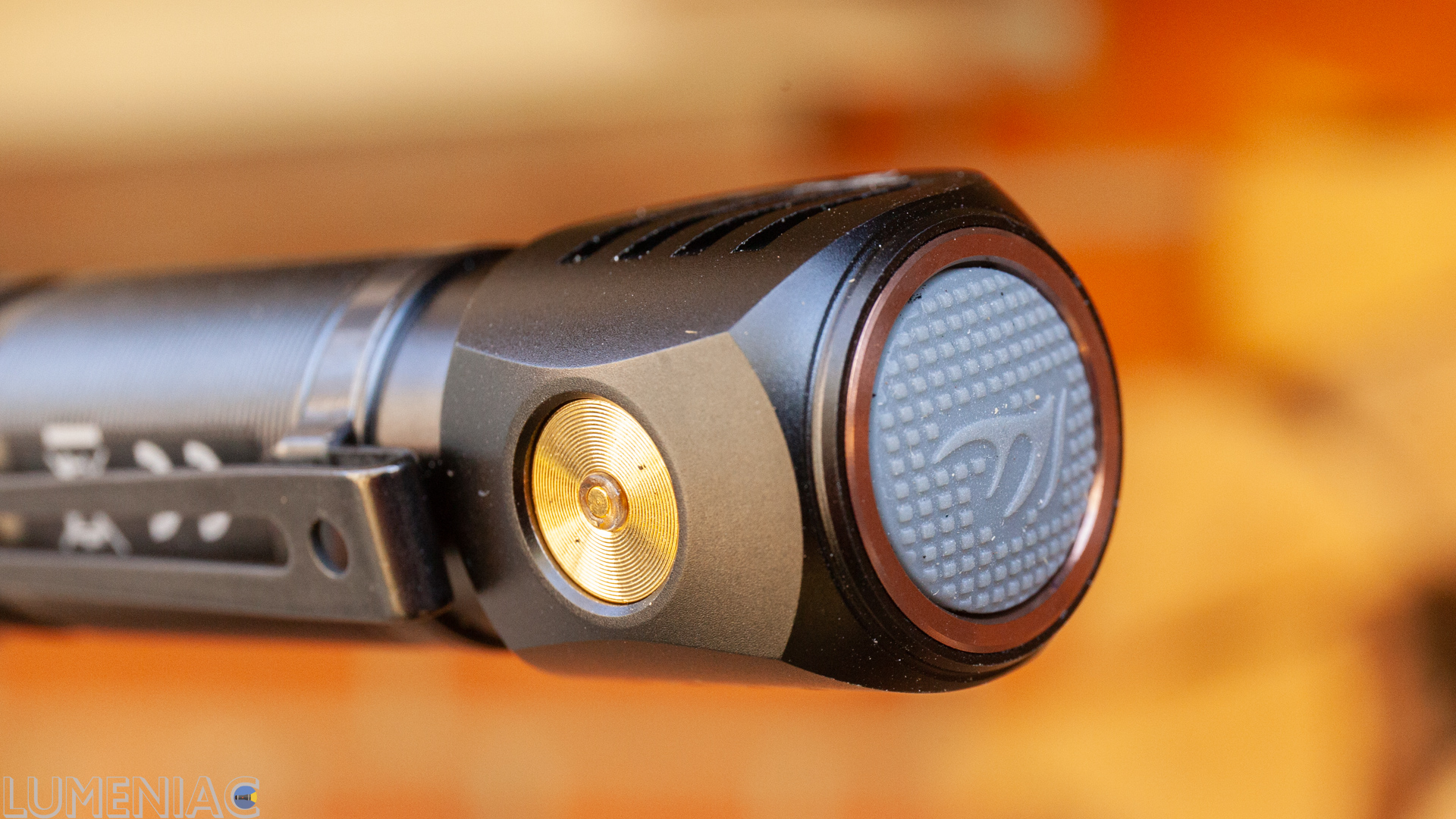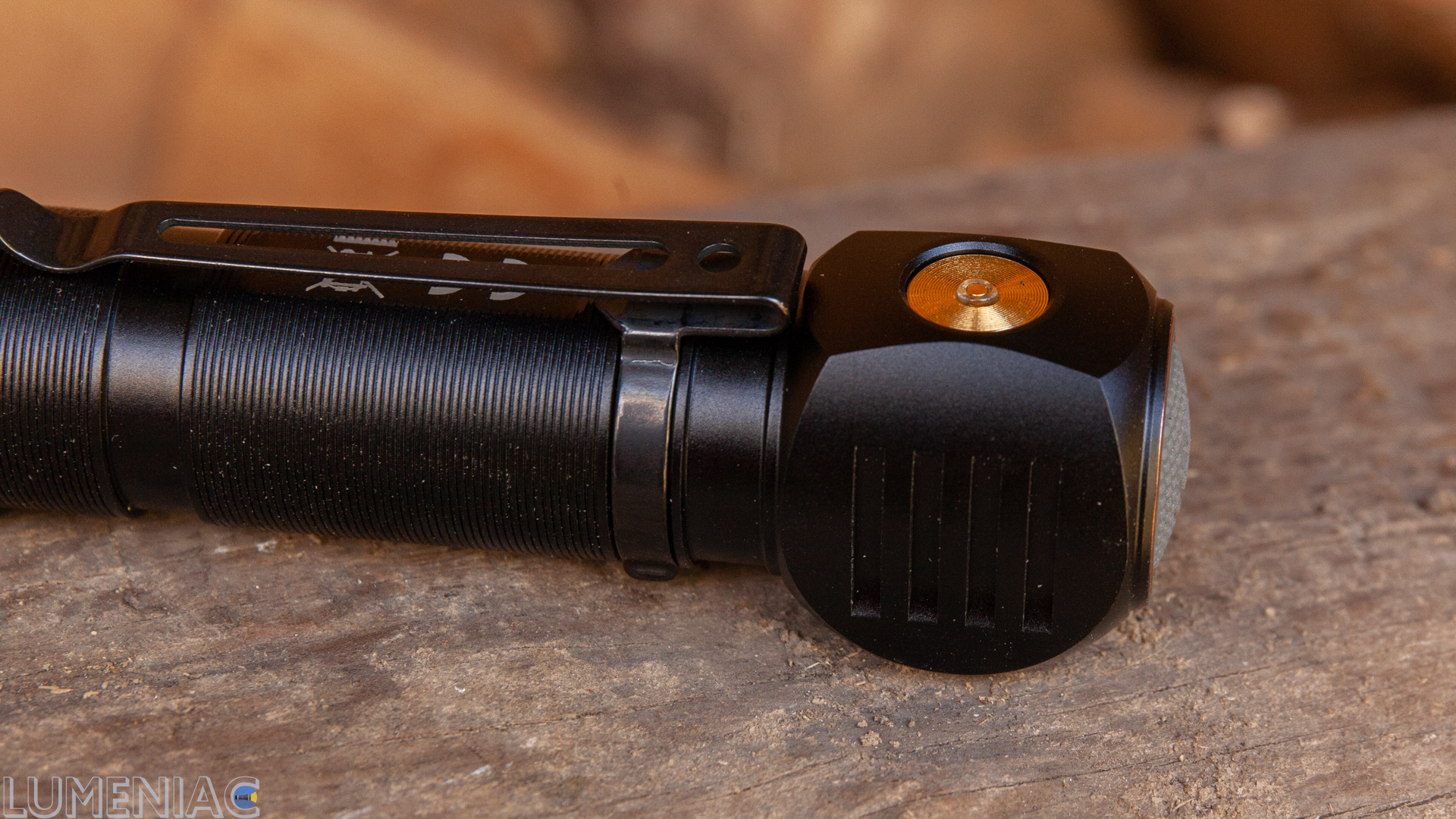 In short, charging works and that's good. But you're tied to one specific wire, and that's bad. The charging current is tolerable, full charging of the complete battery takes a little less than 4 hours.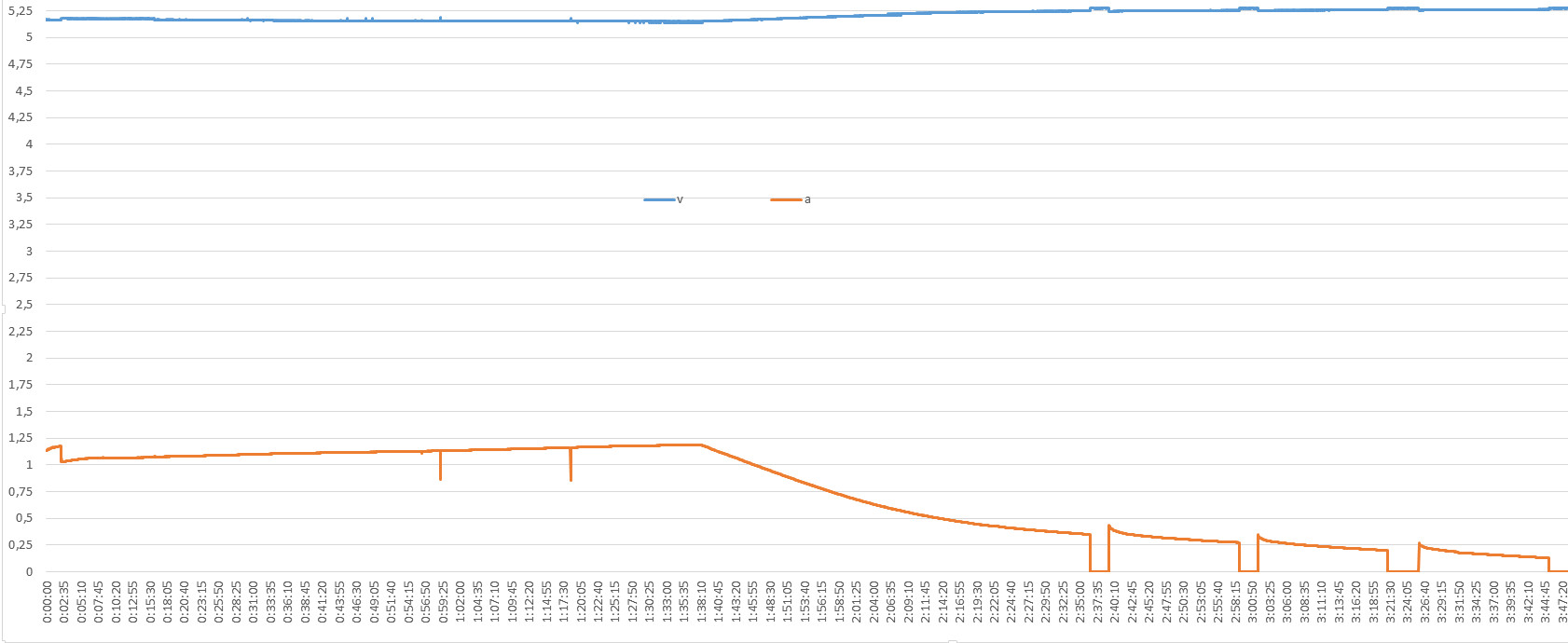 On the opposite side there is a matte TIR lens with an SST40 LED hidden behind it, which Fenix ​​actively uses in almost all compacts. For me that makes no sense to use it here as it has no clear advantages over XPL or even XML with such max brightness. Even more, old XML would let to make NW version instead of CW , which Fenix stubbornly sticks to.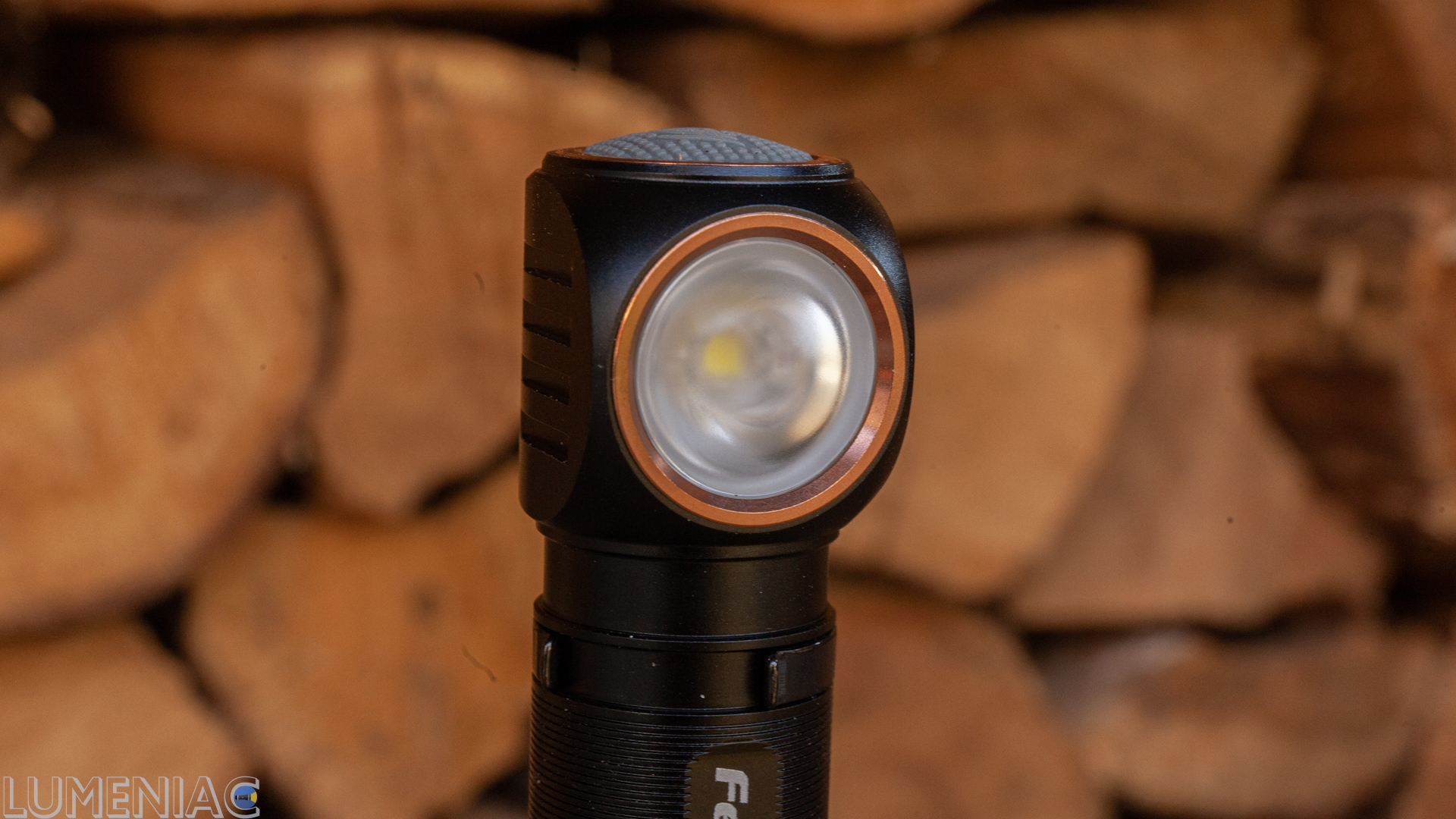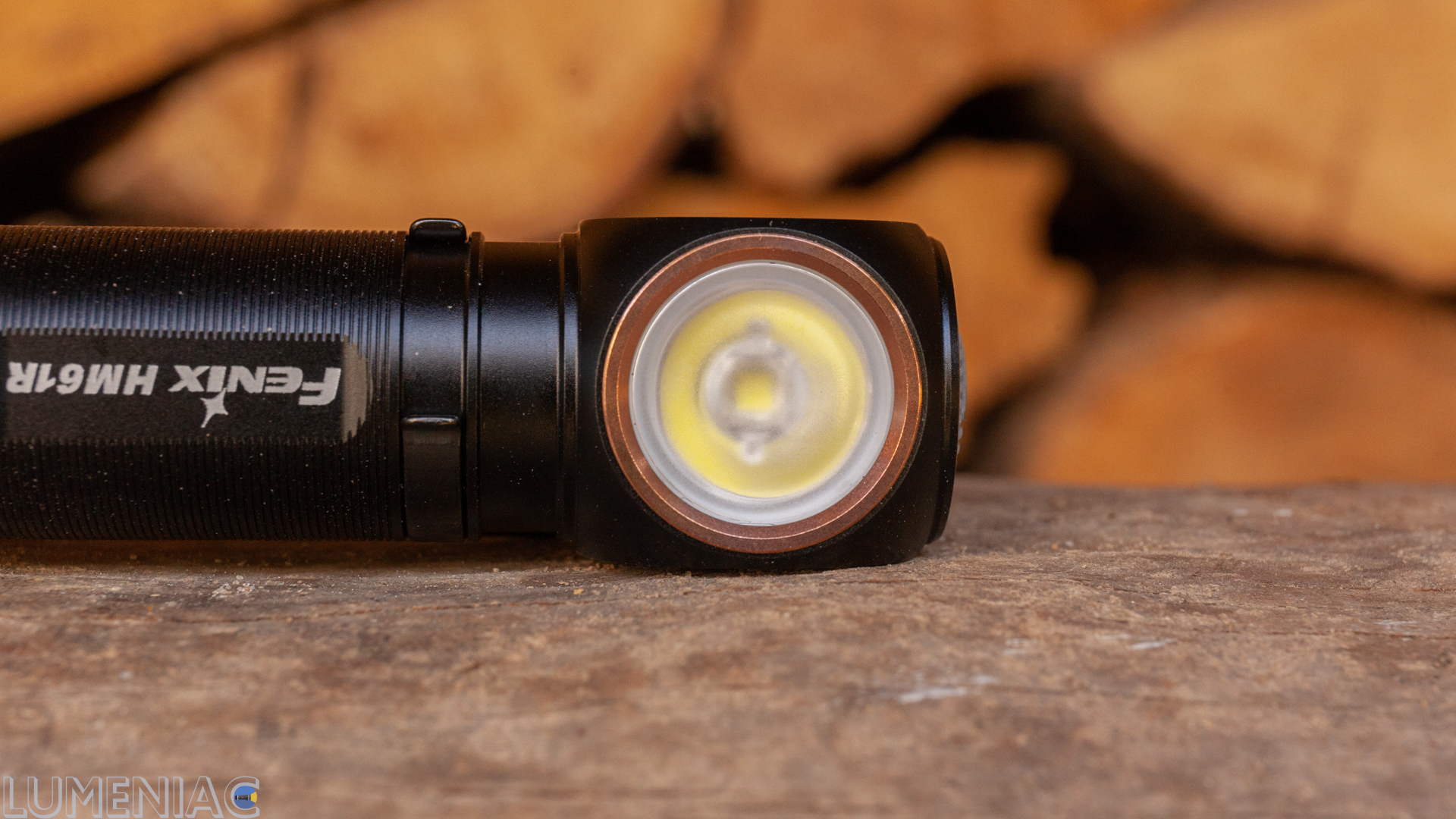 That's all. The packaging looks much better than the flashlight itself. The workmanship should be a cut above the appearance. I don't like the idea of ​​magnetic charging itself, but it is implemented well. Oh yes, the headband is gorgeous.
UI
Of course, the most primitive. Something simpler can be found only in a frankly basement crap-zoome with aliexpress. On the other hand, the buyer may not bother with reading the manual at all and immediately start using the flashlight, unless you need to learn how to turn on the red light.
In short, nothing new. It is totally unacceptable for a experienced user (let me speak for everyone) at least by the lack of instant access to the minimum / maximum brightness and is convenient for an ordinary user.
HOW FENIX ​​HM61R ILLUMINATES
A rare situation when Fenix ​​normal stabilization and thermoregulation, and general modes set. They jumped right over their heads in this.
For close-up work, you have 150 lumens of MID mode, which is enough from dusk until dawn.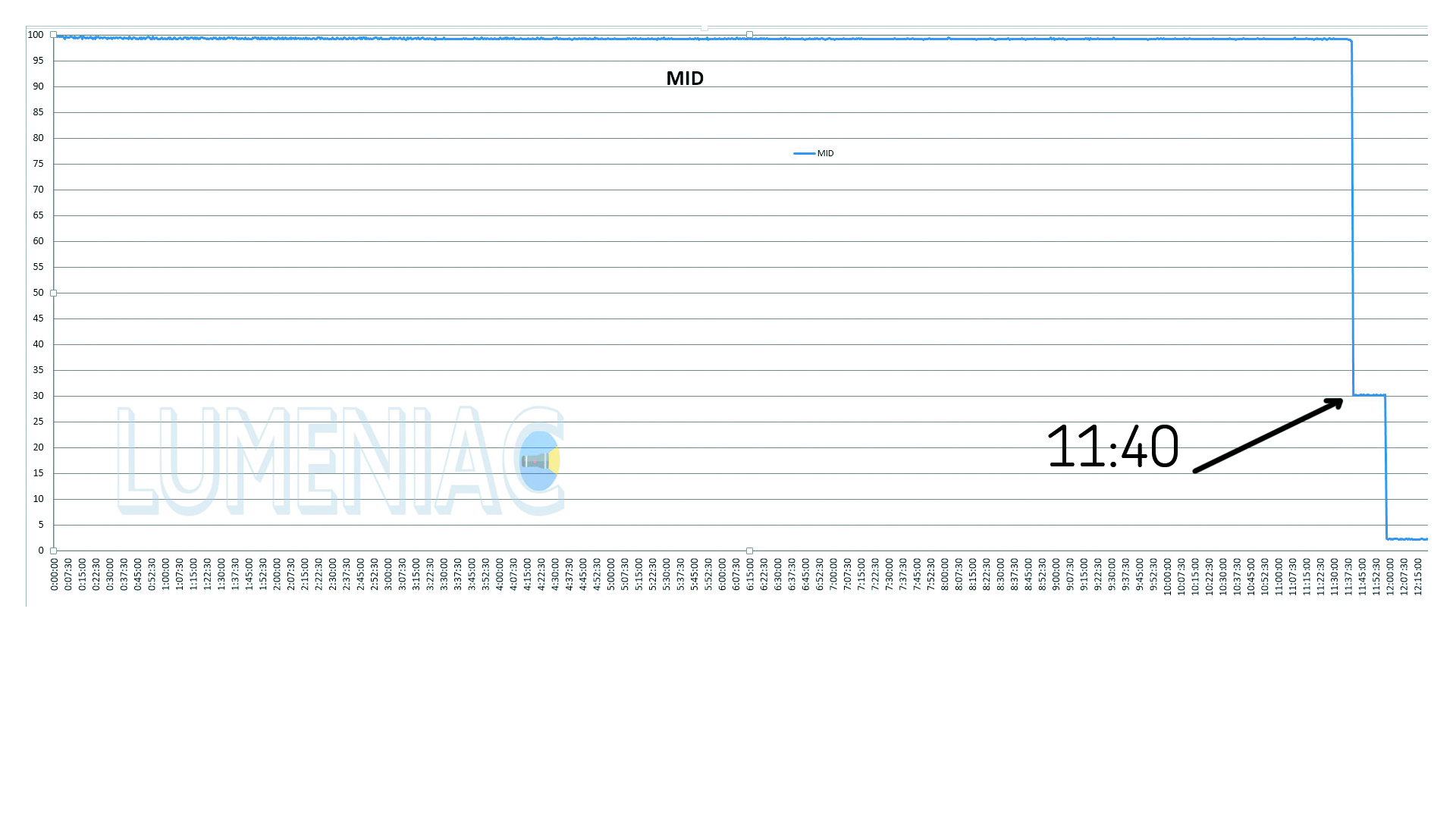 As a good pedestal light, 400lum High will do, which will be enough for you for 4 hours.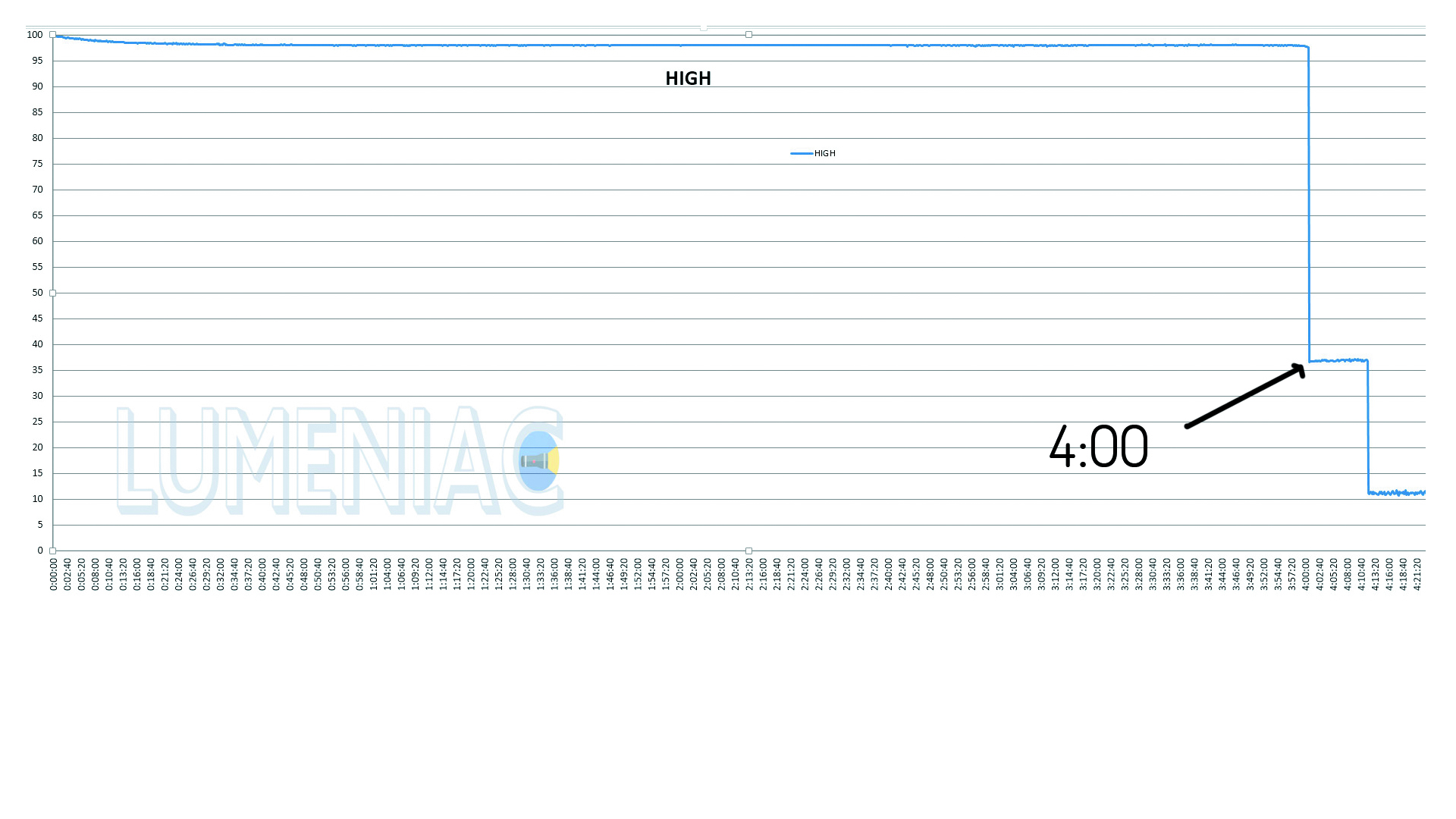 As for the turbo, 1200 lumens is quite ordinary brightness for 1x18650 model and it is enough for most of situations.
The headlamp keeps this brightness long enough and it can be activated over and over again. Of course, the thermal cut-off shortens each such restart. After cooling, everything returns to normal. The effect of cooling is symbolic here.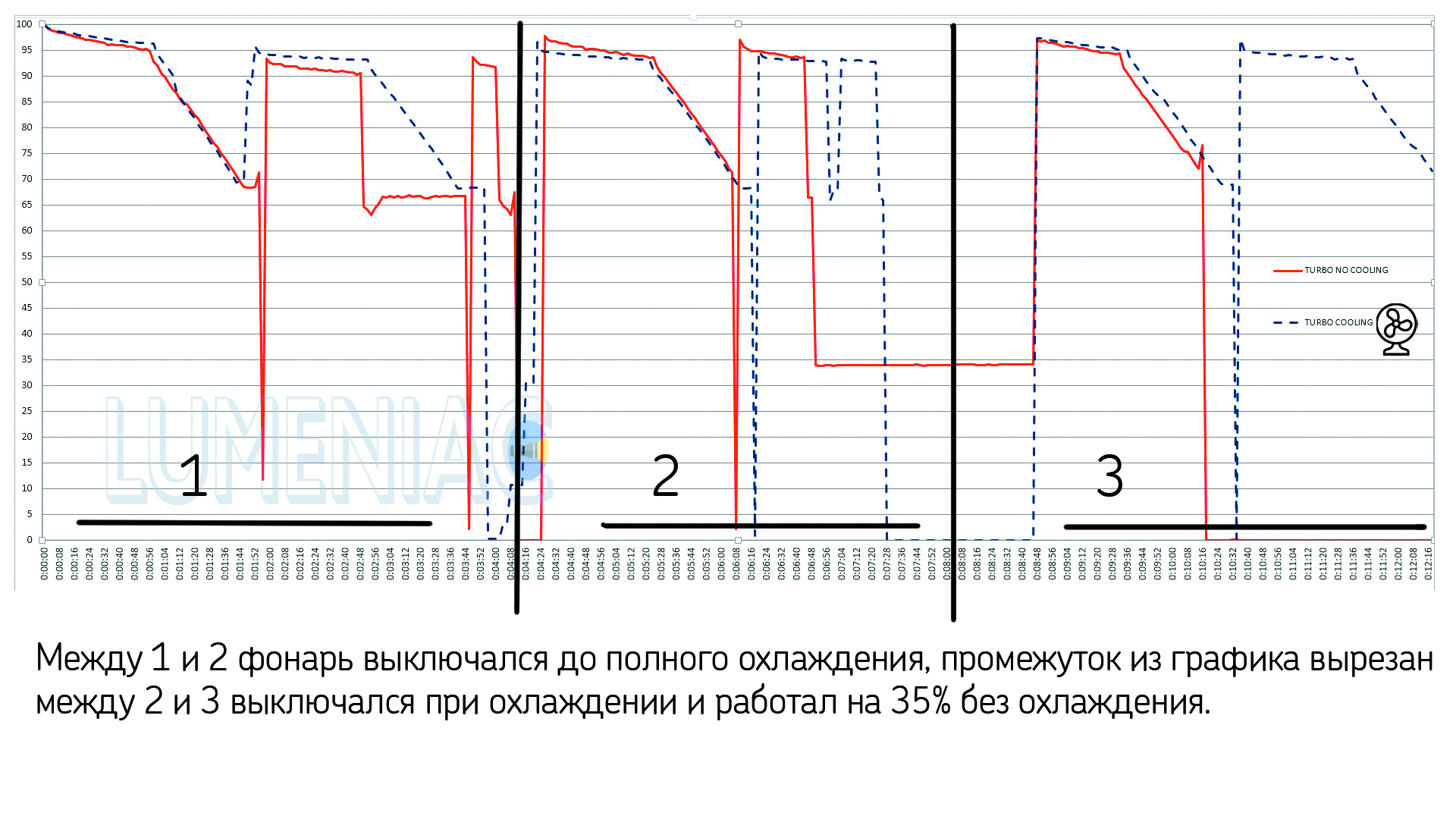 HM61R was turned off untill fully cooled down between 1-2 probes, i cut this interval from chart.
between 2-3 it was turned on for with cooling and kept working at 35% without cooling
Obviously it affects the other: the option to get to the level between High and Turbo. When you start the latter with cooling, the brightness drops not to 30, but somewhere up to 70, and you get a little over an hour with a brightness of about 800 lumens. And for a model with such dimensions, this is an exceptionally good.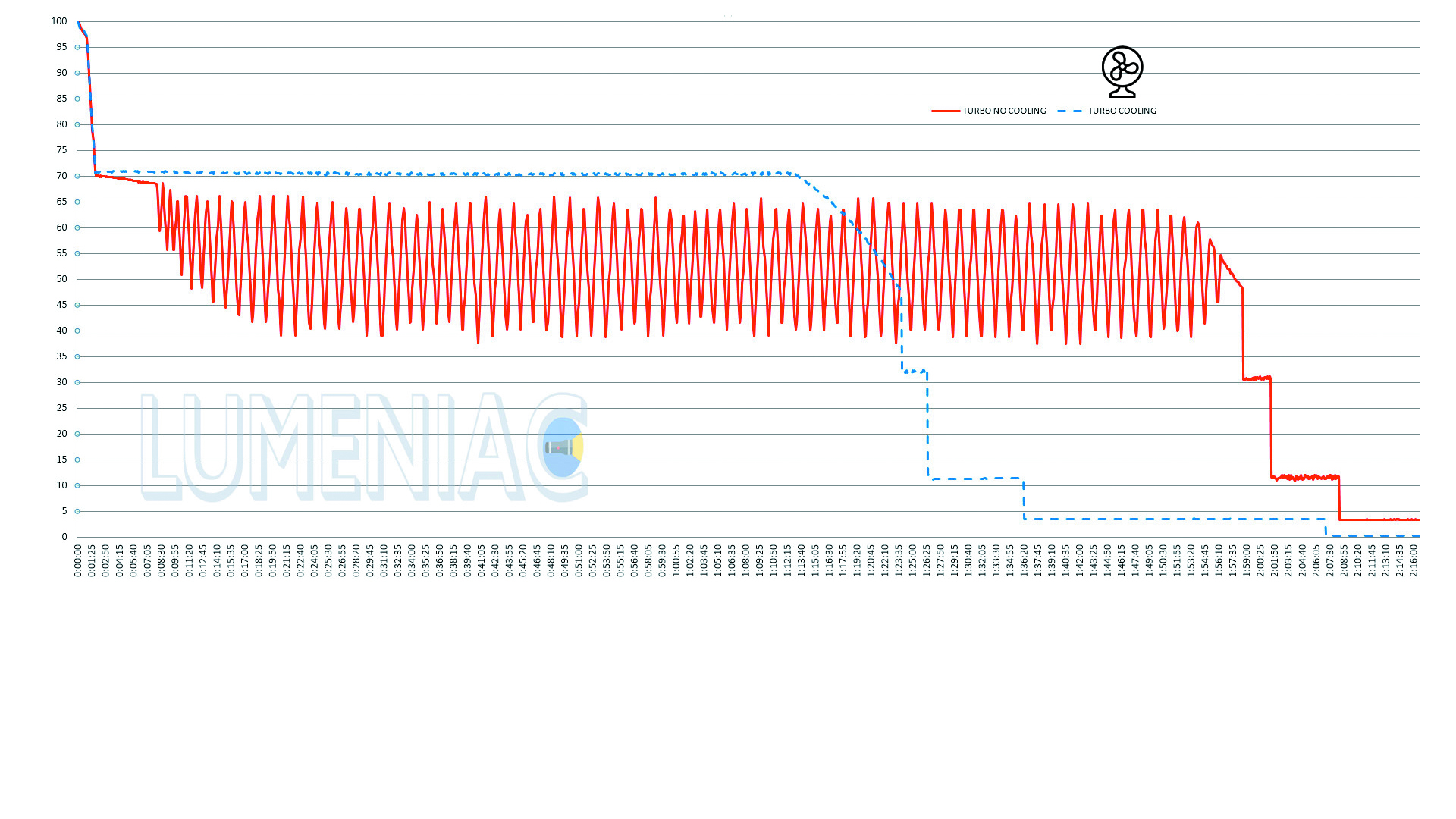 In the absence of cooling, you get thermoregulation "saw", and this is expected. In no way is I ready to put it in a minus in this case.
Attention! There is no overdischarge protection. This is a double-edged sword. On the one hand, in case of emergency, you will squeeze out the maximum possible runtimeeven at the cost of the battery's life. On the other hand, the latter can be shaken by forgetting about it.
In short, consider this!
Cold white light. Alax. With SST40 onboard Fenix could boost turbo to 1600, which would be great with 21700 battery. But, as far as i know, Fenix dont have any plan for such a headlamp, as they consider 21700 model to be too bulky (in fact, it won't), and they would rather make a model with an external battery pack for 21700 model.
!https://s8.gifyu.com/images/720_red.gif
In terms of light distribution, this model partly resembled and much more affordable budget bestseller Sofirn SP40. Fenix HM61R has a wider side light and a more even gradient from the center to it. In terms of color temperature, of course, HM61R loses to SP40 (who in sane mind would choose CW given choice between it and NW?). But, let me remind you, Fenix HM61R has an additional red light.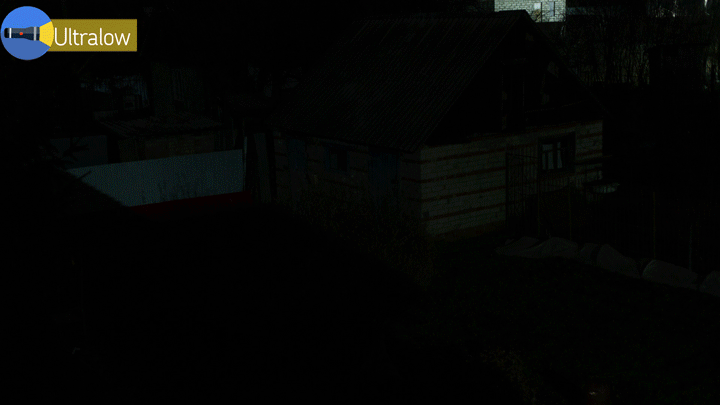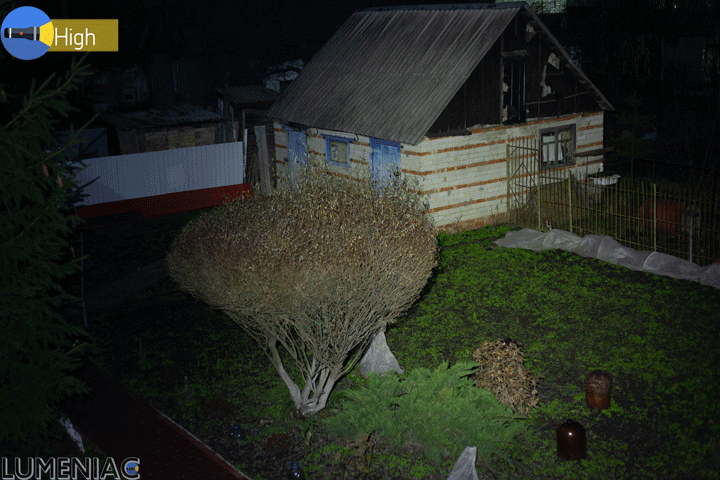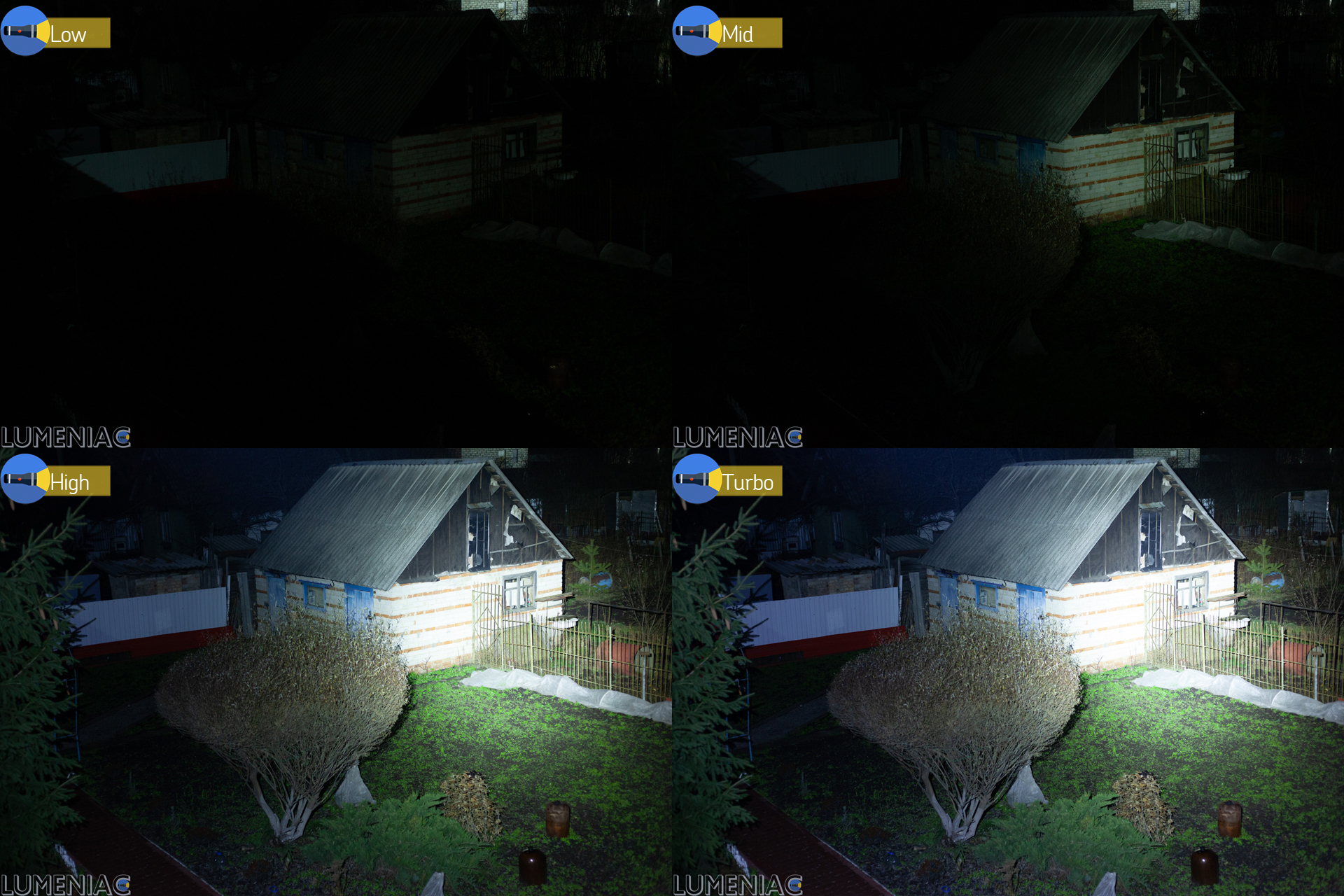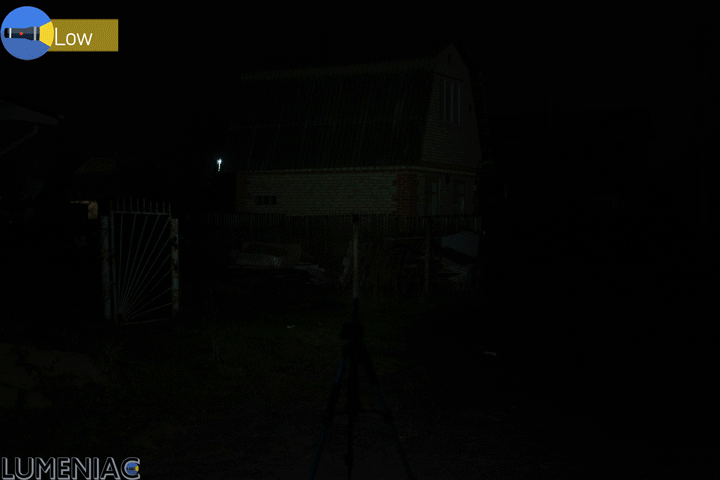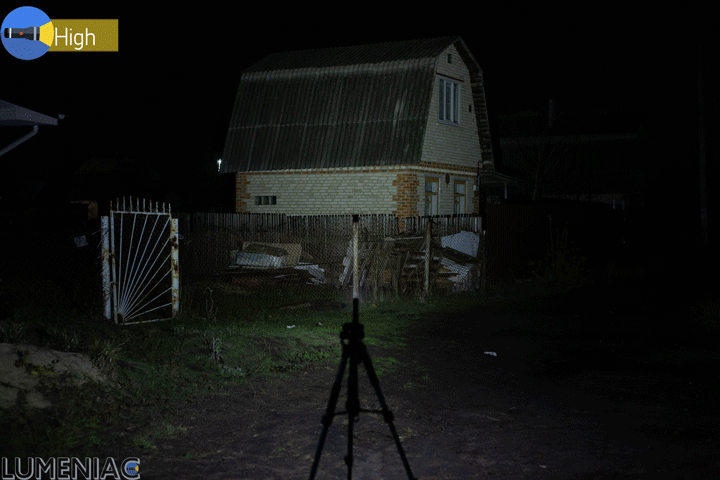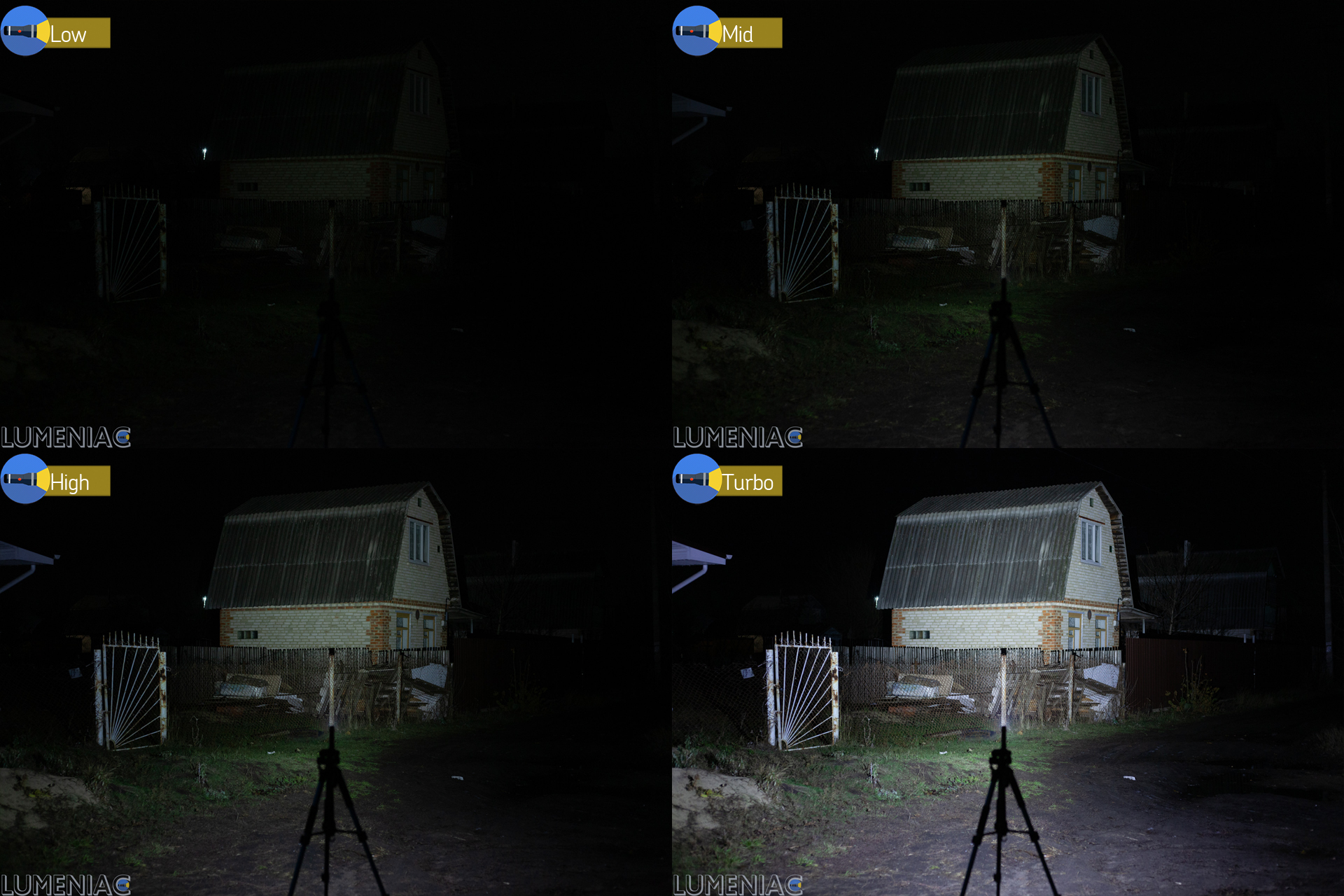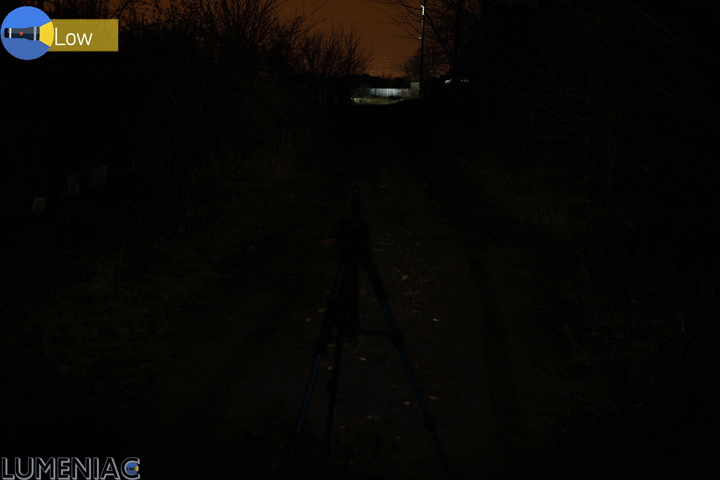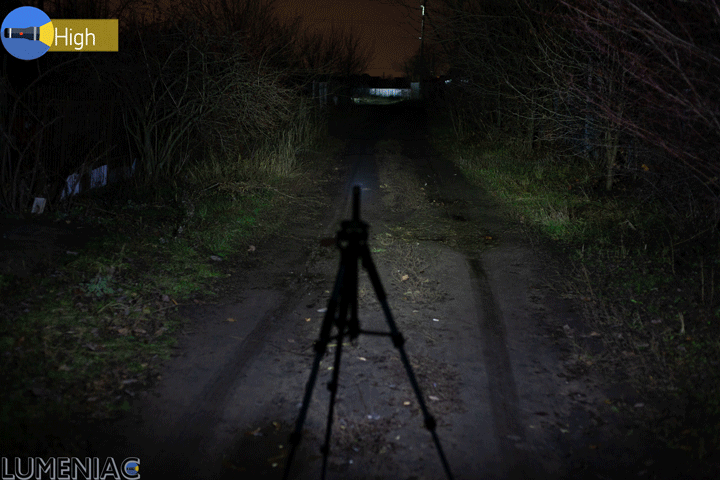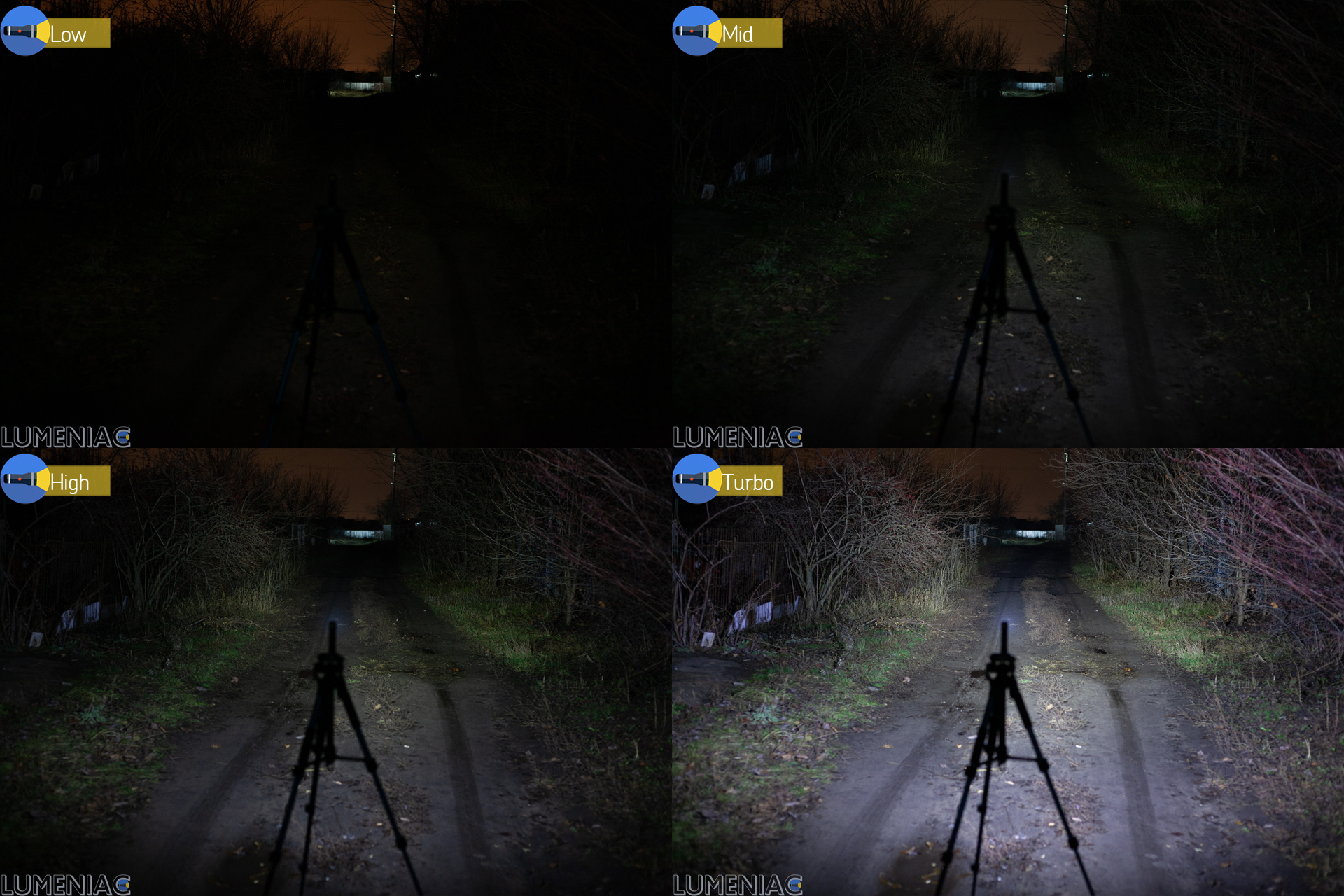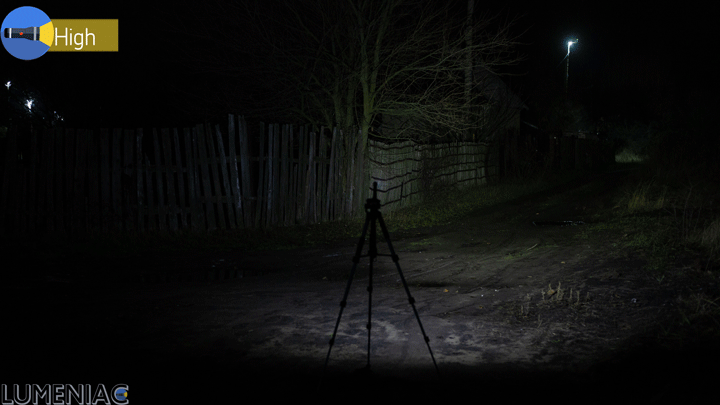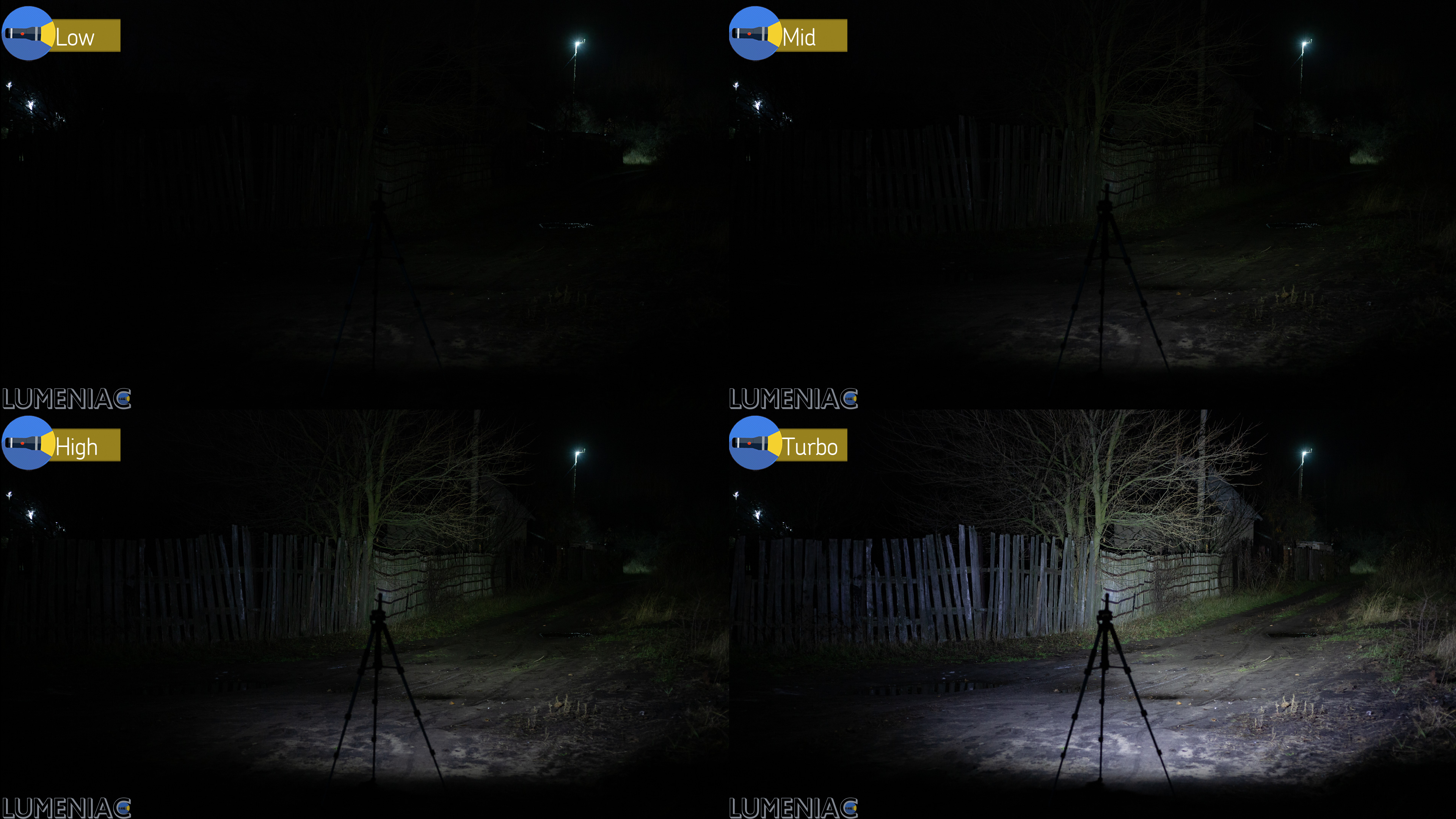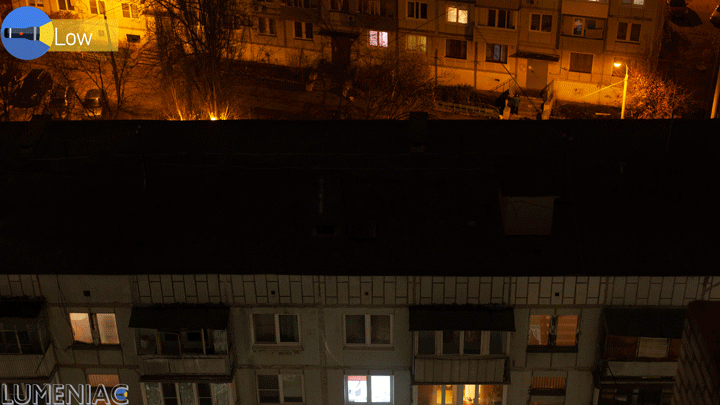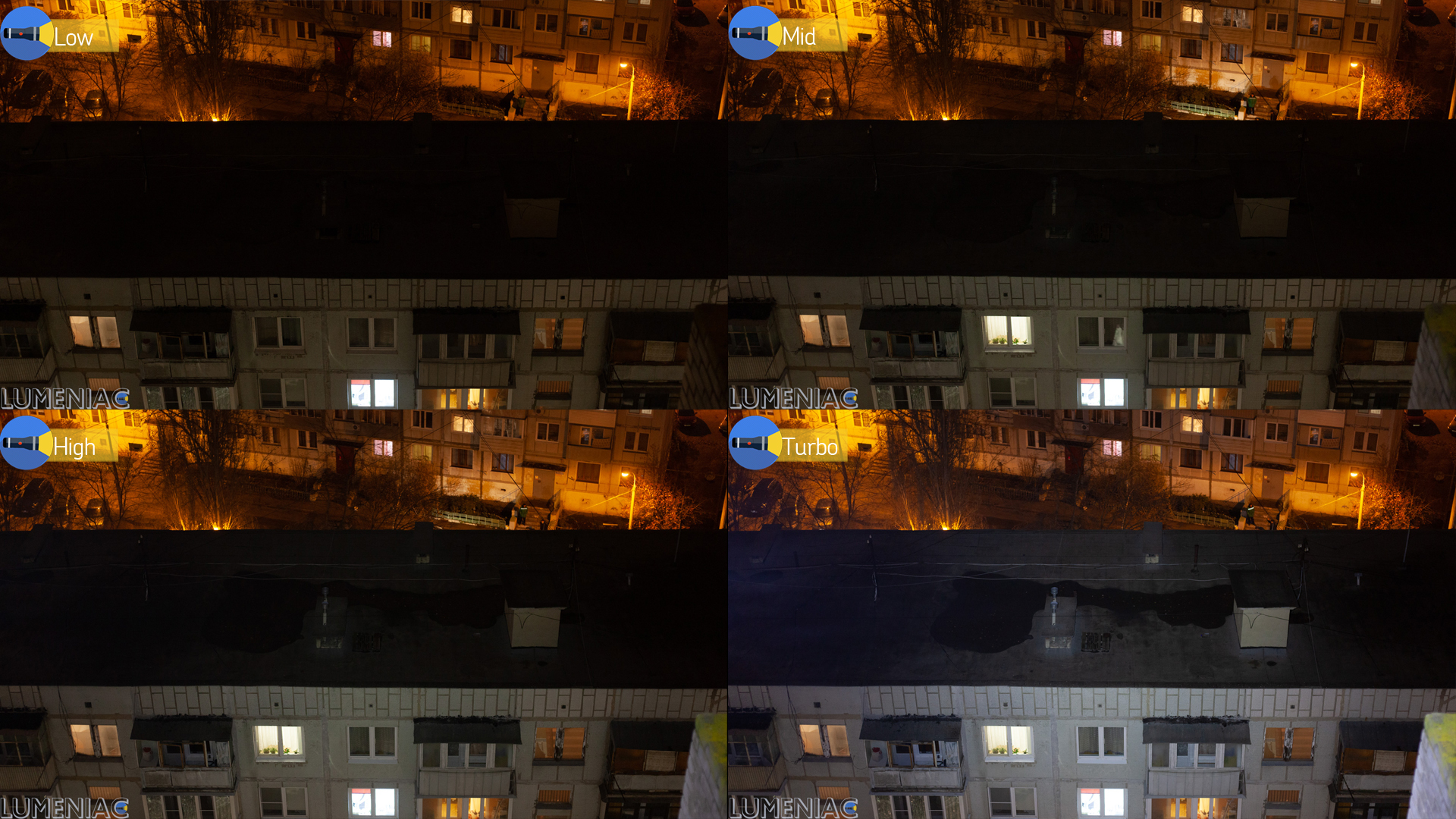 Fenix ​​HM21R video review contains more examples of how this headlamp works. it is in russian, i must warn you.
OVERALL IMPRESSION
In general, purely in terms of functionality, I like Fenix HM61R.
It, of course, has something to be improved.
Objectively: upgrade from 18650 to 21700 and a warmer color temperature.
UI is a matter of taste. I do not hide that for me it is inconvenient for its primitiveness, but many people like just such a simple one. So it is with the charging connector. I have always preferred micro-usb \ Type-C to such "native" charging cables. But magnetic charging is significantly better waterproof. And for someone, this will be a critical factor when choosing.
On the plus side, makin HM61R review left me with feeling that this model is surprisingly good for what Fenix might do.
This is the aforementioned, albeit specific, native, but still built-in charger. This is an extremely convenient headband, which makes it possible to quickly remove and re-insert headlamp fully revealing all the advantages of its L-shaped form. Here I directly applaud Fenix, for once they did something absolutely good in terms of real use. The flashlight has a strong magnet in the tailcap.
When it comes to light, you have a decent turbo. Not some super-brightness, but that's a plus at this size. Something brighter would have significantly limited runtime of turbo mode. Right there it is quite consistent both in time and in brightness. Moreover, in cool weather, after the thermal cutoff is triggered, you get an undocumented and fully stabilized 70% of the turbo mode, which is very good for such a compact headlamp. Well, yes, all other modes are also completely stabilized, which is a definite plus regarding what was in the top-end Fenix HM65R headlamp from 2019.
The last plus is the red light with two modes. A very pleasant add-on, which would become even more pleasant, if the developers understood that it is needed in order to preserve night vision, which means it definitely need direct access from OFF. At least, by the same 2x click instead of blocking, and loking could be moved to 100% safe 3-4 clicks.
This is a rare occasion when I can say more good things than bad things about a Fenix ​​product. Of course, the price tag of the HM61R is far from small even by the standards of a Fenix. there is no reasonable explanation for this figure, as normal price of models with similar functionality is around 55-60$. And some people were lucky enough to grab such deal at Aliexpress during sales. So, i feel that an ordinary user would rather give up this quick-release mount and red light for the sake of economy and take the same Sofirn SP40 or Wurkkos HD20. But fans of Fenix ​​and just those who want to buy an easy-to-operate bright branded flashlight in such a standard size, I am sure, will be satisfied.
In general, the model, although not devoid of traditional Fenix ​​jambs, demonstrates that the manufacturer has nevertheless set a course for the introduction of some new products. It remains to wish that that creative fervor does not dry out and does not lead them away from the logic of real use.
I recommend reading the related useful thematic texts that will help you choose the right one: