A few weeks ago Klarus released their new G15 v2 flashlight. Curiously I contacted the manufacturer and they sent me one for a review. Thank you very much!
This review is also available in German on my website (it also includes some more pictures and explanatory text).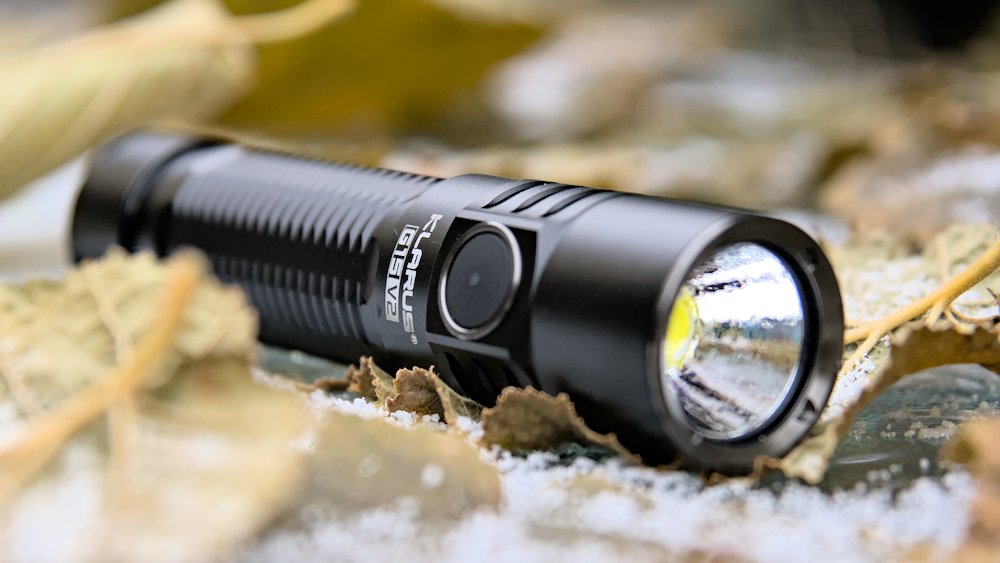 Supplied parts and hardware
21700 Li-ion battery with 5000 mAh (4.10 V on delivery, button-top, protected, 75 mm length)
Clip (already attached)
USB-C cable
USB-C → Lightning adapter
USB-C → USB-A adapter
Replacement O-ring (1x)
Lanyard
18650 / 2x CR123A adapter
Pouch
Manual (EN, DE, ES, FR, CN)
It was slightly difficult to remove the plastic inset from the box to reach the accessories. A little hole would have helped a lot. Nice to see a USB C to C cable with an adapter!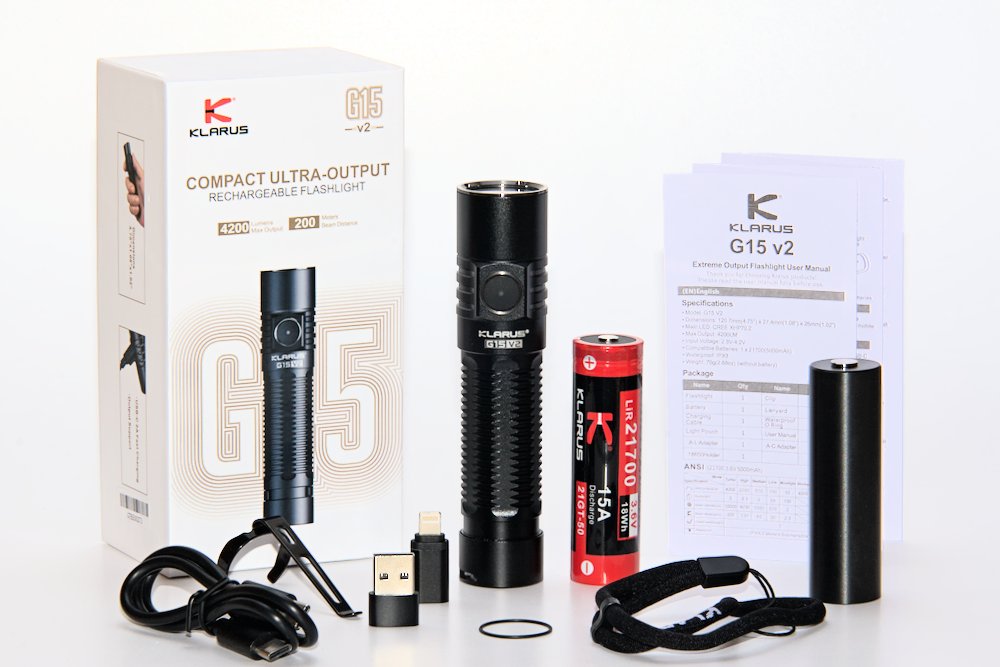 Nice and simple design! Reduced to the important elements without unnecessary gimmicks. But Klarus paid attention to the detail as well.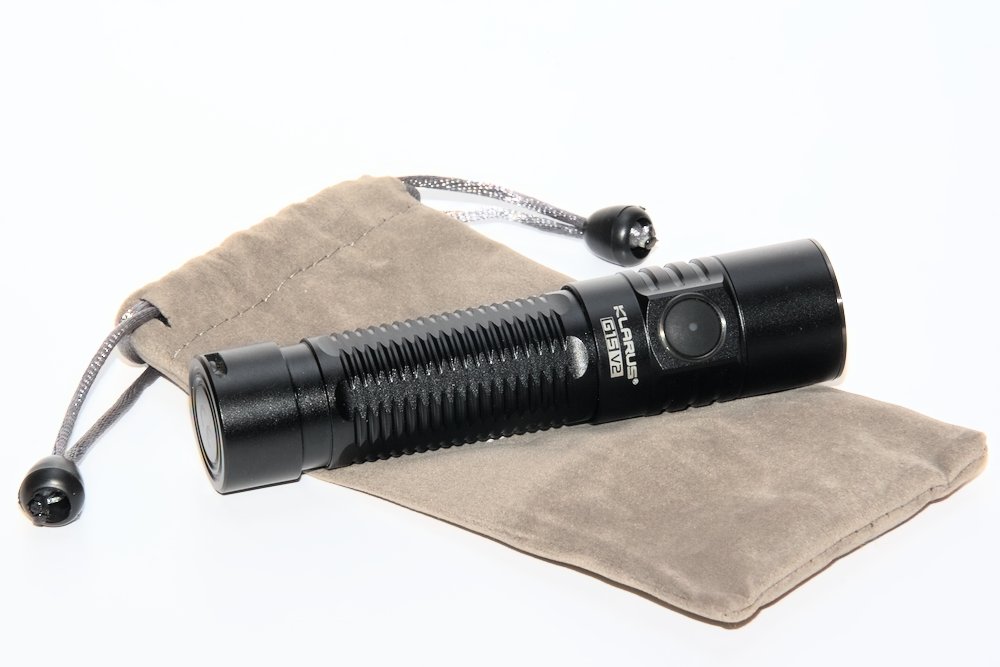 After a few slips with my multimeter probes I came to the conclusion that the anodization seems to be very robust, no scratches.

The flashlight has a blackened stainless steel bezel to protect the glass from impacts (still the rating is conservative 1 m).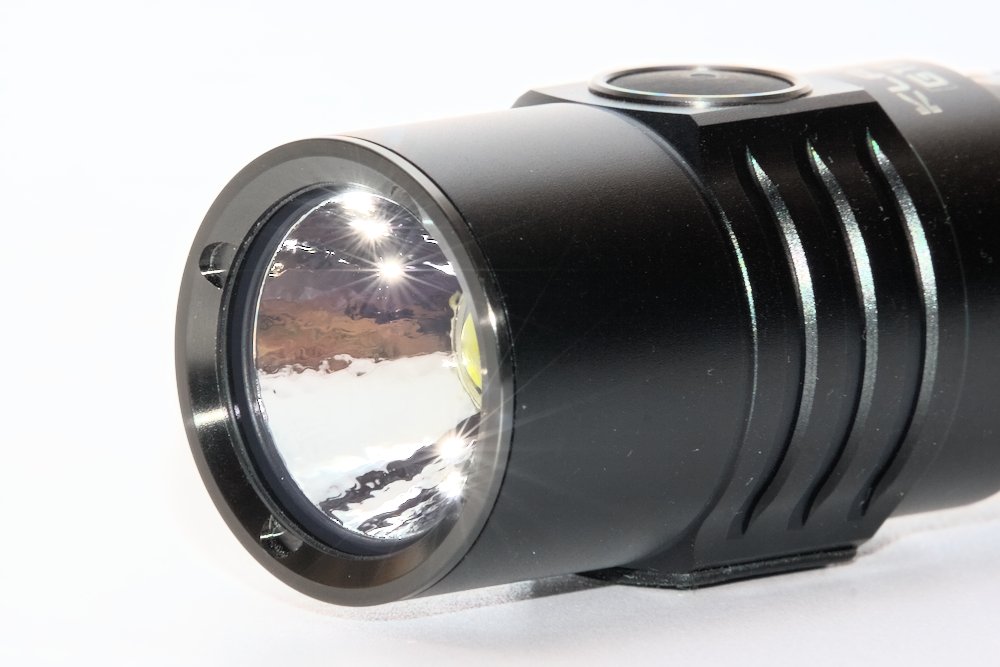 I really like the ribbed battery tube that allows for a secure grip without scratching your skin. The tailcap includes a nicely hidden hole to attach a lanyard. This makes tailstanding more stable and avoids a spiky part that pokes into your hand. There's no magnet.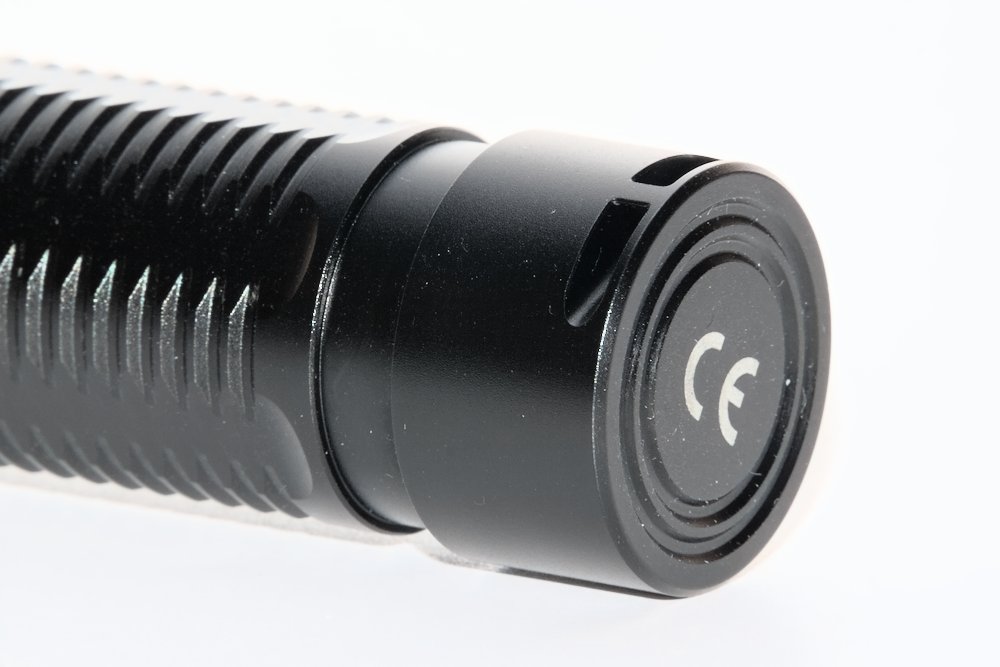 The supplied clip is simple, but effective. It doesn't wobble and sits firmly in place and has a wide opening. It can be attached only in one way and the battery tube can't be reversed because it is glued to the head.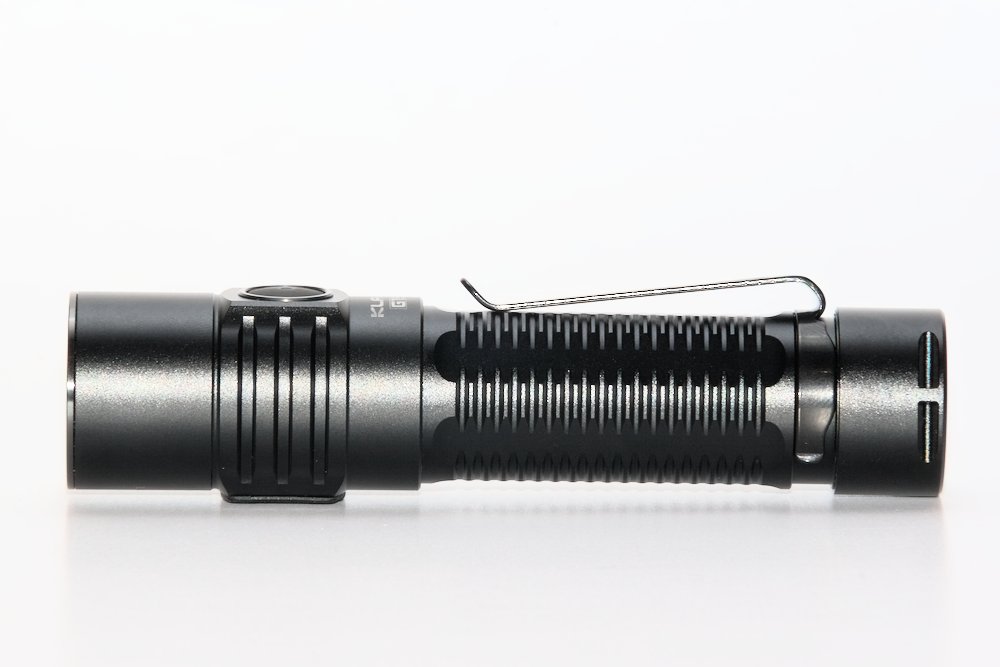 For its power the G15 v2 is really small, as you can see in this comparison. Length 120.5 mm, diameter 27.5 mm and a weight of 70 g (with battery 141 g).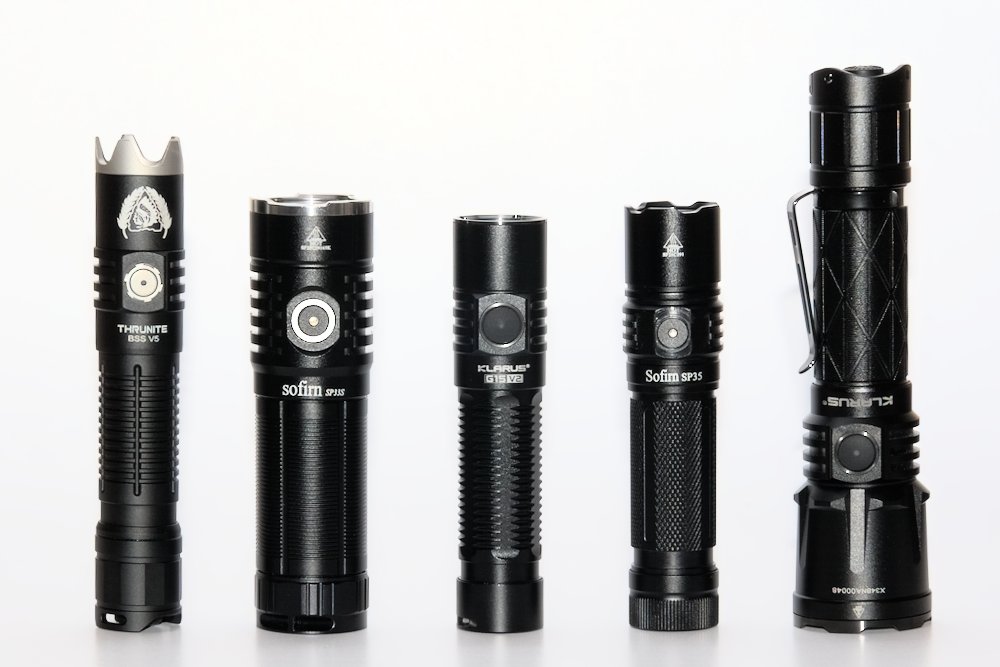 The battery can be charged internally by a USB-C port at the head. The surrounding space is very limited and bigger cables might not fit.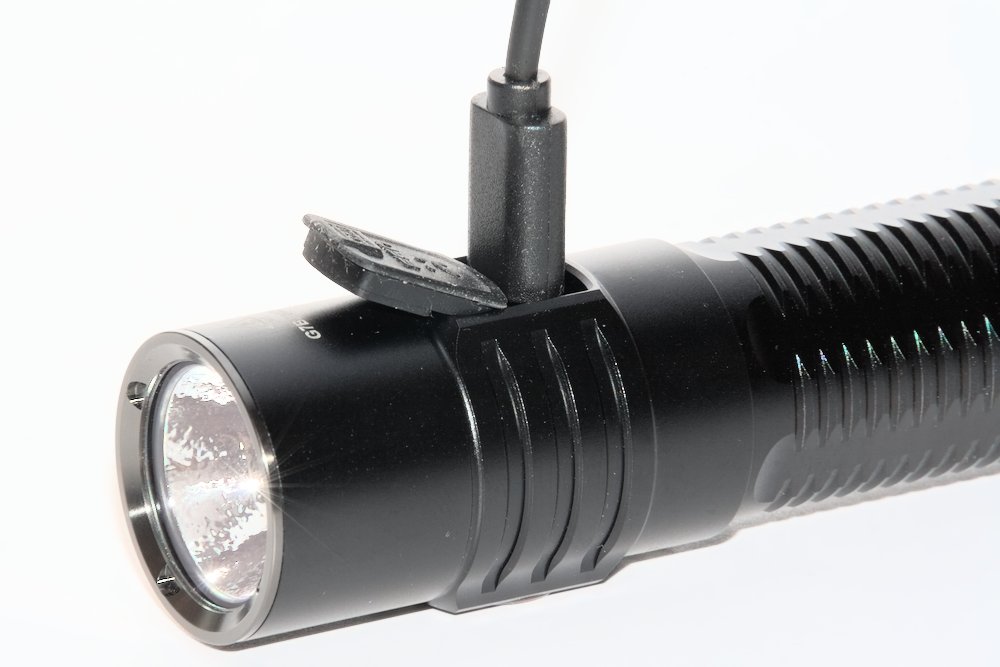 Charging is done at up to 2 A, so that the battery if full after about 3:20 hours. During charging the status LED in the switch blinks red, afterwards green. The flashlight can be used during charging. Although the manual states that only the low levels work, I was able to switch through all levels without problems.
The flashlight can also be used as a powerbank. The USB-C port provides 5 V up to 1.5 A.
A silicone cover protects the USB port against dirt and water. The flashlight is rated as IPX8 (2 m submersion). Sadly the cover protrudes a significant amount and thus might be opened by accident easily.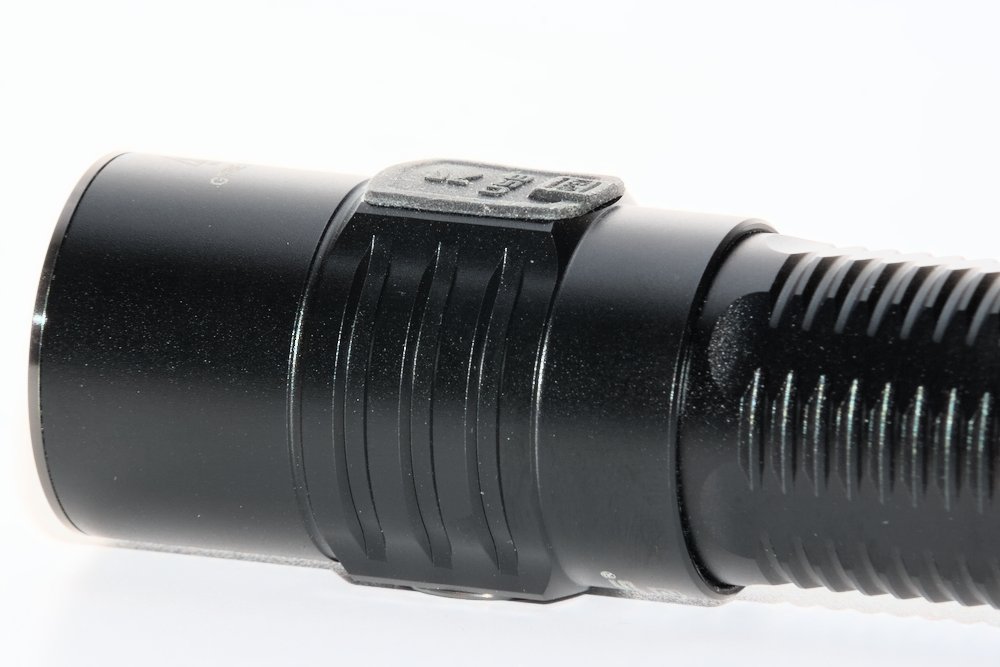 There are springs in the tailcap and at the driver side. This allows a wide range of batteries: 21700 button/flat top, even protected ones (the included measures 75 mm). You also get an adapter for 18650 and 2*CR123A (while the manual states "2.8 – 4.2 V" it also shows a picture of 2*CR123A).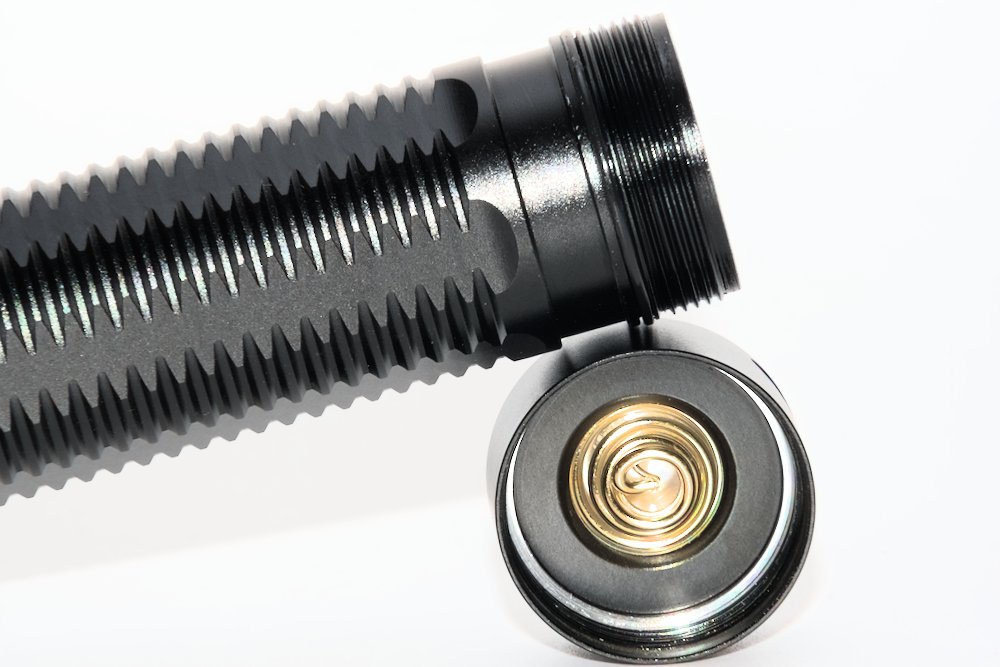 The protrusions of the clip and the switch prevents the light from rolling away (but it will roll in-between).
User interface and features
There's just a single electronic switch at the side of the head. It is large, flat, slightly rubbery and includes a status LED. It requires some force to actuate, but has very little travel and a nice, firm click. Just one problem: It's hard to find by feel (but also rather resistant against accidental pocket activation).
The UI is simple and intuitive. Should be easy to learn even without a manual:
State

Action

Function

Off

1C

Turn on (last used brightness from Low/Medium/High)

2C

Turbo

3C

Strobe

Hold

Moonlight

Hold (> 5 s)

Lockout

On

1C

Turn off

2C

Turbo

3C

Strobe

Hold

Change brightness (Low → Medium → High)

Turbo

1C / 2C

Previous mode / off

3C

Strobe

Strobe

1C

Previous mode / off

2 Klick

Off (firmware bug)

3C

Change strobe mode (Strobe → Beacon → SOS)

Lockout

3C

Unlock (off)
It is almost perfect, but I'd like to see one improvement: Make lockout reachable via 4C! This makes it consistent and easier to reach while also allowing to ramp up from moonlight. When leaving lockout the LED flashes brightly – that should be removed as well.
If you do 2C in strobe mode, the light turns off but sometimes keeps the status LED on. When you turn the light on again, it will brightly flash once. I consider this a firmware bug.
In the first five seconds after turn on the approximate state of charge is shown by the status LED in the switch:
| Color | State of charge |
| --- | --- |
| Green | 70% – 100% |
| Orange | 30% – 70% |
| Red | 10% – 30% |
| Red blinking | < 10% (3.3 V) – permanently blinking |
| ––– | Turns off below 2.70 V |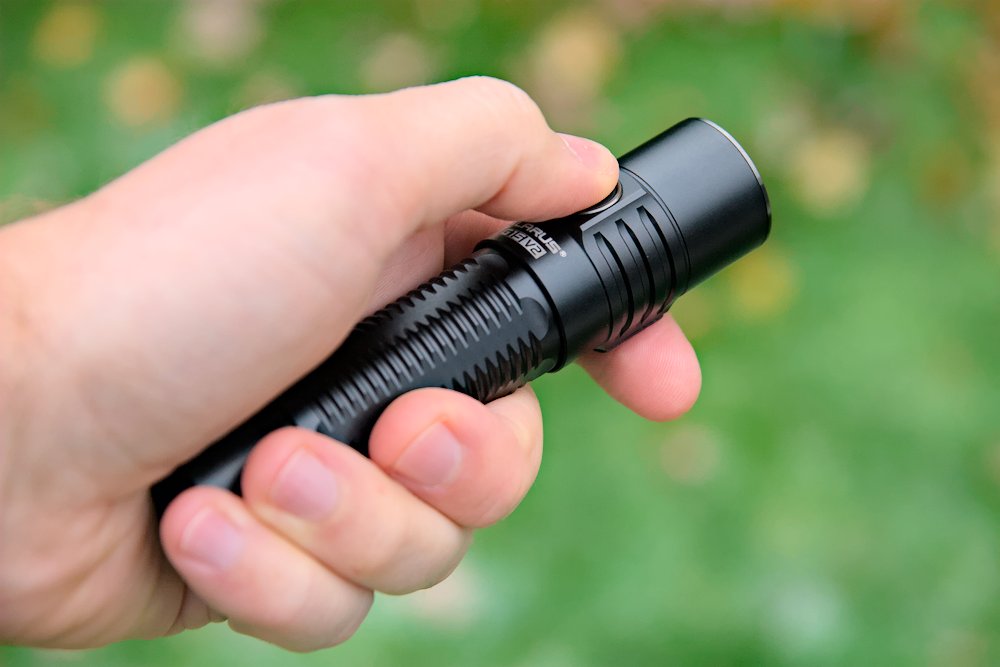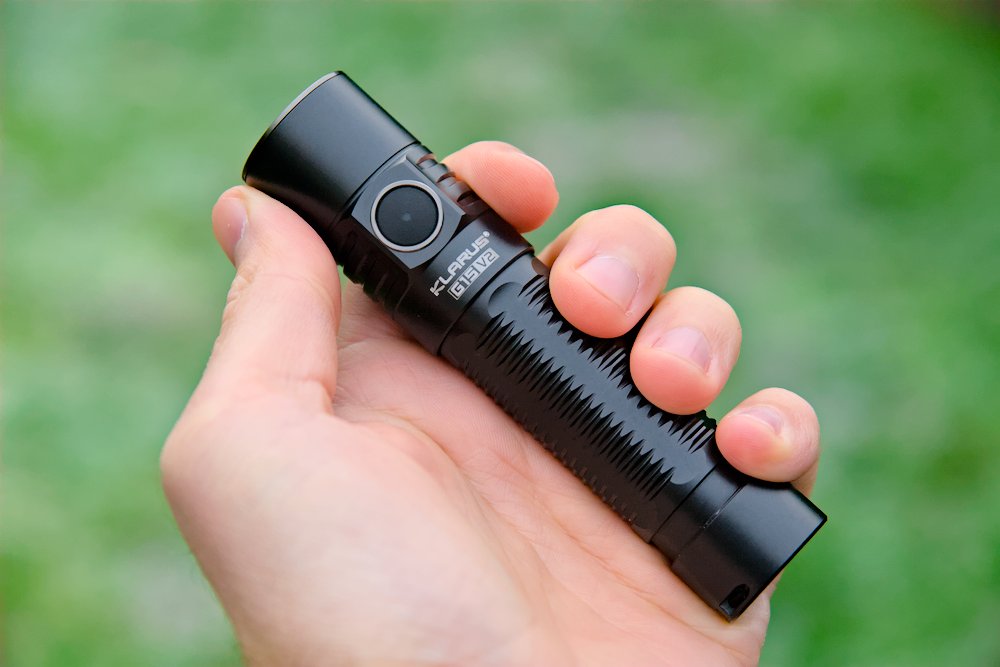 Illumination
With its large Cree XHP70.2 LED the Klarus G15 v2 is able to output up to 4200 lm (manufacturer provided value). The small orange-peel reflector won't do much – it's a very floody light.
Don't expect a good color rendition, just the normal CRI 70. Color temperature is around 6000 K (by comparison).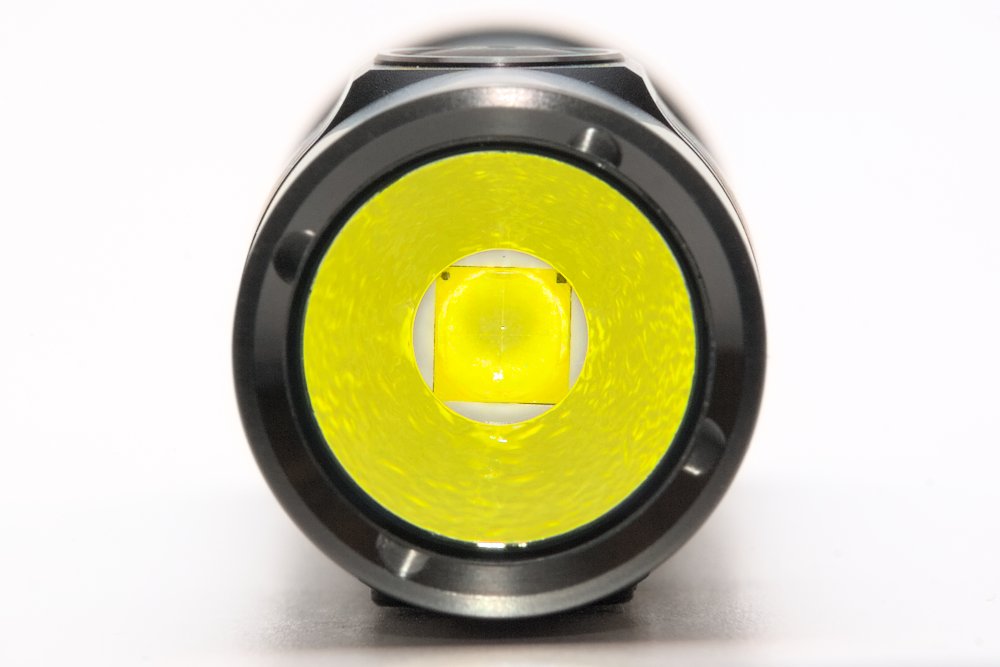 This LED is known for its egg-yolk beam with a yellowish spot and bluish spill. Additionally you will get a blue ring outside of the spill, probably reflection on the blackened bezel.
The reflector seems to be focused improperly. It creates a dark region in the middle of the spot, even at higher distances.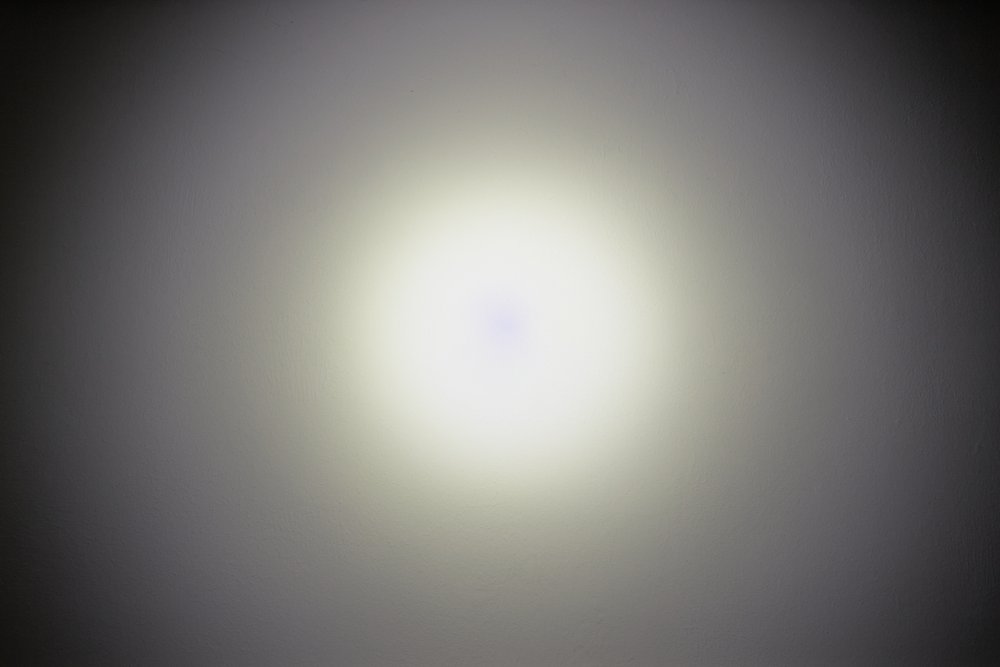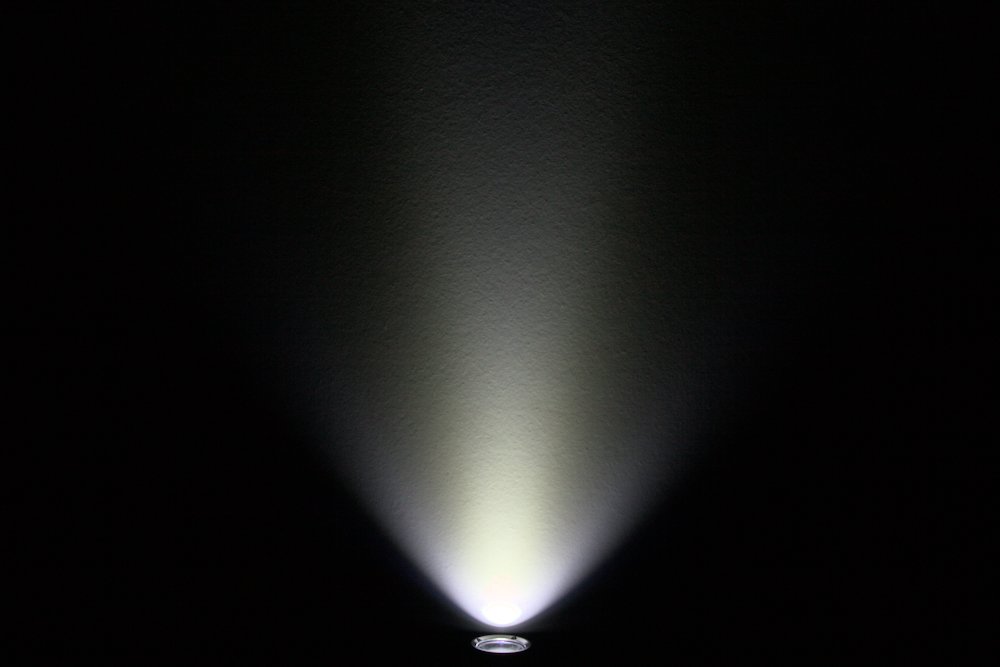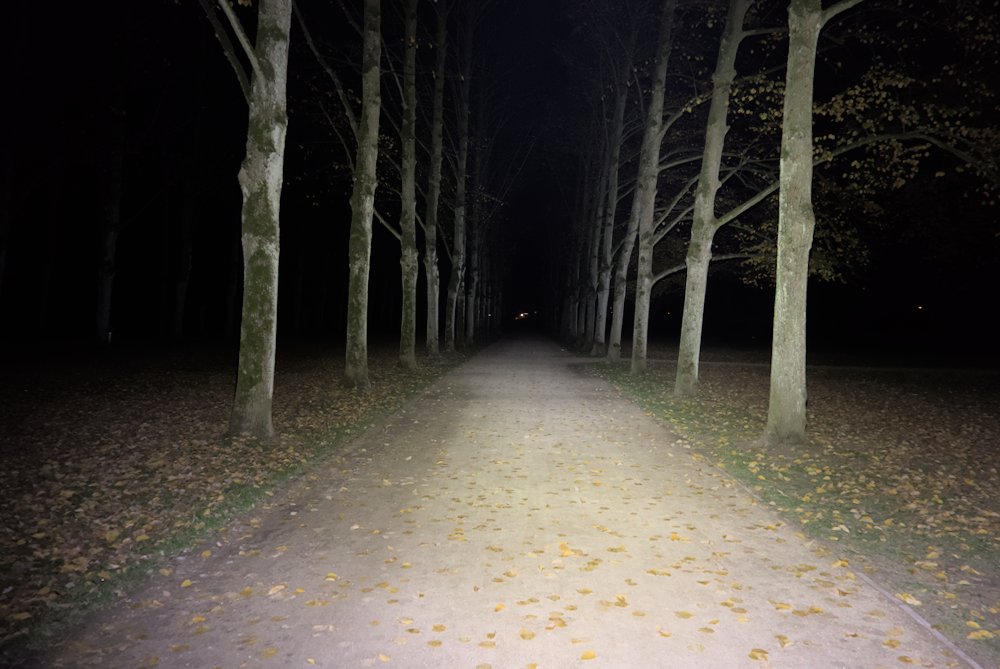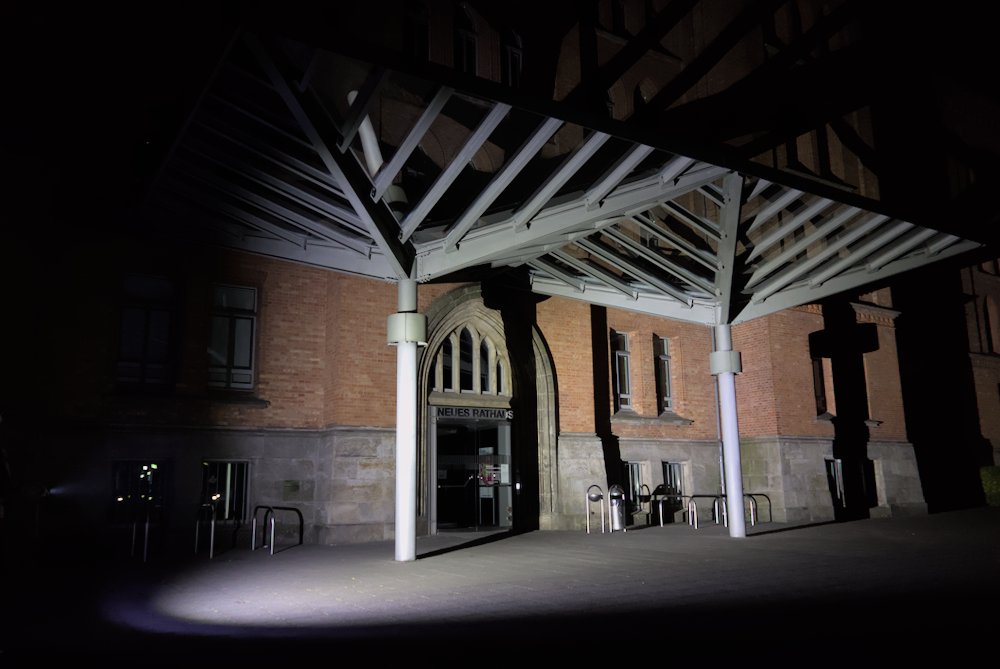 My usual solution to this problem: d-c-fix milky. It worked perfectly. Nice, even beam, almost no tint shift, no blue border or dark spot, just pure (center weighted) flood. Only price is a slightly reduced throw (about 5% if I measured correctly).
Driver and runtime
The XHP70.2 is available in 6/12 V only, so this must be a boost driver. It also allows to keep the output almost constant independent of the input voltage.
| Mode | Brightness¹ | Runtime¹ | Intensity¹ (Distance²) | Current³ |
| --- | --- | --- | --- | --- |
| Turbo | 4200 lm | 3 h | 10000 cd (200 m) | 9.50 A |
| High | 2000 lm | 3.3 h | 4230 cd (130 m) | 3.55 A |
| Medium | 500 lm | 6 h | 1060 cd (65 m) | 0.75 A |
| Low | 100 lm | 28 h | 225 cd (30 m) | 0.19 A |
| Moonlight | 10 lm | 150 h | 2 cd (2.5 m) | 0.02 A |
| Off | ––– | ––– | ––– | 83 µA |
¹ Provided by manufacturer
² Per ANSI FL1
³ Measured
I don't understand how you can call a mode with 10 lm "moonlight".
Runtime values from the manufacturers are achieved, even exceeded. But only because they are ANSI FL1 values, which takes the time until the output has dropped to 10 % of its original value.
In fact the output drops quite fast: In turbo already after less than 10 seconds! Even uncooled the flashlight doesn't get hot in this time, about 35 °C. So in addition to the temperature regulation this light also has a timed step-down (can be seen in the second and third step-down after 1 and 5 minutes). Longer turbo would make sense. While reentering it permanently the flashlight reached 50 °C after about 45 seconds (and then throttled down quickly due to the temperature regulation).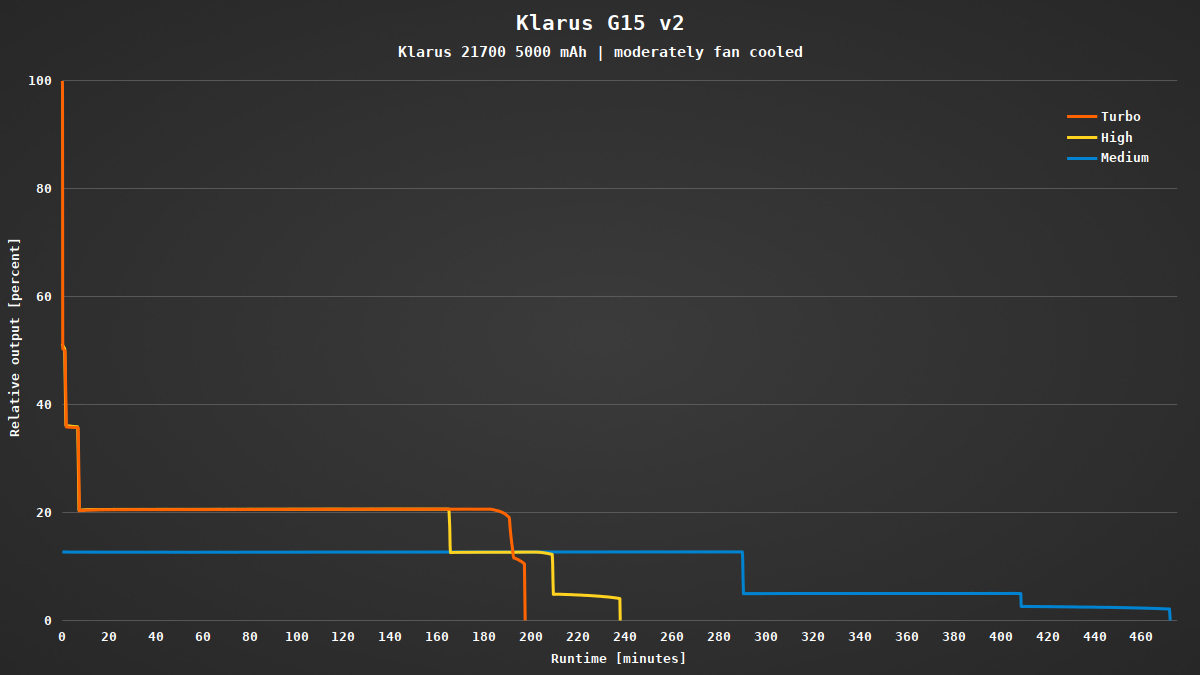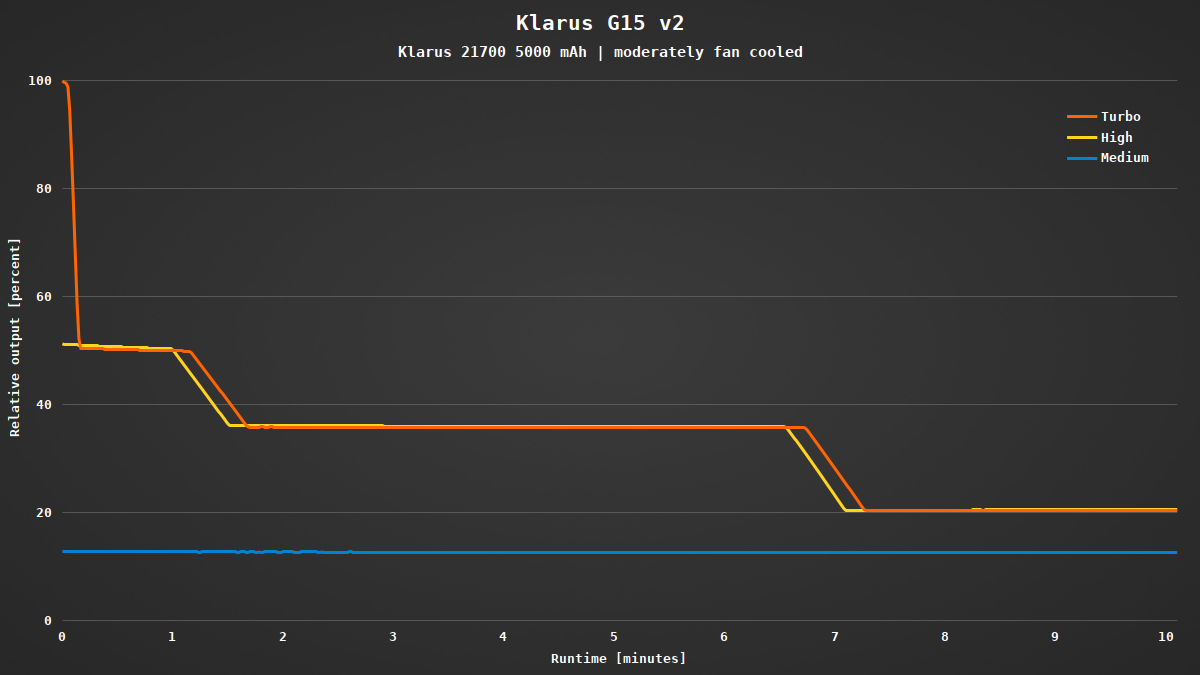 All levels are without PWM and perfectly regulated. You can return to the original brightness most of the time, but turbo is disabled at about half empty battery.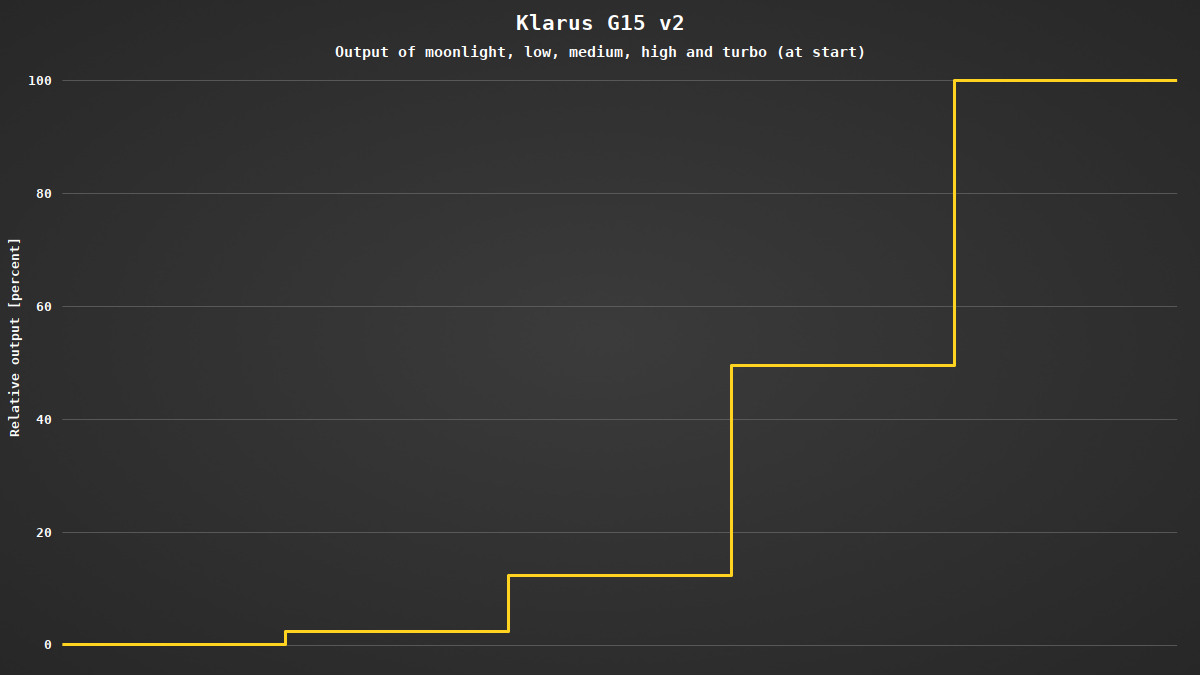 While measuring the quiescent current I noticed that it started at 2030 µA, but then dropped to 83 µA after 30 seconds. I guess this is caused by the powerbank function, which waits for a device for 30 seconds and then switches off.
Conclusion
The Klarus G15 v2 is a great pocket flooder! Small in size, big in output, combined with a intuitive UI. It created a very positive experience and will replace my previous pocket flooder (the Sofirn SP33S), because the G15 is smaller with its 21700 battery while having almost the exact same maximum brightness.
The timed step-down is too quick and doesn't allow the flashlight to use its full potential. On the other hand after the step-down it provides a constant brightness for a long time.